You'll want to add these DIY Spice Jar Labels to your list of Cricut crafts for beginners, because once you learn how to make these easy jar labels, you'll be using your Cricut to make labels for EVERYTHING!
I'm a gardener…
Which sounds funny to say out loud, because I can't keep a house plant alive to save my life. Seriously, it's bad.
I've learned to resist the cute succulents, fiddle leaf figs, and flowery whatcha-ma-call-its out of compassion for the poor plants. If I buy a house plant, I'm essentially signing its death certificate…
But by some miracle (and my husband's help!), I'm able to grow a bountiful vegetable and herb garden every year. Okra, squash, zucchini, cucumbers, tomatoes, peppers… we grow it all!
But some of my favorite things to grow are fresh herbs. There's nothing like walking out to your garden and picking fresh basil for pasta sauce, or drying out fresh sage and rosemary to have on hand for baked chicken.
And lots of spices and dried herbs means LOTS of containers to organize… And why not organize your spices with cute mini mason jar containers with cute little spice jar labels?!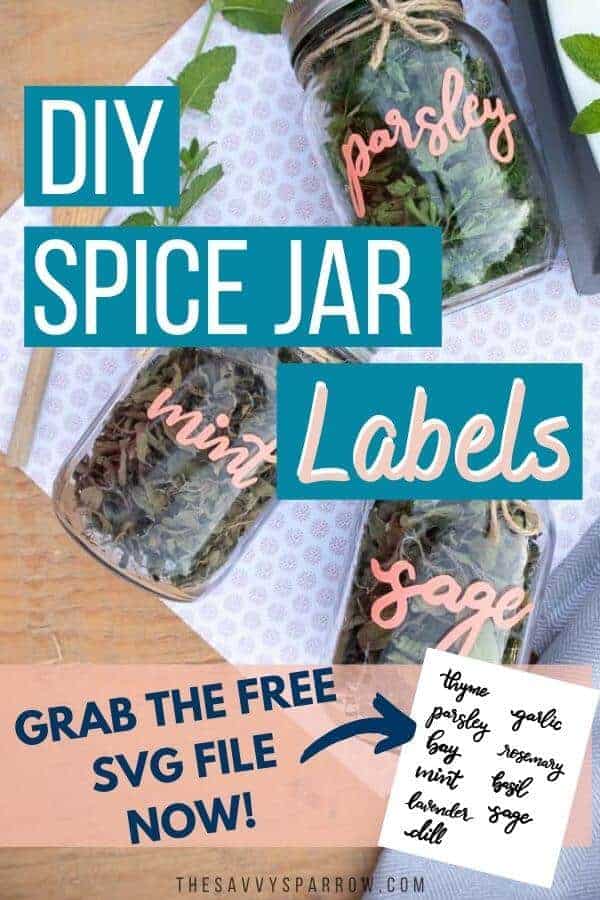 If you're looking for a cute and practical way to put your Cricut Joy or Cricut Maker to good use, then these DIY Spice Jar Labels are just the project for you!
Here's how to make these cute DIY labels for jars:
Supplies Needed for DIY Spice Jar Labels:
Click HERE to grab the FREE SVG File for Spice Jar Labels!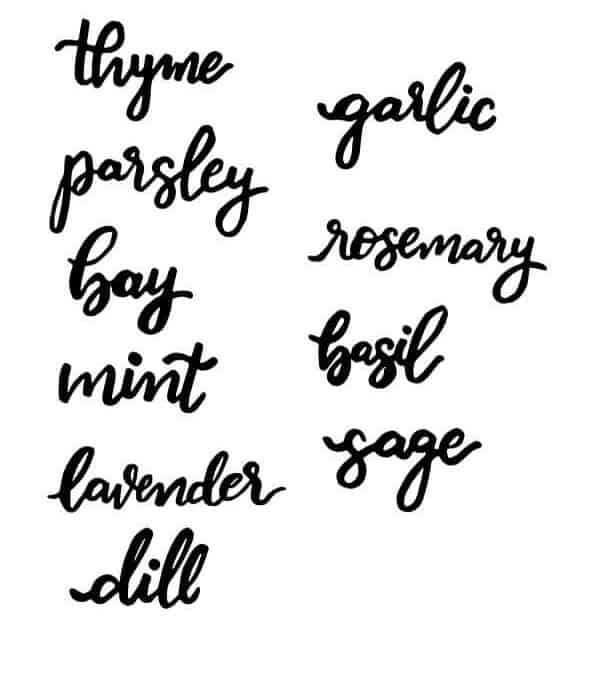 Cricut Joy (or Cricut Maker) with Fine Point Blade
Cricut Smart Vinyl, Removable (in Coral) or in color of your choice
Cricut Transfer Tape
Mason Jars, 8oz with lids
Scissors
Weeder tool
Dried herbs of your choice
Twine or ribbon (optional)
How to Make Spice Jar Labels with Cricut:
Gather supplies.
Thoroughly wash jars with soap and hot water and let them dry completely before using.
Uploading the SVG Pattern
Upload Lettered Herb SVG File into Design Space. (Click the link above to grab the FREE SVG File for these DIY Spice Jar Labels!)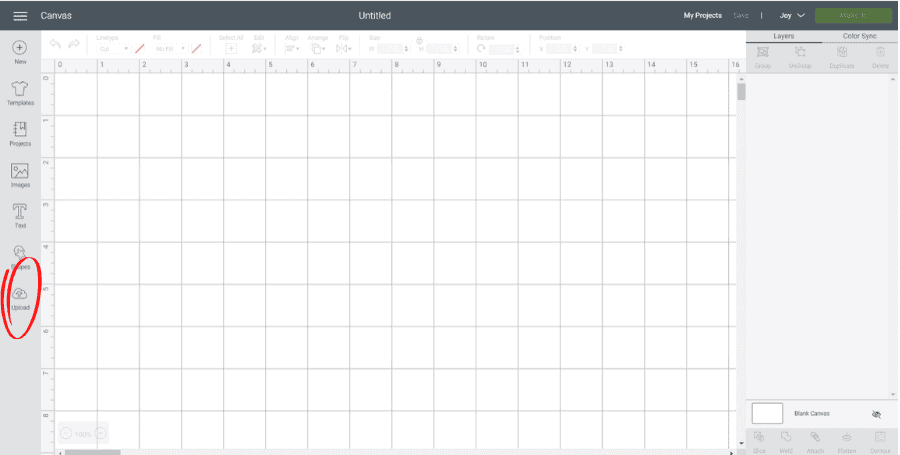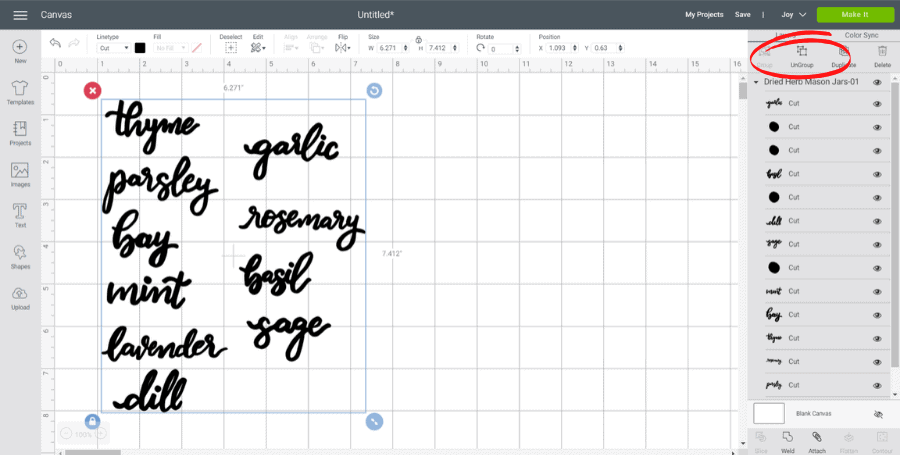 Click and drag over each of the words with the letter "i" separately. With the word highlighted, click on the "Attach" button to secure the dot over the letter i to the word. Choose which herb lettering you want to cut and hide the remaining words.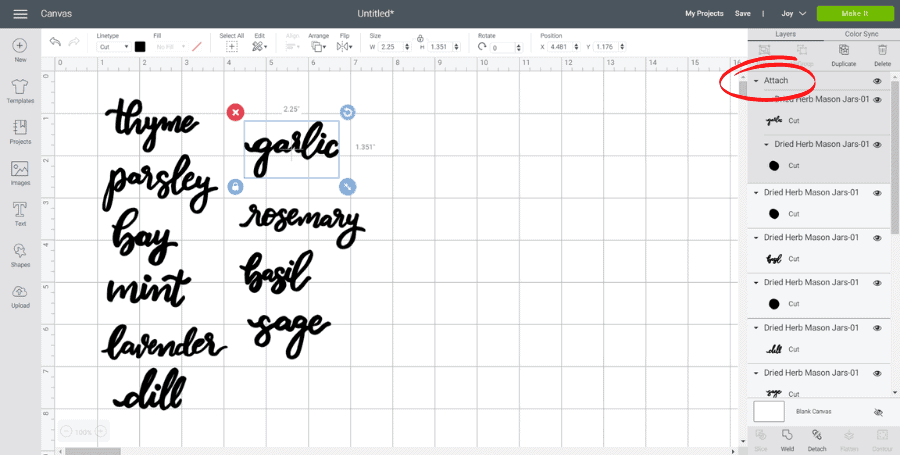 Adjust image sizes to fit mason jars accordingly or maintain size as provided.
Color sync the images if needed to match the vinyl color.
Cutting the Spice Jar Labels
Ensure the machine is set to Cricut Joy and select "Make It" in Design Space.
Choose "Without Mat" as the option for cutting when using Smart Vinyl.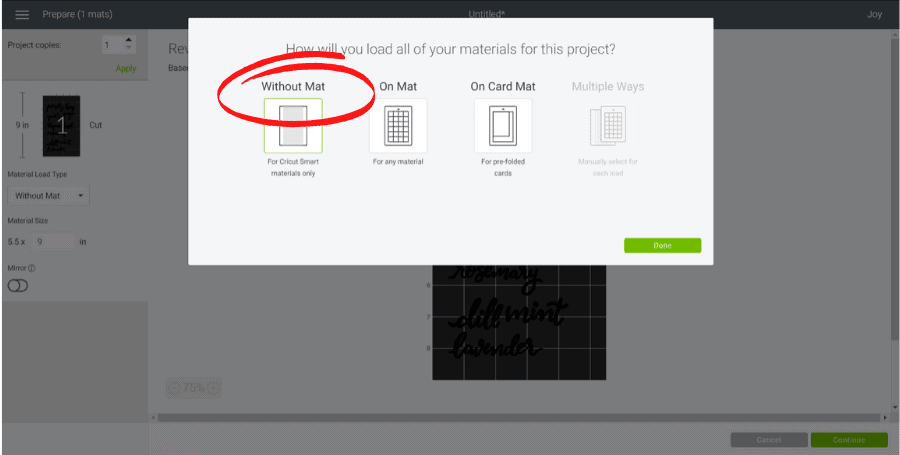 Set material type to Smart Vinyl.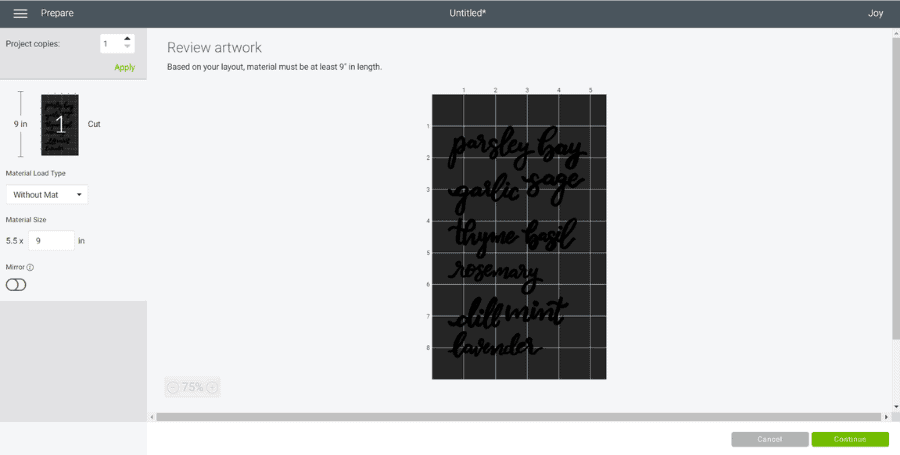 Follow prompts for loading the mat into the Cricut Joy and cutting the Smart Vinyl. When prompted, unload the vinyl from the cutting machine.
How to Assemble the DIY Spice Jars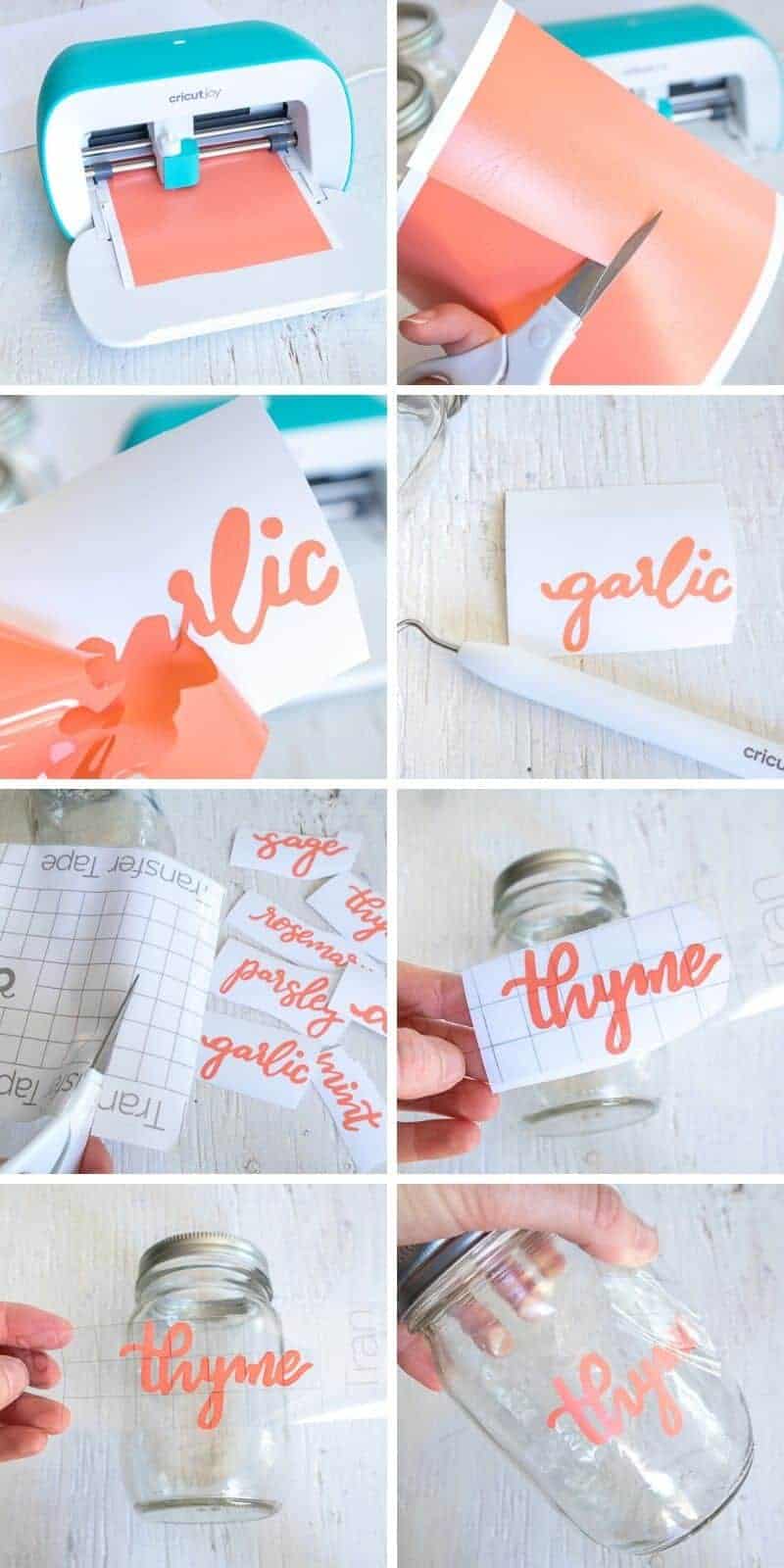 Cut around each word with a pair of scissors.
Using the weeding tool, peel away the excess vinyl around the cut images and discard.
Cut a piece of transfer tape a bit larger than the size of the lettering.
Peel away the transfer tape backing and place the transfer tape overtop of the cut lettering. Gently rub the vinyl to help it stick to the transfer tape.
Peel away the vinyl backing, leaving just the lettering adhered to the transfer tape.
Position the word with the transfer tape on to the smooth side of a jar and press in place.
Press the vinyl image down with your fingers to help it stick to the glass jar.
Slowly and carefully remove the transfer tape leaving the vinyl word on the jar.
Repeat for the other mason jars and herb lettering.
To finish, fill the mason jars with dried herbs and tie a piece of twine around the jar lid.
And that's it!
Then you're ready to display your cute DIY spice jars in your cabinet!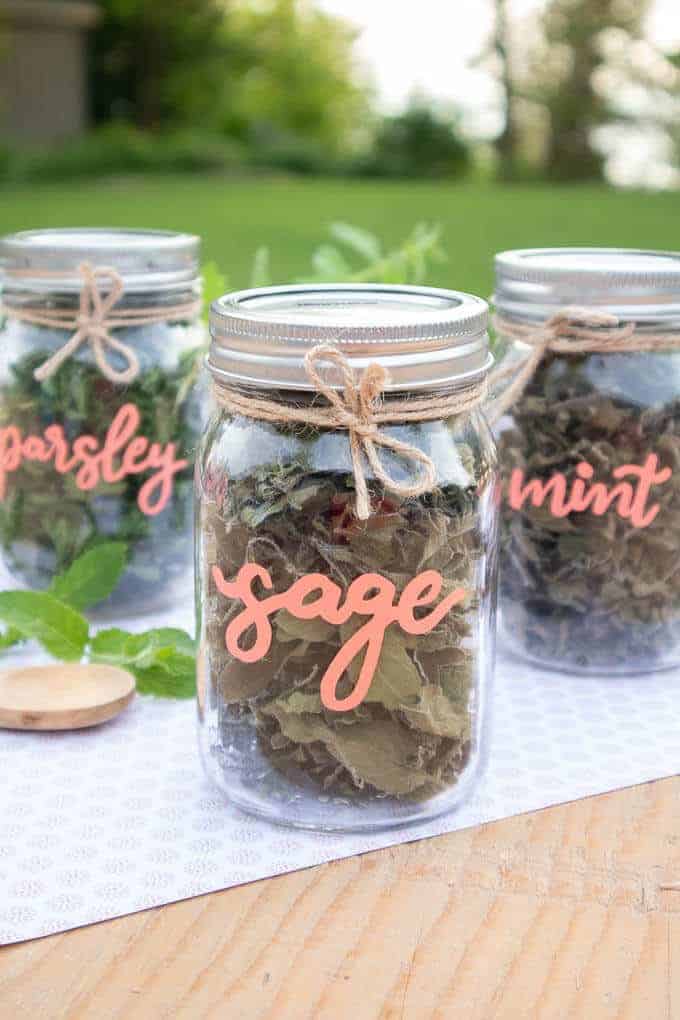 They're so cute, right?!
Want to check out another cute Cricut craft for your kitchen? These DIY Kitchen Canisters are perfect for storing flour, sugar, and oats on your counter… Because who would want to hide these adorable canisters in the pantry?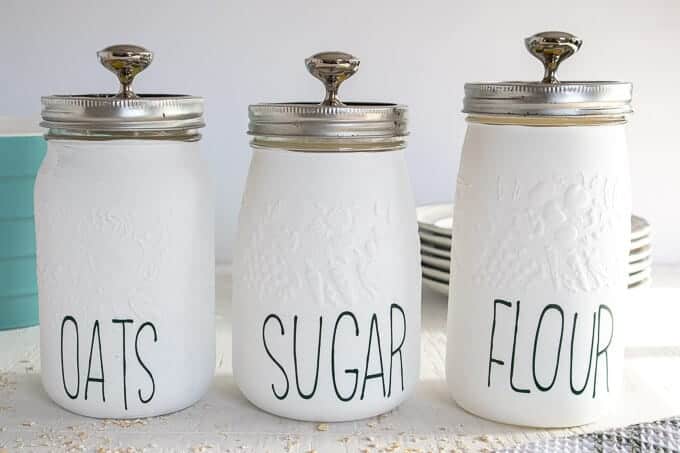 Click HERE to see how to make this easy Cricut project for your kitchen!
If you loved this easy DIY project, I would LOVE for you to share it! PIN this post on Pinterest or share with your crafty Facebook friends. 🙂
And, as always, happy nesting!