I started this blog 6 months ago, and I converted my personal Pinterest account (which was a hot mess) to a business account because I didn't want to lose my 34 followers that it had taken me years to get. A few months later, I started using one simple tool to increase Pinterest followers, and now my account is on FIRE! What is that one must have tool for new bloggers?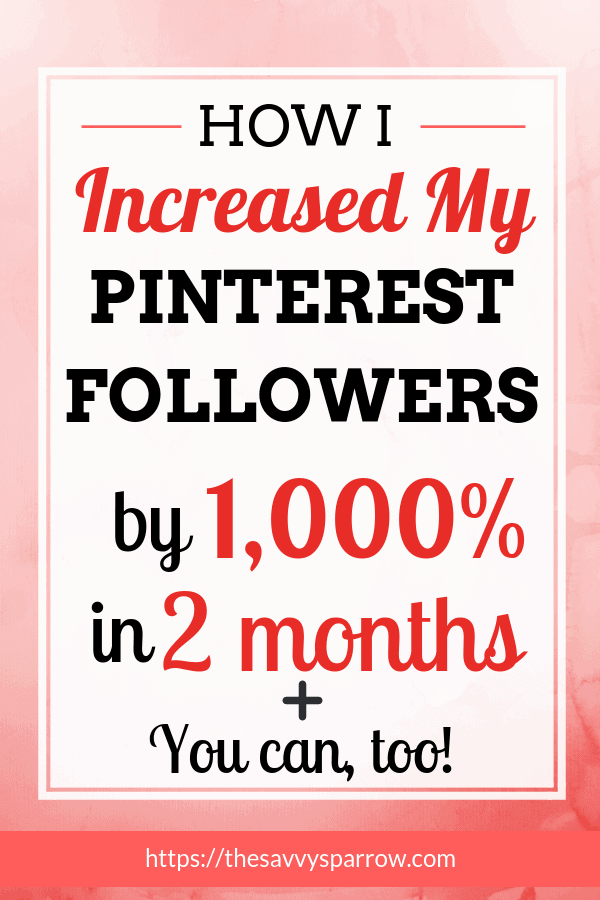 It's called MiloTree.
*This post contains affiliate links, which means I may earn a small commission from these links at no additional cost to you. Read my full disclosure here.
You may have noticed the handy little pop-up when you first arrived at this page. The one that conveniently gives you the option to follow me on Pinterest, plus a small preview of my latest pins.
That little box that I added to my blog two months ago and haven't fiddled with since has been steadily increasing my Pinterest followers – I gained 52 new followers last week! In two short months, my number of followers has climbed from 34 to 372, as of my last check. That's a 1,000% increase for very minimal work.
UPDATE – In the last two weeks since I published this, I've had this post bring in a TON of traffic so I'm now up to 791 followers! So, my Pinterest followers doubled in the last 2 weeks thanks to my MiloTree popup converting that traffic to followers!
Obviously, the number of new followers you receive will vary depending on your page views. But, if you are actively pinning on Pinterest and getting good traffic to your blog, you can definitely increase Pinterest followers with MiloTree.
So, do you want to Increase Pinterest Followers, too?
MiloTree couldn't be easier to set up. Just follow these simple steps:
Step 1: Go HERE to sign up! You get a 30 DAY FREE TRIAL to test it out!
After your FREE Trial period is up, the cost to continue the service is just $9.00 per month. At that price (just 2 Starbucks lattes), it's well worth it for the increased visibility on Pinterest.
Step 2: Install MiloTree on your site.
Don't worry! It's super easy. If you're using WordPress, they have a handy plug-in for you to make installation easy. If you're using a different platform, just copy the provided code and embed it into the footer of your site.
Need more specific directions? MiloTree has handy tutorials for a wide variety of platforms (WordPress, Blogger/Blogspot, BigCommerce, Shopify, etc.) to help you out!
Step 3: Configure Your Pop-Up.
After you sign up, you're ready to create your Pop-Up. The greatest thing about MiloTree is that it's not just to increase Pinterest followers. You can also use it to increase your followers on Instagram, YouTube, Facebook, and even to grow your email list.
The MiloTree website has a handy "Pop-Up Builder" that makes this step super simple. You just select which social media network you want to grow, connect your account to MiloTree by entering your username for that platform, and you're done!
Here's a screenshot of how easy it is to choose which social media platform you want to promote:
You can even customize the colors of the pop-up to match the branding of your blog. I'm a self-taught tech-y, so trust me, if I can do it myself then you can too! Doesn't this look simple: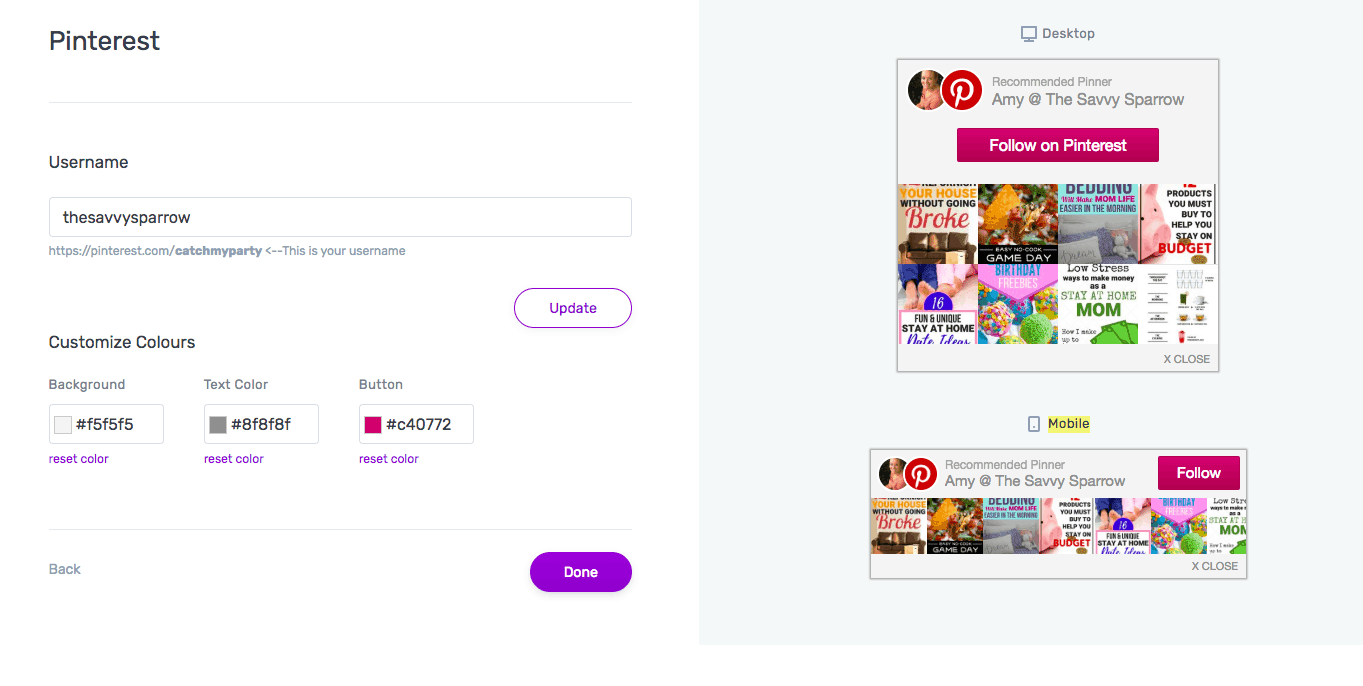 Plus, you have more options to customize your pop-up and how it appears on your site! These "Advanced Pop-Up Settings" include:
The option to delay the pop-up until your visitor scrolls
The option to hide the pop-up on mobile (though I wouldn't recommend this since the overwhelming majority of traffic these days is mobile)
The option to not show the MiloTree logo (I don't want to hide the logo because the link attached to the MiloTree logo on my pop-up is my affiliate link.)
The pop-up position (right, left, bottom right, bottom left)
The option to set when you want the pop-up shown for the same visitor – For instance, if I visit your site everyday, you may choose to show me the pop-up every three days instead of everyday.
The option to not show the pop-up on certain pages
This is a screenshot of how easy it is to adjust these options: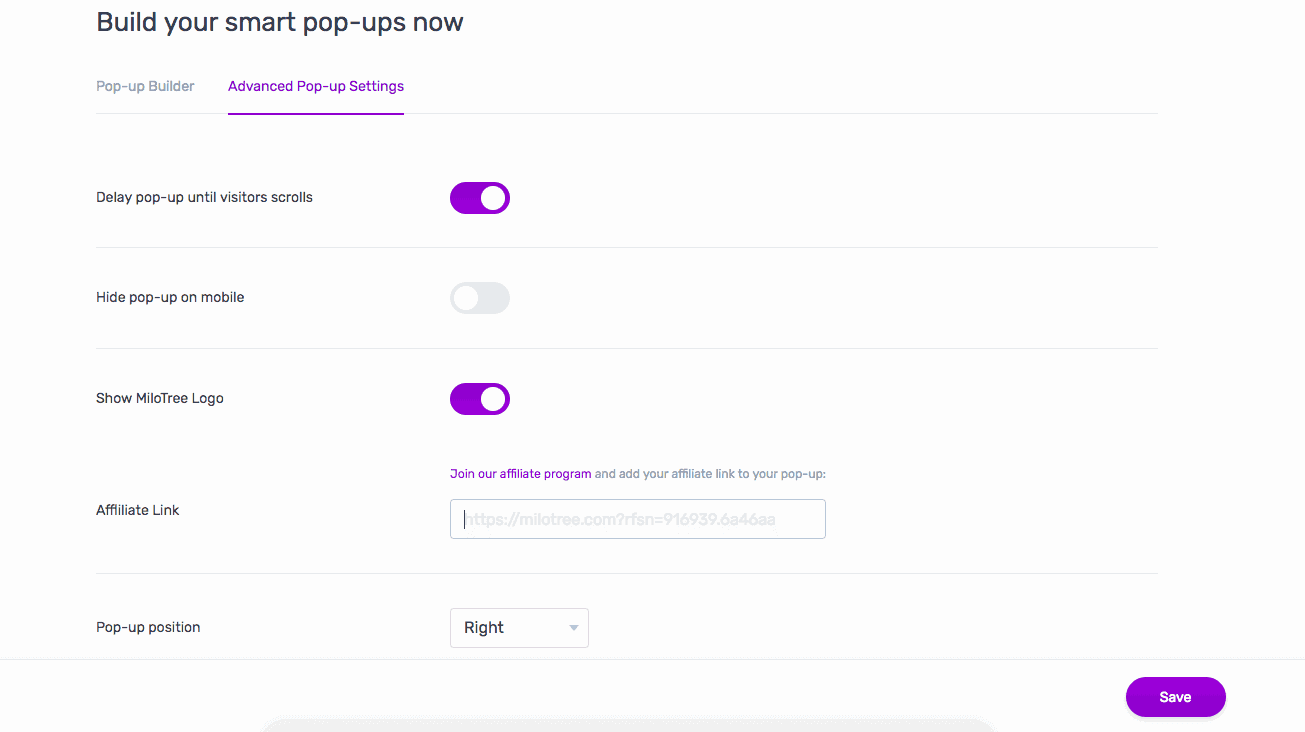 Literally, guys… Just one click of one button. I have never used such a simple tool.
And, did you notice the part about the affiliate program? Yup, if you join MiloTree, you can also apply for their great affiliate program!
What do I love most about MiloTree?
Besides how stupid simple it is to install and set-up, obviously. These are my favorite things about using MiloTree to increase Pinterest followers:
You can choose where the pop-up is displayed, and it's not obnoxiously huge. I've been to blogs on my phone that have pop-ups that take up the entire screen and no "X" or "Close" option. Guess what I'm doing? Back arrow. See ya. The MiloTree pop-up isn't like that. It only takes up about 25% of the screen on my good 'ol iphone 6s.
Analytics! Yup, you can get analytics to see how many followers you are gaining from your trusty pop-up.
Tons of options! Choose from unlimited color options to match your brand, plus options for when and where the pop-up is displayed.
The fabulous folks at MiloTree also email you Pinterest and social media tips to help you rock your social media platforms!
So, if you're ready to try it out and increase Pinterest followers, go here to sign up for your FREE 30 Day Trial!
But don't forget, MiloTree won't do all the work for you. You still need to be actively pinning on Pinterest and promoting your content to drive traffic to your blog. After all, if you're not getting any traffic, no one will see your pop-up!