So, you're pregnant! Yeah! Congratulations! Now let me give you the full scoop. Yes, you know all about sore boobs, leaking nipples, and crazy dreams, but here's what you may not know about pregnancy, delivery, and newborns. This is the stuff that you can't find in every book. This is the stuff that you probably haven't heard from other Moms dishing out unsolicited advice. These are the nitty-gritty, down-right-nuts, weird pregnancy things no one warns you about.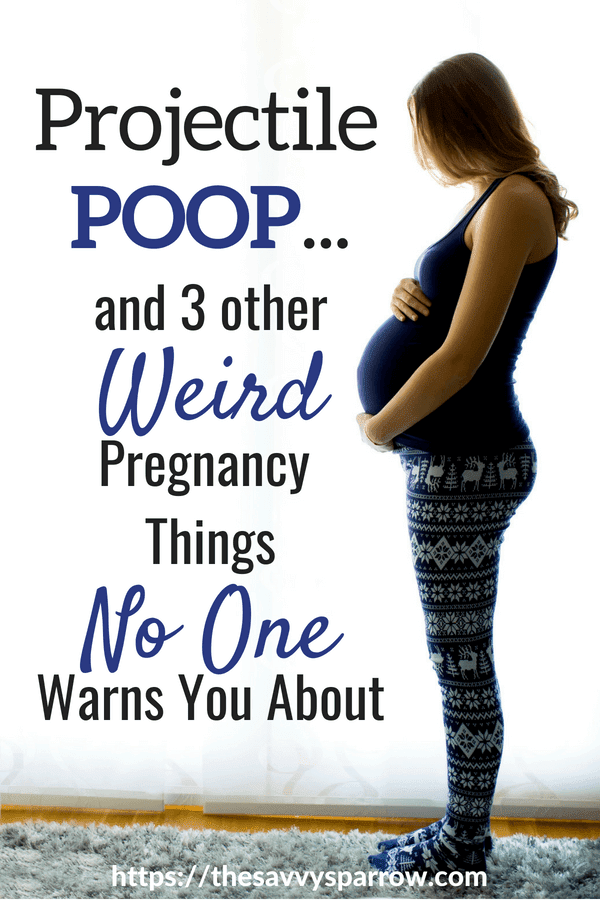 But first, what makes me qualified to be one of those Moms dishing out advice that you didn't ask for… you know what I'm talking about.
If you're visibly pregnant, complete strangers are probably telling you what to expect in the delivery room and how to raise your child. Not to mention the unwanted belly-rubbing.
But, since you're here, I'll assume that you want to know about my crazy pregnancy stories, so here goes…
Some of these things are flat out GROSS/EMBARRASSING/UNBELIEVABLE but they all happened to me. And I'm not holding back. Be warned.
*This post may contain affiliate links, which means that I may earn a small commission from these links at no additional cost to you. Read my full disclosure here.
Weird Pregnancy Things No One Warns You About – ALL of these Happened to Me!
The PUPPP Rash
Great… another pregnancy skin condition. As if the acne, "pregnancy mask", stretch marks, and varicose veins weren't enough.
The PUPPP (Pruritic urticarial papules and plaques of pregnancy – say that 10 times fast!) rash consists of tiny, red and super-itchy bumps that can form in the stretch marks on your belly and then spread to your thighs, arms, legs, and butt… so pretty much your whole body.
According to Heathline, the condition affects approximately 1 out of 150 pregnant women and is most likely to occur in the last five weeks of first-time pregnancies or in pregnancies with multiples when the skin is stretched even more.
Yup, I can attest to the accuracy of all of that.
My PUPPP rash showed up about 6 weeks before my due date of my first pregnancy and it was BRUTAL!
It started out as little red itchy bumps in my stretch marks (which I had ALOT of – I gained 62 pounds – oops!), and then quickly spread to my whole body. The only parts of me that were not covered in little red bumps were my face, my hands, and my feet. Everything else felt as though it had been rubbed down with poison ivy leaves.
Not exaggerating.
My PUPPP rash was so bad that I actually gave myself chemical burns from mixing too many different OTC anti-itch ointments. I tried them all… calamine lotion, oatmeal bath, hydrocortisone cream, benadryl. Not one seemed to help for longer than an hour.
Now, you might be thinking… Why didn't you just go to the doctor? I did.
She told me that the ONLY way to get rid of the rash was to give birth.
So, what did that mean?
I lost a lot of sleep! I woke up about 5-6 times every single night for 6 weeks before my delivery itching uncontrollably, only to reapply cream and go back to sleep for another hour.
**If you are one of those unfortunate Mamas that gets this the PUPPP rash, this is the oatmeal bath that worked the best for me (affiliate), and I tried them all! It was definitely soothing and offered a bit of relief from the constant itching.
But you know what? I think that the PUPPP rash was actually a Godsend for me. Why?
Because by the time our first daughter was born, I was already 100% used to waking up every hour in the middle of the night. Only this time instead of waking up and itching the top few layers of my skin off, I was waking up to feed and cuddle my baby girl.
No readjusting to a new sleep (or lack thereof!) schedule. I was good to go.
And the best part, besides my brand new daughter of course, was that the PUPPP rash completely disappeared within one day after I gave birth. Just like magic. No leftover scars, and no more itching!
*Want to Be a Responsible Human? Check out my super popular post How to Raise the Nice Kid in a World of Mean Girls
Phantom Farting
Yes, you've heard about pooping during delivery because you can't feel a thing down there from the epidural. But what you may not realize is the same thing happens with farting.
Sorry, ladies, with an epidural there is no discreet tooting to keep the romance alive. Nope, you are completely at the mercy of your body. And it's gonna do what it wants to do, no matter who is in the hospital room with you.
In my case, it was my husband's ENTIRE family!
It was about an hour after I had given birth, so the epidural was still in full effect. His Aunts, Uncles, Cousins, and Father were all in the room cooing over our new baby girl. All of a sudden, I heard the LOUDEST fart ever and the whole room turned deathly silent. I looked around in shock to see who "dealt it".
And then, to my complete horror, I realized everyone was looking at ME.
Yup, I had let out an obnoxious fart and had no idea!
That's the beauty and the curse of the epidural… zero pain, but also zero control over bodily functions.
Having a "Hot Spot" Ain't so Hot
Oh, the "hot spot"… and, no, I'm not referring to a wi-fi connection.
The "hot spot" that I'm referring to is a small spot where your epidural doesn't take. I'm sure that there is a medically-correct term for it, but my Doctor called it a "hot spot" so that's what we're going with.
So the whole lower half of your body is numb except for one small spot where you can feel every contraction. It's the weirdest thing.
My "hot spot" was about the size of a quarter, and it was on the lower right side of my belly. Until my anesthesiologist up-ed my epidural dose so that I was in complete and blissful numbness.
Your Baby's Projectile Poop
So, you've survived 9 months of pregnancy and hours upon hours of labor, and now you're home with your baby.
Maybe set up a small trash can or drop cloth about 2 feet from the end of your changing table. Why?
Because if your little pooper is anything like ours, you're in for some projectile turds.
Just keepin' it real!
I will never forget the time that my husband was changing our first daughter's diaper when she was about 2 months old. All of a sudden he yelled at me in a half panicked-half laughing voice to get in there "RIGHT NOW".
I was there in 2 seconds flat, and what did I see? Our precious baby was pooping mid-diaper change, and my hubby had no idea what to do. Neither did I, to be honest.
We both just kind of stood there laughing in disbelief.
Then, all of a sudden, and just like a streamer of silly string being shot from a can, a long line of baby poop came shooting out with such force that it flew through the air in an upward arch and landed on the floor about two feet from the end of the changing table.
No joke.
Yes, they make pee pee teepees for little boys to avoid issues such as this, but no one ever warns you about poopie flying through the air. So, here it is… your warning.
Diaper change time means game face time. Expect the unexpected.
So, why am I sharing these weird pregnancy things no one warns you about?
It's not to scare you. It's to prepare you for what could happen. It's funny that no one mentions these things until they actually happen to you. Then, the doctors, nurses, and complete strangers are a wealth of now-useless information.
That's how it happened for us…
Itchy bumps show up all over my body… "Oh, that's the PUPPP rash".
I somehow feel EVERY labor pain in one tiny area of my belly… "Oh, that's a hot spot".
I let out the most epic fart ever in a room full of my in-laws… Sorry, nobody can help you there.
Just pack a whoopie cushion in your hospital bag, and pull it out from under your backside if needed. Joke's on them.
Need a laugh while your belly is bulging? Check out these funny pregnancy shirts (affiliate) to dress your bump. 'Cause if you can't enjoy a laugh at your own expense (hello cankles and weird-looking belly button) then it's going to be a long 9 months!
Related Posts:
*Be sure to subscribe to my newsletter to get fun nuggets of Mama wisdom, plus practical tips on how to juggle the many jobs that come along with Mommy-hood!