Hi friends! I'm so glad you're here! Let me tell you a little about me, and why I started this blog to help you with mom stress…
A Little About Me
I'm Amy. Wife, Mom, Online ESL Teacher, Website Tester, Homemaker, Jesus-Lover, Errand-Runner, Coffee-Drinker, Grocery-Shopper, Coupon-Clipper, Deal-Finder, DIY-er, and Sometimes Cook. And now, BLOGGER!
I'm married to my wonderful hubby of 12 years and high school sweetheart, Neal, and we have two beautiful daughters, Kaylee (8) and Kenzee (6). We live in East TN where my husband is an independent distributor for a bread company and I am a doer of odd online jobs to contribute to our family's income. I love my hodge-podge of side hustles, and my husband loves his job (most days), but blogging is a pipe dream I've had for many years, so I finally decided to bite the bullet… dive right in… give it a go… (insert your favorite metaphor here).
I Want to Help You Stress Less…
Are you an overwhelmed Momma?
Do you need help figuring out how to check things off your to-do list without checking out?
Do you feel like you're constantly doing "it" all, but not really doing any of "it" well?
As Moms, our to-do lists are jam-packed. Between taking care of the kids, the house, the meals, the husband (I affectionately call mine "Boogie"), the finances, and whatever else life throws at us, it can be easy to get overwhelmed. I've found that so many Moms struggle to keep up with the day-to-day, which is why I want to help.
Now, I will be the first to tell you that I'm not the perfect Mom or wife. I'm a real Mom, dealing with the same struggles as you. But, I've managed to limit my Mommy Meltdowns to about two a year, and I think that's pretty darn good. You know, when you just look at your husband and say, "I need a day". A day of alone time leisurely browsing the aisles of Target, soaking in a bath, or just sitting in your favorite coffeehouse sipping a latte.
I think my optimistic, don't-worry-be-happy personality makes me well-equipped to deal with stress.
I'm naturally a very low-key, easy-going, roll-with-the-punches kind of girl.
Ninety-nine percent of the time, I've got a ridiculously annoying smile plastered on my face. I'm happy. Truly.
And here at The Savvy Sparrow, I want to provide you with practical tips and encouraging stories to help you be happy and stress less also.
I want to help you with these common stress triggers:
Money
Money is probably the #1 stress trigger for most people, Moms included. You spend so much time trying to make it, and it still just seems like you never have enough of it. That's why I'm super cautious with our finances. I can tell you in 30 seconds the exact amount of money that my family spent last week, to the penny.
I am oh so passionate about saving money, and I always have been. Don't get me wrong… I love to shop! But I'm definitely more of a window shopper instead of an actual purchaser… that is unless I find a deal that I just can't pass up! From the time that I was a little girl running around with my allowance in my pocket, I have always been super savvy about what I spend my money on. In fact, my grandparents love to tell the story of the summer that they took me on a cross-country RV trip and I woke them up at 5:00am to go to a HUGE gift shop nearby, only to shop around for 2 hours and not buy a thing!
If there's one thing I'm guilty of, it's hanging on to my money!
But, when I do need to buy something… or on the rare occasion that I treat myself… I am guaranteed to find the best deal. Case in point- the shaved ices that my family enjoyed recently…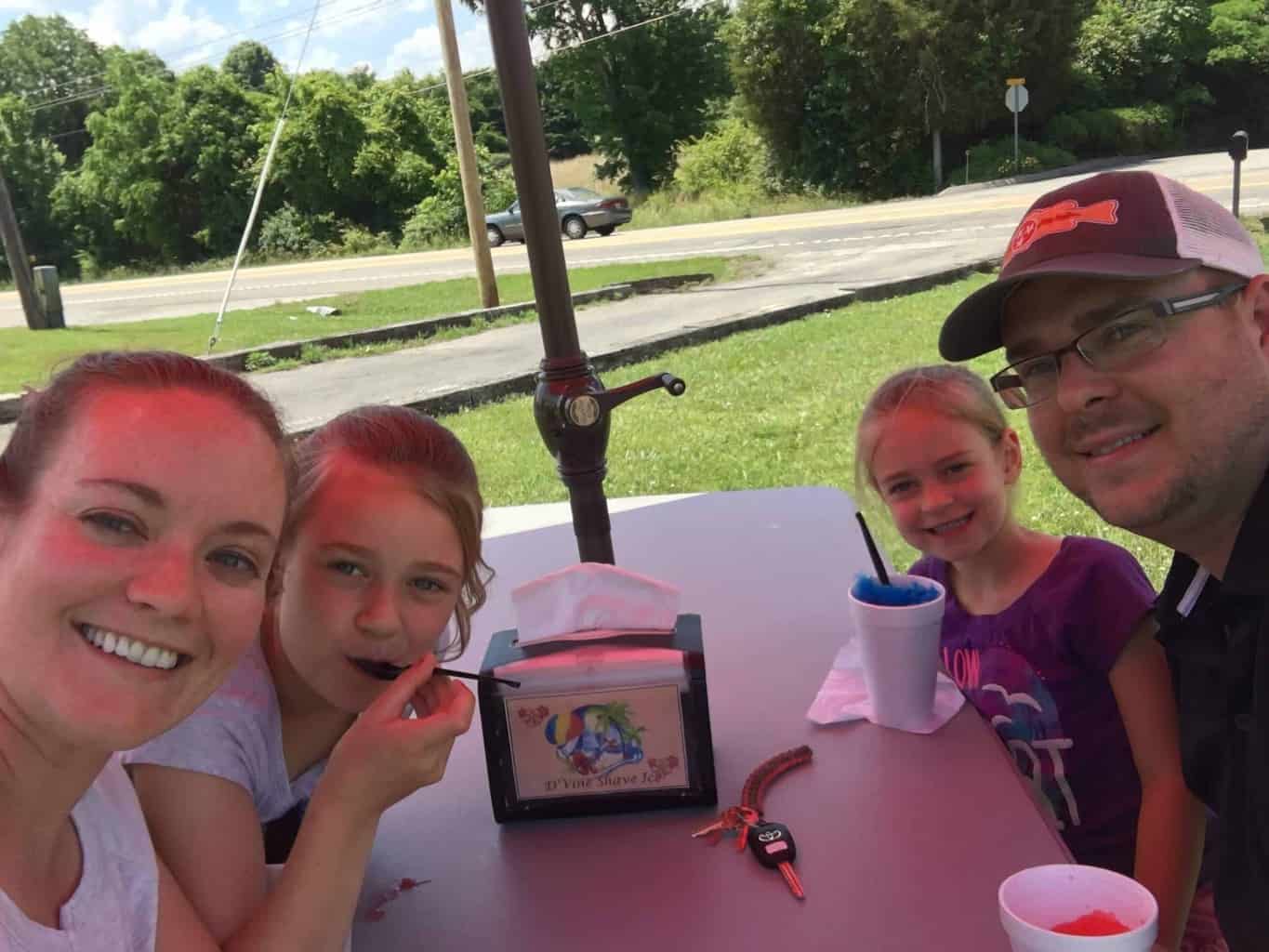 Three of the four shaved ices were FREE!
I don't know how or why I became so frugal… Maybe I was born that way? Is that a birth trait? 🙂
Or maybe it's because my parents gave me a debit card attached to my own bank account for my 13th birthday, and started teaching me early on how to manage my money. Or maybe because I worked all summer long at my parents' business that same summer to pay for a new bedroom furniture set that I really wanted ($1,200 is a big purchase for a 13-year-old!).
However I came upon my frugality, I embrace it. Even though it may drive my husband slightly batty sometimes… He calls "Budget" the "B-word". Haha. You would think that a husband would be happy that his wife doesn't like to spend money, right?!
So, I want to help you not stress about money, too! Here on the blog, you'll find my best frugal living tips, side hustle opportunities, and general personal finance info.
Do you stress about money? Try these posts first:
Family
Am I doing an okay job raising my kids? Have I met my quota of mom fails? Does my husband feel neglected?
A lot of us Moms are natural nurturers, myself included. And it's easy to stress about your parenting or wife skills.
You're not alone.
If you're like me, you're always thinking about what you can do to make your family's life easier, and worrying that you're not doing enough, or that your methods aren't effective.
So, I want to provide you with little nuggets of parenting and marriage wisdom that I've picked up over the years.
Stressed out about family stuff? Read these:
Home Stuff
My father-in-law loves to say that I'm the busiest unemployed person he's ever met. And, I have to remind him that I actually am employed (well, technically I'm an independent contractor with an online ESL teaching company). Yes, it's only part time, but add that to cleaning, running errands, grocery shopping, doing dishes, folding laundry, managing our home, etc. etc. etc…
Yes, life can get pretty busy.
And that's just the everyday normal house chores. Let's not forget about the actual decor and design of your home.
Your home is a reflection of you and your abilities as a homemaker. So, it's natural to feel stressed if everything isn't exactly how you want it. Of course, we'd all love to ring Joanna Gaines and have her hop on over to perfectly style our spaces. But chances are, that's a little out of the realm of reality. So, DIY it is. Make that easy DIY because, you know, we're already overwhelmed with the zillions of other things that we have to do. But, a simple craft project here and there can actually be a good way to decompress and have a little fun.
Feeling stressed about all things home? Check out these posts:
And What About "Me Time"!
I'm an introvert.
So if I don't get enough alone time, I get overwhelmed. (Remember those semi-annual freak outs I was talking about earlier.) Yes, we all need a little break sometimes. Even if it's just in the form of a full day (sunrise to sunset) of "me time". For the other 363 days of the year, I try to enjoy small indulgences and simple self care. Yes, I treat myself to the occasional overpriced Starbucks latte, or I sneak a hot bubble bath after I tuck the kids in for the night.
Moms work hard. Self care is a necessity. If you don't take care of yourself, you won't have the energy to take care of the people you love most.
Stressed out because you're always putting yourself last (even behind the family dog)? Check out these posts:
Let's Be Friends!
I'm so glad that you are here, and I would love to get to know you! You are always welcome to leave comments on my posts, or shoot me an email ([email protected]). Maybe share some of your favorite ways to destress?
And, you can follow me on social media using the links at the bottom of this page.
I look forward to providing you with tons of practical tips for all of your stress triggers. I hope you enjoy my delicious and easy recipes, simple DIY home decor and home management tips, frugal living and personal finance info, practical (and sometimes funny) parenting tips, and all around inspiration for daily life.
God bless, and come back and visit again soon!