Want to make a date jar? These date jar ideas and free printable list make it super easy!
Picture your last date night… Did it involve going to eat at a restaurant that you've been to 3,182 times before? Or did you go see yet another movie? Or did your "date night" just consist of sitting on the couch together and binge watching Netflix while you mindlessly polish off an entire bag of Doritos?
Does that even qualify as "date night"?
If you're tired of the ol' dinner and a movie date, or if date night is starting to resemble your typical Monday night of TV watching, then a date jar may be just the thing for you!
Read on for how to make a date jar with popsicle sticks or a laminator, and grab the free date jar printable at the end of this post! It's packed with fun date night ideas to bring the spark and excitement back to date nights with your spouse or boyfriend!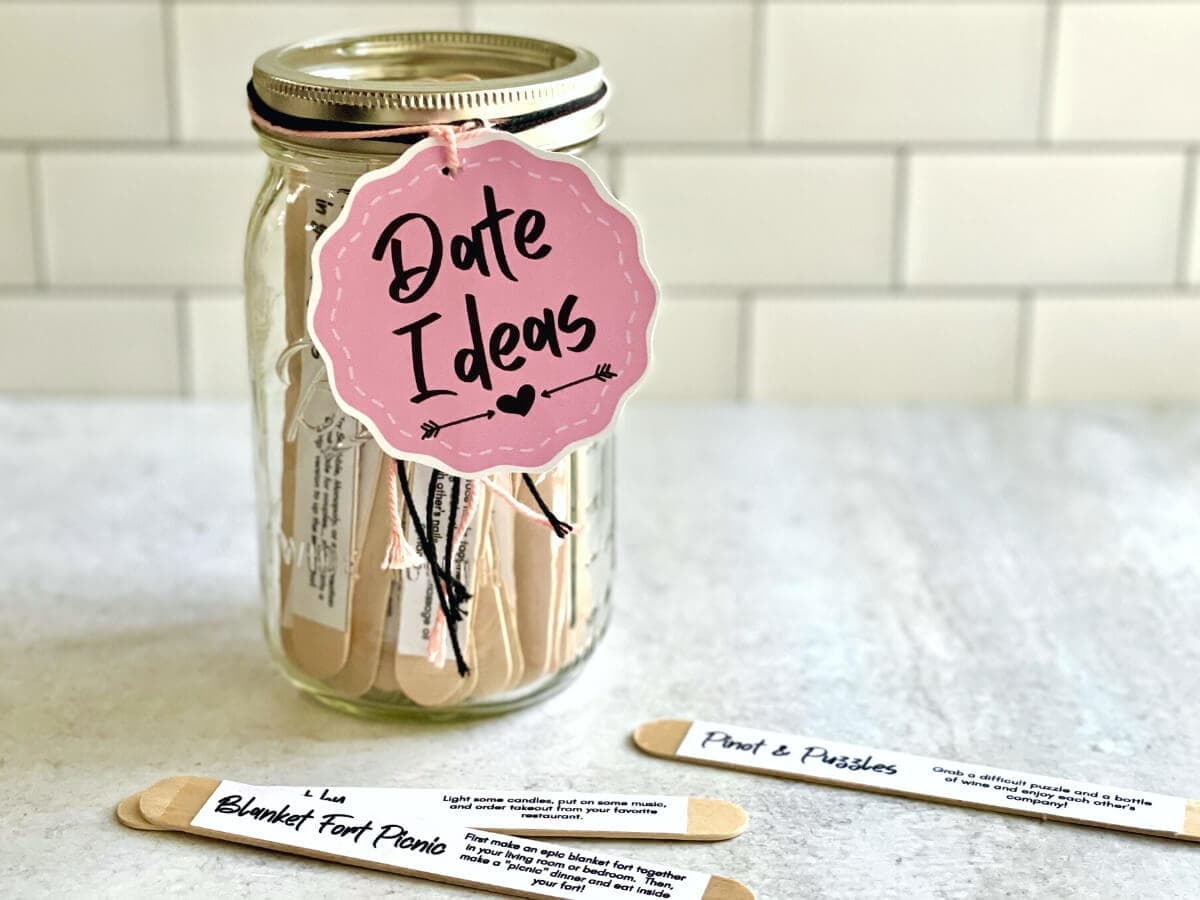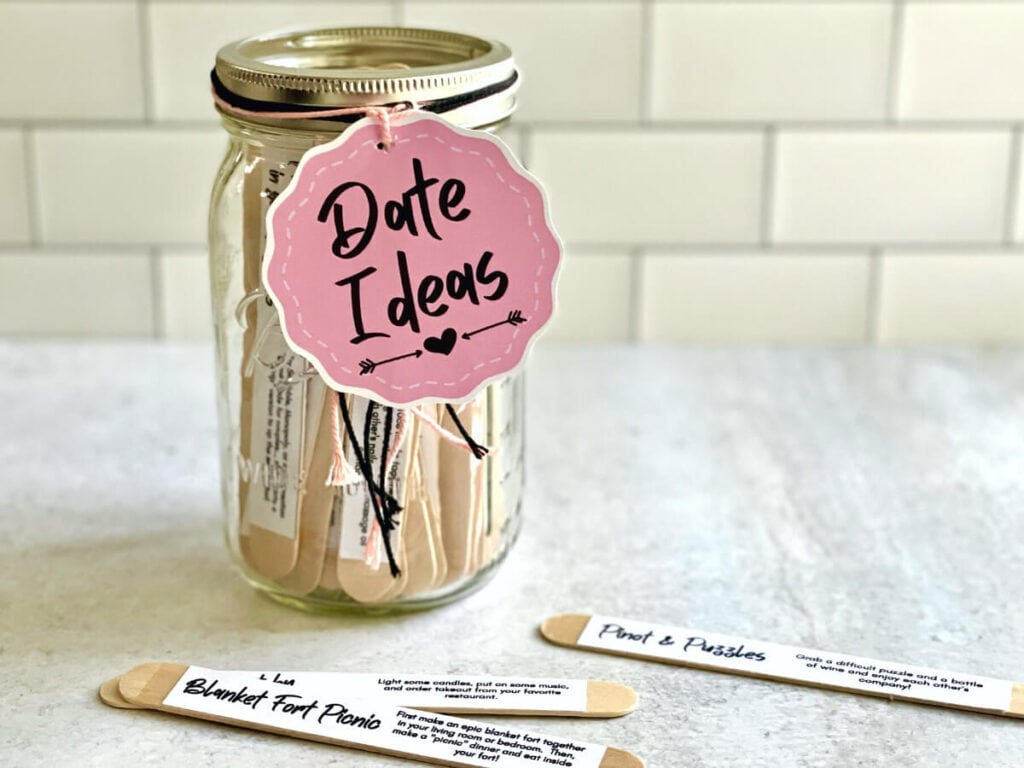 *This post contains affiliate links, which means if you click a link and make a purchase, I earn a commission at no additional cost to you. Read my full disclosure for more info.
What is a Date Jar?
A date jar is exactly what it sounds like… a jar of date night ideas written or typed on to paper or popsicle craft sticks. The idea is to randomly draw a date idea out of the jar for a fun surprise date, and it's a great way to break out of your normal dinner and a movie rut.
You can create a date jar and gift it to your husband as a creative anniversary gift or even make a date idea jar to give to a friend as a wedding gift!
Brides and grooms are even starting to include homemade date jars on the table near their Wedding Guest Books. Some couples have even omitted the guest book altogether in favor of collecting fun and creative date ideas from their wedding guests instead!
And the options for making your own date idea jar are endless! You can simply write ideas down on slips of paper and add them to a mason jar or go all out and paint craft sticks and write on them with Sharpie markers for color-coded date ideas. You can also use my free printable list of date ideas at the end of this post to create the date jars I've shown here.
How to Make a Date Jar with Popsicle Sticks
You have a few different options for creating your own date jar, but the most popular option includes using popsicle sticks or large craft sticks.
You can either write your date ideas onto the craft sticks with a pen or ultra fine point Sharpie, or you can use my free printable! Here's how I created my cute date jar with large popsicle sticks:
Step 1: Print the list of date jar ideas
You can find instructions for how to get the free printable list of date ideas at the end of this post! Or of course, you can simply write the ideas on popsicle sticks by hand if you prefer.
Step 2: Gather your supplies
To create a date idea jar like mine, you will need: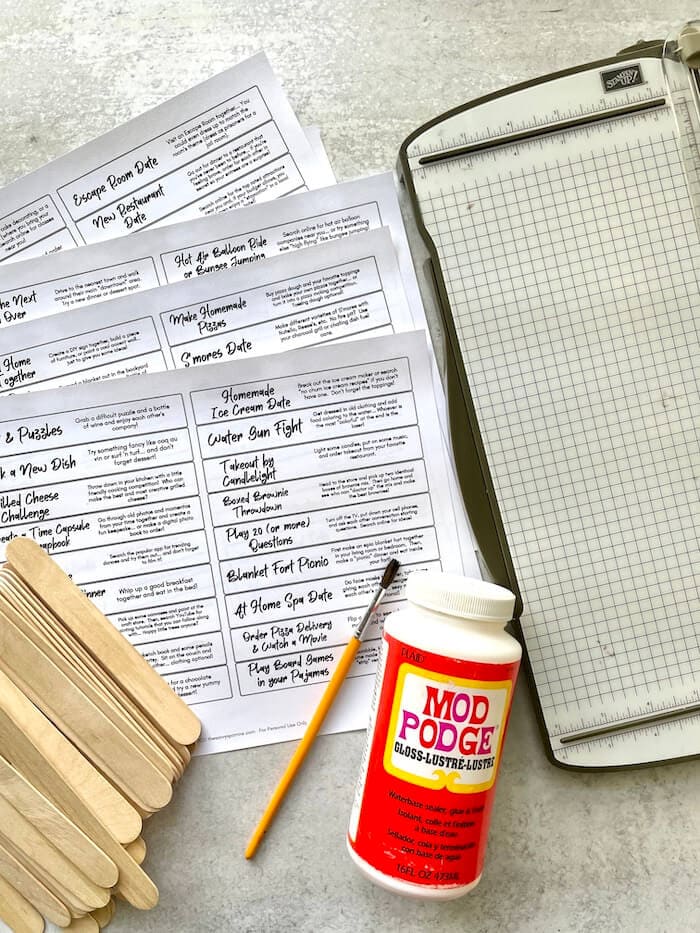 tongue depressors (larger craft sticks) – These are the ones that I used
Mod Podge – This is the kind that I used, but most varieties of Mod Podge should work
a paint brush or foam brush
a mason jar or other jar to store your date idea sticks – I used a wide-mouthed quart sized Ball mason jar and it worked perfectly!
paper trimmer – Optional but recommended – Mine is from Stampin' Up! and I LOVE it!
Step 3: Cut the date jar ideas out
When you're cutting out the date jar ideas to attach to popsicle sticks, you will need to cut right on the inside of the dark gray border line so that you don't see the line. This will ensure that your slips of paper fit perfectly on to the craft sticks.
Here's what mine looked like:
Step 4: Use Mod Podge to glue the idea papers to the popsicle sticks
I started off using a small paintbrush, but quickly switched to a foam brush because it was much easier and quicker to apply the Mod Podge.
First, brush a thin layer of Mod Podge on to one side of the popsicle stick. Then, position the date idea paper directly on top of the glue and in the center of the stick. Finally, brush another thin layer of Mod Podge on TOP of the date idea and set the stick to the side to dry: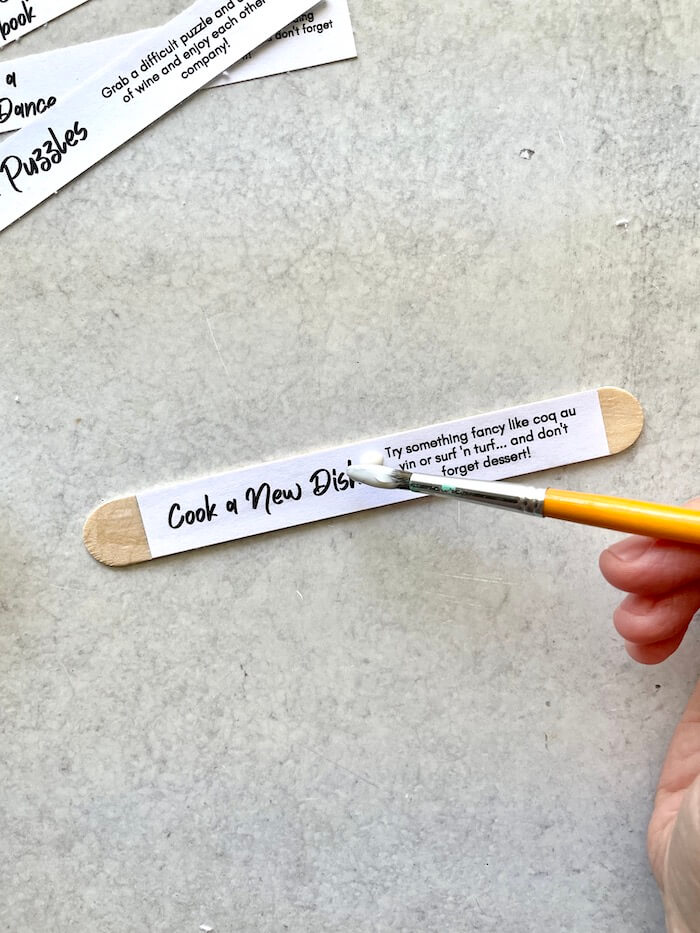 The layer of Mod Podge on top of the finished stick helps to protect your date jar sticks and acts as a "sealer".
Complete these steps for all of the date jar ideas and allow them to dry fully before adding them to a jar.
Step 5: Put your date jar together
Once all of your popsicle sticks have dried, it's time to put your date jar together. Simply put the date idea sticks into the jar, and tie on one of my cute free printable labels… I've got 6 different ones for you to choose from: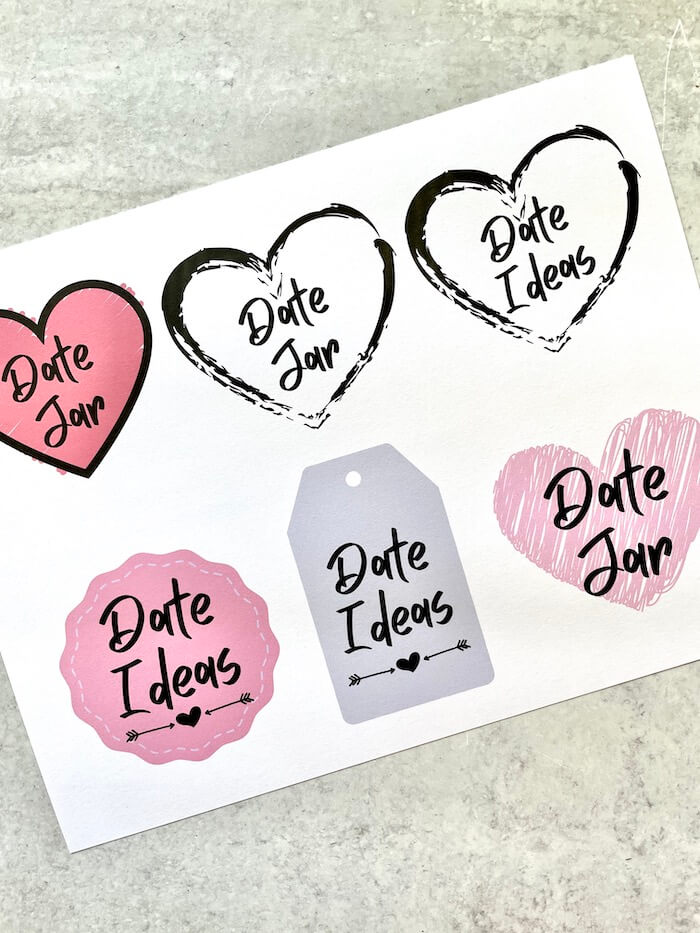 *Note – You may want to print these labels on white card stock so they last longer. Or, you can also laminate the label if you prefer.
Here's what my finished DIY date jar looks like: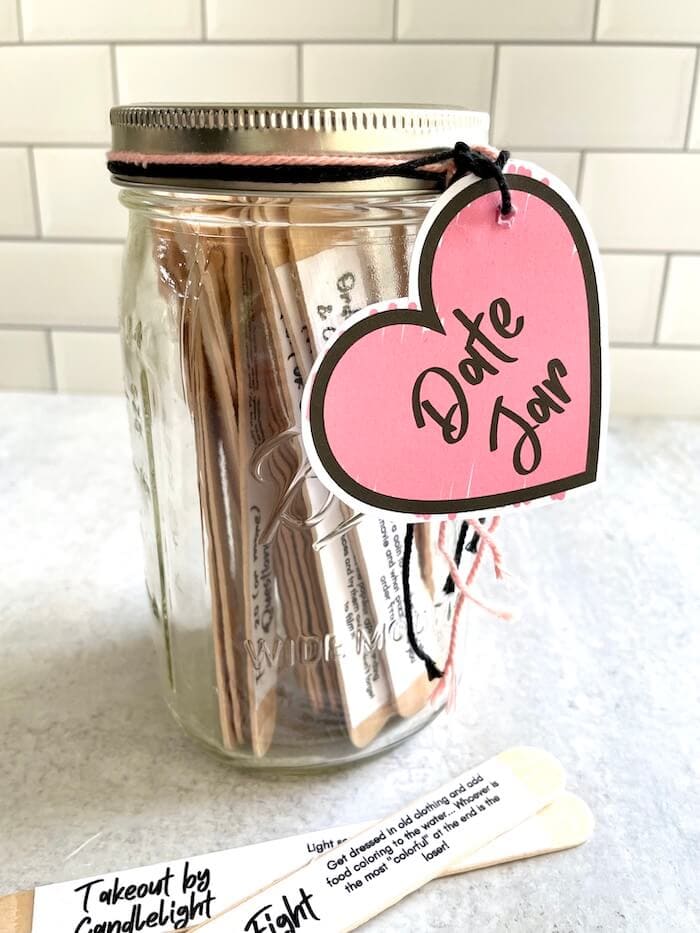 Super cute, right?!
How to Make a Date Idea Jar with a Laminator
Another option for creating your own date idea jar is to use a laminator. The benefit of laminating your date ideas is that the laminated slips of paper are much thinner than the craft sticks, so you can fit more in a jar!
Here's how to do it:
Step 1: Print the date jar ideas
You can print on regular printer paper or even colored paper. Maybe use a few different colors of printer paper to create your own color-coded system… For instance, "at home" date ideas could be on pink paper and "out on the town" dates could be on blue paper.
Step 2: Cut the date ideas out
Cut out each date jar idea on the lines. I used my handy paper trimmer to make it super easy and to ensure that my lines were straight, but you can also cut them out by hand.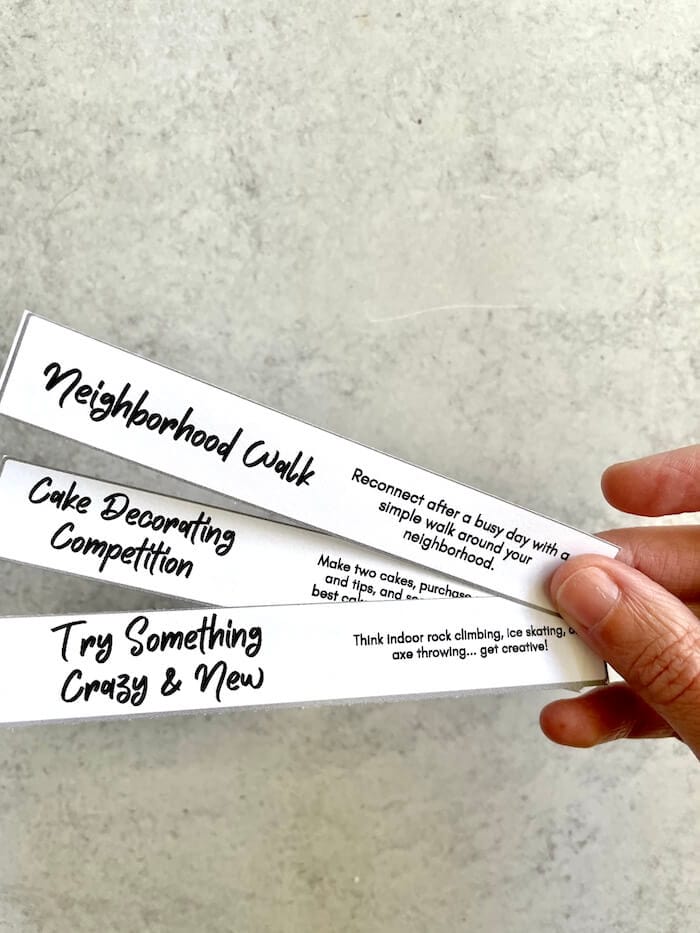 Step 3: Add the slips of paper to a laminating pouch and laminate
After you've cut out all of the date jar ideas, it's time to laminate them. Simply place each slip of paper into a laminating pouch (these are the laminating pouches that I use and LOVE!). And be sure that you have about 1/2″ of space around each slip of paper so that the laminator can create a proper seal.
Here's what my date jar ideas looked like once they came out of the laminator… notice the blank space around each one:
Step 4: Cut out the laminated date jar ideas and add them to a jar
When you're cutting the idea sticks, be sure to leave a little less than a 1/4″ of space all the way around each slip of paper. You don't want to cut too close to the paper or the lamination seal will be broken.
Then, just add the sticks to your mason jar and decorate the jar with a label and some fun ribbon.
Date Night Jar Ideas
Gluing slips of paper to popsicle sticks is one thing, but coming up with creative date ideas to add to your jar is definitely more difficult. But I've got you covered!
I've got an entire list of 94 date night ideas that you can use to create your jar. The date ideas are organized into categories like at home dates, dates you can do in the car, and out on the town date nights.
Here are just a few of my favorite date night ideas to include in your jar:
Pinot and puzzles – Open up a bottle of wine and do a difficult puzzle together.
Cook a new dish together – Try something fancy like coq au vin or osso bucco… and don't forget dessert!
Takeout by candlelight – Order your favorite takeout food, dim the lights, and eat dinner by candlelight.
Backyard picnic under the stars
Drive thru sampler feast – Order drinks from one drive thru restaurant, an appetizer from a different drive thru, an entree from another, and so on.
Go for a scenic drive – Hit up the drive thru for some coffee and venture down some back roads admiring the scenery.
Take a creative class together – Sushi making, cake decorating, or a painting class (like the ones where you bring your own wine!) would all be great date night ideas!
Go to a fancy restaurant just for dessert – A great way to get the fancy restaurant experience without blowing your budget for the week!
Revisit the place where you had your first date
Head over here for the full list of 94 date night ideas!
Other Tips for Making Your Own Date Night Jar
Here are some other tips for making and using your own jar for date night ideas:
Simply cut and fold. Use the free printable list of date ideas and simply cut them into strips, fold them in half, and add them to a jar. Quick and easy! No popsicle sticks or laminating!
Make a "Restaurant Date Jar"! If you're constantly trying to decide on a restaurant for date night, then add slips of paper with different restaurant names to a jar instead. Include your favorite restaurants and some new ones that you've never tried before. And you could even color-code the slips of paper by price range.
Color code with washi tape. Wrap different colors of washi tape around the end of your popsicle sticks for an easy color coding system!
Make a family or kid date jar. Add kid-friendly activities that you can do as a family to a separate jar for fun family outings!
Use printable date cards instead! I've got these super cute cards available in my shop here that you can add to your date jar instead!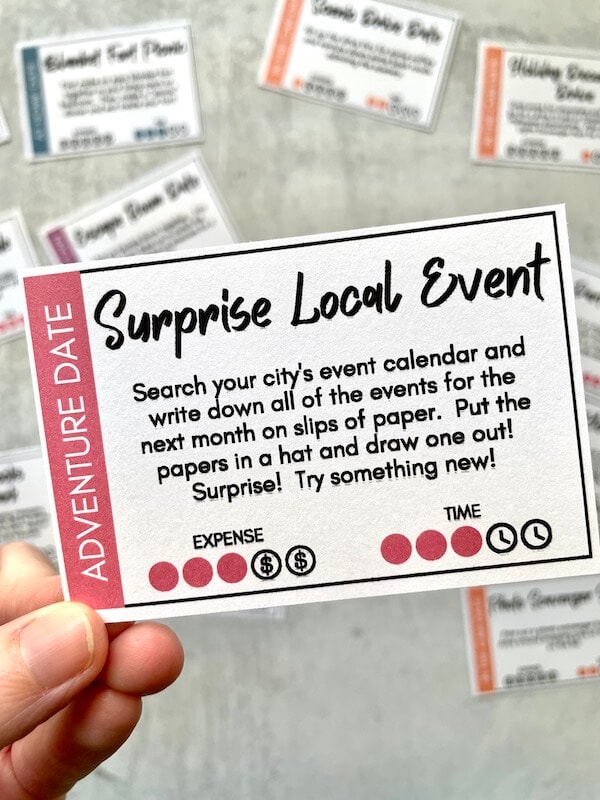 Date Jar Ideas – Free Printable!
Want to grab my free printable list of date jar ideas to make putting together your own date night jar SUPER easy?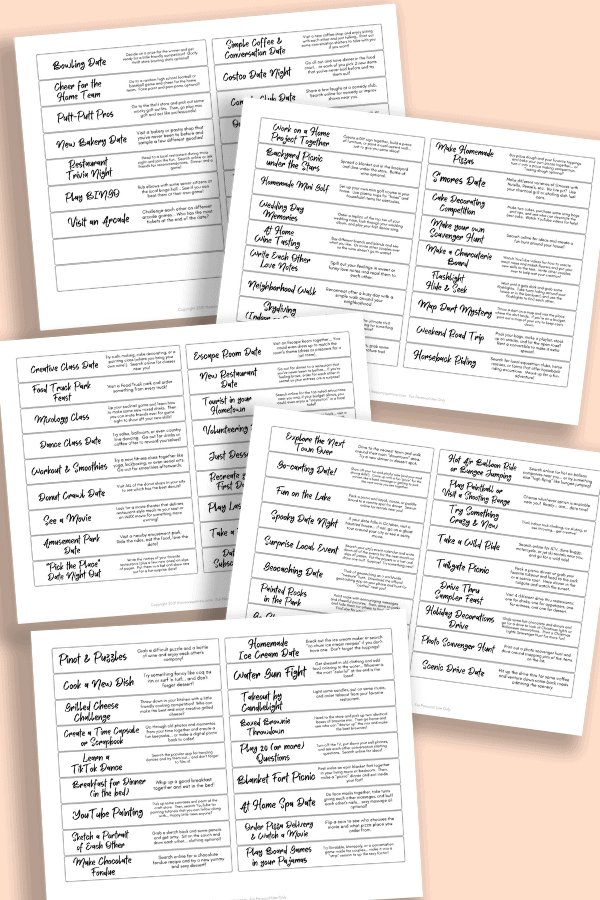 Just fill out the form below to join my FREE email newsletter, and I'll send you them to you as a Welcome gift! Plus, you'll get access to my entire library of over 60 free printables!
And don't forget to PIN these great date jar ideas for later: