Whether you're looking for first anniversary gift ideas or, like me, a 13th anniversary gift, you're bound to find something great in this big list of anniversary ideas for him! Give your husband one of these creative anniversary gift ideas to let him know how much you love him when your special day rolls around…
I'm not shy about telling people about the awe-inspiring awesomeness of my Boogie Husband. I thank God everyday for him and for the strength and health of our marriage. And, since our 13th wedding anniversary is coming up next month, I've been racking my brain for creative anniversary gift ideas for him to let him know how appreciated he truly is.
The only problem is, he's not the easiest person to buy a present for.
Anyone else have a husband that's super difficult to shop for?
Like, you don't want to buy him another shirt, but you also don't want to buy the $2,000 fishing kayak that he's been wanting…
(Sorry, babe… keep dreaming.)
My husband is good at dropping not-so-subtle hints about gift ideas for himself, but when it comes to anniversaries, I usually try to get something with a little sentimental value.
Something that says "I love you to the moon and back, and I put a lot of thought into this anniversary gift".
And last year, I absolutely nailed it!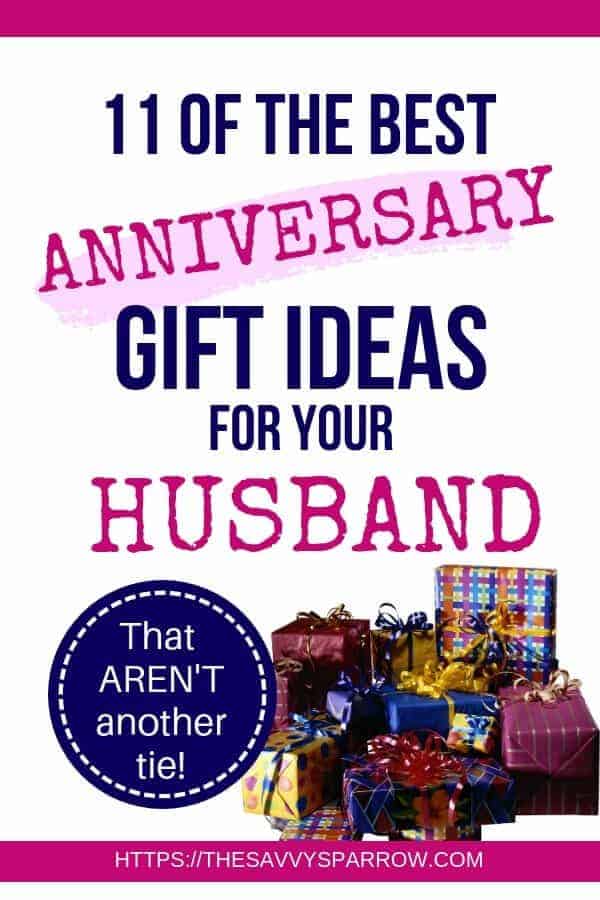 What did I get him? Check out the first idea on my list of creative anniversary gift ideas for him:
*This post contains affiliate links, which means I may earn a small commission from these links at no additional cost to you. Read my full disclosure here.
Creative Anniversary Ideas for Him
Replica of the top tier of your wedding cake
This is one of my favorite anniversary ideas for him!
Track down your wedding cake baker, and have them make a small version of the top tier of your wedding cake as a surprise for your husband.
When my husband and I got married 13 years ago, we kept with tradition and reserved the top tier of our cake to eat on our first anniversary. The only problem was, we forgot to pick it up from our reception venue after our wedding, and it got thrown away!
Turns out that we didn't need the extra luck that supposedly comes from eating year old, freezer-burnt cake. 🙂
But, our wedding cake was darn good, and if you know me, then you know that I'm always on the lookout for an excuse to eat cake!
So, I tracked down our wedding cake baker who, after a decade was no longer making elaborate wedding cakes, and had her make a small 10 inch cake in the same flavor as the top tier of our wedding cake.
(If you plowed through your top tier on your actual wedding day, or if you're like us and completely forgot about picking it up from the reception site afterwards, then add this to your list of first anniversary gift ideas!)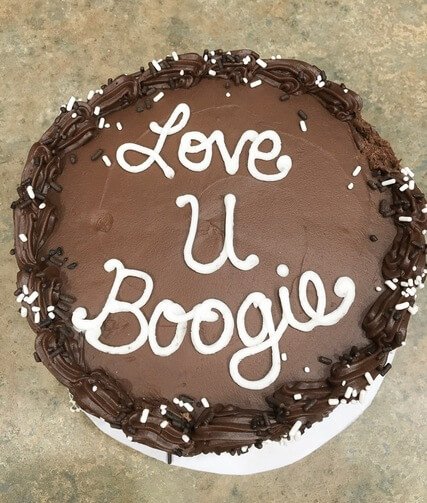 Cutesy pet name optional, but strongly encouraged. 🙂
When my husband walked in the kitchen and saw it sitting on our counter, he got teary-eyed. After twelve years of anniversary gifts, this is still my husband's favorite.
And, it was pretty cool that we got to share our Triple Chocolate Truffle cake with our two daughters while we told them all about our beautiful wedding.
Playlist of your wedding songs
Buy digital downloads of some of the songs that were played at your wedding, and compile them into an Anniversary playlist. That way, your husband can be reminded of your special day when he's driving to work or at the gym.
My husband actually has a playlist of some of our wedding songs that he falls asleep to every night (the Chicken Dance excluded, of course!). So this is one of the creative anniversary gift ideas that could be very useful.
DIY artwork of your first dance lyrics
Pick a few lyrics from your first dance song, and turn them into a beautiful piece of artwork for a creative anniversary gift. Use this cheap and easy method to make wood signs using a printer and a sharpie marker.
This would also make an awesome first anniversary gift for your husband!
Shutterfly photo book of your life since you've been married
Make a photo book of some of the fun and memorable moments of your marriage. Include vacations, the births of your children, fun dates and big moves. Organize the book by years of marriage (Year 1, Year 2, etc).
If you're looking for affordable, creative anniversary gift ideas for him, then this one is perfect! Shutterfly is always sending out coupons for FREE personalized photo books, so you would only have to pay Shipping and Handling. Go HERE to see if they have any current photo book promotions. If not, be sure to set up an account so that you'll be notified when they offer free photo books.
Personalized gifts based on his interests
If you want a personalized momento to gift him for your anniversary, then Etsy.com is a great place to start.
Just search "[name of his favorite hobby] + personalized gifts".
My husband LOVES hunting and fishing, so I searched Etsy.com for "fishing personalized gifts" and found some adorable personalized fishing lure key chains that said "You are my greatest catch" with an anniversary date.
Is your husband a golfer? You can also find personalized golf ball markers that say "Kiss my Putt" and "Talk Birdy to Me".
How cute is that?! These would definitely be more creative anniversary gift ideas than an off-the-rack shirt.
Back massager and coupons for FREE massages
This is one of the creative anniversary gift ideas for him that I did about five years ago.
My husband works long hours on his feet, and he often gets bad backaches because of it. So, I bought him an electric handheld back massager and made a little coupon book of FREE back massage coupons. He still uses this anniversary gift years later.
DIY Love Memo Board
Make a DIY dry erase board to leave little love notes for your husband.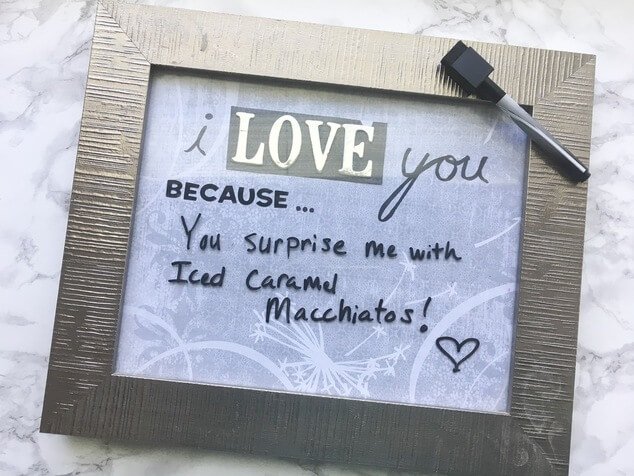 This creative anniversary gift idea for him couldn't be easier to make! Just buy a tabletop 8 x 10 inch picture frame and a piece of scrapbook paper. Then, use a Sharpie or letter stickers to write "I love you because…" on the scrapbook paper and put it in the frame.
Use a dry erase marker to write one of the reasons why you love your husband on the glass. Then, when you want to change the message, just wipe off the glass and start again.
I made this DIY love note dry erase board for my husband about 6 years ago, and we still use it to write little notes to each other.
Gift certificate for an experience
Give him a gift certificate for a fun activity that you know he'll enjoy or that you can do together.
If he loves to cook and try new things, go for a sushi-making class. If he loves to play golf, give him a certificate to a local golf course. Or, if he loves sports, buy tickets to a big game.
Framed wedding invitation
If you need easy anniversary ideas for him, then it doesn't get much easier than this!
Dig out a copy of your wedding invitation and stick it in a nice frame.
My husband's cousin gave us this as a wedding present, and it's still one of my absolute favorite things in our house.
Balloon love notes
I did this for my husband when we were in high school. I went over to his house and filled his bedroom with balloons, about 3 feet deep. His Dad thought I was crazy, but my husband (who was my boyfriend at the time) absolutely loved it.
Fill his closet or home office with balloons. On each balloon, use a Sharpie marker to write one reason why you LOVE being married to him. Then, sit back and watch as he gets a big (and maybe loud) surprise.
Subscription box for him
Subscription boxes are one of my favorite gift ideas! It's so nice to get a surprise gift in the mail each month, even if you gift it to yourself. 🙂
I've gifted myself FabFitFun boxes (my absolute FAVORITE!), and for Christmas last year, we gave our youngest daughter a 6 month subscription to Raddish, a cooking subscription box for kids.
You can also find tons of great subscription boxes to gift your husband. If your husband loves crazy socks, check out Sock Fancy for fun anniversary ideas for him. Or, if he's a sports fanatic, try Fanchest.
Want more anniversary ideas for him? Check out the great ideas over at The Dating Divas!
And be sure to check out these other posts on strengthening your marriage: