If you're stuck on the same old dinner and movie dates, then these fun and creative date night ideas are for you! Grab the free printable list and make your own date jar or couples bucket list!
Date nights… we all want them, but how often do you actually venture out of the house with your husband or boyfriend and actually go on a proper date?
For my husband and I, it's about once per week… and it's usually a date lunch in the middle of the day at one of two different restaurants because that's about all we have time for.
But last summer, we decided to try a different restaurant that we had never been to before once per week. We're foodies and we love visiting new places and trying the local cuisines. So we thought it would be a cool and easy way to experience something new together.
Some of the restaurants were duds, but some were fantastic! And we never would have tried them (or ventured away from our usual restaurant lineup) had it not been for our adventurous spirit.
Interestingly enough, we also found that changing the date "scenery" also prompted new conversations and bonding moments… which gave me the idea to create a whole year or two worth of fun and fresh date ideas. And I'm sharing them with you!
If you're bored with your current date nights, and you can't bear the thought of sitting on the couch together for one more Saturday night "date", then try out some of these awesome date night ideas: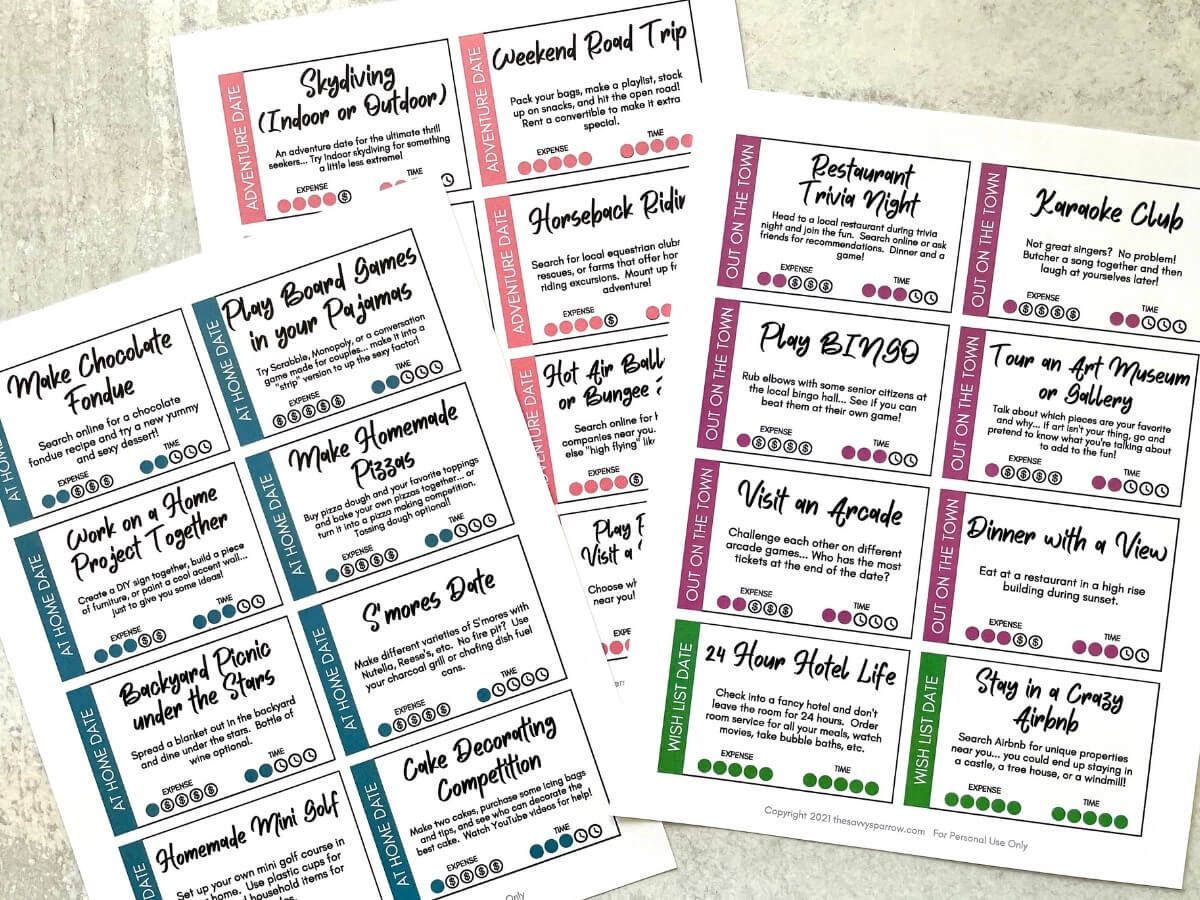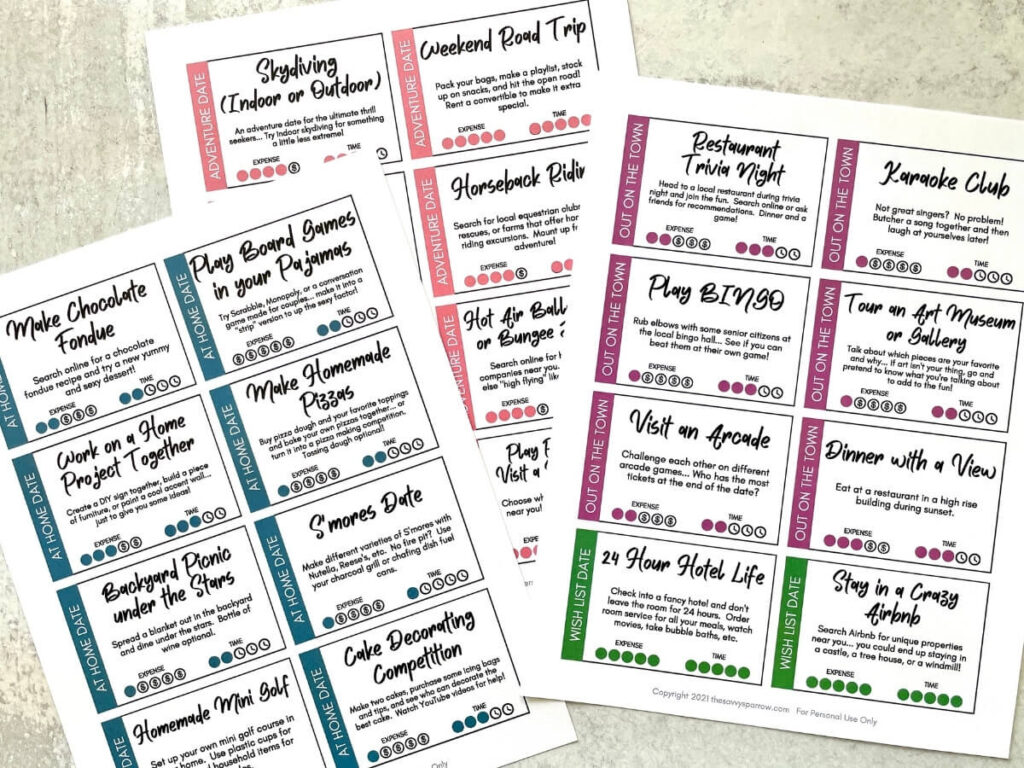 Why You Should Try These Fun Date Night Ideas
But first, why is date night important? Here are some of the key benefits of taking that quality time together with your spouse:
To beat marriage boredom
When you've been married for 15+ years like I have, it's easy to fall into a "rut". Most evenings are spent watching our usual TV shows, and if we really want to get crazy, we watch a movie instead.
But sometimes, you need to spice things up a bit and experience something new together! These date ideas are a great way to get out of your normal routine, and they can help you eliminate the feelings of boredom in your marriage, especially if you commit to trying one of these date night ideas each week or even two a month.
To put everyday stresses to the side (if only for a day)
Life can get stressful, from toddlers that go on a sleep strike to bosses that never recognize your hard work, so it's important to enjoy time with each other, separate from life's everyday stresses.
Date night can offer an "escape"… just be sure to not spend your quality time together discussing difficult topics like finances or parenting struggles. You can save those talks for a typical Monday.
To enhance your friendship and emotional connection
According to a Psychology Today article, date nights are a necessity for a healthy relationship because they enhance your emotional bond and friendship.
I tell everyone that my husband is my best friend, and I think that's one of the reasons why we have such a healthy marriage. And I 100% agree that our great friendship is largely due to all of the quality time that we spend together… another reason to not skip date night!
How to Use These Date Ideas
So having a big list of date night ideas is one thing, but actually using the ideas is another. Here are some ways you can put these ideas in to action for awesome dates:
Make a Date Jar Full of Fun Date Ideas
This is super simple to do… and it's a fun way to leave your date night plans to chance. Simply download and print the free printable list of date night ideas at the end of this post, cut them out on the dotted lines, and add the slips of paper to a jar.
Then, a few days before date night, draw a date idea from the jar!
Make a Couples Bucket List
I LOVE making bucket lists… probably because I just love any type of lists and the super-satisfying checkmarks that go along with them. And a couples bucket list is an awesome way to plan fun dates together!
You can print out a bucket list printable or create your own, and add your favorite date night ideas to the list! Then, choose one idea from your couples bucket list for each month and do it during date night!
Pick a Card, Any Card
Write the date night ideas on the back of playing cards (one idea per card). Then, at the beginning of the week, each of you pick out 4 or 5 of your favorite cards… Shuffle them up and draw one date night card out of the bunch. Whatever you pick is your date night for the week!
*You can also do this with my printable date night idea cards at the end of this post!
100 Date Night Ideas
Fun At Home Date Ideas
1. Make homemade ice cream.
Don't have an ice cream maker? No worries! You can Google no churn ice cream recipes for some great options.
2. Cook a new dish together.
Try something fancy like coq au vin or osso bucco… and don't forget dessert!
3. Have a water gun fight in the backyard.
Get dressed in old clothes, and add food coloring to the water. Whoever is the most "colorful" at the end is the loser!
4. Grilled cheese challenge!
Throw down in your kitchen, Iron Chef style, with a little friendly cooking competition! You can keep it cheap and easy by seeing who can make the best or most creative grilled cheese sandwich.
5. Takeout by Candlelight.
Light some candles, put on some music, and order takeout from your favorite restaurant.
6. Create a couples time capsule or scrapbook.
Go through old photos or momentos from your time together and put them in a scrapbook or time capsule. You can also create a photo book together using a site like Shutterfly!
7. Boxed brownies challenge!
Head to the store and pick up two identical boxes of brownie mix. Then go home and see who can "doctor up" the mix and make the best brownies!
8. Learn a TikTok dance.
Search the popular app for trending dances, and try them out… and don't forget to film it! (Who says the teenagers get to have all the fun?!)
9. Play 20 (or 100) Questions!
Turn off the TV, put down your cell phones, and just talk to each other… but no discussing the kids' schedules for the week or how your work days went.
Instead, ask some of these deep, random, or funny questions to get the conversation flowing: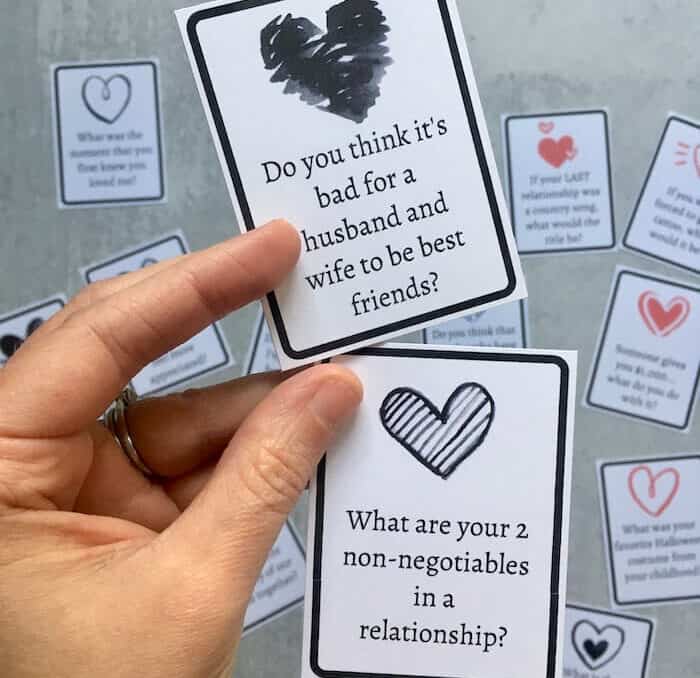 10. Puzzles and Pinot!
Grab a difficult puzzle and a bottle of wine and enjoy each other's company and some needed "down time".
11. Make breakfast for dinner and eat in the bed.
12. Have a blanket fort picnic.
First make an epic blanket fort together in your living room or bedroom. Then, make a "picnic" dinner and eat inside your fort creation!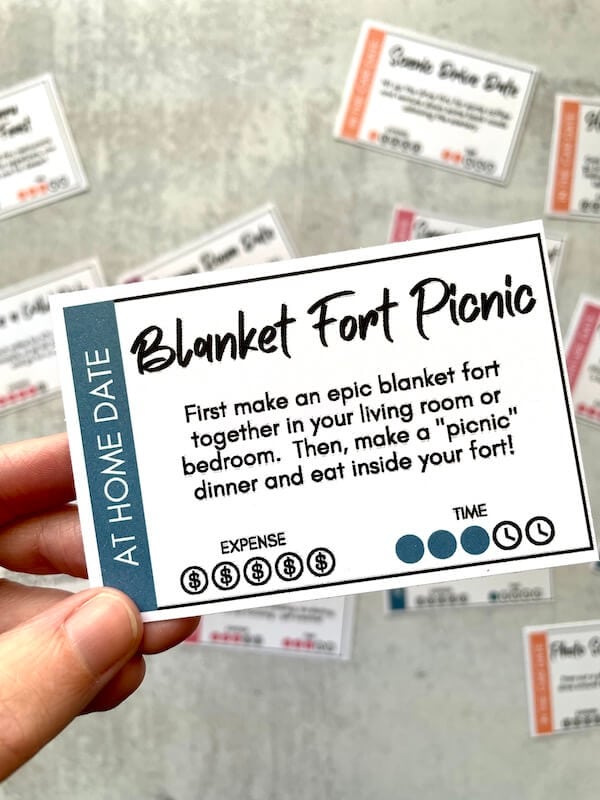 13. YouTube painting date!
Pick up some canvases and paint at the craft store. Then search YouTube for painting tutorials that you can follow along with… Bob Ross would be a great choice!
14. At home spa date.
Do face masks together, take turns giving each other massages, and buff each other's nails… sexy massage oil optional.
15. Sketch a portrait of each other.
Grab a sketch book and some pencils and get artsy. Sit on the couch and draw each other… clothing optional!
16. Order pizza delivery and watch a movie.
This is one of my all time favorite date nights, because I'm a homebody and a sucker for a good deep dish pizza! My husband and I like to take an early shower together around 4:00pm and then get in the bed to eat pizza.
17. Make fondue!
Our family does this every Valentine's Day for a fun "family date". Go here to learn how to make homemade chocolate fondue! Hint: It's easier than you think!
18. Play board games in your pajamas.
I've got an awesome list of the best two player games for couples here if you need date night ideas!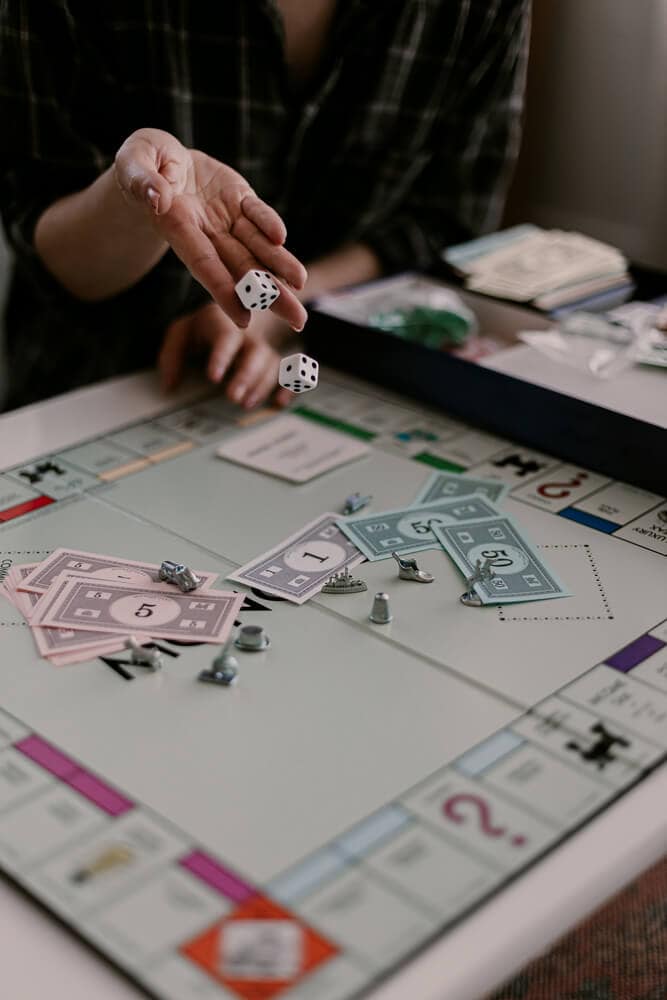 19. Work on a home project together.
Working on a DIY project together is a great way to bond and be creative. Plus, you're working towards a shared goal, which is always good!
My husband and I recently did this awesome DIY faux brick wall together, but if major home improvement isn't really your thing, you could also try some easy DIY wood signs. You could even create a sign with lyrics from your first dance!
20. Make homemade pizzas.
You should be able to find pizza dough in the bakery section of your grocery store. Grab some marinara or pizza sauce and your favorite toppings. Bake your pizzas in a cast iron skillet for a seriously delicious homemade deep dish pizza!
21. Make a picnic dinner and eat in the backyard under the stars.
22. Make S'mores.
If you don't have a fire pit or a charcoal grill, you could even use the little cans of fuel that are used for catering.
23. Homemade mini golf!
Set up your own mini golf course in your home. Use plastic cups for the "holes" and household items for obstacles.
24. Cake decorating competition!
In case you can't tell yet, my husband and I love to engage in a little friendly competition on our date nights. Make two cakes, purchase some icing bags and tips, and see who can decorate the best cake. You could even watch an instructional YouTube video together and follow along and see whose cake is the best!
25. Order a replica of the top layer of your wedding cake and look through your wedding photos.
This is actually something that I did recently as a surprise for my husband on our anniversary. We never got to eat the top layer of our wedding cake on our first anniversary because we accidentally left it at our reception venue. Oops! So, I tracked down our cake baker (twelve years later) and had her make a mini cake in the same flavor, sans all the expensive decorative details. Silly pet name optional.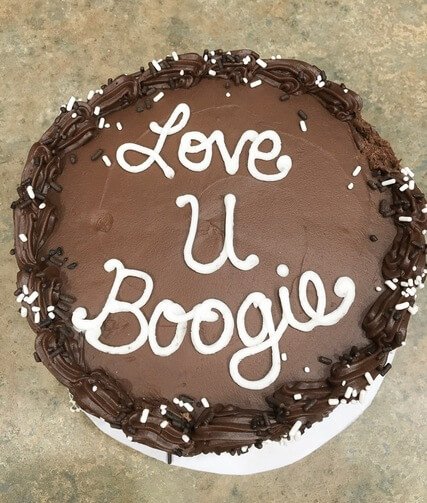 26. Make your own at home scavenger hunt for date night.
Think of some clever clues and hide sexy notes or romantic items around the house. You can go here for an awesome printable scavenger hunt for date nights at home!
27. Have a wine tasting at home.
Buy different brands and different blends and see what you like. You could also invite other couples over to your house so the wine doesn't go to waste!
28. Make an awesome charcuterie board together.
If you're going to have a couples date night at home with wine, then you've got to have charcuterie, too! Watch YouTube videos for how to create "meat roses" and radish flowers and put your new skills to the test.
29. Write each other love notes and take turns reading them out loud.
This may seem odd for date night… but how often do you tell your husband WHY you love him? Think about the odd things that you love most about each other and talk about them.
You can go here for tips on writing the BEST love letters to help you!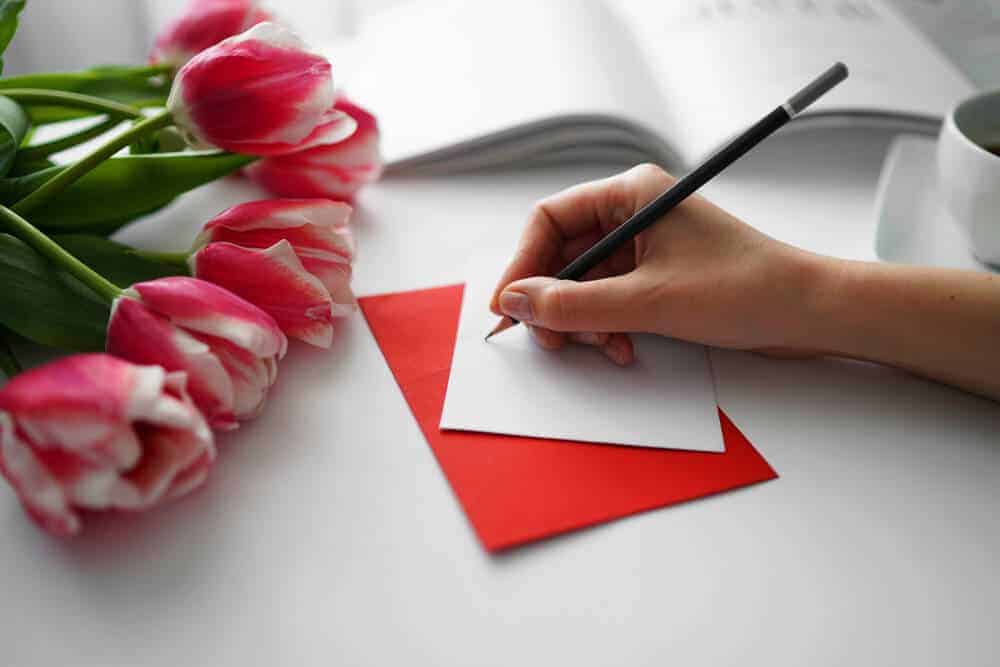 30. Flashlight hide and seek.
Wait until it gets dark and grab some flashlights. Take turns hiding around your house or in the backyard, and use the flashlights to find each other.
31. Go for a walk around your neighborhood.
Who says that every date night has to be some big, extravagant, and expensive event? Why not make everyday moments into "date nights"? My husband and I really enjoy a simple evening walk around our neighborhood together. There's no better way to reconnect after a busy day and just enjoy each other's company.
Adventurous Date Ideas
32. Throw a dart on a map and visit the place where the dart lands.
If you're working with a limited budget, you could also print out a map of your state, or even your city, to keep costs down.
33. Go skydiving.
Or indoor skydiving if you're a little less adventurous!
34. Take a weekend road trip together.
To make it extra special, you could also rent a convertible or create a playlist of meaningful songs to listen to during the drive.
35. Go for a hike.
36. Go horse back riding.
Sometimes you can find local equestrian clubs, horse rescues, or farms that offer riding lessons.
37. Explore the next town over.
Drive to the nearest town and walk around their main "downtown" area and try a new restaurant.
38. Hot air balloon ride!
39. Go-carting!
Show off your fun and playful side (and your mad driving skills!) with this fun date night idea! And come up with a fun "prize" for the winner, like a back massage or getting to pick the next movie that you see together.
40. Play paintball!
Or you could go to a shooting range if you don't have a paintball course nearby. Ready… aim… date night!
41. Fun on the lake!
Pack a picnic and kayak, canoe, or paddle board to a remote spot for dinner. You can search Google for rentals near you.
42. Try something off-the-wall that you've never done before.
Think indoor rock climbing, ice skating, or axe-throwing!
43. Do something spooky!
If your date night happens to fall in October, visit a haunted house together. Or, see a scary movie or go on a ghost tour around your city… Any excuse to latch on to your husband's arm, right?
44. Rent some ATV's and go for a ride.
45. Surprise local event!
Search Google for your city's event calendar, and write down all of the options for the next month on slips of paper. Depending on where you live, you may end up with a bunch of random fun events like murder mystery dinner shows, indie concerts, or high school plays. Place all of the papers in a hat and draw one out. This is a GREAT way to try something new that you wouldn't normally do!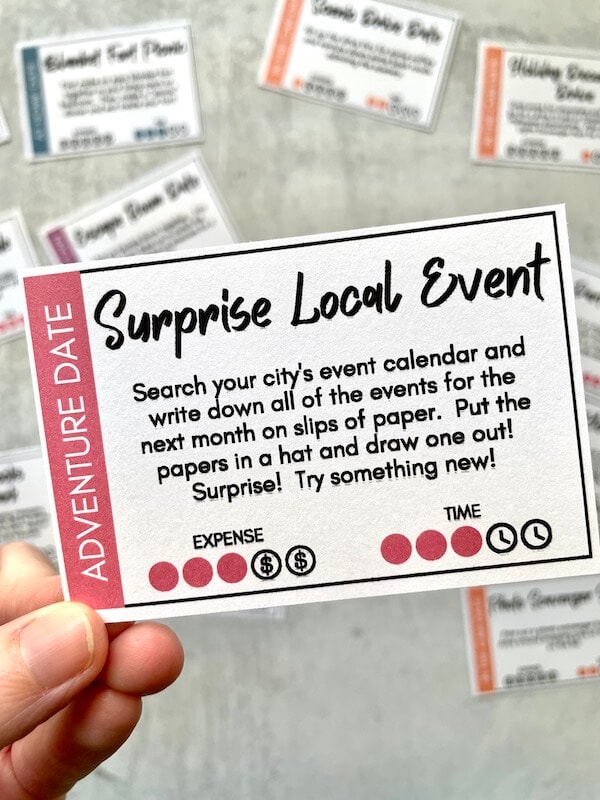 Date Night Ideas in the Car
Sometimes my favorite thing to do with my husband is to jump in the car, grab a coffee in the drive thru, and just go for a drive. It's pretty inexpensive, and a great way to get out of the house without having to devote hours upon hours to date night… hello expensive babysitting bill!
If you fancy long drives together too, then here are some awesome date night ideas that you can do from the comfort of your car:
46. Tailgate picnic.
Pack a picnic dinner or grab your favorite takeout and head to the park or a scenic spot. Have dinner in the tailgate and watch the sunset.
47. Go geocaching!
Think of geocaching as a worldwide "treasure hunt" that uses a free app and the GPS locator on your phone. People from all over the world hide and seek "geocaches" or small boxes filled with cheap random items and a log book.
Geocaching would be a perfect date night idea, because it allows you to explore new areas and work towards a shared goal with a surprise at the end!
48. Drive thru progressive dinner.
If you've never heard of a progressive dinner, it goes like this… A group of people gather at one person's home for appetizers, then the group collectively moves to the next person's home for salads, then someone else hosts the group for the entree, and dessert is hosted at a different house.
But the same idea could apply for a fun date night in your car. Order drinks from one drive thru, an appetizer from a different drive thru, and so on.
49. Painted rocks in the park!
Paint rocks with encouraging messages and cheerful pictures. Then drive to different parks and hide them for others to find. You can even watch YouTube videos for different painted rocks tutorials.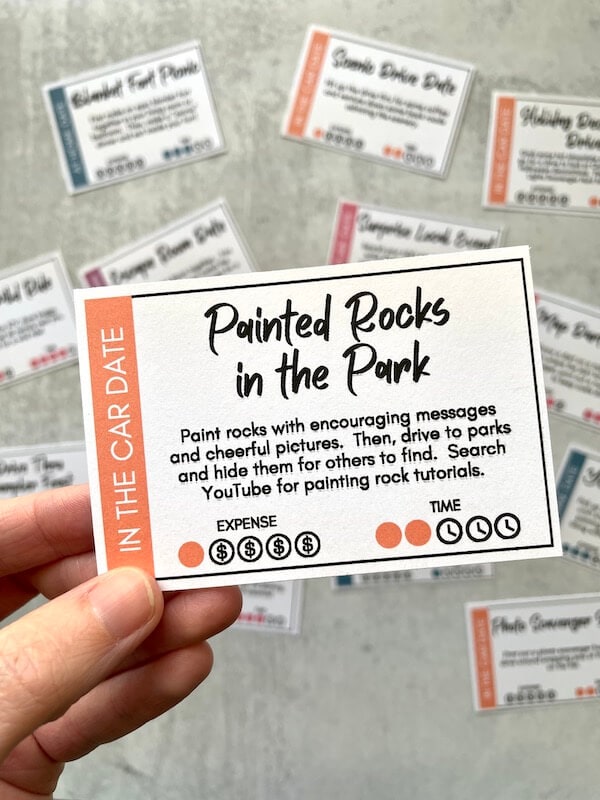 50. Holiday decorations drive.
This is something that we always do in the month of December. Grab some hot chocolate and donuts and go for a drive to see the Christmas Lights. You could even use this printable Christmas Lights scavenger hunt to make it even more fun!
51. Go stargazing.
Drive to the outskirts of town where there are less city lights to obstruct your view and look at the stars. You could even Google constellations and try to spot some!
52. Do a photo scavenger hunt.
Print out a photo scavenger hunt and drive around snapping pics of the items on the list!
53. Go see a drive in movie in your pajamas.
Pack blankets and sit in your tailgate and bring your favorite snacks.
54. Go for a scenic drive.
Hit up the drive thru for some coffee and venture down some back roads admiring the scenery.
"Out on the Town" Date Night Ideas
55. Take a creative class together.
Sushi making, cake decorating, or a painting class (like the ones where you bring your own wine!) would all be great date night ideas!
56. Visit an Escape Room.
You could even make it "extra" and dress up according to which escape room you're doing – Doing a prison cell room, dress as a prisoner or a police officer, etc.
57. Visit a food truck park!
Entire plazas full of food trucks are popping up all over my city, and I would LOVE to go one night and order something from every truck!
58. Visit a new restaurant that you've never been to before.
Order for each other in secret, so that your entrees are a surprise.
59. Take a mixology class!
Up your cocktail game and learn how to make some new mixed drinks. Then you can invite your friends over for game night and show off your new skills!
60. Pretend to be a tourist in your own city.
Search Tripadvisor for the highest rated attractions and, if your budget allows, you could even stay in a local hotel.
61. Take a dance class!
Maybe this fun date night idea should actually be categorized as an "adventurous" date, depending on your dancing abilities. Try salsa, ballroom, or even country line dancing!
62. Do some good!
Spend your date night giving back to others… you'll probably be amazed at how good and energized you feel when you volunteer your time or even just take a few minutes to drop off donuts at your local fire department.
You could go play with the dogs at the local animal shelter, visit a nursing home and play card games with the residents, or even buy toys to deliver to a children's home or hospital.
63. Exercise and smoothies!
Try a new fitness class together, like yoga, kickboxing, or even aerial arts. Go out for smoothies afterwards.
64. Go to a restaurant just for dessert.
My husband and I used to do this when we first got married and our budget didn't allow for eating out at nice restaurants. About once a month, we would go to The Melting Pot and just order chocolate fondue for dessert. For about $20-$30, we got the fancy restaurant experience without the high price tag.
65. Donut crawl!
This is something that's on our couples bucket list! Like a "pub crawl", except with local donut shops. Our hometown has about 8 different donut shops, and I've always wanted to try them all to see which is best.
66. Revisit the place where you had your first date.
And pretend like you've just met for a little nostalgia.
67. Go see a movie!
Look for a movie theater that delivers restaurant-style meals to your seat (like Cinebarre) or an IMAX movie for something more exciting.
68. Go play laser tag!
Some of the fun activities that you typically think of as kids' birthday party activities actually make great date night ideas for adults, too!
69. Visit an amusement park (without the kids!).
A few years ago, our family had season passes to a local amusement park, and my husband and I loved to sneak away for a few hours without the kids and just be kids ourselves!
70. Go on a food tour.
If you live in a larger city, chances are that you can join a tour group and try a wide variety of restaurants right in your own town. These tours usually offer different courses at different restaurants, so you get a change of scenery and cuisine!
71. "Pick the Place" Date Night Out!
Write the names of your favorite restaurants (plus some that you've never tried before) on slips of paper. Put them in a hat and draw one restaurant out… Great if you both are always saying, "You pick the spot… no, you pick the spot".
72. Try an at home date night subscription box!
If you're not creative or you simply don't have time to plan date nights, then let a date night company take care of it for you! A subscription box that offers fun activities for couples to do together each month is a great way to take the guess work out of date night!
My husband and I are true crime documentary fans, so I recently ordered the Hunt-A-Killer subscription box for us to try!
73. Go bowling.
Some of our favorite date night ideas involve a little friendly competition, so you could even place a bet on who's going to win!
74. Simple Coffee and Conversation date.
Visit a new coffeeshop and enjoy sitting with each other and just talking. Or, if you're like us, hit up the Starbucks inside your local grocery store and then wander aimlessly around the store. Just last week my husband and I had a "date" in the grocery store… We wandered around for an entire hour, just sipping our coffees and chatting.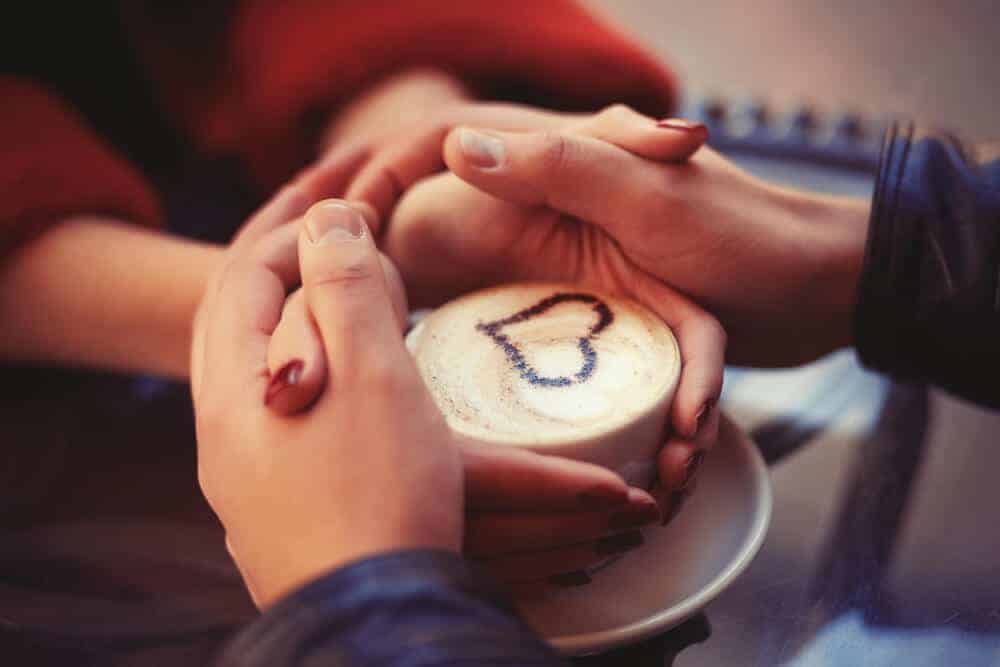 75. Go to a random high school football game and cheer for the home team.
You could even paint your face in the school's colors and sit near the students section!
76. Costco date night.
Yes, this is really a thing! And yes, couples do get excited about it! Go all out and have dinner in the food court. Or, each of you pick 2 new items that you've never purchased before and try them out!
77. Go play putt-putt.
Wear your best (or craziest!) golf gear and act like you're professional golfers.
78. Go to a comedy club.
79. Try a new bakery or pastry shop.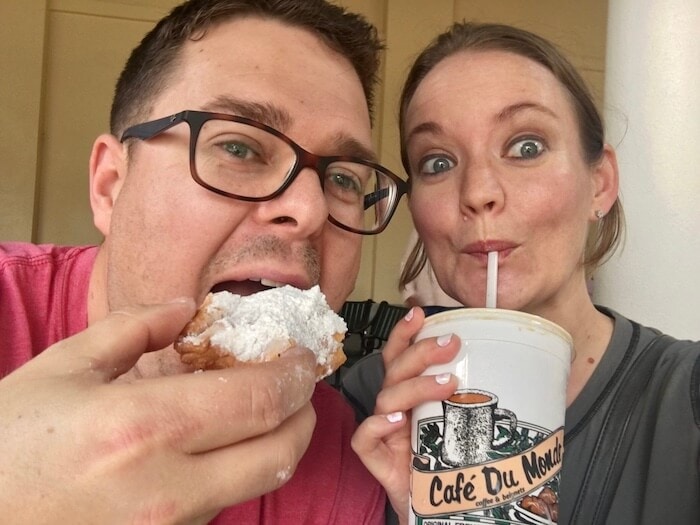 80. Take advantage of the outdoor recreational areas in your town.
Play a night game of basketball or tennis, or go bike riding in a nearby park.
81. Go sing karaoke.
82. Go to a restaurant during trivia night and join the fun!
You can Google "restaurants near me with trivia night" or ask friends for recommendations. I know that Mellow Mushroom is a national chain that offers a fun trivia style game for diners on certain days of the week… Dinner and a game!
83. Play BINGO!
Who says BINGO is just for the older crowd?! Rub elbows with some senior citizens and see if you can beat them at their own game.
84. Tour an art museum or galleries.
Talk about which art pieces are your favorite and why. And if art is completely not your thing, you can still go and pretend to know what you're talking about to add to the fun!
85. Visit an arcade.
So many times we reserve these fun "kiddish" games for our kids, but my husband and I went to an arcade together a few weeks ago, and we had a great date night!
86. Visit a restaurant in a high rise building during sunset time.
The Ultimate Date Night – Wish List Dates
I call these "Wish List Dates" because they're a bit more extravagant (and expensive!) than your typical Friday date night. These dates may require saving up some money for a few months or dropping the kids off with their grandparents for a few days.
87. Check into a hotel and don't leave the room for 24 hours.
Order room service for all of your meals, watch movies, take bubble baths, and enjoy each other's company. Lock your cell phones away in the room safe as a bonus.
88. Tour your city by helicopter.
89. Stay in a crazy Airbnb.
Just search the Airbnb website for unique properties near you… you could end up spending the night in a castle, a tree house, or a windmill!
90. "Pretty Woman" date!
Go all out and indulge in some shopping, followed by dinner at a fancy restaurant, some spa treatments, AND a night in a swanky hotel. This would be a GREAT date to celebrate a big anniversary, too!
91. Grownup Prom!
Relive your youth with a pretend prom date night! Get dressed up in your best formal wear and go out to a fancy restaurant… You could even spring for a limo ride and schedule it during your local high school's prom night. Tell everyone you're prom chaperones!
92. Couples Spa Date!
Book couples massages and spa treatments and relax together.
93. Couples sexy photo shoot.
Schedule a "boudoir" photo shoot with a local photographer, and go shopping for sexy outfits to wear!
94. Rent an RV for a "glamping" date night.
You can actually rent an RV or travel trailer and have it delivered to the campsite of your choice. That way, you can avoid the hard work of getting the trailer hooked up, parking it, and getting everything set up and ready to go.
Free Printable List of Date Night Ideas
Want to create your own Date Jar in about 5 minutes? Just sign up for my free email newsletter and I'll send you the printable list of date ideas (and the link to my FREEBIES library!). Then, just cut the ideas out and add them to a date jar.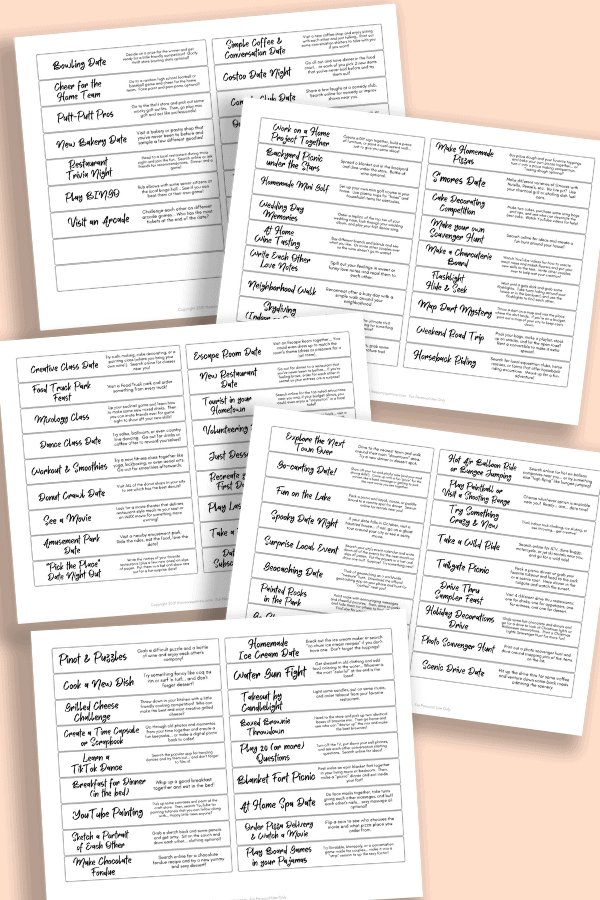 Super simple and you'll have date night ideas for about 2 or 3 years!
Just use the form below and check your email inbox:
Printable Date Cards
Want to try out some printable date idea cards instead? These super cute cards are color-coordinated by category and they're labeled with time and expense estimates for each date. You can use these for your Date Night Jar instead!
Check out the Printable Date Cards HERE!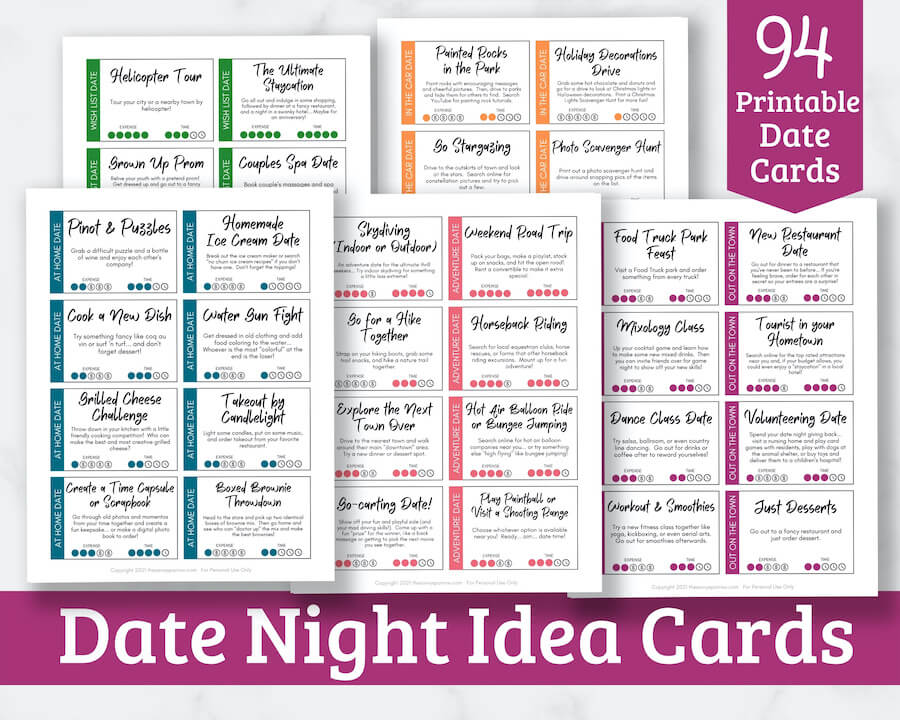 What about you? What are some of your favorite date ideas? Anything that you and your spouse do regularly for fun dates? Leave me a comment down below! I'd LOVE to hear from you!
And don't forget to PIN this post for later: