Motivate kids to read with Reading Challenges for Kids! Learn how to do a reading challenge with your kids over the summer or during the school year. Track kids' reading progress with printable Reading Trackers, and offer rewards for completing challenges! Use these ideas to make reading FUN and EXCITING!
Kids these days have a TON of options for how to spend their time. Between video games, cell phones, YouTube, and electronics that you probably don't even know about (but that your 6 year old can explain to you in detail), kids can choose from all sorts of entertainment.
So why would they actually CHOOSE to pick up a book?
Yes, there are kids out there that actually enjoy reading… My 10 year old can polish off an entire Harry Potter book in about 4 days.
But most kids probably need some enticement (or let's just call it like it is… a BRIBE!) to finish an entire book, besides something that they're forced to read for school.
So how can you motivate your kids to read?
Reading Challenges for Kids!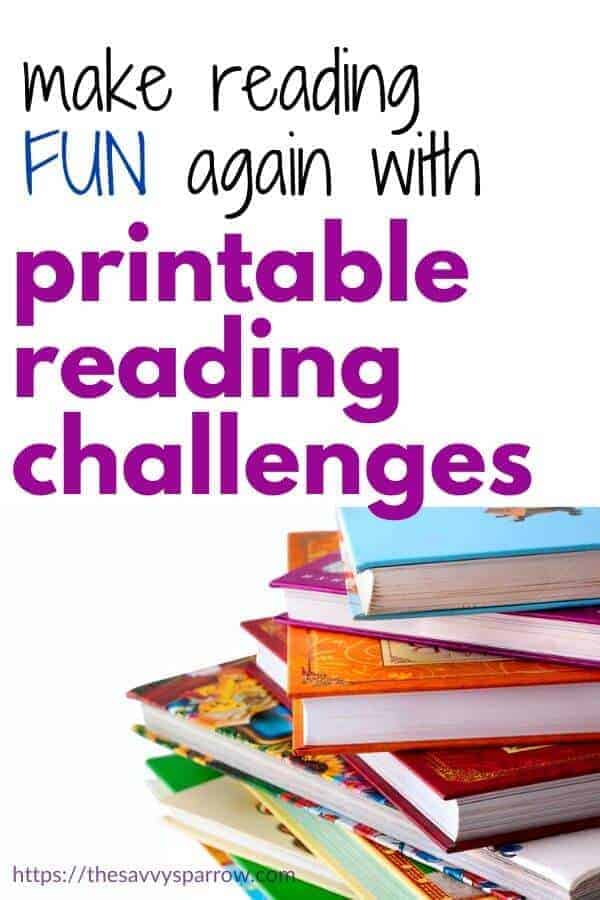 How to Do Reading Challenges with your Kids
The beauty of a Reading Challenge for Kids is that YOU are the boss. You make the "rules", and you and your kids can together set reading goals and incentives.
But to make it a proper "challenge" you should follow at least a few of these steps for how to do a successful Reading Challenge:
Establish the Ground Rules for Your Reading Challenges for Kids
Let your kids know the "rules" of the Reading Challenge. Will the Reading Challenge need to be completed in a set period of time, like over the summer or in one month? What length of book will qualify? Obviously, you probably wouldn't want your tween daughter to mark off a book on her Reading Tracker for reading a Dr. Suess book.
Outline the expectations you have for your kids before you get started.
Set a Goal
Talk with your kids about setting a challenging but attainable goal. You should set a goal that will push your kids forward, but not cause them to give up because they feel it's too difficult.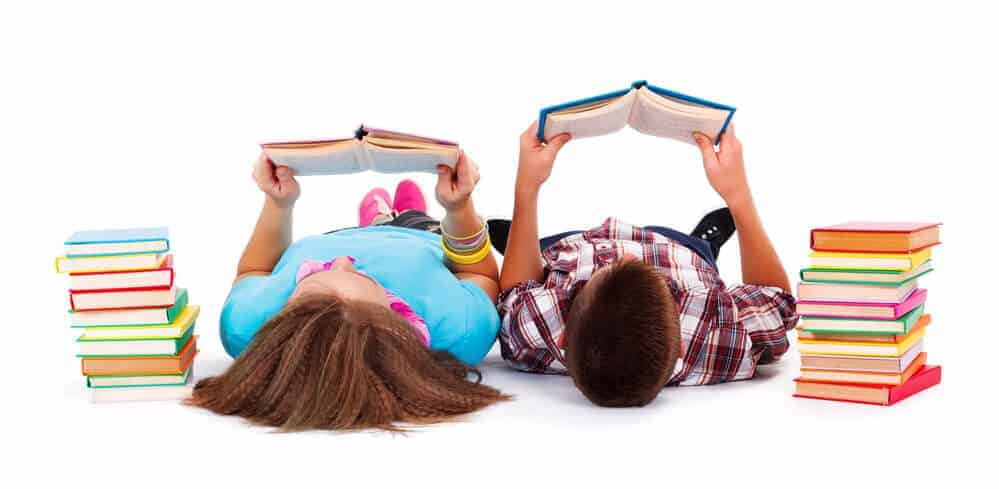 The goal that you and your kids set can be for a specific amount of reading time each day, or a certain number of books. Research shows that reading just 20 minutes a day can significantly improve a child's test scores and overall success in school, so I would set a goal of at least 20-30 minutes a day.
Or, you can set a goal for your child to finish "x" number of books. I challenged my 10 year old to read 5 chapter books over the summer this year. She's about 4 books in, and she has about a month left. This goal encouraged her to read often, but it didn't take away from her crafting and "play" time.
Offer a Reward for Completing Reading Challenges
What motivates your kids? Ice cream, new toys or clothes, or cold hard cash?
The reward that you offer for completing the Reading Challenges will vary greatly depending on the age of your kids, but it should be something that they really want. For instance, my youngest daughter wouldn't give up some of her free time for $5, but for $20 she might reconsider.
Or, you can let kids earn screen time by reading. I've even got some FREE Printable Bookmarks for you to use to keep track of reading and screen time! You can grab them as a FREE GIFT for signing up for my free email newsletter using the form below…
Plus, you'll get the password to my entire FREEBIES library as a GIFT!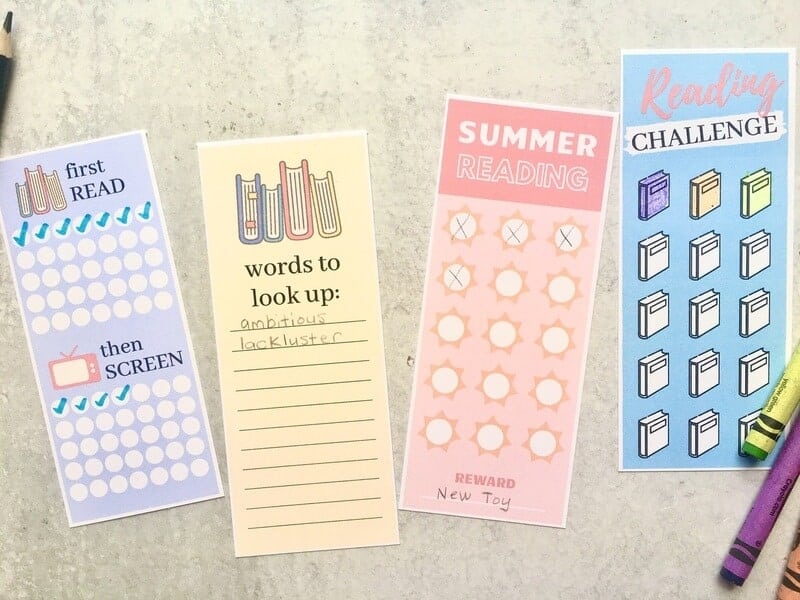 Instead of GIVING something as a reward, you could also TAKE something away… like your child's least favorite chore! If your kids really HATE folding the laundry (but it's a chore on their Chore Charts twice a week), then tell them if they complete their Reading Challenges then they don't have to fold laundry for a month!
Track Reading Progress
Use a printable reading tracker to keep up with your child's reading progress, or just make your own basic reading log on a piece of paper. Whatever you decide to use, just be sure to maintain consistency in crossing books off the list, tracking reading time, etc…
Which brings me to the most important step of doing Reading Challenges for Kids…
Follow Through
This step is the kicker… You can have all of the best printable Reading Challenges, Chore Charts, or Allowance Trackers for your kids… But if you don't actually fit them into your daily routine, then they're just more paper cluttering up your kitchen counter!
Want to try a Reading Challenge for your kids this summer or school year, but don't have time to do the leg work of making your own Reading Trackers, Incentive Charts, etc?
Want something easy that's done for you? I got you covered…
Printable Reading Challenges for Kids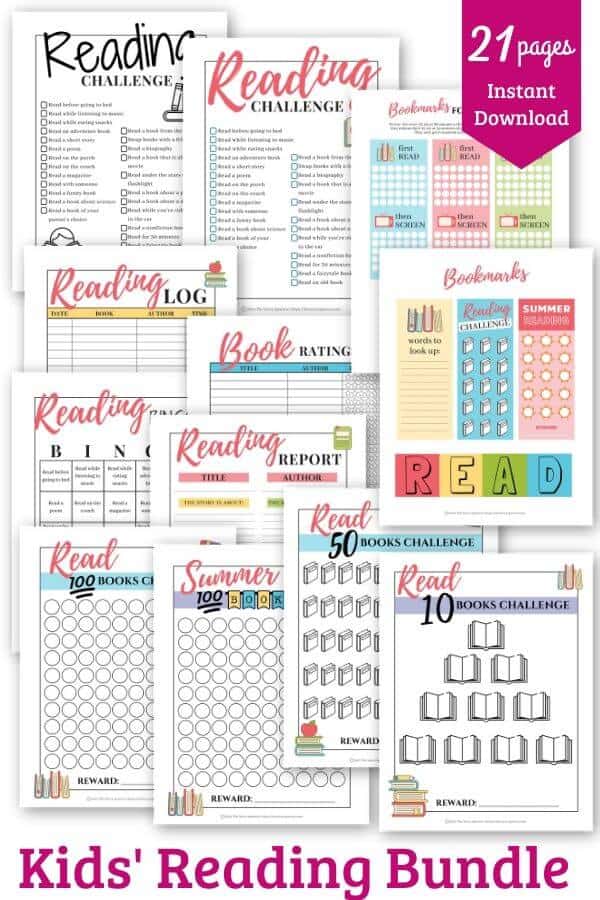 To motivate your kids to read, you need to keep it fun! Remember, books are competing with video games and electronics for your kids' free time. My printable Reading Challenges for Kids were designed with variety in mind! So once your kids complete one challenge, they can move on to a completely different one.
Here's what's included in my Printable Reading Bundle for Kids:
"Read this/Read that" Reading Challenges – These sheets challenge kids to read specific books or to read in specific locations. Just because kids are reading, doesn't mean that they have to be sitting on the couch or in their beds. That's the beauty of a book… you can take it ANYWHERE, because it doesn't require a wi-fi signal! 🙂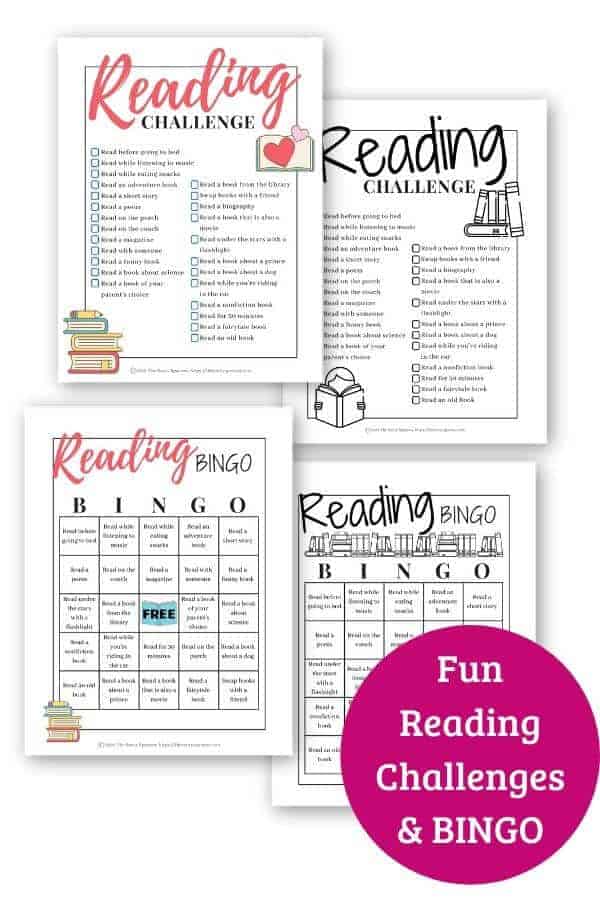 Reading BINGO – This Reading BINGO game would be great for a friendly little competition between siblings! Just give each of your kids a Reading BINGO printable sheet, and see who can get 5 in a row marked off on their sheets first!
Reading Logs – Of course some older kids think they're "too cool" for reading challenges, so I've included some plain reading logs in the bundle, too. These Reading Logs are great if you just want to keep track of what books your kids have read. You could also give these Reading Logs to your child's teacher to show reading progress at home.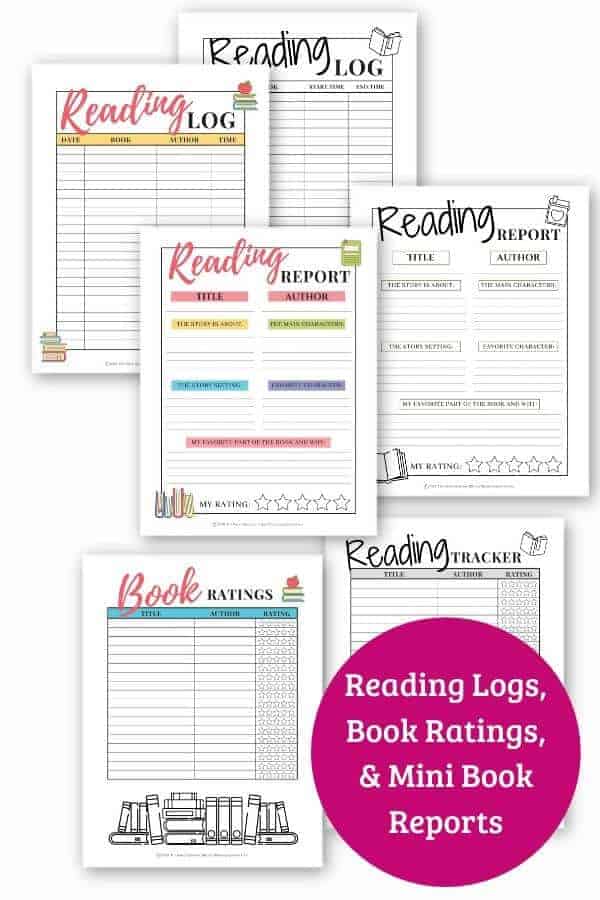 Mini Book Report Sheets – Encourage kids to actually THINK about what they've read with these mini book reports. These sheets are also great to prepare your kids for doing book reports for school assignments.
Rating Sheets – If there's one thing I've learned about parenting a 10 year old girl, it's that she LOVES to give you her opinion, whether you asked for it or not! So let your kids express their own opinions about the books they read with these Book Rating Sheets. Kids can rate their books by number of stars, 1 to 5, and you can use their ratings as conversation openers. Ask them why they didn't like a particular book, or ask them about their favorite thing about a main character.
100, 50, and 10 Book Challenges – Let's be honest… if your teen sets a goal to read 100 chapter books over the course of a summer, they're going to FAIL! But 10 chapter books over the course of a semester is an attainable goal. You could, however, read 100 children's books to your 3 year old over the summer.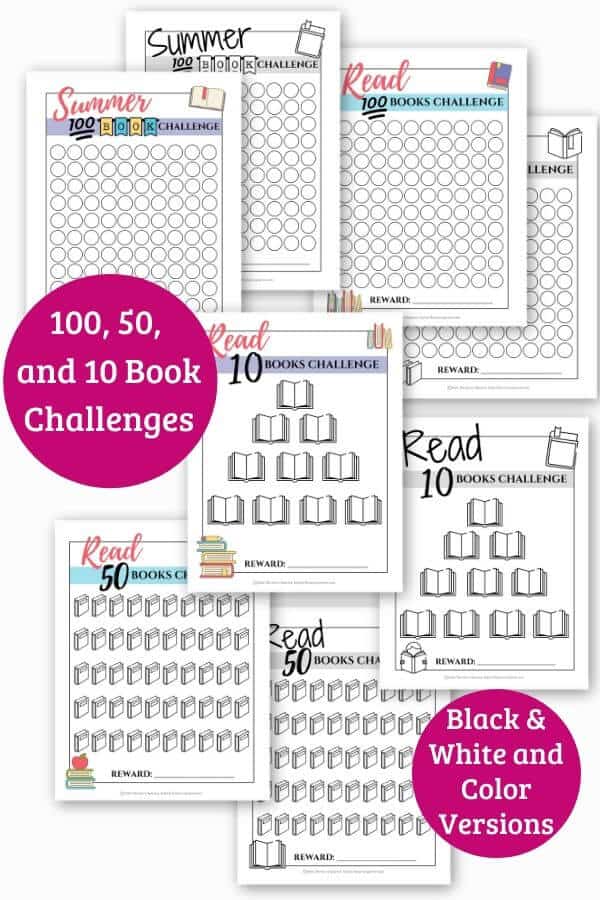 My Reading Bundle for Kids includes a variety of challenges with specific numbers of books so that you can find one that fits your needs!
Fun Printable Bookmarks – One of my kids' favorite things about picking out books at the library or their school's book fair is getting new bookmarks. So, I've included some cool printable bookmarks in this Reading Bundle, too! Don't want the entire Reading Bundle? You can grab the bookmarks for FREE when you sign up for my newsletter with the form above!
Punch Card Bookmarks – Let your kids track their reading time right on their bookmarks!
CLICK HERE TO CHECK OUT THE READING BUNDLE FOR KIDS!
And there you have it! Easy ideas for keeping your kids excited about reading!
How do you motivate YOUR kids to read? Or do your kids just like reading as a hobby? Leave me a COMMENT down below!
And happy nesting!