Want Fall Bucket List Ideas to do with your family? This printable Fall Bucket List will help you keep track of all of the fun Fall things to do, so you don't forget one pumpkin spice treat or apple picking adventure.
Crisp fall air, gorgeous changing leaves and pumpkin flavored…everything! Hooray it's Fall!
Well… almost! But hey, with the sweltering 95 degree temps here in East Tennessee, a girl can dream, right?!
Fall is one of my favorite seasons, and if the endless aisles of orange, brown, and yellow decor at Hobby Lobby are any indication, I'm not alone in my love of all things Autumn!
The cooler temperatures are a welcome relief, and it's nice to have an excuse to drink Caramel Apple Cider. I also enjoy creating special moments with our two daughters, and carving out traditions that they will cherish as they get older.
However, like all moms, I am busy! By the time I finish my work as a blogger, mom-of-two, and wife, thinking up and planning fall activities seems like a little too much.

Enter The Fall Bucket List.
These 40 Fall family activities are a great way to ditch the normal routine (homework, errands, Netflix, sleep, repeat!), and spend some quality time together this season. But most of all, these Fall Bucket List ideas are little to no prep and all of them will be TONS of fun!
Just print off the Fall Bucket List, hang it on your fridge, and get ready to have some serious FUN this Fall!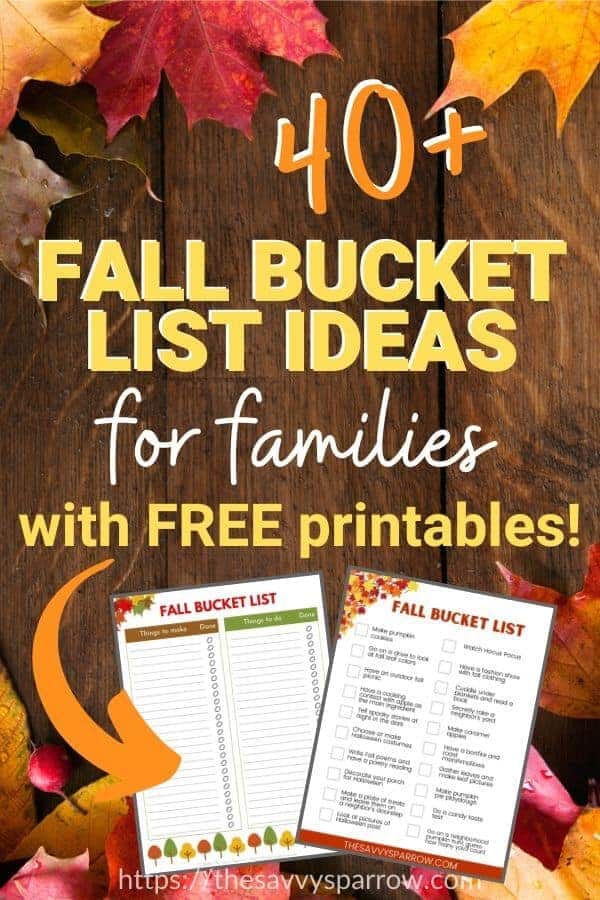 But first, here are some ideas for HOW to use the printable Fall Bucket List this season:
Ideas for How to Complete a Fall Bucket List
Work your way down the list from top to bottom
Choose a couple of days (say, Wednesday and Saturday) and do a bucket list activity on those days each week
Pre-plan on your calendar (so you are prepared) when you will do each activity and announce it to your family on the day of (this adds a fun surprise element for the kids!)
Choose a fall bucket list activity whenever you have free time
Look at your calendar each week and plan the activities you will do on a weekly basis
Let your kids choose their favorites from the list and help you calendar and plan. This is a great way to help your children learn time management and planning skills.
Write the Fall Bucket List activities on little strips of paper and draw on out of a hat
Our family is going to do a combination of letting our daughters choose their favorite Fall Bucket List activities while mom and dad figure out the logistics of which day works best.
40+ Fall Bucket List Ideas for Families
Fall Baking Activities
Make pumpkin cookies
Have a cooking contest with apples as the main ingredient
Make cute Halloween brownies – Try these easy Halloween brownies made with boxed brownie mix… the kids will LOVE helping to decorate them!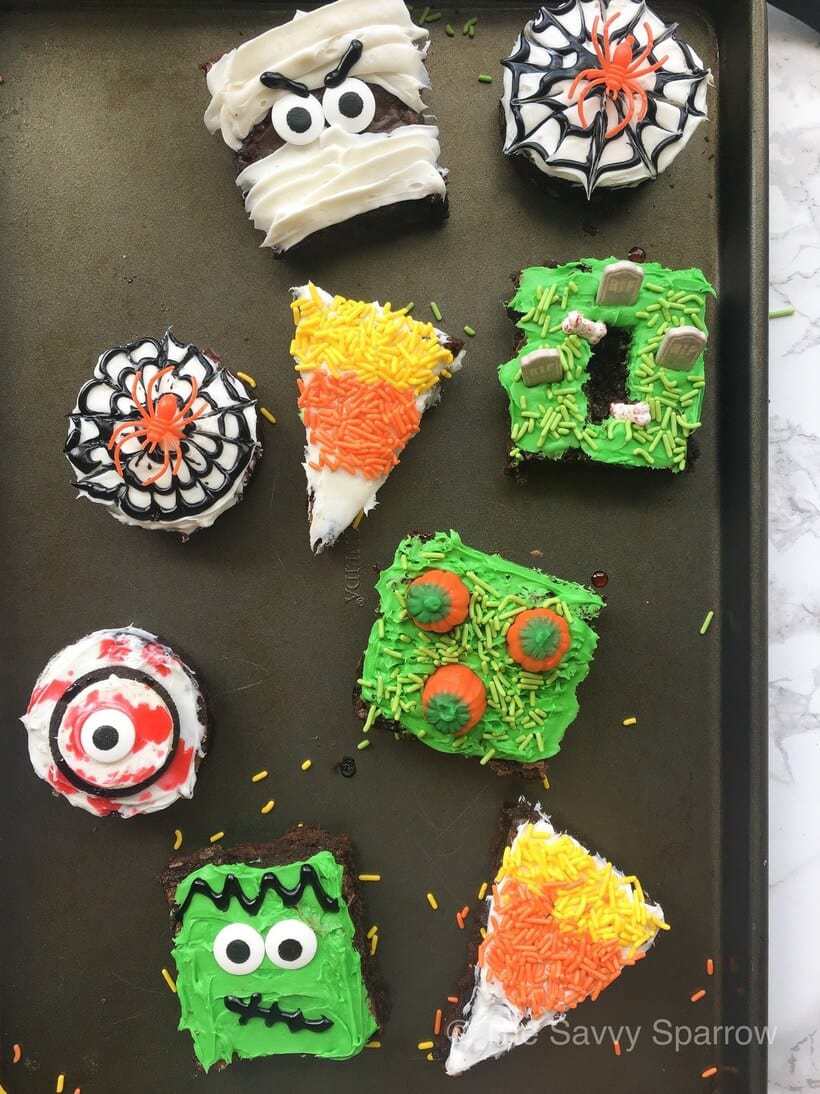 Make caramel apples
Make a plate of treats and leave them on a neighbor's doorstep
Make pumpkin spice waffles or pancakes
Roast pumpkin seeds – This is my ABSOLUTE favorite thing about carving pumpkins!
Make Chocolate Apple Turkeys – The kids will have a BLAST decorating these cute fall treats, too!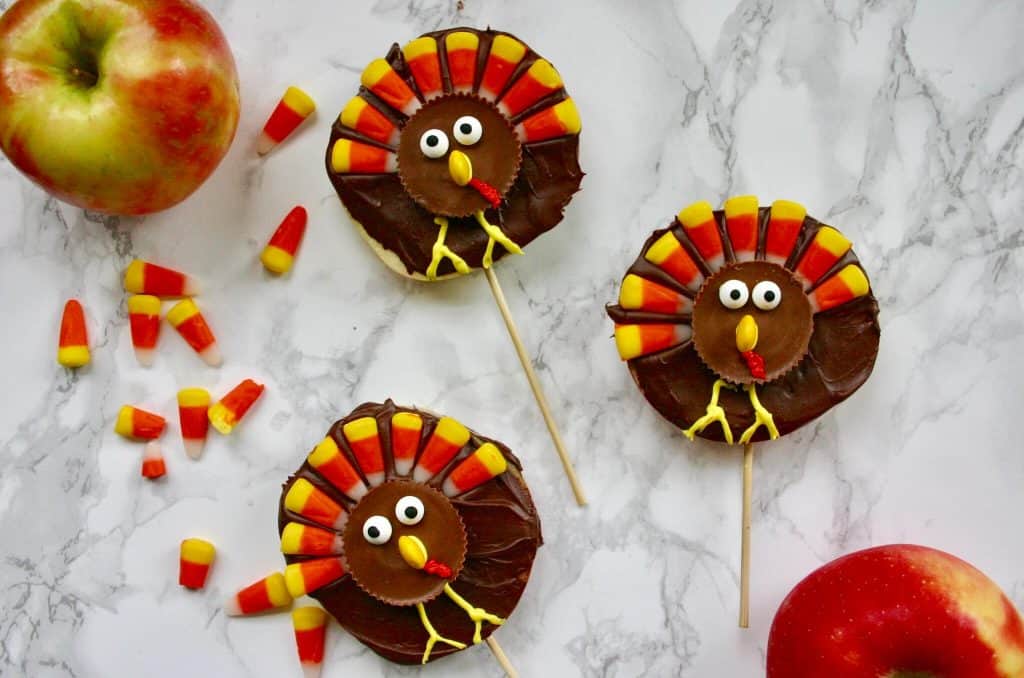 Fun Halloween Activities
Look at pictures of Halloween past
Watch Hocus Pocus
Choose or make Halloween costumes
Do a candy taste test
Pick out pumpkins at a pumpkin patch
Have a pumpkin carving contest, or if your kids are younger do a pumpkin painting contest!
Go Trunk or Treating
"BOO" your neighbors – Drop off treat baskets on a neighbor's porch with cute tags that say "You've been BOO-ed!"
Outdoor Activities for your Fall Bucket List
Go on a neighborhood pumpkin hunt – Before you leave, have each person guess how many pumpkins you'll find… the person that guesses the closest wins a prize!
Go on a drive to look at Fall leaves and colors
Plant Mums
Have an outdoor fall picnic
Tell spooky stories at night in the dark
Cuddle under blankets and read a book
Secretly rake a neighbor's yard
Have a bonfire and roast marshmallows
Visit a corn maze
Enjoy the cool Fall air and go on a Neighborhood Scavenger Hunt – Grab FREE printable Neighborhood Scavenger Hunts for Kids and Teens!
Visit a Farmer's Market
Even More Fall Bucket List Ideas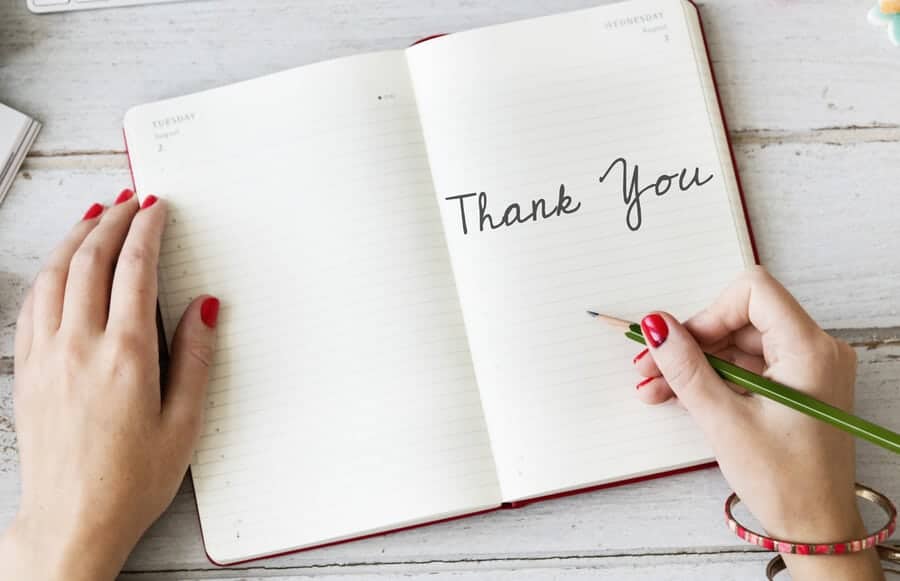 Gather leaves and make leaf pictures
Buy a new Fall candle to make your home smell like Fall
Have a family movie night with popcorn and candy mix-ins
Donate coats and blankets to local missions or homeless shelters
Make pumpkin pie play dough – You can find a great pumpkin pie play dough recipe that smells divine HERE!
Start planning ahead for Christmas – Make Christmas Gift Lists, purchase or make your Advent Calendar, etc.
Take your family photo for Christmas – I know it's a little early, but you can go ahead and take photos for your annual Christmas card so that you don't forget about it as the holiday season gets crazy. Go HERE to see how I made this DIY Polaroid Photo Prop!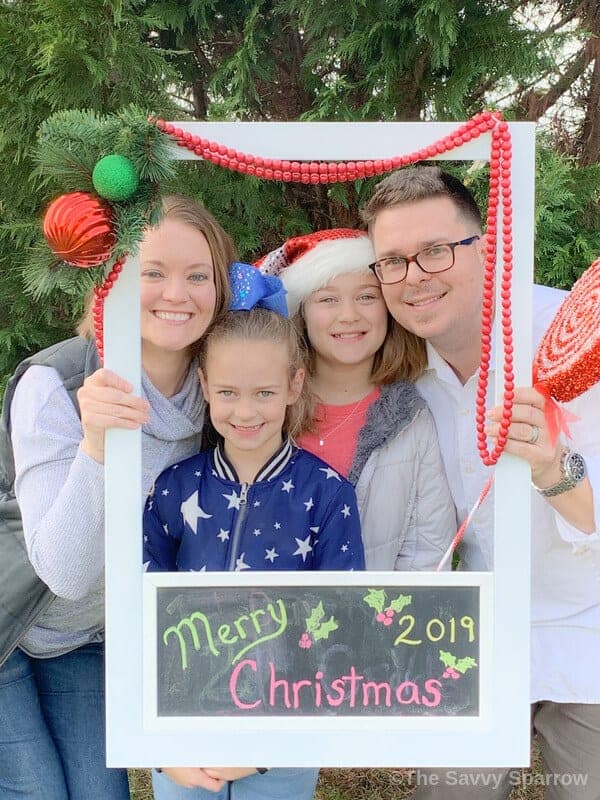 Printable Fall Bucket Lists
Grab the FREE Printable Fall Bucket Lists at the link below! You can print a blank fall bucket list to fill in with your own family Fall activities, or print out the done for you version that already includes a checklist of family activities for Fall!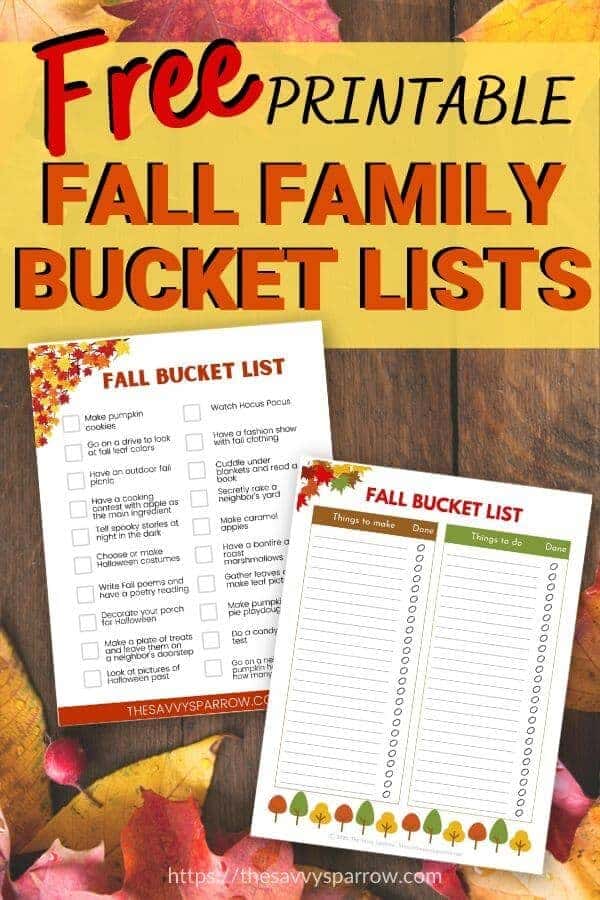 CLICK HERE TO DOWNLOAD THE FREE PRINTABLE FALL BUCKET LISTS!
So which of these fun fall family activities sound best to you?
Some of the Fall Bucket List activities I'm looking forward to most are an outdoor Fall picnic (I plan to have my daughters pack their own snack plate dinners) and the cookie doorstep deliveries for neighbors. I love finding opportunities to teach my kids about the importance of GIVING, and this Random Act of Kindness is perfect for that!
I also think my girls will love having a candy taste test! I'm going to buy one of every type of candy and cut them into VERY tiny pieces for this crazy activity. 😉 We might even keep record so the girls can remember which candy to trade and which kinds are best to give to mom and dad right away (here's hoping they hate Almond Joy bars!).
I hope this printable Fall Bucket List helps you feel less stressed and more excited to create beautiful Fall memories with your family.
What are you looking forward to this Fall season? Do any of these activities sound fun for your family?
Also, if you are looking for some fun Fall crafts to add to your decor don't forget to check out my easy DIY burlap Fall banner and Leaf Wall Hanging!
Happy Nesting!