Try a fun neighborhood scavenger hunt to get your kids off the couch and exploring the neighborhood! And since I know that you're probably ready to pull your hair out and it's only noon, I've even included two FREE printable scavenger hunts to use – one for younger kids and one for tweens and teens! Just print out these neighborhood scavenger hunts and get ready to go exploring with your kids!
Are your kids about to go stir-crazy being stuck at home?
They've played Twister about 542 times, painted enough watercolor pictures to wallpaper your entire house, and watched enough movies that you've inadvertently caught yourself humming "Let it Go" in line at the grocery store. More than once.
You're scraping the bottom of your Momma bag of tricks and coming up empty-handed.
But, I got you Momma…
Get your kids outdoors with a fun neighborhood scavenger hunt… a great outdoor activity for kids, especially if you don't want to pile them all in the car and leave the house!
Side Note – If you ARE getting cabin fever, and you need to get out of the house to have some adult interaction, then try one of these FREE (or Cheap) Fun Activities for Kids to Get Them Out of the House!
But, if buckling all your little ones into their car seats just sounds like too much work, then take them for a fun walk/expedition around the neighborhood instead.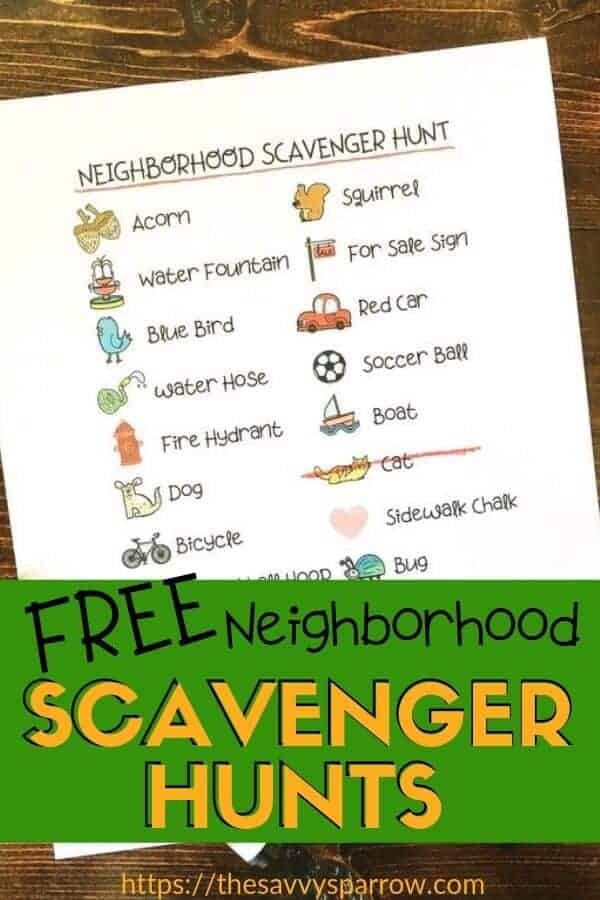 These neighborhood scavenger hunt ideas are the perfect way to spend a morning, before the heat sets in and your energy level drops to zero.
*This post contains affiliate links, which means I may earn a small commission from these links at no additional cost to you. Read my full disclosure here.
Get My FREE Neighborhood Scavenger Hunt Printables
Before you set off on your expedition, be sure to click below to sign up for my FREE email newsletter! As my gift to you, I will send you the password to my freebies library, where you can find the FREE neighborhood scavenger hunt printables filled with pictures of things to find in nature and in your "neighborhood jungle".
To Use Your FREE Neighborhood Scavenger Hunt for Kids Printable:
This is probably pretty self-explanatory, but if the summer vibes and sunscreen fumes have turned your Mom brain to mush, then here you go…
Print out your Scavenger Hunt Printables. They're in PDF form, so no need to have any fancy computer program.
Grab some pencils, markers, or crayons.
Walk around the neighborhood with your kids as they hunt for the items on their scavenger hunt list!
When they find a scavenger hunt item, they just cross it off their list.
*Totally optional – After your kids are tired out from a trek around the neighborhood, come home, pop some popcorn ('cause you know they'll be "starving"), and push Play on an Amazon Prime movie! And enjoy a peaceful hour or two.
What Ages Can Use these FREE Printables?
Kids Ages 3 to 10
I've got two FREE neighborhood scavenger hunt printables for you!
The first neighborhood scavenger hunt is perfect for kids ages 3 to 10 years. It's filled with easy to find items like a dog and a birdhouse, great for stroller-bound toddlers. And it also has some trickier items like sidewalk chalk drawings and a soccer ball.
My kids' neighborhood scavenger hunt has picture and word descriptions so it's easy for kids of all ages to identify the items by themselves.
Plus, the pictures act as visual cues to help early-readers to read the descriptions. Look at you, sneaking in an educational activity without your kids even knowing it! 🙂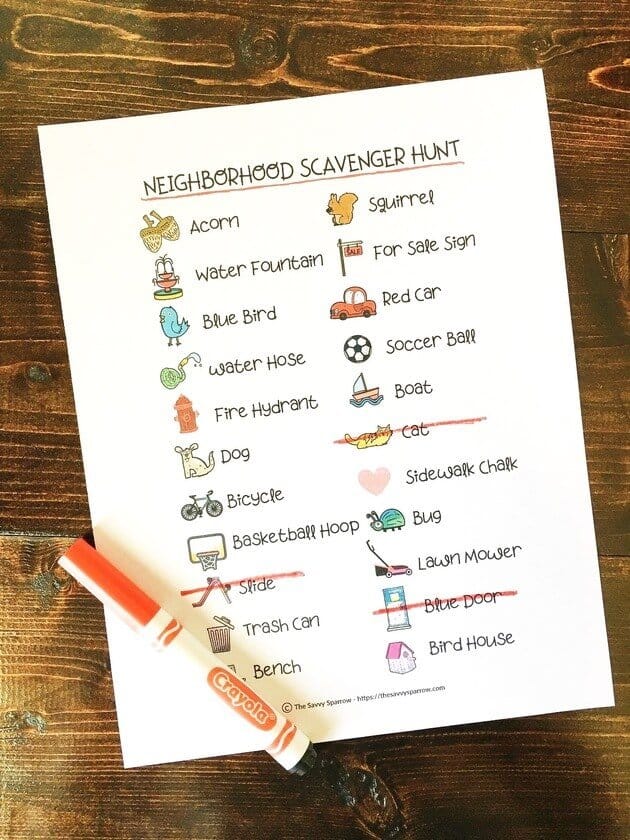 Want to really up the fun factor? Throw in one or two adventure-themed toys like a magnifying glass, binoculars, or a bug catcher!
Tweens and Teens
If you have tweens or teens that need to be dragged away from the Playstation, then I've got that covered, too! The second neighborhood scavenger hunt is great for ages 11 to 15-ish.
Let your tweens and teens put their smartphones to good use (since you pretty much have zero chance of prying them from their grips anyway!). Plus, get your older kids to breathe in some fresh air and get a bit of exercise with a more challenging scavenger hunt.
The neighborhood scavenger hunt for teens requires them to take photos of the items on the list. Send your tweens and teens out in groups of 2-4 (assuming that you live in a safe neighborhood!).
Have them snap pictures of harder to find items like an out of season wreath, a garden gnome, or a mailbox with a last name that starts with the letter "S".
However, you may want to warn them about camera phone etiquette. Some people won't want their pictures taken, and you don't want your teen snapping photos of random little kids. Hello, red flag!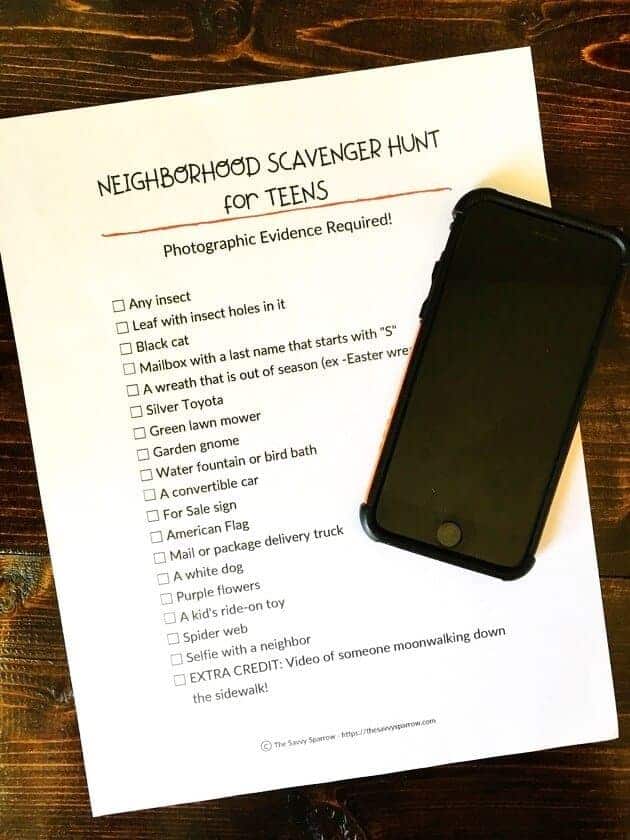 This scavenger hunt is a great way to get your older kids socializing face-to-face, rather than just "Liking" someone's photo on Facebook.
For bonus Mom points, plan to have snacks ready for when they return!
And there you have it! A super fun and easy, impromptu activity for your kids to enjoy this summer. If you want even more scavenger hunts for kids, then head to Buggy and Buddy for even more great hunt ideas.
Need even more fun activities for kids? Try this easy 2 ingredient Edible Finger Paint!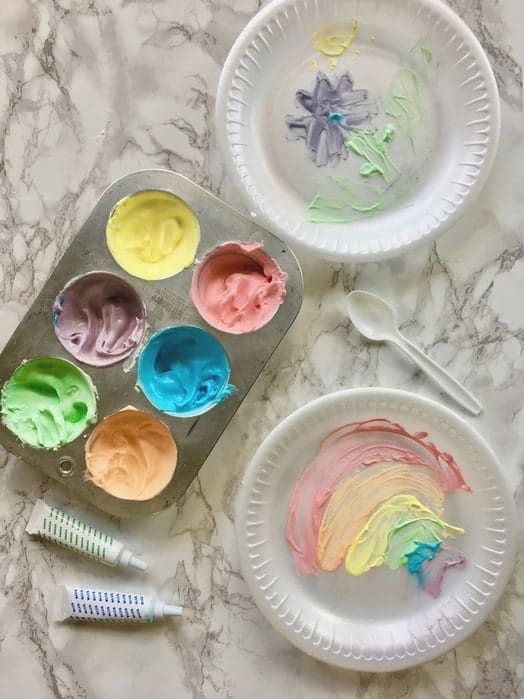 Or sneak in a little math practice with a fun and FREE Roll and Cover Dice Game: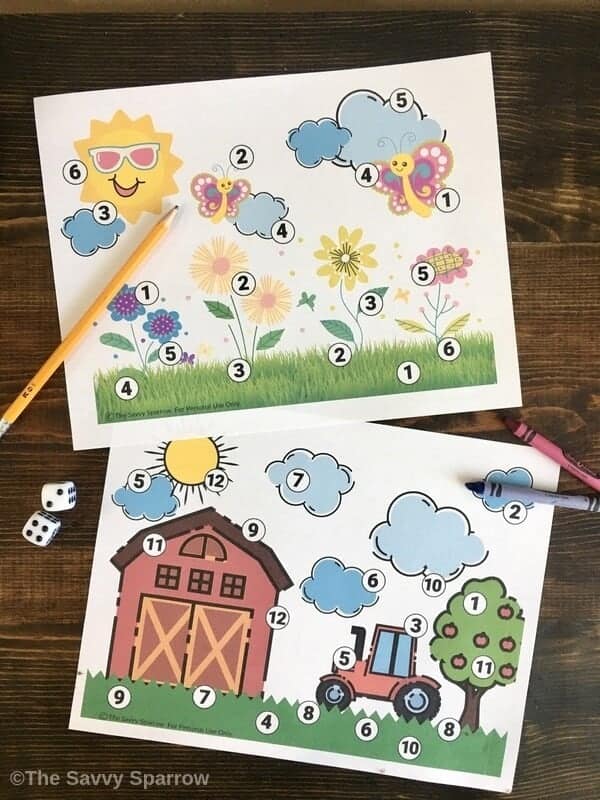 Still looking for fun and easy activities for kids? Then check out these posts:
And be sure to PIN this post, so you can print the FREE scavenger hunts when you need them: