I love me a good PJ day! Waking up knowing that I don't have to put on a stitch of make-up or get out the curling iron just makes my day! And my daughters love it, too. They could play together at home, pretending to be at school or making crafts, for hours on end. On occasion, though, we do get a little cabin fever and decide to venture out for a fun family activity. So, where do we go without blowing our bank account? I've assembled a list of free (or cheap) summer activities for kids when you just have to get out of the house!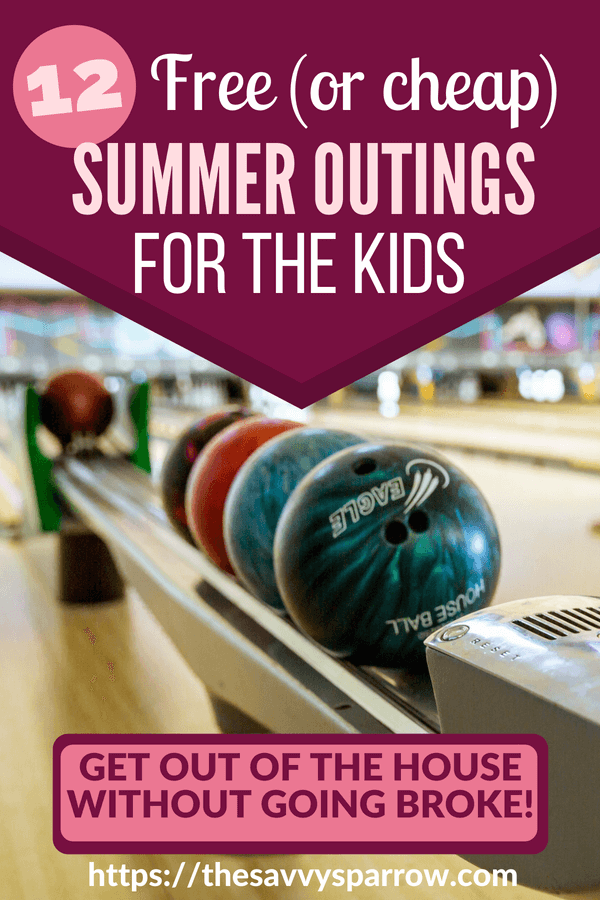 12 Awesome Summer Activities for Kids to Get Them Out of the House:
Home Depot Learn to Build Kids Workshops
Thank you, Home Depot, for entertaining my kids for me! If you haven't been to a kids workshop at Home Depot, you are missing out. Each month at Home Depot stores nationwide, kids can make a FREE project that utilizes their building skills. Plus, they get to take home their creations and a Home Depot signature orange apron. And, did I mention it's completely FREE. Go here to register for an upcoming workshop near you.
Michaels Camp Creativity
Do you have a budding little artist in your home? If so, check out the awesome 1 hour kids classes available all summer long at Michaels. Like their normal Saturday kids' make and take classes, the Camp Creativity classes cost between $2 – $5, depending on the project (easier projects for kids ages 3+ are $2 and the more advanced projects for kids 6+ are $5). The cost includes all supplies needed to complete the project, and you'll leave with your little Picasso's masterpiece. Plus, one of the best things about Camp Creativity is that you overworked Mamas can drop your kids off in the Michael's class room and shop around the store while they craft! Small break for Mom, yes please! The classes are offered Mondays, Wednesdays, and Fridays from 10am – noon throughout the summer, and you can go here to register.
Kids Bowl Free
Go bowling! Many bowling alleys nationwide offer kids two FREE games of bowling every single day during the summer. Go HERE to see if your local bowling alley participates in this awesome summer program. Your bowling alley may or may not include the cost of shoe rental, or they may offer a discounted shoe rental pass good for the entire summer. More information about each individual location's program should be available on their website.
Pick Your Own Fruit
Want to enjoy the outdoors and pick up some healthy fruits and veggies at the same time? Head to a Pick Your Own Farm. Enjoy the summer weather and bring home some cheap produce. Win-win! Just google "Your City" + Pick Your Own Farm to see if there is a farm near you.
Apple Camp
Do your kids love playing on Mommy's iphone or ipad? If so, then sign them up for the awesome FREE camp at your local Apple store. For kids ages 8-12, the Apple Camp program consists of three 90-minute sessions during which kids will get hands-on training in one of three areas: coding and robotics, moviemaking, or musical storytelling. Sign up here.
Regal Summer Movie Express
This is one of my absolute favorite summertime activities to beat the heat! Each summer Regal Cinemas offers movie showings every Tuesday and Wednesday for just $1 per person (even adults)! Yes, the movies are older and not first-run… but when else can you go to the theater for only $1. Go here to check out the movie schedule at your local theater.
AMC Summer Movie Camp
Like Regal, AMC also offers its own discounted summer movies on Wednesdays at 10am. However, at AMC the tickets are $4 and include an AMC KidsPack with popcorn, drink, and fruit snacks. Still a great deal for a movie and concessions! Click here to see if your local theater participates.
Library Story time
When my kids were younger the absolutely LOVED to go to story time at the library! Maybe because the librarian that did our story time was uh-Mazing, shout out to Ms. Mary! Our local library story time even included a FREE craft, and I've heard of some that offer snacks. Check your local library for their offerings, and keep up the summer reading.
Barnes and Noble Story time
Banes and Noble stores nationwide offer a FREE story time for kiddos. Go here to see events at your local store.
Free Days at the Zoo
Many zoos and museums offer at least one free day during the summer, or heavily discounted admission after a certain time of the day. Visit the website of your local attraction to see if you can enjoy a fun outing for free!
Vacation Bible School
Vacation Bible Schools are like a God-send for busy Moms, literally! My kids go to a local VBS every summer, and they love it! Many VBS's include songs, games, snacks, crafts, and more! Plus, you get to drop them off for some fun while you go run your errands or take a Mommy time-out. Win-win! Search the web to see if your local churches are offering a VBS.
Splash Pad/Park
We have spent countless summer days enjoying the sunshine at our local park and splash pad. Pack a picnic lunch and enjoy the time outside. But don't forget the sunscreen!
So, what are your favorite summer activities for kids for when you're itching to get out of the house? I'd love to hear about how you take advantage of your time with the kiddos during the summer. Leave me a comment and I may even add your ideas to my list! And be sure to sign up for my email newsletter to get fresh tips delivered to your inbox!
Happy summer!
Related Posts: