Do you want to make sure that you and your children enjoy summer vacation without losing your sense of sanity? You're definitely not alone. Read on to discover advice and resources for creating a summer schedule for kids that you can stick to, and be sure to grab the free printable summer schedule template at the end of this post!
Summer vacation has officially begun for many families out there. This probably means that quite a few moms are already stressing about accomplishing ALL of the things and keeping the kids entertained.
Trust me–I get you. I may be generally easygoing, but I am also an introvert. I work from home, and I enjoy the moments of peace and quiet in my day-to-day routine when my kids are in school. You could say that my children and I are equally routine-oriented, and we all tend to get a little cranky when our schedules suddenly get turned upside down.
As moms, most of us want to maintain some sense of normalcy even when our children are out of school, which is understandable. In this article, I'll be providing some helpful tips and resources for structuring your child's day during summer vacation so that any parent who works from or stays at home can be productive while still spending quality, engaged time with their children.
Why Routines Are Important
As adults, it's easy to forget how much we depend upon the routines and habits we've worked a lifetime to build–until they get messed with. The same is true for children.
According to Kaplan, "Children also need to have predictable routines that have room for flexibility."
Organizing your child's summer schedule with predictable structures and routines produces countless benefits, such as:
Providing a sense of stability and predictability
Increasing social, cognitive, and emotional engagement with those around them
Reducing instances of misbehavior and acting out
Developing a regular sleep schedule
Helping your child build up confidence and independence
No one, ourselves included, likes to begin their day without knowing what lies ahead. Creating a summer schedule for kids will not only be beneficial for your children, but it will also help you remain calm, cool, and collected.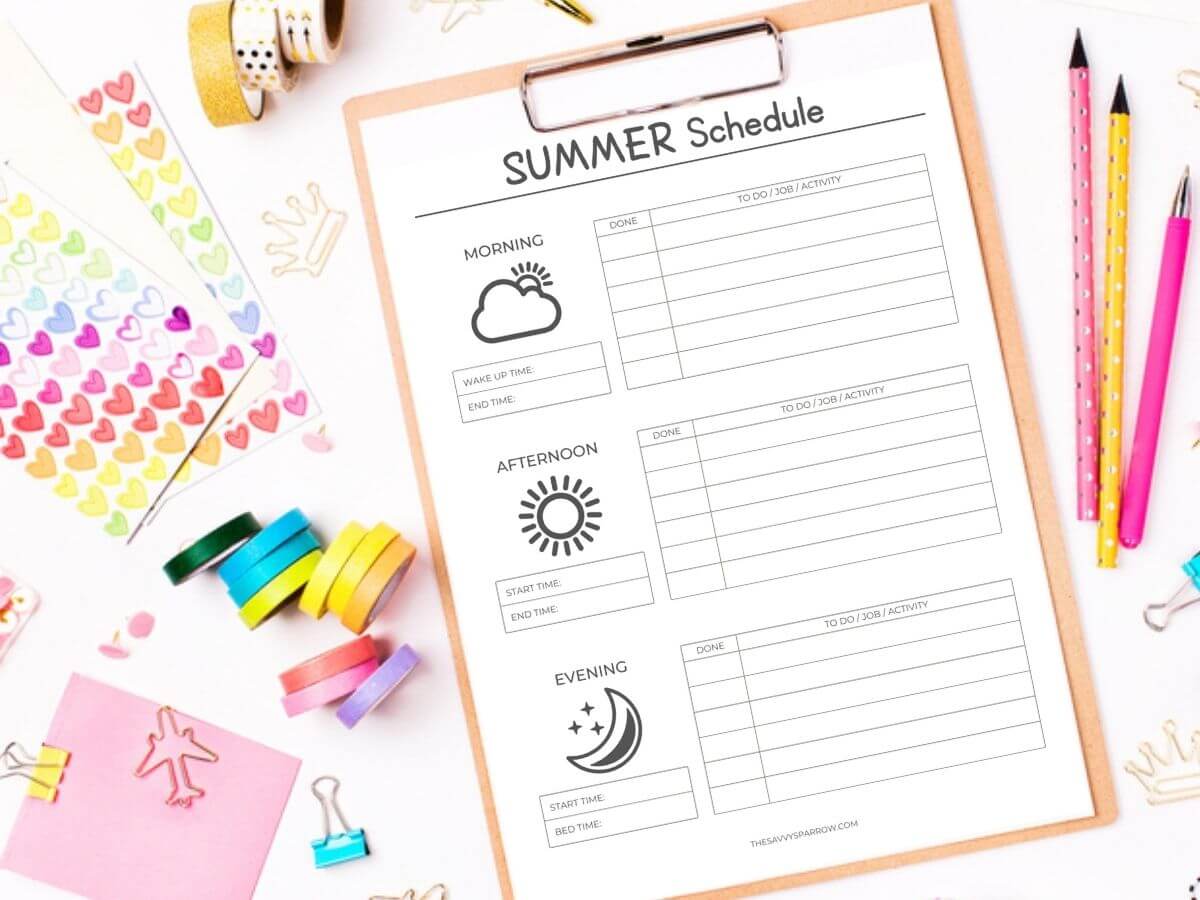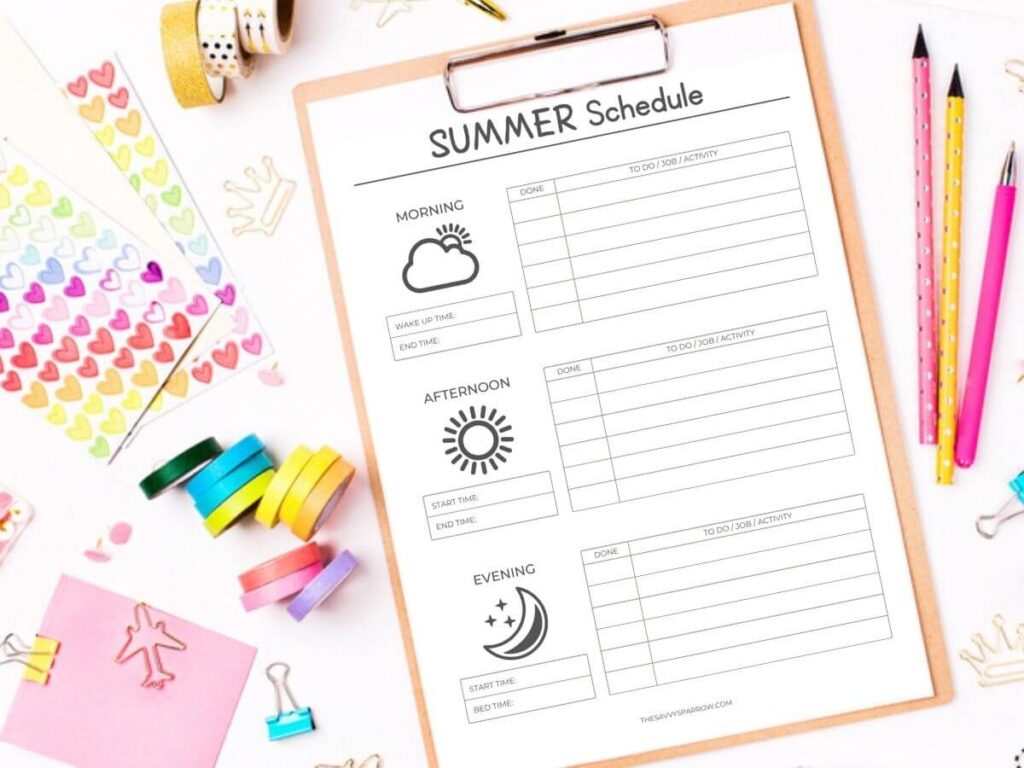 *This post contains affiliate links, which means if you click a link and make a purchase, I earn a commission at no additional cost to you. See my full disclosure for more info.
Schedules vs. Routines
You may be asking yourself, "What's the difference between a schedule and a routine? Aren't they the same thing?" Well, not exactly.
Sarah from All Things With Purpose defines a schedule as more of "a timed plan," whereas routines are "regular, habitual procedures."
I view schedules as being more rigid and less flexible, making it more difficult for your kids (and yourself) to adapt when things veer off their daily course. I like to think of routines as sections of the day where specific tasks need to be accomplished, but many activities can also be inserted interchangeably into slots reserved for independent and family play.
For a stress-free and fun summer for both you and your kids, I think a hybrid combo of both a routine and a schedule works best. (You'll see what I mean down below!)
What to Include in Every Kid's Summer Routine
It may take a few days for you and your children to adjust to the different rhythm of your summer routine, and that's completely normal. Even though each family's routine will look different, they should all contain the same essential elements.
Quiet Time Is a Must
Did you notice how daily quiet time is the first thing on the list? That's not an accident, my friends! Children need time each day for independent, unstructured play, and they also need to learn how to quietly play while you're concentrating on completing your own tasks. There's nothing more frustrating than being interrupted roughly 1,000 times while trying to finish a big project… especially if you're a work from home Mom like me!
If you're struggling to come up with summer activities for kids, try making an "I'm Bored" jar! for older children. Then when your kids come to you complaining of boredom, you can just point them in the direction of the "Bored Jar" for them to select something to do.
You could even create a separate "Quiet Time Jar" with independent, quiet activity options like sitting outside and sketching something in the backyard, reading a book on the porch, or coloring a detailed coloring sheet.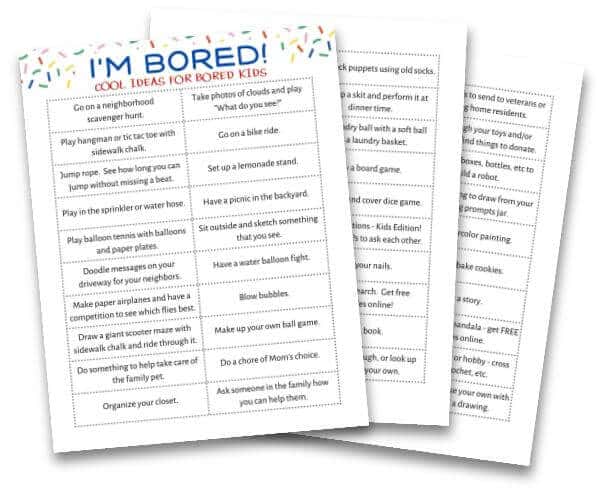 Quiet bins are also an excellent way for toddlers and preschool-age kids to pass the time, and I'm a big fan of these preschool quiet bins from Arrows and Applesauce.
Spend Time Outside Each Day
I can't stress enough how important it is for children to have multiple opportunities for outside play each day. There are countless social, cognitive, and physical benefits to outdoor activities and unstructured playtime. I'm sure you've noticed that after an afternoon at the park, your children are much more content.
There is no shortage of outdoor play ideas, and you can find several excellent options on my free printable Summer Bucket Lists!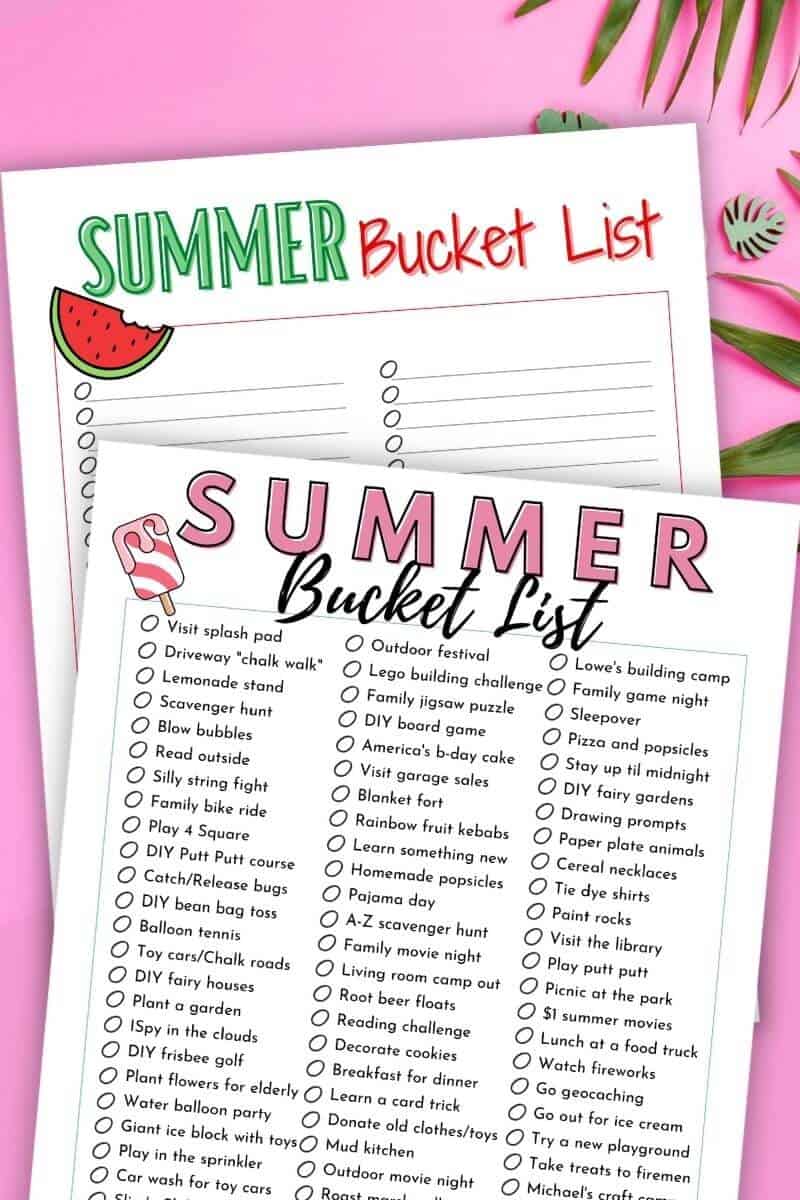 You can paint rocks, play putt-putt golf, and go on a picnic at the park, just to name a few. Try to mix and match kids' summer activities to make each new day fresh and exciting.
And if summertime where you live means sweltering heat, then keep your younger kids cool with one of these fun water activities for toddlers, like having a car wash for your kids' toy cars or painting with ice cubes.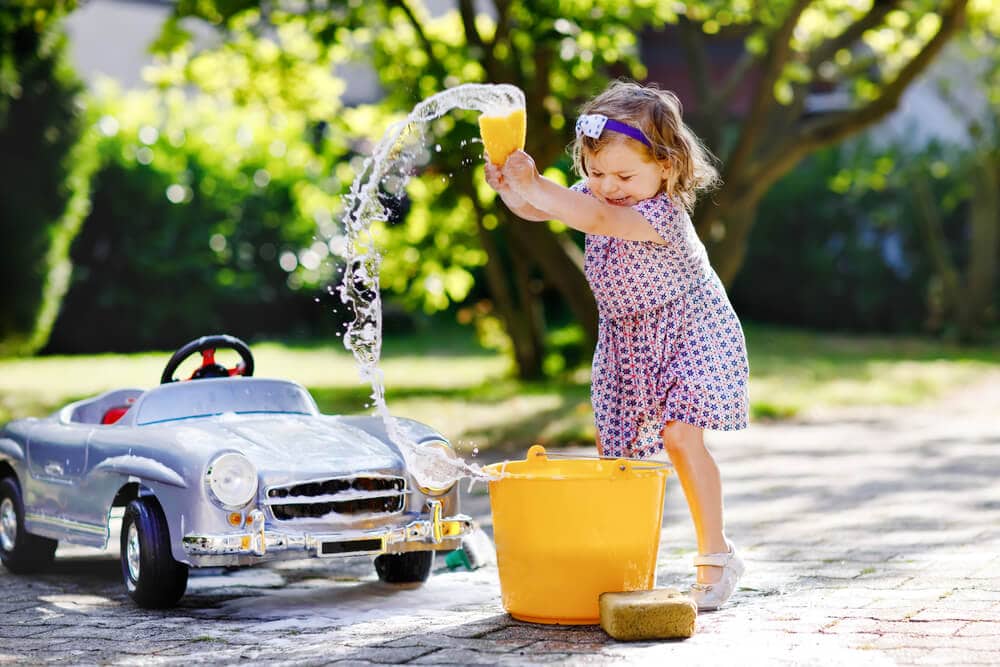 Schedule Time for Household Chores
I have a confession to make–I am one of those moms who has invested in countless chore charts and has always ended up chucking them in the trash can. I'm sure I'm not the only one out there, or at least I hope that I'm not!
Now that summer is here, it's the perfect time to create a list of age-appropriate chores that your children can be responsible for. However, this is easier said than done. If you need a bit of inspiration in this area, try using my printable chore charts and job cards!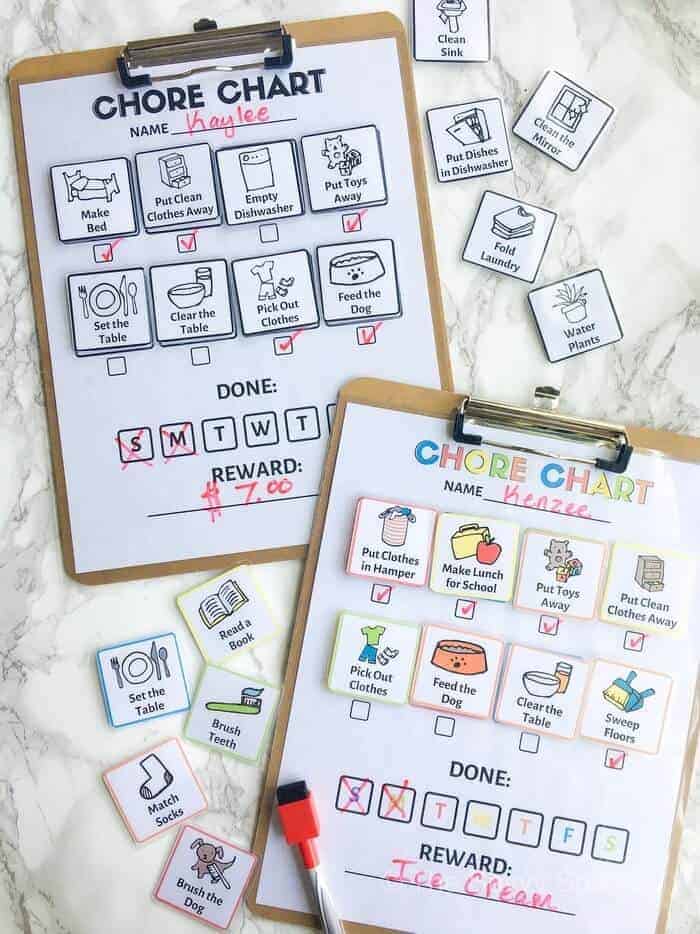 You and your kids can come up with rewards for completing the day's chores. It can be anything from ice cream to a small toy they can earn over a period of time. You could even help them with their math skills by paying them in play money so that they can see their earnings build up over time.
Limit Screen Time
It may be tempting to let your child watch more TV or have more tablet time than usual during the summer, and I completely understand. It can be a welcome distraction if you're pressed for time or just need them to stay occupied.
I suggest coming up with an agreed-upon length of screen time with your kids for each day with some built-in flexibility. For example, you could allow 10-15 extra minutes of tablet time if they complete all of their chores or let them have an additional 30 minutes on the weekend.
One of the ways that I've compromised with my own kids is to have them read for a certain amount of time each day before they can use their tablets. You can also add reading time to your summer bucket list or "I'm Bored" jar, and I strongly suggest incorporating it into your afternoon or evening schedule during the summer.
Participate in Organized Events
Every summer routine should have multiple time slots built in for family time, and a more relaxed schedule means increased opportunities to participate in locally organized events. Examples of these include:
Festivals and parades
Farmer's markets
Vacation Bible school
Weekly play dates
Programs offered through local civics organizations
Swim lessons
Events at the local library
Many summer programs are offered at little or no cost to you, and they're a chance to get everyone out of the house for some much-needed socialization. They're also excellent ways to make memories as a family!
Include One-On-One Time
Whether you have one child or five, every summer routine for kids should have some one-on-one time each day where you and your kid spend some quality time together. Now, I know what you're thinking–I barely have enough time to wash my hair! How am I going to spend alone time with each of my kids???
I've been there, and I understand those thoughts and feelings. There are some phases of life where one-on-one time is simply 10 minutes a day. You may also need to get creative.
Ask your spouse to take the other child while you and your son or daughter make a quick run to the store. Alternate early bedtimes so that your sole focus can be on one child at a time. These short bites of time may seem inadequate to you, but they mean the world to your children.
Keep a Consistent Morning/Bedtime Routine
If you're like many parents, bedtimes come pretty early while your kids are in school. There's nothing wrong with adjusting morning and evening routines during the summer. In fact, my kids have an alarm clock that tells them when it's okay to get out of bed and come downstairs once they're out of school. I love that alarm clock…
My advice would be to stick as closely to your regular morning and bedtime routines as possible, regardless of whether or not you allow them to stay up or sleep in an hour later. Remember that consistency is key, and your children will feel much better when they know what to expect each day.
You can even record your kids' wake up and bedtimes on the free printable summer schedule template (at the end of this post!) to help hold yourself accountable.
And if you want tips and a printable chart specifically for morning routines for kids, visit this post: Kids Morning Routine Chart to Make Mornings Easier!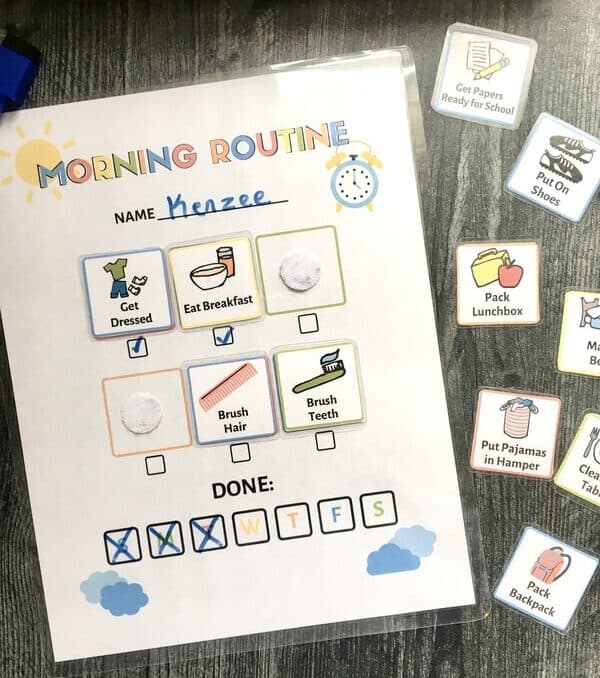 Sample Summer Schedules for Kids
If you're a visual person who feels better when you have a written chart or loose schedule to follow, I've included a few examples for your reference. The beauty is, you can alter these summer schedules for kids as you see fit.
These are just ideas of different activities to include on your daily summer schedule… obviously you won't have time to complete each activity everyday, but these should get your Mom brain going:
Morning Schedule Ideas
Your kids morning time will probably include a mix of everyday routine tasks (like brushing teeth and making the bed) and creative or outdoor play. Here are some specific ideas to include in the morning section of your summer schedule:
Wake up (at a set time)
Eat breakfast – You could even plan specific breakfasts for each day of the week (Monday is Pancake Day, Tuesday is cereal, etc)
Brush hair and teeth
Make bed
Outdoor play – If you live in a warmer area, you probably want to include outdoor activities in the morning time before it gets too hot.
Board games or puzzles
Arts and crafts – This could be something as easy as coloring in a coloring book, picking an idea out of your drawing prompts jar, or a more structured craft that you help your children complete.
Fun outing – Visit the library, the park, the zoo, etc.
Go for a neighborhood walk
Afternoon Schedule Ideas
By the afternoon your kids are probably in need of a little R&R time… that's "Rest and Relaxation" for you overworked Moms out there that forgot what "rest" actually looks like! After lunch is the perfect time for about an hour of quiet time, whether it be a quiet activity your kids can do independently in their bedrooms, watching a movie, or reading a book.
My Dad used to be a camp ranger at a Boy Scout camp, and the scouts called the afternoon quiet time "FOB Time", which stood for "Flat on Back" time. It basically meant that for one hour it was time to lay down and either read a book, watch a movie, or even take a nap.
Here are some other ideas for your afternoon routines:
Eat lunch – Your kids can help you make lunches also, or try these easy snack plate ideas for kids… my go-to quick, easy, and healthy meals for kids!
Clean up after lunch – Even your younger kids can help to clear the table, which is a great way to include them in the household chores and let them feel like they're contributing.
Watch a movie or 1-2 TV shows
Read a book
Work on a puzzle
Water play or sprinkler time
Special treat time – This could be baking cookies or visiting the ice cream shop.
Afternoon snack
Complete household chores
Do a good deed – For instance, you could have your kids write a letter to a grandparent or you could help them sort through their old clothes to donate to charity.
Nap time for younger kids
Playdates with other kids in your neighborhood
Kids' day camps or vacation bible school
Visit the library
Picnic in the park
Evening Schedule Ideas
Your kids' summer evenings will probably largely be spent eating dinner and getting ready for bed. Here are some things to include in the evening time of your routine:
Set the table for dinner
Eat dinner and discuss any special plans you have for the next day
Clear the table after dinner
Clean up toys from the day
Take a bath
Independent screen time or a family-oriented TV show – Our family likes to watch America's Funniest Home Videos on the nights that we have pizza or tacos for dinner.
Board game or puzzles
Coloring books or simple craft that doesn't involve a big mess or lots of supplies
Family bike ride or walk around the neighborhood
Clean up bedroom
Brush teeth and hair
Finish up any chores on the chore chart
Nighttime story
Go to bed at a specific time
Other Summer Routine Ideas to Inspire You
There are a TON of different examples of summer time routines out there… it's all about finding the one that most closely matches the needs of your family and then tweaking it to make it perfect!
Here are a few other ideas to get you started:
The Mom Hour's Loose Summer Schedule
The crafty moms out there will enjoy creating this jumbo summer routine chart for kids, and I like that the whole family gets involved with planning activities each week. Prepping ahead of time cuts back on your stress levels, and if your children change their minds about an activity, you can insert another option in its place.
The Military Wife and Mom's Daily Summer Routine
I love this kid's summer schedule because it's structured enough to give you peace of mind while still being incredibly flexible. She offers a printable template, and you can even find visual schedule cards to help your child know what's expected.
Free Printable Summer Schedule Template
Want to get a jump on creating your kids' summer schedule? I created this free printable summer routine template to help you!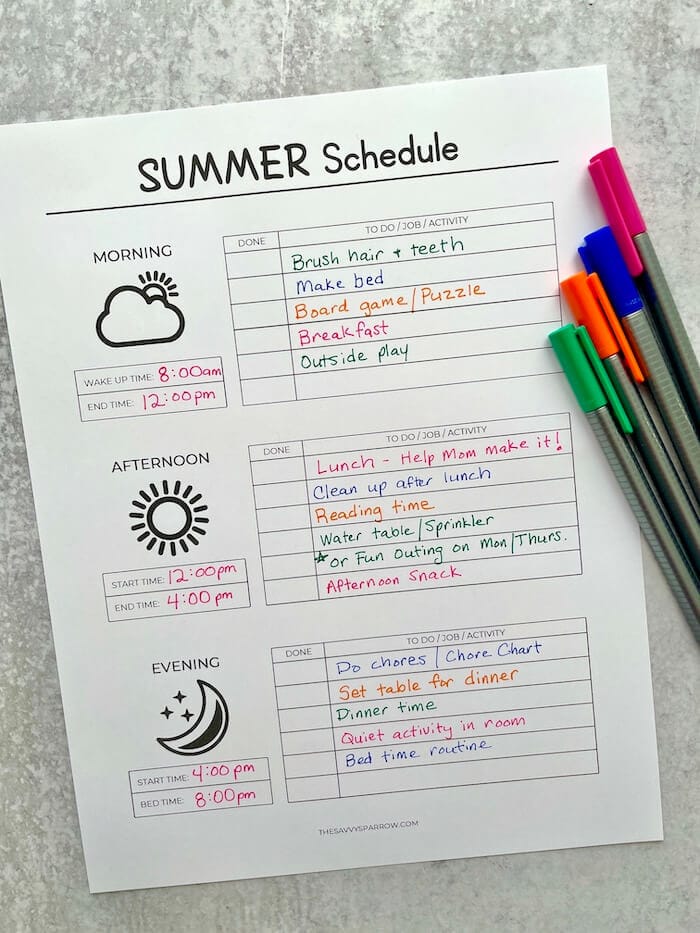 This printable is a cross between a more structured schedule and a flexible routine… the best of both worlds! By splitting your child's day up into morning, afternoon, and evening time periods, you can allocate certain chunks of time to certain activities while still maintaining some flexibility.
For instance, if your child is really enjoying painting in the afternoon, there's no need to have them quit just because the allotted arts and crafts time has past. Instead, set aside the entire afternoon for a few different activities and be flexible when something else pops up or an activity runs long.
You can either print multiple copies of the routine template and create a more specific schedule for each day, or laminate the sheet and use a fine tip dry erase marker to reuse the schedule again and again.
Click HERE to download my FREE printable summer schedule template!
What are some of your kids' favorite summer activities to do again and again? Have you tried a summer schedule or routine for your kids in the past? Leave me a comment down below… I'd LOVE to hear from you!
And don't forget to PIN this post for later: