Need ideas for how to reward kids for good behavior, good school grades, or completing chores? This huge list of rewards for kids will help you get creative!
We all do it… bribing kids to get them to do what we want. But call it a "reward" and you don't feel so bad about your parenting skills.
But how do you reward kids when the same old prizes and treats get, well, boring? Here are some tips for using rewards for kids, including a huge list of creative reward ideas like printable "Mom Bucks" and mini Dollar Tree shopping sprees.
When to Reward Kids
You may be wondering when you should reward your kids to encourage certain behaviors. Of course, this will depend on your child's age, but here are some ideas of things that you can reward your kids for doing:
When they do good on school tests – When my daughter was in first grade, we started doing a "Friday treat" for every week that she got an "A" on her spelling test. It motivated her to study her Spelling words independently, and it was a fun way to enjoy a treat as a family at the end of the school week.
When you see them being kind – If you see your child being kind to a sibling or friend, you can give them a reward to encourage those same behaviors in the future. I even have FREE printable Kindness Charts on this post: How to Raise the Nice Kid in a World of Mean Girls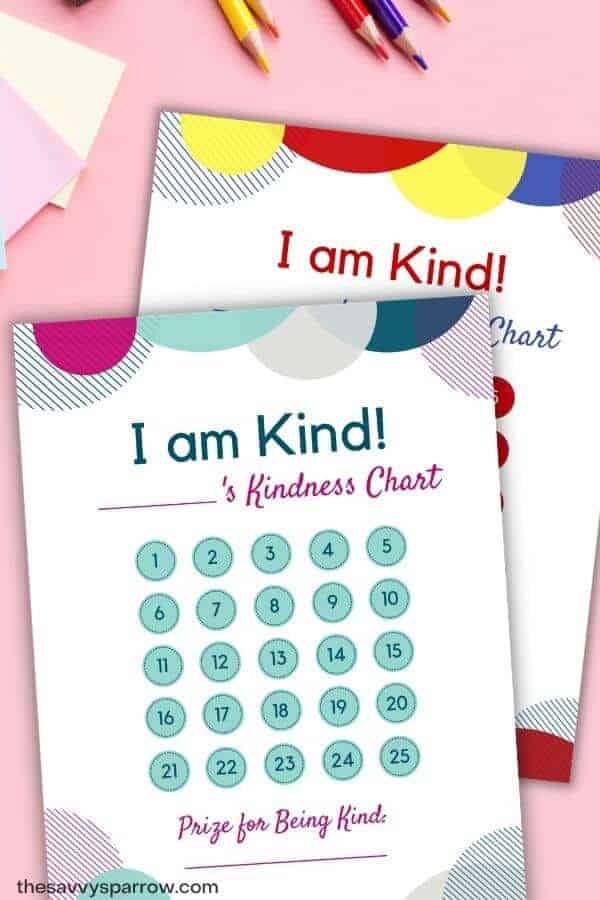 When they complete their chores for the week – My kids get an allowance when they finish everything on their chore charts for the week!
When they do something extra special to help around the house – This would be something above and beyond their normal household duties. For instance, my older daughter helped me clean out and organize the refrigerator a few days ago, and I rewarded her with a special treat.
When they offer to help a sibling without being asked – This is every Mom's dream, right?! So encourage those positive sibling interactions with a reward.
How to Use Rewards as Motivation and Positive Reinforcement
Reward Kids Randomly (so it's not expected every time)
Instead of rewarding kids every single time they complete a specific task, get a good grade, or finish their chores, mix it up. I have found that rewards work best when your child doesn't start to expect them, but rather they're a nice surprise used to reinforce positive behavior.
For instance, if you give out a reward every single time that your daughter makes her bed, she'll start to expect something every day that she completes that chore. Then, when you stop giving a reward for making the bed, then it's likely she'll stop making the bed also. No good!
Be careful about the frequency that you give rewards so that the good behavior doesn't become dependent on the reward. In other words, you don't want your kids to make their beds ONLY if they're promised a prize once they're done.
Give Rewards Immediately
Dr. Katarzyna Bisaga, a child and adolescent psychiatrist, says that, for toddlers and preschoolers specifically, rewards should be given immediately after the positive behavior occurs to avoid confusion.
That could be difficult with some of the reward ideas on this list (for instance, you can't carry around a game of putt-putt in your purse!), but there are some work-arounds. You can use printable reward coupons for specific treats that you can pass out to kids immediately after you observe a good behavior, so your kids don't forget about what they did to earn the reward.
Personalize Rewards for Your Child's Preferences
Common sense tells us that our kids will be more motivated by a reward that they want rather than something that they don't care much about, so personalize the rewards that you offer your kids based on what they like.
One way to do this is to offer them a choice of prizes. For instance, you can say "Which reward do you want for completing your chores, a new book or a new puzzle?". You could also create a "Reward Jar" for your kids to pick from by writing their favorite reward ideas down on slips of paper and putting the papers in a jar. That way, their reward is a surprise.
75 Reward Ideas for Kids
Without further ado, here is a huge list of ideas for rewards for kids:
Small Toy and Non-Food Rewards
Mini shopping spree at Dollar Tree – Let your kids have $5 or $6 to spend on whatever they want. For younger kids, you could even give one dollar for every year old they are (5 years old = $5).
One new book from the bookstore – My kids LOVE going to our local used bookstore for new books!
Trip to Target to pick out one small toy – Establish a budget before you get there. For instance, tell your child that they can pick one item that costs less than $10.
Trip to the craft store to pick out a few new art supplies
Stickers!
New pair of pajamas – Rewarding and practical!
A new board game – Great for family game night!
A new video game
Sweet Treats and Food Rewards for Kids
I prefer to not reward my kids with sweets and desserts too frequently, because I try to encourage a healthy diet with lots of protein, fruits, and veggies… In fact, we pretty much just stick to one sweet treat on Fridays. But here are some ideas for a once weekly treat, or even special dinner and lunch ideas:
Trip to the ice cream shop
Pick out one pack of candy at the grocery store
Happy Meal or other fast food meal for dinner
Let your child pick what the family will eat for dinner that night
Have breakfast for dinner
Slushie at Sonic during Happy Hour
Make mini ice cream sundaes with chocolate sauce, sprinkles, whipped cream, and cherries
Make homemade milkshakes
Frappuccinos! When Starbucks is having their buy one, get one free Happy Hour, I will sometimes treat my girls.
Bake cookies together
Go out to their favorite restaurant for breakfast
Pick a special place for lunch
Lollipop – You could also use the smaller Dum Dum pops for younger kids.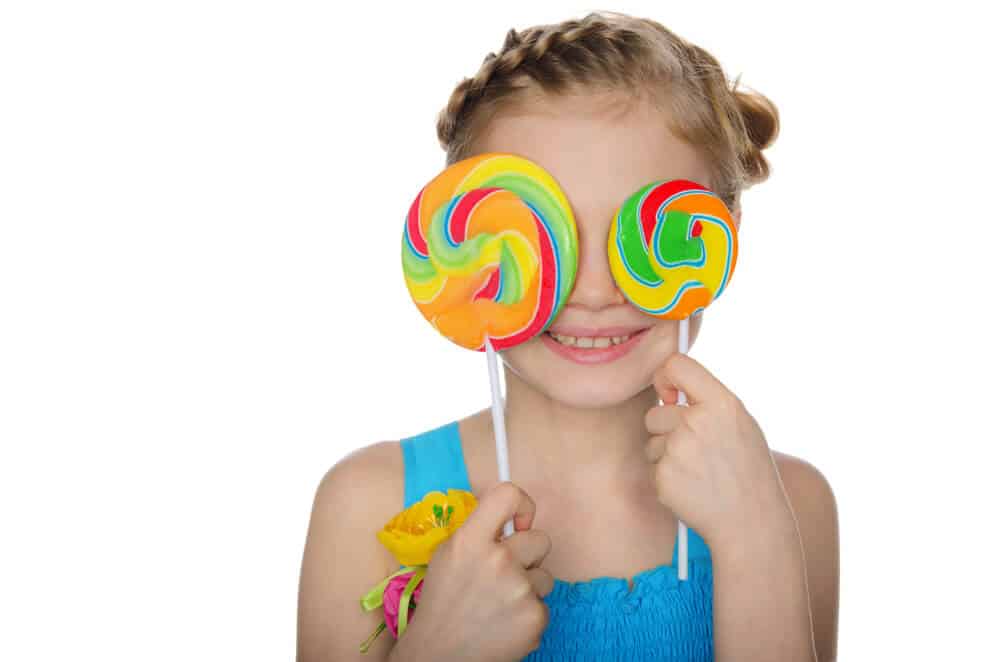 Have pizza for dinner
Pick out a cereal from the grocery store
Get hot chocolate
Get a donut for breakfast
Make homemade popsicles together – You can even use 100% juice or blend up frozen fruits for a healthier snack!
Root Beer Floats
Reward Experiences
If you want to reward your kids for good behavior or doing their best in school AND make memories at the same time, then these awesome reward ideas are for you:
Have a Mommy and Me date or a Daddy Daughter date
Trip to the playground
Go see a movie at the movie theatre – Let your child pick the movie as an extra reward!
Family game night – Let your child pick the game!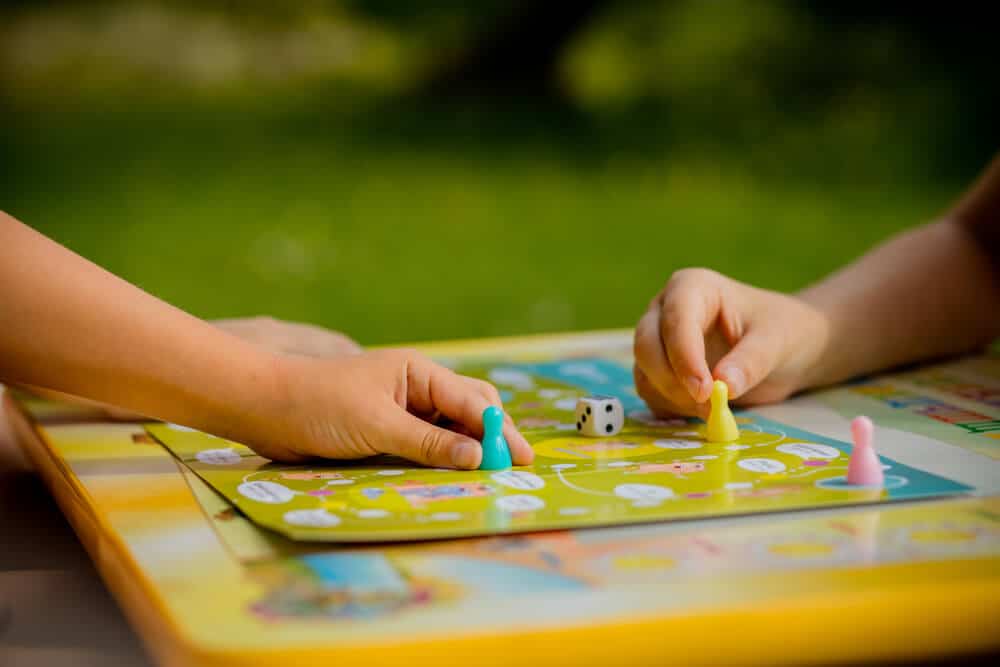 Neighborhood scavenger hunt – I've got an awesome FREE printable neighborhood scavenger hunt you can download!
Let your child invite a friend over for a sleepover
Go bowling
Visit a free kids' workshop at Home Depot or Lowe's
Kids' craft class at Michael's or other craft store
Go on a family hike
Have a Silly String fight with friends
1 hour at the Trampoline Park
Trip to the splash pad
Trip to the library
30 extra minutes of video game play
Pick a streaming movie rental
Spend the night in Mommy and Daddy's room
Go play putt putt
Tickets to a concert, play, or other attraction
Have a family pajama day – Everyone stays in their pajamas all day. You can cook a big breakfast together, watch movies, and do crafts!
Let your child pick a recipe for the two of you to make together
Water balloon games with friends
Visit the arcade
Go for a family bike ride
Family S'mores night!
Go ice skating
Have a camp out in the living room
Take a picnic to the park, or set up a picnic lunch in your backyard
Trip to a local amusement park, attraction, or zoo
Rewards for Teens
Obviously, your teenagers are motivated by different types of rewards than your toddlers. Here are some reward ideas that teens will enjoy:
Extra gas money
A gift card to a favorite store
Coffee shop drink
One new item of clothing of their choice
Extra 30 minutes added on to their curfew
Something new for their room (like a new throw blanket, wall decor, or string lights)
New pair of shoes
Gift certificate for a manicure or pedicure
A new cell phone accessory (case, earbuds, Pop Socket, etc)
Let them skip a chore
New makeup or skincare item
MONEY!
A new cell phone app from the App Store
Other Fun Reward Ideas
30 minutes of extra screen time
Stay up 30 minutes past bedtime
Skip one chore
New app from the App Store, or another digital asset – For instance, my daughter would love a new set of "brushes" for her digital drawing app. Or, kids that play video games would probably enjoy credits to be used while playing their favorite games.
Extra allowance for the week – I reward my kids with a few extra dollars if they do something to go above and beyond their normal chores.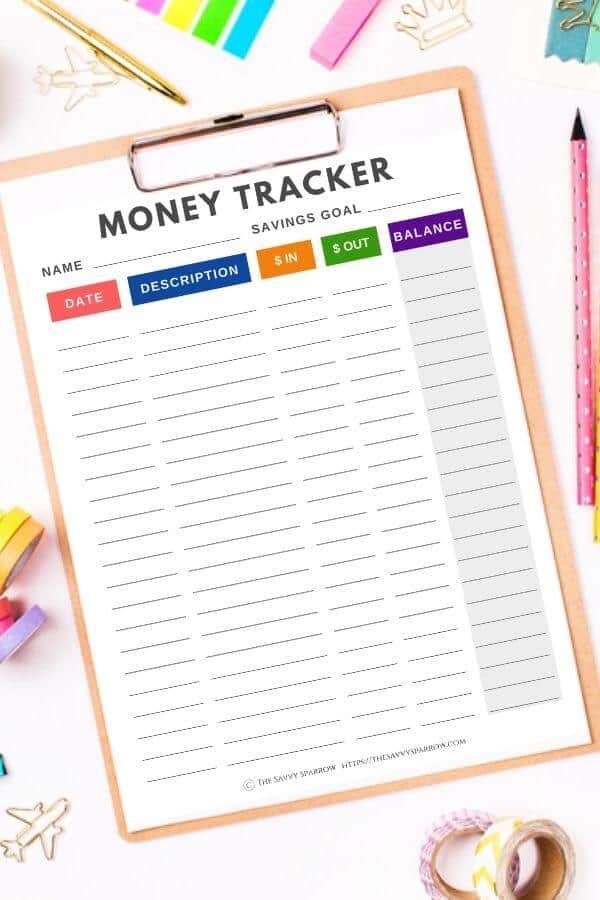 *Note – If you want to give your kids an allowance as a reward, but you never have cash or they're too young to keep up with actual money, then read this post: The Best Allowance Trackers – Give Kids Allowance without Cash, and grab a FREE printable Allowance Tracker!
Printable Reward Coupons for Kids
For younger kids, the promise of a treat in the future (like "We'll go to the Dollar Tree in two days") just doesn't cut it. They want something NOW that they can hold in their hands… something tangible. That's where printable Reward Coupons come in handy!
You can head to this post for tips for using Reward Coupons (or "Mom Bucks") and find out how to get my 36 printable coupons: Mom Bucks – Awesome Printable Reward Coupons for Kids!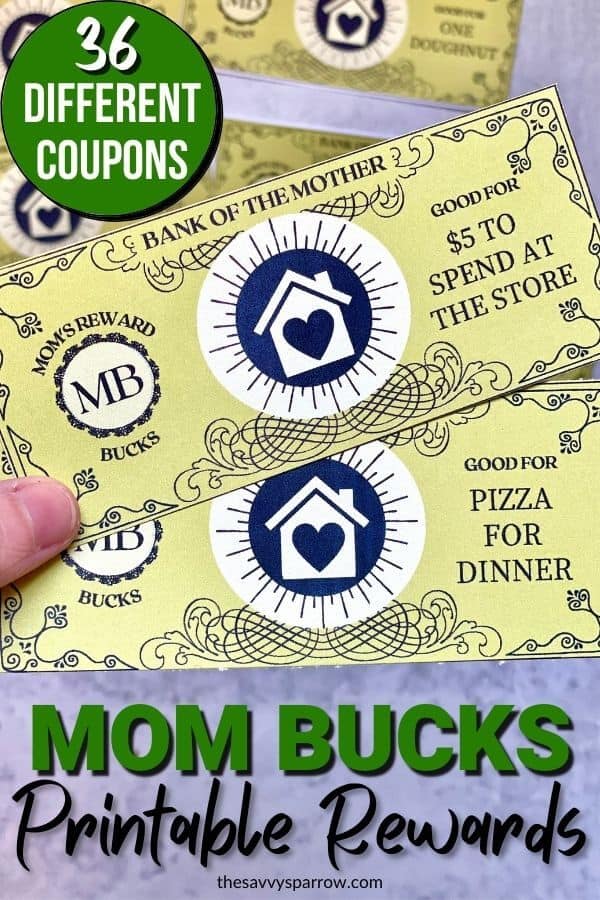 I hope you've gotten some good reward ideas for your kids! How do you reward your kids? Is there a go-to prize, treat, or other reward that you use? I'd LOVE to hear from you!
Leave me a comment down below! And don't forget to PIN this post for later: