Want to get the kids outside and active on a hot summer day? These fun outdoor water play ideas for toddlers will help keep your kids cool and make some great summer memories outside and away from electronic devices!
Most of these water activities are super easy to set up and use supplies that you probably already have at home, so you don't have to worry about dragging all the kids to the store over summer break, or spending a bunch of money to keep them entertained. Heck, most of the time toddlers are happy with just a big bucket of water and some bath toys, so why not keep things simple?!
If you're looking for a water activity for toddlers, you're bound to find something great on this list! And maybe try this fun 2 ingredient edible finger paint or this free printable neighborhood scavenger hunt for kids, too!
Toy Car Wash
Kids love getting messy and covered in bubbles. Grab the toys, bikes, and other outside items that need a good washing and set the kids loose with some soap and a bucket of water to clean everything down.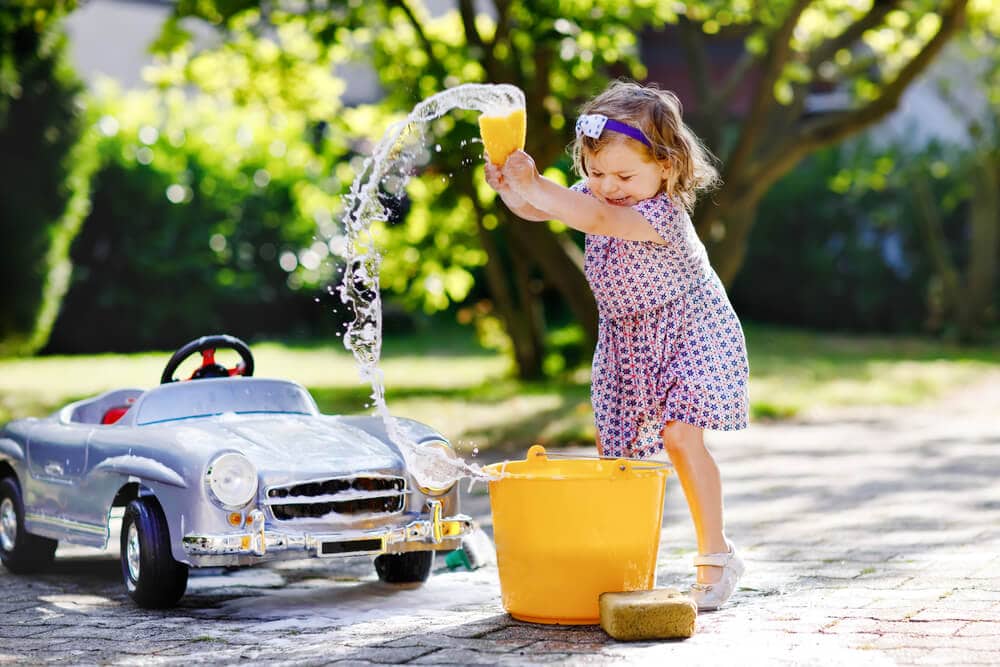 *This post contains affiliate links, which means if you click a link and make a purchase, I earn a commission at no additional cost to you.
A great way to make it easy to wash more items and get the kids in a pile of bubbles is to use a kiddie pool as the base for your activity. You can pile all of your kids' non-electric, water-safe toys in the pool and let them go to town.
The perfect time to do this is when you need to empty and clean the pool anyways, because the soap will help clean your kiddie pool at the same time. Think smarter, don't work harder, right?!
Water Balloon Games
Water balloons are like the quintessential summertime water toy, but take it up a notch and use your water balloons for a water balloon toss game! Have one person toss water balloons while the other uses a small basket to catch them without breaking. Most dollar stores carry small lightweight plastic baskets perfect for this activity. You can also change it up to make it harder for older kids by having the person with the basket put it on their head.
And you can check out Moms Collab for even more fun water balloon games to try!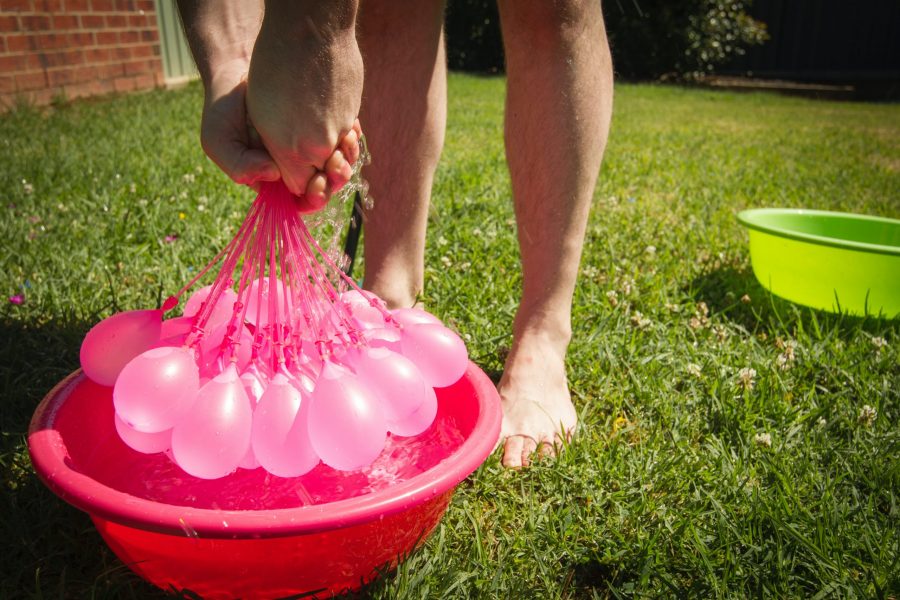 DIY Sponge Water Balls
If you're not up for getting little pieces of popped water balloon trash all over the yard, then you can make your own DIY sponge water balls like these from Crafts by Amanda.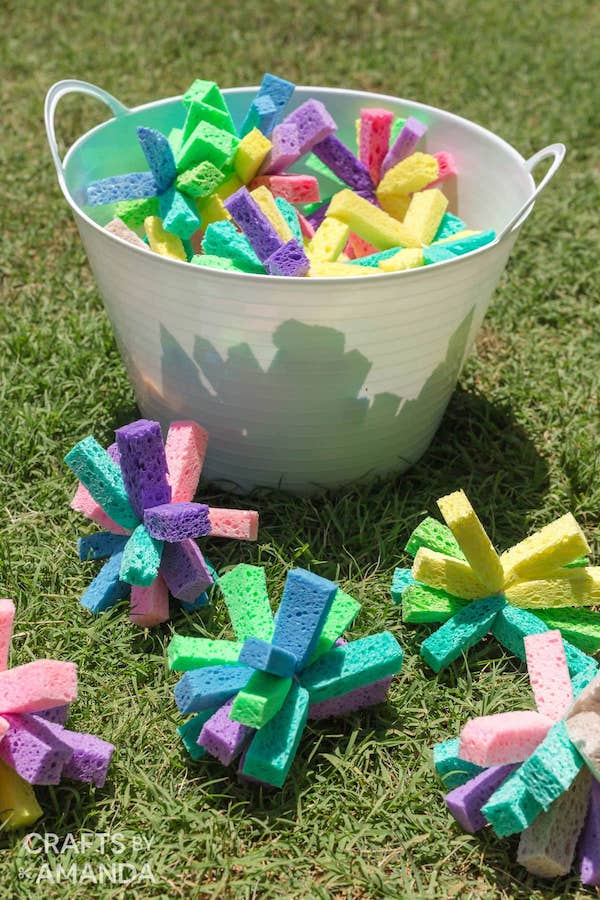 Instead of filling hundreds of water balloons, simply round up the sponge balls and toss them back into a bucket of water to keep playing.
Water Squirter Fight
You can't beat old-fashioned water guns and squirters for a fun water activity for toddlers. As a bonus, all that running helps to wear them out as well so maybe you can get them in to bed a little earlier… Here's hoping, right?!
Just grab everyone a water gun, including the adults, and dive in for some fun. You can even place totes, buckets, or large mixing bowls filled with water around the yard to make refills easy for everyone.
DIY Water Gun Cup Race
If you don't want your toddlers squirting each other, then set up this fun DIY Water Gun Cup Race from Mombrite.
Think of this funny looking contraption as one of the carnival games where you squirt the water at the target to get your game piece to win the race. This is also a great hand-eye coordination activity for your toddlers!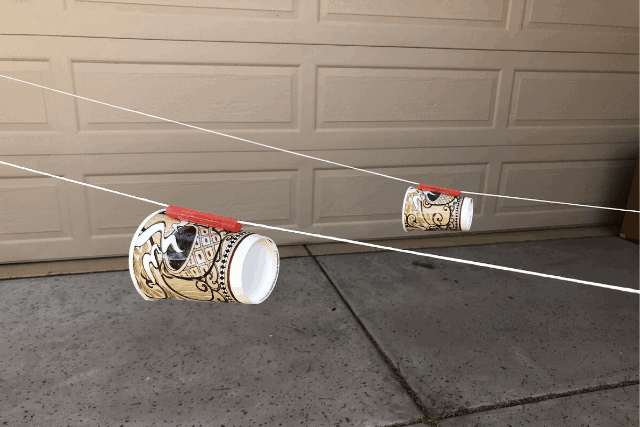 Make a Water Blob
DIY water blobs are the new, trendy water activity of the summer, and all you need is some large sheets of plastic, tape, and your garden hose. Think of a water blob as an old waterbed… Only it's outside so if your kids do put holes in it, you won't have a big mess to clean up inside.
Fabulessly Frugal has a great tutorial for how to make DIY water blobs that you can check out, and be sure to keep some silicone tape like Flex Seal on hand to make quick repairs to small holes while the kids play.
Outdoor Water Sensory Bins
If you don't have a water table or a kiddie pool, you can still set up a fun water activity for toddlers with a large plastic storage tote!
A water sensory bin like Danya Banya's fun ocean themed water bin, is a much cheaper version of a water table, because all you need is a clear tote, some water beads or other small toys, and water!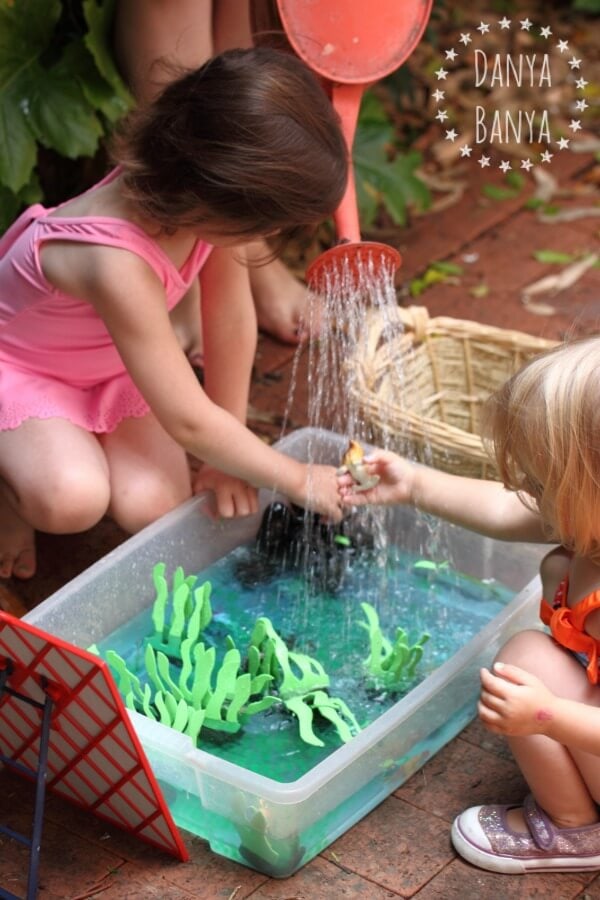 This is a super fun and easy water play idea for toddlers if you don't want them to get completely soaked.
Surprise Ice Block
Take an old ice cream container and add in some fun summer toys to help keep the kids busy. Then fill it up with water and pop it in the freezer to make a fun ice block. Give your kids tools and kitchen utensils to help them dig their new surprises out of the ice block as the sun helps melt it.
This is a super easy water activity that toddlers and moms alike LOVE! It will keep your littles busy for at least and hour (depending on the size of your ice block), and it takes pretty much zero prep work. Win-win!
Water Painting
This awesome and easy ice cube painting idea from Gluesticks and Gumdrops is perfect for your younger kids! Just fill ice trays with water and food coloring or watercolor paints to make ice painting cubes. Then let your kids "paint" designs on watercolor paper, the driveway, or even a large white sheet.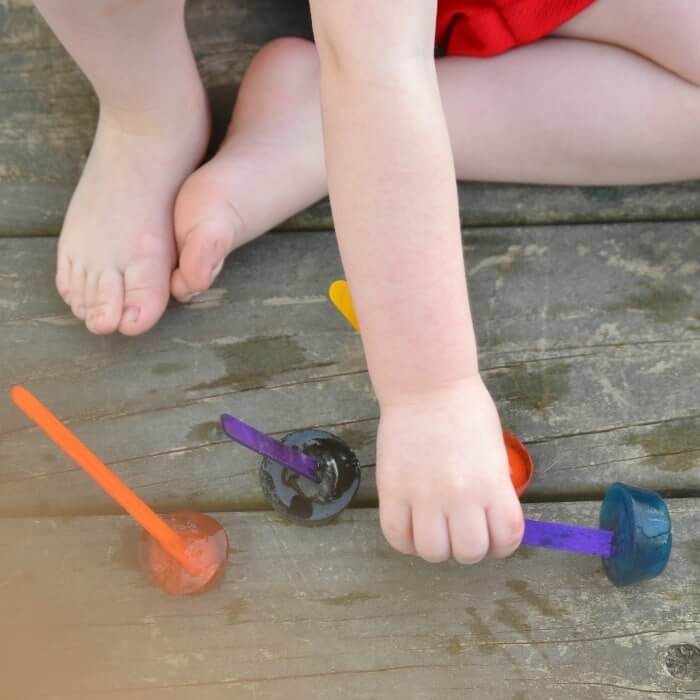 This fun water play idea is bound to get messy, so stick your kids in bathing suits or clothes you don't care about getting stained to help keep the mess under control.
Educational Kiddie Pool Games
If you are lucky enough to have a full-sized pool you can dive in with your kids to play some educational water games. If not, you can use a kiddie pool to have fun with these easy games. Just gather some foam letter bath toys and toss them into the pool. Then, challenge your kids to find specific letters or to spell out a specific word.
You could also do the same thing with foam numbers to practice math. For instance, you could ask your toddlers, "What's 1 + 1?" and then they could search for the number 2. When you can make an educational activity so fun that your kids don't even realize they're learning something, that's a parenting win!
Not a DIY Mom? Fun Water Play Activities You Can Buy!
Let's face it… not all of us are DIY moms. Sometimes we just want to pay a few extra dollars to buy something that's already done for us! Here are some awesome water play activities for toddlers that you can just ship straight to your doorstep:
Self-Sealing Water Balloons
I recently discovered these awesome water balloons for the first time, and I have two words… GAME CHANGER! These water balloons are so easy to use, and you can fill about 20 balloons in a matter of seconds.
Then, when the water balloons are done filling, you just yank up on the hose and the water balloons fall right off and self-seal like magic. I was seriously impressed!
Water Tables
A water table is an awesome water activity for toddlers, because you can set it up in a shady area and let your kids play independently, while you sit nearby and read or even catch up on your emails.
My kids had a water table similar to this one (with 10,000+ 5 star reviews) and they LOVED it!
Inflatable Mini Splash Pads
You don't have to load the kids up in the car to enjoy some splash pad fun! Just buy an inflatable mini splash pad and set it up in your front yard for hours of fun.
Fun Sprinkler Systems
My kids had this crazy turtle sprinkler when they were younger, and they LOVED it! It's fun because the rubber tubes wiggle and spray in all directions, so unlike a regular yard sprinkler, your kids have no idea where it's going to go. Plus, it's nice and compact so it won't take up much space in your garage.
I hope you've found some fun water play ideas for toddlers! What do you do to beat the summer heat with your kids? Leave me a comment down below. I'd LOVE to hear from you!
And if you want other easy toddler activities check out these posts:
And happy nesting!