I don't know how many chore charts for kids that I've bought over the years, but I'm guessing it's been 6 or 7 different chore charts. I've tried pre-filled charts with age appropriate chores, the fancy wood chore charts that you buy in the stores, and the basic white boards that I've tried to DIY into a good chore chart system.
And of those 6 or 7 different chore charts for kids, none of them lasted more than a few weeks.
Yup, I'm the mom that wants to teach her kids responsibility AND get a little help around the house, but keeping up with a chore chart is just ONE MORE job for me to do.
So, all of my previous chore charts eventually made their ways to the trash can. What can I say? I had the best of intentions, but really bad follow through. 🙂
But, since my kids are getting older, I really want them to learn the importance of working hard for the things that they want. And the things that they want just seem to be getting more and more expensive.
No, I'm not going to buy you an ipad just because you kept your room cleaned up for a week! But… if you help around the house and get your chores done each week, then I'll give you an allowance and you can save your own money for it.
So, in order to deal with the age-old parenting problem of "I want, I want, I want", I created these printable chore charts for kids so that my girls could actually EARN things themselves.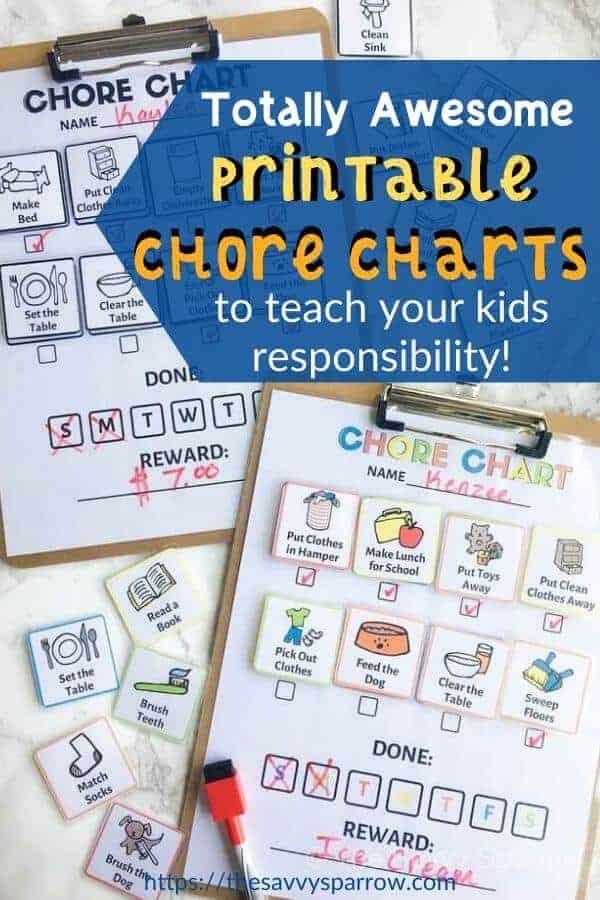 You know the saying, "Create the things you wish existed"…
Well, I did just that!
I created Chore Charts for Kids that are actually easy to keep up with… Yup, these Chore Charts are perfect for Moms that can't keep up with another dang chart!
By the way… if you LOVE charts, then be sure to check out these also:
Morning Routine Charts for Kids – make mornings easier and encourage your kids to be more independent!
Ready for School Checklist – so your kids don't keep forgetting their lunchbox and water bottle, dang it!
*This post contains affiliate links, which means I earn a commission from these links at no additional cost to you. Read my full disclosure here.
The Best Chore Charts for Kids (and Age Appropriate Chores Printable!)
How do these Chore Charts for Kids work?
My printable chore charts for kids consist of two main parts: 1) The actual Chore Chart and 2) The Job Cards.
Here's my problem with other chore charts that I've used in the past…
They all seemed to have specific chores listed in a column on the left side, and then days of the week columns to check off if each job was completed each day.
But, what if some of the jobs don't need to be done EVERY day of the week? And what if I have a special job that I want my kids to do for just one day? Then they don't get to fill up their charts with check marks?
Those other chore charts just didn't fit my needs.
So for my chore charts for kids, you can easily change the jobs day to day, and still keep track of the days that your kids complete all of their jobs.
This is how to use these printable chore charts for kids: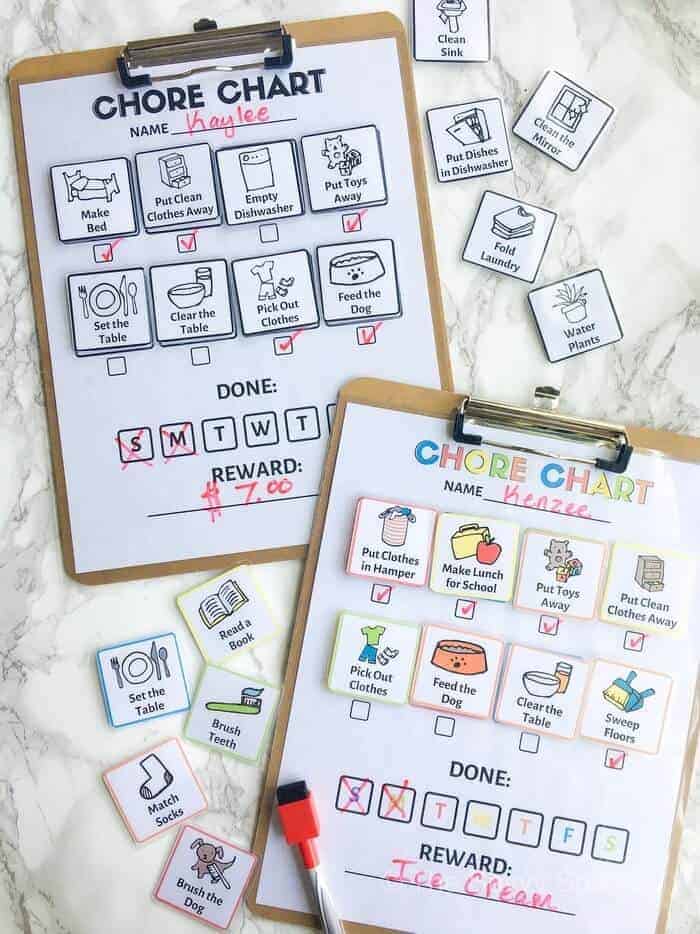 Step 1: Decide on a reward for the week, and write it in the space provided.
It's nice for kids to have a visual reminder of what they're working for. For younger kids, you can let them draw a picture of their reward using dry erase markers.
I've got lots of good reward ideas at the end of this post!
Step 2: After your kids go to bed each night, figure out what jobs they each need to complete for the next day.
Sometimes the jobs will stay the same day to day, like "Clear the table". But some jobs will only need to be completed on school nights, like "Make lunch for school". And, if you're like me, then you let your kids alternate days of doing certain jobs, like "Feed the dog".
That's the beauty of these chore charts for kids… you can easily swap out the jobs day to day, and still keep a record of the days that your kids complete all of their chores for that week!
Step 3: Stick the job cards to the chore charts for kids.
After you've decided on chores for each child, just remove the job cards from the previous day and replace them with the new job cards.
I keep all of my job cards in a ziploc bag in a basket in our family command center so that they're easily accessible. Then I can just swap out the job cards before I go to bed.
Step 4: Put a check mark under each job as it is completed.
I let my girls do this part, because they LOVE using the dry erase marker to check off the chores as they complete them.
They come by that honestly… I LOVE checking things off my to-do list, too! 🙂
Step 5: At the end of the day, if all of the chores were completed, put a check mark on the corresponding day's box at the bottom of the chart.
If your kids checked off all of their individual jobs for that day, then mark off that day of the week.
If they didn't finish one of their jobs, then they don't get to mark off that day. It's up to you if you still give your kids an "A" for effort at the end of the week, or in this case, their "reward" for the week.
Step 6: At the end of the week, check to see if your kids completed all of their chores for that week, and reward them!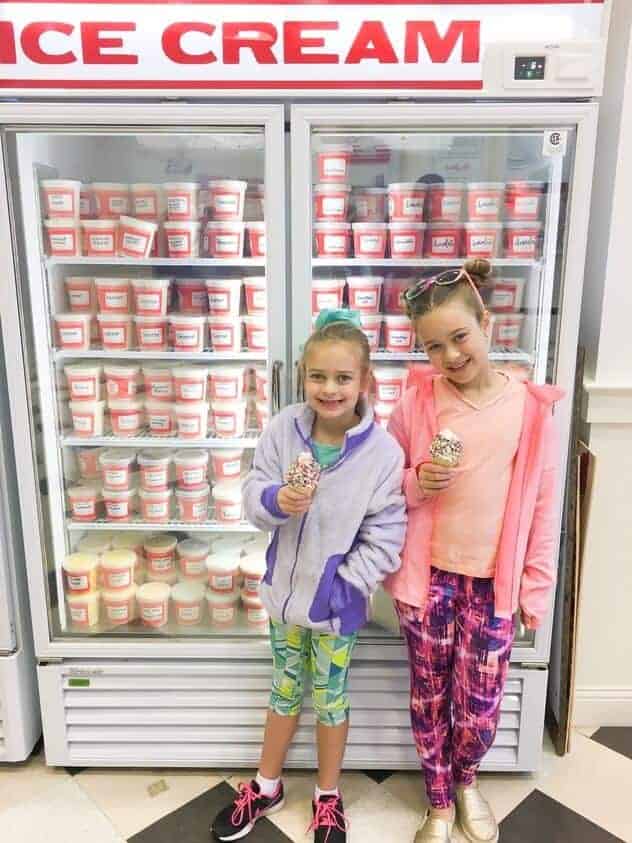 You can easily glance at the day of the week boxes to see if they're all marked. If so, your child earned his or her reward for that week! Yeah!
How do I assemble these Printable Chore Charts?
If you use my printable chore charts for kids, then you WILL have to do a little bit of work to assemble them. Here's how to assemble these chore charts for kids:
Gather Your Supplies
Supplies needed for these chore charts:
Printer – I actually had mine printed at FedEx Kinko's because their color printing is better quality than my home printer.
Laminator – This is the one that I have and LOVE! (affiliate) The price is pretty reasonable, and it's actually a really handy tool to have at home. I use it to laminate my weekly meal plan, my freezer inventory checklist, and my daughters' artwork that I want to save.
Print out the chore charts for kids and the job cards
Choose whether you want to print the color or black and white versions.
Cut out each individual job card
I used my trusty paper trimmer from Stampin' Up! to cut mine so that the cards were nice and straight.
After you have all of the job cards cut, place them in a laminator pouch with space in between each card
Here's how my cards looked in the laminator pouch before I ran it through the machine: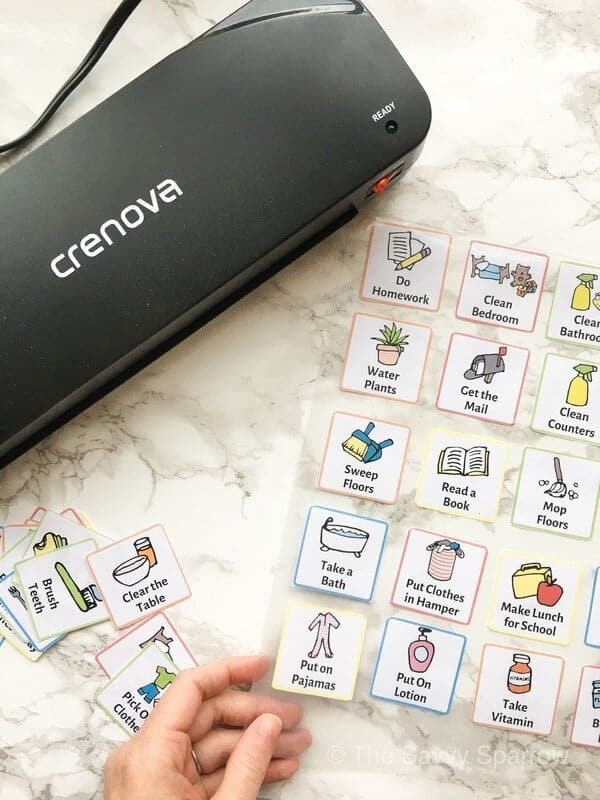 Laminate job cards and chore charts for kids
Laminate all of the job cards and the base chore chart according to the directions for your laminator.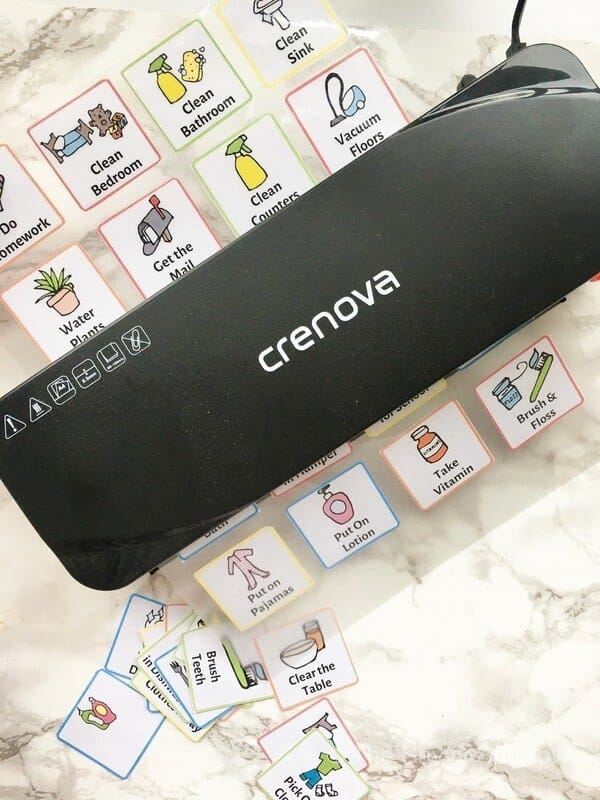 If you don't have a laminator, you can also get the laminating done at most office supply stores or FedEx Kinkos. I just chose to buy my own laminator, though, because I was always running to Kinkos to have odd projects laminated, and they charge $2.99 for each sheet.
Cut out each laminated job card
I left a very small (less than 1/4″) border of clear lamination around each card so that they were nice and sturdy. Here are some of my finished job cards: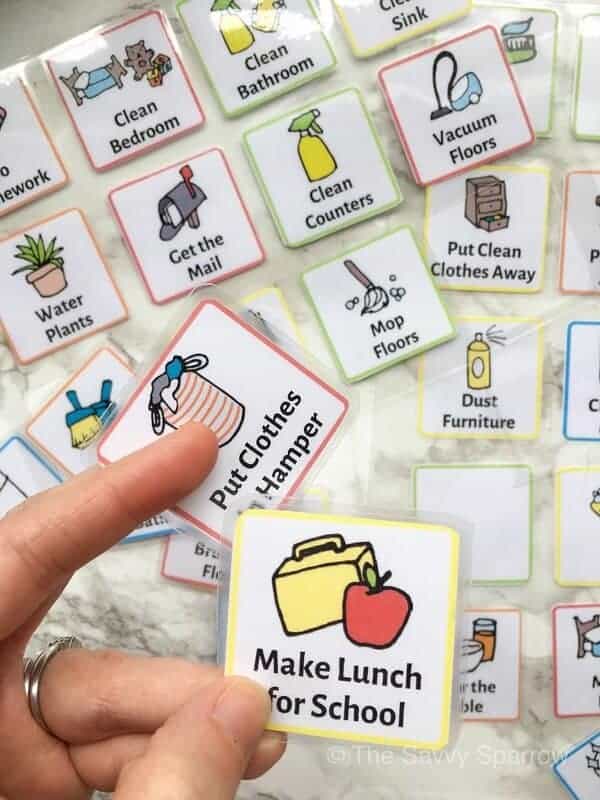 Place a velcro circle sticker on the back of each job card, and in the center of each large square on the chore chart.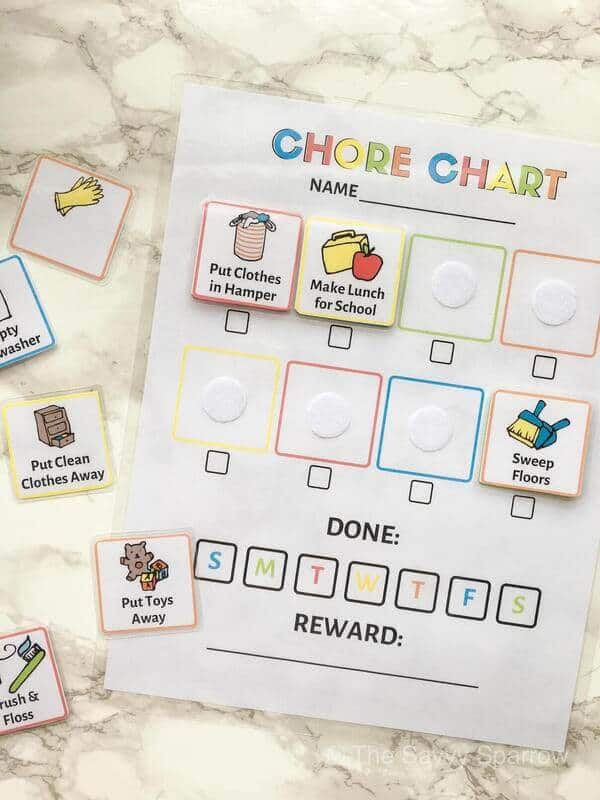 Be sure to put the correct velcro sides on all of the cards! For instance, don't put the soft, fuzzy sides of the velcro on the back of the job cards AND the chore chart, because then they won't stick together.
What job cards are included?
There are 51 different job cards included, so there should be plenty of age appropriate jobs for your kids to do!
Here is the giant list of chores that come on the pre-filled job cards:
do laundry
put clean clothes away
fold laundry
pick out clothes
put clothes in hamper
set the table
clear the table
make lunch for school
put dishes in dishwasher
wash dishes
empty dishwasher
put toys away
make bed
clean toilet
clean sink
clean bathroom
mop floors
clean the mirror
water plants
clean bedroom
vacuum floors
dust furniture
take out trash
take out trash and recycling
sweep floors
mow the yard
wash the car
do homework
write "thank you" notes
get the mail
rake leaves
clean counters
feed the fish
feed the dog
feed the cat
clean out litter box
brush the dog
wash the dog
walk the dog
feed pets
match socks
help cook dinner
pull weeds
My printable chore chart system also comes with "job cards" that are perfect for younger kids that aren't old enough to do some of the chores listed above.
These job cards are great for reinforcing nighttime routines:
take a bath
take a shower
take vitamin
put on lotion
put on pajamas
brush teeth
brush and floss
pick out clothes
read a book
And, I've even included some blank job cards so that you can fill in your own jobs!
What are some age appropriate chores for kids?
If you need some ideas for age appropriate chores for kids, then I've got you covered!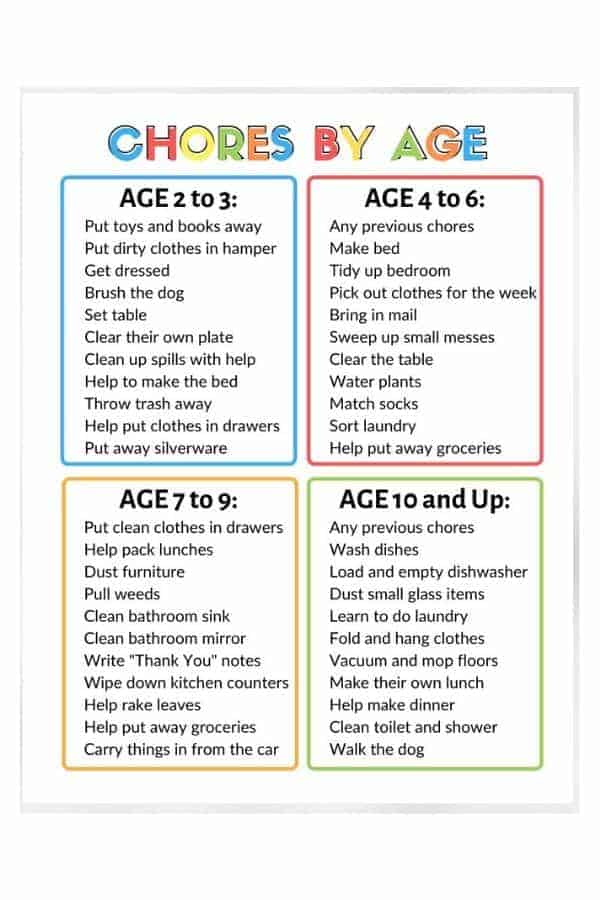 I have a printable list of age appropriate chores in my FREEBIES library!
My Freebies page is my free gift to my newsletter subscribers. You can use the form below to sign up for my FREE email newsletter, and I'll send you the password to the Freebies page!
Here are some great chore ideas for kids, by age group:
Chores for Kids Ages 2 to 3:
Put toys and books away
Put dirty clothes in hamper
Get dressed
Brush the dog
Set the table – If you use unbreakable dishes 🙂
Clear their own plate
Clean up spills with help
Help to make the bed
Throw trash away
Help put clothes in drawers
Put away silverware
Chores for Kids Ages 4 to 6:
Any chores listed for younger kids
Make bed
Tidy up bedroom
Pick out clothes for the next week
Bring in mail
Sweep up small messes
Clear the table
Water plants
Match socks
Sort laundry
Help put away groceries
Chores for Kids Ages 7 to 9:
Put clean clothes in drawers
Help pack lunches
Dust furniture
Pull weeds
Clean bathroom sink
Clean bathroom mirror
Write "Thank You" notes
Wipe down kitchen counters
Help rake leaves
Help put away groceries
Carry things in from the car
Chores for Kids Ages 10 and Up:
Wash dishes
Load and empty dishwasher independently
Dust small glass items
Learn to do laundry
Fold and hang clothes
Vacuum and mop floors
Make their own lunch
Help make dinner
Clean toilet and shower
Walk the dog
What are some good rewards for kids when they complete their chore charts?
When your kids complete all of their jobs on their chore charts, it's nice to reward them with a special treat. Plus, giving your kids rewards for work they've done also helps to prepare them for the real world.
After all, do you not get a paycheck for going to work and doing YOUR job? And, don't you hope to get a raise when you perform well?
I'm trying to teach my kids the importance of hard work. And I want them to understand that they don't just GET whatever they ask for.
I want the new iphone, but I'm not just going to go out and buy it just because I WANT it. I'm going to save up my money for it, and then I'm going to make sure that it's a good use of the money that I've worked hard to save.
Why can't kids learn the same lesson?
As a reward for completing their chore charts, I give my kids an allowance so that they can understand the concept of saving money for things that they want.
My daughters get one dollar for every year old they are… so my 10 year old gets $10 each week, and my 7 year old gets $7 each week.
So, if there's something really expensive that they want, then they will have to save their money to buy it.
Harsh? Maybe… but that's how life works.
Don't get me wrong… I'm DEFINITELY not using my kids as slave labor and paying them in peanuts. And their chores don't take HOURS to do. In fact, many of my kids chore chart jobs only take a minute or two, like "Put clothes in hamper" or "Feed the dog".
I don't want y'all thinking that I'm a mean, old, whip-cracking Momma… because that's DEFINITELY not me! See this post on Fun Ways to Make Your Kids Feel Loved for proof. 🙂
Here are some great rewards for kids for completing their chore charts:
Mommy and me date
Picnic in the park
Bowling, ice skating, etc.
Ice cream
Dollar movie date
Kids' craft class at Michael's – These are a lot of fun and only cost $2 per child!
Mini Dollar Tree shopping spree – give each child $3 or $4 to spend
Let them pick out a treat at a local bakery
Movie night date at home – Let them pick out a Redbox or Netflix movie for the family to watch at home together. Throw in some popcorn mixed with M&Ms for an extra special reward!
Allowance
One hour of playtime at an arcade
Frappucinos – This is one of my daughters' favorite rewards. I take them every now and then when Starbucks is doing the BOGO Happy Hour special!
Pizza night
Small toy that they've been wanting
Having a friend over for a sleepover
And head here for 51 more reward ideas to motivate kids!
Where can I get these Chore Charts for Kids?
You can CLICK HERE to purchase my Chore Charts for kids!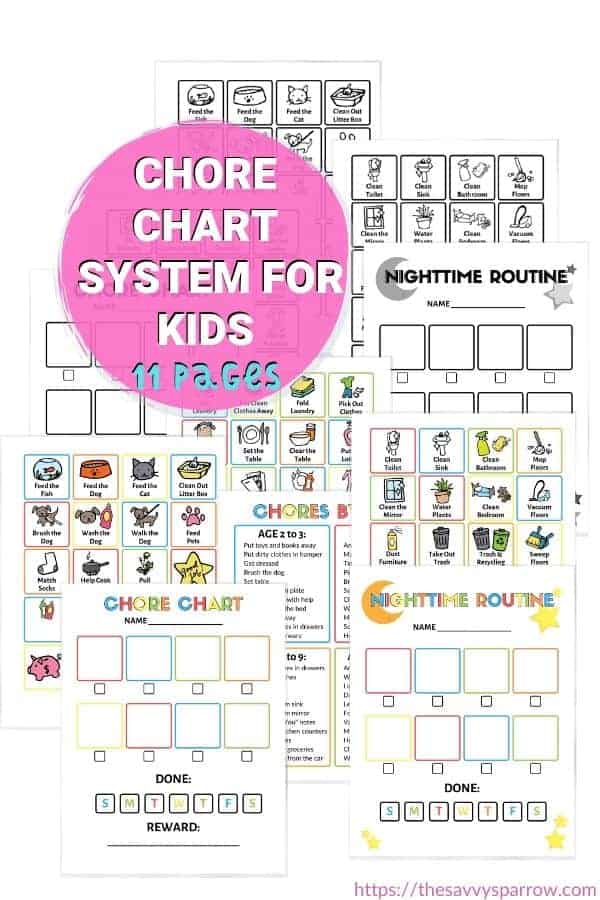 Then, your printable chore charts will arrive by email within an hour!
And, if you want another great printable for kids, then check out this post on How to Raise Nice Kids for my FREE Kindness Charts for kids!
Happy nesting!