Use this free printable Halloween Movie Bucket List to keep track of spooky and classic Halloween movies that you want to watch this year! You could even use the free movie list to create a new fun Fall family tradition!
When October arrives and the weather turns cooler, there's nothing I enjoy more than curling up under a fleece blanket and watching movies. And now that our daughters are a bit older, we make it a family affair! One night a week, we order pizza and we all pile in bed to watch a family movie together.
It's one of my absolute favorite things to do as a family, because we all enjoy watching a good flick, and it's an inexpensive and fun way to spend some quality time with each other.
So I decided to take our October movie nights one step further with this free printable Halloween movie bucket list! My family and I recently sat down to plan out our movie nights for the Fall months, and I'm sharing my cute Halloween bucket list templates with you so that your movie-loving monsters can enjoy this fun October tradition, too!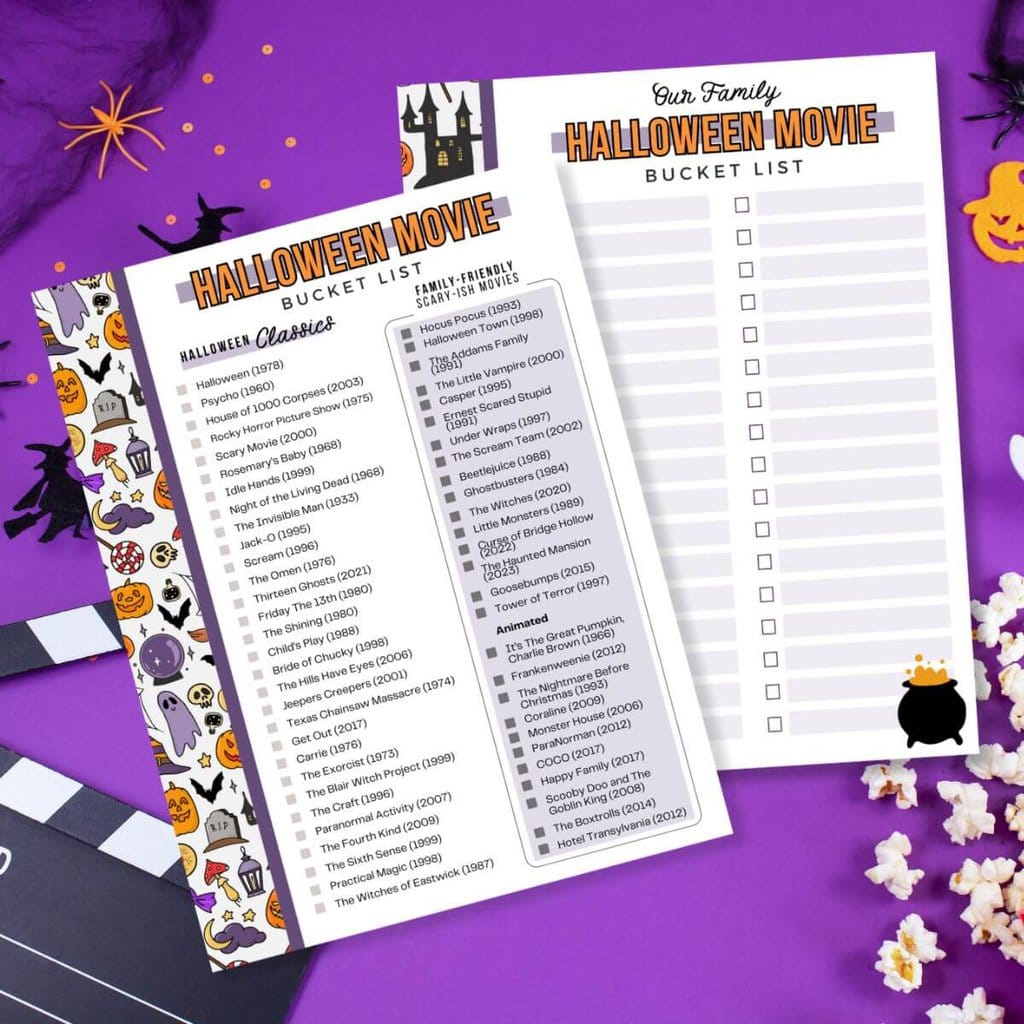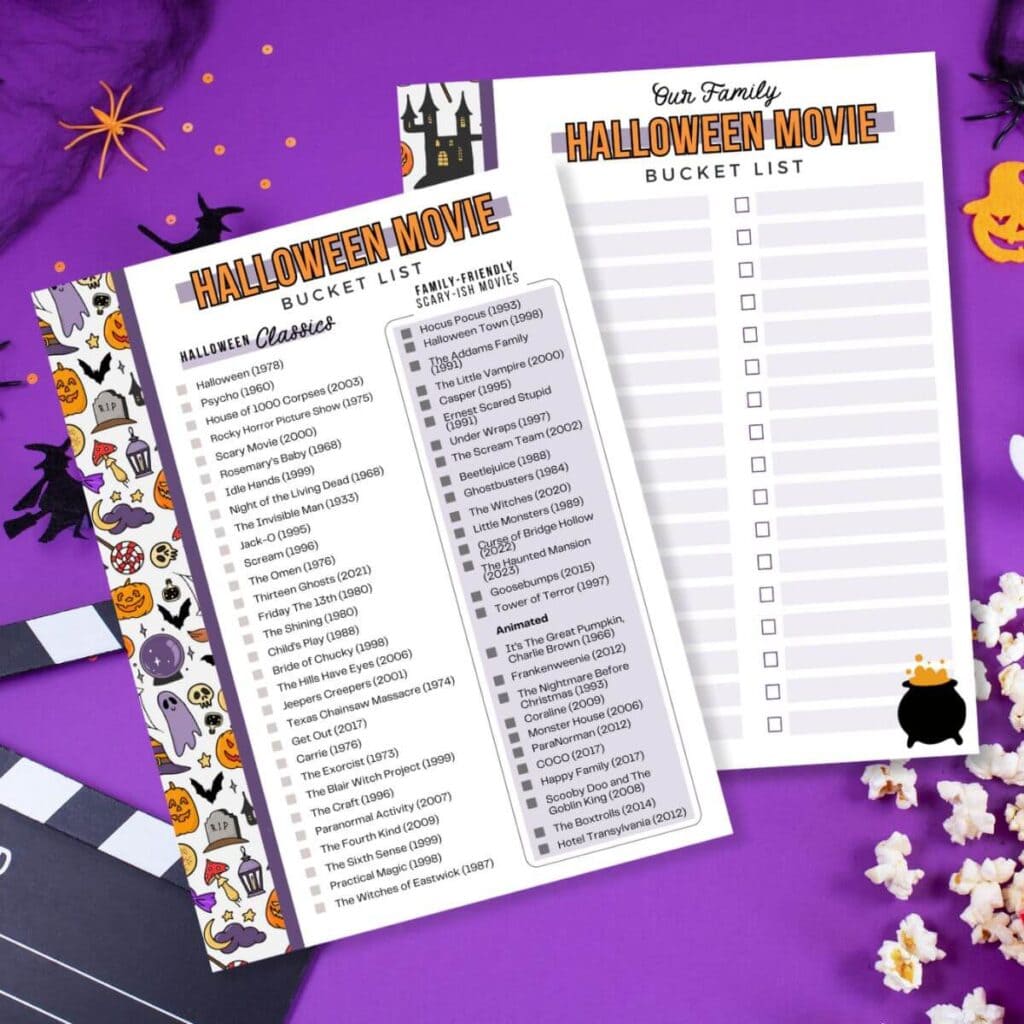 What is a Halloween Movie Bucket List?
A Halloween movie bucket list is like your fun to-do list for October. You can create a bucket list of scary Halloween movies or family-friendly flicks that you want to watch leading up to Halloween, and then check the movies off your list as you watch them.
This free printable Halloween Bucket List is perfect to use for Fall date nights or to complete with your kids when the weather turns cooler and you just want to snuggle up in your comfiest PJs, munching on candy, and sipping hot cider. It's basically a promise to yourself to watch all of the best Halloween flicks, and to spend time with the people you love while getting into the Halloween mood.
Halloween Movies to Add to Your Bucket List
Whether you're a fan of creepy classics or hilarious horrors, you'll find some awesome Halloween movie ideas down below!
Family Friendly Scary-ish Halloween Movies
These family-friendly Halloween movies offer a mix of spooky fun, heartwarming themes, and fantastical adventures that are perfect for a Halloween movie night with the whole family:
Little Monsters (1989)
Edward Scissorhands (1990)
The Addams Family (1991)
Hocus Pocus (1993)
Casper (1995)
Under Wraps (1997)
Halloween Town (1998)
The Little Vampire (2000)
The Scream Team (2002)
Goosebumps (2015)
Tower of Terror (2015)
The Witches (2020)
Curse of Bridge Hollow (2022)
The Haunted Mansion (2023)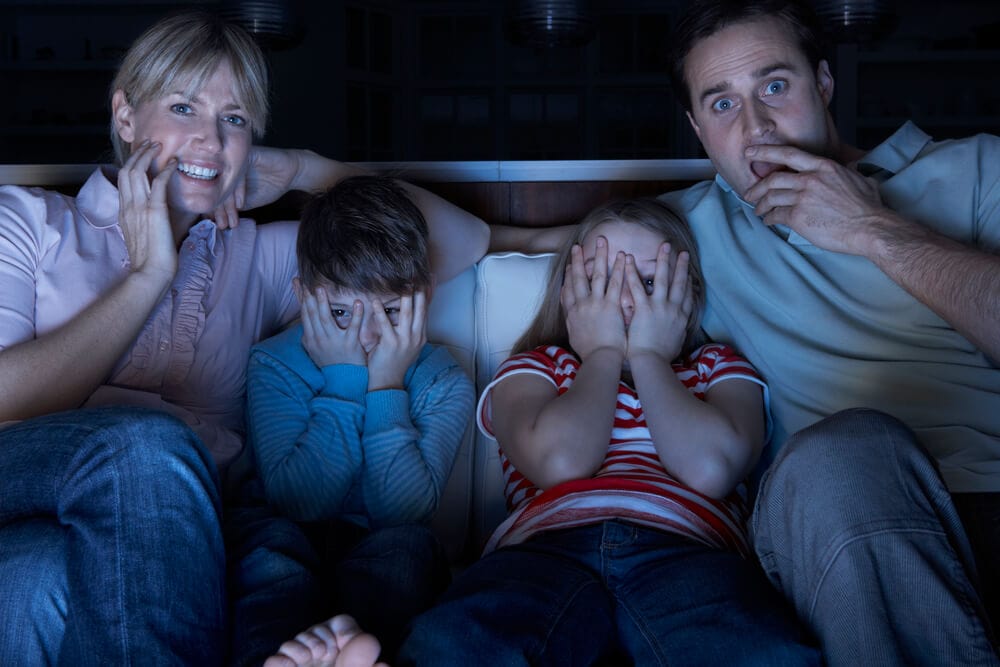 Animated Halloween Movies List
Want to have a family movie night with your little goblins? These animated Halloween movies are perfect for your younger kids:
It's the Great Pumpkin, Charlie Brown (1966)
The Nightmare Before Christmas (1993)
Monster House (2006)
Scooby Doo and the Goblin King (2008)
Coraline (2009)
ParaNorman (2012)
Hotel Transylvania (2012)
Frankenweenie (2016)
COCO (2017)
Happy Family (2017)
The Boxtrolls (2014)
Classic Scary Halloween Movies List
If you're looking for some classic Halloween movies to add to your bucket list for after you tuck the kids into bed, here are some awesome options. I've organized them by release year, just in case you're like me and prefer the newer movies:
The Invisible Man (1933)
Psycho (1960)
Night of the Living Dead (1968)
Rosemary's Baby (1968)
The Exorcist (1973)
The Texas Chain Saw Massacre (1974)
Rocky Horror Picture Show (1975)
The Omen (1976)
Carrie (1976)
Halloween (1978)
The Shining (1980)
Friday the 13th (1980)
The Evil Dead (1981)
A Nightmare on Elm Street (1984)
The Witches of Eastwick (1987)
Child's Play (1988)
The Silence of the Lambs (1991)
Jack-O (1995)
The Craft (1996)
Scream (1996)
Practical Magic (1998)
Bride of Chucky (1998)
The Blair Witch Project (1999)
Idle Hands (1999)
The Sixth Sense (1999)
Scary Movie (2000)
Jeepers Creepers (2001)
The Others (2001)
The Ring (2002)
28 Days Later (2002)
House of 1000 Corpses (2003)
Saw (2004)
The Grudge (2004)
The Hills Have Eyes (2006)
Paranormal Activity (2007)
The Fourth Kind (2009)
Get Out (2017)
A Quiet Place (2018)
Hereditary (2018)
Thirteen Ghosts (2021)
Free Printable Halloween Movie Bucket List
Want to grab the free printable Halloween Movie Bucket List templates to make your own spooky flick fest? Whether you want a Halloween movie list that's already done for you, or you want to create your own list of Halloween movies to watch this October, you can grab my two different bucket list printables down below!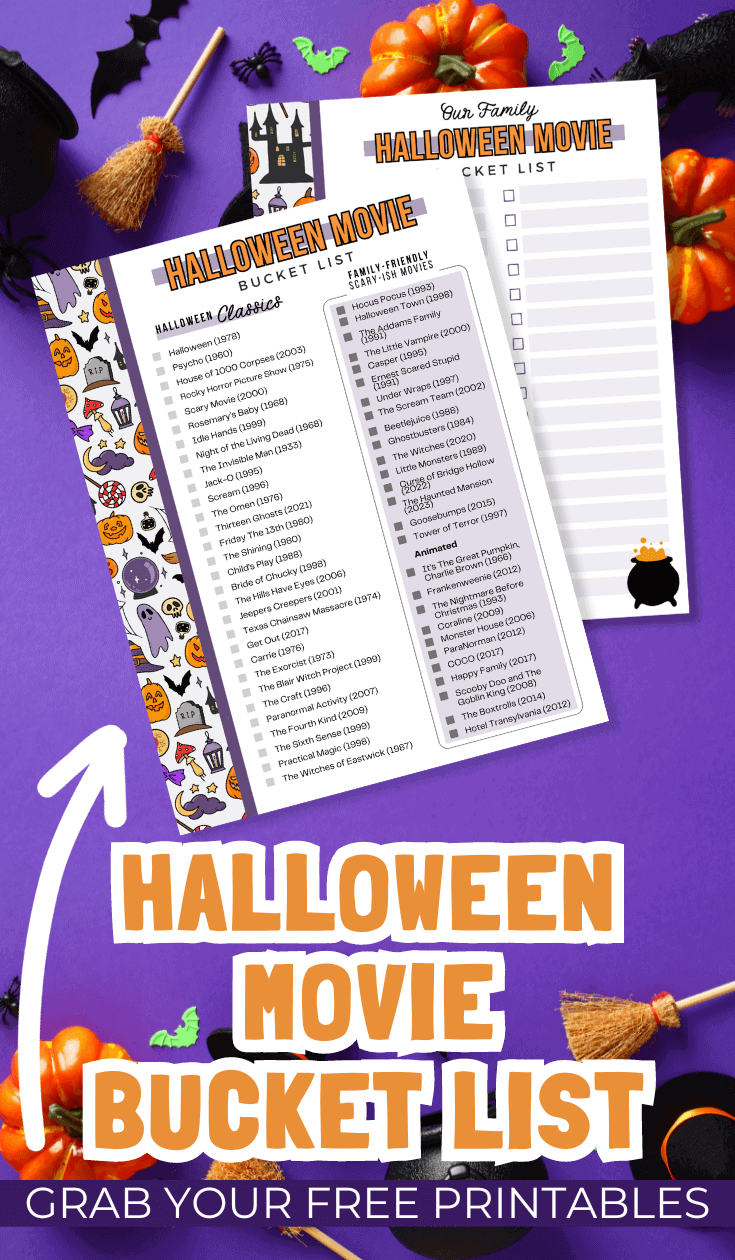 Click HERE for the Halloween Movie Bucket Lists
Other Ideas for a Fun Halloween Movie Night
Want to make your Halloween movie night even more spook-tacular? Try one of these ideas that your whole family will LOVE:
Make a Halloween Snack Board
You can't watch a movie without some movie snacks?! At least that's how it is in our family! So try sticking to the spooky Halloween theme with a fun snack board. Just arrange Halloween snacks like candy corn, popcorn, witch's finger pretzels, and caramel apple slices on a cutting board or baking sheet!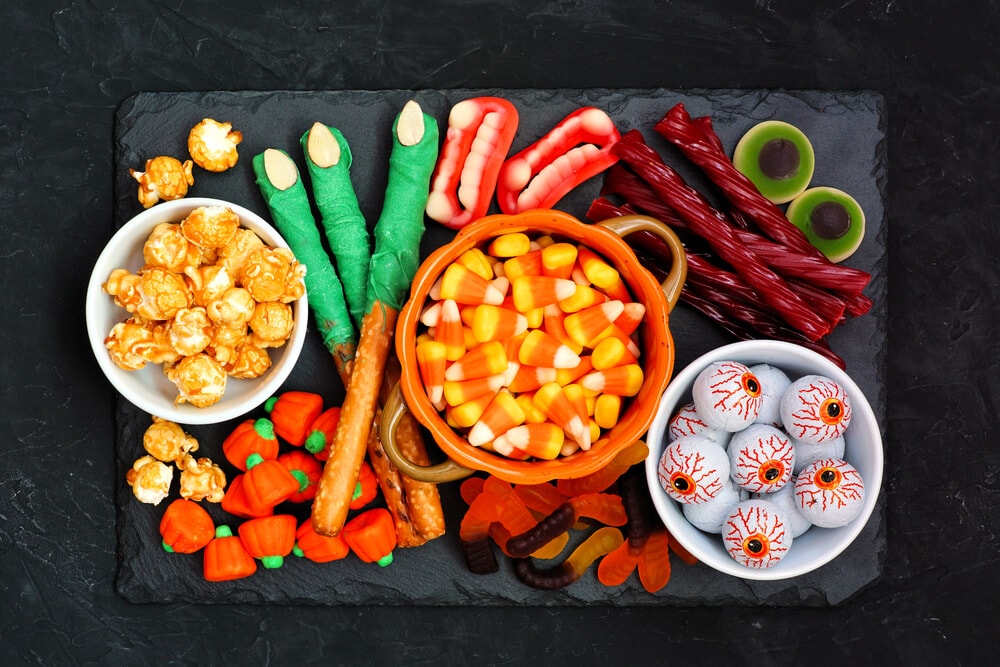 Print Your Own Movie Tickets
Make some quick "Scary Movie Night" movie tickets at home! You can find some awesome free printable Halloween movie night tickets here or create your own design in Canva.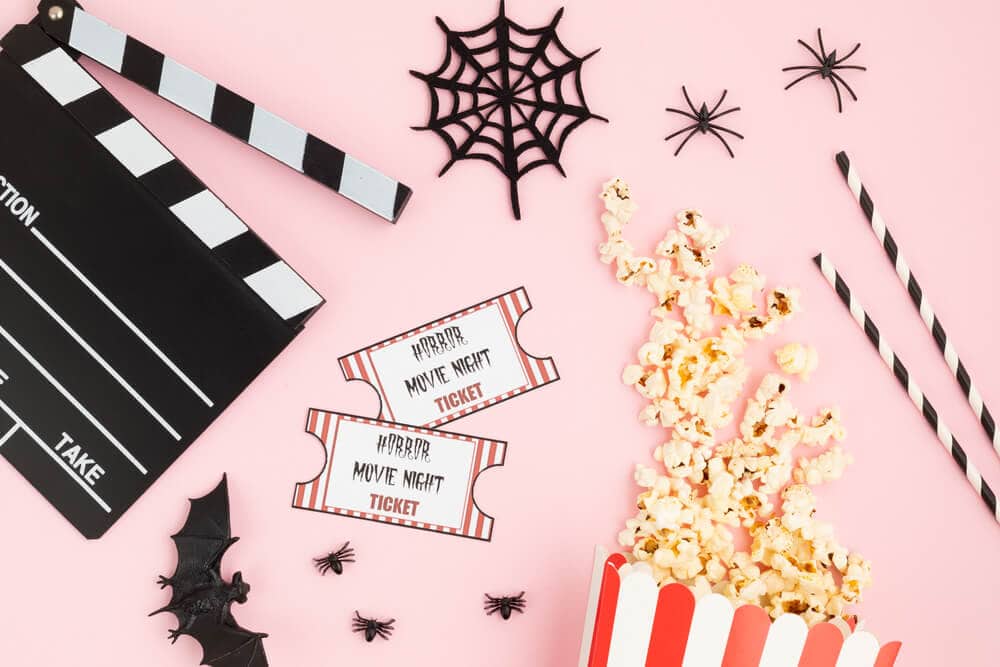 Make it a Halloween Pajama Movie Night
Watch the spooky family movie in your pajamas! You can purchase Halloween pajamas from places like Target, or wear pajamas that you already have and add in some costume accessories like a superhero cape or a cat tail!
More Free Halloween Printables
If you loved these free printable Halloween movie bucket list templates, then be sure to check out some of these other free printables for the month of October: