Create your own Halloween Bucket List with this free printable that your kids will love!
I love creating bucket lists! Ever since my kids and I created this fun Fall bucket list last year, I've been kind of obsessed. Probably because I just love a list… to do lists, grocery lists, Netflix watch lists, pretty much any kind of list that involves a cute colored pen and check marks.
And this Halloween bucket list is no different!
Halloween is right around the corner, and with the arrival of October comes a flood of community activities and at-home fun. From eating caramel apples (any excuse to eat dessert, right?!) to carving pumpkins and roasting the pumpkin seeds afterwards, we partake in ALL the fun Halloween activities!
And a Halloween Bucket List is a great way to keep track of everything that you want to do with your family this year, so you don't forget one single trunk-or-treat or pumpkin scavenger hunt.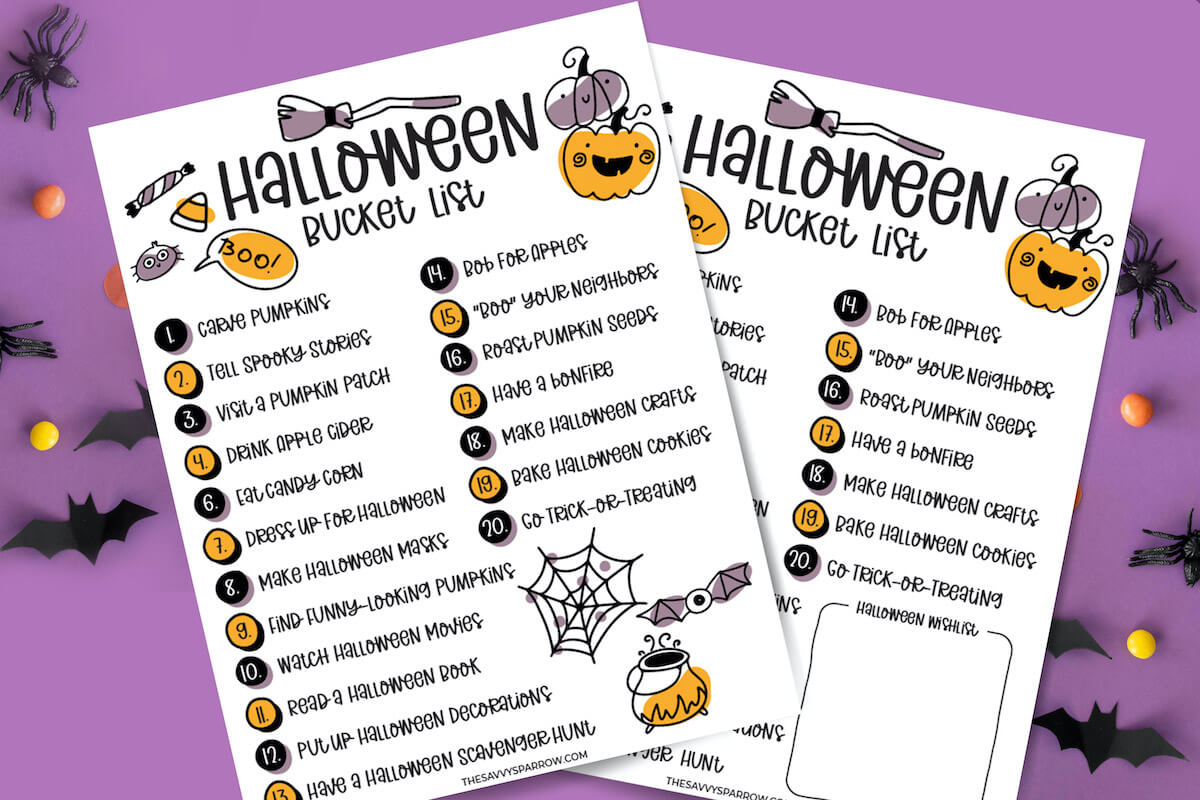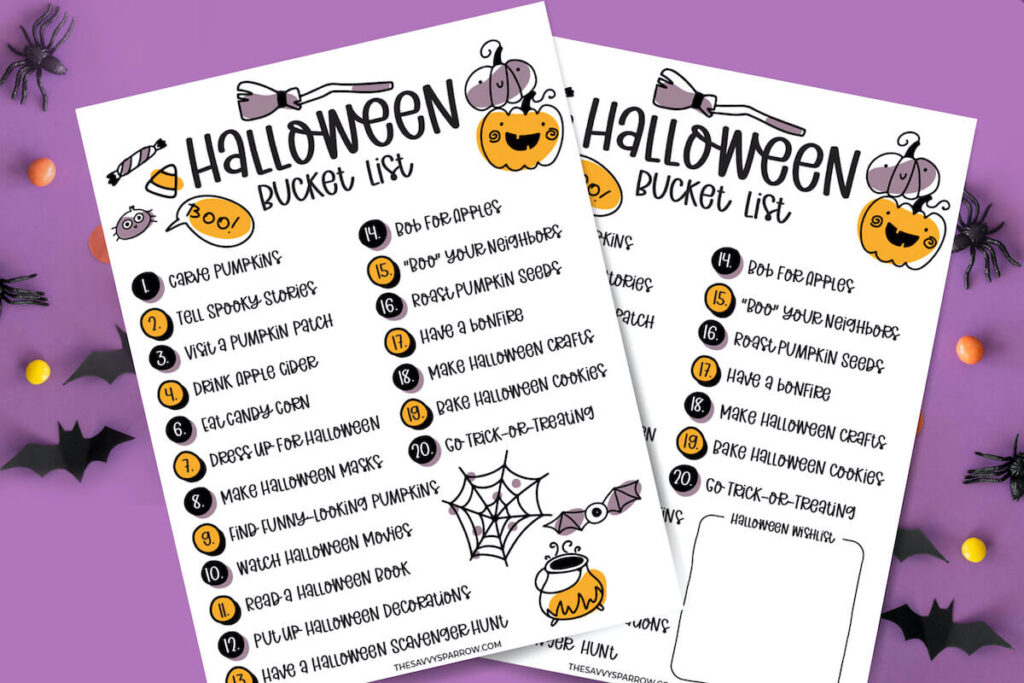 How to Create a Halloween Bucket List
Figure out how you will record your bucket list ideas.
If you want to try a bucket list for your family this October, you have a few different options:
Create your own on a simple piece of paper
Add your list of Halloween activity ideas to a white board or clipboard in your family command center
Use a printable bucket list like the ones I have at the end of this post
Use a Halloween-themed October printable calendar and add your ideas to it
Write a simple list of ideas for Halloween activities that you want to do in the "Notes" app of your cell phone
Get input from your family!
You can (and should!) involve your kids in the planning of the bucket list to make them feel special. Maybe let each child put down 2-3 ideas of October activities for your family to do, within reason.
Depending on how hog-wild you go on creating your list, you may not be able to accomplish everything. But if each family member picks out a few of their favorite ideas, you can add them to your list so that everybody gets to do what they want to do.
Designate time for completing the items on your list.
Making a bucket list full of fun family activities is a great way to show your family that you want to spend time with them and that they are what's most important. But the cutest Halloween bucket list printable is pretty useless if you don't plan time to complete the items on your list.
Be sure to set aside blocks of family time on your October calendar, and take that quality time together to do something fun from your list.
31 Fun Ideas for Your Family's October Bucket List
Here are some ideas of family-friendly Halloween activities for your bucket list:
Carve pumpkins
Have a bonfire and tell spooky stories
Visit the pumpkin patch to pick out pumpkins
Do a corn maze
Drink apple cider… or make your own!
Go apple picking
Eat candy corn
Dress up for Halloween
Make Halloween masks – You can find some awesome free printable Halloween masks here!
Decorate your house for Halloween
Do a neighborhood Halloween scavenger hunt – Just walk around your neighborhood looking for the Halloween decorations on the list! So easy and so fun for your kiddos!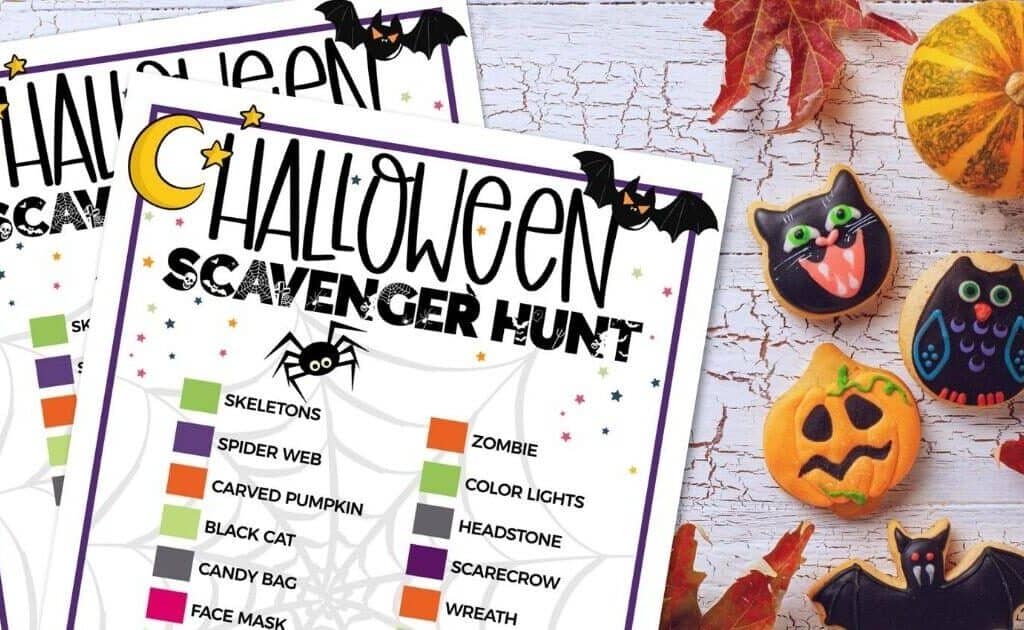 Bob for apples
Roast pumpkin seeds
Roast marshmallows and make S'mores
Do some fun Halloween crafts
Go trick-or-treating
Visit a trunk-or-treat at a local church
Find funny looking pumpkins on a neighborhood pumpkin scavenger hunt! Visit the post to grab the free printable list and walk around your neighborhood looking for the specific carved pumpkins on the list!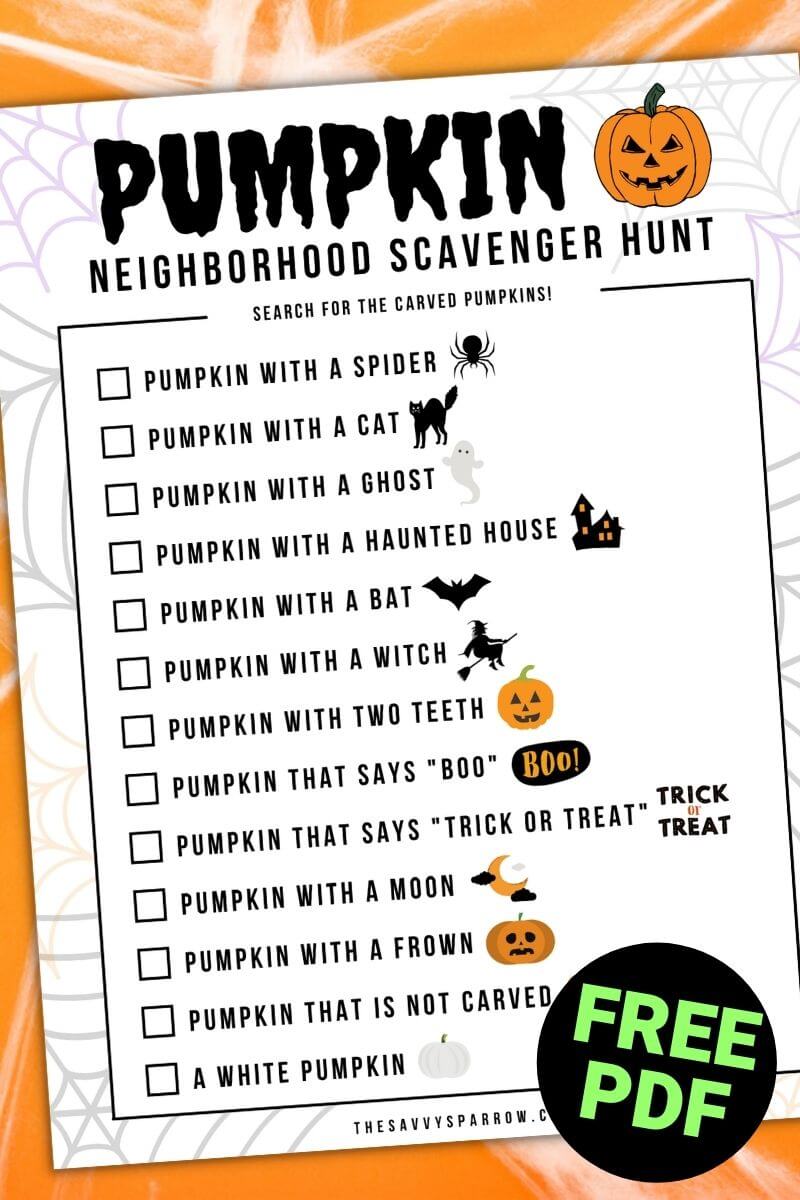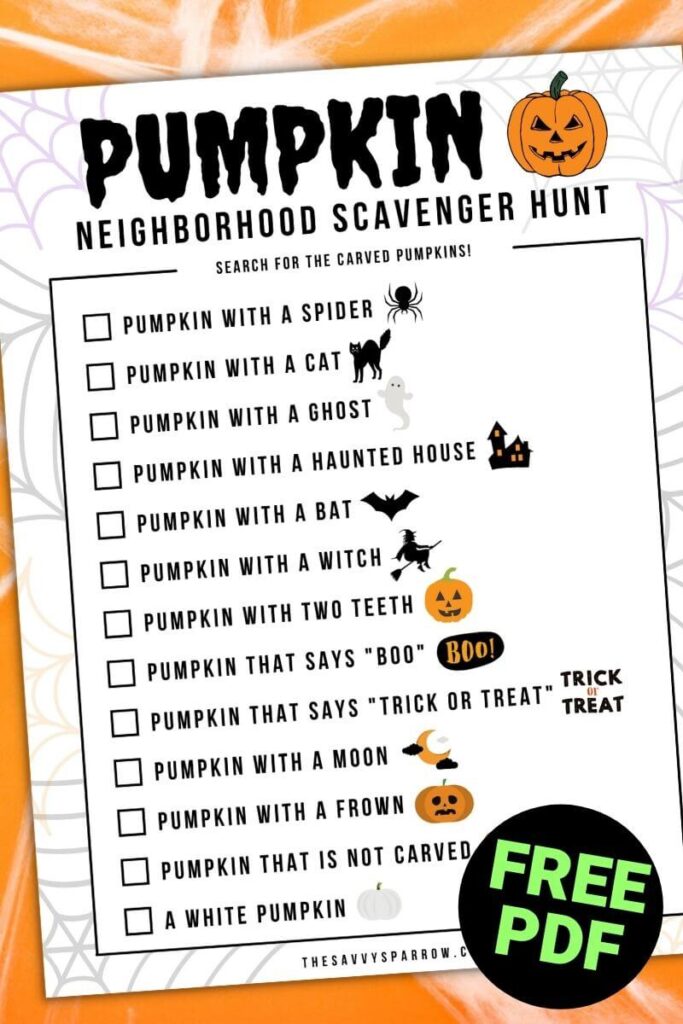 Read a Halloween book
Watch Halloween movies
Have a pumpkin painting contest – Get a small pumpkin for each family member and different colors of paint and see who creates the best painted pumpkin!
Buy "Teal Pumpkin" treats at the store for allergy-aware kids – This is a great opportunity to teach your little ones about inclusivity.
"Boo" your neighbors
Make small Halloween care packages of assorted candy to leave for your mailman or FedEx drivers
Bake Halloween cookies
Make caramel apples
Buy candy for trick-or-treaters
Make Halloween treat bags and deliver them to a local nursing home or children's hospital
Bake a yummy Halloween dessert like these easy 4 ingredient Mini Cherry Pie Mummies
Do a blind taste test with different Halloween candy – Take turns trying different candies blindfolded and see which family member can name the most candies correctly!
Make a Halloween-themed lunch with these easy jack-o-lantern quesadillas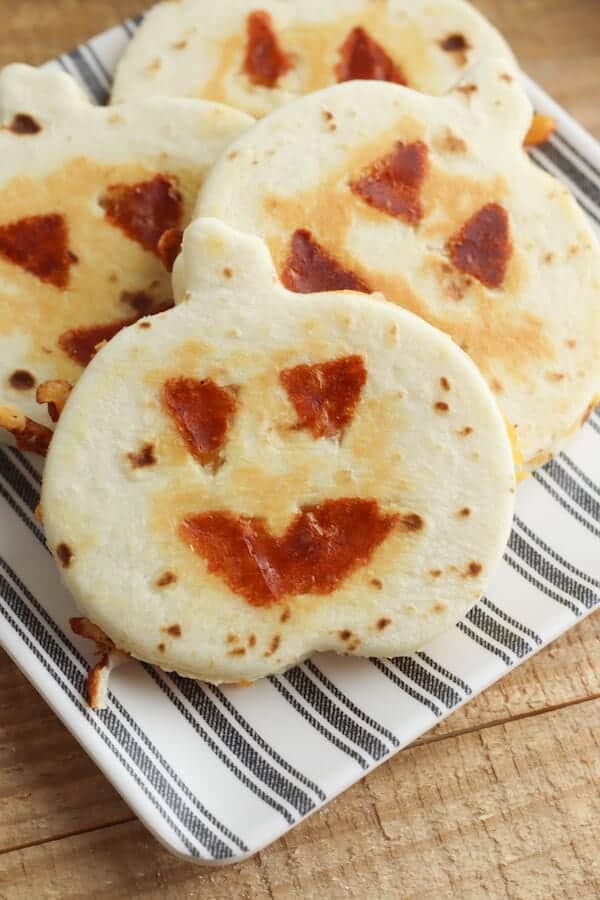 Free Printable Halloween Bucket List
Just click the link below to download these cute Halloween bucket list printables, and enjoy crossing off the items on the list as you create fun memories with your family!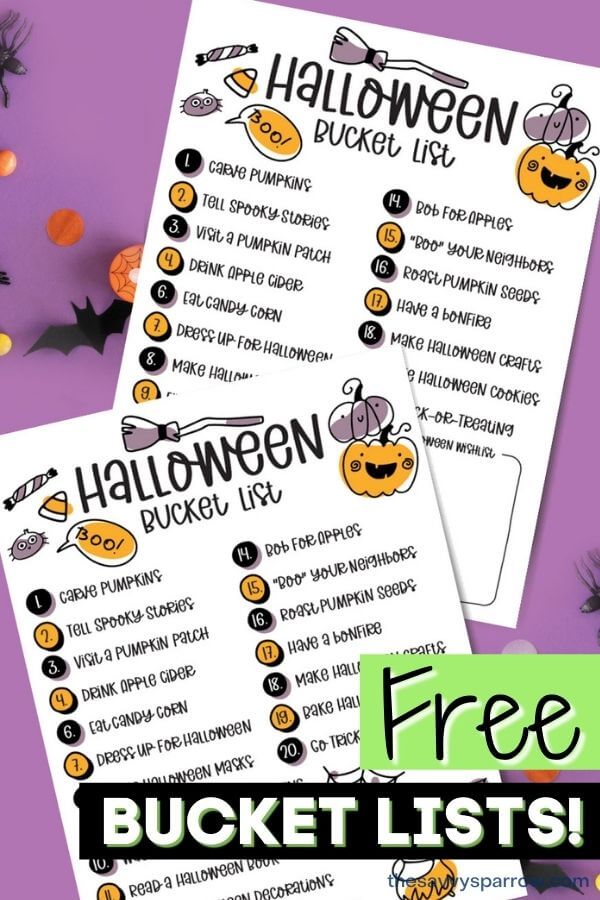 Download the Halloween Bucket List HERE
What Halloween activities does your family enjoy? Is there something that you do every October? Leave me a comment down below! I'd LOVE to hear from you!
And happy nesting!