Want fun Halloween lunch ideas for kids? Make these cute and SUPER easy Jack-O-Lantern Quesadillas to get in the Halloween spirit!
I can make a quesadilla… which is saying A LOT for me!
If you've been reading a while, then you know that my kitchen skills are seriously lacking, and if it wasn't for my chef husband, we would probably eat sodium-loaded microwave dinners every night of the week.
I can, however, make these awesome snack plate dinners for kids! And these cute Halloween Brownies made from boxed brownie mix.
And, now Jack-o-Lantern Quesadillas, too!
This cute Halloween food is great for younger and older kids alike, and these easy pumpkin shaped quesadillas are a FUN way to get in the spirit of Halloween. Surprise your little princesses (or maybe witches, depending on the day!) with some Jack-o-Lantern Quesadillas in their lunchboxes on Halloween day, or serve them as easy after-school snacks.
You could even take this pumpkin quesadilla idea and run with it… add in some lunch meat, shredded chicken, or even scrambled eggs for Halloween quesadillas for breakfast!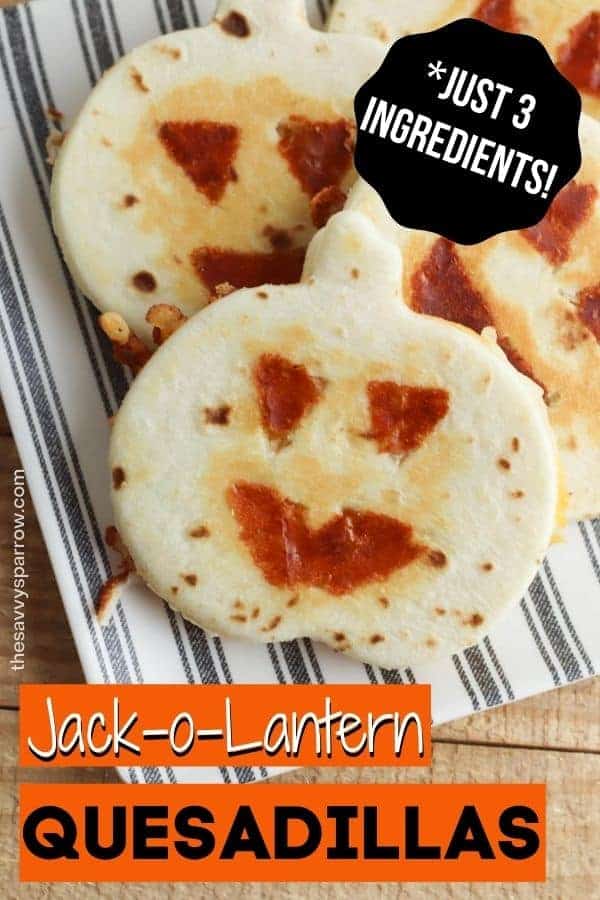 Here's how to make them…
Ingredients
The ingredients are pretty straight forward for this kid-friendly Halloween meal. Here's what you need to make these cute Halloween quesadillas:
flour tortillas – Mission Low Carb Tortillas are my FAVE… I use them to make these awesome Low Carb Tortilla Pizzas, too!
shredded Monterrey Jack cheese
pumpkin cookie cutter and knife
How to Make Jack-o-Lantern Quesadillas
Cut pumpkin shapes out of your tortillas using your cookie cutter. You will need TWO pumpkin shapes for each quesadilla. Pretty much any size of pumpkin cookie cutter will work. If you get larger burrito-sized quesadillas, then you may be able to get 2 or 3 pumpkin shapes out of each tortilla.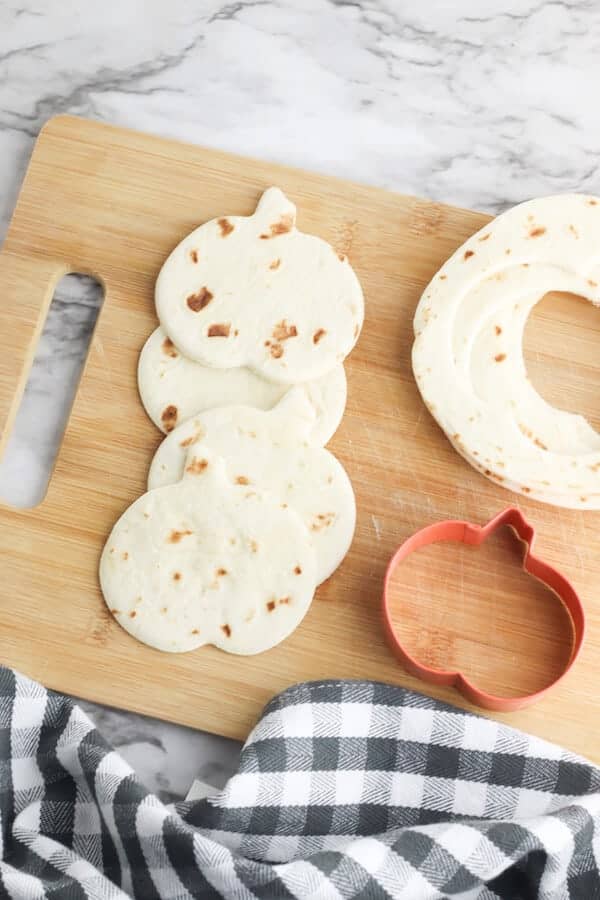 Cut Jack-o-Lantern faces into half of the pumpkin shaped tortillas using a good knife. These pumpkins will be the the top of each individual quesadilla.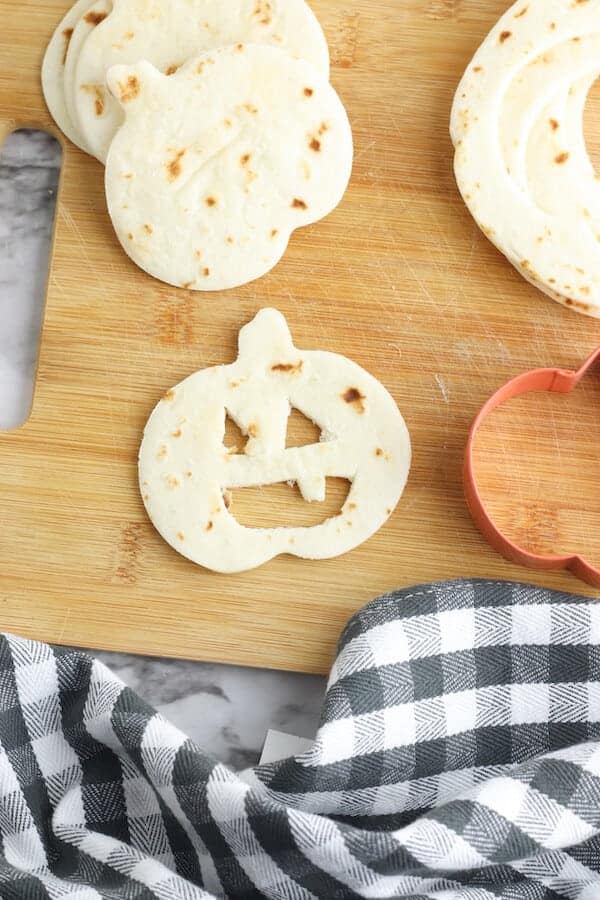 Heat a skillet or griddle over medium high heat. When the griddle is hot, place the four pumpkin tortillas without faces on the griddle. Top each with shredded cheese and place the pumpkin tortillas with faces on top of the cheese.
Cook for about five minutes, until cheese is melted. Then carefully flip your Jack-o-lantern quesadillas and cook an additional two to three minutes. The cook time may vary just a bit depending on the size of your pumpkin cookie cutters.
Allow your yummy Halloween snacks to cool slightly before serving.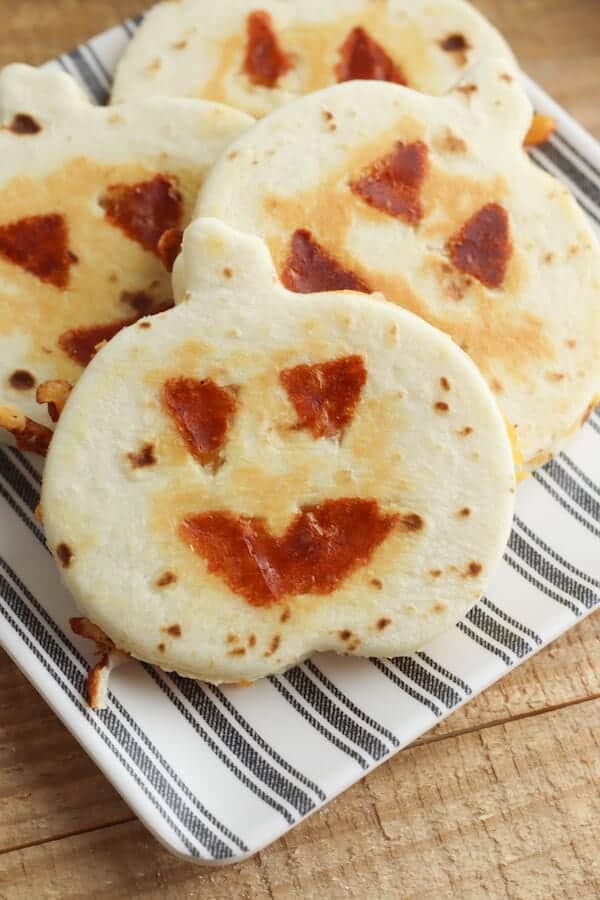 And that's it! Told you these cute Halloween quesadillas were super easy to make! And that's saying a lot coming from me!
If your kids aren't too picky about spice, I also like to sprinkle on a tad bit of Lawry's Seasoning Salt for a little extra flavor. And if you don't want to waste the excess tortillas from after the pumpkin shapes are cut out, then use them to make a yummy tortilla soup or these cute bat shaped cinnamon sugar tortilla crisps!
These quesadillas would make great Halloween lunch ideas for kids, and then you can follow them up with a fun Halloween Scavenger Hunt around your neighborhood!
What are some of your favorite ways to celebrate Halloween with your kids? Are you the Mom that gets dressed up in full costume to take your kids trick-or-treating, or is your costume "Overworked Mom Running on Caffeine"?
Leave me a comment down below! I'd LOVE to hear from you!
And happy nesting!