This low carb tortilla pizza will hit the spot when you get a craving for pizza, but don't want to spoil your diet! Learn how to make a yummy pizza on a low carb tortilla, then customize it with your favorite toppings!
I love pizza. So much so that for my family, Saturday night is reserved for pizza delivery and Family Feud. Yes, my kids love them some Steve Harvey.
So, what was I to do when my hubby and I started a low-carb diet recently… switch to these amazing, flavorful, you'll-swear-you-are-eating-pizza tortilla pizzas.
These "tortizzas" as we like to call them, are the bomb (yes, I'm 37 and I grew up saying "the bomb"). They have all of the flavor of your favorite delivery pizza, but if you use a low carb tortilla and ingredients, they can be super low carb! And you can even use scrambled eggs and breakfast meats to make breakfast pizzas!
No need to spend hours making cauliflower pizza crust which (trust me, I've tried it) is just plain awful! Plus, with store-bought low-carb tortillas and a rotisserie chicken, this barbecue chicken tortilla pizza is a cinch to put together.
And this ain't no flimsy tortilla pizza. No, this low carb tortilla pizza is jam-packed of delicious and fresh (plus convenient store-bought) ingredients. Don't like barbecue? Just substitute your favorite pizza toppings to customize this easy recipe.
Just look how delicious: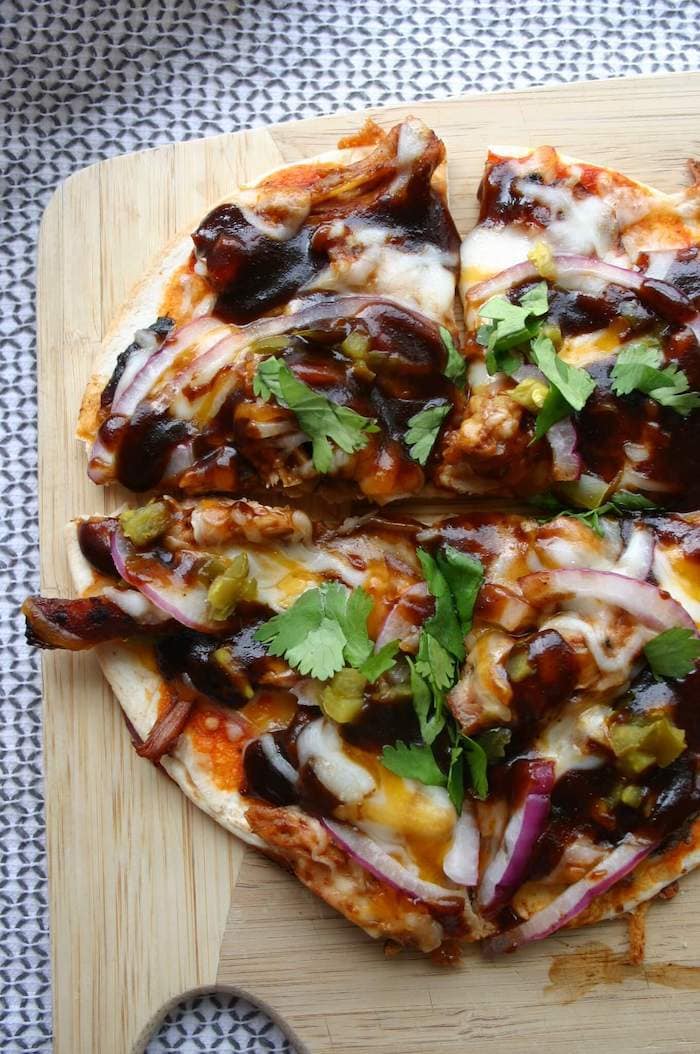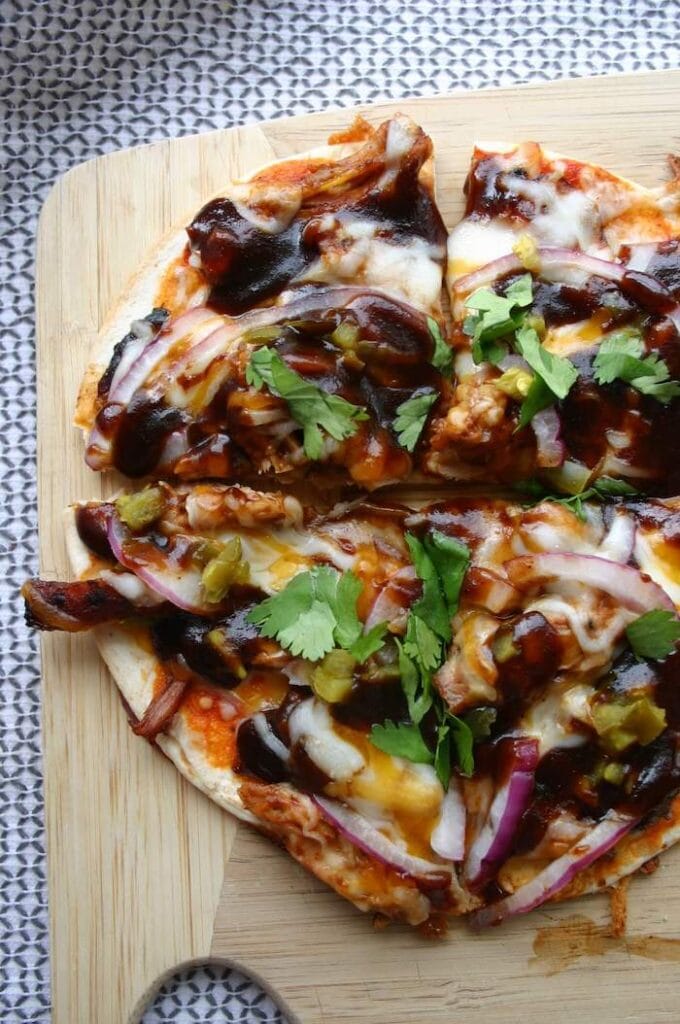 How to Make a Low Carb Tortilla Pizza
The secret to getting the perfect "crust" with the low carb tortillas is to par-cook the pizza in a skillet on the stove first. You can pile on whatever toppings you like, but here's the basic preparation for any tortilla pizza:
Step 1: Preheat a skillet and toast your low carb tortilla.
You can pick up this tortilla pizza slice just like you would a normal piece of pizza. The secret is in the preparation (lucky for me I married a chef!).
To get your tortizza sturdy enough to pick up, first put a bit of olive oil in a preheated skillet on the stove. Heat the olive oil until it's warm. Then, toast your tortilla on one side until it's light golden brown… You only need to toast the one side. That will be the bottom of your pizza.
Step 2: Add your favorite pizza toppings.
While your low carb tortilla is toasting, you can start adding your toppings. For this pizza, we added a low sugar barbecue sauce, shredded chicken, mozzarella and cheddar cheeses, and sliced onions.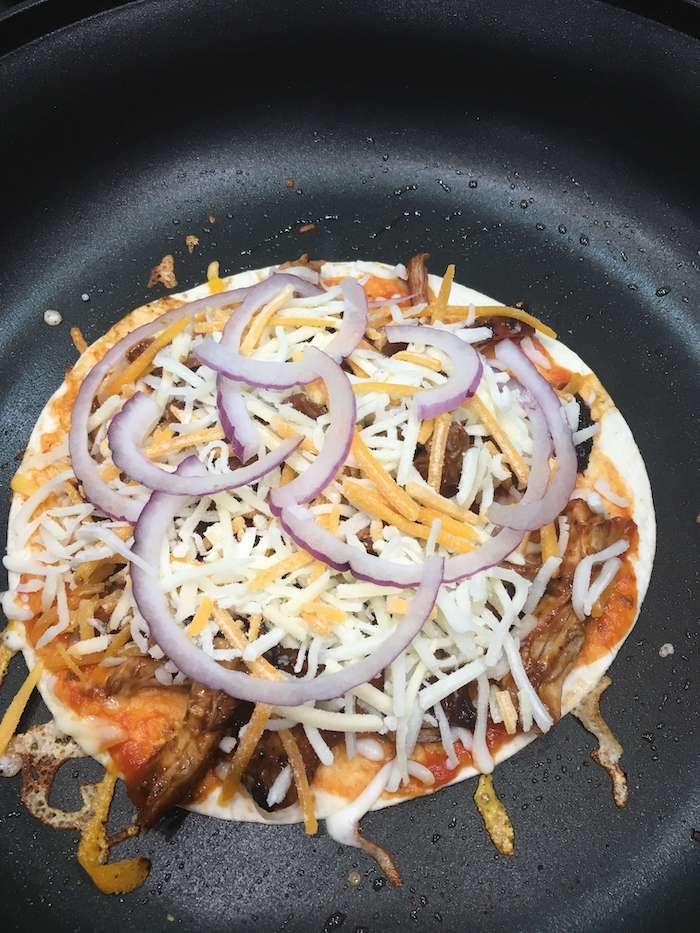 Step 3: Transfer your low carb tortilla pizza to a preheated baking sheet and bake.
Once the bottom of your tortilla pizza is lightly golden brown, it's time to bake it in the oven. Carefully transfer the low carb pizza to a preheated baking sheet.
How do you preheat your baking sheet? Just preheat your oven to 425 degrees and let the baking sheet sit in the oven while it preheats. You can be toasting your tortilla and building your pizza on the stovetop while your oven preheats. Simple!
Placing your tortilla pizza on a preheated baking sheet also helps the crust to stay nice and crispy.
Then, just bake in the oven at 425 degrees for about 5 minutes, or until the cheese is melted and the edges of your pizza are slightly browned.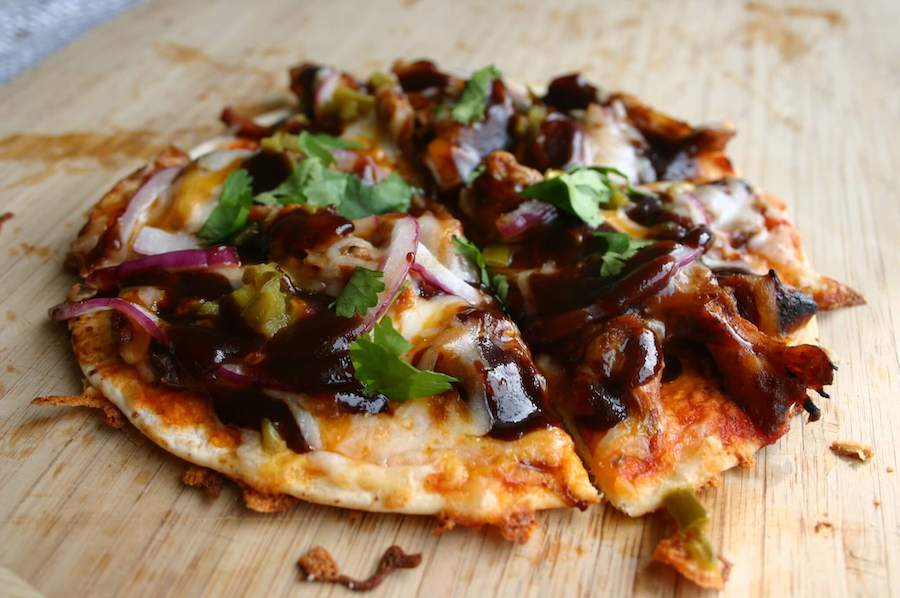 After it's done baking, carefully remove your pizza from the oven, and transfer it to a cutting board. Then, let it rest for a few minutes before you slice it. Then you can dig in to your new favorite low carb dinner!
You may even like it better than Domino's!
Frequently Asked Questions
What tortillas should I use for the perfect low carb tortilla pizza?
My favorite tortillas for this easy low carb pizza recipe are the Mission Carb Balance Flour Tortillas in Soft Taco size. They only have 6 grams of net carbs per tortilla, and the texture is more like a regular flour tortilla.
But, make sure you get the soft taco size. Mission makes their Carb Balance tortillas in Burrito size also, but the larger size does not work as well with this recipe… unless you want to fold over your pizza slice like you would a New York style pizza.
What about low carb pepperoni tortilla pizza?
Afraid the kids won't like this barbecue chicken version? Just do what we do, and make them a pepperoni tortilla pizza. Just three ingredients (marinara sauce, mozzarella, and pepperoni). Delicious!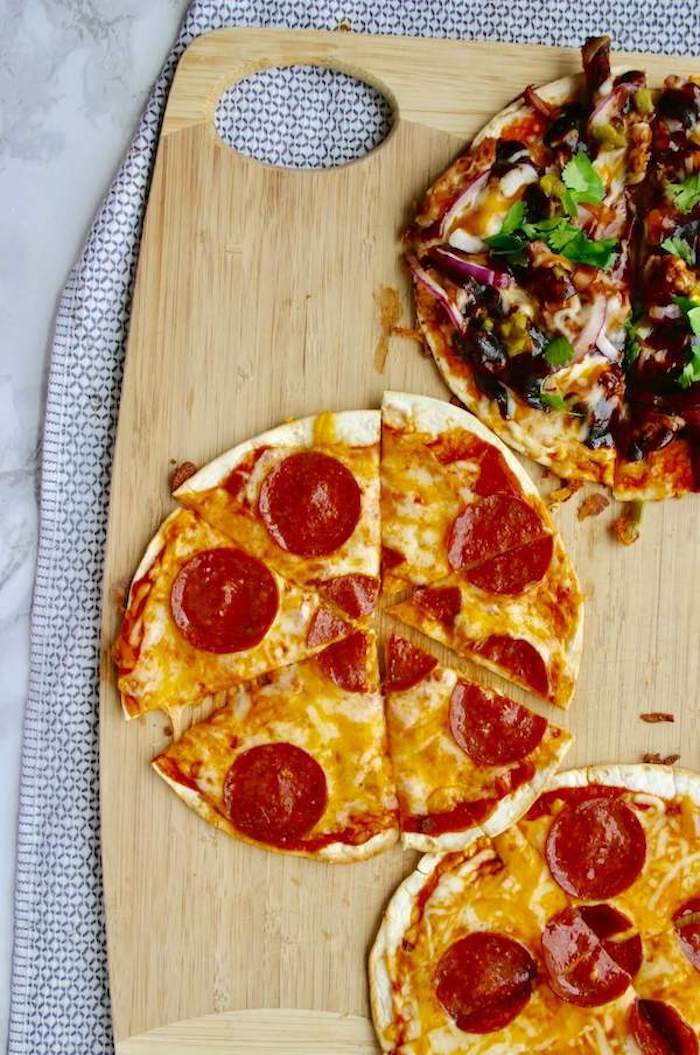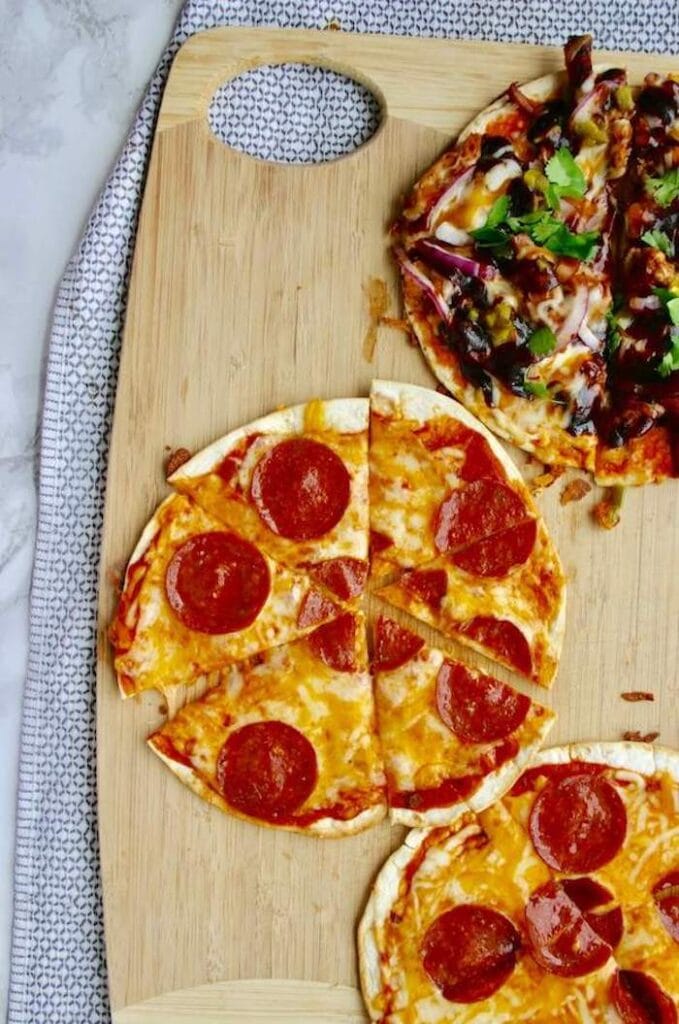 Any other low carb pizza ideas?
Absolutely! The possibilities are endless when it comes to this low carb pizza recipe! You can also make a white pizza with jarred alfredo sauce, or try this yummy low carb breakfast pizza with scrambled eggs, sausage, and cheese!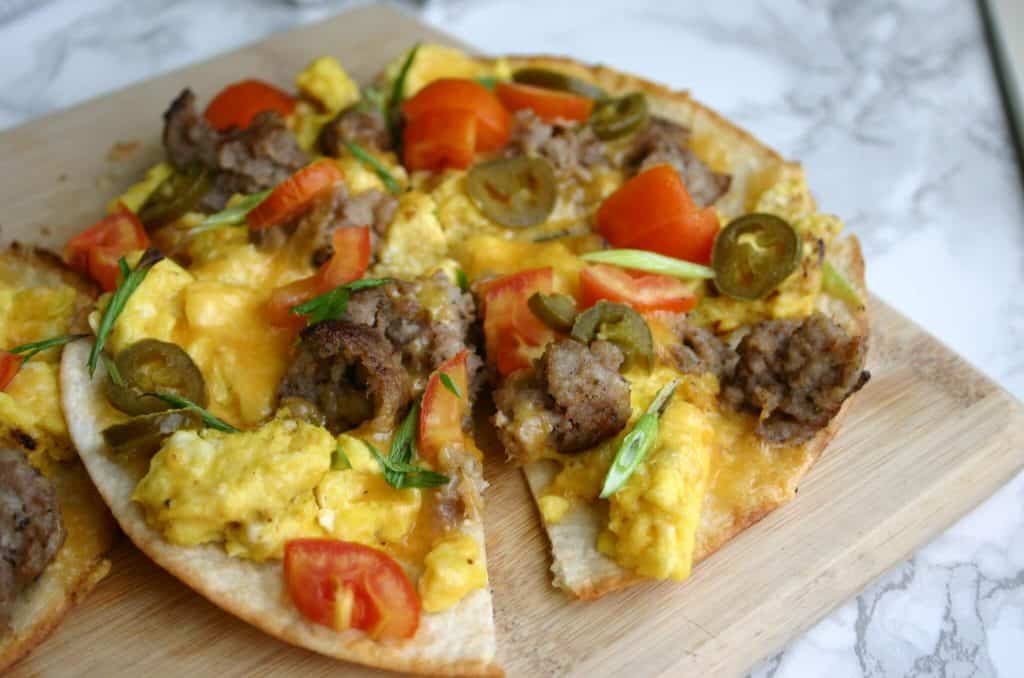 In fact, once you master the perfectly toasty tortilla "crust" you can customize your tortilla pizza however you like. Another great topping combo is roasted bell peppers, onions, mushroom, zucchini and goat cheese. Yummy!
Hope you love this low carb tortilla pizza as much as we do! And be sure to pin the recipe for later!
Yield: 2 pizzas
Barbecue Chicken Low Carb Tortilla Pizza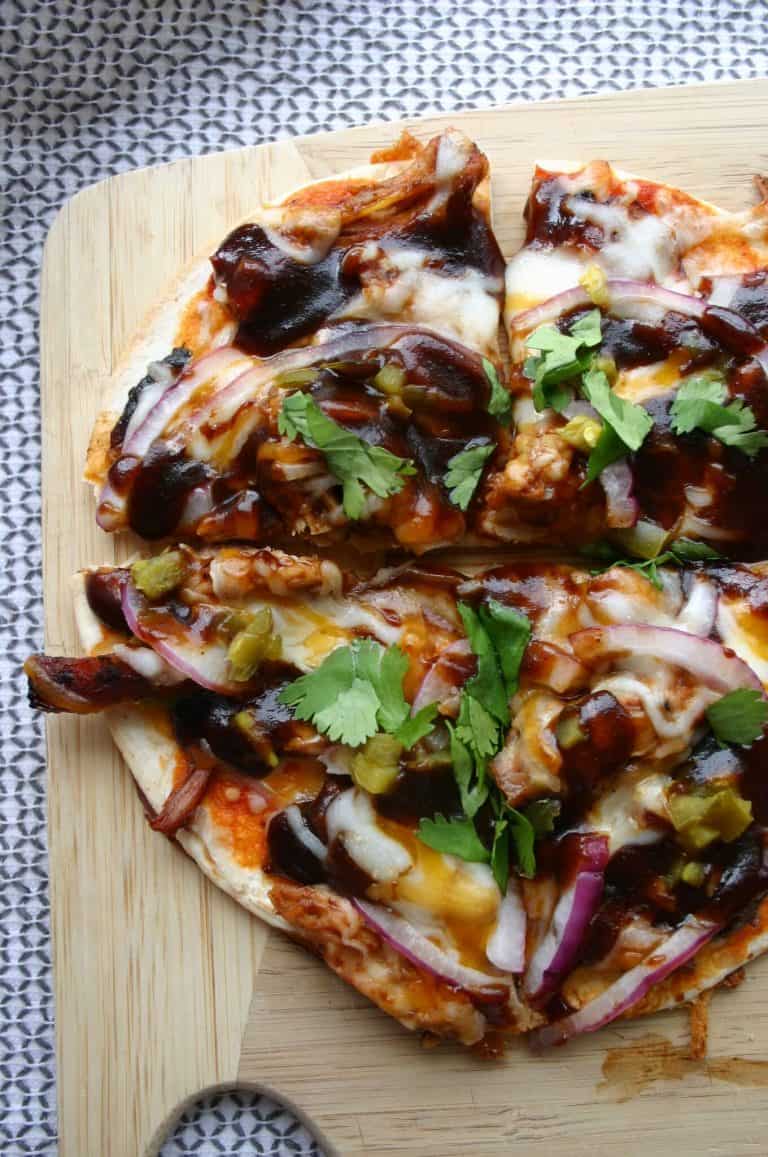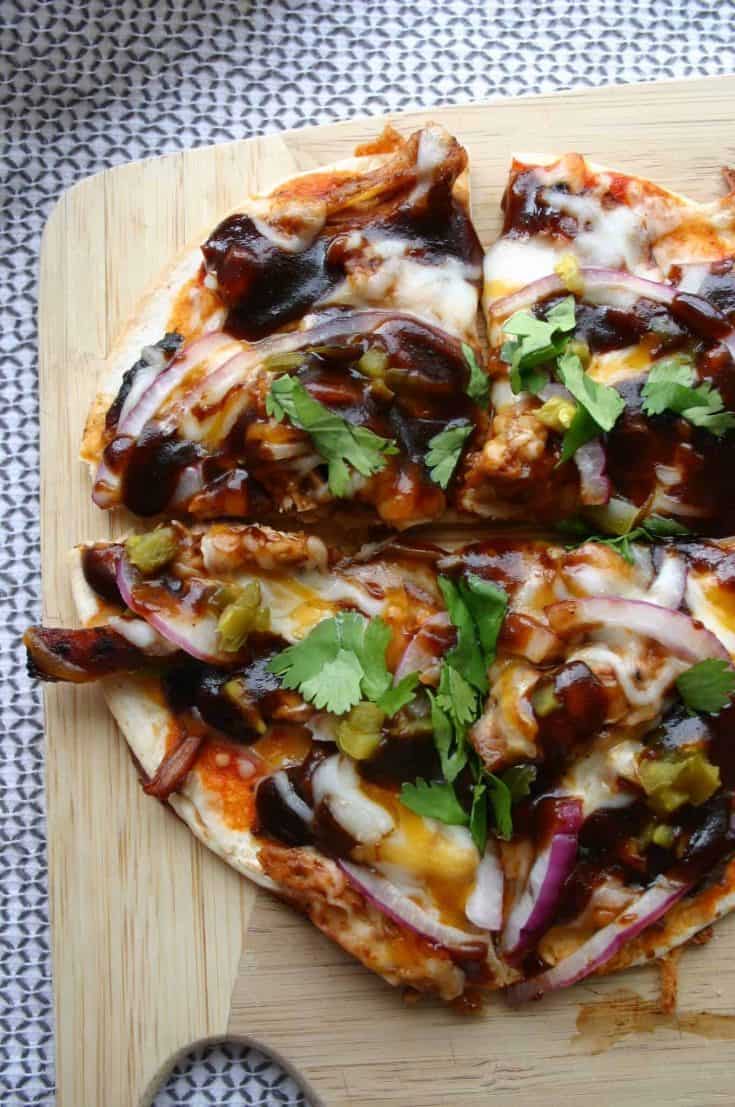 This delicious low carb tortilla pizza has all of the flavor of your favorite restaurant pizza, but without all of the extra carbs. Pick a low carb barbecue sauce for even fewer carbs. Toppings can be easily customized depending on preference. Try pepperoni and cheese or roasted vegetables and goat cheese. Enjoy!
Prep Time 5 minutes
Cook Time 15 minutes
Total Time 20 minutes
Ingredients
2 low carb tortillas, soft taco size
1 cup rotisserie chicken, pulled
1/2 cup shredded cheddar cheese
1/2 cup shredded mozzarella cheese
6 tbsp low sugar barbecue sauce
sliced red onion, optional
diced jalapeno, optional
fresh cilantro, for garnish
Instructions
Preheat oven to 425 degrees. Place baking sheet in oven to preheat also.
Mix pulled rotisserie chicken and half of barbecue sauce in a microwave safe bowl.
Microwave barbecue chicken until warm. Set aside.
Preheat skillet on stovetop, medium heat.
Add 1/2 tbsp olive oil to skillet to heat.
Once olive oil is heated, add one tortilla at a time to the skillet. Toast tortilla until lightly golden brown on bottom. Do not flip.
While tortilla is toasting, spread a thin layer of barbecue sauce on top.
Spread half of the pulled rotisserie barbecue chicken on top.
Evenly sprinkle half of mozzarella and cheddar cheese on top of chicken.
Add thinly sliced red onion and jalapeno (optional).
Once bottom of pizza is light golden brown, transfer tortilla pizza to the preheated baking sheet.
Bake at 425 degrees for about 5 minutes or until cheese is melted and edges of tortilla start to turn brown.
Sprinkle chopped cilantro on top of finished pizzas. Slice and serve.
Notes
Recipe can be easily customized to different types of pizza. The secret is to toast tortilla in skillet before adding to oven. Enjoy!
Nutrition Information:
Yield:
2
Serving Size:
1 tortilla pizza
Amount Per Serving:
Calories: 664
Total Fat: 29g
Saturated Fat: 13g
Trans Fat: 1g
Unsaturated Fat: 13g
Cholesterol: 164mg
Sodium: 1572mg
Carbohydrates: 47g
Fiber: 6g
Sugar: 17g
Protein: 56g
Nutrition information will vary depending on the type of tortillas and barbecue sauce that you use. Use low carb tortillas and low sugar barbecue sauce for less carbs.