Need help creating a weekly cleaning schedule? Get ideas for chores to incorporate into your weekly cleaning routine, and download a printable weekly cleaning checklist to use!
There's something about a checklist that motivates me to do even my absolute least favorite chores. If "clean the shower" is written on a schedule with an empty check box next to it, then something triggers me to get it done so I can just mark it off my to do list.
Maybe that's why I love having a weekly cleaning schedule.
A set cleaning schedule can help motivate you to keep your home clean, and it's a great way to develop a good cleaning routine that you can stick to! Here are some ideas for how to create your own cleaning checklist and different chores you can add to it: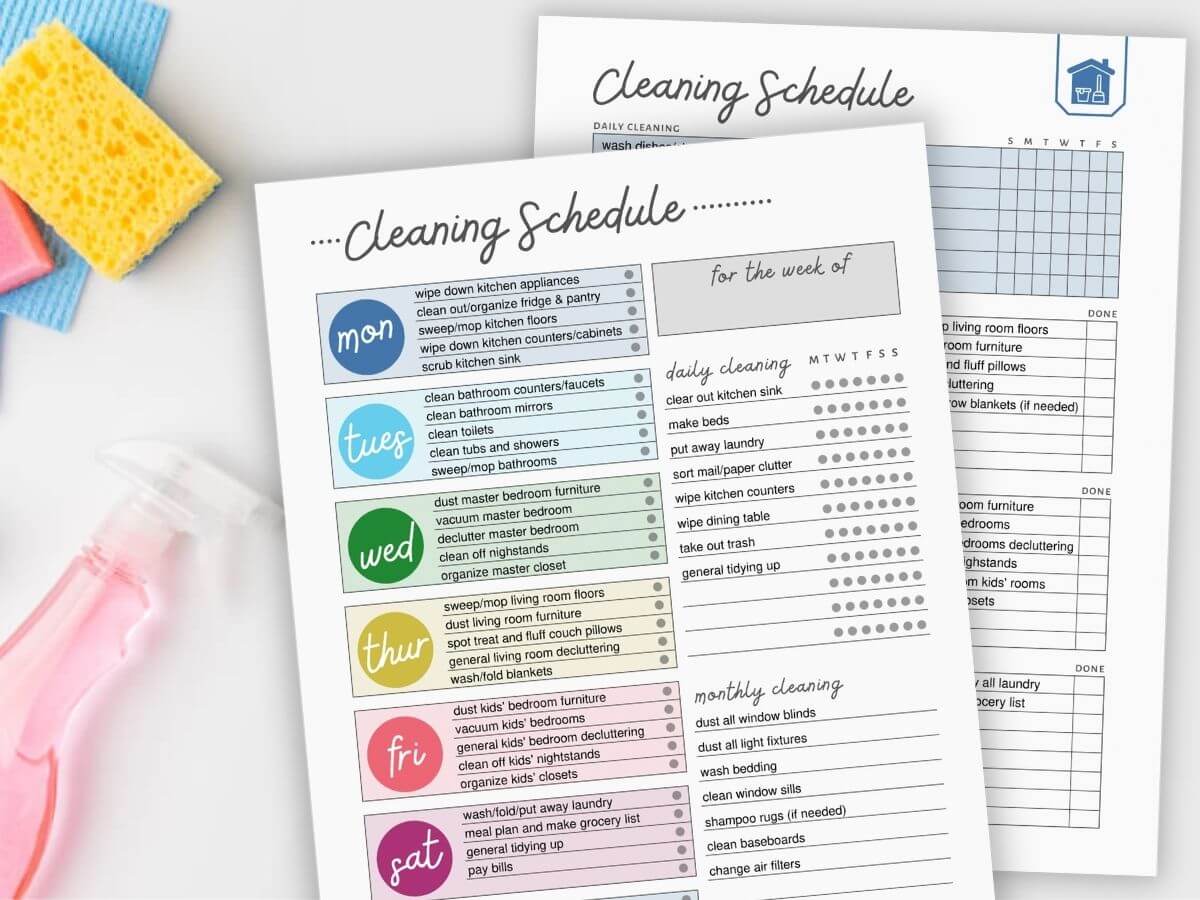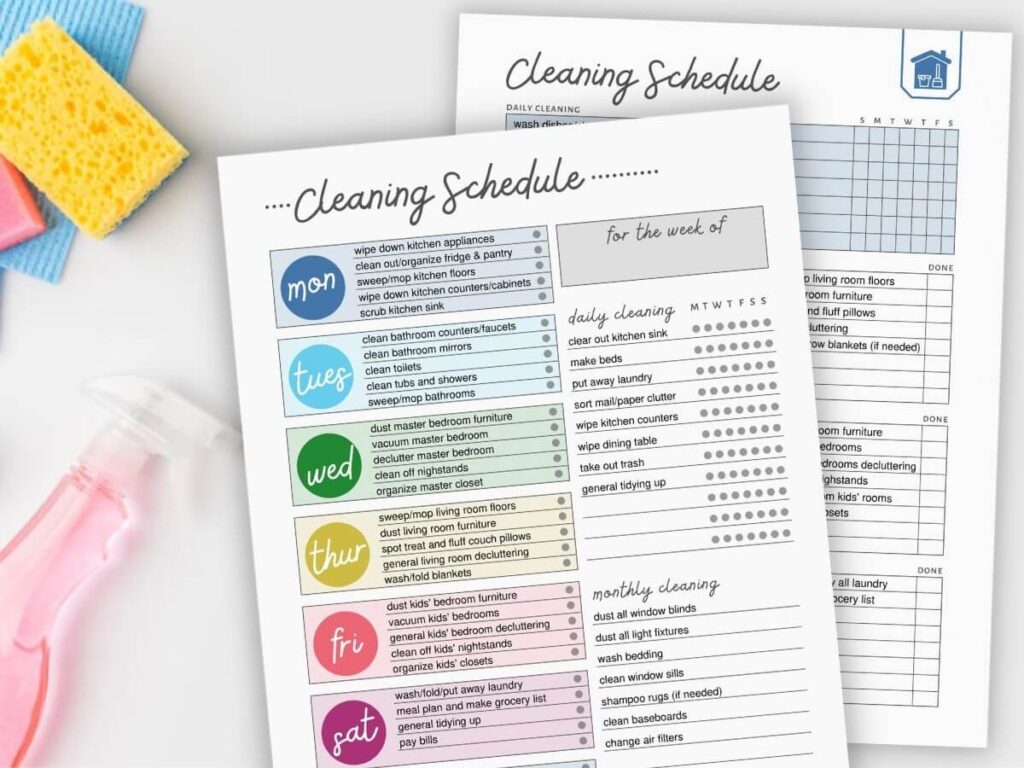 *This post contains affiliate links, which means if you click a link and make a purchase, I earn a commission at no additional cost to you. Read my full disclosure for more info.
Why It Helps to Have a Weekly Cleaning Routine
I like to think of my cleaning checklist as a "roadmap" to get me from messy, cluttered house to neat and tidy home.
I also find that if I don't have a written to-do list each day, then I end up wasting valuable time wondering what to do next. But that's where a cleaning routine and checklist can help! When you finish one task, you can add that super-satisfying check mark next to it, and move right on to the next job on your list!
And with a written or typed record of cleaning jobs that you need to get done each week, you won't forget anything! You can even assign specific chores to your older kids to help you get through everything on your schedule… there's no rule that you have to be the only cleaner in your home!
How to Create a Weekly Cleaning Schedule that Works for You
Step 1: Determine what format you will use for your weekly cleaning schedule.
You have a few different options for where to record your cleaning schedule so that you can reference it throughout the week. I personally love to use printable checklists (no surprise there!), but you may prefer to use an app or simply add cleaning jobs to your paper planner.
Here are a few different ways you can keep track of your weekly cleaning schedule so it's front and center, and you'll be able to access it easily:
Write your cleaning schedule in your planner.
If you already use a paper planner like The Happy Planner, then you can devote one or two of the "Notes" pages in the back to your cleaning schedule. Also, the great thing about the Happy Planner is that you can easily add a printable cleaning checklist directly to the planner as well.
Record cleaning jobs on your to do list.
A to do list is GREAT for keeping track of the many different jobs that you have to do each week. You can go here for loads of list making tips and ideas and grab these cute free printable to-do list templates: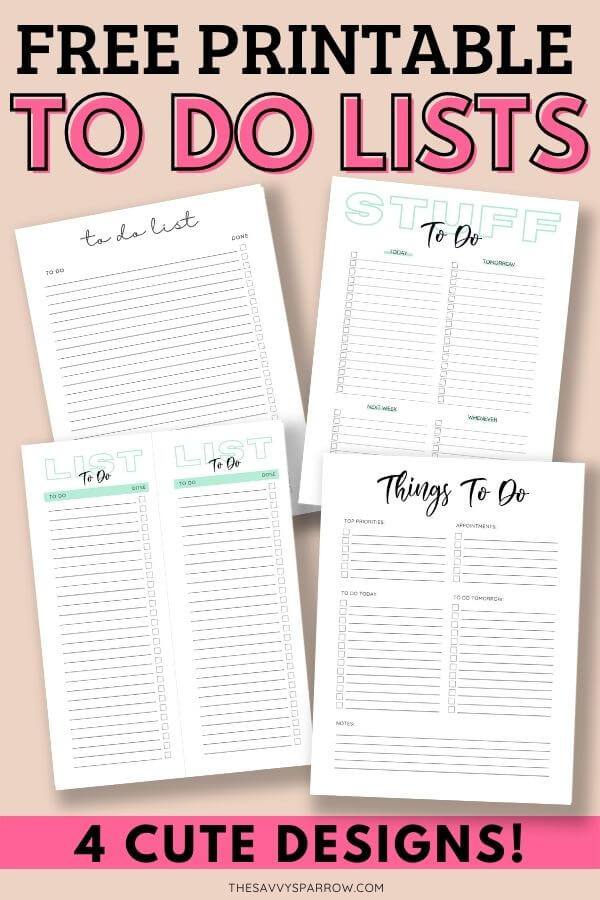 Use a cleaning checklist app.
If digital organization is more your style, then try an app that keeps track of your cleaning checklist. You can check out a list of the best cleaning apps here!
Use a printable weekly cleaning schedule template.
A simple one or two page weekly cleaning schedule printable is also a great way to keep up with your cleaning jobs. You can simply print out a checklist (like the ones that I have at the end of this post!), and hang it on your fridge or in your family command center where you won't forget about it!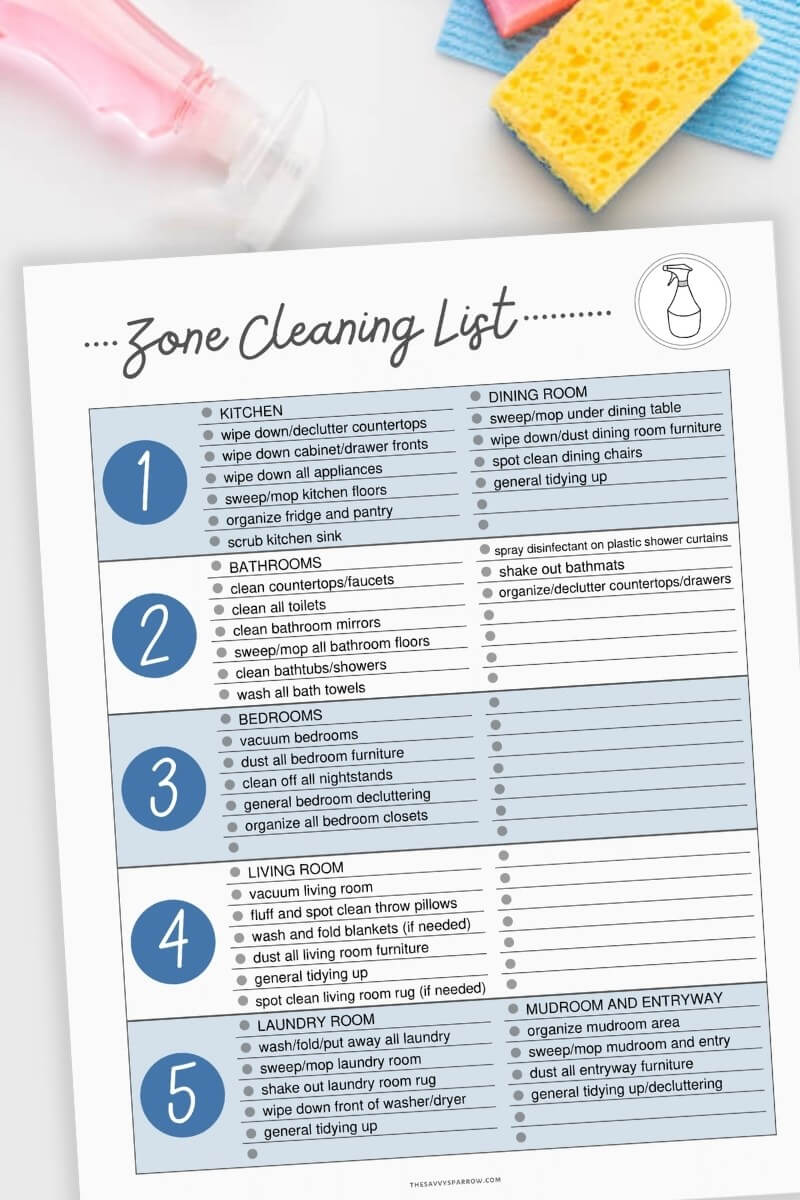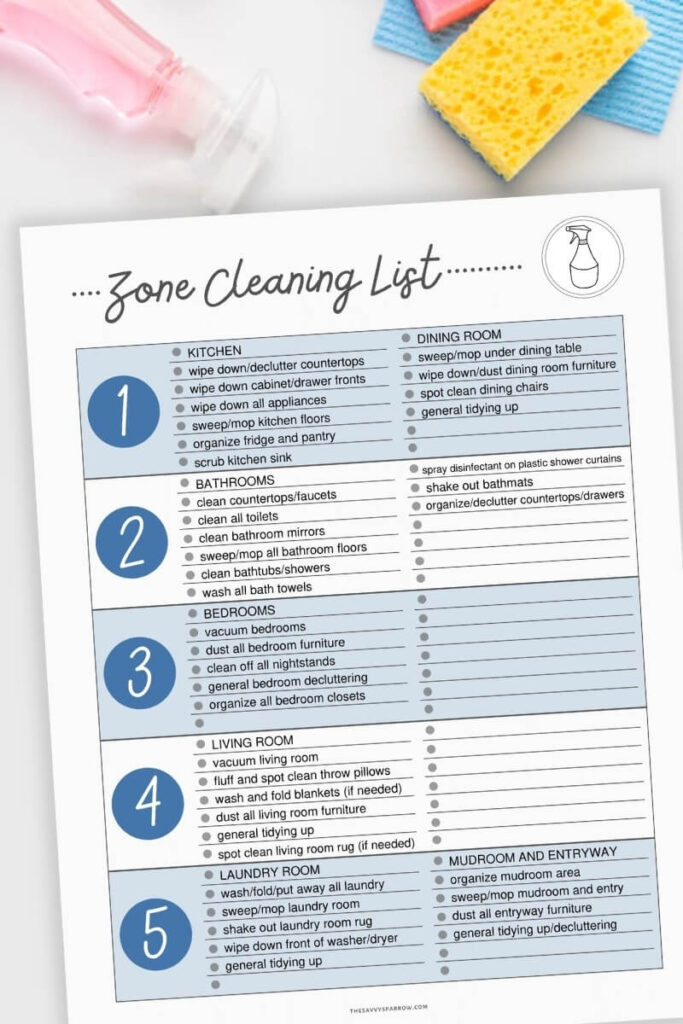 Step 2: Make a list of your daily cleaning jobs.
When you're starting to create your weekly cleaning schedule, you'll probably notice that there are certain cleaning jobs that you want to get done each and every day.
Your daily cleaning jobs may include:
Make all the beds
Put all dirty clothes in the hamper
Put away any clean clothes
Wipe down and declutter the kitchen counters
Loading and unloading the dishwasher
Wash dishes
Make sure there are no dishes left in the sink at night
Sort paper clutter – Organizing important mail, filing away kids' school papers, trashing junk mail, etc.
Take out trash
Water the plants
Wipe down the dining table
Sweep under the dining table/eating areas
Meal prep
General tidying up
You have a few different options for how to include your daily cleaning jobs on your weekly schedule. You can:
Make a one line note on your weekly schedule that says "All daily cleaning jobs", and then have a separate print out or list of those daily jobs. This method can free up space on your weekly schedule for other jobs that don't need to get done everyday, and it can make your finished weekly cleaning checklist look less intimidating.
Include all of your daily cleaning jobs written out on your weekly cleaning checklist. Some of the cleaning schedule templates available in my shop have designated spaces for daily cleaning jobs.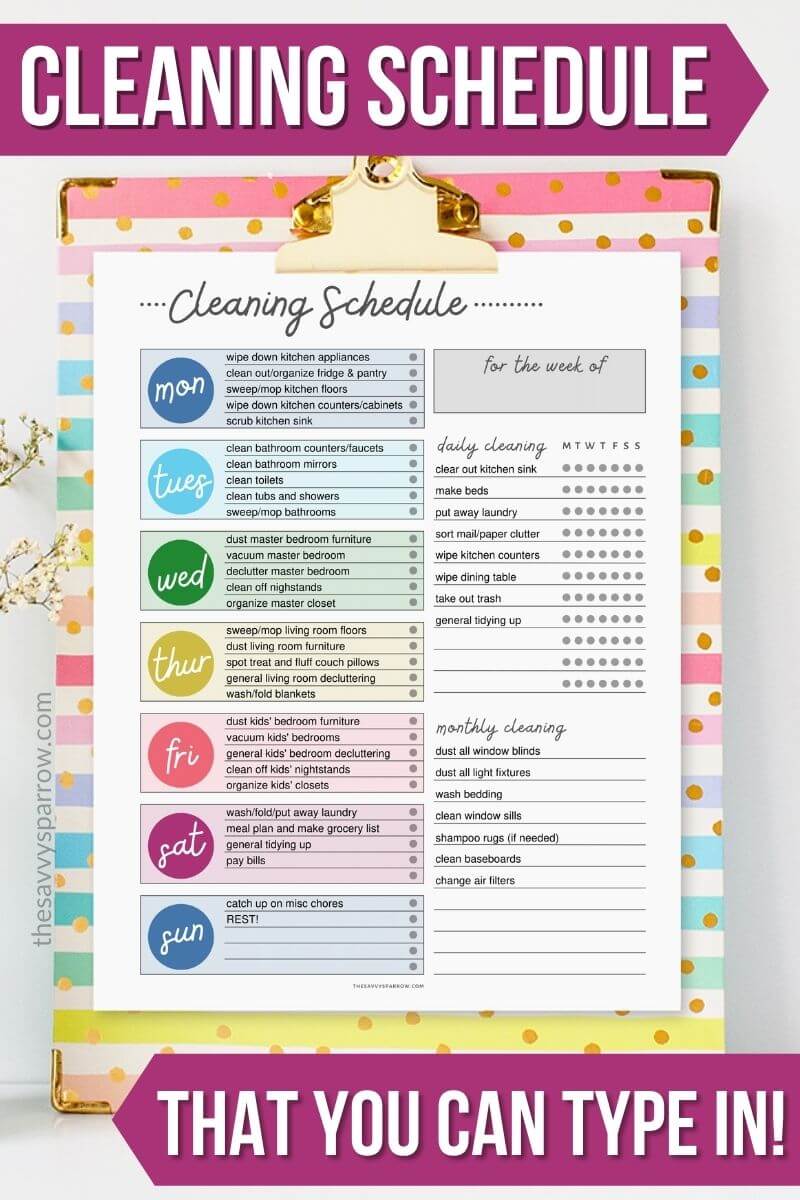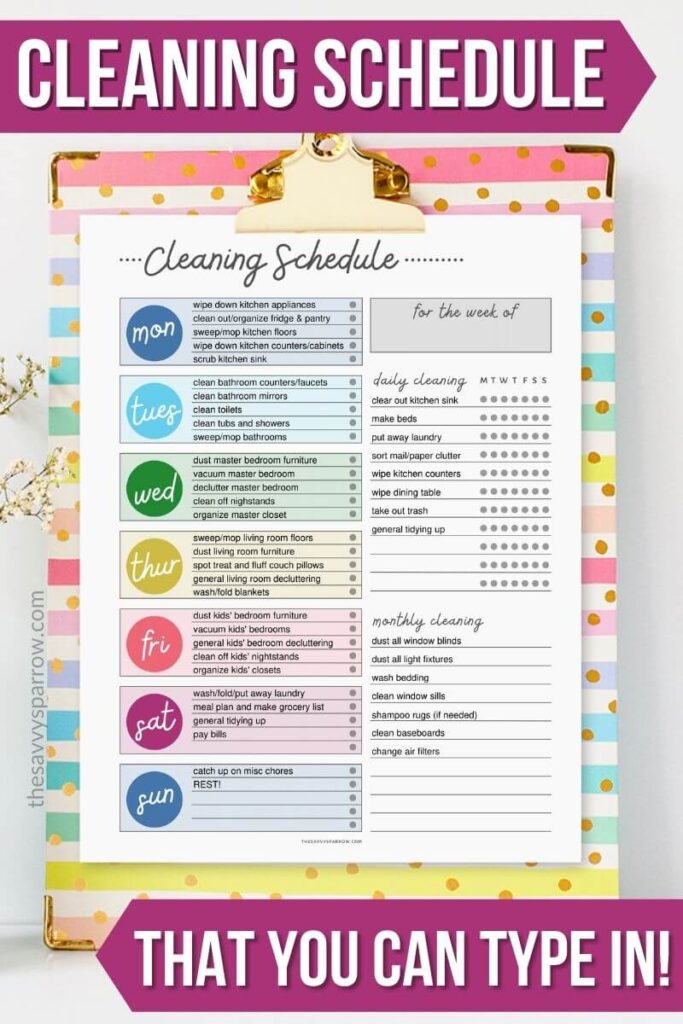 Step 3: Brainstorm a list of cleaning jobs that you want to get done on a weekly basis.
This list should include cleaning jobs that need to be done once or twice per week… Like the jobs that you keep pushing to the back burner and, in reality, probably only get done once a month, if you're lucky.
You may also want to think about jobs to add to your weekly cleaning list in terms of room. For instance, think about everything that needs to be cleaned on a weekly basis in your kids' bathroom, then move on to the family room, etc. That way, you're less likely to forget specific chores that need to be done.
And if you need help brainstorming cleaning jobs to add to your weekly cleaning schedule, I've got a HUGE list of ideas for you at the end of this post, plus sample weekly cleaning schedules you can reference!
Step 4: Decide which days you will actually clean the house.
Depending on your work load and the other household management tasks you have to complete, you may want to only devote 3-4 days a week to cleaning. Or, if you're a full-time homemaker, maybe you want to spend a portion of each day working on household cleaning jobs so that you can spread out the work.
Take into account your kids' activity and school schedules as well as your spouse's work schedule when determining which days work best for you.
My personal weekly cleaning routine consists of a few jobs each day of the week, so I'm only spending less than one hour cleaning each day. That may sound like a big time commitment, but think about how many hours a day you waste just scrolling through social media… wouldn't you rather be productive and have a clean home?
Step 4: Fill-in your weekly cleaning schedule.
After you have your big list of cleaning jobs done, it's time to actually fill in your cleaning schedule.
This may look different for you, based on how you chose to keep track of your cleaning jobs in Step 1, but I highly recommend the printable cleaning schedule template that I use.
The great thing about my weekly cleaning checklists is that you can actually TYPE in them! *NOTE – You must have Adobe Acrobat Reader installed on your computer to be able to type in the sheets.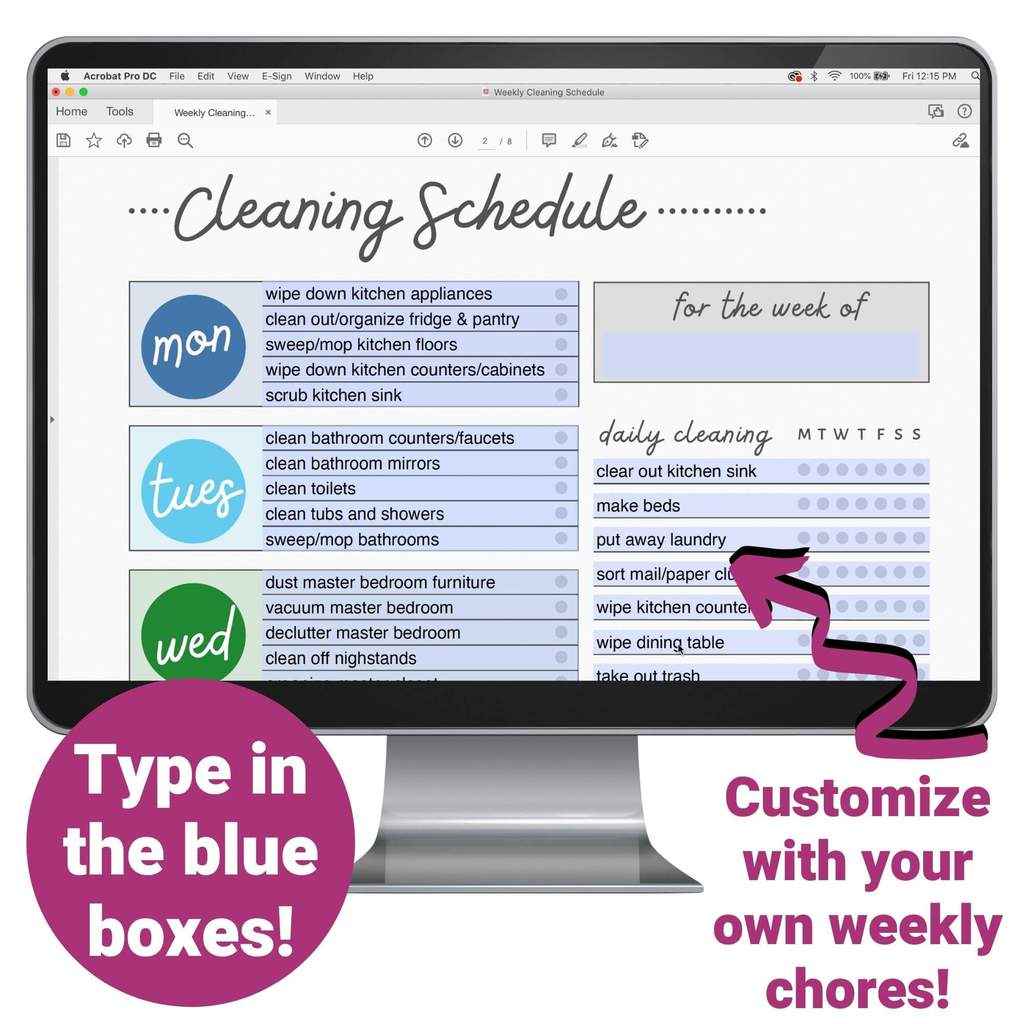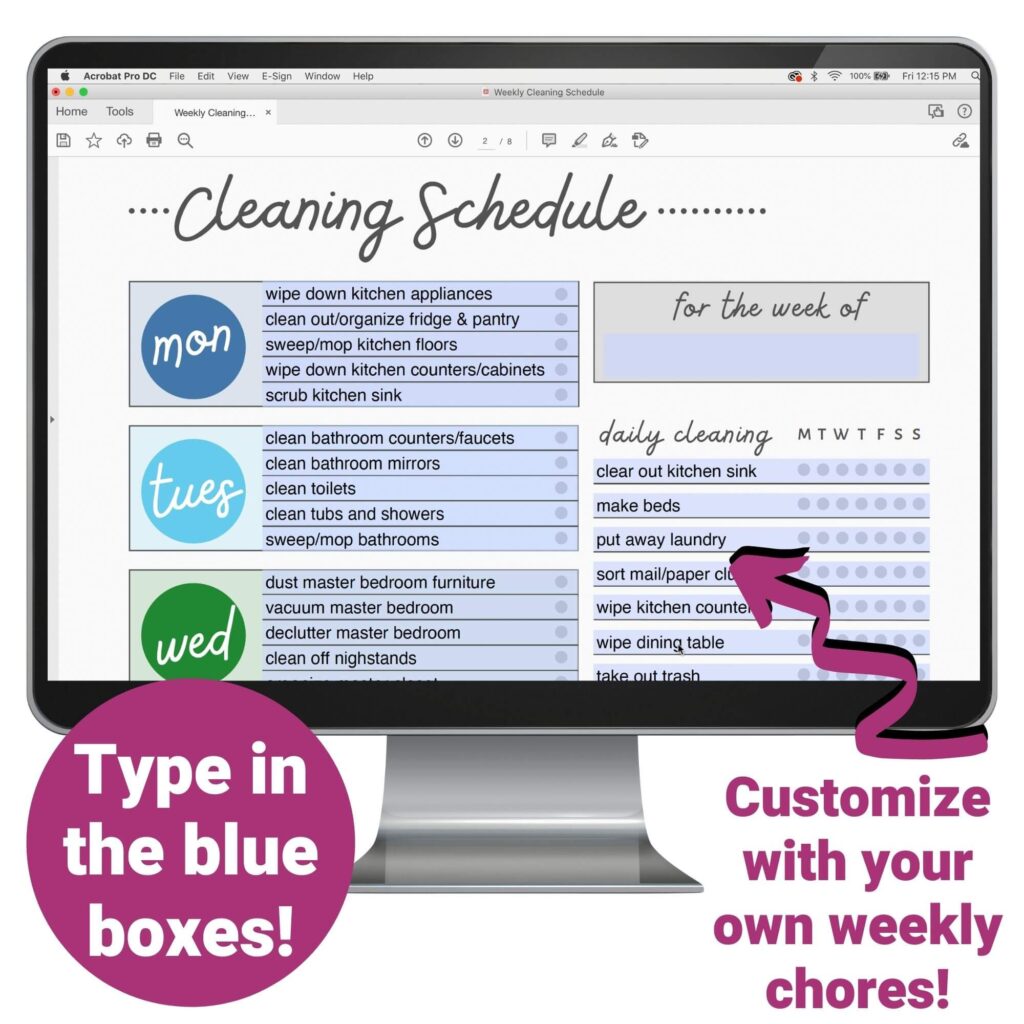 Whatever method you decide to use (whether your weekly planner, a cleaning checklist app, or something else), just fill it in with your cleaning jobs to create a schedule.
Review Your Weekly Cleaning Schedule and Make Adjustments as Needed
After your weekly cleaning schedule has gotten some "real world" use, you'll probably need to make some adjustments.
If you find that you've over-scheduled your time, then your printable cleaning routine could be making you feel like a failure and adding unnecessary stress to your already hectic life. No bueno!
Don't feel bad if you need to remove a few cleaning jobs from your list or if you don't get everything done each and every day. Just edit your cleaning schedule to what works best for you.
Big List of Things You Can Clean Weekly
You may be wondering, "What house cleaning should be done weekly?". If so, here's a huge list of weekly cleaning jobs to get you going:
Weekly Cleaning Jobs in the Kitchen and Dining Areas
The kitchen is the heart of the home, and with daily food prep and late night freezer raids, it can also be one of the messiest areas. But if you develop a good weekly cleaning schedule for your kitchen, this room should stay fairly clean.
Here are some cleaning jobs you can do on a weekly basis in the kitchen and dining areas:
Wipe down appliances in the kitchen
Wash all kitchen linens – kitchen towels, dish cloths, cloth napkins, etc.
Organize and tidy the pantry
Scrub the kitchen sink
Sweep/mop the kitchen floors
Change out kitchen towels and dish rags
Wipe down cabinet and drawer fronts
Disinfect kitchen countertops
Shake out the kitchen rug
Sweep/mop under dining table
Spot clean dining chairs (if needed)
Dust dining room furniture
Clean out and organize the fridge and freezer – I've also got an awesome free printable freezer inventory sheet you can use to keep your freezer organized after you're done!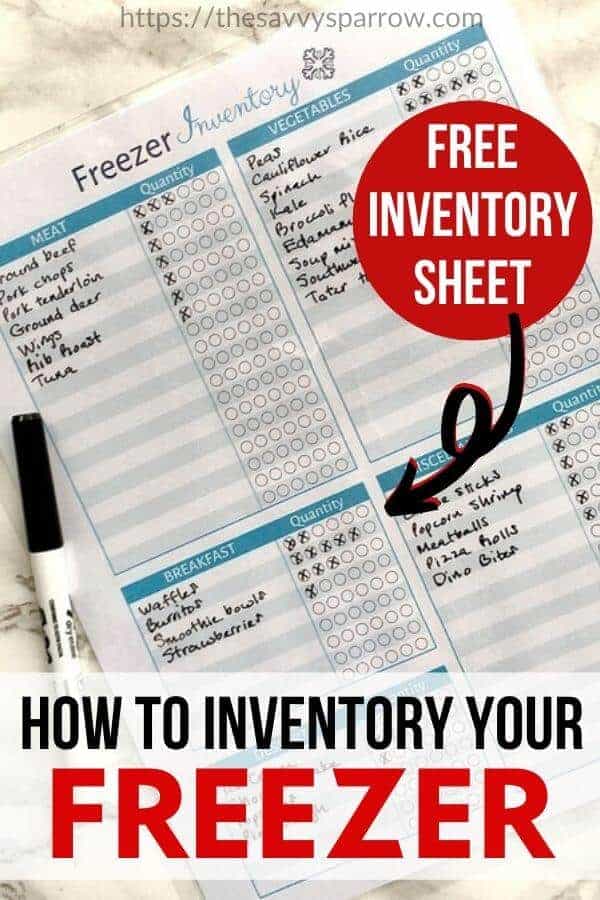 Weekly Cleaning Jobs in the Bathrooms
Wipe down all mirrors
Clean the toilets
Clean bathroom counters and faucets
Clean tub and shower
Shake out the bathmats
Change out bath towels
Treat plastic shower curtains/liners with disinfectant spray
Sweep/mop bathroom floors
Organize and declutter bathroom countertops and drawers
Weekly Cleaning Jobs in the Common Living Areas
The areas where people generally congregate in your home (the living room, formal den, sunroom, etc) are usually pretty easy to clean… at least that's the way it is in my home.
Besides dusting, cleaning the floors, and generally tidying up these rooms, there shouldn't really be much else to do here.
Fluff couch pillows and fold blankets
Remove any trash from the room
Vacuum living room floors/rugs
Spot clean rug and couches (if needed)
Dust living room furniture and lamps
General decluttering and tidying up
Weekly Cleaning Jobs in the Bedrooms
Vacuum bedroom floors
Dust all bedroom furniture
Clean off nightstands
Organize closets
Put clean clothes back in drawers
General bedroom decluttering and tidying up
Other Weekly Cleaning Jobs
And finally, here are some general house cleaning jobs that can be done on a weekly basis:
Steam mop the hard surface floors – tile, hardwood, etc.
Pay bills and sort paper clutter
General decluttering
Laundry
Organize and declutter mudroom and/or entryway
Dust mudroom or entryway furniture
Wipe down front of washer and dryer
Shake out laundry room rug
Sample Weekly Cleaning Routine # 1 – A Different Room Every Day (AKA "Zone Cleaning")
This is my favorite way to clean… You may have heard of this cleaning method referred to as "zone cleaning". My cleaning templates also include a checklist specifically labeled "Zone Cleaning List".
Focusing on just one room a day makes me feel less overwhelmed, and I feel like I spend less time moving from room to room putting things away. Kind of like horse blinders – ignore the dirt piling up elsewhere and just focus on one room so you don't get overwhelmed or get sidetracked.
Of course, you should still complete your daily cleaning jobs in other rooms as well, like washing the dishes and sorting paper clutter for the day.
Here's one example of a weekly cleaning schedule:
Monday: Kitchen
Tuesday: Living Room and Dining Room
Wednesday: Master Bedroom and Bathroom
Thursday: Kids' Bedrooms
Friday: Guest Bathroom and Kids' Bathrooms
Saturday: Laundry Room and Entry Way
Sunday: Catch-up or Rest Day
Sample Weekly Cleaning Routine #2 – Different Cleaning Supplies Each Day
Another way you can create your own weekly cleaning schedule is by dividing up your jobs by what cleaning supplies are needed.
This cleaning method works well because you aren't having to get out burdensome equipment like the vacuum cleaner or steam mop everyday. For instance, the steam mop that I use and LOVE takes a few minutes to heat up, and I have to get it ready by filling the water reservoir… It would be a pain to have to do that every day or multiple days per week, so I like to get all of my steam mopping done on one day.
Here is a sample weekly cleaning routine based on the cleaning tools/methods used:
Monday: Floors – I like to vacuum all of the floors in my home first, and then go back and steam mop all of the hard floors.
Tuesday: Dusting and Wiping – Dust all the furniture, lamps, and other light fixtures today. Then, wipe down other surfaces in your home like your kitchen countertops and the fronts of your cabinets and appliances. Anything that requires a microfiber cleaning cloth or duster can be done today.
Wednesday: Laundry – Today is all about washing, folding, and putting away clothes (the kitchen and bath linens and bedding can be done a different day). You can also look for clothes, shoes, and accessories that are out of place or need to be hung back up in the closets.
Thursday: Bathroom Fixtures – Today is all about scrubbing the bathroom sinks, toilets, showers, and mirrors. You can even have one cleaning bucket designated for the bathrooms where you keep all of the bathroom cleaning supplies that you'll need.
Friday: General Tidying Up – I like to do a quick "tidy up" on Fridays to start off the weekend with a clean home. For me, this involves walking through every room of the house, picking up things that are out of place, and putting them in a laundry basket. Then, my kids are in charge of getting their own things out of the basket and putting them away.
Saturday: Linens and Spot Cleaning – Wash any kitchen towels, dish rags, or bath towels that need to be cleaned. You can also change out bedding and spot clean rugs, throw pillows, or furniture if needed today.
Sunday: Plan Ahead – This can include paying bills that are coming due the next week, meal planning, or filling out your weekly planner for the upcoming week.
Printable Weekly Cleaning Checklist Templates
Want to use my printable templates to create your own weekly cleaning schedule? All 3 designs are available in my shop! Just click the link below to check them out!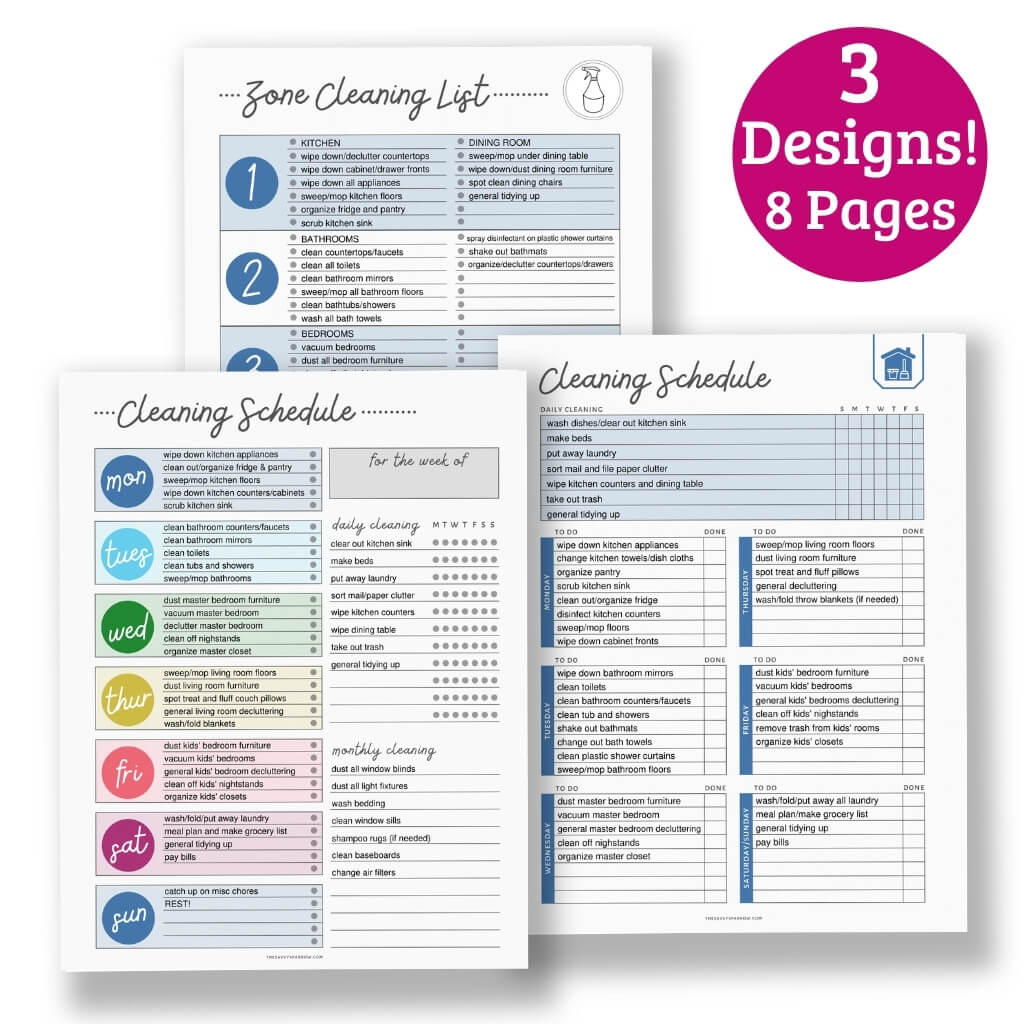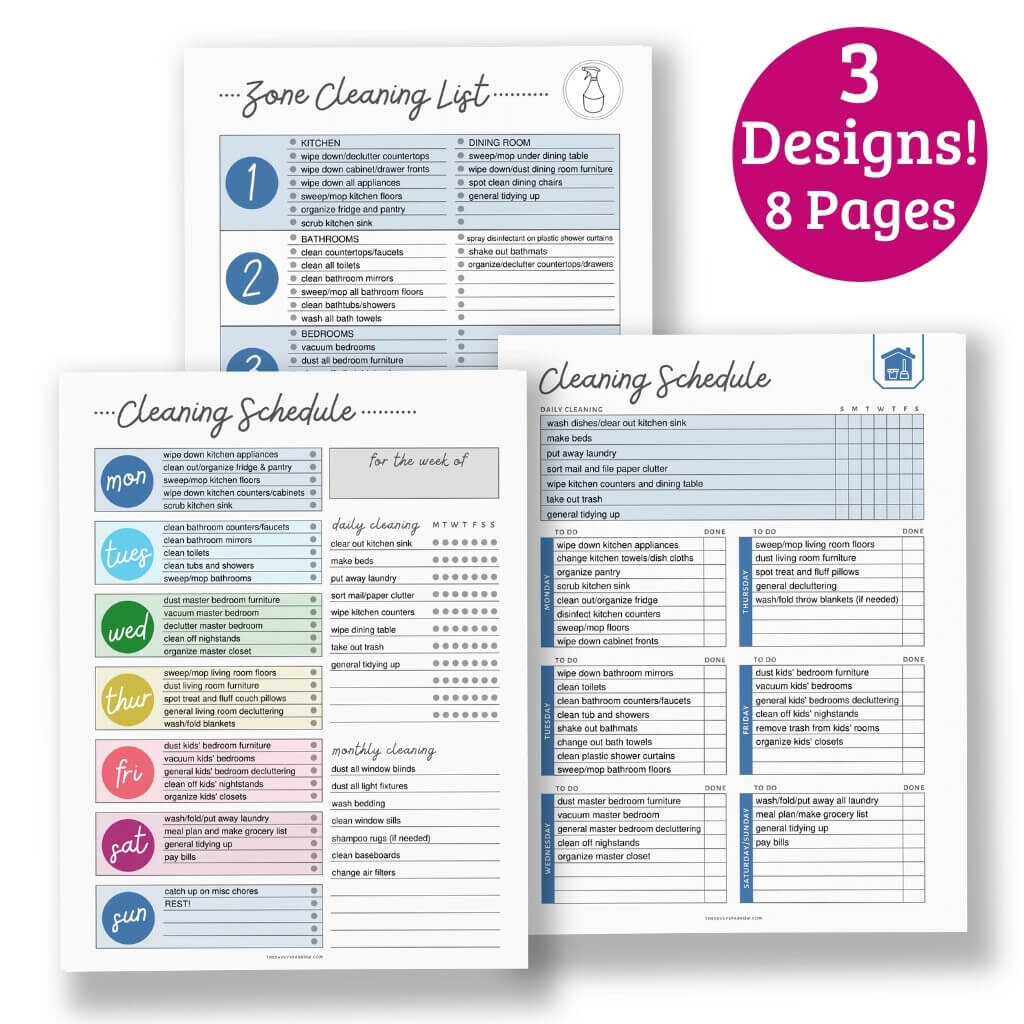 Click HERE for the 3 Weekly Cleaning Schedule Templates!
*Note – To type in the fillable sheets, you will need Adobe Acrobat Reader installed on a computer. The sheets will not work properly on an iPad or smart phone.
Other Printable Deep Cleaning Checklists
Looking for FREE printable cleaning checklists? I've got those, too! These checklists are designed more for intensive cleaning in a single room at one time… awesome for Spring Cleaning or anytime your home needs a good deep cleaning: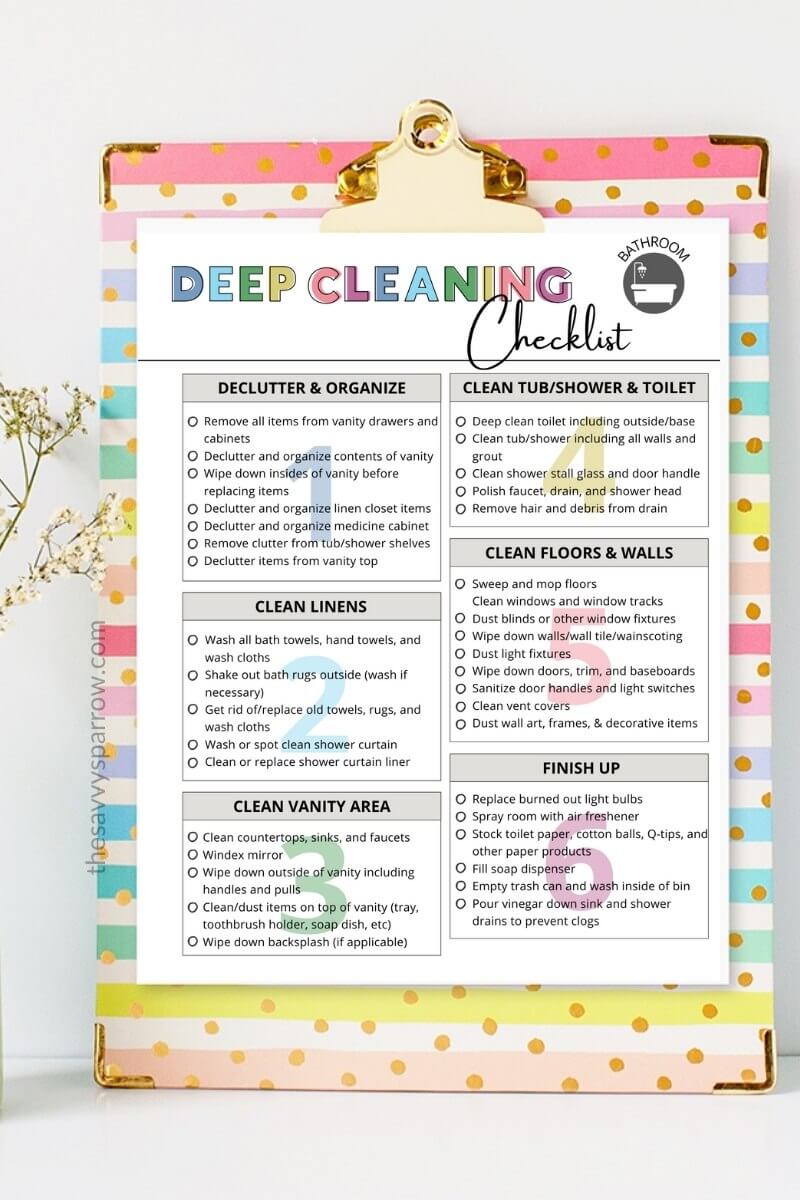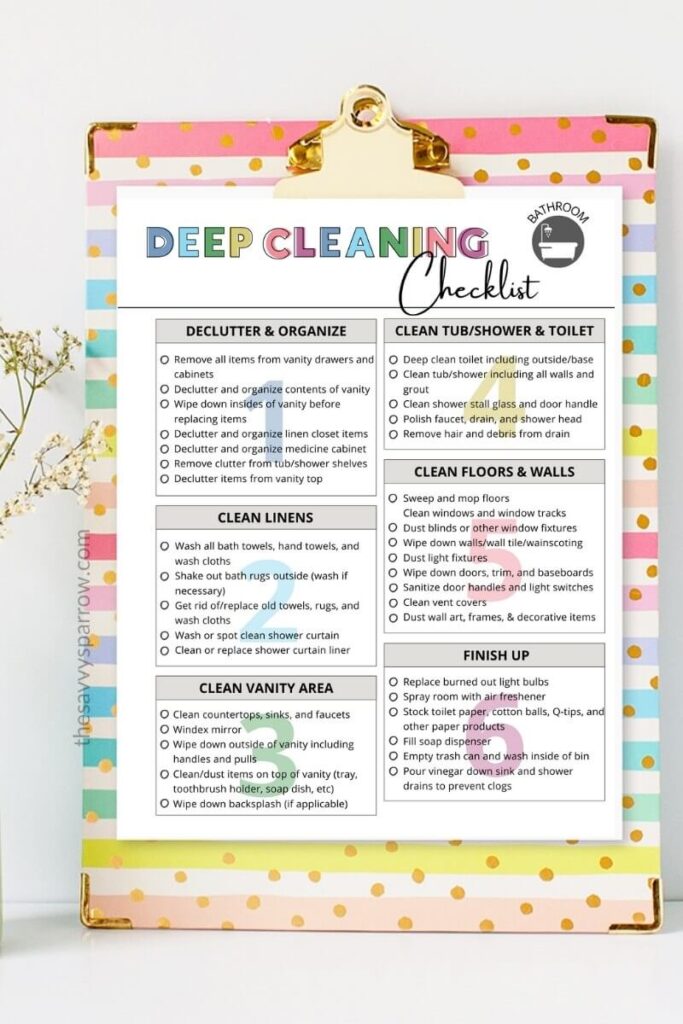 And don't forget to PIN this post for later: