These easy tips for how to have a productive day will help you get more done, whether you're staying home or going to work. Great productivity tips for the seriously unmotivated!
I work at home… which is great because I can wear my comfy pants all day and I don't have to spend my time and money commuting to work.
But it's not so great because my bedroom is also my office, and I have easy access to my Netflix library and 32,000 piles of laundry. It's easy to get distracted and not get much done during the day when you're home with all of your creature comforts.
Plus, as a work at home Mom, every day brings a new challenge. From virtual learning to snow days to sick kids, I used to struggle to be consistently productive. But as soon as I realized that being productive is essentially about being a critical time manager, things started changing. I found myself working less hours, but getting more accomplished because I had properly planned my time and I had prioritized tasks that I wanted to get done.
If you're in the same boat, these productivity tips are totally for you.
In order to be productive, whether you're a working mom, a stay at home Mom, or a Mom-preneur (like me!), proper time management and mindset are key. You can never get your work done in time if you fail to have a properly planned routine.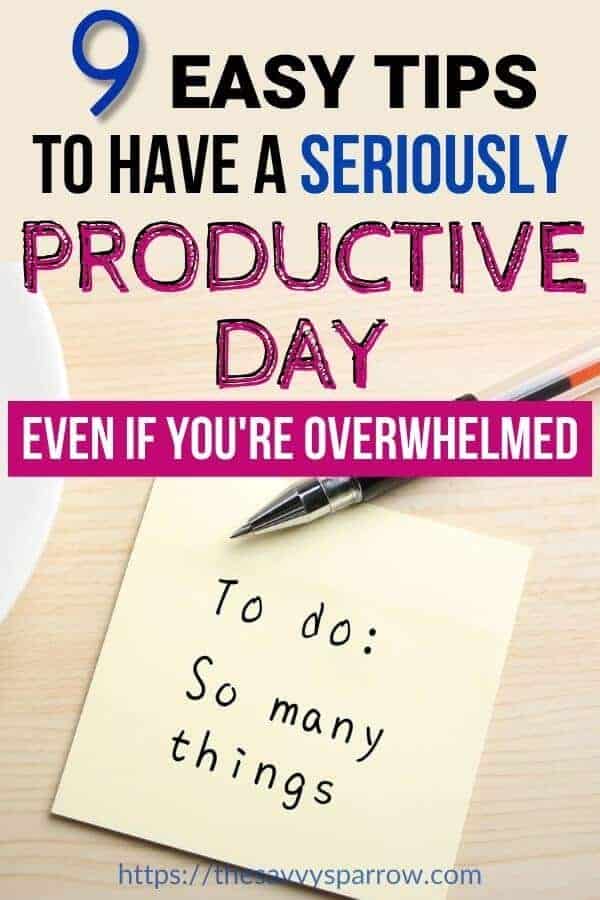 So without further ado, here are some easy tips to have a productive day and get more done:
1. Make a to-do list and plan EVERYTHING!
I seriously have no idea what I would be doing if I didn't start making to-do lists… actually I would probably be catching up on my Netflix watch list right now instead of working.
Having a to-do list in front of your eyes will keep you motivated and on track to finish your daily tasks. Besides this, you can manage your day better when you have a proper plan on paper.
When you know what you need to do, you can avoid the fuss of sitting around and thinking about where to start.

-The Savvy Sparrow
Moreover, having a plan and a list holds you accountable to finish off the listed tasks. And who doesn't feel a sense of accomplishment checking off things on a to-do list?! Isn't it satisfying?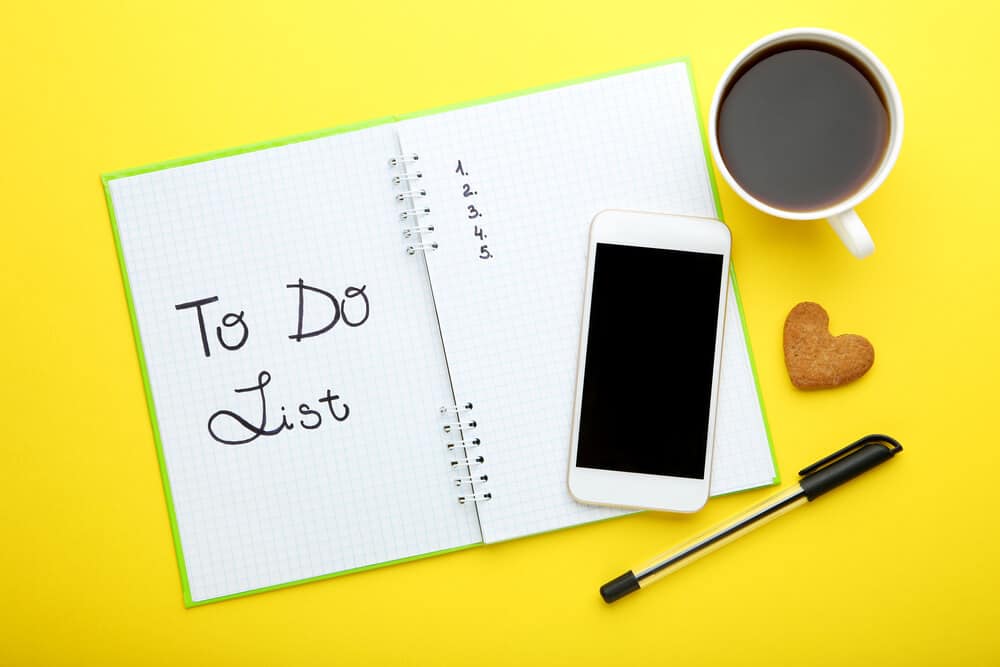 2. Focus on one task at a time, instead of multitasking.
As women, it seems like we are always doing ALL THE THINGS, right?! From laundry to cooking to driving kids here and there to grocery shopping, our to-do lists are never-ending. But how often do you feel like you're so scatter-brained trying to do too much at one time, that you're actually getting less done, not more.
You're not alone. In fact, recent studies have shown that multitasking actually causes us to be less productive, and trying to focus on more than one task at a time can cause IQ to drop.
Instead of juggling multiple tasks at a time, try giving your sole attention to one single thing. When you do something with 100% focus and attention, your efficiency skyrockets, and you'll have a productive day!
When you're handling different tasks at the same time, your attention span is spread thin. You cannot give your 100% to all the tasks you do and in the end, you will have to revisit or re-check them all.
So stop being a multitasker and, instead, handle one thing at a time, get it done fully, and move on to the next.
3. To have a productive day, you MUST avoid distractions.
In today's digital age, technology is probably your number one distraction. And your phone is probably at the top of the list of reasons why you can't have a productive day.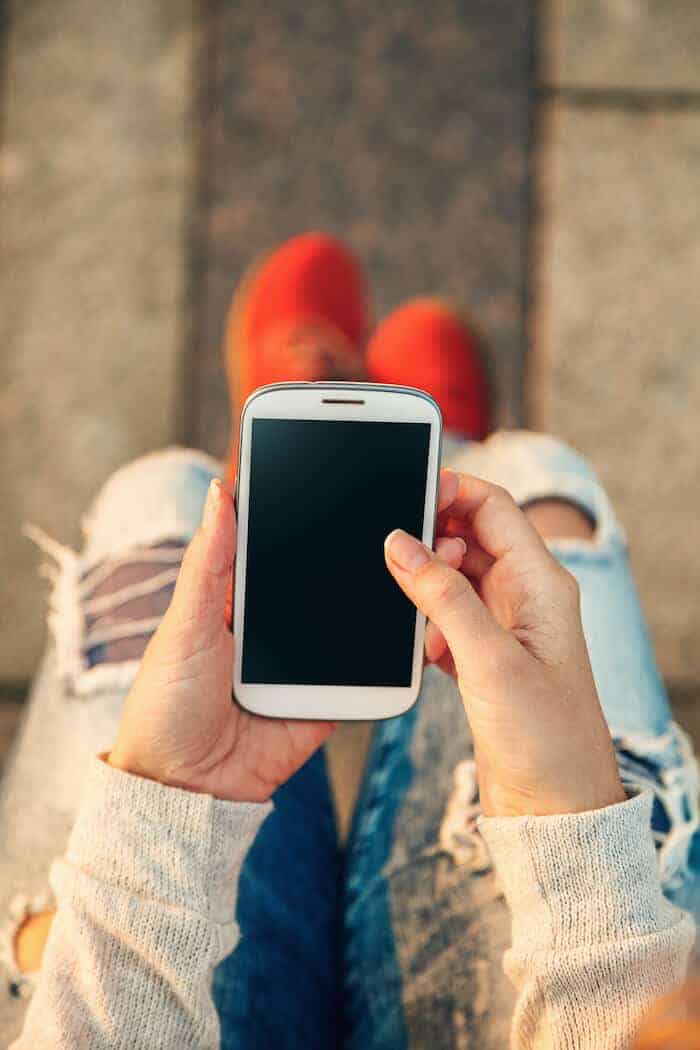 With the convenience of having your emails, social media feeds, and the entire internet in the palm of your hand, literally, it's super easy to get distracted while you're working on some important project. The best way to overcome this is to simply keep your phone out of reach. I actually try to keep my phone in another room entirely or keep it in silent mode while I'm working on something important, so I'm not distracted by the notification buzz or the need to check my social media feed.
But you don't need to entirely deprive yourself of technology…
Try setting some fixed working hours, and commit to avoiding distractions during those times. Then you can check your socials and emails during your planned break times.
4. Press "Unfollow" on some of your social media accounts and watch your productivity skyrocket.
How many times have you sat down on the couch to just check some emails really quickly, and an hour later you're still on the couch, scrolling through Instagram or watching TikTok videos?
It happens to the best of us…
After noticing that my productivity was slipping and I was wasting an hour or more every night on social media, I went on an "Unfollow" spree, and deleted about 90% of the people that I was following. I immediately cut my Instagram time each night from an hour plus to less than 10 minutes!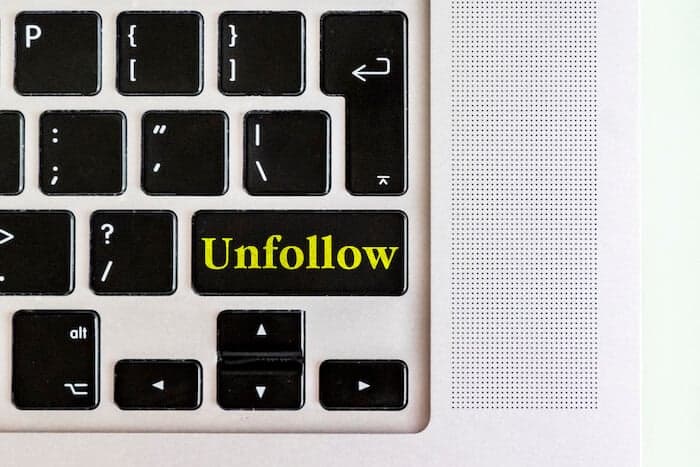 And with the extra time that I was no longer wasting, I was able to be more productive and get more things crossed off my to do list!
5. Download app-blockers if you're not disciplined.
Let's face it… sometimes you can't just lock your phone up in another room. What if your kids' school calls or you actually need your phone to do your job?
That's where app-blockers come in handy!
You can actually download certain programs that will completely block all of the potentially distracting social media apps, email, and other functions from your computer or phone. You can simply set which apps you want to block and what times to block them, and you're free from all of those distractions.
If that sounds like something you need in your life, go here for a list of the best apps to block distractions on your phone and other devices!
6. Schedule your time with a planner and time blocking.
If you want to have a productive day, you need to be vigilant enough to know how much time you're spending and where. It's super normal to sit in front of your laptop for the entire day and yet get nothing done. This is because you aren't mindful of how you're spending your time.
Using a planner to schedule every minute of your work day (including break times) can help reduce the amount of time wasted, thereby increasing your productivity.
Get a daily planner with separate hourly lines to break your time into "blocks" and determine what you will do for each block of time. You can read more about how to time block here!
Or, read more about my absolute FAVORITE planners here: The Happy Planner – Everything Beginners Need to Know
7. Don't be afraid to take a break.
Sometimes, in order to be more productive or get our work done, we simply need to TAKE A BREAK!
Burnout is a real thing, and you surely can't have a productive day if you're overwhelmed and unmotivated because you feel like you're on a hamster wheel with no end in sight.
You know your body and your mind best, so if you feel like it's time for a break, then take one! It's okay to take a rest and get back to work with full enthusiasm and a fresh mind.
Every Friday I take a mid-afternoon nap. Yup, right in the middle of my work day! It's a small thing that I look forward to at the end of the work week, and it motivates me to get everything done in the days leading up to Friday so that I can enjoy that small bit of time.
8. Declutter your workspace to have a productive day.
You may find this time consuming, but the clutter on your desk represents the clutter inside your head. Thus, it's necessary to clean your space once in a while to be more productive.
Throw away all the unnecessary items and arrange all of your paperwork. Yes, it will take you time to complete this task, but just think about how much time you will save not having to dig in a huge stack of papers to find what you need.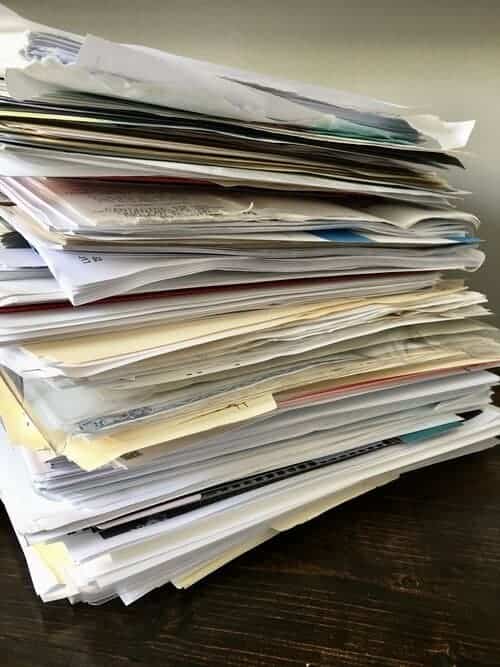 If you need help organizing your family paperwork, check out this post: Organize Paperwork: How to Setup a Filing System for Family Papers
When your workspace is messy, you don't feel inspired to take action or do the work. Having a clean, tidy workspace always motivates me to get to my work done and be more productive.
9. To have a productive day, set realistic mini goals and measure your progress.
Having a BIG goal is great, but it's also important to be realistic. When you're planning and setting your goals, make sure that you're not challenging yourself to do something that's totally out of your reach.
For instance, it's not realistic to set a goal of saving $3,000 a month if you only earn $2,500 per month. However, you CAN set a goal of completing a 30 Day No Spend Challenge in which you only spend money that is absolutely necessary for that month.
Besides being realistic in your goal-setting, it's also important to break down your BIG goals into mini goals. Think of your mini goals as action steps to reach your larger goal. So, if your goal is to save $3,000 then your mini goals could include packing your lunch at home everyday for a month, ditching the drive-thru coffee each morning, or canceling some of your monthly subscriptions.
Completing a series of mini goals is easier, and meeting these smaller goals will give you a sense of accomplishment, which will inspire you to keep working towards the larger goal.
You should also measure your progress. Make a list of things that are working and also of the things that failed to work. This will give you a clear idea of what action steps are actually worth your time.
10. Try a brain dump to organize and prioritize your thoughts.
A brain dump is basically the act of getting ALL of your thoughts out of your mind and onto paper, and it can help you get more done!
When you're trying to constantly run through a long list of mental notes, you're probably not as focused on the tasks at hand. Plus, a well-done, organized brain dump gives you an actual action plan to start crossing things off your to do list.
Check out this post for how to do a brain dump and grab a FREE printable brain dump worksheet!
In the end, being productive and getting your work done is more of a mindset than life-hacks. When you're dedicated to how you want to spend your time and you have an action plan to get things done, you'll have a more productive day!
I hope these productivity tips have inspired you to put down your phone, turn off the TV, and actually start crossing things off your to do list like a BOSS!
Do you have any tips for how to have a productive day? What works for you? Leave me a comment down below! I'd LOVE to hear from you!
And happy nesting!