Organize paperwork with this easy filing system! If you're overwhelmed by paper clutter, or you frequently lose important papers, then follow these simple steps to help with paper organization and get a HUGE list of sample categories to use when sorting your documents…
Utility bills, catalogs, coupons, insurance policies, credit card statements, birthday party invitations… The amount of paper clutter that comes into our house on a daily basis is crazy!
And without a good paperwork organization system in place, that paper clutter can easily become overwhelming.
And paper clutter, just like regular household clutter, can cause major STRESS. Yup, it's been scientifically proven by researchers at UCLA. Women, especially, are susceptible to higher levels of stress if they live in a cluttered environment.
So I give clutter the boot BEFORE it drags me down. By the way… if you're just starting out on your decluttering journey, then I've got a GREAT and FREE 7 Day Decluttering Guide here!
If you want to tackle your paper clutter and start an organization system that WORKS, then let me help! I recently redid my paperwork filing system, and I'm going to share with you exactly how I did it in just a few short hours. 🙂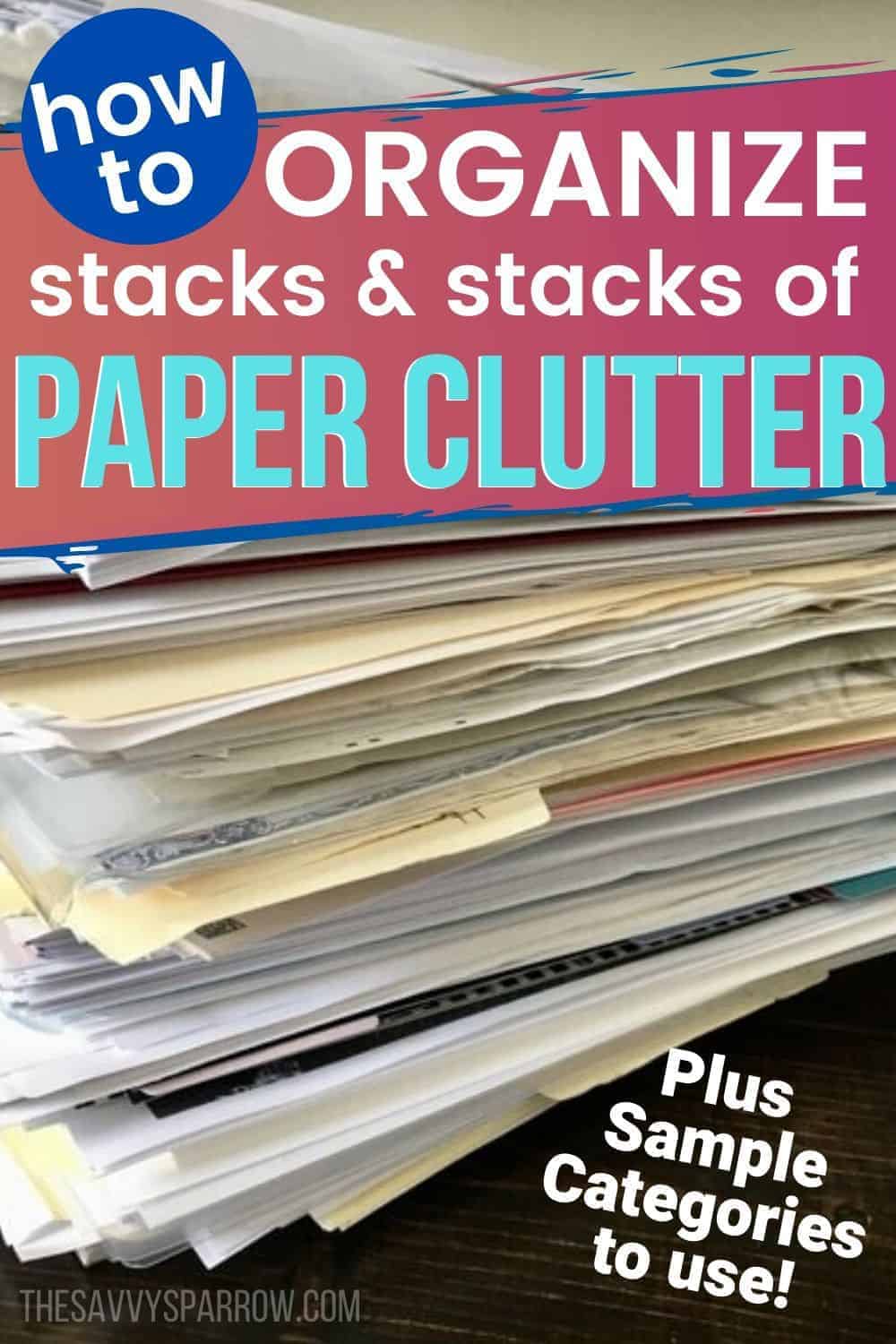 *This post contains affiliate links, which means if you click a link and make a purchase, I earn a commission at no additional cost to you. Read my full disclosure here.
Steps to Organize Paperwork with an Easy Filing System
Step 1: Gather organization supplies
If your budget allows, I strongly encourage starting fresh with coordinated supplies. In the past I have recycled old file folders and used mismatched hanging files, but that just contributes to the overall messy look of your files.
If you are going to take the time to declutter and organize paperwork, then you want the finished product to look as tidy as possible. Here are the supplies that I recommend for organizing important papers:
Hanging File Folders – I prefer these that come in all the same color (affiliate), but you can also find them in bright multicolors. In my opinion, the dark green gives a clean, uniform look.
Manilla File Folders
Ultra Fine Point Sharpie – I like these Sharpies (affiliate) for organizing files if you don't have a label maker, because the ink is dark and the ultra fine point makes handwriting look better.
Label maker – I REALLY recommend using a label maker to organize paperwork files! I have the older model of this one (I've had it for over 10 years!), and I LOVE it!
Step 2: Decide where you will keep your paperwork
You will need to pick out a spot to store your paperwork, based on how much you have. If you don't have that many papers to store, or if the majority of your important documents are in digital format, then a small plastic filing box could work for you.
If you have more papers to organize, then banker's boxes are a great option. Banker's boxes are more affordable than a filing cabinet, and they can easily be stored in a closet.
You can also DIY a desk area using short filling cabinets and a few pieces of lumber. I knew when I started planning my office space that I would need a lot of space for hanging files. My husband and I are both self-employed, so we have to store paperwork for two businesses along with our personal documents.
We found two awesome, heavy duty lateral filing cabinets on Facebook Marketplace. They were originally an ugly brown color and had plain fronts. I wanted them to look more like they belonged in a HOME rather than an office, so we painted them white and added trim and handles to the fronts.
Then, my husband just fastened together some stained 1″ x 6″ lumber to use as a desktop, and voila! I had a beautiful and functional desk with plenty of storage for our mounds of paperwork: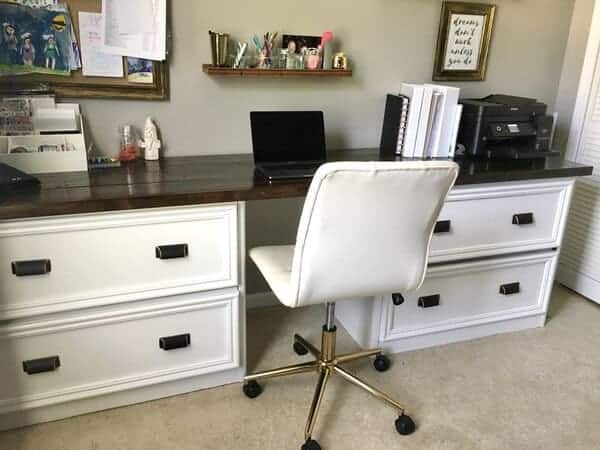 Step 3: Make a pile of ALL paperwork and important documents
Whenever I start decluttering and organizing ANY space, I like to remove EVERYTHING first. Whether I'm decluttering my kitchen counters or organizing my freezer, this is a crucial step.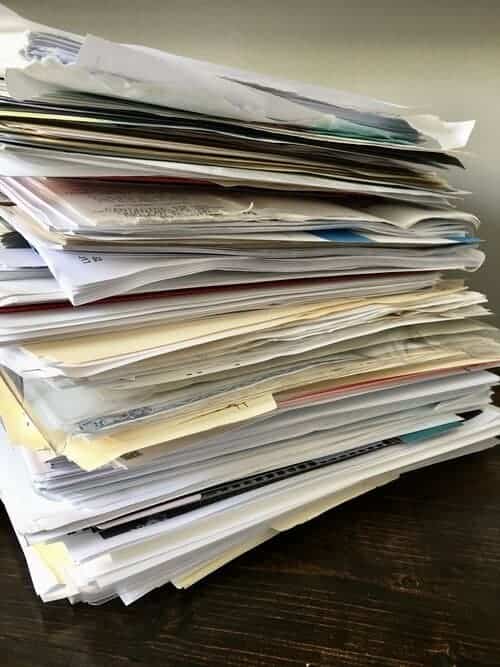 The same goes with organizing paperwork. Take all of your papers out of their previous homes and stack them together in a pile. This allows you to get an idea of how much space you will need for your filing system.
Step 4: Organize paperwork by sorting into piles based on category
Once all of your important papers are together, it's time to start sorting them into separate piles based on category. Group similar documents together in a way that makes sense to you.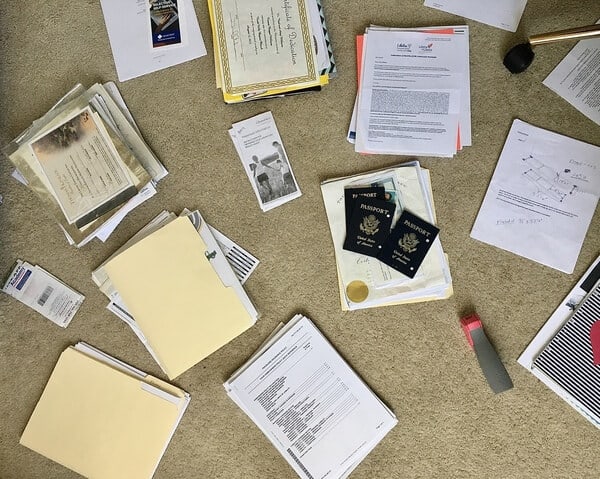 I've got some great example categories that you can use when sorting your paperwork done below!
Step 5: Get rid of paper clutter by throwing away or digitizing papers that you don't need
Not everything in your pile of papers will need to be kept. Some items will need to be thrown away because they are expired or no longer needed.
Here are some examples of paper clutter that you may need to throw away:
Expired insurance policies
Loan documents for loans that have already been paid off
Expired coupons
Product manuals and warranties for items you no longer own
Car documents for vehicles you no longer own
Receipts for everyday purchases – I throw away receipts for normal, non-tax related purchases after I enter them in my Finance Tracking planner.
Old magazines and catalogs
Old holiday cards, birthday cards, etc.
Organize Paperwork with these Sample Categories
Organize paperwork by broad category first. Then, determine how you need to organize those main categories into more narrow ones based on the papers that you have.
The main categories that I use to organize important papers are: Personal Documents, Financial Documents, Insurance, Medical Documents, Home Documents, Taxes, Sentimental.
When it comes time to file your papers in a filing cabinet or box, group files for main categories together so that you can find them easily.
I also like to use my label maker in a larger, all-caps font for main categories and a smaller font for the subcategories. Here's an example: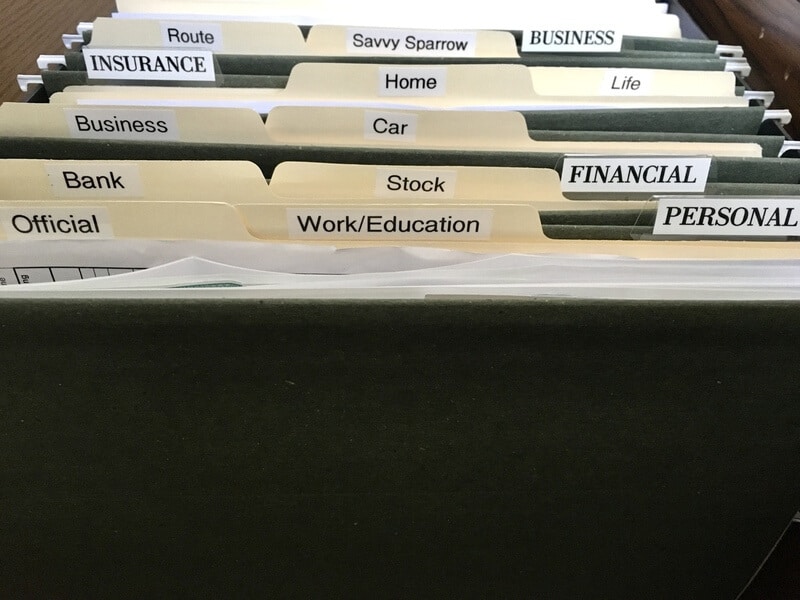 Below are examples of important papers that belong in each category:
Personal Documents
I prefer to keep all official personal documents together in one folder. These include:
Birth certificates
Social security cards
Passports
Marriage certificate
Voter registration cards
Vehicle title
Property deeds
Power of Attorney
Copy of Will
In a separate folder, I keep all personal work and education documents. These include:
Letters of recommendation
College transcripts
Diplomas
Certificates for training completed
Current resumes
Financial Documents
Financial documents can be filed in individual file folders for:
Bank Documents – Bank statements, new account documents, business cards for bank contacts, etc.
Stock Documents – Quarterly stock statements, stock certificates, etc.
Investments – IRA documents, 401K documents, savings bonds, etc. If you have a variety of investments, then file them in their own labeled file folders.
Credit Cards – Make one file folder for each credit card. Put all monthly statements, credit card terms, etc. into separate files.
*Note – Some people recommend switching to digital bank and credit card statements to reduce paper clutter, but I prefer paper statements for tax purposes. When tax time comes around, I just pull out my statements and highlight business income and expenses and personal tax deductions.
Tax Returns – I keep 6 years worth of tax returns with each year's necessary receipts/statements in a separate labeled file folder ("2019 Tax Return").
*Note – Once I have my tax return completed for the year, then I file the paper copy with that year's bank statements, credit card statements, medical bills, and receipts for tax deductions in the Tax Return file.
Insurance
Make separate folders for each type of insurance that you have. Then, file policies, claim receipts, agent cards, etc by insurance type. You should have a separate folder for each of these insurance types, if applicable:
Car Insurance
Life Insurance
Health Insurance
Home Insurance – Include a valuables inventory in here if you have one.
Boat Insurance
Any other insurance that you may have
Home Documents
Any documents related to your home should go in this category. Then, create subcategories based on the documents that you have, such as:
Product Warranties
Product Manuals – I only keep paper copies of manuals that are absolutely essential, because you can find most product manuals online in PDF format.
Home Loan Documents
Home Maintenance Records – I store all of my home maintenance documents in this Ultimate Home Maintenance Binder! I highly recommend that you have one of these for home resale purposes!
Medical Documents
Medical records
Vaccination records
Current eyeglass/contact prescriptions
Tax Deductions
Personal Deductions
Keep a file of receipts/invoices for any personal expenses that you deduct on your tax return. These could include child care expenses, medical expenses, school expenses, etc. I find it easiest to label the top of each receipt with the proper expense category (like "Daycare" or "Medical") before filing in my Personal Deductions folder.
Business Deductions
My husband and I are both self-employed, so we have to keep very detailed records of all of our business expenses. In order to do so, I have one file labeled with the name of his business, and one file for mine.
Within each file, I put all of the receipts for each of our businesses. Just like our personal deduction receipts, I label the top of each receipt with the proper expense category (fuel, office supplies, etc).
Sentimental
If you have kids, then chances are you've got a stack of papers that you've kept over the years for sentimental purposes. These could include:
Sonogram photos
Newborn foot prints
Cards with weight/height/percentiles from visits to the pediatrician
Art work from preschool or elementary school
Mother's Day cards and momentos that your kids have given you over the years
I group all of my sentimental papers in individual files based on child. For instance, I have one file labeled "Kaylee" and one "Kenzee". I also have a separate file labeled "Family" for things like family vacations, photos, etc.
Tips to Keeping Your Important Papers Organized
After you've spent your time organizing your paper clutter, you want to make sure it stays tidy. Here are some tips to maintaining your paperwork organization system:
Designate spaces to keep paper clutter before it is filed.
Any and all paper clutter that comes into your house should have a designated temporary spot… and NOT on your kitchen counter!
All of our coupon mailers and retail store booklets that I want to keep for the near future go into a basket in our command center. My girls' school papers (field trip permission slips, weekly newsletters, birthday party invitations) go into their assigned basket in our command center also.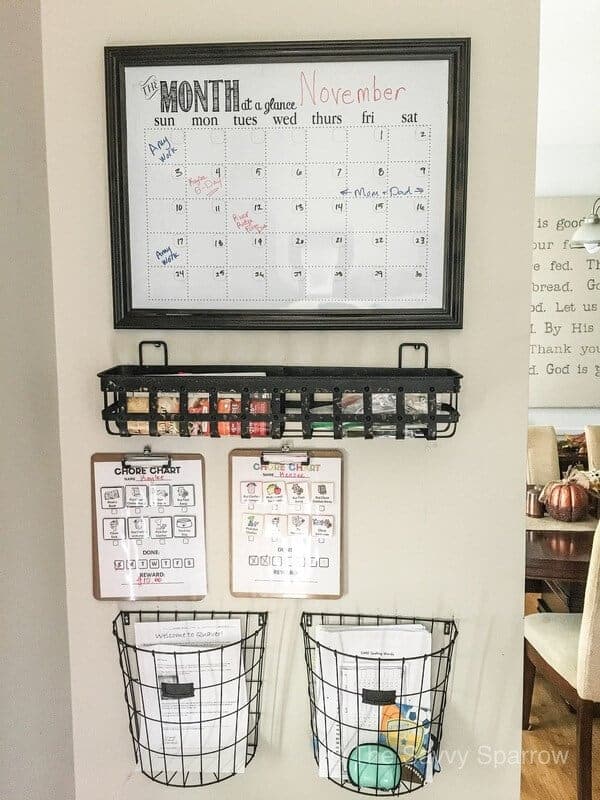 And any important documents that need to be filed go into a designated box on my desk, if I can not get around to filing them immediately.
Each type of paper clutter should have a temporary home, before it is filed in a permanent spot or is thrown away because it's no longer needed.
Go through all incoming mail immediately.
When you get your mail each day, immediately trash or recycle all junk mail and sort important papers, bills, etc. Place bills to be paid in a designated spot and put other papers that need to be filed or stored in an "incoming" box.
Doing this will eliminate paper clutter that tends to pile up on your kitchen counters, and it will ensure that important documents don't get lost and bills aren't forgotten.
Make filing any new papers part of your daily routine.
Organize paperwork by taking 5 minutes at the end of the day to file any incoming papers from that day. This is where a "To be Filed" box comes in handy… If you collect all of your important papers to organize in one designated box each day, then you can quickly go through the box and organize paperwork in your files at the end of the day.
This method also works when organizing your digital files. As a blogger, I download a TON of documents every single day. At the end of each day, I take just a few minutes to move files out of my "Downloads" folder and into neatly categorized folders. Go HERE to read more about how to organize your computer files… Plus, I've got a FREE Desktop Wallpaper Organizer to help you!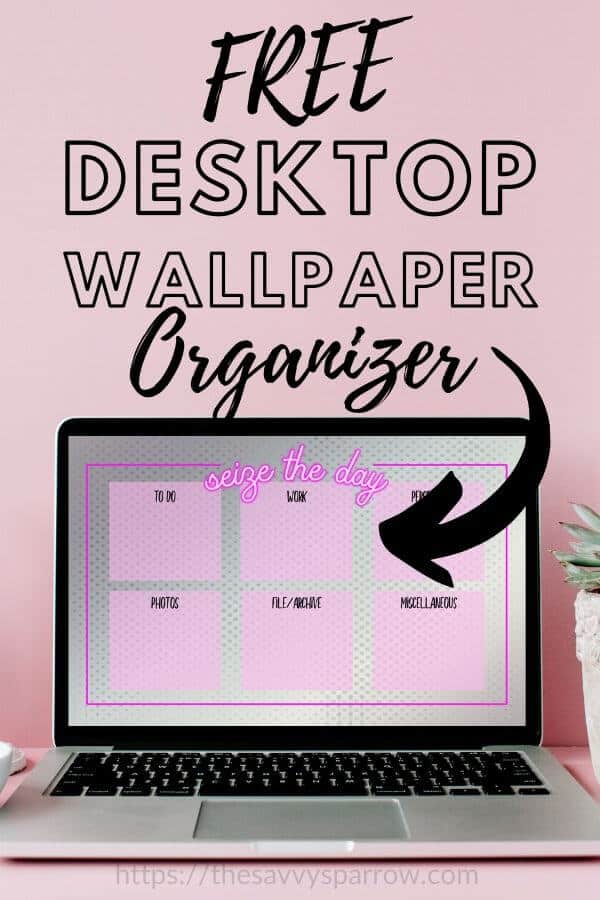 And once you've got your paperwork organization system done, then be sure to check out this post for my FREE 7 Day Decluttering Challenge: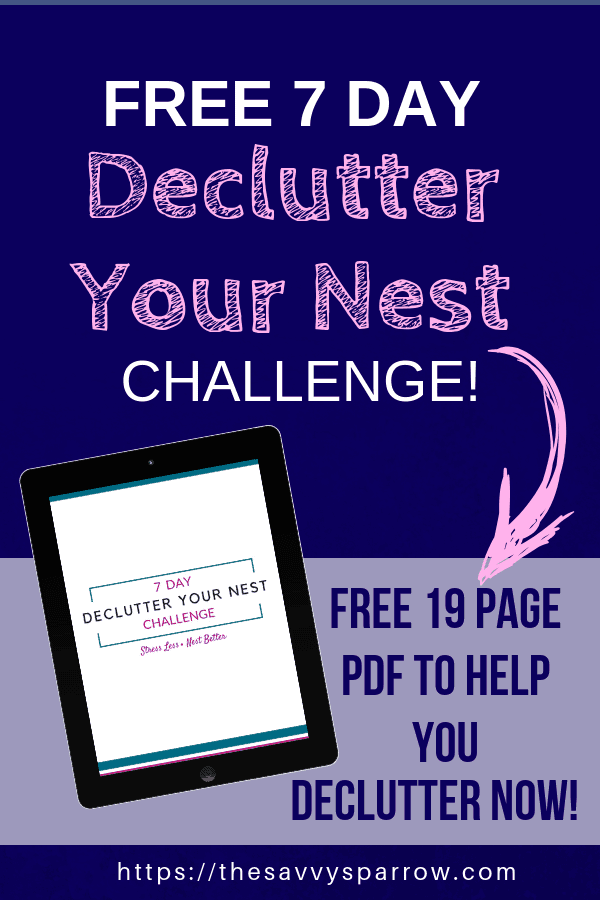 I hope you've been inspired to tackle your paper clutter and organize paperwork with these easy filing ideas! It may take you a few hours to complete, but imaging all of the stress and time that you will save if you're no longer losing important documents.
I'd LOVE to know if you use these paperwork organization tips and how they work for you! Leave me a comment down below!
And happy nesting!