If your freezer is so stuffed full that you have no idea what's inside, then it's probably time to do a freezer inventory. Find out how to organize your freezer and keep a freezer inventory. Plus, get a free printable Freezer Inventory Sheet to help you eliminate food waste and save money.
I tend to hoard meat and frozen vegetables.
Our freezers (yes, we have 2 of them!) are stuffed to the brim with frozen cauliflower rice, meat galore, my delicious meal prep smoothie bowls, and whatever else was on SUPER sale the last time that I went to the grocery store.
We have so much food in our freezer that we could probably not buy food for 2 whole months and be just fine.
And with such a massive amount of food in the freezer, valued at probably over $500, it's important to have a good freezer organization system in place so that things don't get forgotten.
And so that a 7 lb. pork butt doesn't come tumbling out and fall smack dab on your toe when you open the door… yup, that happened…
If opening your freezer door is like playing a game of Jenga, it's probably time for some freezer organization.
We recently cleaned and organized both of our freezers AND made a freezer inventory sheet, so that we know exactly what we have (and what we DON'T need to buy at the store). And I'm sharing the whole process with you!
And after you're done with your freezer organization, be sure to check out How to Declutter Your Kitchen Counters!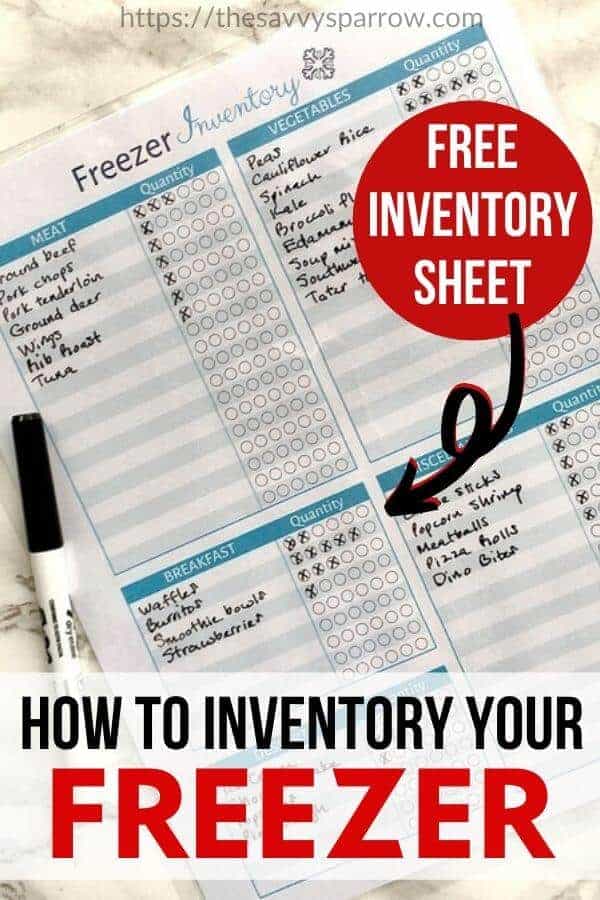 *This post contains affiliate links, which means if you click a link and make a purchase, I earn a commission at no additional cost to you. Read my full disclosure here.
But first…
Why should you keep a freezer inventory?
A freezer inventory can save you money.
I don't know how many times I've gone to the grocery store to pick up a pack of chicken breasts, frozen peas, etc. only to come home and realize that I had 3 of them already in my freezer.
If you have a list of items that you already have in your freezer, you won't spend money on things that you don't actually need.
A freezer inventory can help to eliminate waste.
True story… We stock up on cauliflower rice every time that it goes on sale for Buy One Get One Free. I LOVE cauliflower rice because it's a pretty good substitute for regular rice, and it fits in perfectly with my low-carb diet.
Try our Low Carb Chicken Broccoli Casserole with Cauliflower Rice or our Mexican Chicken Casserole with Kale and Cauliflower Rice!
We seriously buy about 15 bags of frozen riced cauliflower at a time. So of course during our recent freezer clean out, I discovered two bags that were a full YEAR past their expiration dates… Which meant that those bags were sitting in our freezer for 2+ years!
Of course they went straight in the trash. But, if we had been using a freezer inventory, we would have known that there were two extra bags of cauliflower rice hiding out in the freezer, and we wouldn't have had to waste food.
A freezer inventory can help you figure out what to cook for dinner.
Don't know what to cook for dinner? A freezer inventory can help you get ideas for what to cook based on what you already have.
Just take a quick glance at your freezer inventory sheet to see what proteins and vegetables you already have on hand to quickly make a meal plan for the week!
How to Do a Freezer Inventory and Organize Your Freezer
Print out the Freezer Inventory Sheet.
First things first… you need somewhere to write down what is actually in your freezer.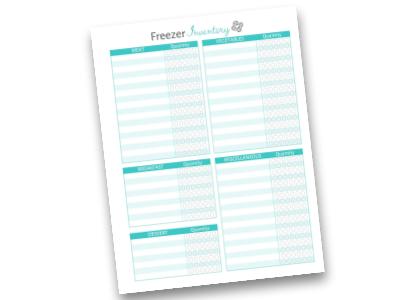 You can simply write everything down on a piece of notebook paper as you go, OR…
You can grab my FREE Freezer Inventory Sheet here!
Once you print your freezer inventory printable, I suggest laminating it (I have this laminator and LOVE it!) and hanging it on your fridge. By laminating the sheet, you can use it as a dry erase board and easily keep track of what's in your freezer.
Take everything out of your freezer.
After you've got a freezer inventory sheet ready, it's time to start emptying your freezer to see what you actually have.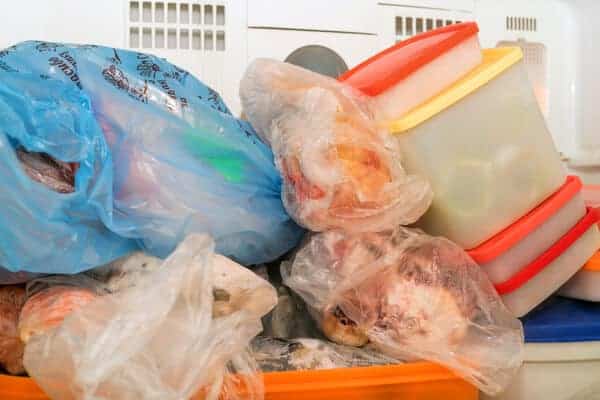 As you take things out, try to sort by category (meat, vegetables, breakfast foods, etc). This will make it easier to see how much of each item you have, so that you know how much space is needed for each food group when you put everything back inside the freezer.
You may also want to store everything in a cooler with a few ice packs so that your food doesn't thaw out while you are cleaning and organizing the freezer.
Trash any expired foods and junk.
I would bet money that after you take EVERYTHING out of your freezer, you will find a forgotten Eggo waffle crammed in the back that is now covered with freezer burn, or a Ziploc bag with some sort of mystery red sauce inside.
Even if you're Mrs. Clean, you're sure to have a frozen blueberry or two that fell through the cracks of your shelves and ended up at the bottom of your freezer.
Now that your freezer is empty, it's the perfect time to trash those items that have gone bad or that you will NEVER use.
Clean your freezer using a mixture of hot water and vinegar.
Go ahead and wipe down the inside of your freezer while everything is out of it. I like to dip a dish rag or sponge into equal parts hot water and vinegar and scrub all of the shelves, the door, etc.
Get more detailed instructions on how to clean the freezer here.
Reload the freezer while taking your freezer inventory.
As you put things back inside your freezer, write down each and every item on your freezer inventory sheet.
And to eliminate waste, be sure to use a common restaurant hack when reloading your freezer… FIFO!
FIFO stands for "First In, First Out", and it basically means that items that you purchased first need to be used first. Make sure that as you are putting things back in your freezer, the items that are the oldest (or that expire first) are at the front so that they get used first.
And be sure to keep everything organized as you are putting it away.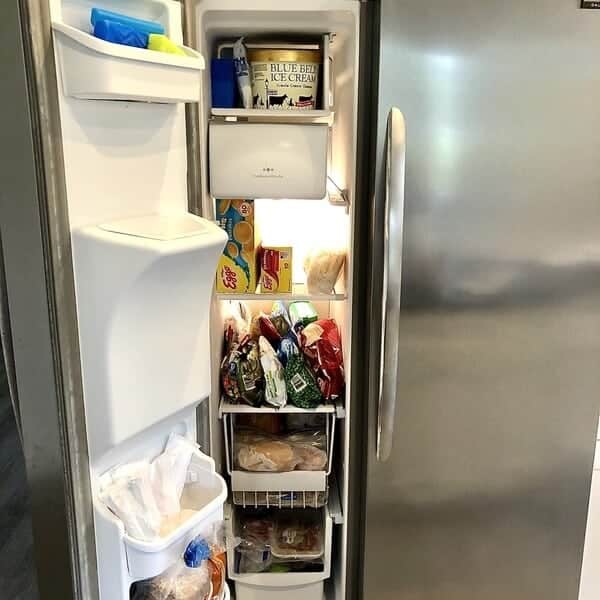 To organize the freezer, I like to designate shelves for different food groups. I have a separate shelf or bin for:
Meat – chicken, pork, beef, seafood
Vegetables
Fruit – We make a lot of smoothies and meal prep smoothie bowls at home!
Kids' Lunch Items – I use a small bin on the door to store things for my kids' lunchboxes (PB&J Uncrustables, Go-Gurts that we keep in the freezer for frozen yogurt pops, etc). Then, my girls can easily find what they need to make their own school lunches.
Dessert – We usually have a carton of ice cream and a few popsicles, which fit perfectly in a bin on the freezer door.
Breakfast Items – Frozen waffles, frozen egg sandwiches, meal prep breakfast burritos, etc.
Miscellaneous & Convenience Items – Bagged leftover sauces, pre-cooked dinner items like chicken nuggets or popcorn shrimp, frozen appetizers, etc.
How to Use the Freezer Inventory Sheet
Print and laminate it.
I HIGHLY recommend this laminator (affiliate) that I use ALL the time for different household printables (like these Chore Charts and Chore Cards for Kids!).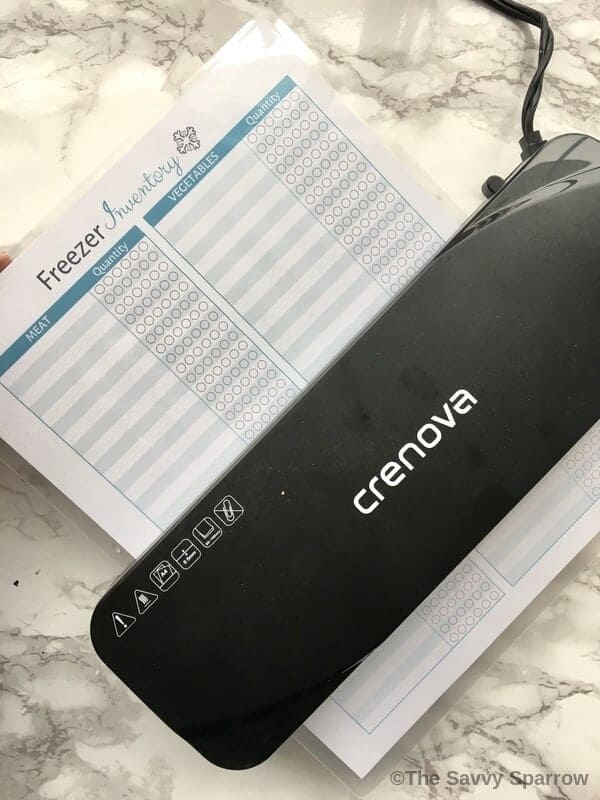 Or, if you don't want to buy a laminator, then you can take your freezer inventory sheet to FedEx Kinko's or an office supply store and they can do it for you.
Write down EVERY item that is in your freezer using a dry erase marker.
I recommend using an ultra fine tip dry erase marker on your freezer inventory sheet. I use these markers (affiliate) and LOVE them!
As you are putting things away in your freezer, mark the circles under the "Quantity" column to indicate how much of each item you have.
Hang your freezer inventory printable on your fridge.
By hanging your inventory sheet on your fridge, it's easily accessible and convenient to update.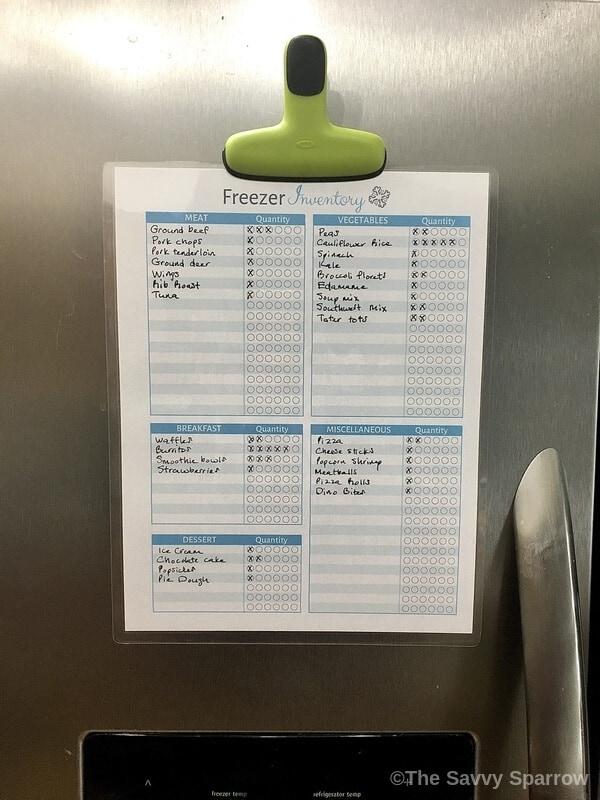 Update quantities of freezer items as needed.
As you take something out of your freezer, erase one of the marks so that you know that you have one less. Or, when you buy groceries, color in circles as you put things in your freezer.
Easy-peasy!
And no more long lost frozen peas going bad while you keep buying MORE and MORE peas. 🙂
Hope you enjoyed this easy freezer organization system! Leave me a comment if you print out the inventory sheet and let me know what you think!
Or let me know what kind of weird frozen chunks of food you find lost in the depths of your freezer so we can share a laugh! We once had an entire turkey wing (feathers and all!) in the back of our freezer for 8 months because my husband was going to use the feathers to make fly fishing ties… Eek! 🙂