These acai smoothie bowls are perfect for meal prep breakfasts! Learn how to make smoothie bowls to store in the freezer for when you need a quick, healthy, and filling breakfast!
Cereal is so last year…
But, it's hard to deny how easy cereal is to make for busy mornings.
So, what could be just as easy as opening a cereal box and a jug of milk?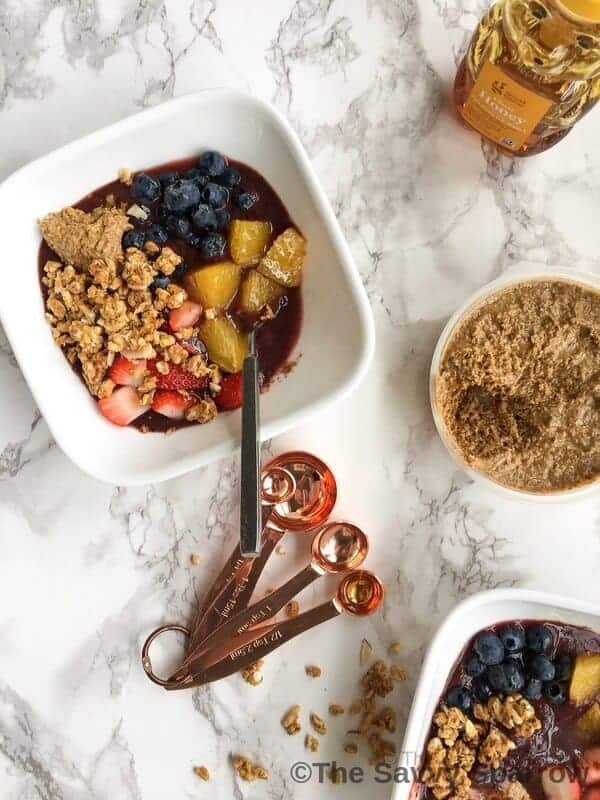 Meal Prep Smoothie Bowls!
If you haven't had a smoothie bowl, then you're missing out! They are my new favorite breakfast because they're so versatile and easy to make!
But first, I've got to give a shout out to Tattooed Chef… no, that's not the nickname of a local restauranteur… it's the brand that makes the Organic Acai Bowls that I bought at Costco recently, and that inspired me to create these easy meal prep smoothie bowls.
After a few bites of their acai bowl, I was hooked… to the point that I now actually choose an acai bowl as a Friday night treat over my dear Publix french fan….
And if you've been following me for a while, then you know that I LOVE my Publix french fans, which basically consist of a ridiculous amount of buttercream frosting sandwiched between two layered puff pastry cookies then dipped in chocolate.
So, yeah…
If I like smoothie bowls more than buttercream and chocolate, then you know they're good.
Plus, they're good for you!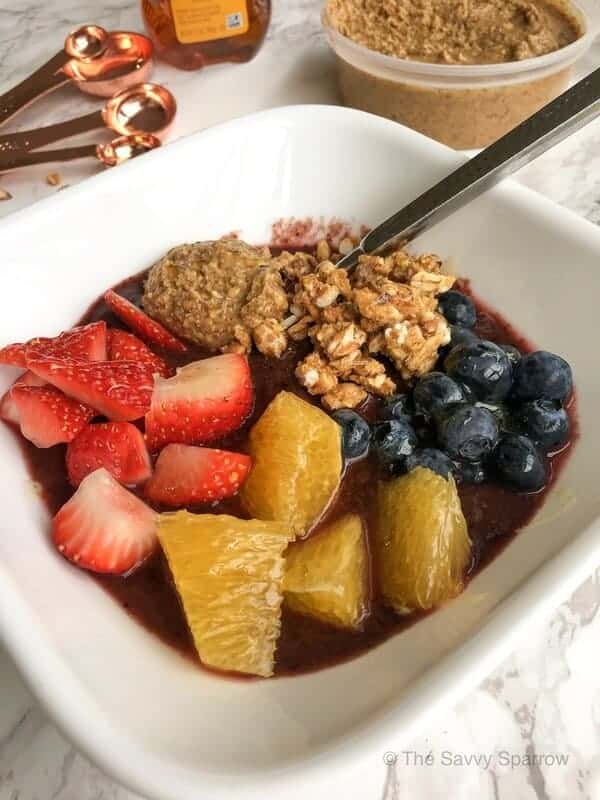 My acai smoothie bowls recipe is packed with fruit, power greens, ancient grains, and protein… what more could you ask for in a healthy breakfast?!
Plus, you can make six smoothie bowls at a time and store them in your freezer.
Then, when you need a flavorful, refreshing, and filling breakfast on a busy weekday, you just grab a bowl out of your freezer, microwave it for a few seconds, and top it with your favorite granola, a scoop of almond butter, and a drizzle of honey.
So, if you're over your cereal, avocado toast, or cold pizza breakfasts, here's how to make your own Meal Prep Smoothie Bowls…
*This post contains affiliate links, which means I earn a commission if you click a link and make a purchase, at no additional cost to you. Read my full disclosure here.
How to Make Smoothie Bowls for Meal Prep Breakfasts:
Step 1: Gather your smoothie bowl ingredients
Here are the ingredients you need to make the most delicious smoothie bowls: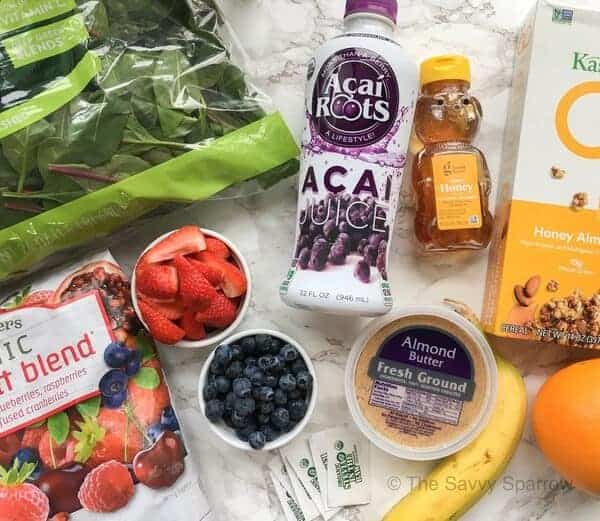 Juice
I used the Acai juice from Acai Roots, after checking the nutrition labels of a few different brands for added sugar and net carb counts. I decided to use an acai juice because of the many health benefits of the acai berry, but you can use whatever juice you like.
I've also used the V8 Healthy Greens juice to make smoothies, and it's delicious! The nice thing about the Healthy Greens juice is that it contains a full serving of good-for-you veggies like kale and spinach.
Frozen Fruit
I used the Sunrise Growers Organic Antioxidant Blend frozen fruit from Costco. I also recommend adding a frozen whole banana to your smoothie because it gives the smoothie a smooth texture and a subtle sweetness.
Power Greens
I used the Earthbound Farms Organic Power Greens from Costco in my smoothie bowls. It's a blend of baby kale, spinach, and chard. I use this power greens blend ALL THE TIME, whether it's in smoothies, salads, or wraps.
If you've never added fresh greens to your smoothies then I HIGHLY encourage you to try it! If you're a little freaked out by adding a bunch of leaves to your smoothies, then try a few handfuls of baby spinach first. The taste of the spinach is barely recognizable when blended up with fruit and juice.
*Bonus – This is a GREAT way to get your kids to eat their greens! My girls LOVE these smoothies, even after they see me shoveling in the kale and spinach!
Fresh Fruit
I topped my smoothie bowls with fresh strawberries, blueberries, and orange segments, but you can use whatever fruits that you like.
Peaches, pineapple, and raspberries would be great as toppings also.
Almond Butter
I know… it seems weird to mix almond butter with fruit, but it's actually one of my favorite parts of these smoothie bowls.
I like to buy the freshly ground almond butter from my local grocery store, but this one is really good (affiliate), too!
Granola
Be careful about which granola you use if you're trying to watch your carbs. Many brands contain loads of sugar.
My favorite granolas are made by Nature's Path. I especially like their Coconut Chia granola (affiliate), because it has one of the lowest net carb counts… based on my standing in the granola aisle of my grocery store and pouring over the nutritional info for every single box. 🙂
Honey
The drizzle of honey on top gives these acai smoothie bowls just a little added sweetness, but you can absolutely leave the honey off to save yourself some carbs.
Other Ideas for Smoothie Bowl Toppings
The great thing about smoothie bowls is that you can easily customize them to fit your tastes.
Here are some other awesome topping ideas:
Slivered almonds
Shredded coconut
Hemp hearts
Flax seeds
Coconut Clusters from InnoFoods (Costco) -I LOVE these, and crumble them up on top of yogurt for quick and healthy snacks.
Mini chocolate chips
Step 2: Make your smoothie
Blend together the juice, frozen fruit, greens, sweetener (optional), and a few ice cubes… If you don't have a good blender, then I HIGHLY recommend this Ninja blender (affiliate)! I have one that is very similar, and I use it almost daily!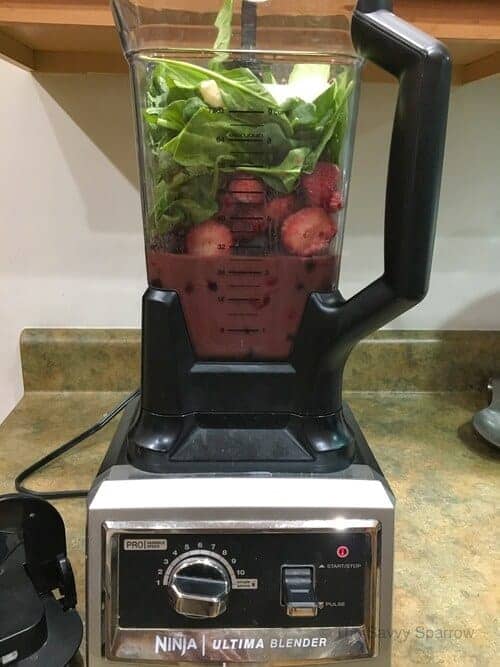 Step 3: Divide smoothie equally into 6 microwavable-safe, plastic storage bowls
I used Rubbermaid Take Along bowls, and they worked perfectly for this smoothie bowl recipe.
Step 4: Top smoothie bowls with cut fresh fruit
I chose to add the fresh cut fruit BEFORE I froze the bowls for easy meal prep breakfasts, because I didn't want to deal with the hassle of dirtying up the cutting board and prepping my fruit every morning.
But, if you usually have prepped fresh berries or other fruits in your fridge, then you can just add it after you thaw your smoothie bowls for breakfast.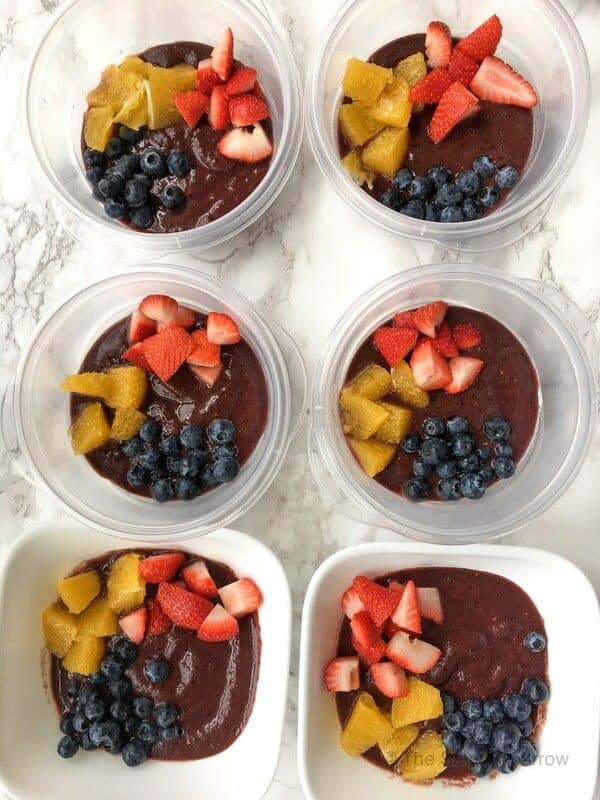 Step 5: Cover each bowl and freeze
After your acai berry smoothie bowls are all prepped, just lid them and stack them in your freezer. Easy peasy!
How to Serve Meal Prep Smoothie Bowls
Thaw Smoothie Bowls
When you're ready to enjoy one of your yummy smoothie bowls, you'll need to first thaw it out.
Here are the options you have for thawing your meal prep smoothie bowls when you're ready to eat them:
Thaw on counter – Just take the smoothie bowl out of the freezer, remove the lid, and set the bowl on the counter to thaw. This method will probably take at least an hour. And you'll need to stir it a few times to help speed up the thawing process.
Thaw in microwave – Microwave times will vary. I have found that it works well to microwave for 60 seconds, stir the bowl, and microwave for an additional 10 seconds. Be careful not to microwave your bowl for too long. You still want it to have a smoothie-like consistency. Nobody wants hot fruit soup for breakfast. 🙂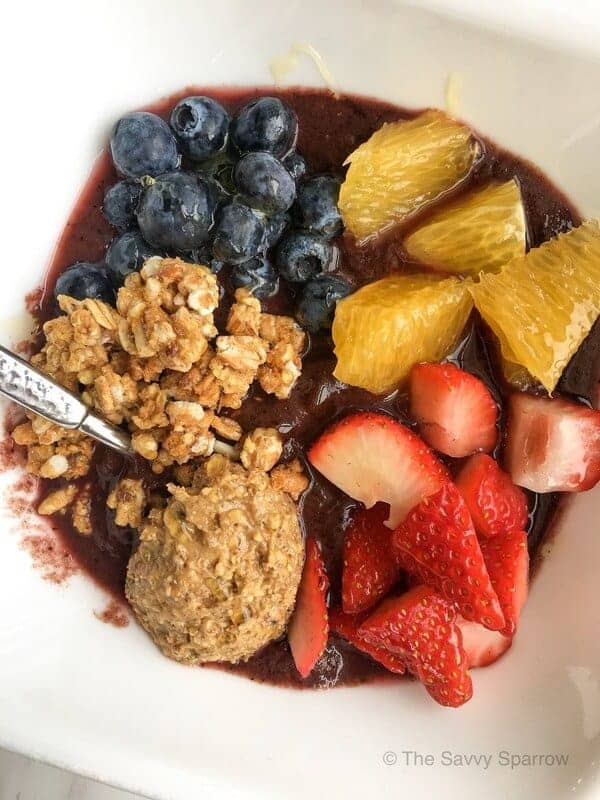 Add toppings to smoothie bowls
Once your bowl is thawed, add your toppings.
I like to top my meal prep smoothie bowls with 2 tablespoons of almond butter, a 1/4 cup of granola, and 1/2 teaspoon of honey.
Here's my meal prep smoothie bowls recipe if you want to try this yummy and easy breakfast idea for yourself:
Acai Smoothie Bowls with Berries, Granola, and Almond Butter
Yield: 6
Acai Smoothie Bowls with Granola, Almond Butter, and Honey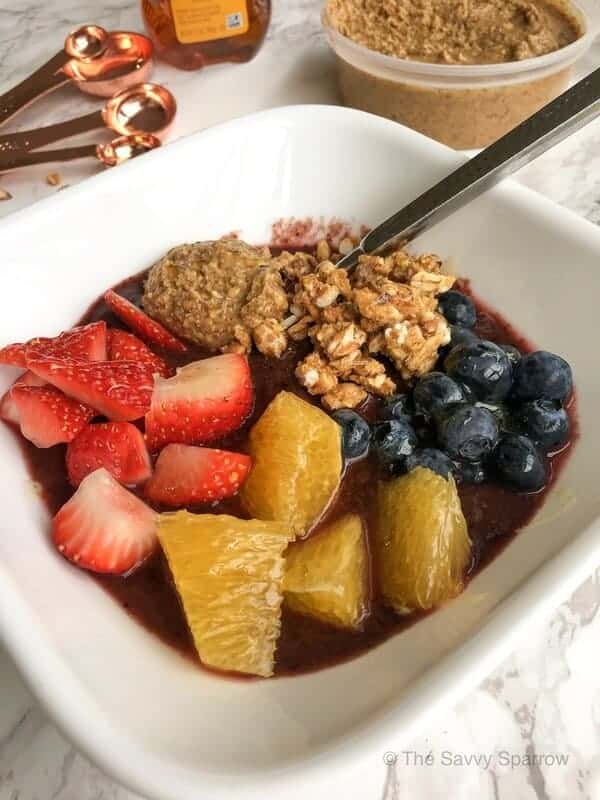 These acai smoothie bowls are great for healthy meal prep breakfasts. Make 6 bowls at a time and store them in your freezer for when you need a quick, healthy, and filling breakfast!
Prep Time 20 minutes
Total Time 20 minutes
Ingredients
2 cups acai juice - I used the Acai Roots brand
4 cups frozen fruit blend - I used Sunrise Growers Organic Antioxidant Blend (strawberries, cherries, blueberries, raspberries, & pomegranate juice infused cranberries)
3 cups power greens - I used Earthbound Farm Organic Power Greens (baby chard, kale, and spinach)
1 frozen banana
2 individual packets of stevia (or sweetener of your choice)
6 ice cubes
For the smoothie bowls toppings
1 large orange, segmented and cut into pieces
1 cup cut strawberries
1 cup blueberries, rinsed and drained
3/4 cup almond butter - 2 tbsp per bowl
1 cup plus 2 tablespoons granola - 3 tbsp per bowl
1 tablespoon honey - 1/2 teaspoon per bowl (optional)
Instructions
Put acai juice, frozen fruit blend, frozen banana, fresh greens, stevia, and 6 ice cubes in a blender. Blend until smooth. Once blended, you should have approximately 48 oz. of smoothie.
Separate smoothie into 6 microwave-safe, plastic storage bowls with lids.
Top each bowl with equal amounts of cut fresh fruit (orange segments, strawberries, and blueberries).
Cover each bowl and freeze until ready to eat.
To serve, thaw using one of these methods: 1) Thaw one smoothie bowl by setting out on the counter, uncovered for approximately 1 hour, stirring every 20 minutes. OR 2) Microwave one bowl for approximately 1 minute, stir, and microwave again for about 10 seconds. Be careful to not microwave for too long - your smoothie bowl should have a thick, smoothie-like consistency.
Top one bowl with 2 tbsp almond butter, 3 tbsp granola, and 1/2 tsp honey.
Serve immediately.
Notes
This acai smoothie bowls recipe can easily be customized. You can use different frozen fruits (though I highly recommend a berry blend), and different fresh fruit toppers (cut peaches, raspberries, pineapple, etc). You can also have fun with the toppings. Try slivered almonds, shredded coconut, mini chocolate chips, etc.
Nutrition Information:
Yield:
6
Serving Size:
1
Amount Per Serving:
Calories: 369
Total Fat: 18g
Saturated Fat: 1g
Trans Fat: 0g
Unsaturated Fat: 0g
Cholesterol: 0mg
Sodium: 85mg
Carbohydrates: 45g
Net Carbohydrates: 35g
Fiber: 10g
Sugar: 21g
Protein: 10g
Nutritional information provided and calculated by Nutritionix. Nutritional information is provided as a courtesy and is an estimate only. Different online calculators may calculate nutritional information differently. Also, the addition of optional ingredients and varying brands and products may change the information. For the most accurate data, you should calculate the nutritional information with the actual ingredients that you use.