These Valentines Rice Krispie Treats Heart Boxes are an awesome DIY Valentines gift idea! Make these heart shaped Valentines treats for kids, your husband, teachers, or neighbors. Then watch as they open up the Rice Krispie Treats boxes to reveal a sweet chocolate surprise!
I don't know about you, but when I think of Valentine's Day I think about heart-shaped boxes of chocolates.
So when I set out to create some Valentines Rice Krispie Treats (which, let's be honest, was just an excuse to make another batch of this BEST EVER Rice Krispie Treats recipe!), I knew that I wanted to make them look like heart-shaped candy boxes.
I had remembered scrolling through Pinterest for Valentines Rice Krispie Treats and kept thinking, "All of these treats look pretty much the same."
Heart shaped – Check
Red and pink sprinkles – Check
Rice Krispie Treats hearts on a lollipop stick – Check
And there's nothing wrong with those treats, but the innovator in me wanted to make something that I (and you guys!) hadn't seen a gazillion times before.
So, these Valentines Rice Krispie Treats Candy Boxes were born…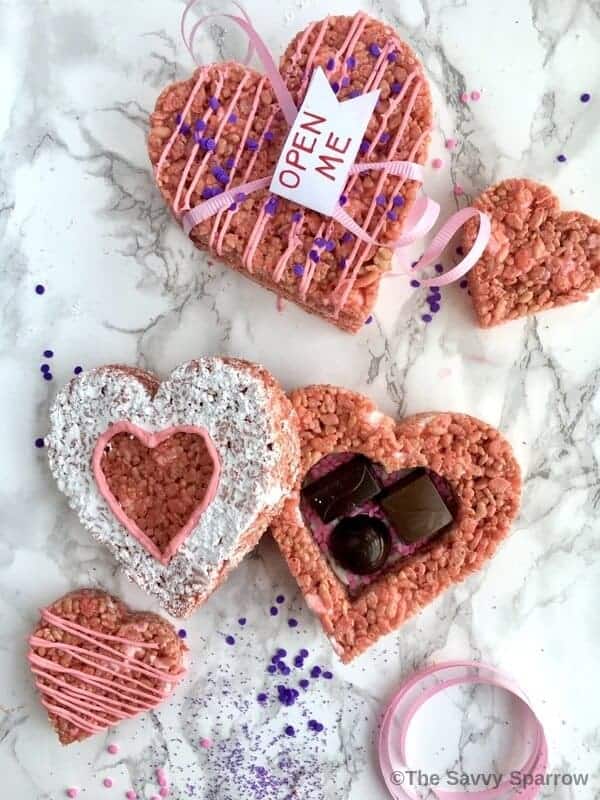 But, I can't take full credit for the Rice Krispie Treats box idea… these adorable Valentines treats were inspired by the Rice Krispie Treats present boxes from Meaningful Mama.
She filled her cute treat boxes with red and green M&Ms, and decorated them to look like a Christmas present…
Which gave me the idea to fill some heart shaped Rice Krispie treats with the quintessential Valentine's Day chocolates.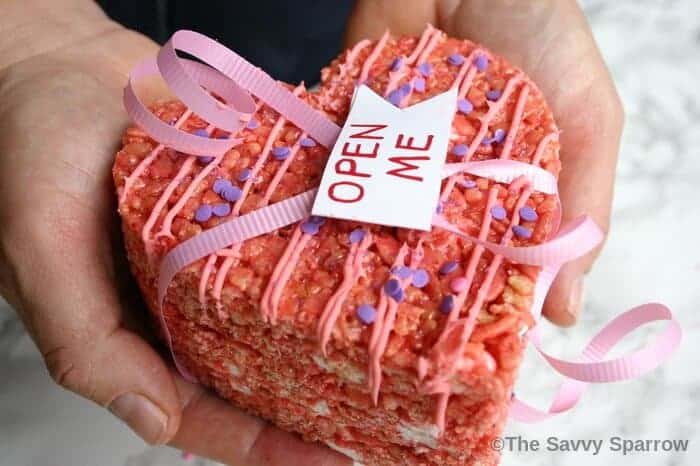 These Valentine's Rice Krispie Treats heart boxes would make such a great homemade gift for teachers, your kids, your husband, neighbors, bus driver… the list goes on and on.
*This post contains affiliate links, which means I earn a commission if you click a link and make a purchase, at no additional cost to you. Read my full disclosure here.
Here's how to make Valentines Rice Krispie Treats Heart Boxes:
Step 1: Gather your ingredients and Supplies
Here's what you need to make these cute Valentines treats:
12 oz box Rice Krispies
1 stick unsalted butter
2 10 oz. bags mini marshmallows
Red food coloring
White canned icing
Sprinkles
Valentines chocolates – I used the little heart-shaped boxes from DollarTree
Nesting heart cookie cutters (affiliate) – These are similar to the ones I used
You will also need a sheet pan to make your treats. Ours measures 11″ x 17″ and it worked perfectly.
Step 2: Make Red Colored Rice Krispie Treats
Go here for how to make colored Rice Krispie Treats. This is our go-to Rice Krispie Treats recipe, and it is AWESOME!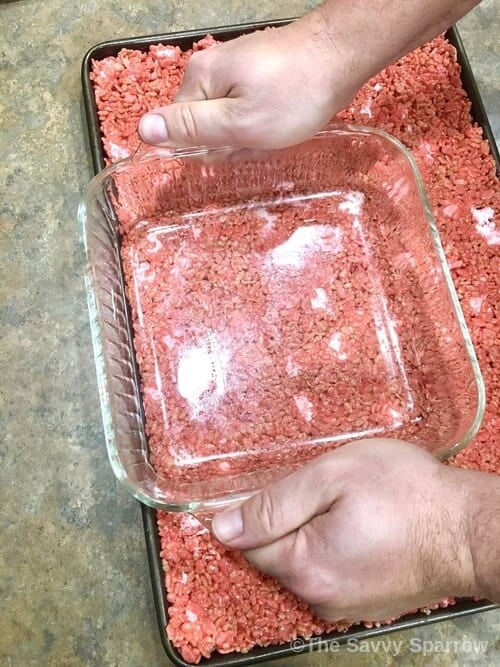 When you're pressing your treats into a sheet pan, try using the bottom of a Pyrex or another sheet pan to really pack them in to a nice and even layer.
Step 3: Let your crispy treats cool completely
Here's the hard part… Patience! You want to let your red Rice Krispie Treats cool completely before attempting to cut them into heart shapes.
We actually wrapped our pan of treats in plastic wrap and put them in the fridge overnight. Our Rice Krispie treats recipe is extra ooey-gooey so you need to let the marshmallow/butter mixture harden a bit or the treats won't stay together when you cut them.
Step 4: Use heart-shaped cookie cutters to cut out Rice Krispie Treats hearts
Here are the heart shapes that you will need… Each heart box will have 3 total Rice Krispie treats hearts: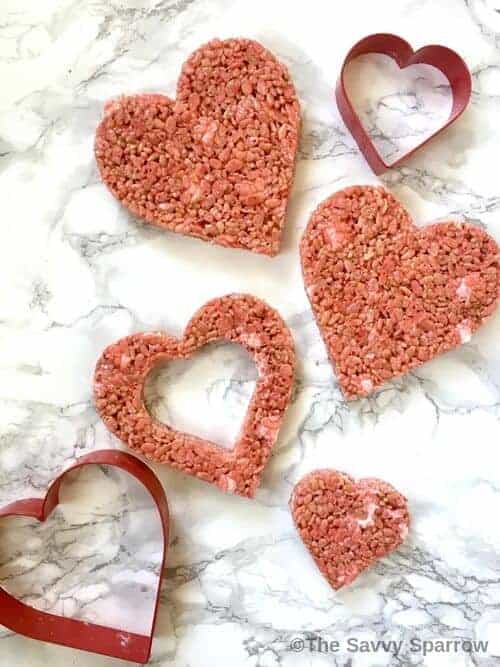 Cut out 2 large hearts that are the same size for the top and bottom of your Valentines Rice Krispie Treats heart boxes.
To create the box, cut out a 3rd large heart (the same size as the bottom and top hearts). Then, cut a smaller heart out of the middle of the larger heart. You will place your chocolates inside this middle heart when you assemble your boxes.
I was able to get enough hearts for two fully assembled boxes out of one Rice Krispie Treats recipe/sheet pan.
After you finish cutting out your hearts, you'll have quite a few crispy treats leftover. You can use smaller heart cookie cutters to cut more Valentines Rice Krispies Treats, or you can cut them into mini squares and drizzle with pink icing and sprinkles.
Step 5: Decorate and assemble your Valentines Rice Krispie Treats Heart Boxes
Here are the steps to put together your Valentines treat boxes: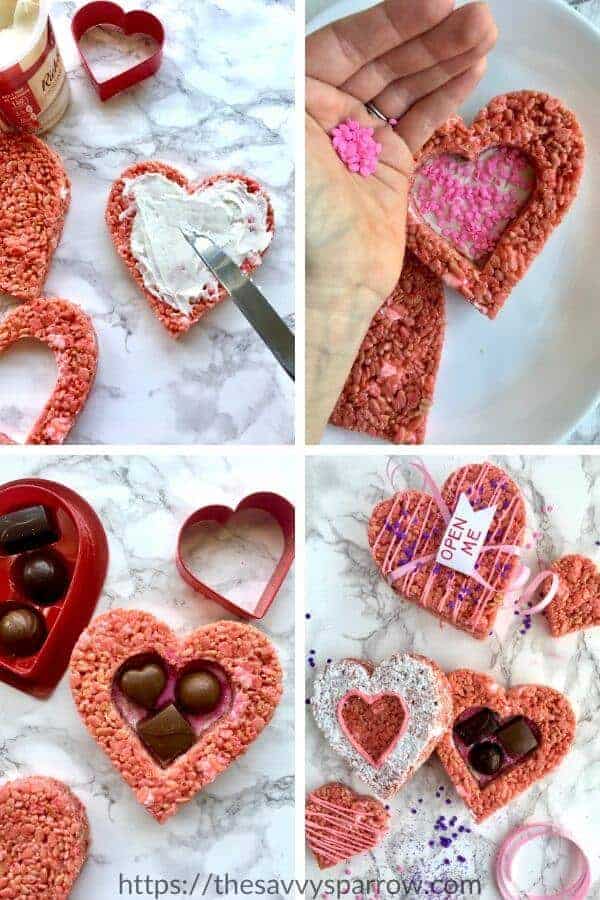 Ice the top of the bottom heart Rice Krispie Treat with canned icing. Don't spread the icing all the way to the edge because you don't want it to seep through the sides of your finished box.
Stack the middle cut-out heart on top of the bottom heart. Gently press down so that the bottom two layers stick together.
Sprinkle red, pink, or purple sprinkles into the bottom of the box to cover the white icing.
Place chocolates into the box.
Decorate the top of the top heart. This will be the lid to your heart box.
Tie box closed with ribbon and, if you want, add a cute tag that says "Open Me".
To create the powdered sugar heart box top, I simply used one of my cookie cutters to trace a heart onto a piece of paper. Then, I cut it out and placed it in the middle of my heart Rice Krispie treats. Then, sift a thin layer of powdered sugar on top of the treat, and remove the paper heart.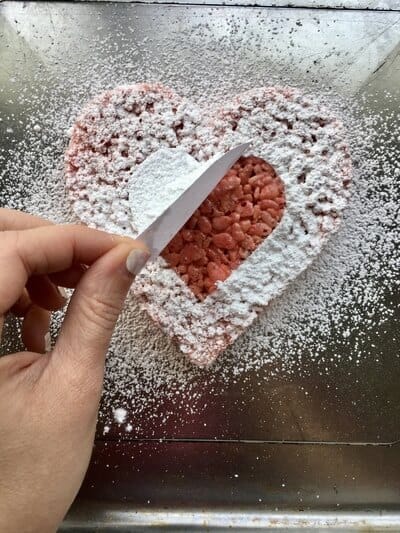 You should be left with a perfect heart shape.
Then, just mix about 1/3 of the canned icing with red food coloring to make pink icing, spoon the icing into a ziploc bag, snip the corner of the bag to make a make-shift piping bag, and outline the powdered sugar heart.
For the other heart box top, I just took the remaining pink icing and drizzled it in a diagonal pattern, and then sprinkled on some festive purple sprinkles.
Be sure to let your icing dry completely before you try to add ribbon and a gift tag to your treat box.
Then resist the urge to gobble up these adorable Valentines treats by yourself!
If you LOVE these Valentines Rice Krispie Treats, then be sure to check out these other genius ideas for how to use Rice Krispie Treats, including how to make Rice Krispie Treats shapes WITHOUT cookie cutters:
Bunny Rice Krispie Treats without Cookie Cutters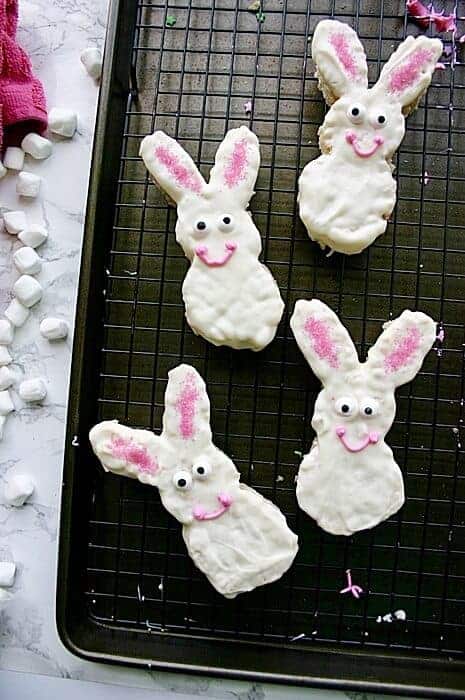 Rice Krispie Treats Christmas Tree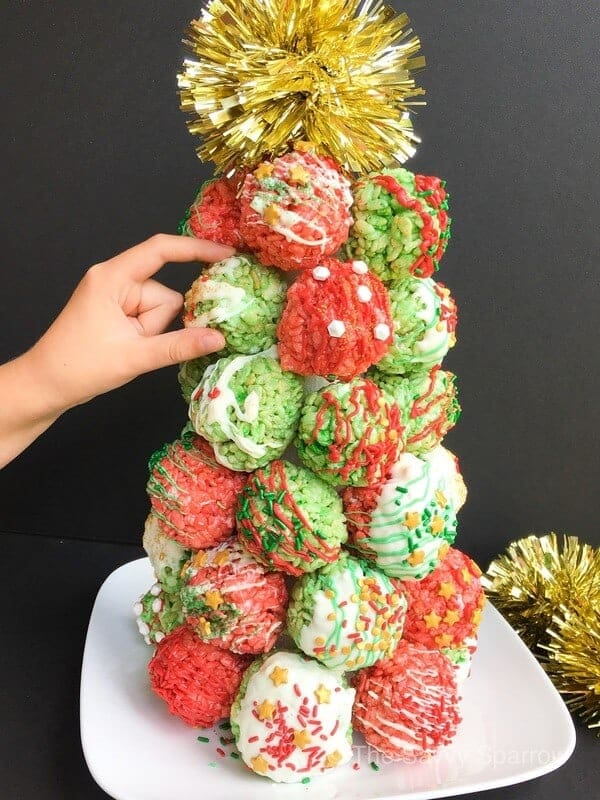 And don't forget to PIN this easy DIY Valentines treats idea for later! Trust me, you'll want to hold on to our Rice Krispie Treats recipe!