Allowance trackers for kids allow you to easily "give" your kids allowances without you needing to run to the bank to get cash! If you never have cash in your wallet, but you still want to reward kids for doing chores, or give them their own allowance so that they can learn to manage their own money, then allowance trackers are perfect for you!
All it took was one time of walking into my seven year old's room to find her throwing around dollar bills like a middle-aged man at a strip club to realize that a cash allowance system was NOT a good idea.
The allowance itself was a GREAT idea, because it continues to teach my kids that they need to work for the things that they want in life.
But, $100+ of actual cash money stowed away in my 7 year old's room… NOT a great idea.
So, as any concerned Mama would do… I asked Google for the answers to my problems…
How could I reinforce positive behaviors in my kids and start to teach them about the real world "quid pro quo" (this for that), without worrying about them carrying around a wad the size of a corner dealer's?
But that search query was a tad too long, so…
How to give kids allowance without cash?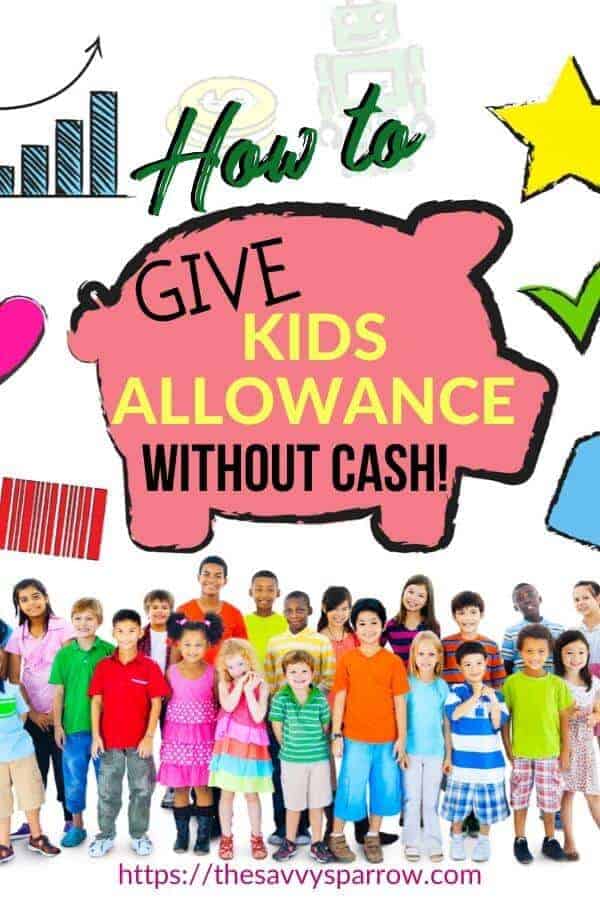 Surprisingly enough, Google didn't offer much help.
So I had to use some trial and error… but don't worry, I'm sharing my findings with you!
Here are the best ways to give kids allowance without cash…
With Allowance Trackers!
*This post contains affiliate links, which means I earn a commission if you click a link and make a purchase, at no additional cost to you. Read my full disclosure here.
What is an Allowance Tracker?
In a nutshell, allowance trackers are a way to keep track of your kids' allowance, without any cash money changing hands.
An allowance tracker can be in the form of a printable spreadsheet, a ledger-style book, an allowance tracker app, or even a debit card linked to your bank account.
Allowance trackers are perfect for you if: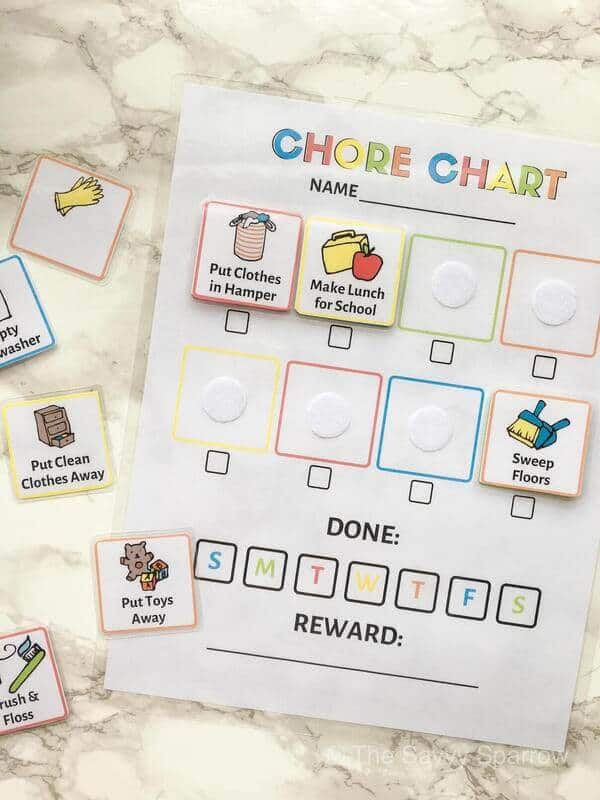 You want to teach kids about the "real world" – Start instilling a good work ethic now by paying them for the work they do.
You want to easily give your kids "bonuses" for going above and beyond.
You never have cash.
Your kids are too young to be responsible for a large amount of cash.
You want an easy system to keep up with how much allowance your kids are owed, and to deduct money from their allowance when they want to buy something.
A Few Kids' Allowance Tips
Before I jump into the best ways to keep track of kids' allowances, let me give you a few tips to help you set up a great, sustainable chore-based allowance system with your kids…
You'll notice that I structure my chore-based allowance system very similar to a "real world" job. My parents did a great job of instilling in me a sense of work ethic, and I want to do the same for my kids.
I actually worked an entire summer at our family's business when I was 13 years old to save up $1,300 to buy myself new bedroom furniture. And even though my kids are just 10 and 7, they already understand that they have to earn the things that they want.
My oldest daughter is currently saving her allowance money for a pair of AirPods… And I guarantee that she'll take better care of those AirPods because she used her hard earned money to buy them.
By the way… if you want a GREAT printable chore chart for kids, check out this post!
Here are some tips for setting up a great chore-based allowance system that will keep your kids motivated:
Tip 1. Establish a Pay Rate
This is probably the #1 thing that employees want to know when they're considering a new job… How much money will I make?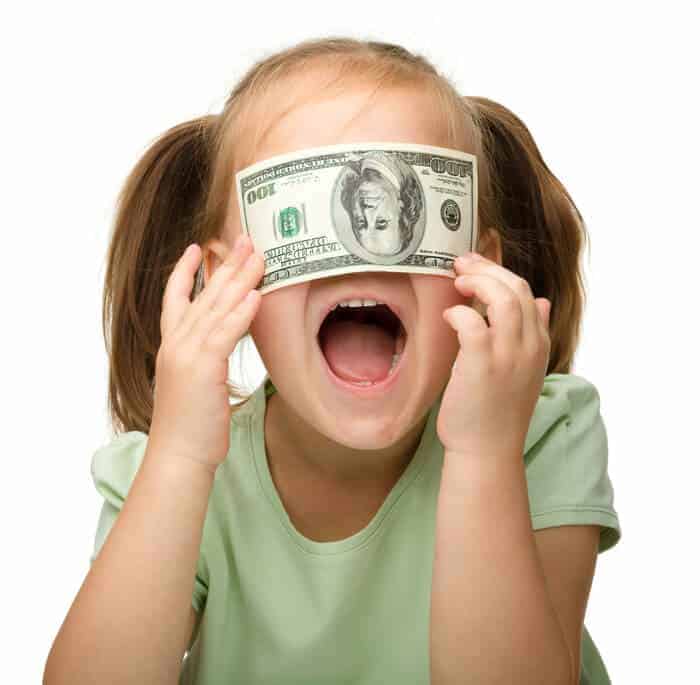 Let your kids know right off the bat, how much money they can expect to earn for doing their jobs well, and then consistently reward them with that amount of money. No IOU's because you "forgot" or don't have enough cash.
Tip 2. Set Up a Pay Day
Let your kids know when they will receive their allowance each week. Much like the "real world", establish a pay day (whether it be weekly, bi-weekly, or monthly) and be sure to give your kids their allowances on that schedule.
Tip 3. Communicate a Job Description and Expectations
When setting up your allowance system, be sure that your kids know what they have to do in order to earn their allowances. Let them know your expectations for different chores… for instance, what a clean room actually looks like, or how you want them to make their beds.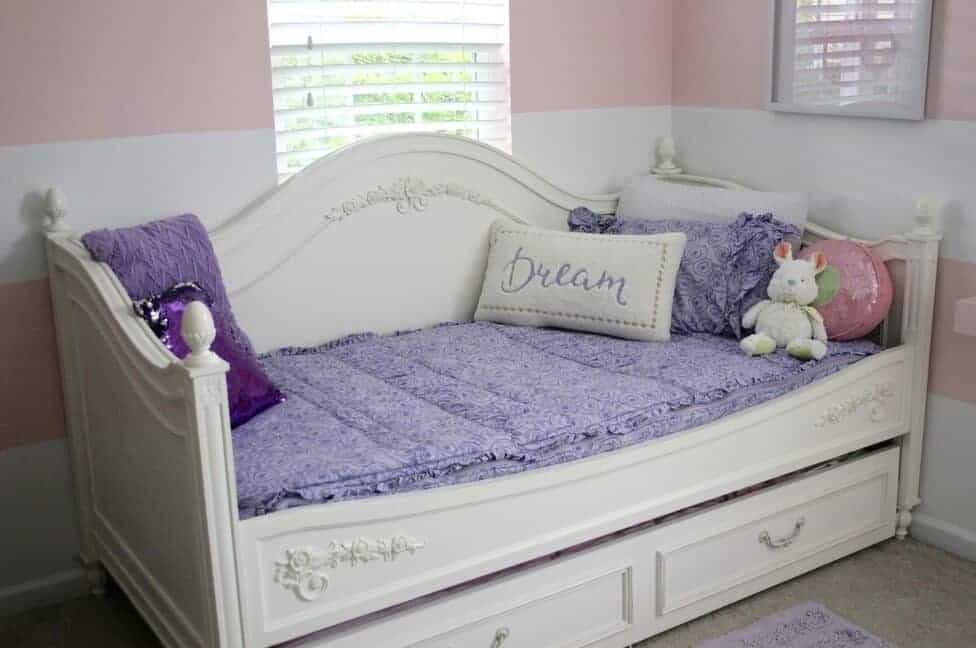 *Side Note – My 7 year old daughter uses this bedding to make her bed perfectly by herself every morning… it's legit my favorite thing in her room!
Be sure that they understand what jobs need to be done, and how those jobs need to be done, in order for them to be rewarded with an allowance.
Tip 4. Perform Mini Evaluations
Periodically check behind your kids to be sure that they have done their jobs well. Let them know how they can improve for next time.
Tip 5. Give Bonuses
When you notice your kids going above and beyond, reward them with a bonus.
That's where allowance trackers comes in handy… You can easily give your kids a "bonus" of a few dollars, even if you don't have cash in your wallet.
In the past, I've given my girls $1 or $2 bonuses for going the extra mile and doing things around the house that I didn't even ask them to do. My oldest surprised me by washing a sink full of dishes one day, something that I have NEVER put on her chore chart before, so I added an extra $2 to her allowance tracker.
4 Awesome Allowance Trackers
Rooster Money App
This app is one of my absolute FAVORITE ways to keep track of kids' allowances… and it's what I currently use to keep track of my own kids' "bank balances".
By the way… Rooster Money isn't paying me to say nice things about them… I just genuinely LOVE this Allowance Tracker app!
Here are some of my favorite features of the Rooster Money app:
It keeps a running balance of kids' allowances without me having to have cash.
I can easily add money they receive for their birthdays and Christmas to their balance.
It's NOT attached to my bank account.
I don't have to worry about my kids losing a debit card or cash.
The app is FREE! (They also have a paid version with extra features – but I use the free one!)
I can set up recurring debits and credits to be automatically added or subtracted from their balance.
Here's how you can use the Rooster Money app to make managing your kids' money easier…
Set up a recurring "deposit" into your child's Rooster Money account. Don't worry, no money is actually leaving your bank account here: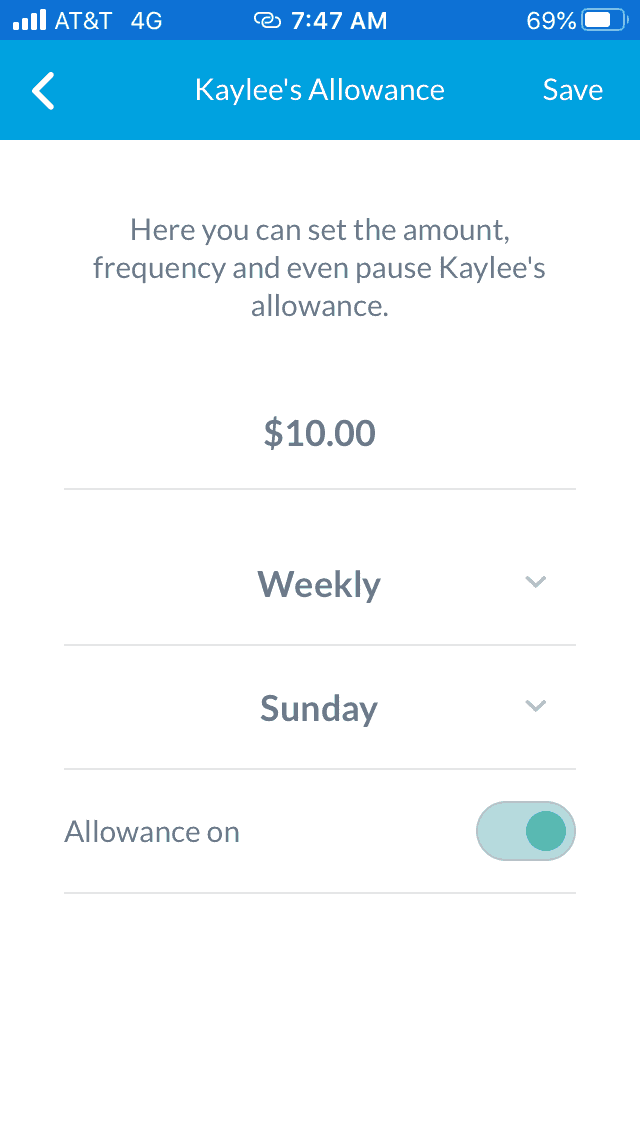 Subtract money out when your kids want something that you would not normally buy them. For instance, I buy my girls school supplies, toiletries, new clothes twice a year, etc. But, if we're making a Target run and they see a new phone case that they want, they can buy it with their own money.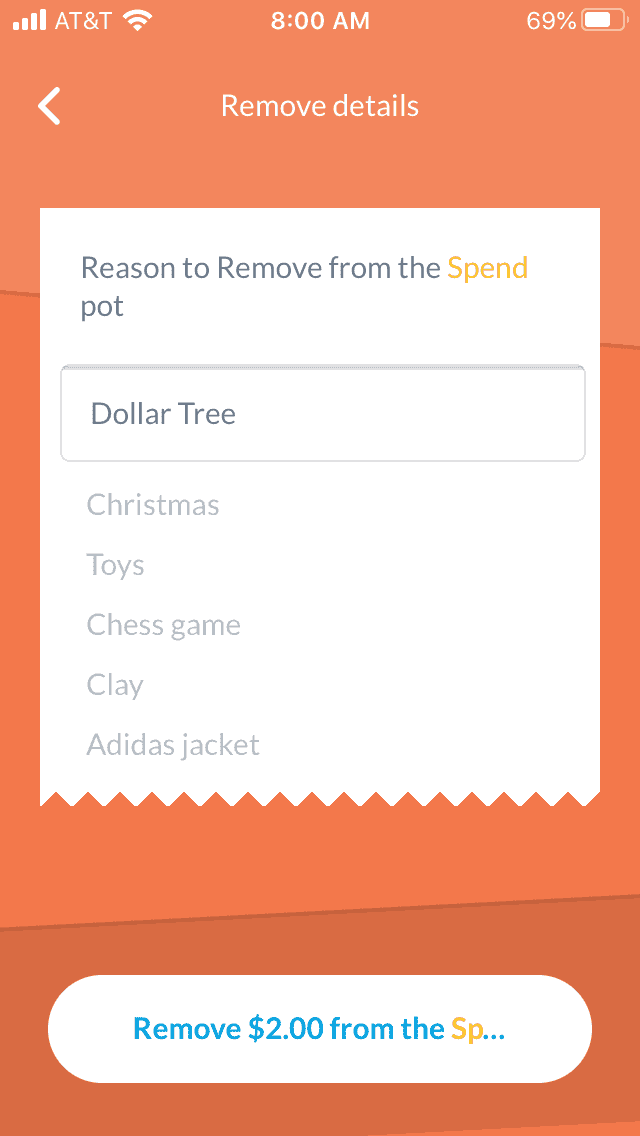 Keep a running total of your kids' "balance", and have a record of money that your kids receive and how they choose to use their money.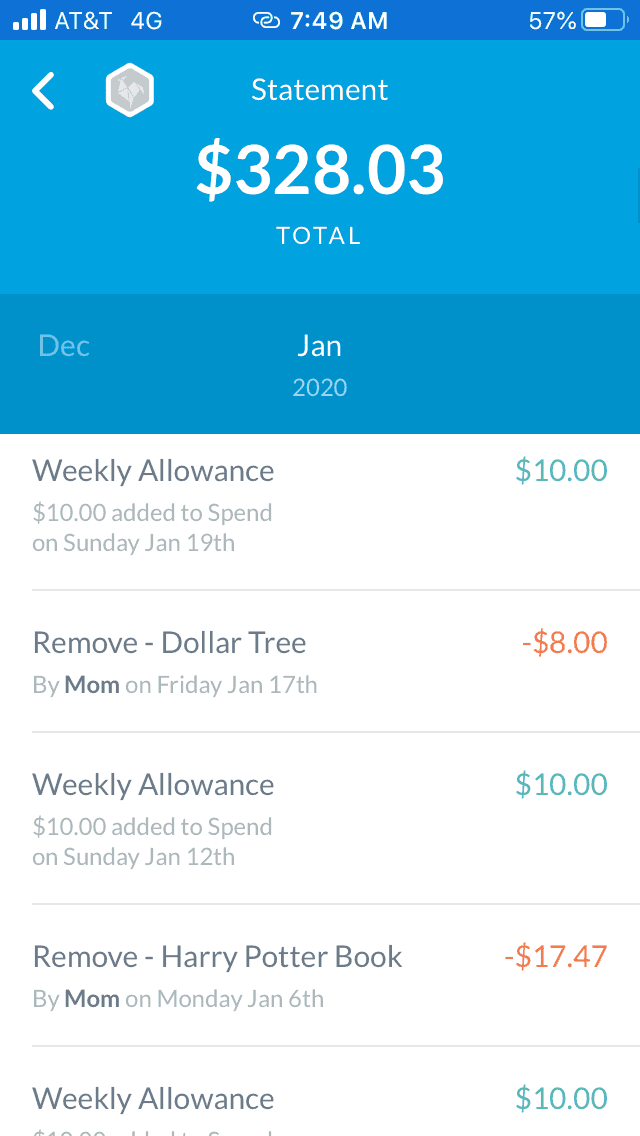 Allowance Tracker Books
If you're a pen and paper kinda gal, then you may like an actual physical allowance tracker book.
You can purchase Money Tracker notebooks (affiliate) on Amazon, or you can buy a general ledger like this one (affiliate), and set it up with categories like Date, Chore, Money Earned, Money Spent, etc. to track your child's allowance, birthday money, etc.
Allowance Trackers Printable Sheets
If you just want one sheet of paper that you can hang on your fridge to keep track of kids' allowances, then printable Allowance Trackers are a great choice for you.
I've even made one for you to make keeping track of kids' money super easy! Just print it out and stick it to your family command center (or next to your kids' chore charts).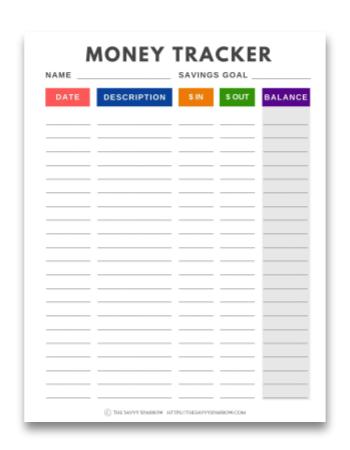 Want to grab my printable Money Tracker for Kids for FREE?!
Just CLICK HERE to subscribe to my FREE Email Newsletter, and I'll send you the password to my FREEBIES library as a gift!
If you have older kids (about 12-16 years old), then I HIGHLY recommend prepaid cards for kids!
You can use reloadable prepaid cards as Allowance Trackers and easily transfer money from your bank account to your child's card.
I got a debit card that was attached to my own bank account when I turned 13 years old, and it was the BEST birthday present that my parents could have given me, because it taught me early on how to properly manage my money.
If you're not quite ready to set up a bank account for your kiddos yet, then FamZoo prepaid cards are a GREAT option!
How to use FamZoo to track kids' money:
Sign up HERE… you get a FREE 30 day trial, and after that it's as low as $2.50 per month!
Order one or more cards for each family member.
Load your Parent Funding Card by transferring money from your bank account.
Once YOUR Parent Card is loaded, you can easily transfer money to and from your Kids' Cards. Transfer money TO their cards for allowances, chore rewards, birthday money, etc. And transfer money FROM their cards back to YOUR Parent Card for shared family expenses, like their portion of the cell phone bill.
Your kids get to spend money on their cards just like a debit card… But, there's NO RISK of incurring debt, or paying late fees or overdraft charges.
Keep track of all FamZoo card balances on their award-winning software or app!
You can GO HERE to find out more about how FamZoo works!
And there you have it! Some awesome ways to use allowance trackers to track your kids' money!
Which allowance tracker was your favorite?! Or, do you have a completely different method to keep track of your kids' allowances? Leave me a comment below!
And don't forget to PIN this post!