If you're looking for the perfect printable girls Valentine cards for older girls, then these hair ties Valentines are for you! Download the printable Valentines for girls, tape on a cute hair tie or hair band, and you've got easy DIY Valentines cards that your tween daughter won't be embarrassed to give to her friends!
It seems like schools these days are really cracking down on what types of treats kids can bring to share. Not even holidays or birthdays are exempt from the new nutrition standards.
Try telling a kid that they have to bring granola bars instead of cupcakes to school for their birthdays.
And some schools have even gone as far as to cut out snacks and treats brought from home altogether.
Which really stinks when it comes to Valentines Day!
So many of the non-candy Valentines that you see in the stores are, well, just plain old junk with little plastic toys that will just end up in the trash in a day or two.
So when I was shopping at Target recently and found a 6 pack of cute hair ties, I immediately thought to turn them into DIY Valentines for girls!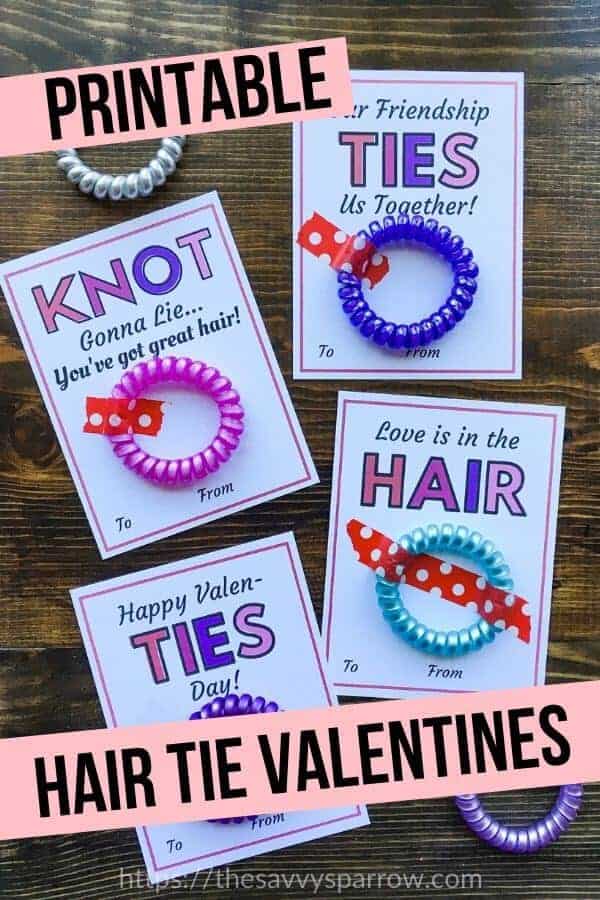 *This post contains affiliate links, which means if you click a link and make a purchase, I earn a commission, at no additional cost to you. Read my full disclosure here.
How to Make Hair Ties Valentines
Step 1: Print out the Valentines Cards for girls
Click HERE to purchase the Valentines cards for girls! Once you download the file, it's yours to keep so you can use it for multiple kids or year after year.
Then print the Valentines on white or pastel-colored card stock. I used 65 lb bright white card stock (affiliate), and it went through my home printer just fine. Plus, it is a great weight for this project!
Step 2: Cut the Valentines out using a paper cutter or scissors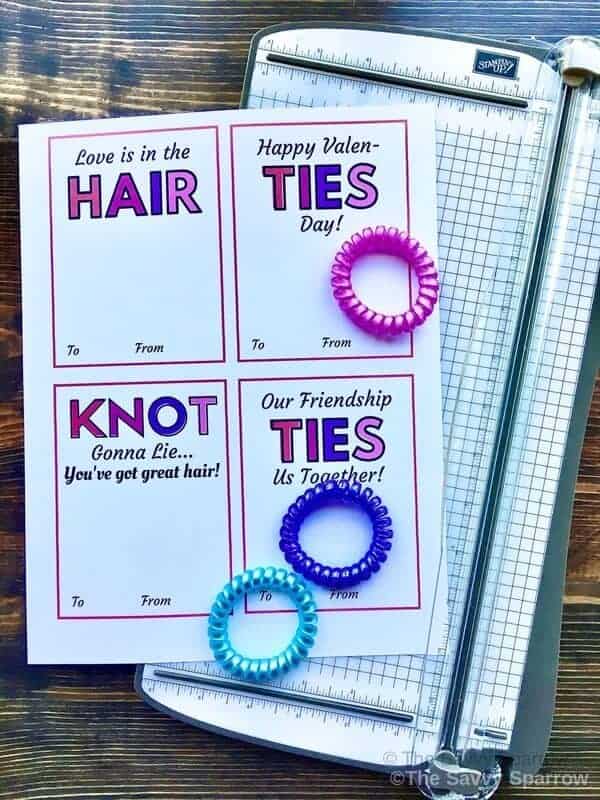 I used my handy paper trimmer, which made these printable girls Valentine cards super easy to make! You can get a similar paper cutter here.
Or, just use scissors to cut out the Valentines.
Step 3: Tape hair ties to the printable girls Valentine cards
My coil hair ties are from Target… I found them in the party favor section and they were $3.00 for a pack of 6. You can find similar coil hair ties HERE!
Or, if you're feeling seriously crafty (and ambitious!), then you can make your own hair ties for your Valentines. Go here for a great tutorial on how to make trendy elastic hair ties.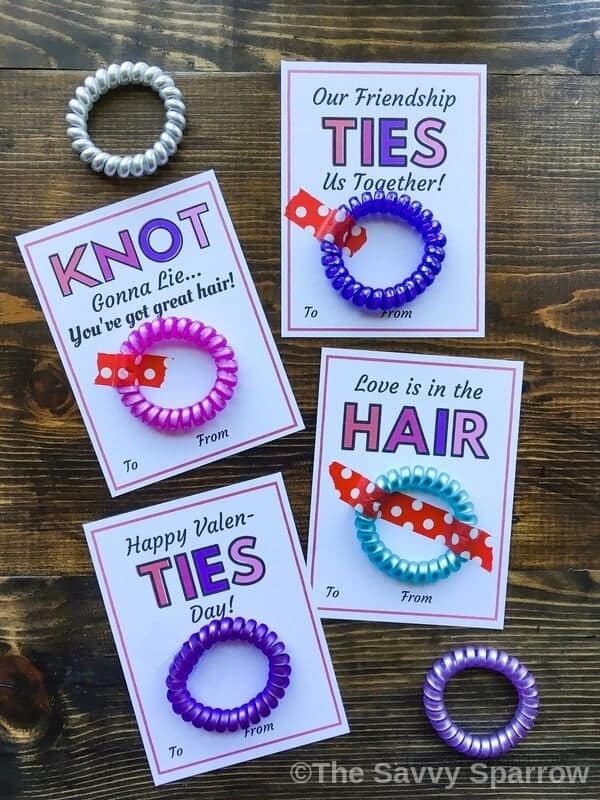 You can use washi tape or regular tape to tape the coil hair ties to the cards. Or, you could also use hair scrunchies, which are making a MAJOR comeback right now! (Should have saved all of mine from the 80s!).
Step 4: Fill out the DIY Valentines for Girls!
Just fill in the "To" and "From" sections with a cute colored pen, and your child will be ready to pass out these cute DIY Valentines!
Want even more ideas for Valentines Day? Go HERE for 20+ non-candy DIY Valentines!
And then check out these awesome Rice Krispie Treats Heart Boxes filled with Chocolates! These adorable homemade Valentines treats would be perfect for teacher gifts!