If you've found yourself standing in the pen aisle scouring over the 1,148 different pens for planners, then I'm here to help! I tried a TON of different planner pens for my Happy Planner, and I can confidently say that these are the BEST planner pens!
I LOVE my Happy Planner!
And I know so many of you guys LOVE your planners, too… because you LOVE this post on 75+ Things to Keep Track of in Your Planner.
I just recently jumped on the Happy Planner bandwagon when I was looking for a new planner to keep track of my spending. By the way, if you haven't seen my method for tracking finances in a weekly planner in just 5 minutes a day, then you NEED to check it out!
I stumbled upon the Happy Planner, and I was hooked.
Standing in front of the rows and rows of cute stickers, washi tape, paper packs, and embellishments, I felt like a kid in a candy store. And I totally get the hype now!
And of course a bright and colorful planner needs some awesome pens, so I immediately set off on a journey to find the best pens for planners… and where did I find myself…
Standing in the pen aisle at Michael's for about an hour, wondering which way was up! They have a bajillion different pen options, so how did I know which ones to buy?
Well… I didn't…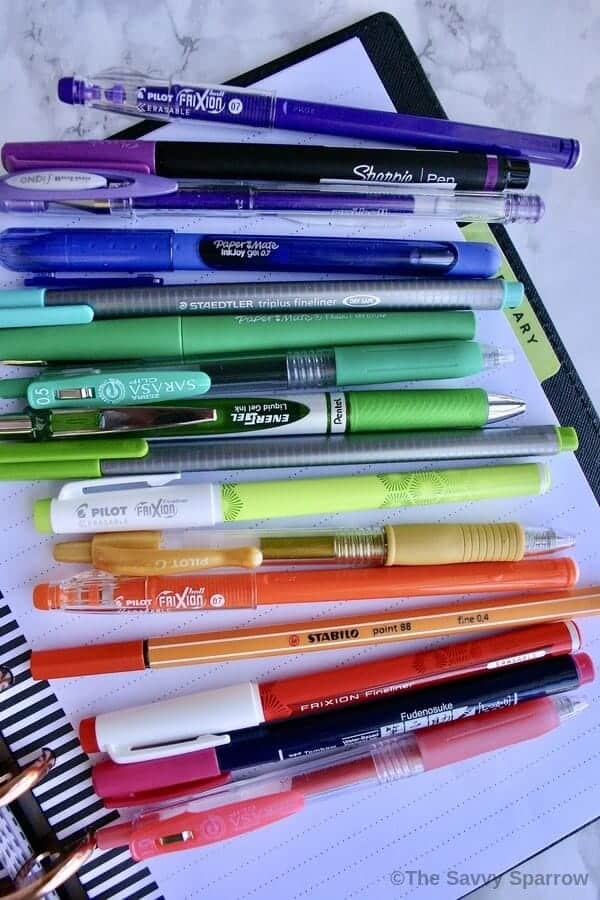 So I bought one of each! Yup, I tried 12 different pens including:
Paper Mate Flair Felt Tip
Pilot Frixion ColorSticks
Uniball Signo Gel Stick
Zebra Sarasa Gel Ink Pen – 0.5mm
Zebra Sarasa Gel Ink Pen – 1.0mm
Sharpie Pen
Paper Mate Ink Joy Gel 0.7mm
Stabilo Point 88
Staedtler Triplus Fineliners
Pilot G2 Gel Ink Pens
Pentel Energel Liquid Gel Ink 0.7mm
Pilot Frixion Fineliners
All in the name of research, right?!
And I'm sharing all of my findings with you guys, because I know that you've wondered what pens will bleed, what pens will smear, and what pens are just plain crap!
*This post contains affiliate links, which means if you click a link and make a purchase, I earn a commission at no additional cost to you. Read my full disclosure here.
But first…
What are the Qualities of The Best Planner Pens
When I was testing each pen, I was using the following "rubric" to grade them and determine which ones were worthy of the title "Best Planner Pens":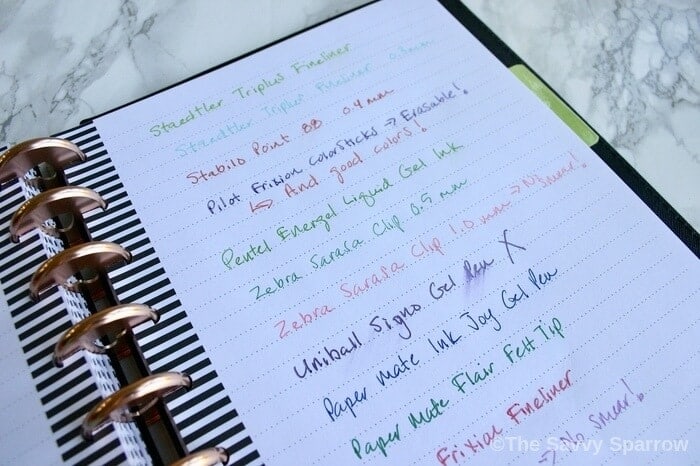 No Bleed Through
This was the most important factor for me when trying to find the best planner pens. I want my pens to NOT show through from the back of the page AT ALL.
I don't want to be looking at next week in my planner and be distracted by the faint wording visible from the previous week.
And, it's important to note that I tested these planner pens on Happy Planner refill paper, which is thicker than most planner paper. So, if the pens showed through on the pages in my Happy Planner, then they didn't stand a chance with regular planners.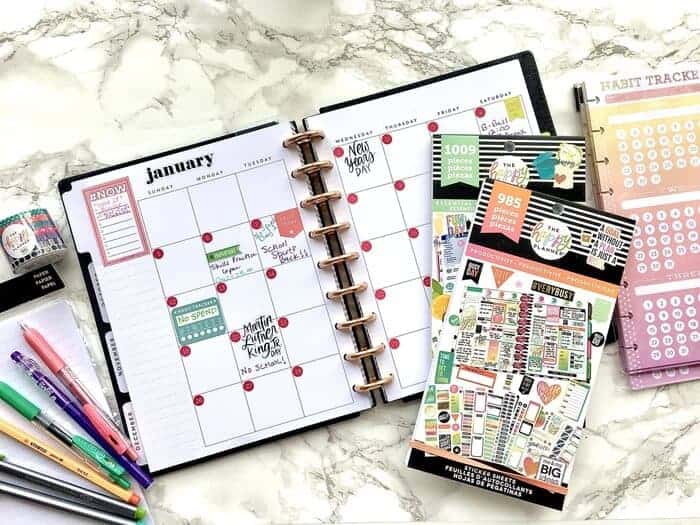 Not familiar with the Happy Planner? Check out this post on The Happy Planner: Everything Beginners Need to Know!
No Streaking and Smudging
I performed "smearing" tests on all of these pens by running my fingertip across the ink immediately after I wrote something. Many of the pens that I tested, especially the gel pens, smeared horribly!
Some of them required a few seconds of drying time, but when I'm writing my hands sometimes brush up against the paper, so I still ended up with ink smudges.
The best pens for planners dried instantly, so I didn't have to worry about accidentally smearing ink all over my planner pages.
Bright and True Colors
I personally want my planner pens to have bold and vibrant colors so that the ink shows up well in my planner, and all of my top pen picks deliver!
However, you will notice that some of the inks seem darker than others… Keep in mind that a thicker tip pen (0.7mm or 1.0mm) will appear darker on the page than a super fine tip pen (0.3mm or 0.4mm).
Still, I prefer to use the super fine tip pens in my Happy Planner because sometimes I need to write very small to fit everything on the page.
Ultimately, your choice for best planner pens will probably come down to your preference for either a medium or fine tip pen.
Well-made and Durable
My favorite planner pens feel well-made and sturdy rather than like some cheap plastic pen that you get for free at a bank or motel.
But, even though I don't want my pens to feel cheap, I want them to be cheap, so I also looked for pens that were…
Inexpensive
All of the pens that made my list of the absolute best pens for planners are inexpensive. I don't want to spend $3 per pen when I can get an entire 12 pack for less than $12.
So, here goes…
I tried 12 different pens and these are…
The Best Pens for Planners
Staedtler Triplus Fineliner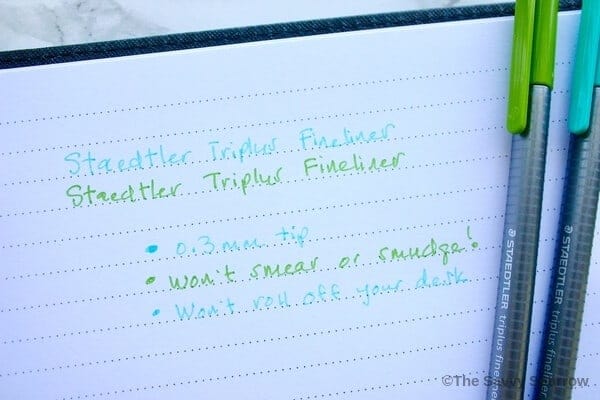 My ABSOLUTE FAVORITE planner pens!
Out of ALL 12 of the planner pens that I tried, these are the ones that I reach for again and again!
I have really not cute handwriting (as you can tell from the photos), so I like a finer tipped pen that doesn't accentuate the ugliness of my chicken scratch. Plus, my lined Happy Planner pages have really thin lines, so a thicker point pen just doesn't work well.
The Staedtler Triplus Fineliner (affiliate) pens have a 0.3mm tip, which makes them some of the best planner pens, especially if you like a fine tip pen!
They write nice and smooth, come in a TON of cute colors, and the pens themselves are cute, too! If a pen can be cute. 🙂
And they have a triangular-shaped barrel that's comfortable for writing a lot… perfect for Moms that have a jam-packed planner!
Features of the Staedtler Triplus Fineliner pens:
Dry Safe – according to the manufacturer, these pens can be left uncapped for days without drying out (though I haven't tested that!)
Water-based ink that washes out of many fabrics
Available in 60 different colors
Approximately 0.3 mm line width – This is super FINE… if you prefer a thicker tip pen, then this one is NOT for you!
Triangular shape for easy writing
And one of the best things about the Staedtler Triplus Fineliner pens… They are super AFFORDABLE! You can get a pack of 20 different colors for a great price HERE! (affiliate)
Stabilo Point 88 Fineliner Pens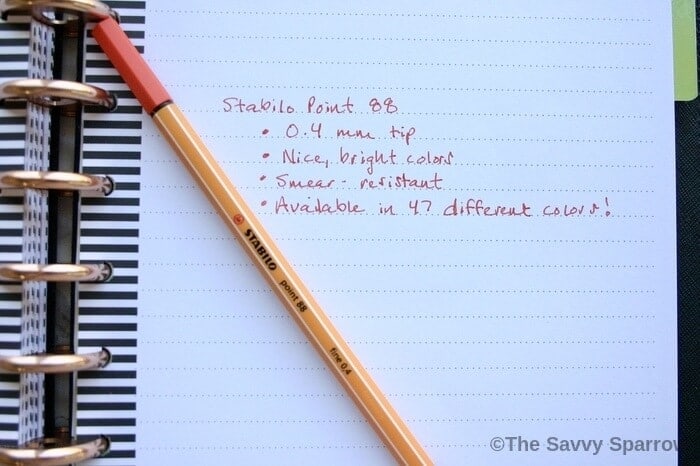 If the Staedtler pens are the best pens for planners, then the Stabilo Point 88 Fineliner pens (affiliate) are a close second. A REALLY close second!
The writing quality is very similar to the Staedtler pens, but I'm ranking them second because of… well, a superficial reason!
I'm not a fan of the orange-y color of the barrel.
Hey, if my planner is cute then I want my pens to be cute, too!
Other than that (which is just my personal preference!), the Stabilo Point 88 Fineliner pens are GREAT pens, too! Especially if you're looking for a pen that is just a tad thicker than the Staedtler Triplus Fineliner.
And the Stabilo pens are also a GREAT price! Get a pack of 30 different colors HERE! (affiliate)
Features of the Stabilo Point 88 Fineliner pens:
47 different colors available
0.4mm line width
Metal enclosed tip for durability
Pilot Frixion Color Sticks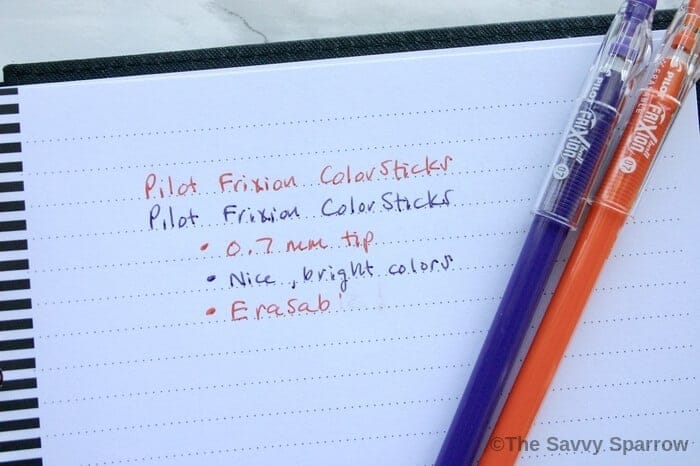 These planner pens are…
ERASABLE!
And that's the main reason why they made my list of the best pens for planners!
If you remember the erasable pens that you used in high school, that only came in black, red, and blue, and left behind a faint pen mark after you tried to erase a mistake… these are nothing like that!
The Pilot Frixion Color Sticks (affiliate) come in a variety of nice and bright colors. And when you need to erase something, you can make it disappear for good!
I especially LOVE how the eraser is built right into the pen cap, and it's the same color as the pen so you barely notice it. These pens are also lightweight and comfortable to write with!
Go HERE to check out the Pilot Frixion Colorsticks! (affiliate)
Features of the Pilot Frixion Colorsticks:
Available in 16 different colors – The only down-side is that they don't come in more colors!
Steam-lined, roll-free design without a clip
0.7mm tip
Erasable gel ink
Erasing won't damage your paper!
Zebra Sarasa Clip Pens – 0.5 mm or 1.0 mm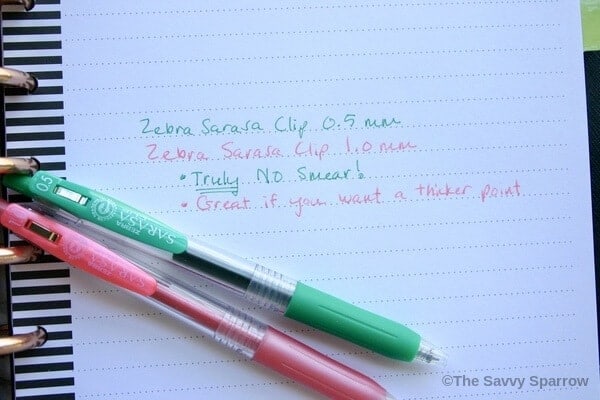 I tried the Zebra Sarasa Clip Pens (affiliate) in two different tip sizes, 0.5 mm and 1.0 mm. Both were FANTASTIC! They both wrote smooth and the inks were bright and bold.
I personally preferred the smaller 0.5 mm point, but the 1.0 mm would also be a great choice if your planner is wide ruled.
And the best thing about the Zebra Sarasa pens… 100% smudge-proof no matter how hard I rubbed!
Features of the Zebra Sarasa Clip Pens:
Smooth, non-smearing, fast-drying gel ink
Available in 20 different colors
Truly NO SMEAR – the best one I tried!
Available in a wide variety of tip sizes including 0.3, 0.4, 0.5, 0.7, and 1.0 mm
Planner Pens to Avoid
Some of these may be unpopular choices to put in the category of planner pens to avoid…. but based on my tests of 12 different pens (including gel pens, ball point pens, felt tip pens, AND marker pens), these are the planner pens that I DO NOT recommend:
Papermate Flair Felt Tip Pens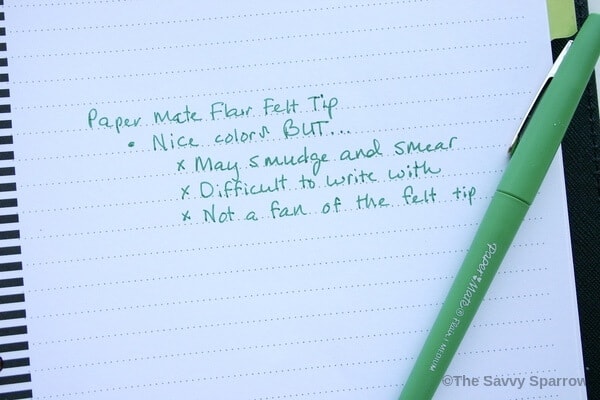 Okay… cue the mean comments… "But, Amy, how can you NOT like the Paper Mate Flair pens?"…
The Paper Mate Flair Felt Tip Pens (affiliate) are a super popular choice for planner pens, and I know that many people recommend them… but I SERIOUSLY DISLIKED THEM!
The thing that I CAN APPRECIATE about the Paper Mate Flair pens, though, is the bold and vibrant ink. The color stands out on the paper, more so than the finer tipped planner pens.
BUT…
I hate the felt tip – To me, the felt tip doesn't seem near as durable as the metal tipped pens in my #1 and #2 spots. PLUS, it's almost like the felt tip kept sticking to the paper making it difficult to write… almost like you really had to put some muscle behind your writing… or like the pen was getting hung up on the paper.
Uniball Signo Gel Pens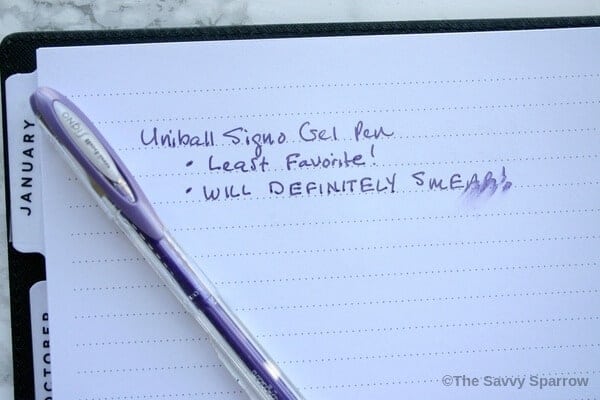 I know the Uniball Signo gel pens are another popular choice for planners, but the only two words that I can think of to describe these pens are SMEAR and SMUDGE!
Even after letting these gel pens dry for a whole minute, they still didn't pass my "smear test". In fact, out of the 12 different pens that I tried, the Uniball Signo Gel Pens smeared the WORST!
Pilot G2 Premium Gel Roller Pens
Okay, even though I didn't personally like these gel pens, they get AWESOME reviews online. You can check the Pilot G2 pens out here (affiliate) for yourself… but I found them to be VERY prone to smudging, even though the ink color was nice and bright.
Pilot Frixion Fineliners
Okay, I know that I sing the praises of the Pilot Frixion ColorSticks above, but their sister the Fineliner is more like the red-headed stepchild.
The ink is much more similar to a marker than a pen, and it rubbed right off with my finger immediately after I wrote something. Do yourself a favor and stick with the ColorSticks if you want an erasable pen option!
Paper Mate Ink Joy Gel 0.7mm
I really thought that I would like this pen, because it has a metal tip but it's still made by Paper Mate (remember I LOVE the bold colors of the Paper Mate Flair pens, but I wasn't crazy about the felt tip).
And, while the color of this Ink Joy Gel pen was nice and bold, the ink was NOT smear-proof.
So, to wrap it all up…
The Best Planner Pens are Based On Tip Preference
If you're looking for the best pens for planners, then you first need to decide if you like a medium or fine tip pen. Remember a medium tip will give a bolder color, but a fine tip is better for writing in small spaces.
If you like a fine tip pen, then try:
Staedtler Triplus Fineliners – 0.3 mm
Stabilo Point 88 – 0.4 mm
Zebra Sarasa Gel Ink Pen – 0.5 mm
If you like a medium tip pen, then try:
Pilot Frixion ColorSticks – 0.7 mm (and ERASABLE!)
Zebra Sarasa Gel Ink Pen – 0.7 mm or 1.0 mm
I really hope that this post helps you to get past the overwhelm of SO MANY choices of planner pens!
And once you've got your new pens, be sure to check out this post on 75+ Things to Keep Track of in Your Planner to put your new pens to good use!
And, if you want to organize your planner or binder, check out this post: DIY Binder Dividers with Free Printable Divider Tabs Template!
Don't forget to PIN this post for later… you know, when you're standing in the middle of Staples wondering what pens to buy…