Color coding your planner, but have no idea where to start? Read this easy guide for how to color code your planner with planner categories! Plus, get a free printable color coding key to get you started on your planner organization journey!
You've got a new planner, cute planner accessories, and enough washi tape to stretch from New York to California. But, how are you going to organize your planner so that you can easily find everything that you need and keep your hectic life on track?
If your planner is anything like mine, then it's probably stuffed full with important details about your kids' basketball games, the amount of your last paycheck, the date of your next dentist appointment, and ideas for your latest work project. (Or one of these other 75+ things to track in your planner.)
And with so much information packed into one book, it's important to have a good organization system so that nothing gets lost.
Color coding is a great (and colorful!) way to organize your planner into planner categories AND make it pretty at the same time! Win-win!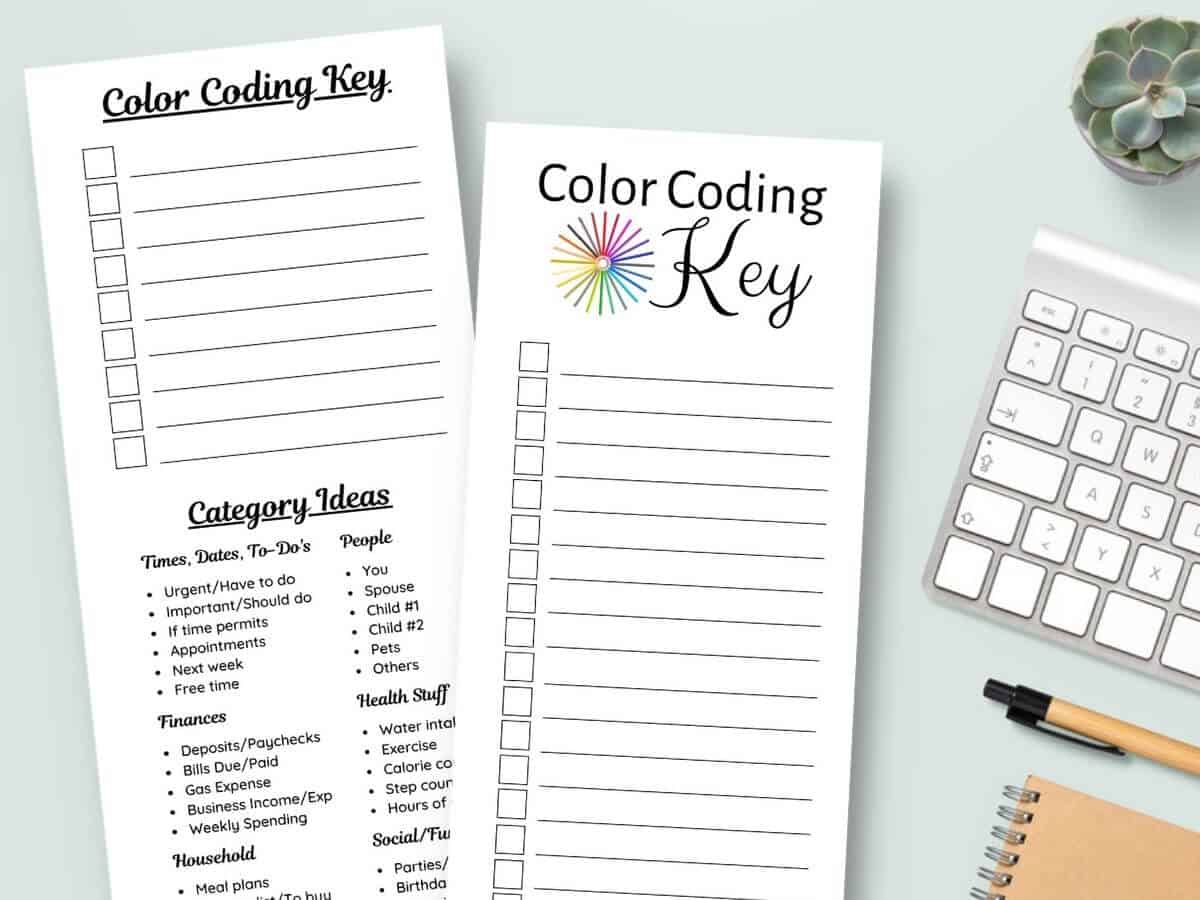 *This post contains affiliate links, which means if you click a link and make a purchase, I earn a commission at no additional cost to you. Read my full disclosure here.
Here are some easy tips for how to color code your planner with planner categories:
Step 1: Write down a list of WHAT you are tracking in your planner.
In order to set up a GREAT color coding organization system for your planner, you first need to know HOW you use your planner.
First you need to make a list of WHAT you will track in your planner…
Go HERE for a list of 75+ Things to Track in Your Planner to get ideas!
Do you keep track of kids' school events? Doctors appointments? The amount of money you spend each week? Fun stuff like shows to add to your Netflix Watchlist or quotes that you love?
Figure out HOW you want to use your planner and write down planner ideas for organization that will work for YOU.
If you have a TON of different things that you need to keep track of in your planner, then consider setting up different planners according to their functions.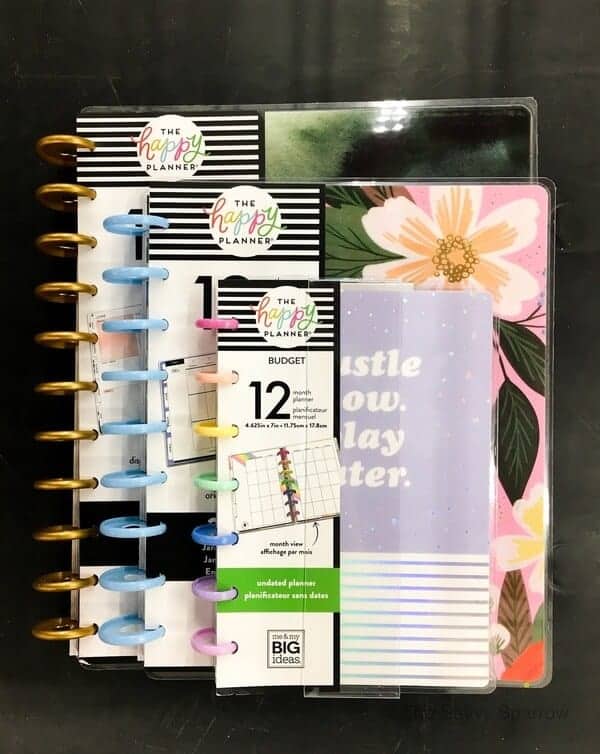 You can set up separate planners like these: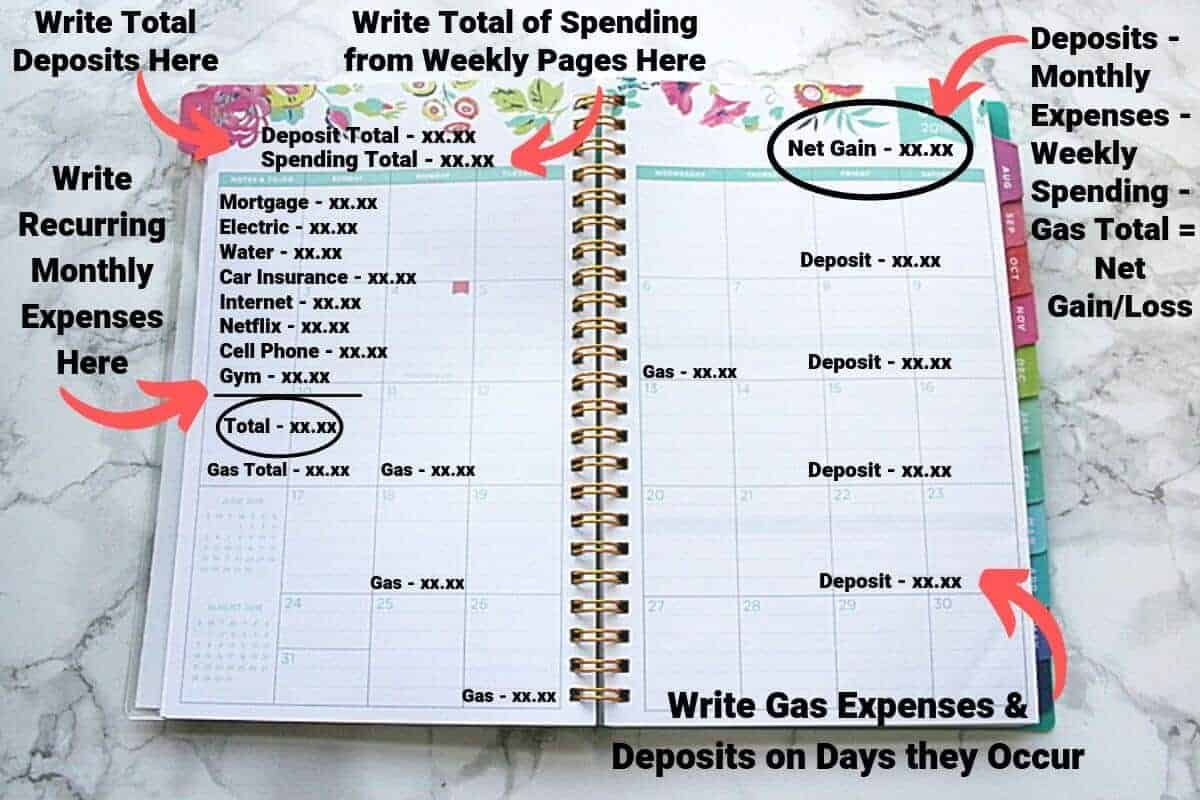 Home Management Planner – For household chores, meal plans, kids' school activities, etc.
Personal Planner – For doctor appointments, work-related events, weekly goals, healthy habits, etc.
Fun Stuff Planner or Bullet Journal – For keeping track of things that are entertainment related or non-essentials like:

Books to read
Shows to add to your Netflix watchlist
Favorite quotes
Mood tracker
New recipes to try
Step 2: Separate your list into planner categories.
Once you have a list of WHAT you keep track of in your planner, group your list items into planner categories.
For instance, kids' field trips for school and kids' dance recitals can all be grouped together in a general KIDS STUFF category. And water intake and daily step counts can be grouped together under the HEALTH category.
You should make your color coding planner categories as broad or as narrow as you need to set up a planner organization system that will work for you.
For instance, if you want to use your planner mainly to keep track of your finances, then you probably want to use different colors to represent specific money-related categories like:
Deposits – Income/Paychecks
Monthly Fixed Bills – Mortgage, Utilities, etc.
Grocery Expenses
Entertainment Expenses
Savings
I've grouped some common planner ideas for organization into categories below to give you ideas on how to get started. You can choose to color code your planner by only ONE category… for instance, if your planner will only contain work-related stuff, then use the "Job" Planner Categories…
OR, you can pick a few items from each major category.
I prefer to only use ONE planner, so my own personal planner is a mix of a few things from different categories. I like to track the following things in my planner using color coding:
Kids' stuff – which includes ANYTHING related to my girls' after school activities, birthday parties, school projects, doctors appointments, etc.
Deposits and income
Gas expense – my husband drives a lot for work, so I like to track our family's gas expense in a separate category
Weekly spending – which I group into groceries, entertainment, clothing, and any other non-fixed monthly expenses and write on my weekly planner pages – Go HERE for How I Keep Track of Spending Using a Weekly Planner!
Blogging – supplies to buy for blog posts, social media posts, blog post ideas, etc.
Miscellaneous – which includes personal doctors appointments, parties, etc.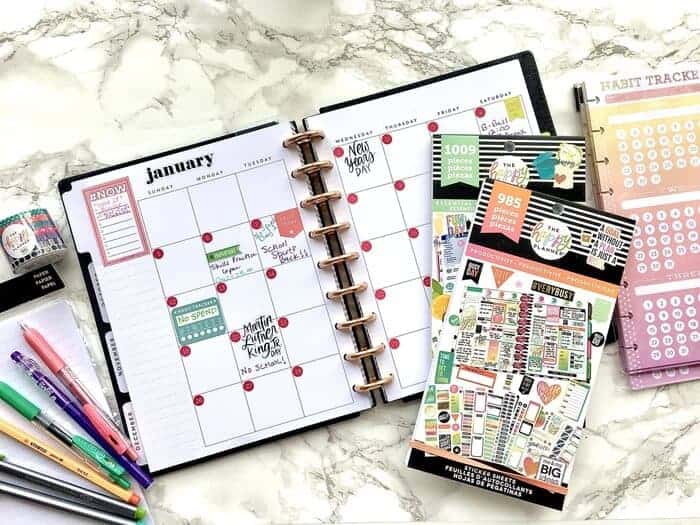 Color Coding Categories for Your Planner
Here are some ideas for how to categorize all of the info that you keep in your planner:
Planner Categories based on Urgency
Urgent / Have to do / Important Deadlines
Important / Should do
Things to do if time permits
Appointments
Things to do Next Week
Free time activities
Planner Categories based on Person
Things pertaining to You – your personal events, reminders, goals, etc.
Things for Your husband – appointments, to-do lists, work parties, etc.
Child #1 – school field trips, big projects, dance recitals, etc.
Child #2
Pets – vet appointments, grooming appointments, etc.
Planner Categories based on Finances
Deposits, income, paychecks
Weekly Expenditures
Fixed monthly bills – mortgage, utilities, car loans, etc.
Savings contributions
Gas expenses
Business income and expenses
Planner Categories based on Health
Water intake
Exercise
Calorie counts and food intake
Daily step counts
Hours of sleep each night
Planner Categories based on Household Management
Kids' Stuff – anything related to school, extra curricular activities, appointments, or parties
Weekly meal plans
Grocery lists / Things to buy
Favorite easy to make family meals
Errands to run
Cleaning jobs – your weekly cleaning jobs and kids' chores
Family events and outings
Miscellaneous home management items
Planner Categories based on Your Job
Assignment deadlines
Important work notes
Work contacts
Social work functions like office parties
Work to-do's
Job-related goals
Step 3: Use planner refill pages for miscellaneous items that don't fit into categories.
There will probably be some things that you want to keep track of in your planner that don't necessarily NEED to have a whole color coded category to themselves.
For instance, things like this probably don't need to have their own categories on the weekly and monthly pages of your planner:
Netflix shows to watch
Quotes that you want to remember
Gift ideas for different people throughout the year
Books to read
Website usernames and passwords
Planner items like those would do well in list format on their own separate sheets in the back of your planner.
You can get a blank refill page (that's where the removable pages in the Happy Planner come in handy!) and keep a running list in the back of your planner for miscellaneous items.
By the way… if you're a Happy Planner beginner, be sure to check out this post: The Happy Planner for Beginners – Everything You Need to Know!
And if you're a super color-coding neat freak, you can even color code these individual pages by category… like all romantic comedies are written in pink, all thriller movies are written in green, etc.
Step 4: Get pens for color coding your planner.
To color code your planner, of course you need pens in different colors.
The Staedtler Triplus Fineliners and the Stabilo Point 88 pens …. are favorites of mine, but I also LOVE Pilot Frixion ColorSticks (affiliate) for erasable pens.
You can go HERE for my FULL REVIEW of the Best Pens for Planners! I tried 12 different pens, and I'll tell you which planner pens I LOVE and which ones are crap. 🙂
Other Planner Accessories for Color-Coding Planner:
Highlighters – You can place outlined boxes around your notes using highlighters. I do this to highlight REALLY important things in my planner.
Colored pencils – I like to use colored pencils as highlighters to color in behind different notes.
Washi tape – You can use thin washi tape to mark a box around items of importance.
Color coding planner stickers – Place a colored dot next to planner categories…
Step 5: Create a Color Coding Key for your planner.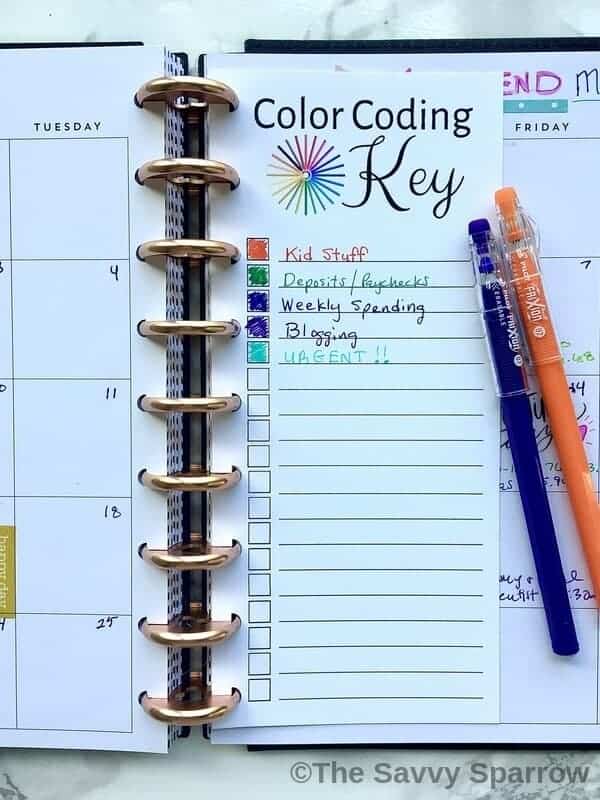 Once you have your planner categories and the BEST pens for color coding your planner, it's time to assign each color to a category.
You can make your own color coding key on a removable half-sheet that you can easily move from month to month. That's one of the things I love about the Happy Planner!
Or, you can grab my FREE Printable Color Coding Key for planners with the links down below!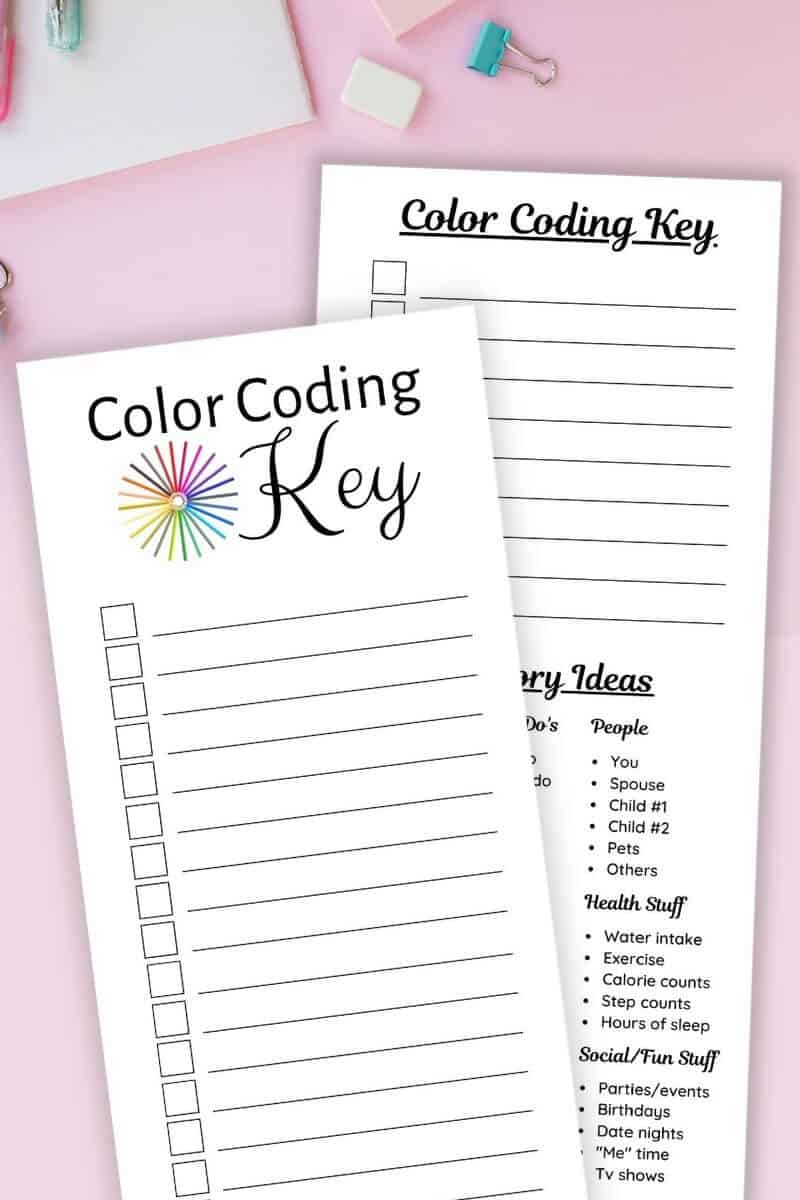 Click HERE for the FREE Planner Color Coding Key for Classic Happy Planner!
Click HERE for the Color Coding Key for Mini Size Happy Planner!
After you've got your Color Coding Key for Planners done, it's time to put your new organization system into action!
As with any new organization system, it can take a little bit of time to get used to, and you may need to make tweaks in your planner categories when you're starting out…
Just keep adjusting your color coding until you get the PERFECT planner organization system for YOU!
And then when you're done, be sure to check out this post for how to make your own Happy Planner covers, and grab some FREE printables to use!
And don't forget to PIN this post for later: