If you're looking for a huge list of things to keep track of in your planner, then you're in the right spot!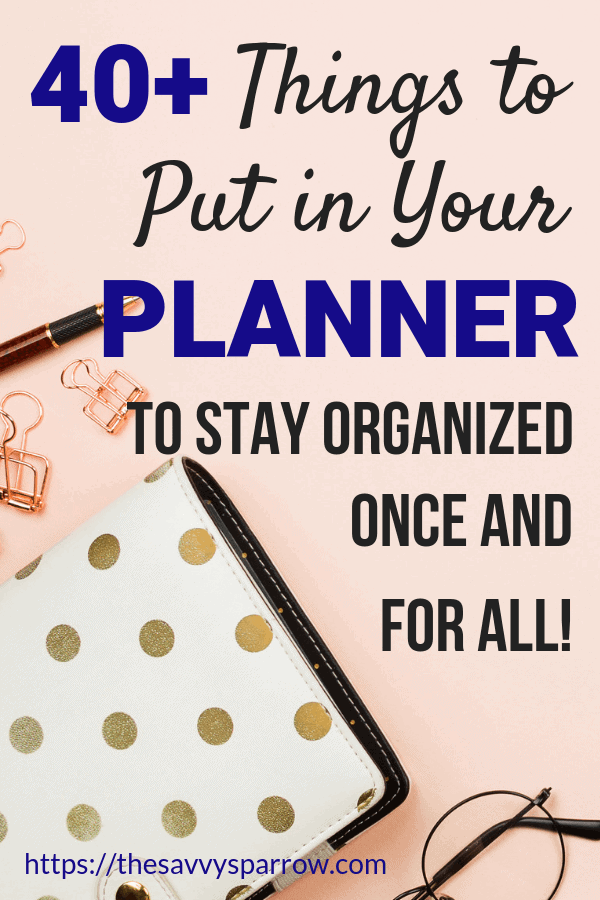 *This post may contain affiliate links, which means I may earn a small commission from these links.  Read my full disclosure here.
Planners are having a moment.  Just walk down the aisles of Michael's or check out the end caps of Target.  You'll find bright and trendy planners
in all sizes with the cutest sticky notes and coordinated pens to go with them.  You can even buy fun planner charms
to hang off the binder rings and bling out your planner.  But more important than the aesthetic of your planner is the function of your planner… you know to actually plan things.  So if you've jumped on the bandwagon and invested in a seriously cute planner to organize your life, then put it to good use.  Here's a huge list of things to keep track of in your planner to stay organized once and for all!
40+ Things to Keep Track of In Your Planner:
Important Dates
Birthdays
Anniversaries
Meetings/Appointments
Holidays and Family functions
Finances
Bill due dates
Financial account usernames and passwords – if you're confident that you won't lose your planner!
Track your income and spending – Click here for How to Keep Track of Spending Using a Weekly Planner
Contributions to your savings account – Get motivated to reach your savings goal!
Fun Stuff
 New quotes that you read
 Parties and social events – Keep track of RSVPs to send and important details of social events such as time, location, attire,   and where the guest of honor is registered.
Movies you want to see
Books you want to read
Netflix/Hulu/Amazon shows you want to watch
Date night times and ideas – Or schedule a Fun and Unique Stay-at-Home Date
Recipes to try
New restaurants to try
Blogs/podcasts you love
Your wish list – Things you want to buy for yourself
Health Stuff
 Daily water intake
 Food and calories consumed each day
 Doctors appointments
 Pill or antibiotic tracking – Make sure you remember to take your birth control or antibiotics with a simple chart
 Weight – Trying to lose weight?  Track your daily or weekly weigh-ins in your planner to see how far you've come.
 Exercise – Let your planner hold you accountable!
Household Stuff
 Menu planning – Plan ahead on meals that you will cook each night to eliminate the impulse to go out to eat – Want a different way to keep track of your weekly menus?  Sign up for my newsletter below, and I'll send you a FREE Weekly Meal Plan Printable!
 Grocery lists
 Pantry/Fridge inventory
 Cleaning checklists – Daily, weekly, monthly – Don't have a lot of time to clean?  Check out 7 Steps to a Clean House in One Hour
 Maintenance schedules – Keep track of when you need to change the air filters or when to expect the pest control man
 Favorite recipes – Like Healthy Asian Ground Turkey Lettuce Wraps
To-Do Lists
 Daily/Weekly/Monthly to-do lists
 Honey-do list
Contacts
 Addresses and contact info for friends and family
 Contact info for Doctors/Dentists
 Emergency contact info
Personal Stuff
 Goals – Things that you want to accomplish each week/month
 Daily Affirmations
 Bible verses you love
 Website usernames/passwords
 Menstrual cycle – I can never remember the dates of mine when I'm asked by the Doctor 🙂
Kid Stuff
 Kid's activities/parties/extracurriculars
 Due dates of school projects
 Special school events (Spirit Week, Picture Day, etc.)
 Major Milestones (First steps, first tooth, etc.)
 Funny things your kids say – Jot it down so you remember how hilarious your kids are (which could be useful when they're   working your last nerve!)
 List of kids' chores
 Kids' allowance tracker
 Kids' birthday/Christmas wish lists
And, there you have it!  A TON of fun and useful things to keep track of in your planner!  Now, go organize your super cute planner, and enjoy!