Pushing a human out of your hoo-ha… What can be more stressful than that, right?! But, believe it or not, you can have a stress free labor and delivery.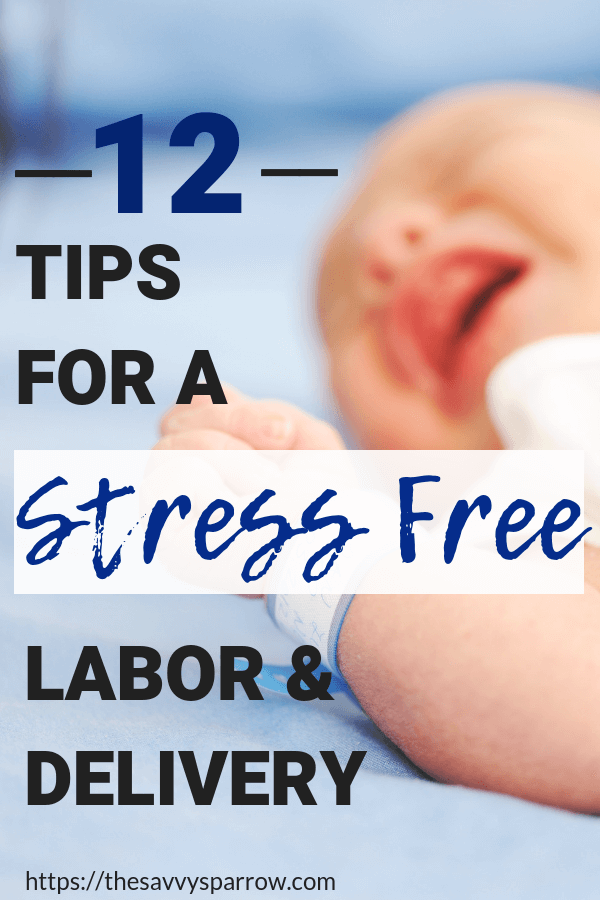 True story – The nurse in the delivery room with us when our first daughter was born paid us the highest compliment ever! (Besides "Your kids are so nice and well-behaved!"). She told us that in all of her years as a labor and delivery nurse that we were by far the most natural-looking, relaxed, easygoing, first-time parents she had ever seen.
My husband and I just looked at each other like "Seriously?".
Us…
We were the farthest from baby people that you would ever meet. Though ironically we still wanted three kids.
Us before kids…
"Do we want to hold your baby?" Hell, no! But… whatever the polite version of "Hell, no!" is.
Us after kids…
"Do we want to hold your baby?" Hell, no! But… now that we have kids of our own we feel obligated to say "yes" so pass 'em over.
So here was this nurse telling us that we were the most comfortable, calm, and natural-looking parents she had ever seen. Want to know what I attribute that to? It's not essential oils warming in the corner, as some may suggest. It's these few things that you can do to have a stress free labor and delivery and look like a natural-born Mommy (even if you're shaking in your hospital gown!).
*This post may contain affiliate links, which means I may earn a small commission from these links at no additional cost to you. Read my full disclosure here.
12 Tips for a Stress Free Labor and Delivery
1. Prepare, Prepare, Prepare.
Familiarize yourself with the birthing wing of your hospital. Take the tour. Ask questions.
What questions should you ask? Sign up for my Newsletter below to get my FREE printables of Questions to Ask On Your Maternity Hospital Tour and What to Pack in Your Hospital Bag.



Find out how many guests are allowed in the delivery room and the location of the vending machines. Find out what happens if… gasp… all of the L&D rooms are full! If you take the time to tour the hospital and look at a delivery room, then you'll know what to expect, and you'll limit the number of surprises that could pop up. Trust me, the last thing you want while you're in labor is a surprise.
2. Bring something to pass the time.
This is a picture of my husband and I in the hospital room a few hours before I gave birth.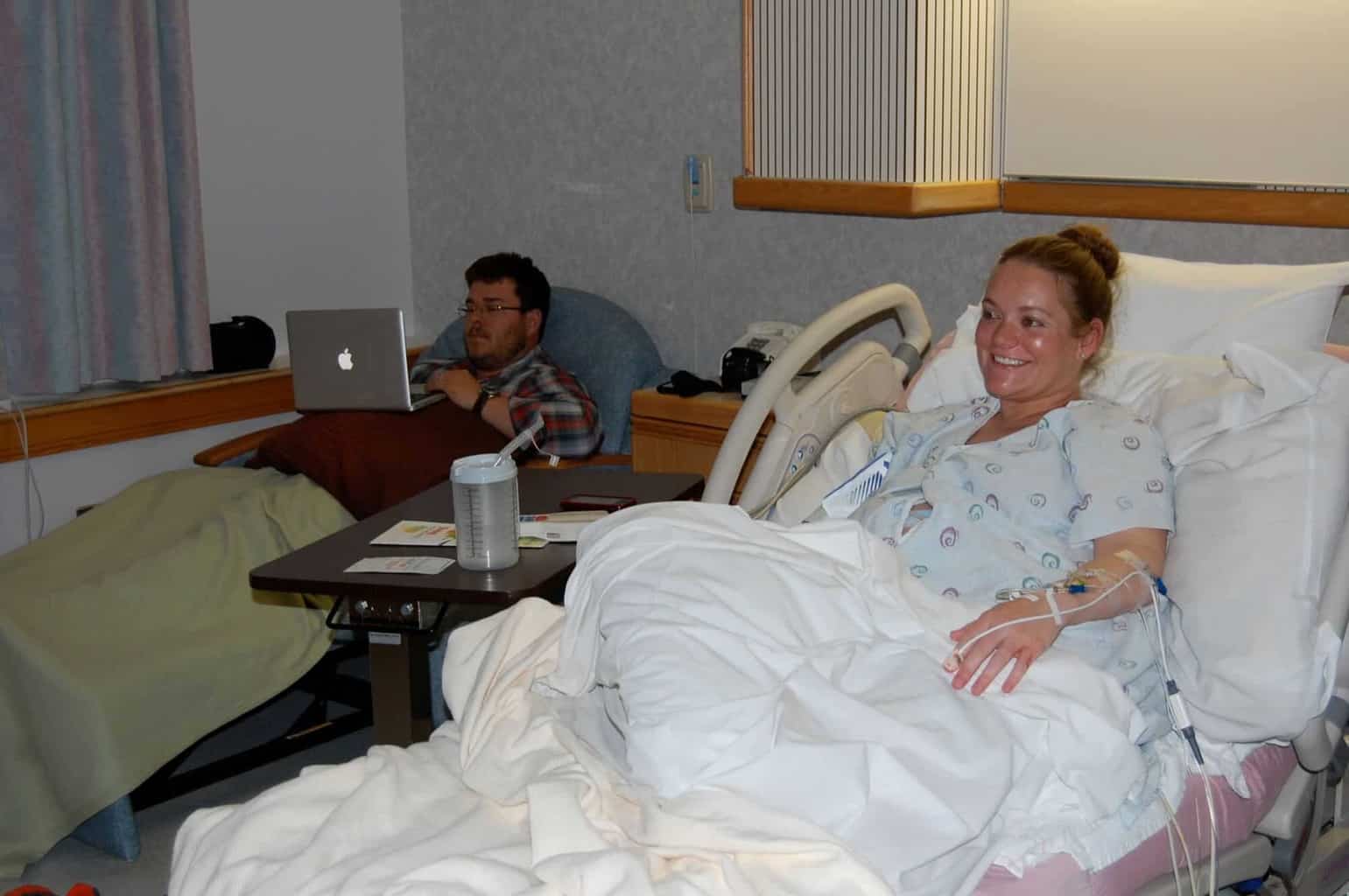 Yes, I was in labor.
Yes, I was as cool as a cucumber.
I might as well have been home on the couch watching Netflix. And my hubby? Does he look stressed to you?
Nope.
We were ready for the long haul with magazines, a computer, snacks for him, and the all-important cell phone chargers.
The "long haul" for us was a 22 hour long labor. If you go that long, trust me, you'll want something to pass the time. Occupy your mind so you're not constantly stressing about things to come.
3. Have a Game Plan with Your Husband.
Not just a birth plan… that's a given that you already have one of those.
To avoid extra stress in the delivery room, make a "This is How We're Going to Keep Our Sh#t Together" plan.
"If I start panicking, I need you to do this…"
"If I start sobbing uncontrollably, I need you to do this…"
"If I…"
Minimize stress by making sure your husband/Mom/Best Friend knows what you will need in different scenarios. When I'm about to have an absolute crying breakdown, my husband is good at making me laugh. And when I want to be my true, introverted self, he's great at entertaining a room for me so I can just take a breather.
Let your hubby, or other birthing partner, know the GP beforehand to have a stress free labor and delivery.
4. Pack One Bag, Not the Kitchen Sink.
Yes, you want to have a perfectly-packed hospital bag. No, you don't want your stressed-out hubby cursing you under his breath as he hauls your four overstuffed bags through the hospital. You don't need 4 perfectly style baby outfits with 4 matching pairs of shoes and hair bows. You don't need 3 bibs and 3 receiving blankets. Bring the essentials, but don't go overboard.
Remember, when your hospital stay is over and you have to pack up all of your stuff, you'll be doing it with a newborn.
*Side Note – The one thing that I WISH I WOULD HAVE PACKED was my baby book. It would have been nice to fill in important info and details while they were fresh on my mind. And, be sure to flip through your baby book before you leave for the hospital so that you're familiar with the specific details and photos that it includes.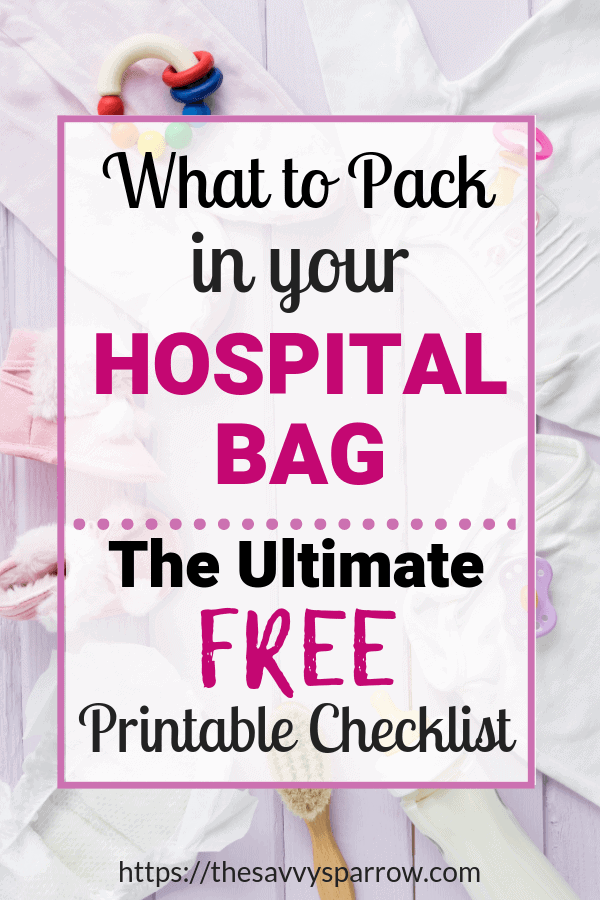 Want my FREEBIE checklists of What to Pack in Your Hospital Bag PLUS Questions to Ask on Your Maternity Hospital Tour? CLICK HERE to sign up for my email newsletter and I'll send them right over! Promise I won't spam you!
5. Rely on Your Instincts.
Yes, it's true what they say. Once you have a baby, your natural parenting instincts just magically kick in. At least that's how it was for us. And remember, we were not kid people at all. Before I gave birth I would have been the first to tell you that my husband and I had zero natural instincts when it came to parenting.
But, I was wrong.
The first baby that I EVER HELD was my own. No joke. But, it felt completely natural. Trust your instincts.
6. Two Words… "Sleep Sacks".
Nothing is more stressful than fiddling with forty-two miniature snaps during a 3 am diaper changing.
If you ask me, zipper sleep sacks are the greatest baby product ever invented. One simple zip motion and your newborn is "nake-y" and ready for a quick change. Both of our daughters slept in these sleep sacks every night from the time they were born until they were about 5 months old.
Find 'em here
, and buy 'em. Thank me later.
7. One More Word… "Boppy".
If sleep sacks are the #1 Greatest Baby Invention, then the "Boppy" pillow is a close second.
The Boppy was probably the single most-used baby tool for both of my kids. If you plan to breastfeed, it's an absolute must. Trust me, I tried the "football hold" to nurse my newborn without a Boppy, and it was stressful! It really does make a huge difference when you are trying to learn to breastfeed. (Yes, this is something that is a learning process!).
Find one here
, and buy one. Thank me later.
8. Just Breathe.
Heee, heee, hooo… Heee, heee, hooo…
No, not that Lamaze-type breathing.
Impossible as it may seem, just try to chill out and breathe.
9. Make Lemonade Out of Lemons.
Try to look on the bright side of potentially stressful situations. You know that old saying "… life is 10 percent what happens to me and 90 percent how I react to it" (Charles R. Swindoll). That very much applies to childbirth. If you're a stressed-out, negative Nancy, then you'll have a stressful labor and delivery.
After delivering my first daughter, we were told that she had a moderate case of jaundice and would have to spend most of the following few days under the special lights. As first time parents, this could have been a stressful situation for us. I just gave birth and you're telling me that something's wrong with my little nugget? This is how my hubby handled it: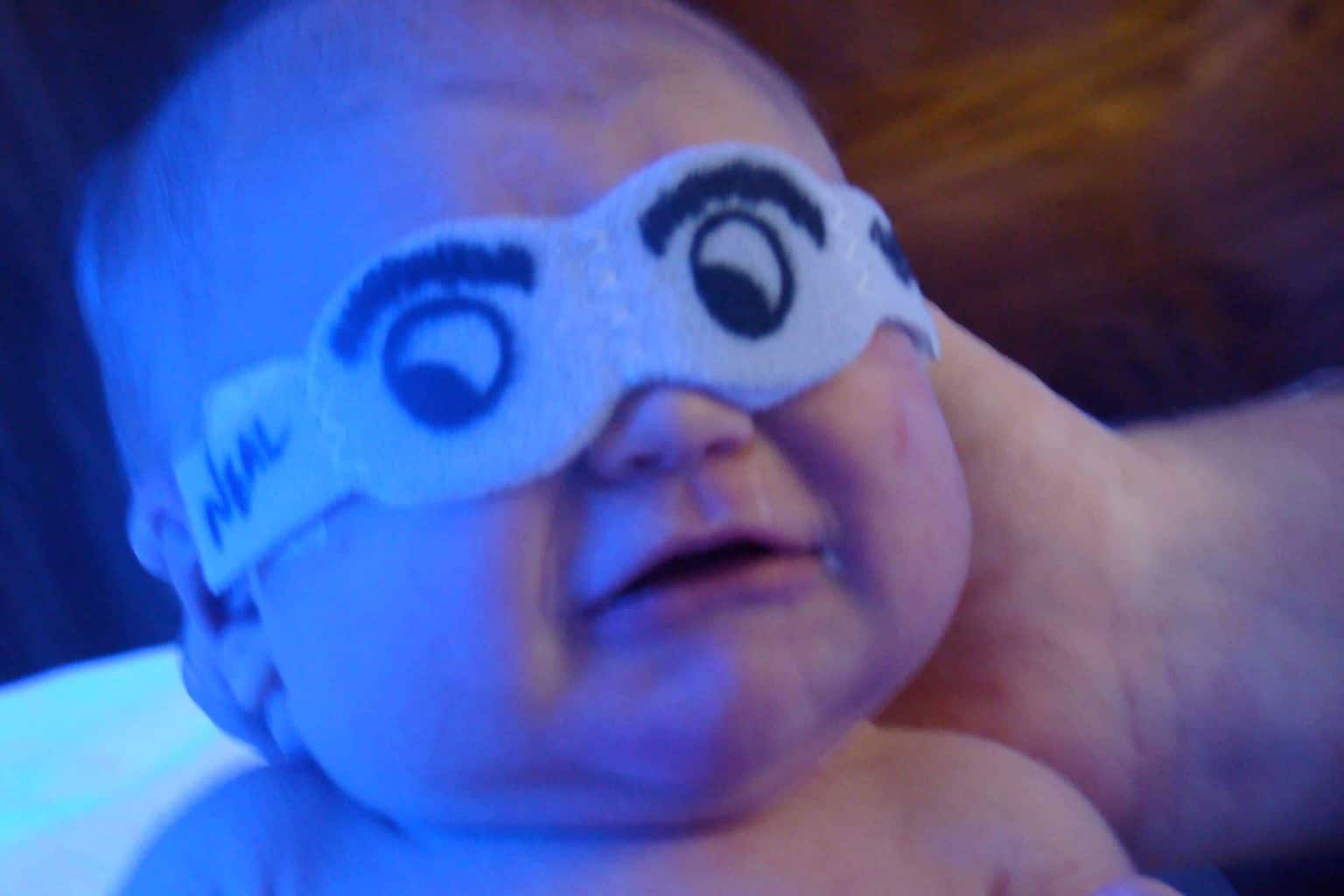 Yes, those are the special cloth glasses that are used to protect babies' eyes under the blue lights. And, yes, that's sharpie marker doodlings.
Lemonade, ladies… Lemonade.
10. Don't Sweat the Small Stuff.
Okay, seriously girls… You're about to push a human being out of your hoo-ha. What else really matters?
11. Be Realistic… This Stuff is Hard!
Breastfeeding is hard.
Walking to the bathroom after giving birth is hard.
Pooping for the first time after delivery is hard.
Waking up every two hours in the middle of the night is hard.
Ladies, if it was easy, God would have let the men do it! Hehehe! 🙂 . Get into the right mindset and have realistic expectations to avoid being stressed out later.
12. Pray.
When all else fails… or better yet… BEFORE all else, PRAY!
I've lived through a lot of potentially stressful situations, but knowing that I am not alone and that God is always with me through life's ups and downs keeps me calm. Pray for a stress free labor and delivery.
Are you about to give birth soon? First off, congratulations! Second, don't worry! A stress free labor and delivery is possible! Even if it's a bit stressful while you're in the delivery room… it'll be over before you know it. And you'll probably forget about the pain and stress of childbirth soon after. Just do your best to stay calm and positive, be prepared, and keep your mind occupied during labor, and you'll sail right through! Best wishes!
Do you have any tricks and tips for a stress free labor and delivery to share? I'd love to hear what worked well for you! Leave 'em in the comments below!
Related Posts: