I love a good quickie. A quick DIY home decor project, that is. (What did you think I was talking about?). And this easy DIY Burlap Wreath is just that. A beautiful DIY wreath to spruce up your front door, without spending a fortune or a whole weekend's worth of time. And, this wreath is multi-functional because you can easily take off the fall elements and colored ribbon and replace them with other seasonal items (like pinecones and red and white ribbons). If you can tie a knot and use a pair of scissors, then you can make this easy DIY Burlap Wreath. Read on for the short tutorial.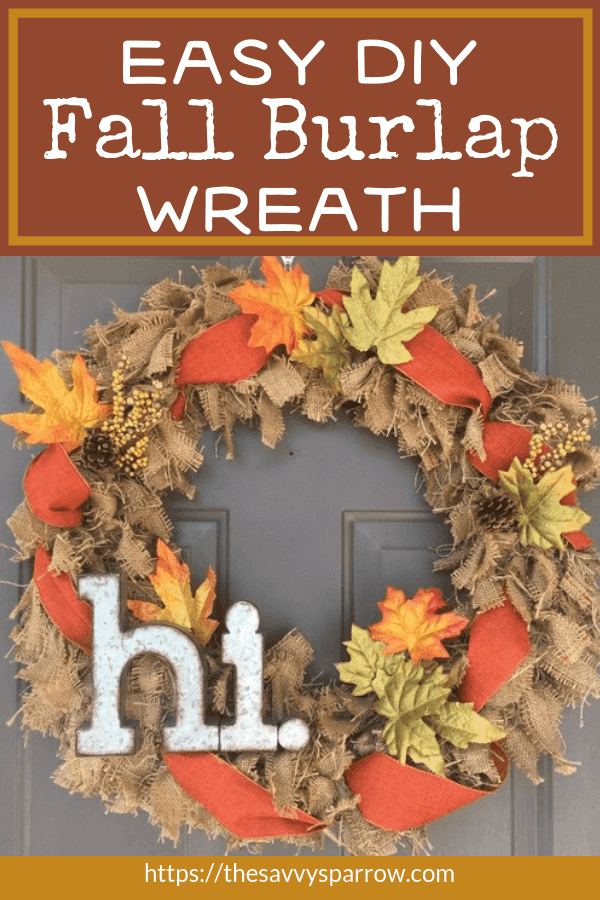 *This post contains affiliate links which means I may earn a small commission from these links at no additional cost to you. Read my full disclosure here.
Step 1: Gather Your Supplies
18 inch wire wreath form – I used one similar to this
lots of burlap – cut into 1- 1/2″ x 7″ strips – I made this wreath while I was living in Wyoming, so my version is made out of real deal horse feed burlap sacks that I repurposed.
Ribbon or fabric in your choice of color
"Hi" metal or wood decoration plus string to attach it to the wreath frame – I got my "Hi" from Hobby Lobby with a 40% off coupon!
Other decorations of your choice (cotton stems, silk flowers, pumpkins, Christmas ornaments, floral picks, etc.)
Step 2: Tie Knots
Tie burlap strips in a knot around each individual wire. This is what the inside looks like… rows and rows of burlap knots:
Step 3: Embellish Your Easy DIY Burlap Wreath
I prefer to use floral picks as wreath embellishments. I got my picks from Michael's, but Hobby Lobby also has a TON of cute options.
The great thing about using picks is that you don't need to fire up the glue gun. Just stick the pick part down into the knots of your burlap strips. Easy peasy! Plus, since the embellishments aren't glued down, you can easily switch them out for each season. One easy DIY burlap wreath = lots of different wreaths for the whole year!
See what I mean:
This is the exact same wreath as the Fall wreath pictured at the beginning of this post. It only took me 10 minutes to remove the fall elements and change it up for a completely different look!
For this farmhouse version of my easy DIY burlap wreath, I cut gray and black fabric strips into 1-1/2″ x 6″ strips and tied them around random wires on the wreath frame. Be sure to tie your ribbons in a loose knot to make it easier to change them out for the next season.
For the Fall version of this wreath, I used burnt orange wired ribbon and wove it through random sections of the wire wreath frame. Since I wove the ribbon on the fall version rather than tying fabric strips, the ribbon will be super easy to switch out for Christmas. Just pull out your ribbon strip and replace it for winter time.
Step 4: Hang and Enjoy!
I couldn't be happier with the finished product! Who knew that a few burlap horse feed sacks could look so good?!
The colors beautifully compliment the other DIY fall decorations that my handy hubby made me.
Does Your Easy DIY Burlap Wreath Need a Refresh?
If you use real-deal burlap like I did, then you'll probably need to give your easy DIY burlap wreath a quick refresh every other month. Burlap unravels easily after you cut it, so to get rid of all of the stray strings, I just grab a pair of scissors and quickly cut them off. Or, if you want a more rustic look you can just leave them.
I also recommend giving the wreath a good shake to fluff up the fabric strips. I usually give my easy DIY burlap wreath a little refresh every time that I change the picks and ribbons out for the next season.
And that's it! I told you it was a short tutorial! If you're short on holiday decor space, this easy DIY burlap wreath is perfect for you, because you never have to pack it away in storage. Just switch out the embellishments for a new wreath season after season.
Which version do you prefer? I kind of love them both, but I'm bias. 🙂
Love this easy DIY Burlap Wreath?! Check out some of my other easy DIY projects: