I LOVE a mudroom. And a DIY mudroom on a budget is even better! Seeing rows of backpacks, coats, hats, and umbrellas hung neatly in a row just makes me excited. And throw in a cute little bench with shoe storage… That's what dreams are made of!
I knew that when we bought our home recently, I was missing out on not having a mudroom. The garage entrance to our house does pass through our laundry room, which is great…
The only problem is, there is barely enough room in the laundry room for our washer and dryer, let alone the mudroom of my dreams.
So, after using our dining room table as a coat/backpack catch all for way too long, I scoured Pinterest for some clever (and cheap) ways to organize our mess into some semblance of a "drop zone".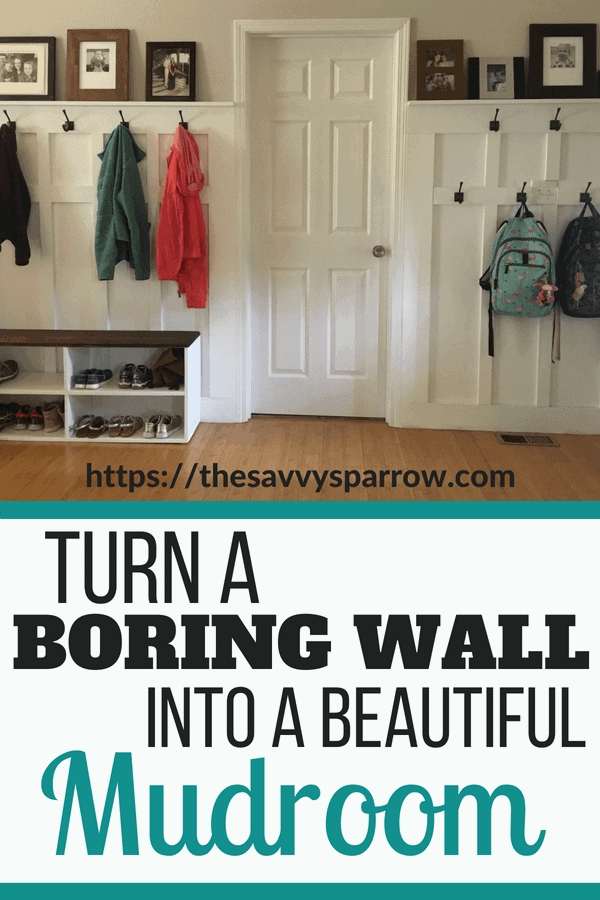 Enter my handy husband and his power tools.
Since I didn't have the space available in my laundry room, I decided to utilize two large walls in my entryway instead. Here's what the space looked like before (except for the already-removed baseboard on the left side- forgot to take a true Before photo):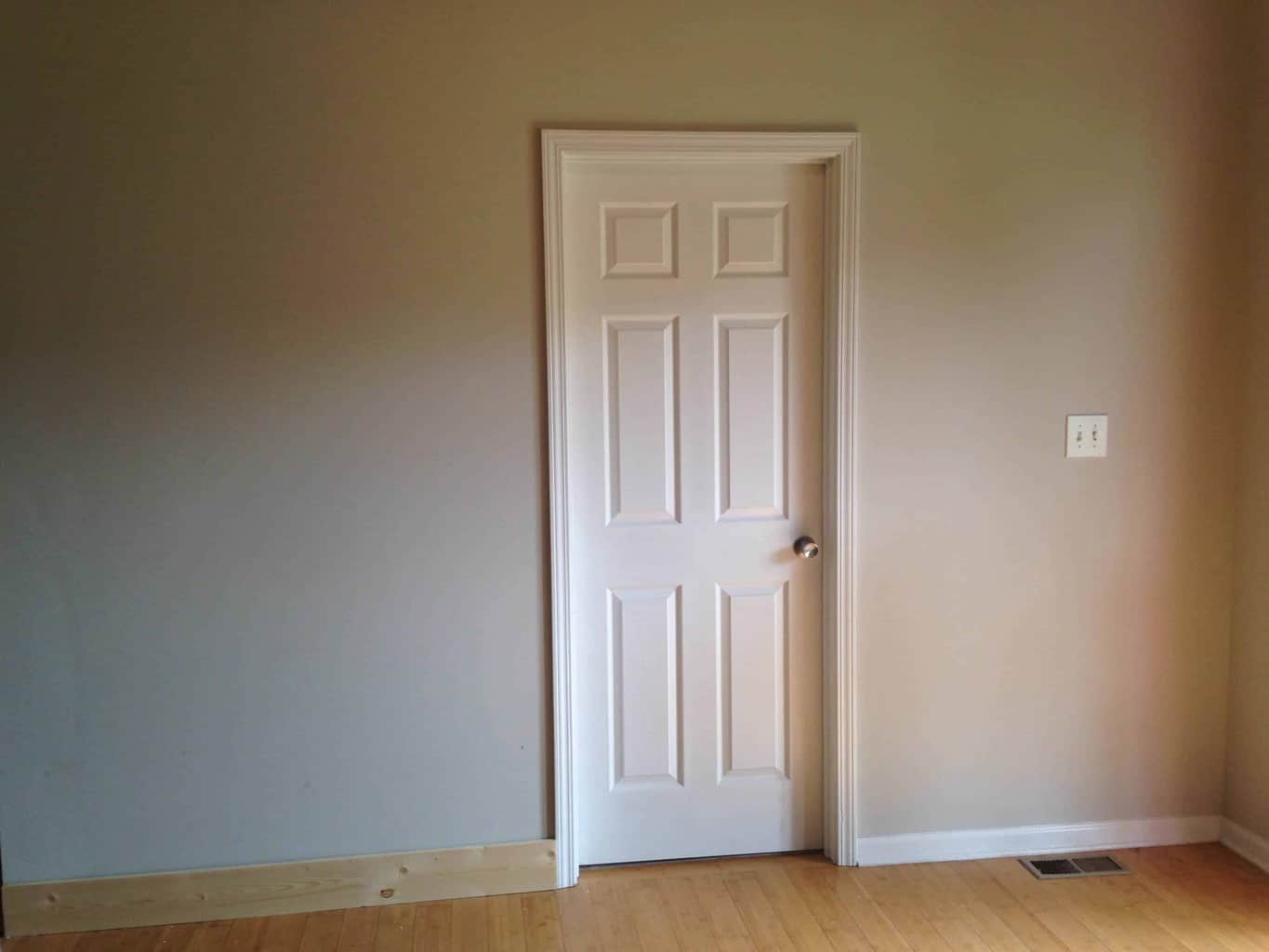 Our laundry room and garage are both through that door… And the natural light that you see on the right side of the photo is from our front door. So this was the perfect spot for a DIY mudroom.
And here's the after: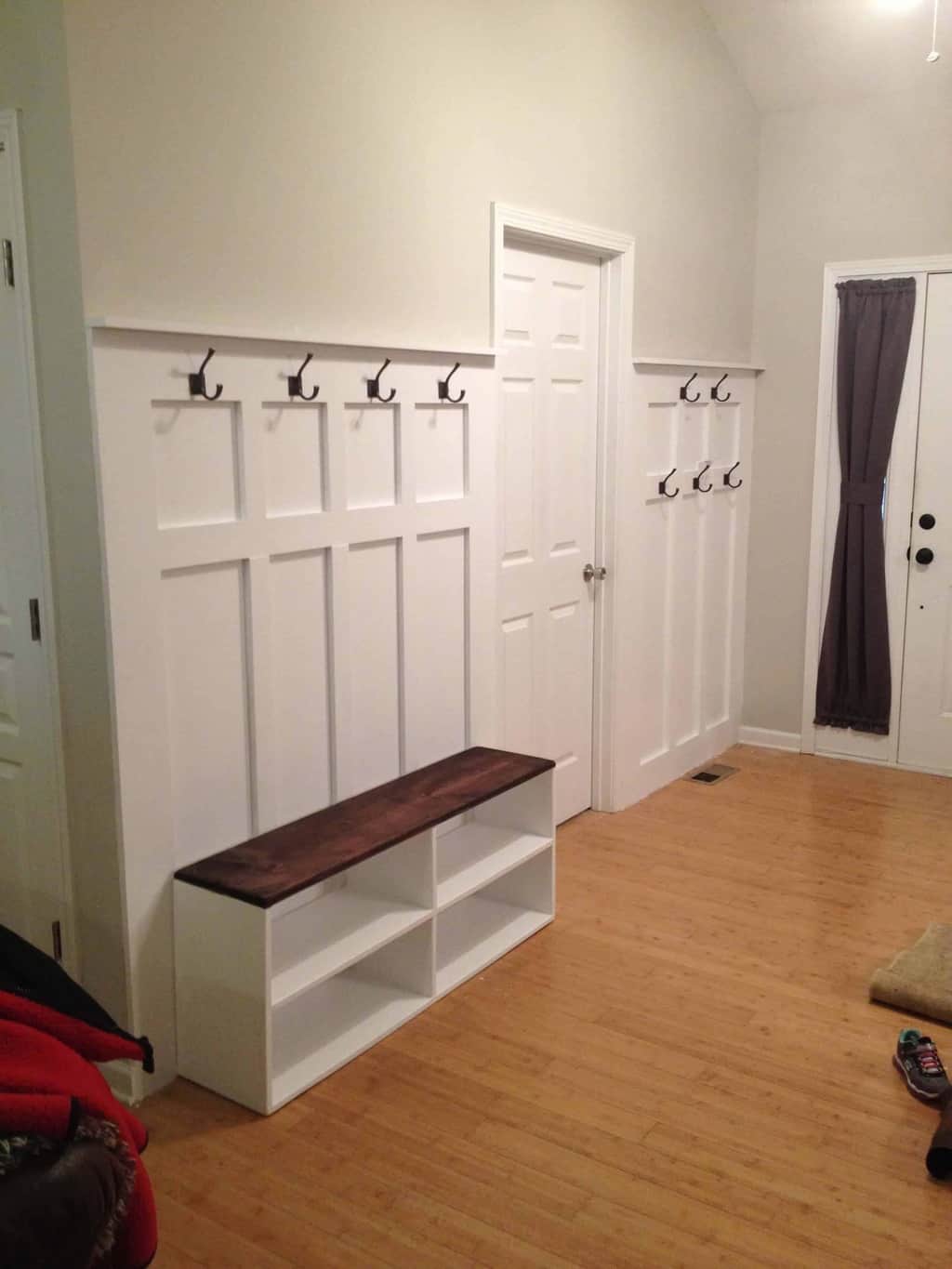 Want to transform your own walls into a gorgeous DIY mudroom? Follow the easy steps below:
**I may earn a small commission from affiliate links in this post, at no additional cost to you. See my full disclosure here.
1. Measure your walls, and do some math!
The initial planning was the most difficult, in my opinion. We had to figure out how many panels we wanted and how far apart they should be, as well as how tall we wanted the finished wall system. I recommend that you have a rough idea on the height and spacing of your panels before you go to the hardware store. Then, once you get your lumber home, hold it up against the wall to judge what looks best in your space.
We chose our measurements by combining two key factors: 1) what was the most visually appealing and 2) what minimized our wood waste.
2. Remove the Baseboards
We decided to remove the baseboards for a more uniform and polished look, though I have seen photos of similar wall systems that used the existing baseboards. The top of our existing baseboards was more decorative and curved, which would have left a funny looking seam in between the base and the vertical boards so we removed them.
To easily remove your baseboards, use a crow bar and pry them off. Sounds simple because it is. Don't worry about any paint chipping because you will be repainting the wall anyway.
3. Build Your Panels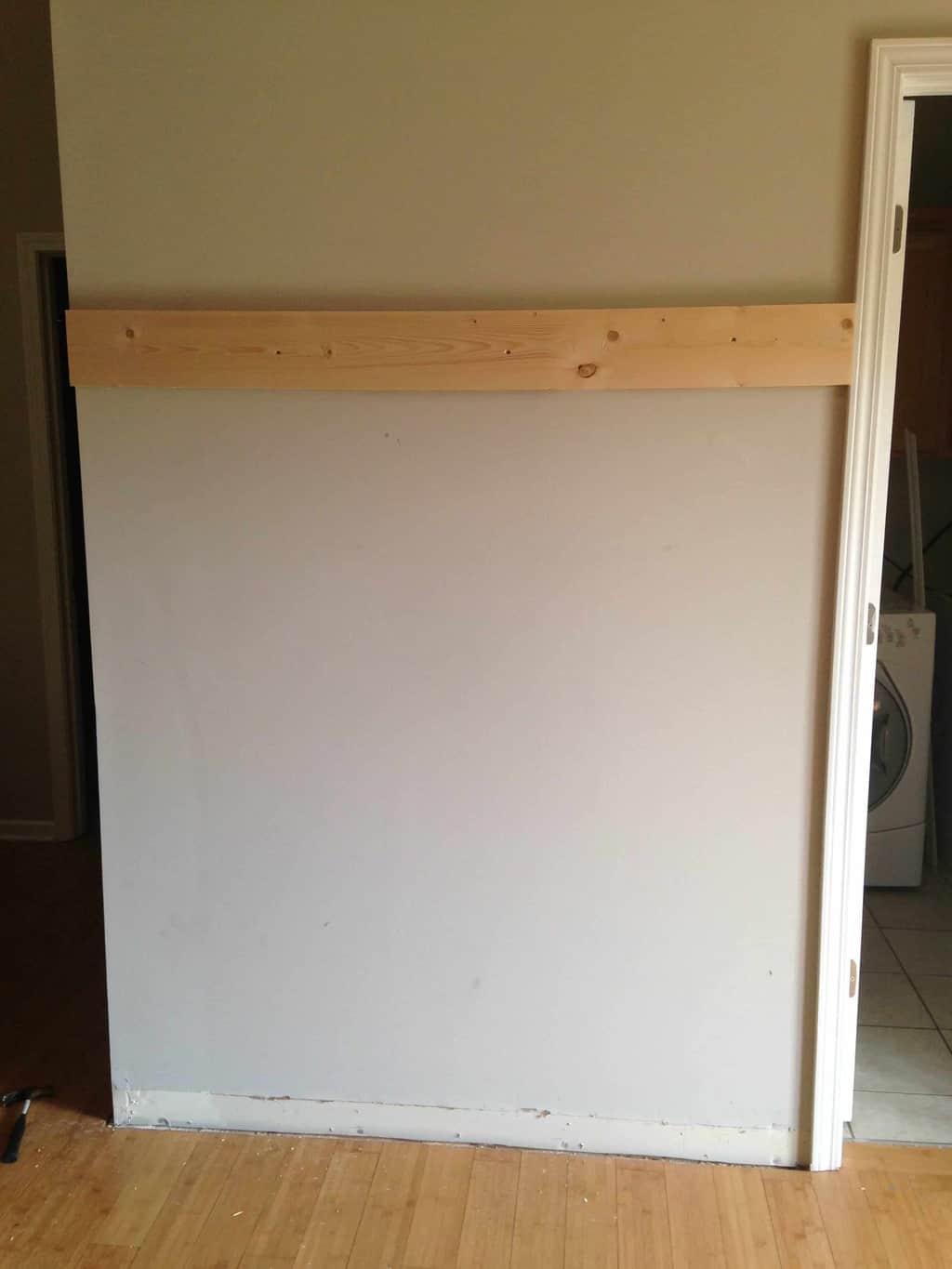 For horizontal boards, be sure to anchor into the studs. This will make your finished system better able to handle the weight of heavier items such as backpacks and purses.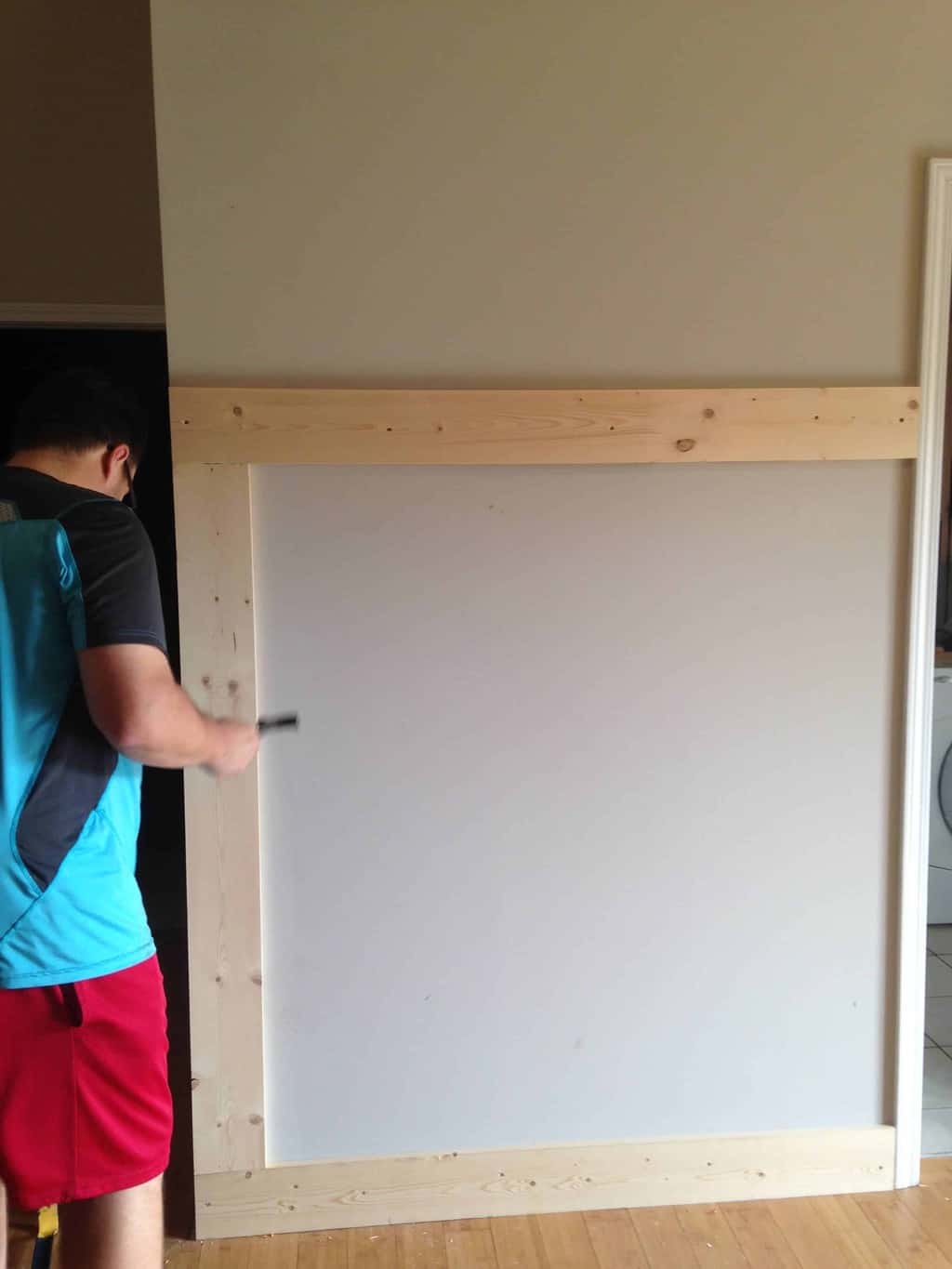 We chose to use wood screws rather than nails because we felt that the finished mud area would be sturdier.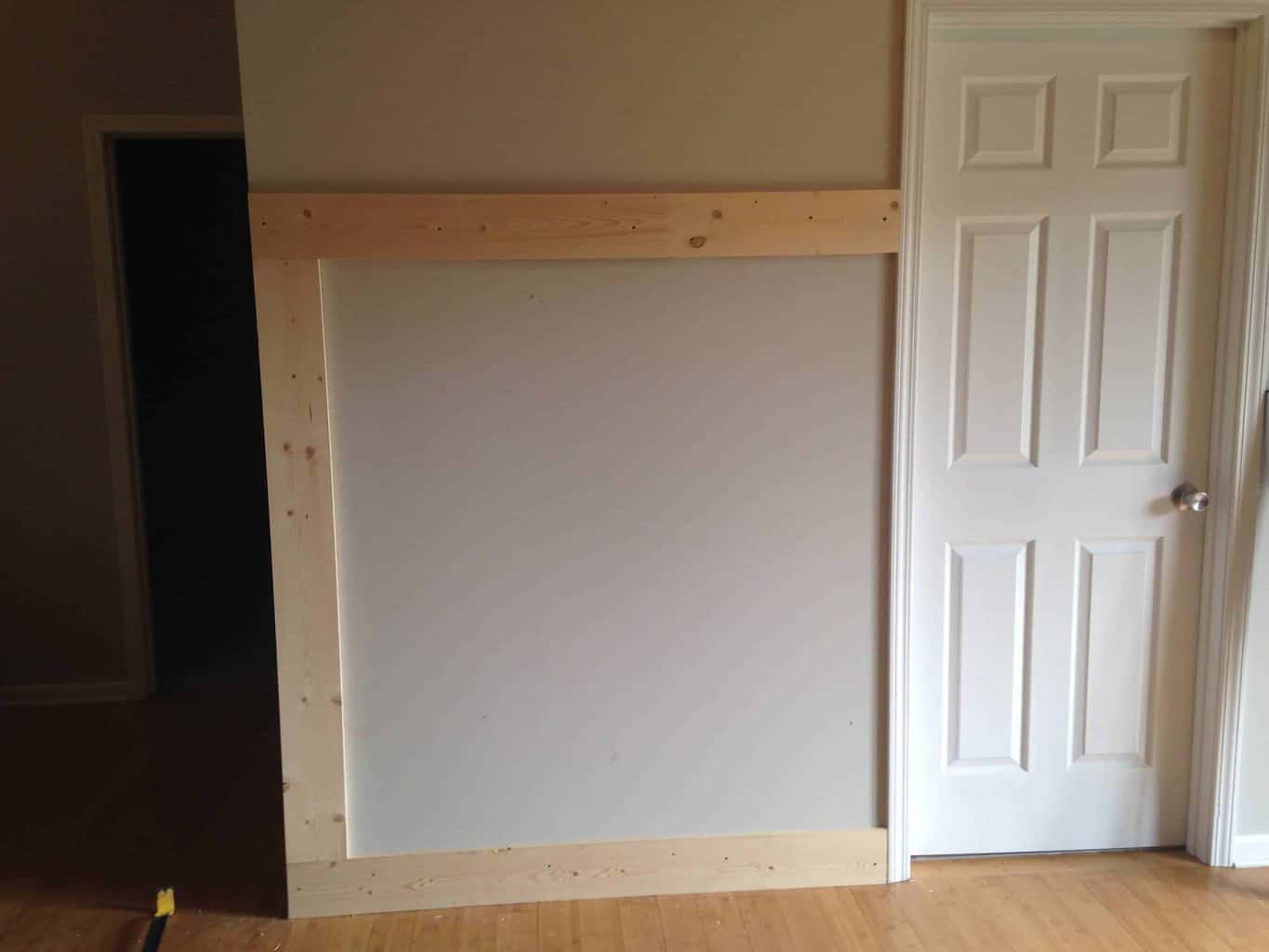 Here is a diagram showing the lumber sizes that we used: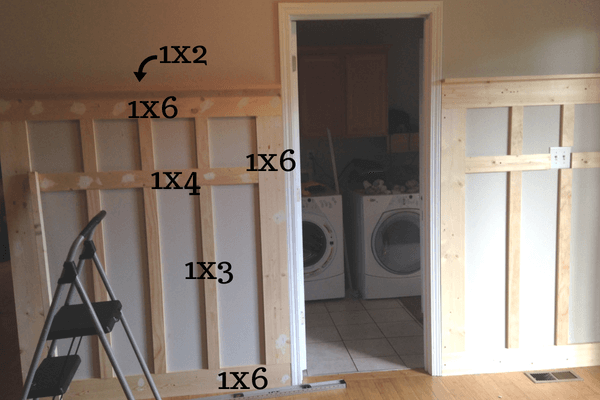 We used 1×6's for the outside perimeter to give our finished wall system a grander, more polished look and to define each wall. The 1×2's were turned on their sides and used for ledges to set family pictures on. Here's a close up of the picture ledges: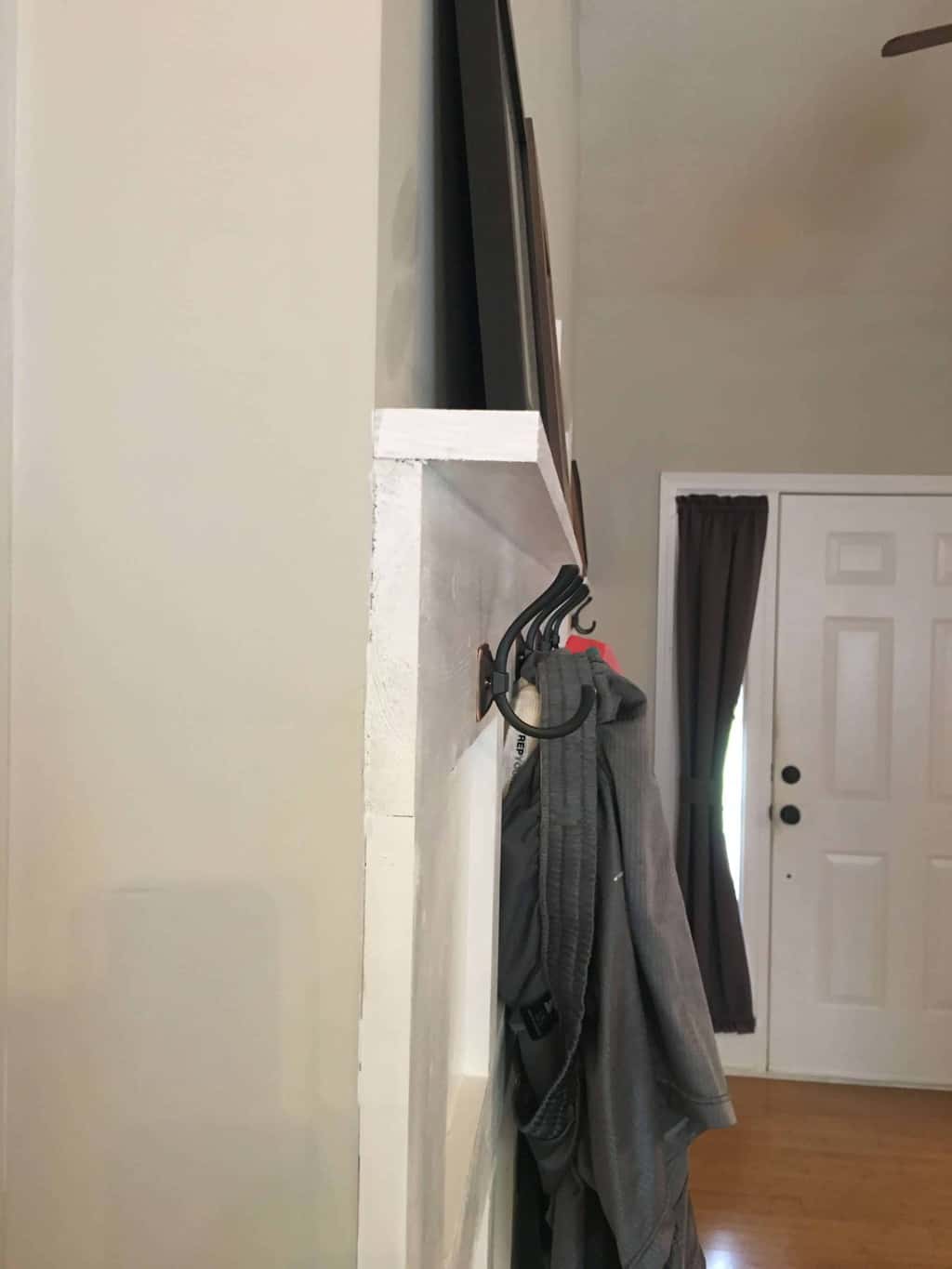 4. Fill Screw Holes
Use wood putty to fill holes left in the lumber. Allow the putty to dry, then sand over top of the putty to create a smooth finish. Here is the wood filler that we used:
5. Paint Boards and Wall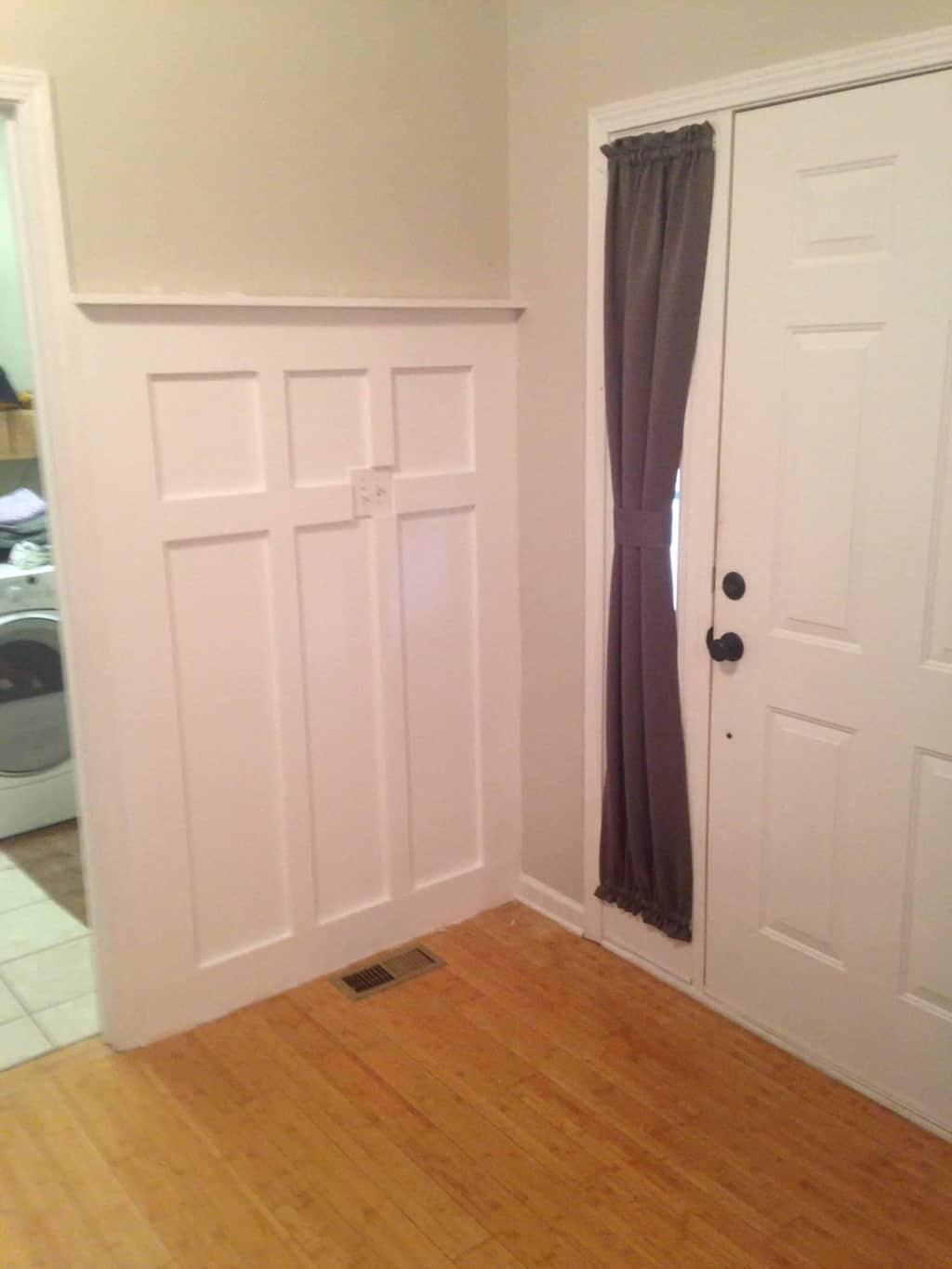 We used Behr Premium Plus Ultra Satin Finish in the color Frost.
6. Caulk all Corners and Seams
Apply caulk to the insides of all boards (where the corner of the board meets the wall), as well as any seams. This gives the finished product a more polished look. Since we used white caulk and white paint, we chose to apply the caulk after we completed painting. However, if your caulk will not match your paint color, you will need to caulk before you paint using paintable caulk.
7. Add Hardware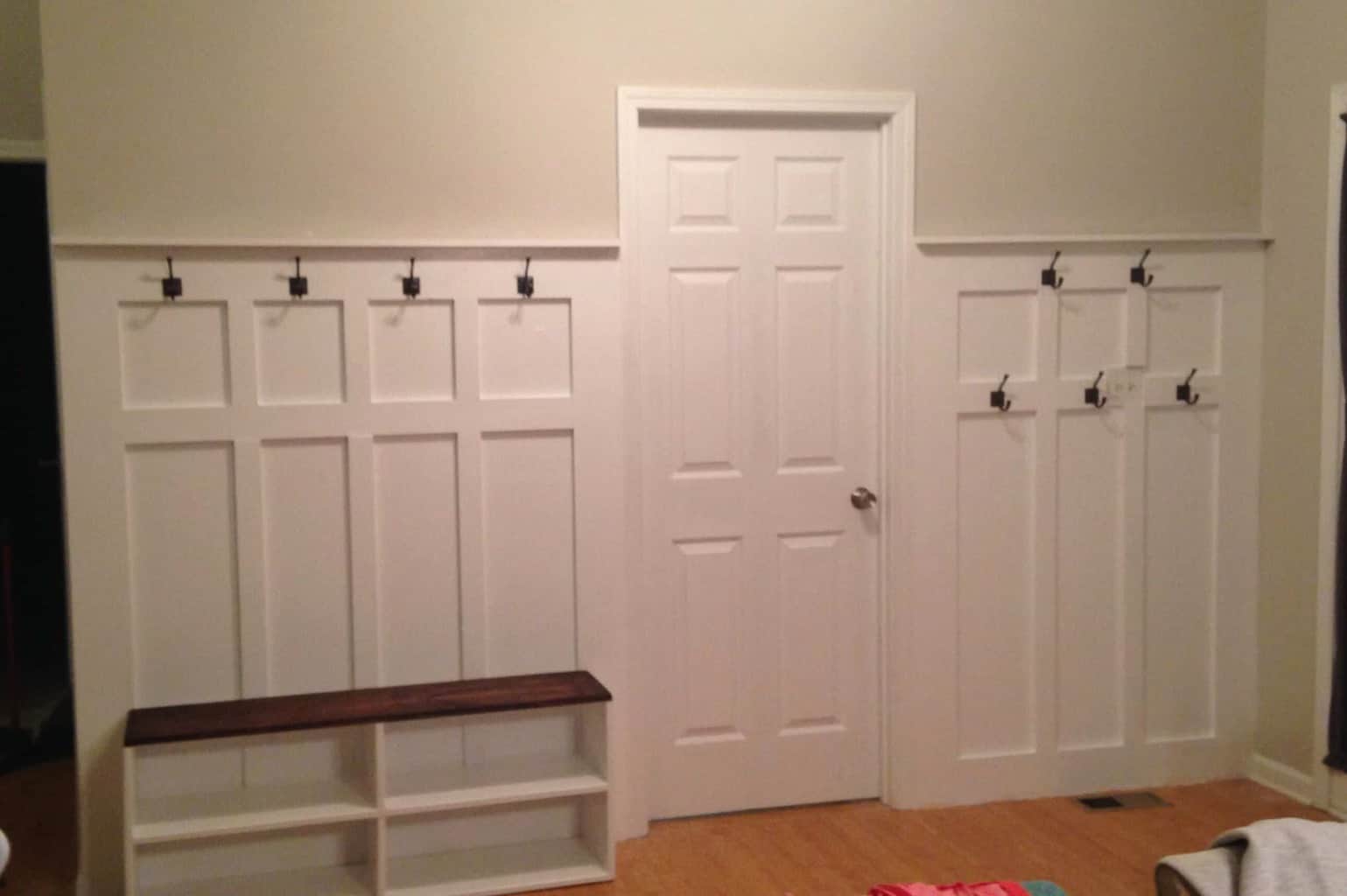 Decide where you want your hooks to go, and screw them into the boards. We did not use a second row of hooks on the left side because we felt that they would be too close to the shoe bench… You don't want to hit your head on a metal hook while you are trying to put your shoes on. 🙂
Here is a close-up of the hooks that we used: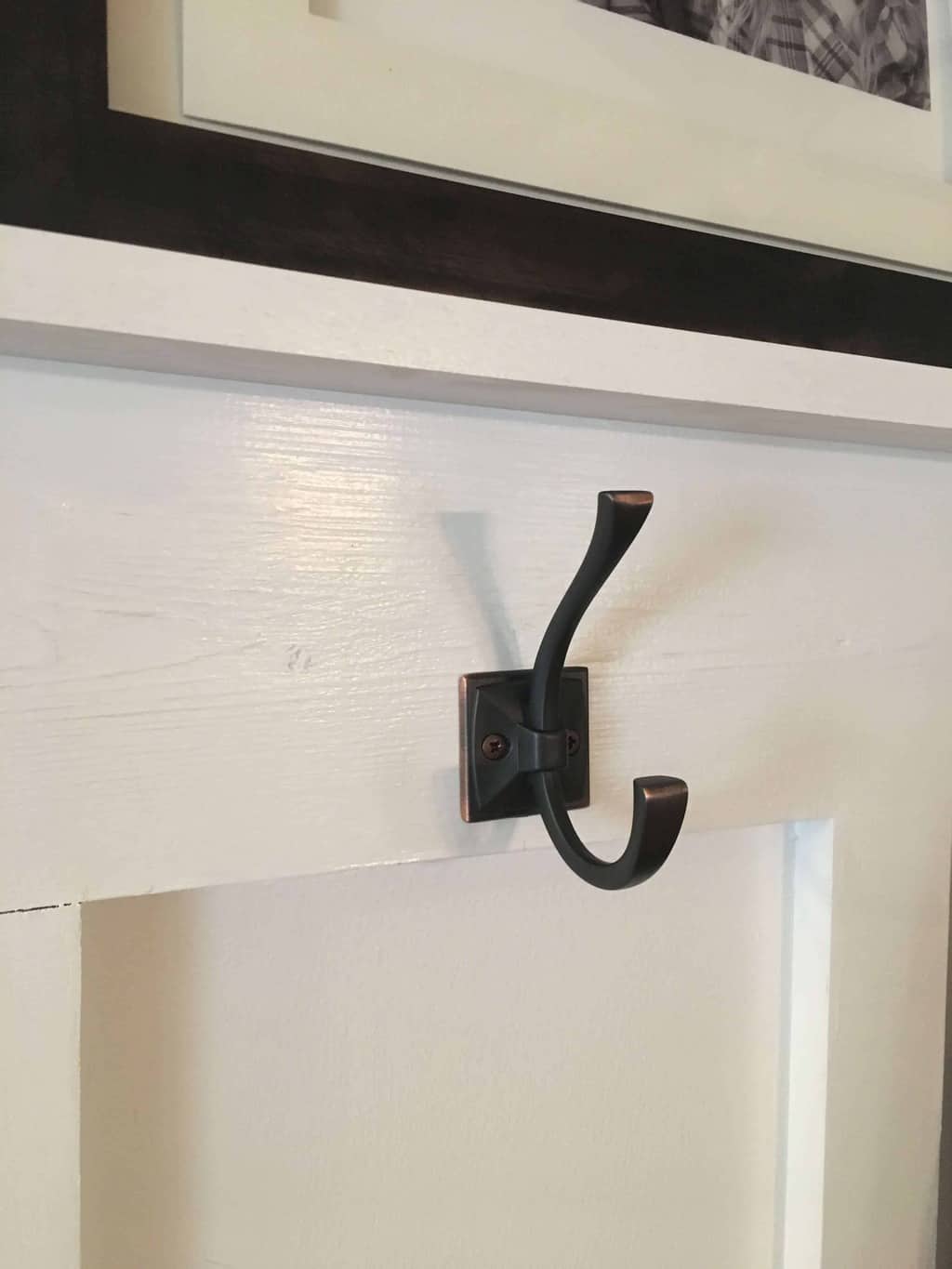 Full disclosure: I really wish that we had looked on Amazon first for Wall Hooks
. These came from Home Depot and they were WAY more expensive than some of the Amazon options. Plus, Amazon has the most amazing selection of the cool, vintage/industrials hooks also. Check them out:
8. Enjoy Your New DIY Mudroom Wall!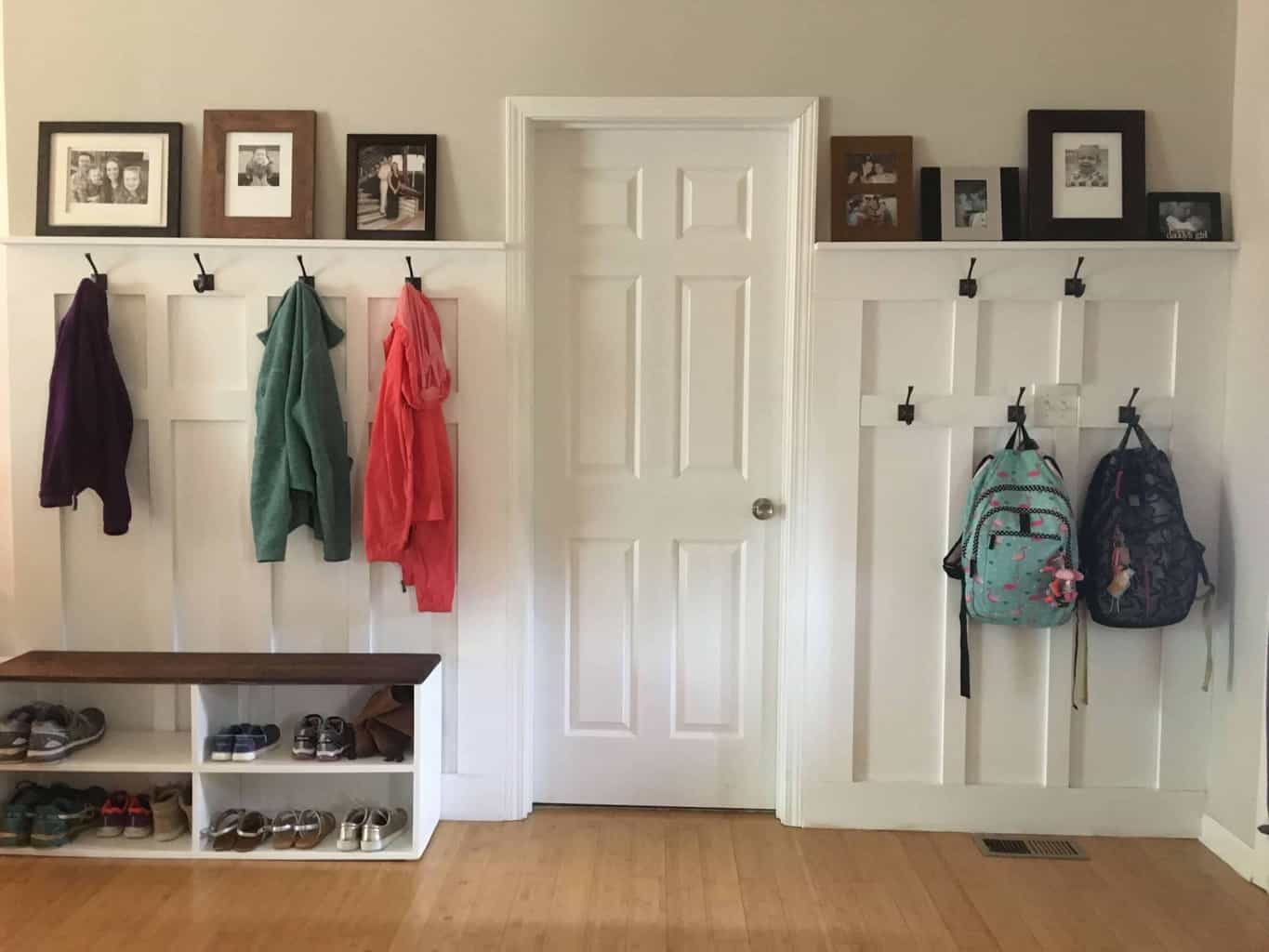 This whole wall system costs us less than $250! Not bad, considering all of the great storage we have now!
Not handy? You can buy some really great ready-to-assemble hall trees from Wayfair! Plus, if you've never shopped there before you can usually get a 10% off coupon code for entering your email address. Check them out here!
Hope you enjoyed this tutorial! And don't be afraid to give this DIY mudroom a go. My husband is a novice when it comes to carpentry… so if he can pull this off, you can too!
Related Posts:
And don't forget to PIN this post to refer back to when you are ready to create your DIY mudroom!