In case you haven't heard, Amazon Prime Day is quickly approaching! So, I thought that I would take a quick second to let you know all about the many Amazon Prime benefits for Amazon Prime members. Besides just the Free Shipping…
We are avid Amazon Prime shoppers! In fact, we've been Amazon Prime members for the last 9 years… boy, time flies!
We had an Amazon Prime membership way back when pretty much the only benefit was Free 2-Day shipping.
Now, of course, Amazon Prime offers WAY more than that.
From unlimited streaming music and tv shows, to a HUGE library of FREE books and magazines, to discounts at Whole Foods, and a try-on-before-you-buy clothing service, you are bound to find something in this huge list of Amazon prime benefits that will make your life easier!
So without further ado, these are the little-known benefits of having an Amazon Prime Membership, and how it can make your Mom Life less stressful…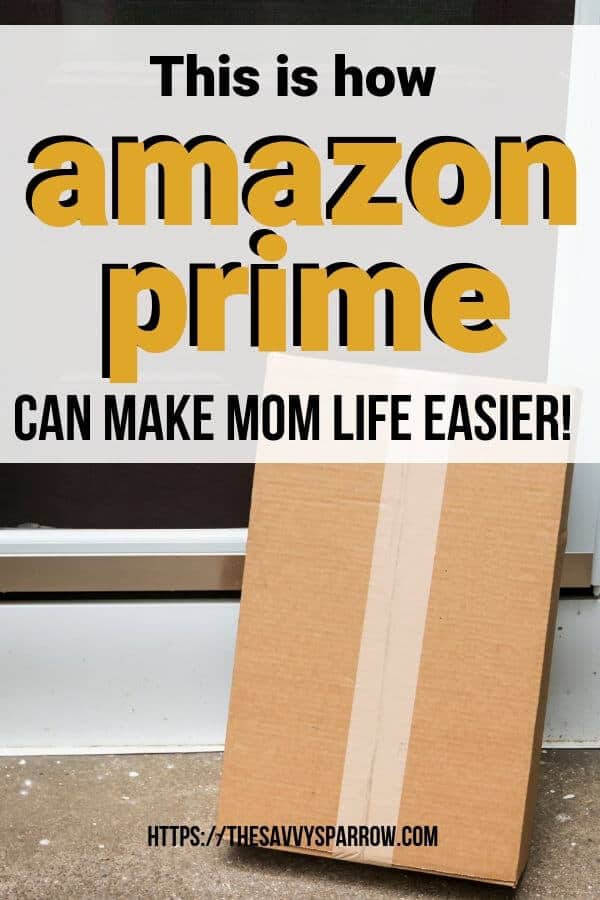 *This post contains affiliate links, which means I may earn a commission from these links at no additional cost to you. Read my full disclosure here.
Delivery Benefits of Amazon Prime
Free 2-Day Shipping
I'm sure that you've heard of Amazon's FREE 2-Day shipping. They've offered it for years on the majority of their products, and it is the reason that we signed up for Amazon Prime membership in the first place.
Free Same Day Delivery
If you live in a metropolitan area, then free same day shipping may be available to you. If it is available in your area, then you'll be able to get FREE same-day delivery on over 3 million items on qualifying orders over $35. You will, however, need to order in the morning to get your items by 9pm that same day.
Think of how many trips to the store this could save you! No need to buckle the kids in the car seat, or even put on a bra. That's a Mom Win in my book! 🙂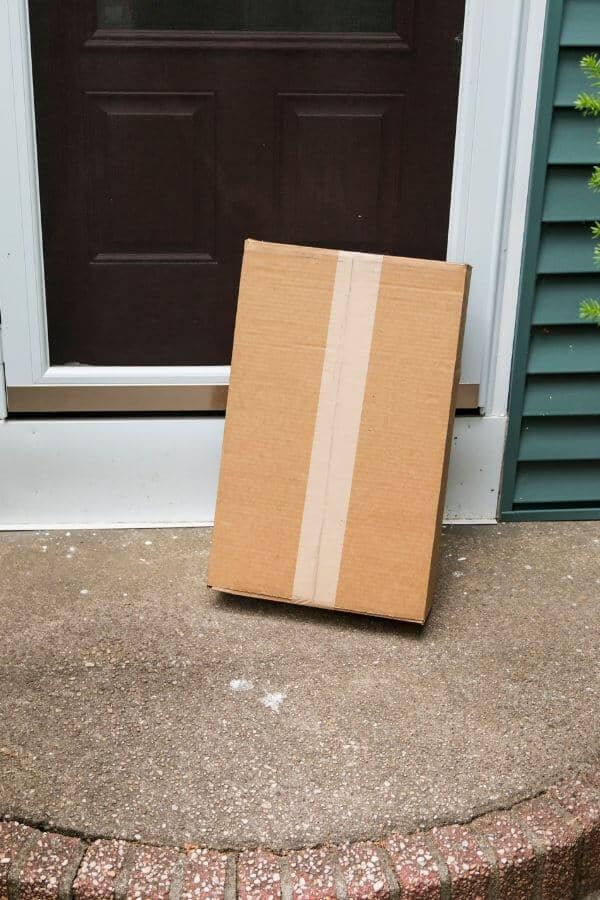 Free Release-Date Delivery
You can also get FREE delivery of newly-released books, music, movies, or video games. If you choose Release-Date Delivery on a qualified item, you will receive it on your doorstep by 7pm on the release date.
This Amazon Prime benefit is perfect if your kids are super-fans and you want to skip the long lines at the store to get the new Harry Potter book, Call of Duty video game, etc.
Get Amazon Credits with "No-Rush" Shipping Option
If you're ordering an item that isn't time sensitive, then you can choose "No-Rush" shipping at checkout in exchange for rewards for future purchases. In the past, we've gotten $1 credits for digital movie and song purchases for choosing this option.
Those $1 digital credits come in really handy when our kids want a new app or game for their Kindle Fires!
We ordered a TON of our Christmas gifts on Amazon last year, and because we were shopping early, we chose the "No-Rush" shipping option to take full advantage of the free money.
Speaking of FREE MONEY… If you don't use Ebates, then you are missing out on getting cash back on online purchases! Click HERE to read The Easiest Way to Get Cash Back on Online Purchases!
Or just click Click HERE to go ahead and sign up for Ebates… it's completely FREE!
Entertainment Benefits of Amazon Prime
First off, let me say that Amazon Prime and the Kindle Fire were our saviors when our kids were younger.
From the time that our girls were 2 years old to 6 years old, we lived in the middle of nowhere, Wyoming. (You can read all about my Life Lessons I Learned While Living in the Middle of Nowhere HERE).
My daughter's preschool was 50 minutes away. The closest WalMart was an hour and a half away, and even the small grocery store in our little town was a 20 minute drive, most of which was down a dirt road. And, I can't forget about the 22 hour car trip that we made to actually move out to Wyoming in the first place… with a two year old.
With all of that time spent in the car, I'm sure that Amazon Prime saved me from at least a few car accidents that might have been caused by distracted Mom driving.
If your kids are not great at car rides then, trust me, you will want to check out a Kindle Fire and a Prime membership too! And if you're worried about the extra screen time, then you can just download educational shows and games for your kiddos and chalk it up to extra learning instead of extra screen time. 🙂
Amazon Prime Video
Similar to Netflix, Prime Video is a streaming video service that offers unlimited streaming of tv shows and movies. And, just like the other streaming service giants, Amazon Prime Video has an impressive library of shows and movies that are available only on Prime Video.
Some of our favorite Amazon Exclusive shows are Tom Clancy's Jack Ryan and Bosch.
You can watch Amazon Prime Video on most streaming devices. We access it on our Sharp Roku TVs, on our LG Smart BluRay Player, and on our Kindle Fires. But, if you don't have a smart tv, you can get a FireTV stick to access Amazon Prime Video, as well as other streaming services like Netflix.
But, what can Amazon Prime Video do to make your Mom life easier?
Well, at the risk of backlash, sometimes you just need to sit your kids in front of the tv so that you can get some housework done or sneak in a few minutes of peace.
Amazon Prime Video has a HUGE library of tv shows and movies that are perfect for kids of all ages. So, when you feel a Mommy Meltdown coming on, just plop 'em down on the couch with some popcorn and let them pick out a movie.
It's so much more convenient that running to the library or a Redbox to rent a DVD. And you don't have to worry about late return fees.
Also, Amazon Prime Video is our go-to for road trips.
Both of my girls have their own Kindles (which are perfect for kids, by the way, because they are WAY CHEAPER than an iPad). And, since we are Amazon Prime members, we can download shows and movies to our girls' Kindles before we leave for road trips. That way, they have plenty of FREE entertainment for the car ride, and they don't have to be connected to the internet.
Even my husband downloads movies to watch on his own Kindle when we go on a road trip. Yes, I usually drive 98% of the trip, while he sits in the passenger seat and watches movies.
Amazon Prime Music
Another one of my favorite benefits of Amazon Prime membership, is access to Prime Music. Amazon Prime Music offers unlimited access to over 2 million songs, without ads. You can stream the music or download it to your phone to listen offline.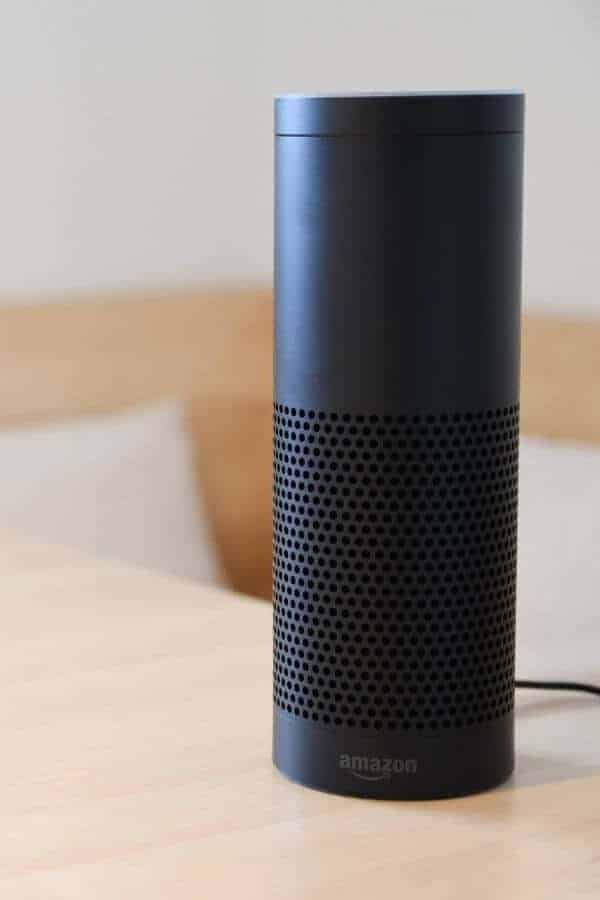 I bought myself an Amazon Echo last year for Christmas, and it's perfect for impromptu dance parties with the kids, or just when I need to blare some music as motivation to clean the house.
And the kids love our Echo and the instant access to millions of songs just as much as I do. Their favorite voice command: "Alexa, play songs by JoJo Siwa".
My 7 year old even has her own playlist that she listens to on her Echo Dot when she's going to sleep.
And I have an upbeat playlist that we listen to in the mornings while we're getting ready for school. I've found that music gets my kids going in the mornings, much more so than tv.
And it's so easy to create different playlists through Amazon Prime Music. Then, if you have an Alexa-enabled device, all you have to do is say "Alexa, play my (Insert Name of Your Playlist HERE)".
Amazon Prime Reading
Another one of the entertainment benefits of Amazon Prime is access to Amazon Prime Reading, which offers free e-books and magazines.
You can choose from over 1,000 books, audiobooks, magazines, or comics, and "borrow" up to 10 titles at a time. It's like a library but without the need to have a library card.
And Amazon Prime Reading has a rotating library of some great titles. Right now you can read Dave Ramsey: The Total Money Makeover, Whole 30: The 30-Day Guide to Total Health and Food Freedom, or Harry Potter and The Sorcerer's Stone, just to name a few.
If magazines are more your thing, then you can "check out" the current issues of Martha Stewart Living, Shape, or Rachel Ray Every Day.
But, what's in it for the kids?
Well, you can replace your kids' tv screen time with reading screen time.
Let your kiddos choose what they like from an extensive kids' library, and let them read books or magazines on their Kindles or other devices. Right now, the Prime Reading library offers a great selection of early readers like Pete the Cat books, the Frozen junior novels, and National Geographic Little Kids, among others.
What a great way to encourage your kids to read!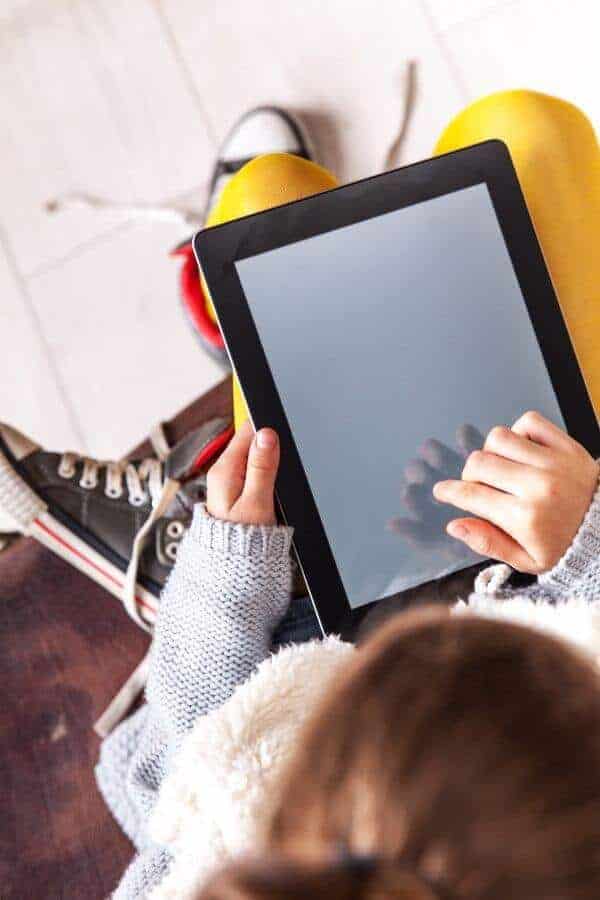 The Prime Reading library is also perfect for Moms that have a long commute to school or daycare drop-off, or if you're planning any summer road trips. Just download up to 10 books or magazines for your kids to read in the car for easy entertainment.
Click HERE to check out the FREE offerings on Prime Reading right now!
Twitch Prime
I can't really speak to this benefit of Amazon Prime, because my girls don't play video games.
But, if you DO have a video game fanatic in your house, then you may want to check out Twitch Prime! Included with your Amazon Prime membership, Twitch Prime gives you FREE game content every month and a Twitch Channel subscription!
Click HERE to Try Amazon Prime 30-Day Free Trial
Shopping Benefits of Amazon Prime
Most people probably just think of Amazon as a shopping site, and they do not disappoint in that department.
We have found some of the most random specialty items on Amazon, that we never would have been able to buy in stores.
Just a few recent examples… this sliding barn door hardware kit for cabinet doors to go on a farmhouse-style buffet console that we are building (that I can't wait to show you!) And this instant mold and mildew remover that cleaned my husband's vinyl boat seats in literally 5 seconds after nothing else that we had tried worked.
And, I can't forget about the mermaid tail cake toppers that I found on Amazon after I had searched about 5 different retail stores for something mermaid-themed to decorate my daughter's birthday cake.
So, yeah… I guess that you could say that Amazon's HUGE selection of hard-to-find items has saved us on more than one occasion. And that's just stuff that we've bought in the last 2 months! All with FREE 2-Day Shipping!
Here are a few more of the shopping benefits of Amazon Prime membership:
Exclusive Discounts and 2 Hour Delivery at Whole Foods
If you have a Whole Foods nearby, then you will love this benefit of Amazon Prime membership. Prime members not only get an extra 10% discount on specially marked products in the store, they also get 2-Hour Delivery for a fee of $4.99 with a $35 minimum purchase.
What does that mean for you as a busy Mom?
Imagine that you've had a rough day, and you don't feel like cooking dinner, or maybe you're missing a few key ingredients and don't want to load the kids in the car and make the trek to the grocery store.
You can just order prepared family meals from Whole Foods, like Eggplant Parmesan or Pork Chili Lime Burritos, and have them delivered to your house in 2 hours. Then, all you have to do is pop them in the oven for about 30 minutes and a healthy dinner, that you can feel good about feeding to your family, is done. With very little effort on your part!
Doesn't that sound much better than pizza delivery?
Amazon Family
If you have a baby, then you need Amazon Family, which is free to Prime members.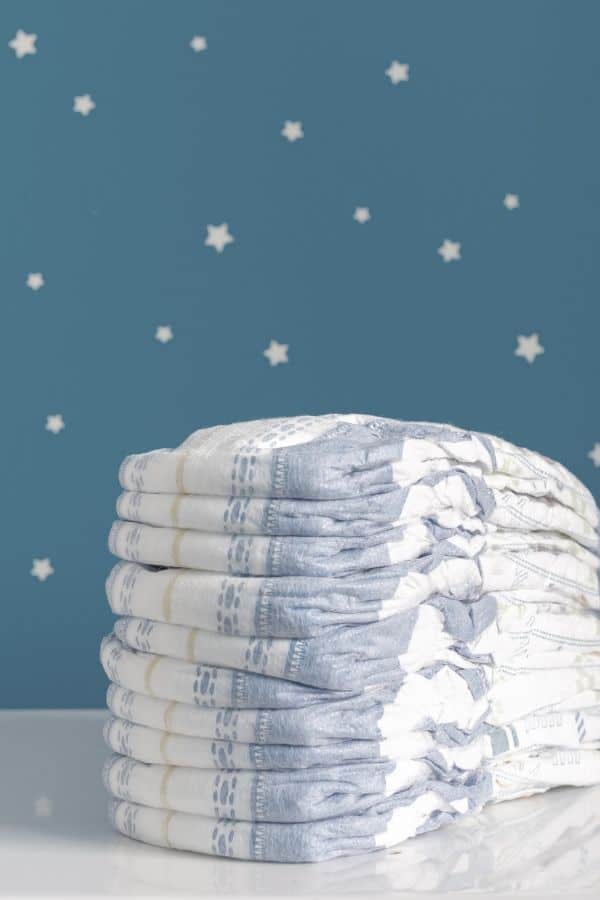 With Amazon Family, you get 20% off diapers, baby food, and more when you Subscribe & Save for 5 or more products. You also get a 15% discount on your Baby Registry completion and exclusive coupons.
Plus, it saves you a trip to the store!
If you have a newborn, especially, the last thing that you want to do is go on a Target run for diapers. Let the diapers come to you, Mama!
Click HERE to Try Amazon Prime 30-Day Free Trial
Prime Wardrobe
As Moms we barely get a minute to ourselves, let alone enough time to go shopping and try on jeans, am I right?
Prime Wardrobe is one of the great benefits of Amazon Prime if you don't even have enough "Mommy time" to go clothes shopping.
With Prime Wardrobe, you get to choose up to 8 items to try-on. And, if you have hard-to-fit kids that don't have the patience for store dressing rooms, then you can even choose from kids' or baby clothing to try.
Amazon will ship you the items for FREE and you have a 7-Day Try-On period to decide what you want to keep. You ship back the stuff that you don't want (with FREE return shipping!) within the 7-Day period, and you only pay for the stuff that you keep!
This awesome benefit is just for Prime Members and is included in your Prime Membership!
AmazonFresh
This service does have a fee for Prime Members, but if you despise going to the grocery store, then $14.99 per month is a small price to pay!
With the AmazonFresh grocery delivery service, you can get produce, dairy, prepared meals, and household essentials delivered to your door as soon as the next day.
This is one of the Amazon Prime benefits that's perfect for busy Moms that don't want to drag all of their kids to the grocery store. Plus, you won't have to keep saying "No" to all of the junk food that your kids ask for (or just sneak into the buggy!).
Other Amazon Prime Benefits
Amazon Photos
If your phone is constantly out of storage, or your iCloud is full (like mine is right now!), then you will love this benefit of an Amazon Prime membership!
With Amazon Photos, Prime members get UNLIMITED free photo storage for yourself AND five others! Plus, you also get 5GB of video storage!
Now your 6 year old can steal your iphone and take 32,000 silly selfies with duck faces without you worrying about it. 🙂
And, there are way more benefits than those that I've included on this list…
Remember at the beginning of this post when I said that I was just "popping in" for a quick second to tell you about my love for Amazon Prime… and then I ended up writing over 2,400 words.
Yup.
So, I'm cutting this short… er, shorter. 🙂
You can head HERE for the Full List of Amazon Prime Benefits, and see what I've left off.
And click the link below for a FREE 30-Day Trial of Amazon Prime, just in time for Prime Day 2019!
Click HERE to Try Amazon Prime 30-Day Free Trial