These tips for how to declutter kitchen counters are perfect if you are in serious need of a kitchen organization overhaul. Use these kitchen decluttering tips to clear your countertops once and for all.
Clutter = Mess, and Mess = Stress.
That's why I'm a big proponent of keeping clutter and knick-knacks to a minimum. Although, I have to admit it can be really difficult with two kids' worth of toys/clothes/birthday party favors/bubblegum machine toys/lifetime supply of crayons… you get the idea. And not to mention, a husband that drops his dirty shorts right in front of the hamper instead of IN the hamper.
And I don't know about you, but my kitchen is a prime spot for collecting clutter. It's why I made these awesome printable Kitchen Cleaning Checklists!
As one of the most used rooms in the house, the kitchen takes the brunt of our clutter. It's natural to walk in the door and go straight to drop our stuff on the kitchen counters. If that sounds like you too, then here are some easy tips for how to declutter kitchen counters.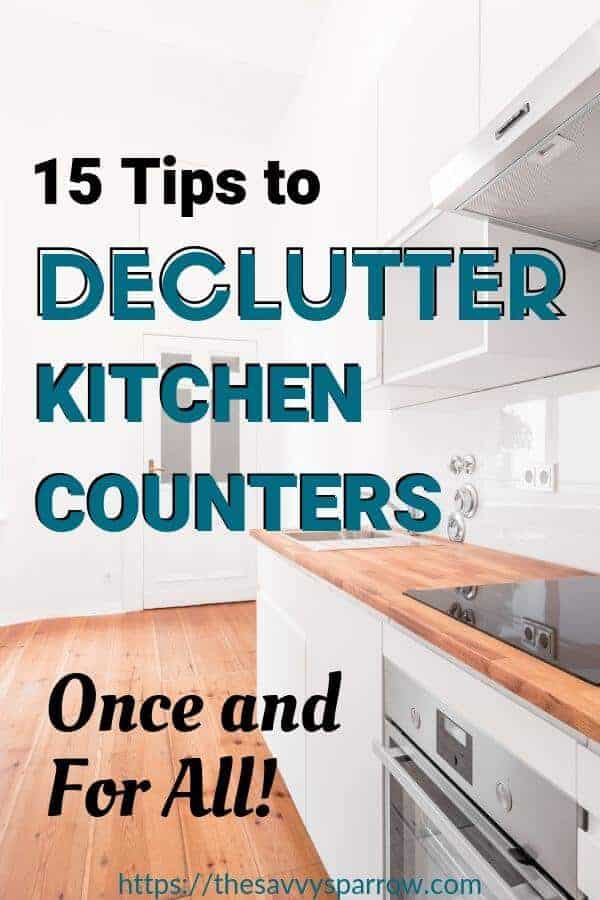 *This post contains affiliate links, which means I may earn a commission from these links at no additional cost to you. Read my full disclosure here.
1. Use a tray to store frequently-used cooking items.
This tip for how to declutter kitchen counters is number one on my list because it is the easiest and most effective way to keep your kitchen counters clear.
My husband is a culinary genius… not exaggerating. Every single dish that he whips up is delicious. But, he also makes a huge mess in the kitchen, and he has so much kitchen countertop clutter! Which I guess is a very small price to pay to not have to cook dinner by myself. 🙂
I felt like I was always trying to push his olive oil, butter, salt and pepper into a small corner of the kitchen counter so that it looked semi-clean…
Until we were at Hobby Lobby one day and found a gorgeous wood tray on sale.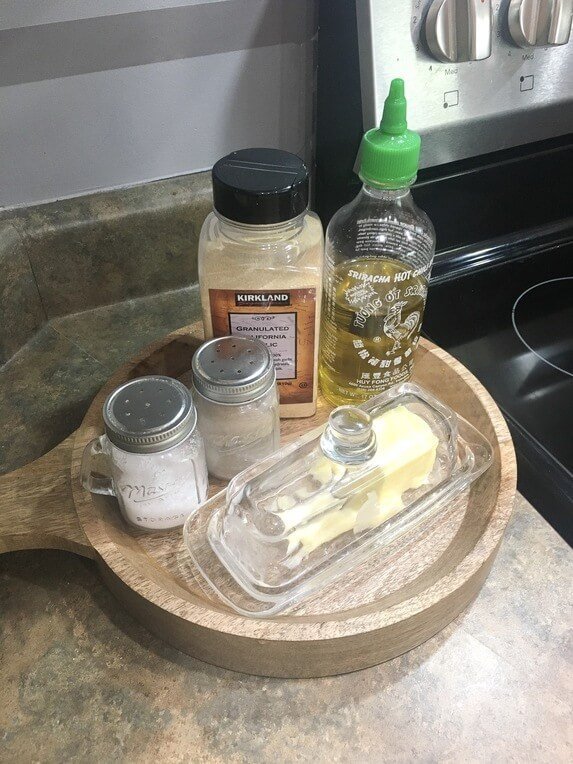 We brought it home, and in literally TWO MINUTES, out kitchen counter looked way less cluttered.
By the way… yes, that is an old Siracha bottle filled with olive oil. He likes to use that bottle because it has a convenient squeeze cap which he says is easier than pouring the olive oil straight out of its own bottle.
If you want to try the same thing to declutter your kitchen counters, then you can find some great trays HERE!
2. Create a contained coffee station.
The tray method of containment also works great for kitchen counter clutter from your coffee supplies.
If you have clutter from K-Cups, Splenda packets, sugar, and coffee mugs, then all you need to declutter kitchen counters is a large tray.
I LOVE the Coffee Station that Feeling Nifty created on her kitchen counter using a thrift store, basket-style tray. Doesn't this one simple trick make her kitchen counter look nice and clear?
3. Move the dish drainer to the inside of the sink.
Yes, we have a dishwasher. But for some reason, I prefer to wash dishes by hand. Our dishwasher pretty much only gets used on holidays, so I always have dishes out that are drying.
I have tried using my dishwasher as a "drying rack", but I found that putting the wet dishes in there to dry without any airflow just caused them to smell bad. And then I just had to wash them again… no fun!
So for a long time, I used a countertop dish drainer with a fabric draining mat underneath. That worked fine, but it made my kitchen counters look even more cluttered.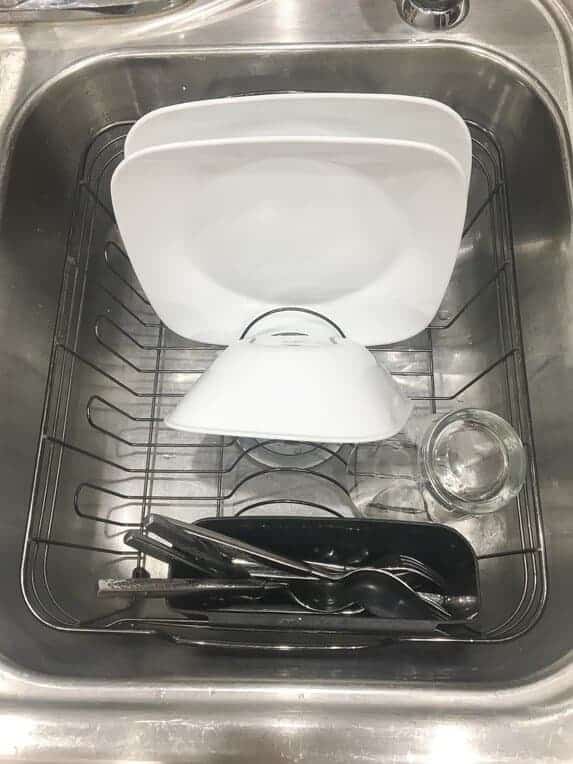 Then I found this dish drainer that I LOVE that fits perfectly in one side of my sink. Just by moving the dish drying rack to the inside of the sink, I was able to declutter the kitchen counters.
4. Get your knife block off of the kitchen counter.
Knife blocks are usually one of the bulkiest items on the countertop, besides a coffeemaker or a microwave.
You can swap out your countertop knife block for an in-drawer or wall mounted, magnetic version to neatly store your knives off of the counter.
Here are some great options from Amazon:
16 Inch Stainless Steel Magnetic Knife Bar:
5. Add floating shelves to the sides of cabinets.
This idea is a genius way to use forgotten space to declutter kitchen counters.
By adding floating shelves to the sides of your cabinets like The Chronicles of Home did here, you can clear clutter from your countertops while still being able to easily access your stuff.
6. Hang cooking utensils on the wall.
There are other ways to store your frequently used cooking utensils besides in a canister on the countertop. If drawer space is limited, then you can use a simple towel bar and "S" hooks to hang your utensils on the wall and out of the way.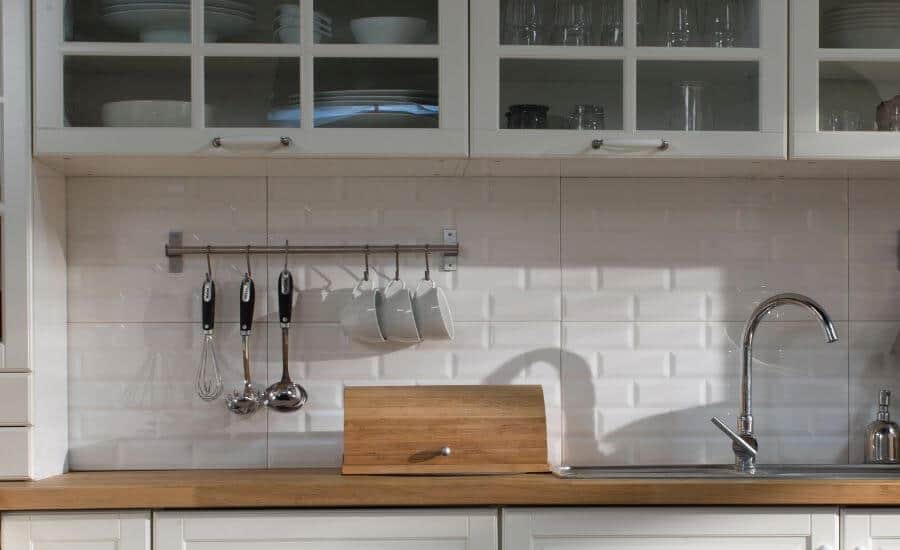 You can also find some great utensil hanging racks HERE!
7. Use a dish soap and sponge caddy.
You don't have to go out and buy anything fancy, but even a simple cube-style plastic bin can work to corral your dish washing supplies and help to declutter kitchen counters.
8. Relocate small appliances that are not used frequently.
Yes, I know that your KitchenAid stand mixer is a show piece. But how often do you actually use it? If you only use it once a month, then get it off your countertop. (Assuming that you can lift it easily… those suckers can get heavy!).
The same goes for blenders, toasters, waffle makers, etc. If you only use something occasionally, then it probably isn't worth leaving it out on your kitchen counter.
9. Declutter kitchen counter decorations.
Relocate items that are purely decorative to the living room or dining room. Don't use your valuable countertop space for items that are not functional or useful.
Having too many decorative knick-knacks out is a surefire way to make your kitchen counters look cluttered.
10. Create a command center to declutter kitchen counters.
Before I invested a little bit of money to create my family command center, the kitchen counters were my drop zone for all sorts of paper clutter.
Even though I tried to keep it tidy by neatly stacking important papers into piles, those piles were still on my counters.
Kids bring home field trip permission slips? Add it to the pile.
Coupons come in the mail? Add it to the pile.
Husband brings home important work invoices? Add them to the pile.
Creating a command center with baskets for my kids' school papers, mail, coupons, and other important documents was one of the best things I did to declutter kitchen counters.
Plus, you can take it a step further and organize paperwork using this easy home filing system! I recently redid my family papers organization system, and I'm sharing it with you here!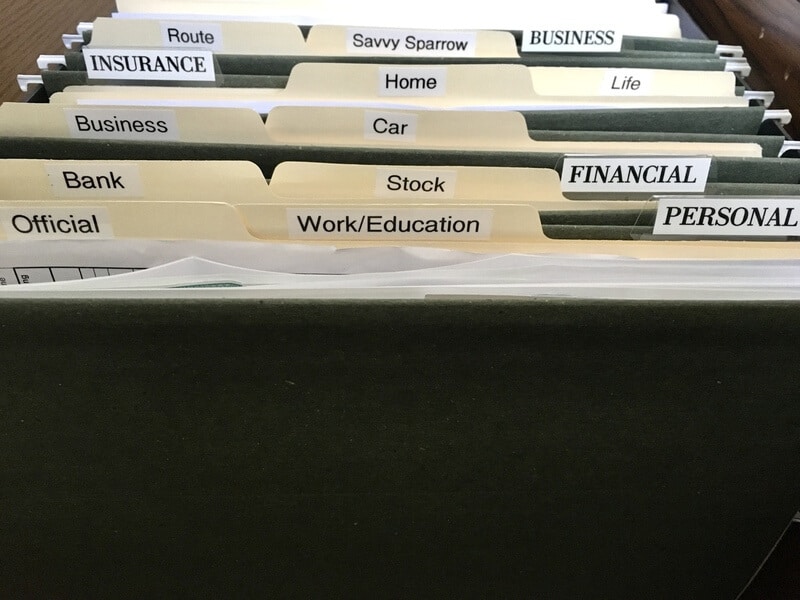 11. Mount your paper towels to the wall.
Try a wall-mounted paper towel holder to get yet another thing off of your kitchen counters. Or, if you don't like the look of the paper towels mounted on the wall, then you can mount them to the inside of a cabinet.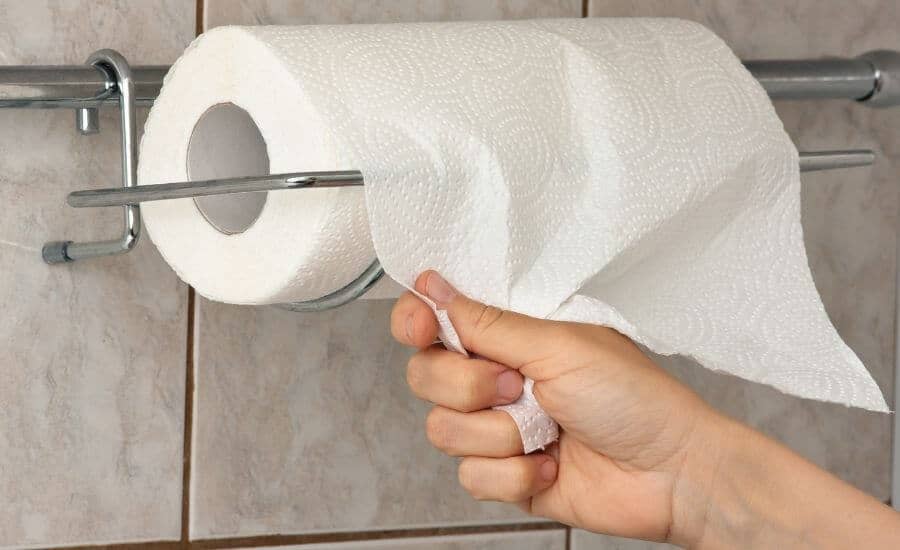 12. Wipe your kitchen counters every night.
I picked up this tip from my Mama, who can't stand to go to bed if she has a dirty kitchen.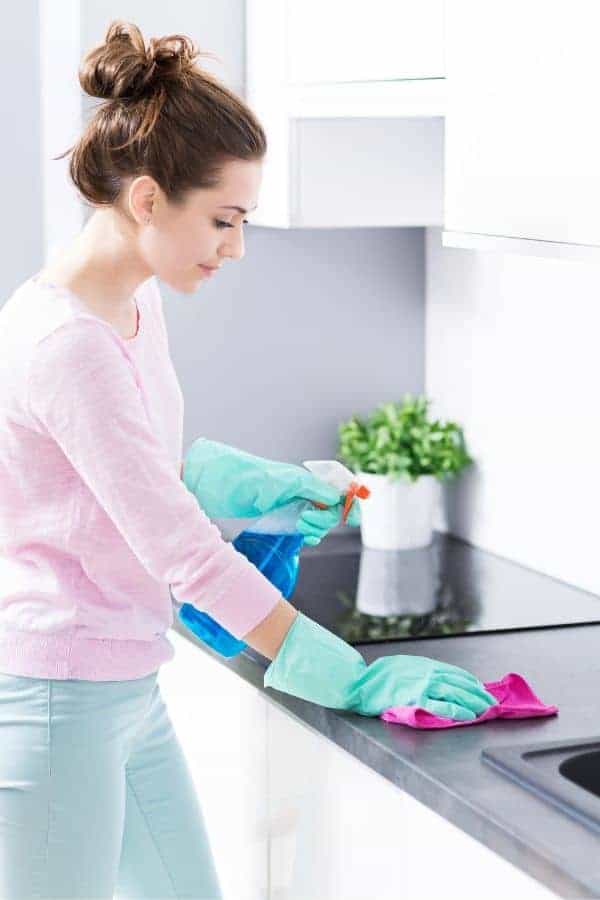 And, yes, believe it or not, even a few crumbs from dinner can make the kitchen counters seem cluttered and dirty.
Take two extra minutes each night to wipe your kitchen counters to instantly make your kitchen seem cleaner and decluttered. *You can also check out this post for FREE Printable Kitchen Cleaning Checklists to hang on your fridge!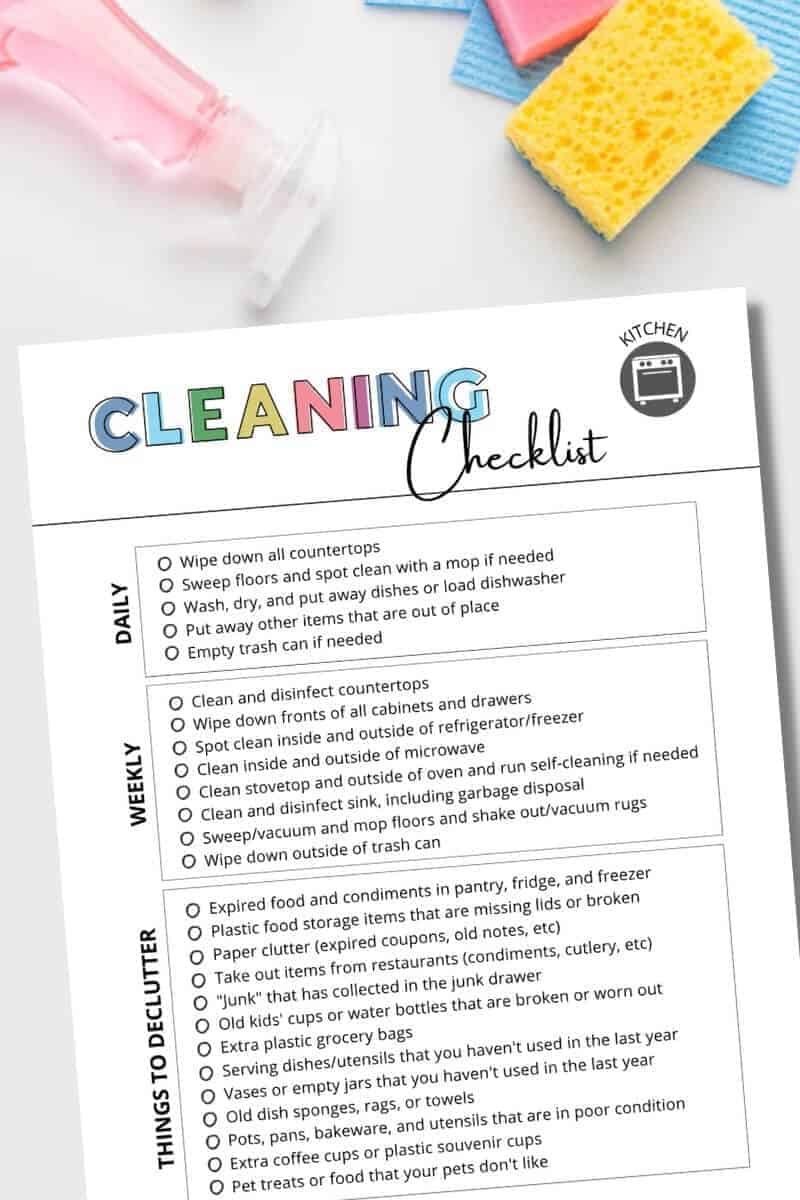 13. Have a "Junk Drawer".
Yes, I know… it sounds counter-intuitive to have a drawer designated for "junk" when you are trying to declutter your kitchen… but think of it this way…
Would you rather have a "Junk Drawer" where all of your miscellaneous clutter is hidden from view, or would you rather have a "Junk Countertop"? Just saying. 🙂
And if your junk drawer is a HOT MESS too, then check out this post: Junk Drawer Organization – Keep it Clean Once and For All!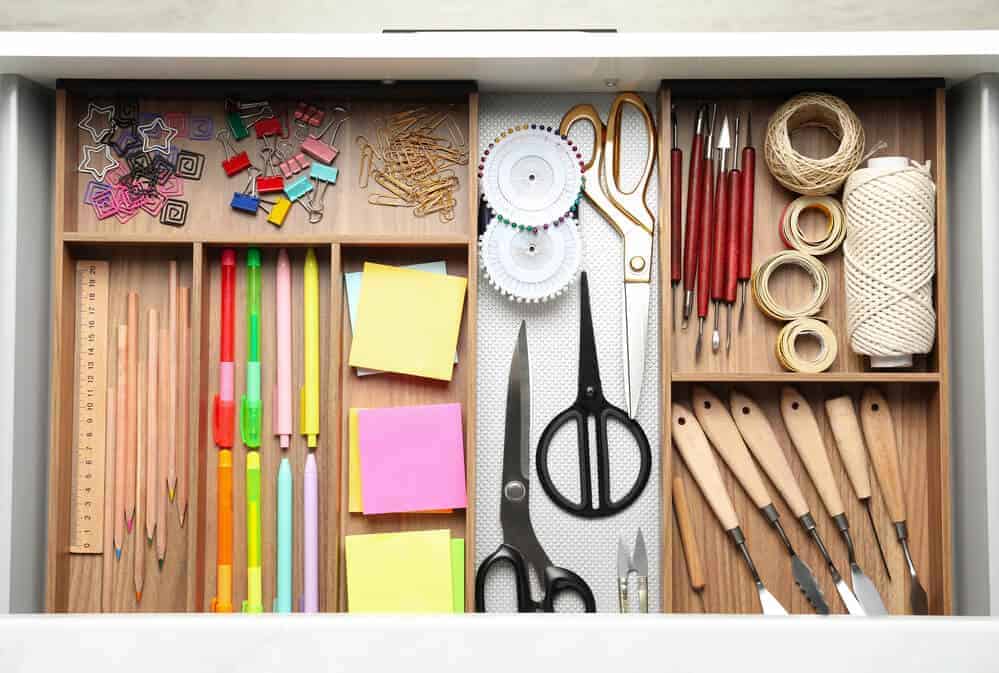 14. Relocate canisters to the pantry.
It's tempting to buy the cute, decorative canisters for flour, sugar, etc to display on your countertops. Heck, the sole purpose of those decorative flour/sugar bins is to have them out on the counter.
But, most of those decorative canister sets take up A LOT of space. Instead of having those dry baking items out on the counter, store them neatly in the pantry in labeled, airtight containers.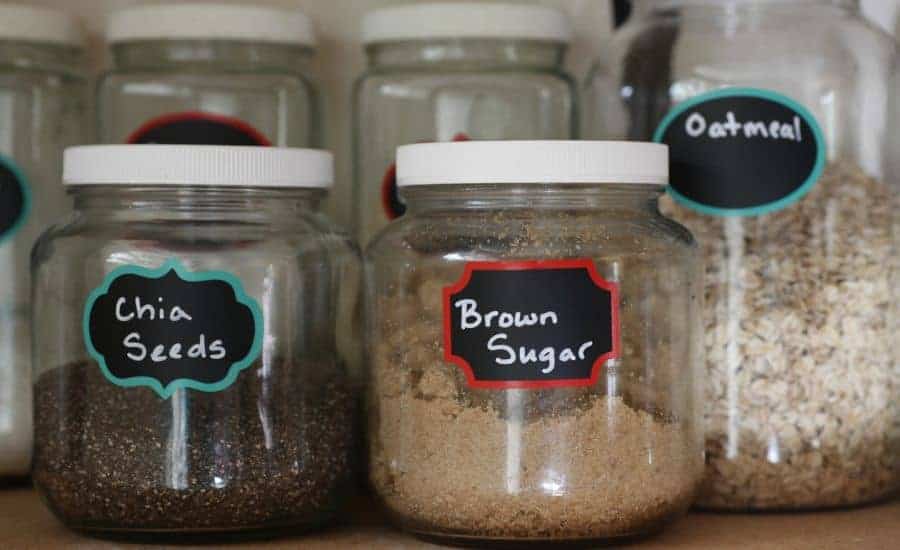 Plus, I don't know about you, but it's been a while since I've used plain old flour or sugar. And if I don't use something on a regular basis, then I don't keep it out in view.
15. Try other mounted or hanging storage.
Depending on what your own kitchen counter clutter looks like, you may want to try one of these other useful organization products to declutter kitchen counters:
Hanging or wall-mounted fruit baskets
Wall-mounted spice racks
Hooks for keys, dog leash, etc.
Wall hooks to store coffee cups
Cutting board racks mounted on the inside of cabinet doors
Pegboard for kitchen organization
Get my FREE Printable 30 Day Decluttering Challenge!
After you've finished decluttering your kitchen counters, maybe you want to move on the WHOLE HOUSE! I can help you with that, too!
I created this awesome 30 Day Decluttering Challenge which breaks the monumental job of decluttering your entire home into small bite-sized decluttering jobs… like your medicine cabinet, your nightstand, and your freezer.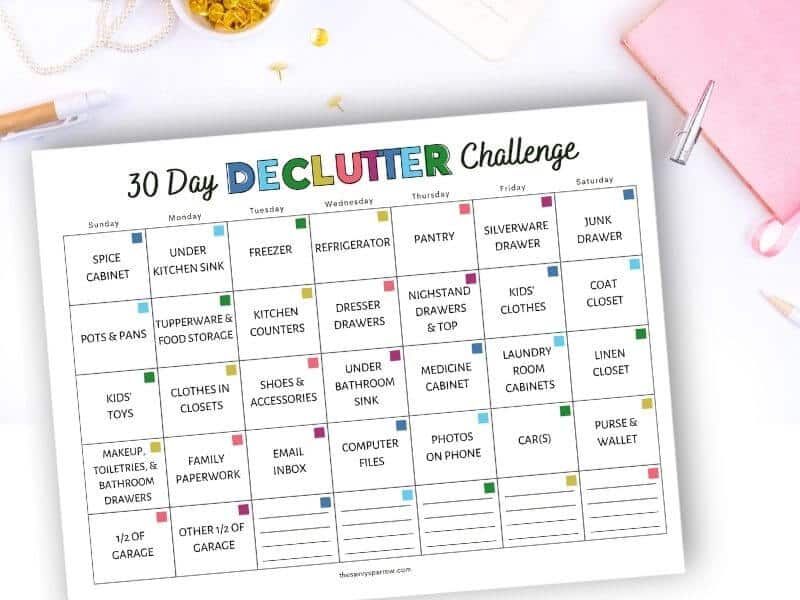 Just imagine what your home could look like after this 30 Day Challenge! Just use the form below to join my free email newsletter, and I'll send you the printable 30 Day Challenge as a welcome gift. Plus, you'll get access to my entire FREEBIES library!
And, if you're stressed out about the constant clutter on your counters, then try these easy decluttering tips for the kitchen! These tips will help you to have clutter-free kitchen counters in no time.
Do you have any tips for how to declutter kitchen counters? Anything that I've left off my list? I'd LOVE to hear from you! Drop a comment below. 🙂
Want other cleaning and organizing ideas? Check out these posts:
15 of the Best Kitchen Organization Ideas to Inspire You
How to Keep a Clean House Even if You're Crazy Busy – 11 Easy Tips!