Learn how to get your kitchen super clean with this kitchen cleaning checklist. Whether you need ideas for daily kitchen cleaning jobs or deep cleaning jobs, these free printable lists can help you!
The kitchen is the heart of the home… so it's probably the dirtiest room in your home also.
My own kitchen serves as a "drop zone" for pretty much anything that comes through the front door, not to mention a craft space for my 8 year old daughter, and a 24/7 snack shack for my husband.
From dirty dishes to backsplash splatters to crunched up Cheerios on the floor that nobody bothered to pick up, the kitchen is a prime spot for collecting dirt and junk. And as such, it can be super overwhelming to get it super cleaned. Not to mention the constant need to declutter your kitchen countertops!
But this kitchen deep cleaning checklist can help!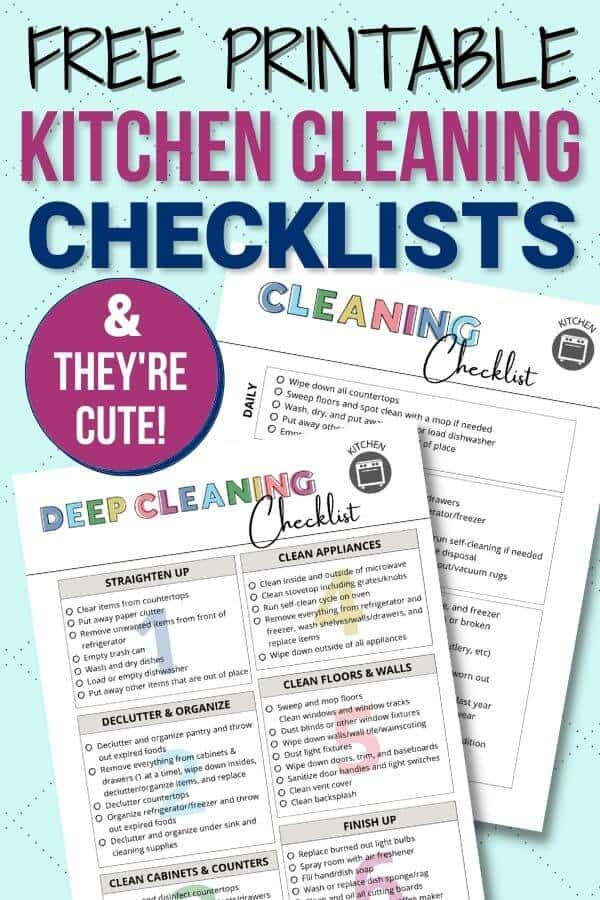 *This post contains affiliate links, which means if you click a link and make a purchase, I earn a commission at no additional cost to you. Read my full disclosure here.
You can print out these cleaning lists, laminate them, and hang them on your fridge to use as a kitchen cleaning schedule to keep the area nice and tidy.
Here are my best kitchen cleaning tips and some daily, weekly, and deep cleaning jobs to add to your cleaning routine:
How to Deep Clean Your Kitchen (if you're SUPER overwhelmed!)
Just follow this kitchen deep cleaning checklist and you'll have a clean kitchen in no time:
Step 1: Straighten up
If your kitchen is a hot mess, start by straightening up the items that are clearly out of place. This includes removing items that have collected on your kitchen counters like mail and kids' school papers, washing and drying dishes or putting dishes in the dishwasher, removing old papers from the front of your refrigerator, and generally looking for things that do not belong.
This should take about 10 minutes, and your kitchen will look so much better just after completing this first step.
Step 2: Declutter and organize the pantry and kitchen cabinets
The next step to getting your kitchen nice and clean is to do some decluttering and organizing.
I suggest that you start with the cabinets and go through one cabinet or drawer at a time, take everything out of that area, wipe down the insides, declutter and organize everything that was in there, and then replace the items that you want to keep.
A cluttered kitchen will NEVER look clean, no matter how many times you mop the floor or wipe down the cabinets, so take the time to minimize the amount of STUFF that's in your kitchen.
Here are some specific areas to focus on when decluttering the kitchen:
Plastic food storage items (Tupperware) that are missing lids
Individual condiments from restaurants
Take-out silverware
Expired pantry items
Expired refrigerator items
Plastic souvenir cups
Extra coffee cups
Serving dishes that you haven't used in the last year
"Junk" from your junk drawer – Go HERE for my tips on how to organize your junk drawer!
Food that you will not eat
Paper recipe clippings
Coupons that you won't use
Papers stuck on the front of your refrigerator that you no longer need
Advertisement magnets
Rarely-used kitchen utensils that you have multiples of (potato masher, garlic press, etc)
Old kids' cups
Seasonal paper goods (plates, napkins, cups) that you don't have a full set of or won't use in the near future
Pots, pans, and utensils that are in poor condition
Plastic disposable medicine cups (if you're like me and somehow end up with 16 of them in your silverware drawer)
Damaged water bottles
Extra plastic shopping bags
Old dish sponges
Vases that you never use
Empty jars that you're holding on to for some unplanned future projects
Pet treats or food that your pets don't like
Spices/sauces/condiments that you are not likely to use
You can also check out this post How to Declutter Kitchen Counters Quickly for 15 specific tips on how to rearrange and organize countertop items to get rid of clutter.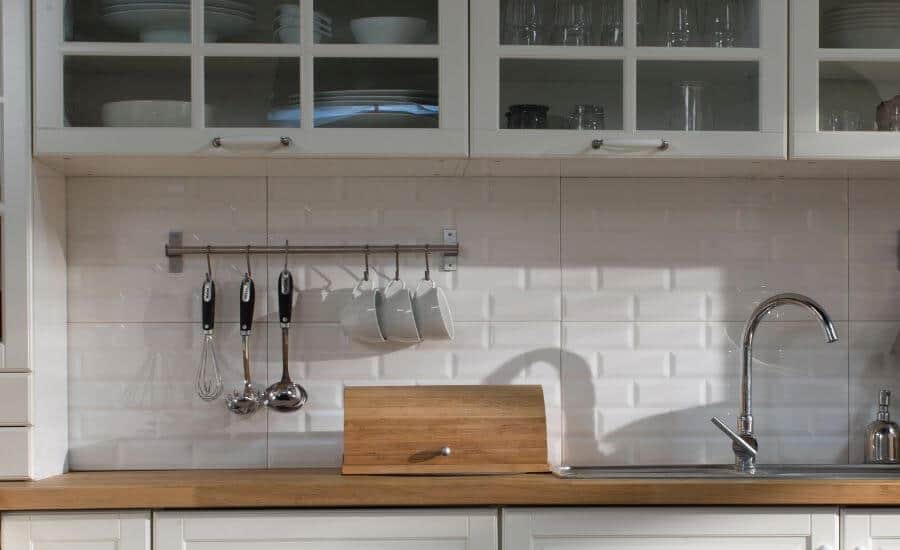 Step 3: Clean the cabinets and countertops
After you have decluttered and organized your kitchen, it's time to get into the actual detail cleaning. I like to start with the cabinets and countertops and follow these steps:
Clean and disinfect countertops using your favorite countertop spray/disinfectant. Be sure to move countertop items to clean underneath them also.
Wipe down the outside of all cabinets and drawers including handles and pulls. Go here for specific instructions on how to clean kitchen cabinets. Don't forget to sanitize the hardware (handles/knobs/pulls) when you are done!
Dust top of cabinets. You may want to use a duster with an extended handle like the Swiffer Duster Super Extended Handle Starter Kit.
Scrub the baseboards of cabinets. You can use the same gentle cleaning solution on the baseboards as you did for the cabinet and drawer fronts.
Step 4: Clean kitchen appliances
Next it's time to move on to the kitchen appliances.
Clean inside and outside of the microwave. You can easily clean the inside of your microwave by filling a microwave-safe mug or cup about halfway full of water and then microwaving it for about 2 minutes. The hot water will create steam which will loosen any stuck on food and make it easier to wipe clean.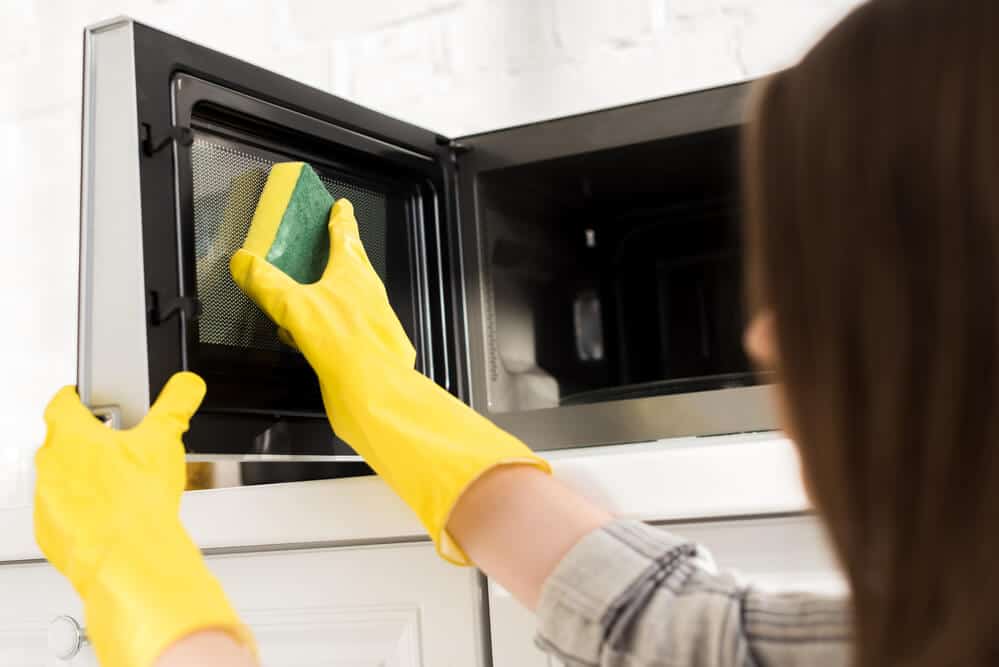 Clean the stovetop and front of the oven including grates and knobs. If you have a glass stovetop, this Cooktop Cleaner Kit works wonders!
Run the self-clean cycle on your oven.
Wipe down outside of all appliances, including small kitchen appliances like the blender, toaster, or coffee maker.
Remove everything from the refrigerator and freezer and clean the shelves, walls, and drawers. I suggest that you just do one small area at a time so that you don't have to keep the door open that long, like the produce bin first and then the shelves on the door, etc. Then replace the food items, making sure that there are no sticky areas on the outsides of jars or condiments.
Now is also a GREAT time to organize the freezer and start an inventory list so you know what you have! You can visit this post for how to organize your freezer and grab this FREE Printable Freezer Inventory Checklist!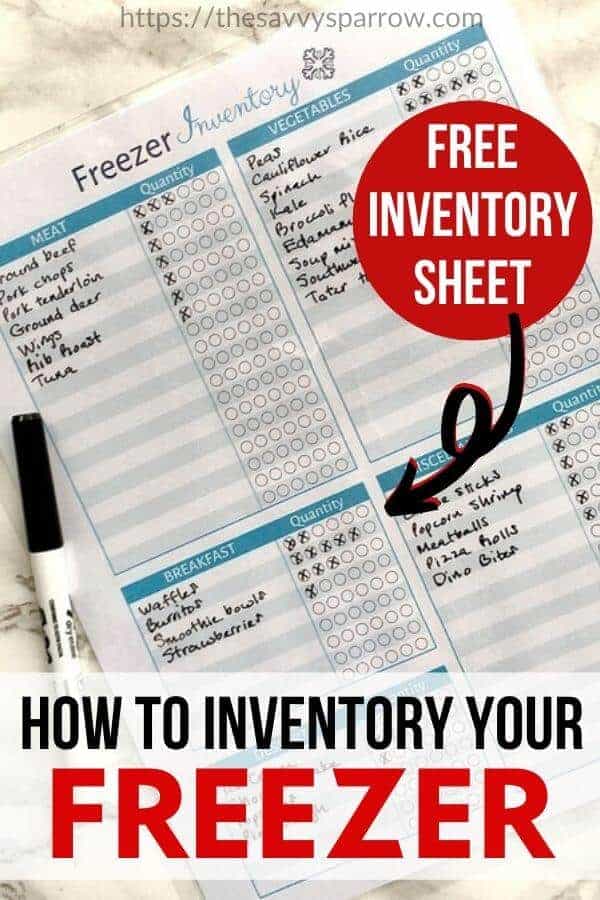 Step 5: Clean the floors, walls, and backsplash
Lastly, you should clean the walls, backsplash, and floors, leaving the floors until the very end so that you don't just drop more dirt and crumbs on them after you've already cleaned.
Here are some cleaning jobs to do for a super clean kitchen:
Clean the windows and window tracks.
Dust blinds or other window fixtures like curtain rods.
Wipe down the walls including any wall tile and wainscoting.
Dust hanging light fixtures.
Wipe down the doors, trim, and baseboards.
Sanitize door handles and light switches.
Clean the oven vent cover.
Clean the backsplash.
Sweep and mop the floors. This steam mop works really well to remove stuck-on food or spills from your floors.
Step 6: Complete your kitchen cleaning with some finishing touches
If you've gotten this far on the kitchen cleaning checklist, then congratulations! You've made it through the hard part, and now it's just time to complete some finishing touches to make sure that your kitchen is 100 percent done!
Replace burned out light bulbs.
Spray the room with air freshener. I prefer a clean citrus scent to make my kitchen smell extra fresh.
Refill the dish soap and hand soap if needed.
Wash or replace your dish sponge or rag, and replace dirty kitchen towels with fresh ones.
Clean and oil your cutting boards if needed.
Change the water filters on your coffee maker and refrigerator if needed.
Daily Kitchen Cleaning Jobs
Once your kitchen is nice and clean, you want to keep it that way. Here are some cleaning jobs that you should do in the kitchen every day, so that the mess doesn't start piling up again: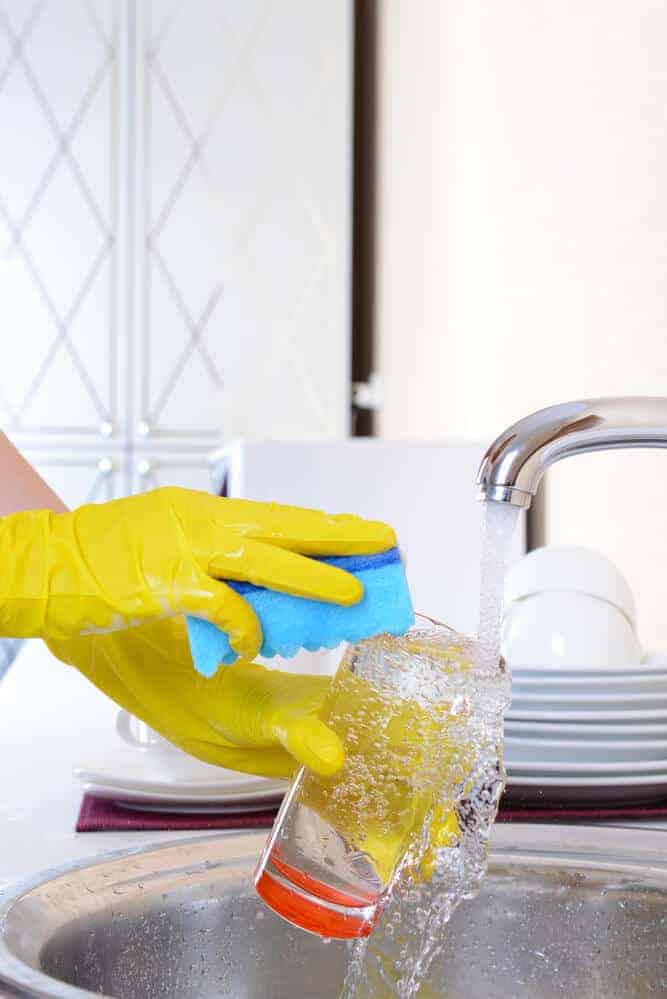 Do the dishes. Make it a priority to not go to bed until your sink is completely empty.
Wipe down the countertops.
Sweep the floors. Spot clean food splatters with a Swiffer or other quick-clean mop if needed.
Change the trash bag if needed.
Put away paperwork.
Put away any other items that are out of place in the kitchen.
Weekly Kitchen Cleaning Jobs
These weekly kitchen cleaning jobs can help make deep cleaning your kitchen easier also. Taking the time to complete these jobs each week will ensure that you don't get super overwhelmed by a messy kitchen:
Clean and disinfect the kitchen sink, including the garbage disposal.
Clean and disinfect countertops with your favorite countertop spray or cleaning solution.
Wipe down all cabinet and drawer fronts. This can be as simple as a quick wipe down with a warm rag, just be sure that the rag is not too wet and spot test a small area first.
Spot clean the inside and outside of the refrigerator and freezer by wiping up any spills or crumbs.
Clean the inside and outside of microwave.
Clean the stovetop and outside of the oven. Run the self-cleaning cycle on your oven if needed.
Sweep or vacuum and mop the floors, and shake out or vacuum rugs.
Wipe down the outside of your trash can.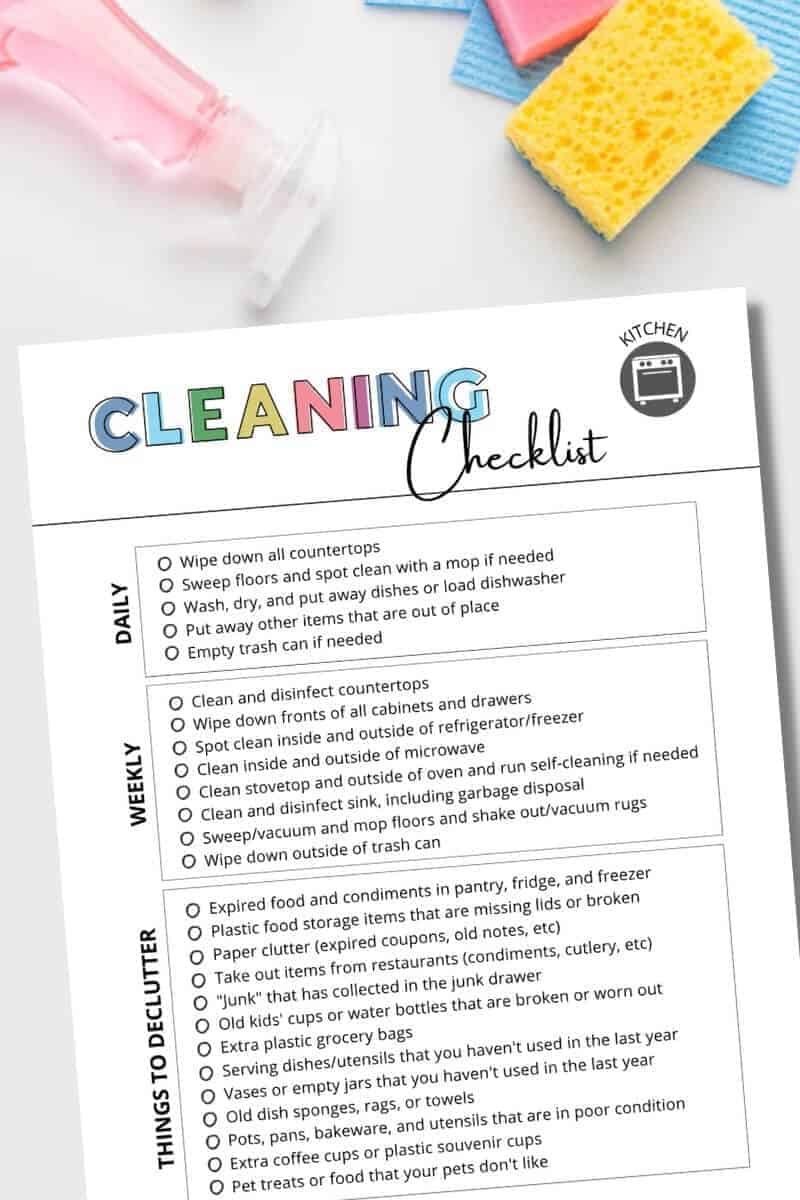 My Favorite Kitchen Cleaning Supplies
With so many different cleaning products available, you may be struggling with what to buy. These are some of my favorite kitchen cleaning products that I can't live without:
Weiman Cooktop Cleaner Kit
We have tried so many different products to get the burnt on food and grime off of our glass stovetop, and the Weiman Cooktop Cleaner Kit is the absolute BEST! It will have your stove looking brand new, and it's so easy to do with the handy scrubber that's included in the kit.
Affresh Garbage Disposal Cleaner Tabs
You can definitely clean your garbage disposal by dropping a few lemon slices and some ice cubes down it, running some water, and turning it on, but I prefer these garbage disposal cleaning tablets, probably because I rarely have fresh lemons on hand.
All you have to do is turn on the hot water, place one tablet in the garbage disposal, turn it on for 15-30 seconds, and rinse. Super easy!
Bissell Power Fresh Steam Mop
This is the mop that I have, and I swear by it!
My first experience with the Bissell Power Fresh Steam Mop was a few years ago. We were moving out of a rental house and I realized that my kids had spilt some sort of crayon/paint/clay/art substance on the wood floors. I had tried literally EVERYTHING to get it off the floors, to no avail.
Then I finally asked my father-in-law to borrow his steam mop. Within one minute the mystery colors were gone. Hello, security deposit! I raved about the mop so much that my darling father-in-law told me to keep it, and he bought himself a new one.
Trust me, this thing works wonders! I also love that you don't have to buy any extra floor cleaning solution because it just uses water, and you can throw the mop head in the washer and reuse it.
Free Printable Kitchen Cleaning Checklists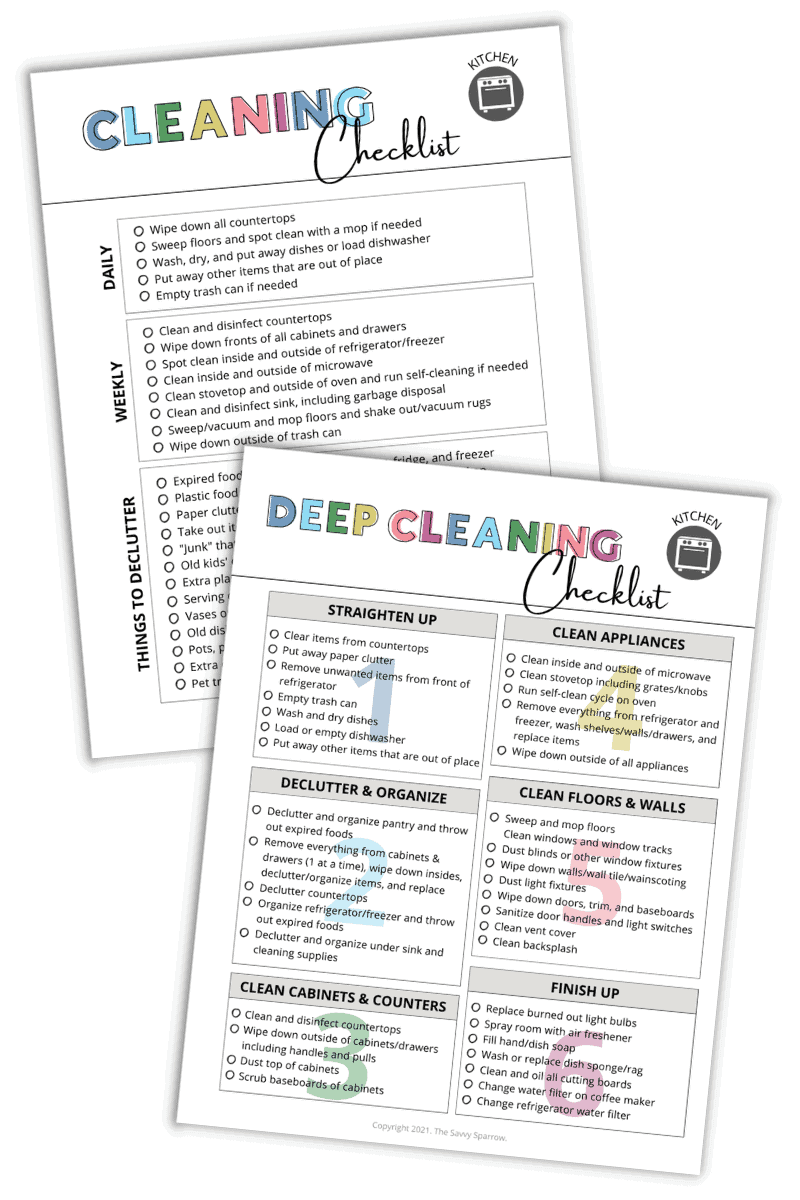 Want to grab my free printable kitchen deep cleaning checklist? Just use the form down below to sign up for my FREE email newsletter and I'll send them right over!
Plus, you'll get access to my entire freebies library as a gift!
And if you LOVED this detailed kitchen cleaning checklist, then be sure to check out my Bedroom Cleaning Checklists also! They're designed to match the kitchen version!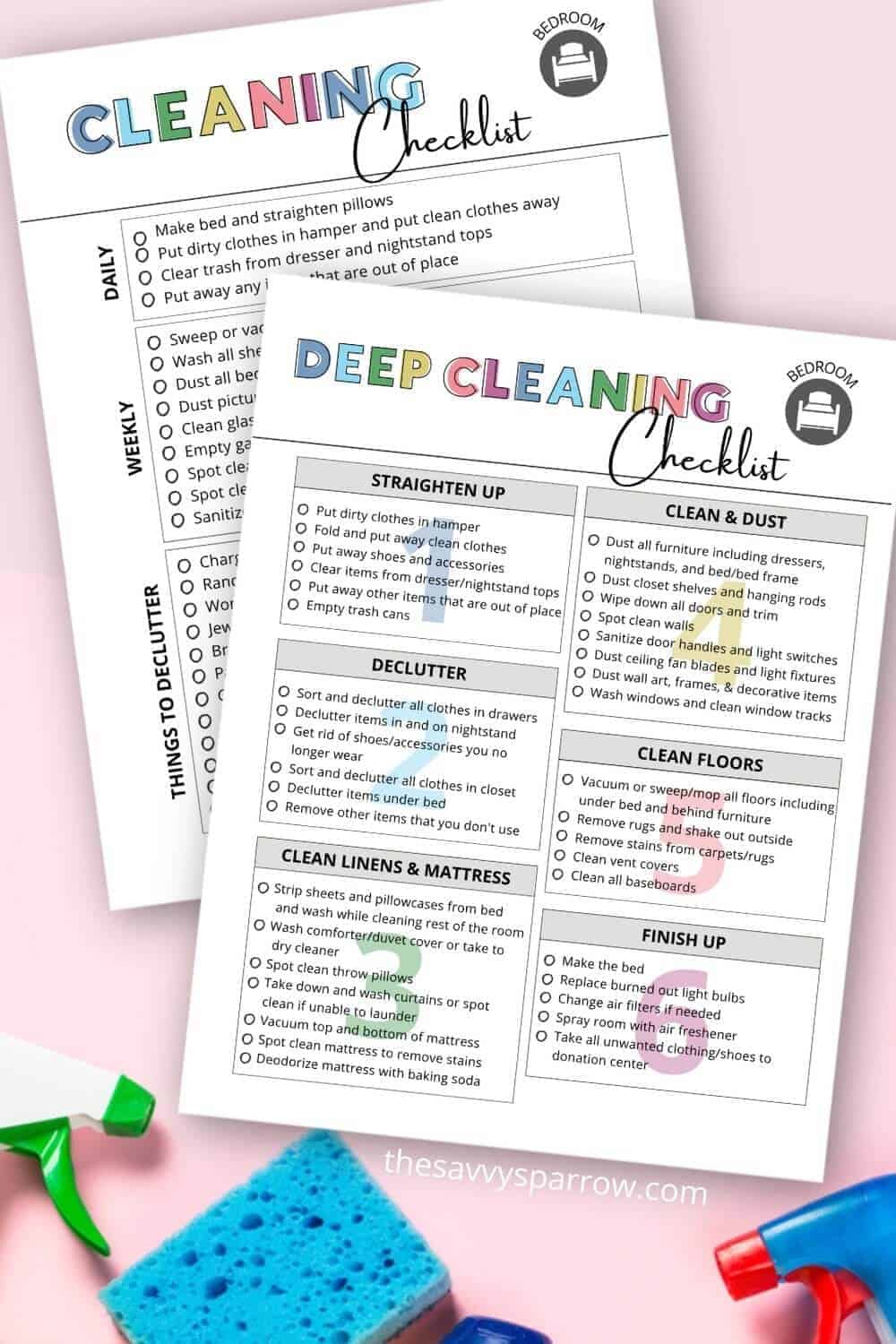 What are your favorite kitchen cleaning tips? Do you use a checklist? How often do you do some kitchen deep cleaning? Leave me a comment down below!