Every home has a junk drawer, or maybe even five junk drawers. And since these drawers are usually filled with a hodgepodge of knick knacks and random items, it can be challenging to keep them organized. Learn how to organize junk drawers once and for all with these easy junk drawer organization tips!
I was digging for something in the back of my junk drawer a few weeks ago, and I felt something wet and sticky. I pulled my hand out and, to my horror, it was covered with a maroon-colored, goopy mess. The culprit… a forgotten packet of Chick-fil-A Polynesian sauce that had exploded, probably from being constantly pushed further and further into my junk drawer abyss.
And do you know what else I found in the back of that drawer? Teeth! Actual human teeth!
I wish I could say that I was joking, because you all are probably seriously doubting my domestic abilities right now, but it's the truth. I've never really had a designated space for my kids' lost teeth, so they've just ended up in the back of my underwear drawer, the top of my closet and, apparently, the dark corners of my kitchen junk drawer.
And there's no better excuse to organize your junk drawer than a leaky sauce packet and baby teeth!
Sound familiar?
Perhaps your kitchen junk drawer is filled with rubber bands, receipts from 2018, and long-expired coupons. Or maybe your junk drawer is in your home office desk, and you can never keep it organized because there are such a variety of things that you might need while working. Or, maybe it's the junk drawer in your bathroom that gets cluttered the quickest.
Do you have a junk drawer causing you anxiety? Or is there a drawer in your home that is so overstuffed with crap that you can't even close it?
These tips on how to organize that junk drawer will give you ideas that will help you get started down a path to junk drawer organization.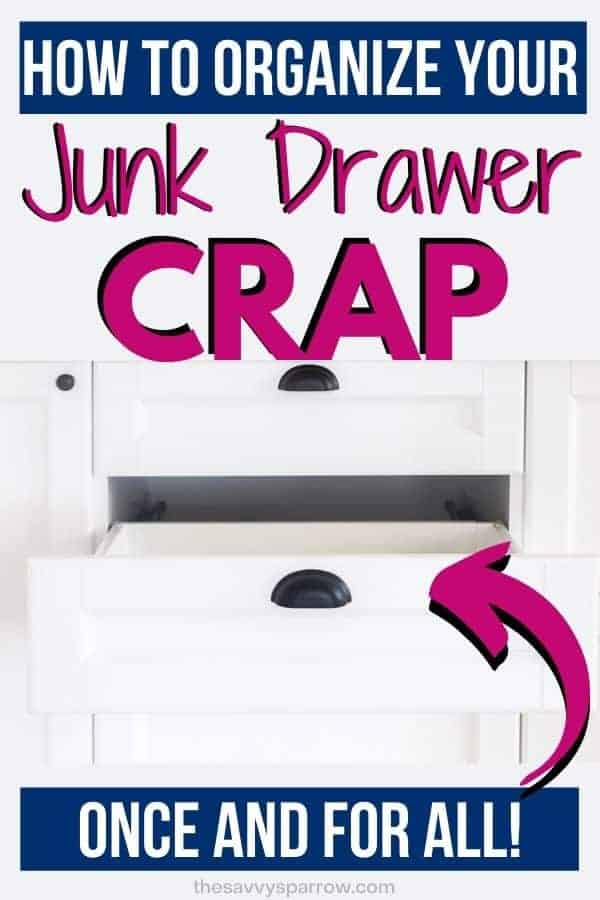 *This post contains affiliate links, which means if you click a link and make a purchase, I earn a commission at no additional cost to you. Read my full disclosure here.
7 Tips for How to Organize a Junk Drawer
Rethink How You Organize your Junk Drawer
If you've organized your junk drawer many times in the past only to find that within a few weeks it's cluttered again, then your organization system obviously isn't working for you. That means it's time to make some changes.
Maybe you need a different type of drawer divider, or maybe you need to find different permanent homes for your junk drawer items. Or, maybe you need to do some serious decluttering in order to maintain a nice and neat junk drawer.
Think about your current junk drawer situation and what isn't really working for you. Spend some time researching different organization systems (that's why you're here!) before diving right in to the mess.
And don't make the mistake of buying a storage item that doesn't fit your needs. What works in a desk drawer might not be ideal for a kitchen drawer, so be thoughtful when making your drawer organization choices. Don't worry, I've listed some GREAT drawer organizers down below!
Completely Clear Out the Junk Drawer
The first step to organizing ANY space, whether you're organizing the freezer, the medicine cabinet, or your messy drawer is to completely CLEAR IT OUT!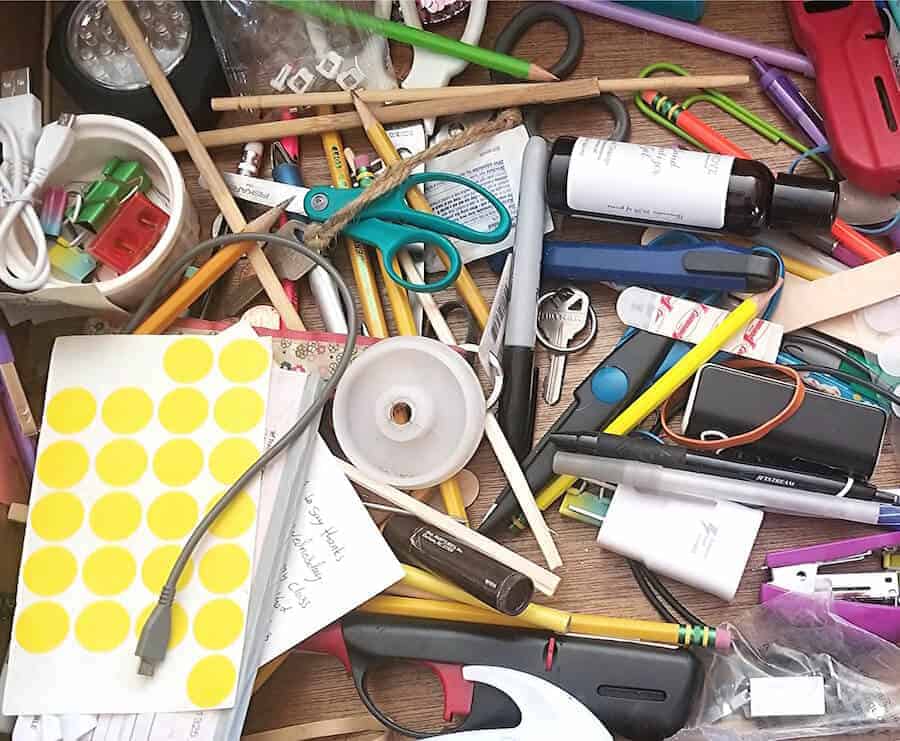 So, empty the junk drawer of all its contents first. You'll find that clearing out that space will help you to see what's actually in it.
As you work to empty the drawer, start thinking about how you can group the items into similar categories. For instance, place the pens, key chains, and business cards into piles together. This will help you tremendously as you add stuff back to your drawer later.
Wipe the Drawer Clean
After you've completely emptied the junk drawer, you'll want to start with a clean slate.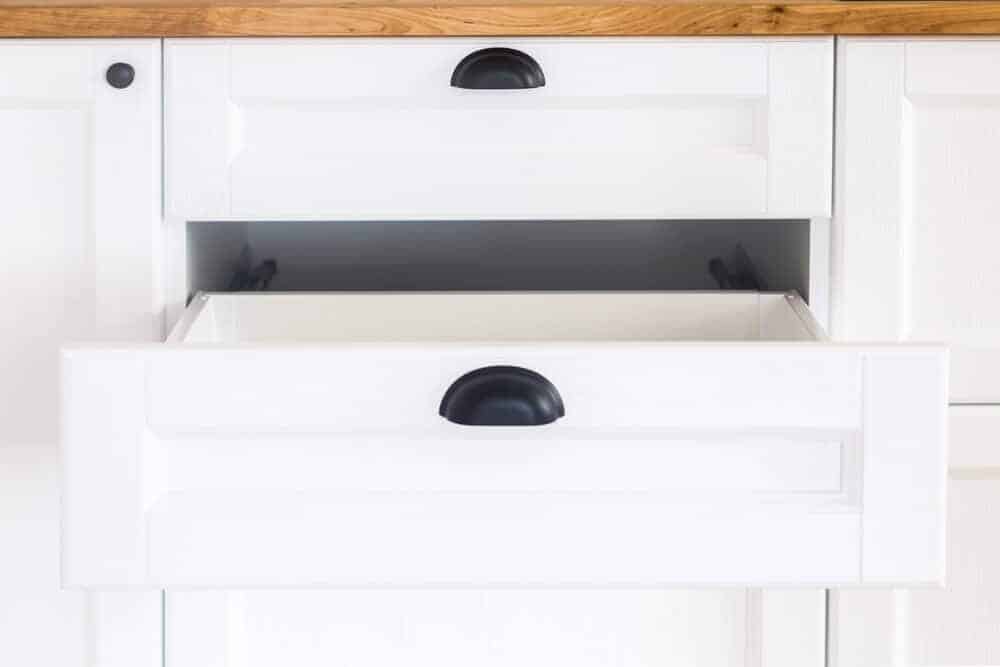 You wouldn't put your freshly laundered clothes into a laundry basket with dried up mud at the bottom of it… and the same goes with your junk drawers!
Use some cleaner to wipe out the drawer and remove any dust, dirt, or mystery particles from the bottom. I like to make up a simple spray of vinegar with lavender or orange essential oil for a nice clean scent.
Decide What to Keep in Your Junk Drawer
After your junk drawer is completely empty and clean, it's time to make some tough decisions.
Take a close look at everything that was in the junk drawer. Decide what you want to keep and what you want to get rid of. You'll probably discover that many of the things in the drawer can be thrown away, and many of the items simply need to be relocated to a different area of your home.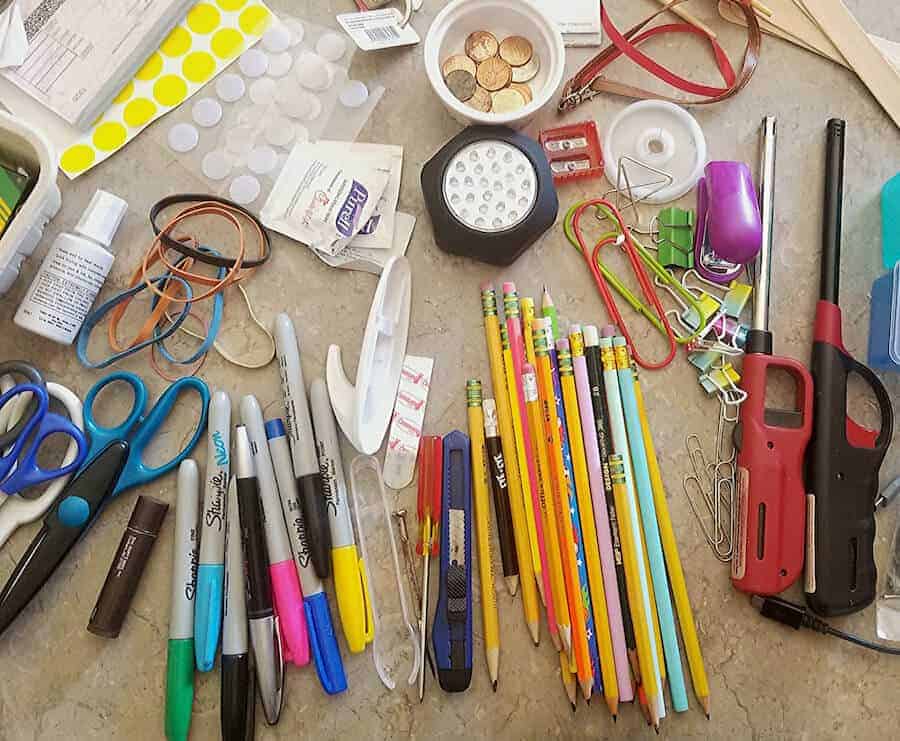 Maybe you've got a few stray receipts that need to go in your financial folders. Or, you've got some lip gloss that belongs in your purse or bathroom. Or maybe there were expired coupons that were hiding out in the back of the drawer that need to be trashed.
And be critical… If an item has no real purpose in your home, then it's time to get rid of it.
Assign Each Item in the Junk Drawer to Its Own Location
Each item that you want to store in the junk drawer needs to have its own little home within the drawer so that you can find it easily and so that your drawer doesn't revert to its cluttered, messy state.
This is where a drawer organizer can come in handy. These organizers have dividers that help you to separate items into sub-areas that keep everything within reach and uncluttered. Instead of letting everything be jumbled together in one large drawer, you will be making mini-spaces within the drawer to keep things tidy.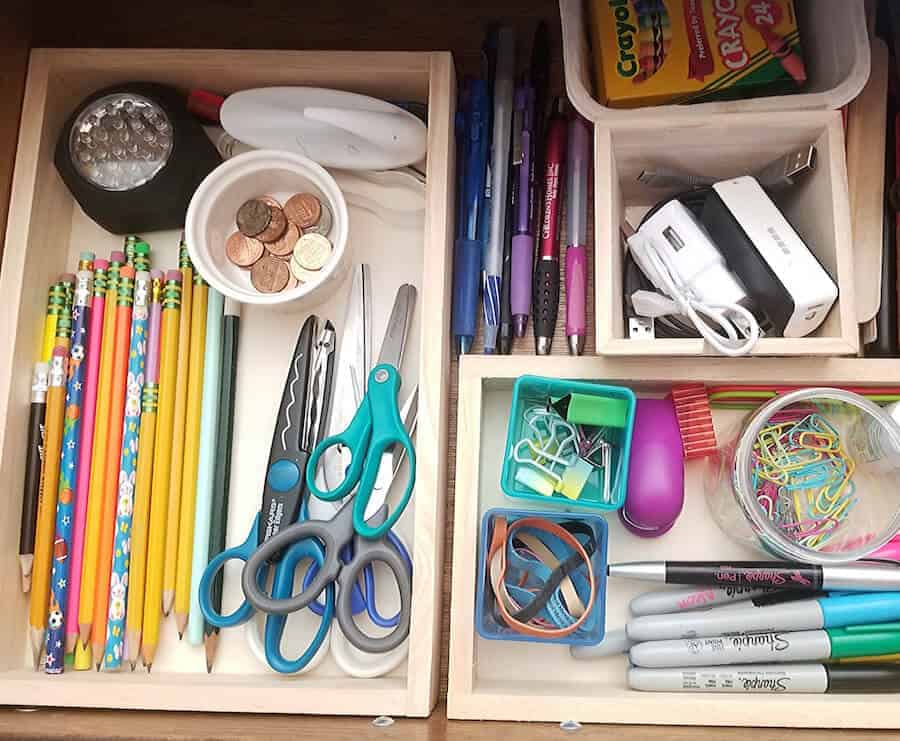 *I've listed some AWESOME junk drawer organizers at the bottom of this post!
Make logical decisions about where you want to place each item. It makes sense to keep like items organized together. That means you'll put pens and pencils in one location, twist ties and rubber bands in another, batteries in another, and so on. And the items that you use most frequently should be stored in the front of the drawer for easy access.
Keeping each item coupled with similar items helps you to find what you need, when you need it. Plus, a great junk drawer organization system means that you won't question where to store future items.
And if you don't have a clue as to how to group your junk items, then be sure to check out the junk drawer organization categories at the end of this post for tips!
Create a Mini Junk Area Within Your Junk Drawer
Not all of your junk drawer items will fit nicely into a category. You'll have single, random items that can't logically be grouped with other items, so leave that miscellaneous junk to the side.
Then, as you're moving items back into the drawer in their own designated areas, leave one open area for the "catch all" junk. That way, even your miscellaneous items have a space, instead of you just adding them to one of your already organized bins.
Relocate, Reduce, and Restore Your Junk Drawer
Once you've decided what to keep, what to get rid of, and how to group like items together, it's time to get busy!
First, relocate any items that don't belong in the junk drawer to other locations within your home. And do it now… don't set them aside to move at a later time, because they'll eventually take up permanent residence in the back of your drawer, causing the drawer to look even more cluttered.
Then, reduce the number of items you put back in the drawer. Once again, really consider what items you need to keep. Get rid of what you don't need. And I know it may be hard to part with some of the items in your junk drawer out of fear that you'll need those items next week, but remember this… If you haven't used it in the last year, chances are, you won't use it. Period.
Restore the drawer space. Thoughtfully place each item back into its new permanent home located within the drawer. Take a photo of how you've organized it and print the photo. You can slide it under the drawer divider as a reference guide for how you want the drawer to remain organized.
Junk Drawer Organization Categories and Examples
The categories of "junk" in your drawers will vary depending on the location of your junk drawer. For instance, your bathroom junk drawer is probably filled with sample packets of beauty products and loose cotton balls while your desk junk drawer probably houses old receipts and used up ball point pens.
Here are some common junk drawer items and ideas for how to organize them by category so you can find what you need:
Kitchen Junk Drawer Organization Ideas
Your kitchen junk drawer is probably the most unorganized drawer in your entire house, at least that's how it is for me, mostly because of the wide variety of mismatched items inside.
Since the kitchen is the heart of most homes, the kitchen counters and kitchen junk drawer become ground zero for junk collection. And as busy Moms we often just push random stuff right into the junk drawer to avoid seeing the clutter.
*By the way, if the clutter on your kitchen counters stress you out like WHOA, then read this: How to Declutter Kitchen Counters Quickly
Here are some ideas for how to group your kitchen drawer junk by category:
Writing utensils – Ball point pens, Sharpie markers, chalk, pencils, etc. can all be stored together in one drawer organizer bin.
Small office supplies – Paper clips, rubber bands, binder clips, and other small office items can be stored in one divider, or each in their own small divider, depending on how many like items you have.
Larger office supplies – Larger items like scissors, Scotch tape, packing tape, etc. can be stored together in a larger drawer divider bin.
Small important papers – Receipts that you need to keep handy for possible returns, coupons that you will be using soon, business cards that you use frequently, etc. can be paper clipped together in your junk drawer. It's best to only store papers that you will be using SOON or that you use FREQUENTLY in the junk drawer. Otherwise, you should file important papers away in an easy DIY Filing System so they aren't taking up valuable space in your drawer.
First aid supplies/medicines – If there are medicines, ointments, and other first aid supplies that you use frequently (multiple times a week), it can be helpful to store those in the kitchen junk drawer where they are easily accessible. Bandaids, Neosporin, eye drops, and Tylenol are all examples of first aid items that could be stored in the junk drawer. Other medicines that are not used frequently should be stored in an organized medicine cabinet so you can find what you need easily. Go HERE to see how I organized my entire medicine closet with some cute and easy DIY basket labels!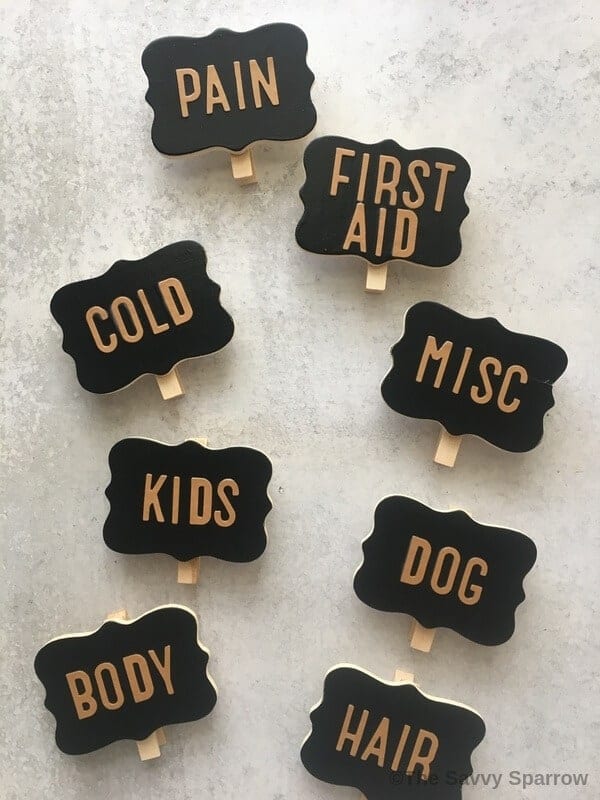 Edible items – Packs of gum, mints, and small candies often find their way into my kitchen junk drawer, so I store them together in one drawer divider.
Small household tools – Sometimes it's easier to store small household tools in the junk drawer where they are easily accessible, rather than outside in the garage. This is especially true if you change batteries frequently in your kids' toys and you need easy access to a screwdriver, or you light candles often and you need to have a lighter handy. These small tools can be grouped together in a larger divider in your junk drawer.
Batteries – Most junk drawers probably have at least a few batteries inside.
Bathroom Junk Drawer Organization Ideas
Bathroom drawers are another prime spot for collecting junk. Whether it's old makeup or sample-sized products that you'll probably never use, clutter can quickly build up, turning all of your bathroom drawers into junk drawers.
Here are some ideas for how to organize bathroom junk drawers by category:
Oral hygiene products – All of your toothpastes, toothbrushes, and floss can go together in one divider.
Beauty tools – Group tools like tweezers, nail files, nail clippers, and eyelash curlers together in one divider.
Eye makeup products – Mascara and eyeshadow can be stored together.
Lip products
Face makeup products – Foundation, concealer, blush, and highlighter can be grouped in the same bin.
Consumable paper products – Q-tips, cotton face pads, and cotton balls can all be stored in their own mini drawer divider compartments or together in one divider, depending on the space you have to work with.
Makeup brushes – The long and skinny drawer dividers are perfect for storing makeup brushes together.
Morning and nighttime beauty routine items – Group the beauty products that you use in the morning together in one section and those that you use at nighttime in another section so that you can easily find what you need.
Hair ties and bobby pins – Small hair items can be organized together in mini dividers so they don't get tangled with other items in your bathroom drawers.
Desk Junk Drawer Ideas
If you work from home or even if you just use a home office to pay your bills and organize your important paperwork, then you probably have a junk drawer in your desk.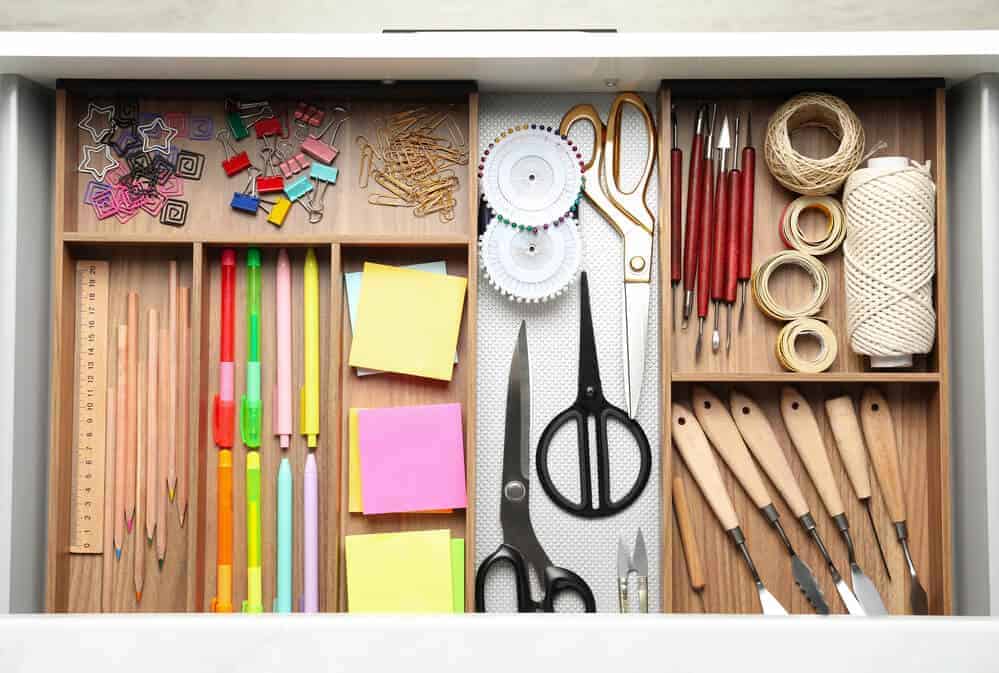 Here are some sample categories to use to organize your desk drawer:
Small office supplies – Paper clips, binder clips, push pins, and rubber bands can each be stored in their own drawer dividers for easy access.
Electronic items – USB flash drives and plug adapters can go together.
Chargers and cords – Extra chargers and cords often take up a lot of space in junk drawers. You can wrap your cords up and secure them with hair ties to keep them nice and neat, or try cord wraps like these.
Business cards – If you're a paper and pen kind of gal, then you can keep the cards as is… just put them in alphabetical order and wrap them in a rubber band to keep them tidy. Or, you can also take a photo on the front of each card using your smart phone, and then create a separate folder in your Photos app titled "Business Cards" to get rid of some junk drawer clutter.
Credit cards and checkbooks – If you don't like to keep all of your checkbooks and credit cards in your wallet because you rarely use them, then group them together in a section of your desk drawer.
The Best Junk Drawer Organizers
If you're looking for junk drawer organization ideas, then you've got to plan on purchasing some sort of junk drawer organizer.
It's incredibly difficult to organize a drawer without the proper dividers or bins, unless you're handy and want to DIY your own drawer dividers.
Here are some of my favorite junk drawer organizers and dividers:
Clear Acrylic Drawer Organizers
I LOVE the look of clear acrylic storage bins in a drawer, because I feel that it makes the drawer look nice and clean. Plus, since the acrylic bins are clear, they don't distract the eye or look too bulky.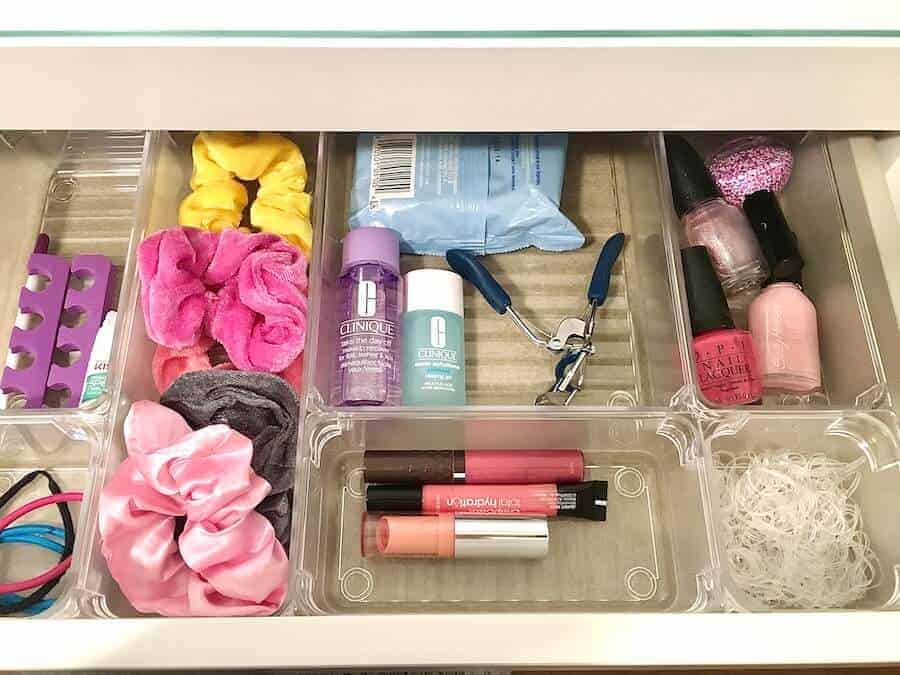 I recently bought these Clear Acrylic Drawer Dividers for my 11 year old daughter to organize her bathroom drawer, and I absolutely LOVE them! They come in a 16 pack with a variety of sizes so you're sure to find the perfect container for ALL of your junk!
Dollar Tree Drawer Organizers
The 2 and 3 packs of white plastic drawer organizers at Dollar Tree are another personal favorite! Because they're so inexpensive, you can buy a TON, which is perfect for if you have a really large junk drawer or you want to micro-organize everything.
Adjustable Drawer Dividers
Adjustable drawer dividers are probably the most expensive drawer organizers out there, BUT they are great if you have a really large junk drawer or you need to organize a lot of longer items.
These adjustable drawer dividers are expandable from 12″ to 17″ long, and they're made of bamboo wood, so they'll look like "built ins" if you have light-colored cabinetry.
Expandable Wood Drawer Organizers
If you want a higher-end look on a budget, then this Bamboo Expandable Drawer Organizer is a great option! It looks like an expensive built-in drawer organizer, without the huge price tag.
This particular wood drawer organizer is expandable from 13″ to 19.6″ wide, so it's great for using up all of the valuable storage space in your junk drawer. And the longer side trays are perfect for items like scissors, lighters, and screwdrivers.
Silverware Drawer Organizers
If you've got a lot of longer items in your junk drawers (scissors, screwdrivers, makeup brushes, pens, etc), then a silverware drawer divider might be perfect for you!
You could also add small inexpensive disposable food containers (like the Glad or Ziploc brand mini containers) to the longer trays to store smaller items.
Organizing and decluttering a junk drawer might seem like a burdensome task. But, once you've gone through the process of deciding what to keep, organizing by like items, and restoring the junk drawer to a functional space, you'll be thrilled with the results!
And you won't have to worry about sticky your hand in a mystery goo… or discovering other unwanted junk drawer items… like your kids' long lost baby teeth!
Hope you've picked up some good junk drawer organization tips! Do you have any secrets for organizing your junk drawer? If so, leave me a comment down below! I'd LOVE to hear from you!
And happy nesting!