These Merry Kissmas and a Chappy New Year gift tags are perfect for cheap and easy gift ideas for friends or teachers, or even to use as cute stocking stuffers! Just print the free printable gift tags and add a holiday Chapstick or lip balm!
My daughters LOVE to pass out little gifts to their friends at school… And I love their giving hearts, but buying small gifts for 20+ kids can get expensive!
So this year, we're taking the easy (and cheap!) way out and giving these cute Chapstick gifts with printable tags.
During the cold winter months, you can never have enough Chapstick or lip balm, especially if you're like me and you keep losing them, so this is a cute AND useful gift!
Here's how to make your own lip balm gifts with free printable tags:
*This post contains affiliate links, which means if you click a link and make a purchase, I earn a commission at no additional cost to you. Read my full disclosure here.
Supplies for Lip Balm Christmas Gifts
Chapstick or other lip balm – Chapstick brand lip balm goes perfectly with these gift tags because they say "Chappy New Year!", but you can also swap out the Chapstick for another lip balm. For tween or teen girls, the popular EOS lip balms are also a great choice!
White Card stock – I recommend printing the gift tags on a thicker weight card stock so that the lip balm stays nice and secure.
Tape or hot glue gun and glue sticks
Free Printable Merry Kissmas and a Chappy New Year gift tags
How to Make Merry Kissmas and Chappy New Year Gifts
Step 1: Print the free printable Merry Kissmas and Chappy New Year gift tags.
Click HERE to download the free printable Merry Kissmas and Chappy New Year gift tags, then print the tags on white card stock.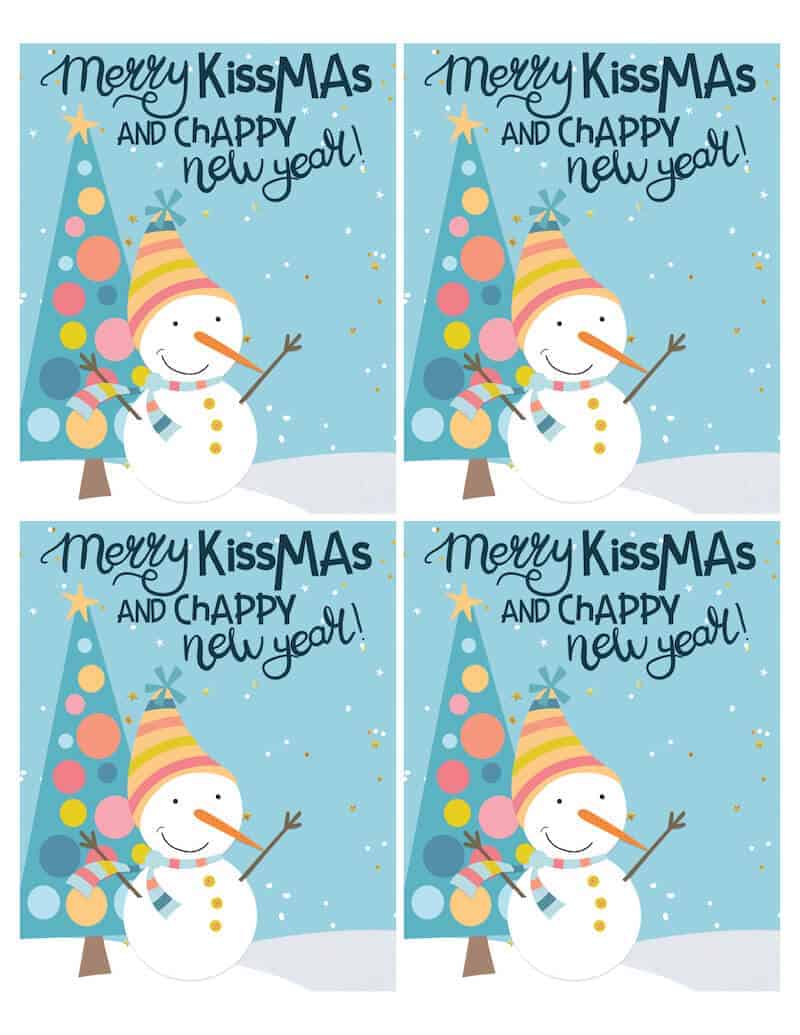 Step 2: Cut the gift tags.
I used my handy Stampin' Up paper cutter to cut the gift tags so that they were perfectly straight, but you can also use scissors.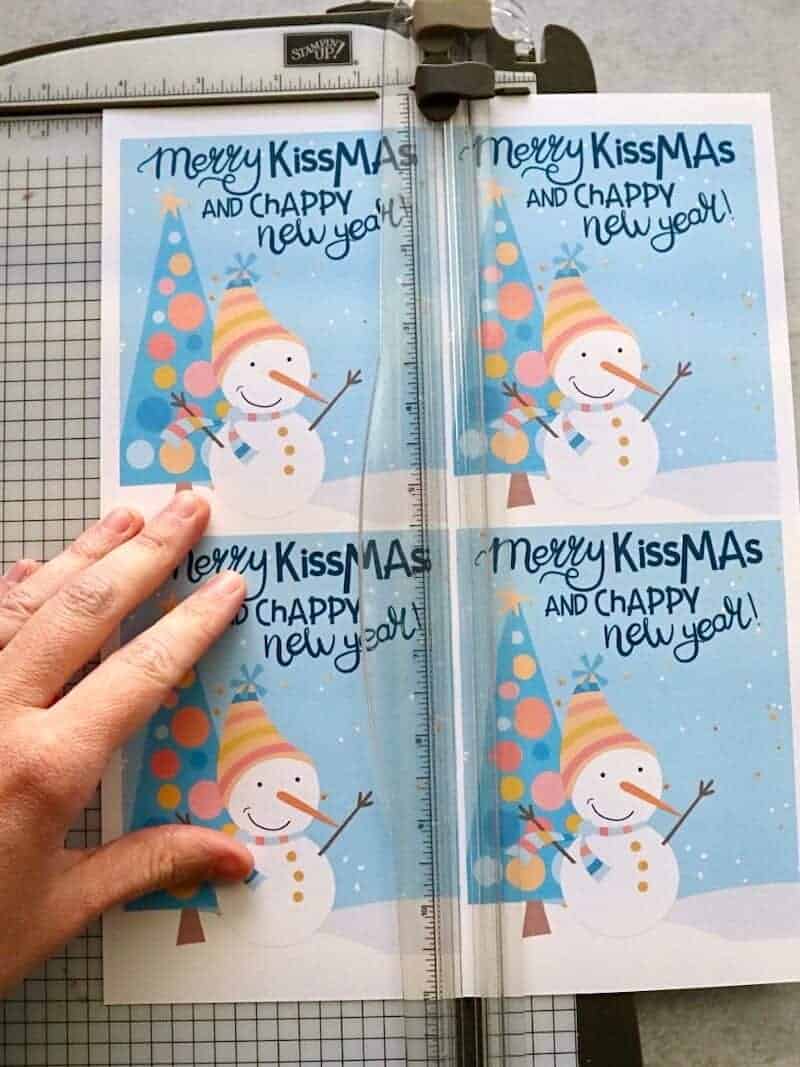 Step 3: Tape or glue Chapstick or other lip balm to the gift tags.
You have two options for attaching the lip balm tubes to the free printable gift tags. Either:
Tape – Just place one strip of tape over the middle of the lip balm to tape it to the gift tag.
Hot glue gun – Run a bead of hot glue down the back of the lip balm tube and glue it to the gift tag. The hot glue option works best for the EOS lip balm tubes, because they don't have a paper label that will rip off when the recipient tries to remove the lip balm from the gift tag.
Step 4: Wish friends "Merry Kissmas and a Chappy New Year!"
Now all that's left to do is to pass out these easy and cheap lip balm gifts! At less than $2.00 each (depending on the price of the lip balm that you use), these budget-friendly Christmas gifts are the perfect way to say "Merry Kissmas" to:
Your kids' school friends
Neighbors
Teachers – If your kids each have 3 or more teachers at school, it can get expensive to purchase gifts for each one!
Gym teachers, Art teachers, Music teachers, Speech teachers – These teachers are often forgotten when it comes to teacher gifts, but these inexpensive Merry Kissmas lip balm gifts are a great way to let them know that they're appreciated also!
Front office workers at your kids' schools
Mailman or delivery drivers – You can also add these to your Holiday Thank You Snack Basket for Delivery Drivers!
Bus driver
Other people that you come in contact with throughout the day – Bank teller, Hairstylist, Receptionist at your Doctor's office, etc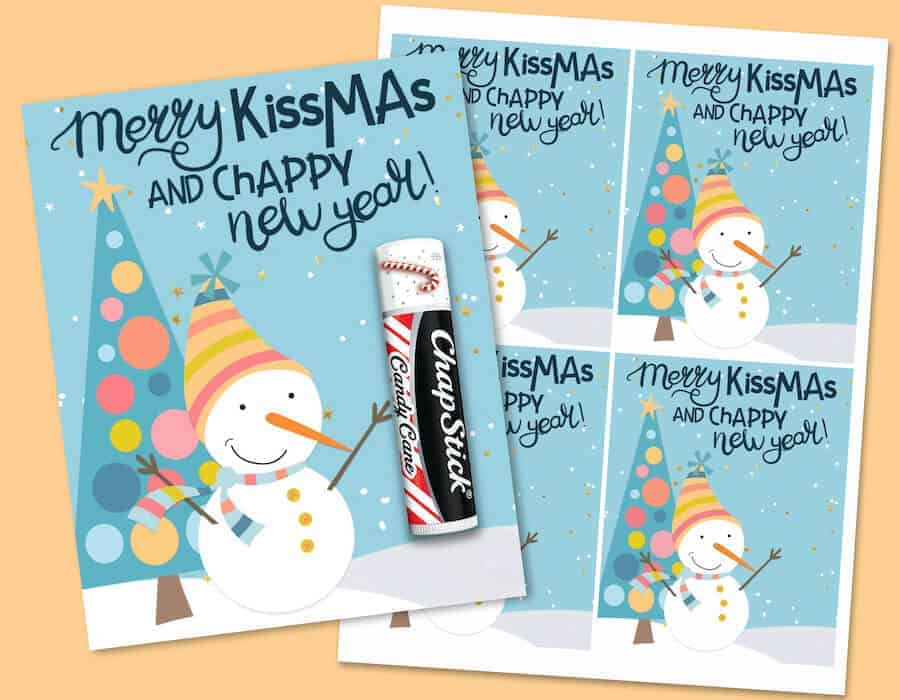 Where to Buy Lip Balm in Bulk for Christmas Gifts
While these "Merry Kissmas" lip balm gifts ARE budget-friendly, you can cut down on the cost even more by seeking out the best deals for your Chapstick and lip balms.
Here are some great options for getting a large number of lip balms (or at least enough for your tween's 15 friends!) without spending a fortune:
Chapstick Holiday Flavored Lip Balm Gift Set Bundle – Assorted pack of 15 holiday tubes – If you want to go with the Chapstick brand Candy Cane lip balms that looks super cute with these printable gift tags, then this is one of the best prices I've seen!
Nature's Bees Cocoa Butter Lip Balm – Assorted pack of 24 tubes with varieties including Mango Butter, Olive Oil, and Shea Butter
Lip Smacker Party Pack – Comes in a pack of 8 tubes for a great price – If you've got younger girls, then the Lip Smacker brand is a great choice!
EOS Lip Balms – If you're a Costco member, you can get a GREAT deal on a 9 tube pack right now (about $1.50 each!). The EOS lip balms are super trendy, so these would be great for tween and teen girls to give as gifts to their friends at school!
Do your kids like to exchange Christmas gifts with all 38 of their friends too? If so, what are some small, cheap gift ideas you've used in the past? Leave me a comment down below. I'd LOVE to hear from you!
And for more easy gift ideas, check out this post: 70+ DIY Christmas Gifts You'll Want to Keep for Yourself!
Or, if you just need some free printable gift tags for your Christmas gifts, check out this post: Free Printable Funny Christmas Gift Tags
And if your teen girls want to give nail polish as small Christmas gifts instead, then here is a super cute nail polish gift tag.
And happy nesting!