These free printable Christmas gift tags are funny AND festive! Swap your normal old sticker gift tags for these funny gift tags to show your sense of humor this holiday!
"It doesn't suck."
I look over at my pre-teen daughter who has just tried a bite of Chicken Alfredo with (gasp!) broccoli.
Yes, she used the S-U-C-K word, which I don't particularly like, but she did just expand her tastebuds, so I'll take it.
The great thing about kids is that they can be brutally honest. And in this case, my cooking didn't "suck".
Yup, if you ever want to know the truth, just ask your kid… unless of course you're asking who ate the last cookie, who went to the bathroom without flushing, or who left their wet towel on the floor.
And sometimes that brutal honesty is flat out funny. Like when your 9 year old tells you "I don't believe in the tooth fairy, but I believe in the money." Ha!
And if your family members have a funny/honest/sarcastic side, then dish out some of your own humor this Christmas in the form of some fun gift tags… like "This present doesn't suck!".
These printable Christmas gift tags are funny AND sarcastic, and you can download them for FREE… so I'd call that a win-win!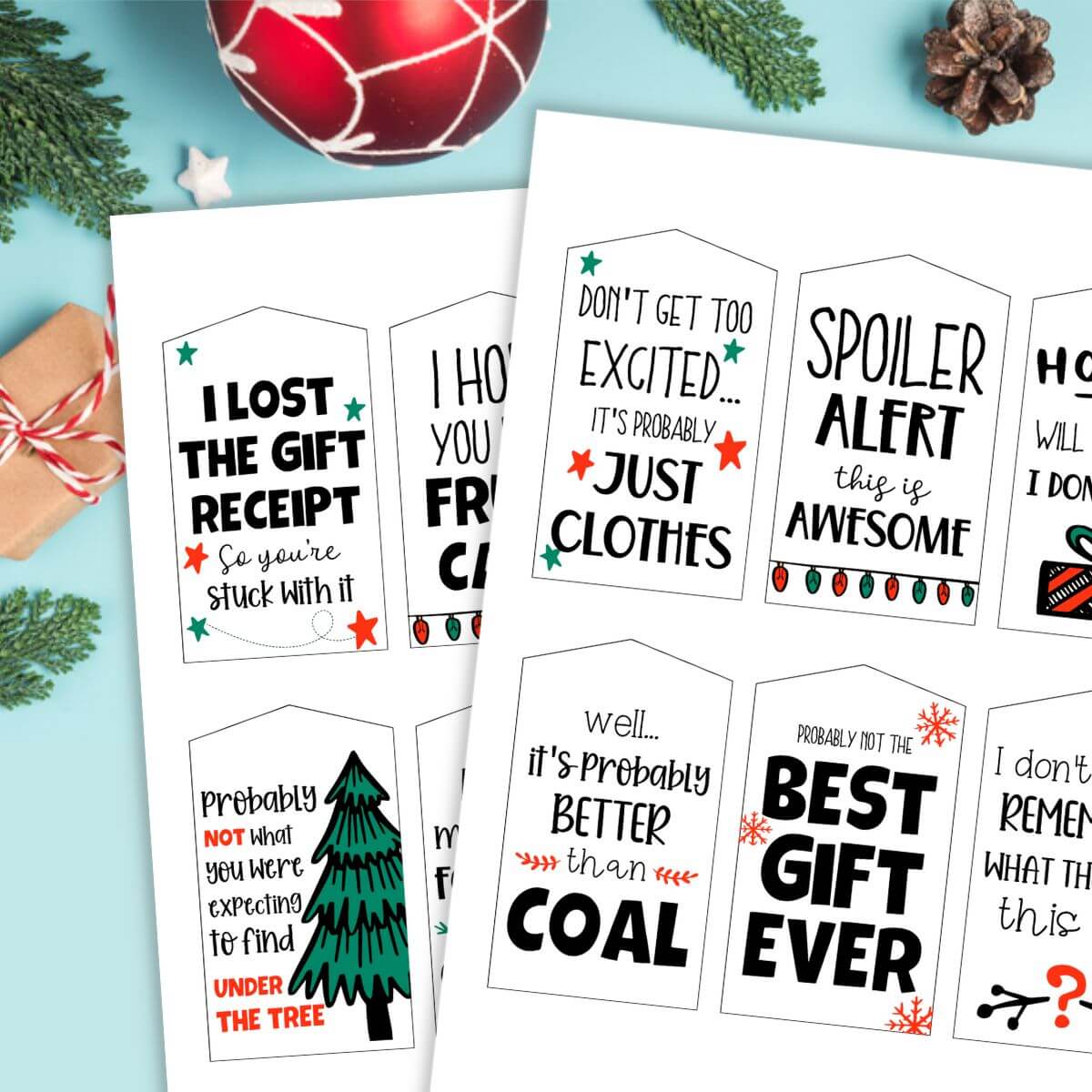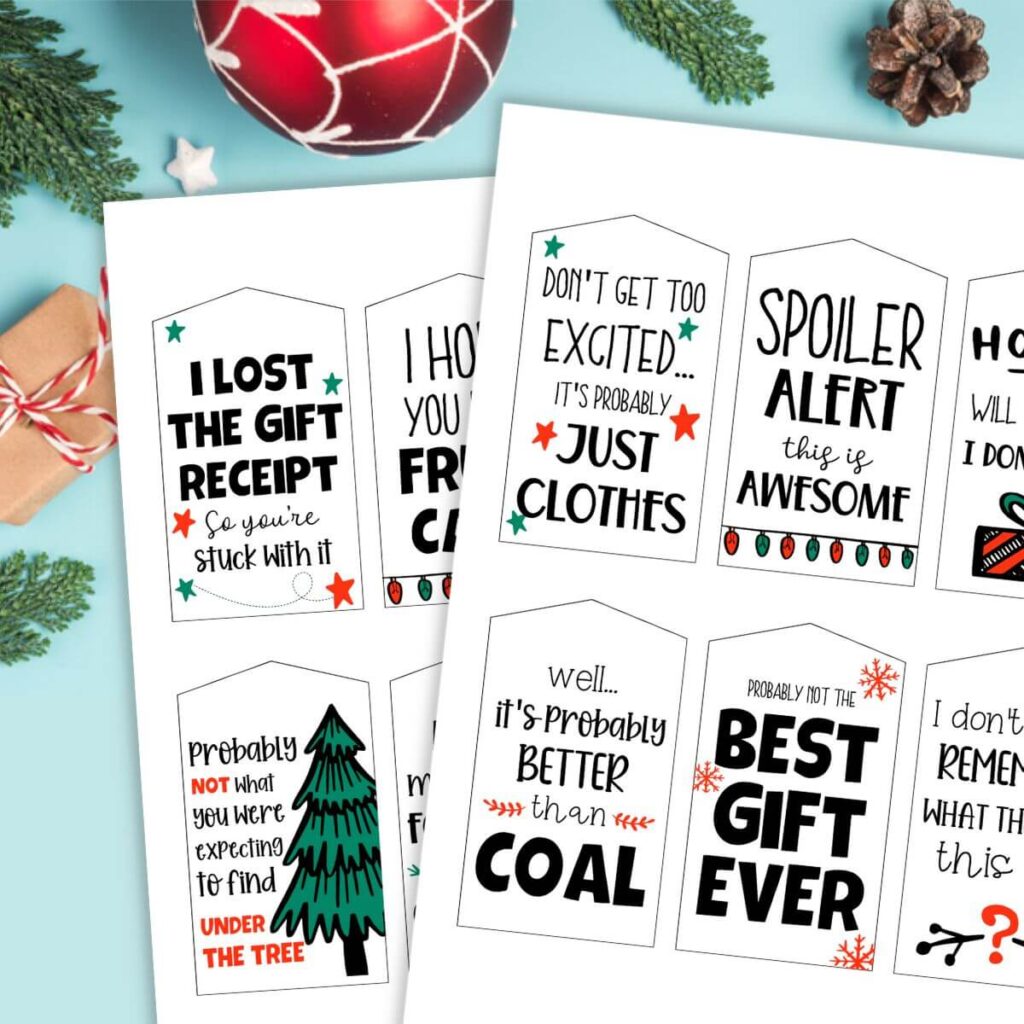 *This post contains affiliate links, which means if you click a link and make a purchase, I earn a commission at no additional cost to you. Thanks for your support!
Sayings for Sarcastic Funny Christmas Gift Tags
Want to make your own funny and honest Christmas gift tags? Or, are you looking for something cheeky to write in your Christmas cards? Here are some great ideas for you: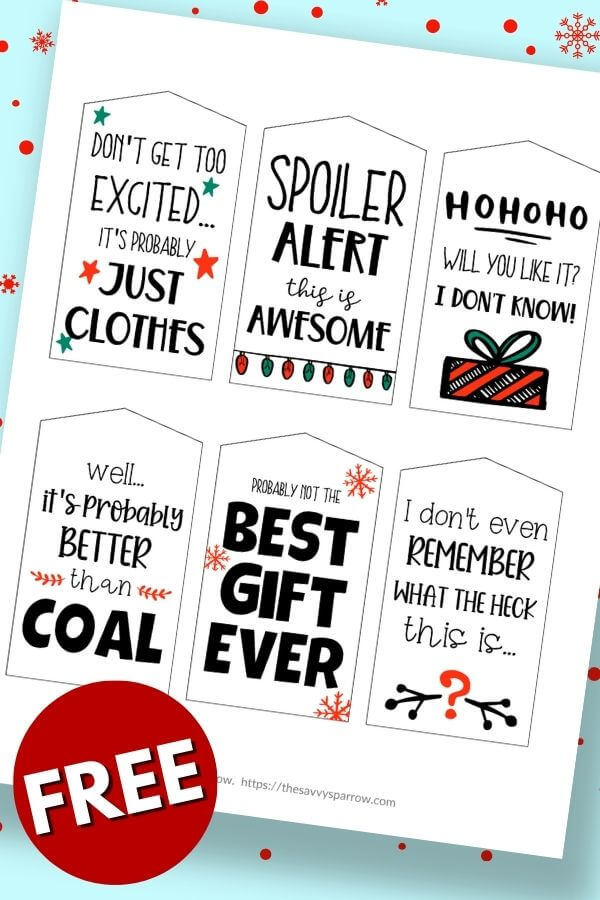 "Don't get too excited… It's probably just clothes"
"Spoiler Alert… This is awesome"
"Ho Ho Ho, Will you like it? I don't know!"
"Well… it's probably better than coal."
"I don't even remember what the heck this is."
"Probably not the BEST GIFT EVER"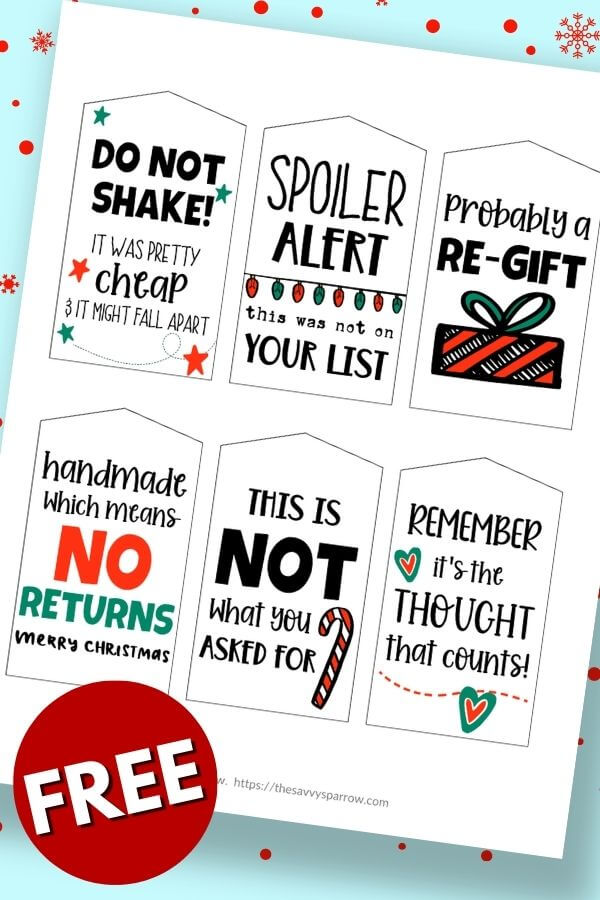 "DO NOT SHAKE – it was pretty cheap and it might fall apart"
"Spoiler Alert – this was not on your list"
"Probably a re-gift"
"Handmade which means NO RETURNS – Merry Christmas"
"This is NOT what you asked for"
"Remember it's the thought that counts!"
"I lost the gift receipt so you're stuck with it"
"I hope you like fruit cake!"
"This present doesn't suck"
"Probably not what you were expecting to find under the tree"
"May or may not have found this on clearance"
"Just do me a favor and pretend that you love it!"
Free Printable Funny Christmas Gift Tags
Just click the link below to download these Christmas gift tags. Then print them out on white or light-colored card stock, punch a hole in the top, and add some ribbon or twine.
Click HERE to download the FREE Funny Christmas Gift Tags!
Other Honest and Sarcastic Gift Tags
If you don't want to print your own funny holiday tags, then you can find some super cute ones already made for you on Etsy and Amazon! Here are some of my favorites:
These Modern and Minimalist Gift Tags from Alsop White Paper Co. would be great with bold black and white or natural kraft paper gift wrapping!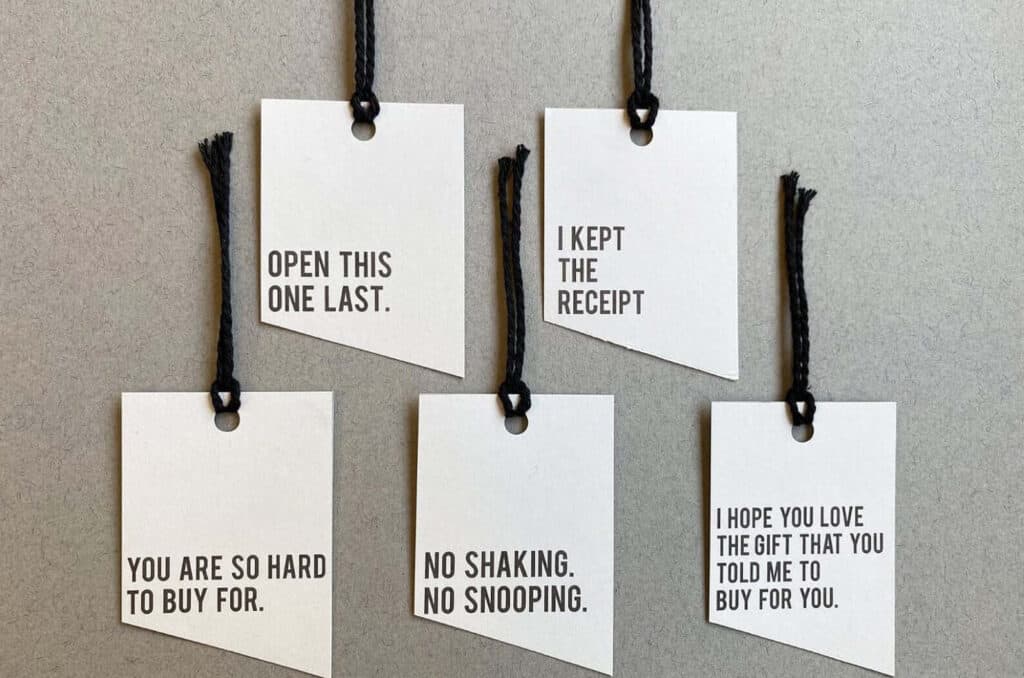 These kraft paper sarcastic gift tags come in a pack of 200 for a great price!
These funny gift tags are self-adhesive, and I love the bright and bold designs!
And be sure to PIN these honest and funny holiday gift tags for later!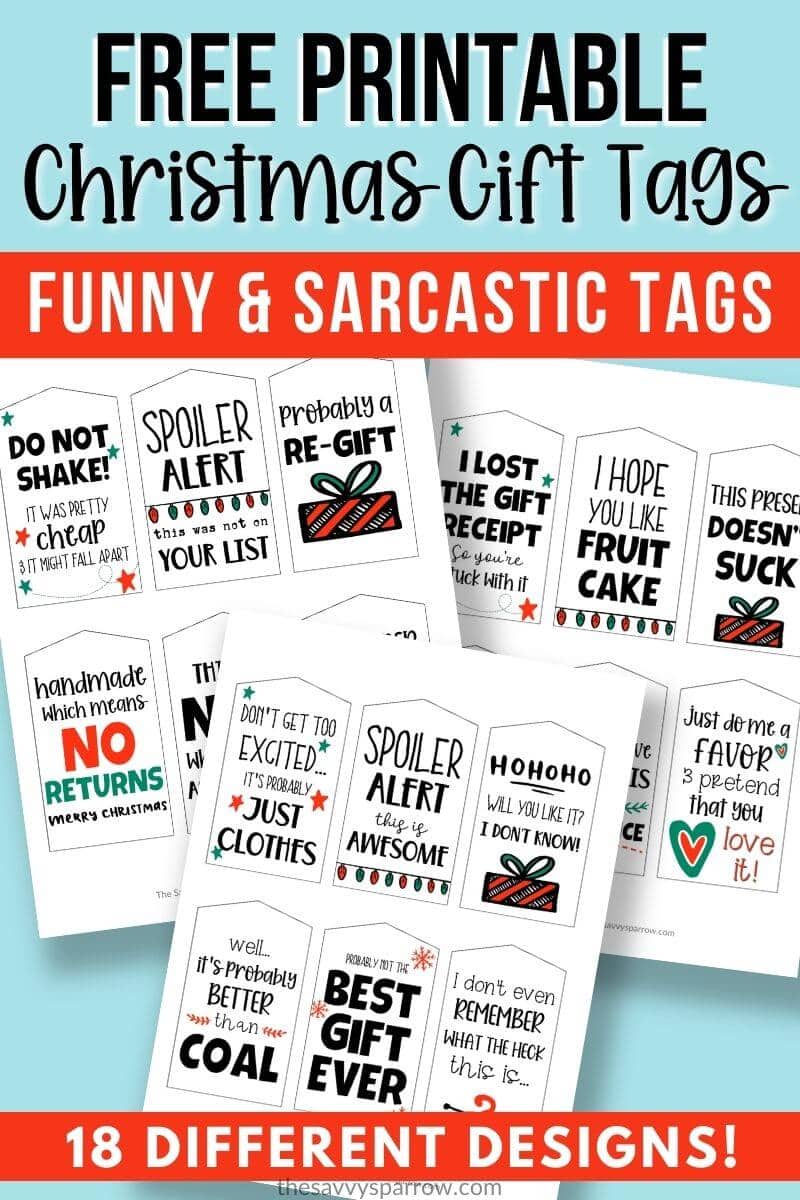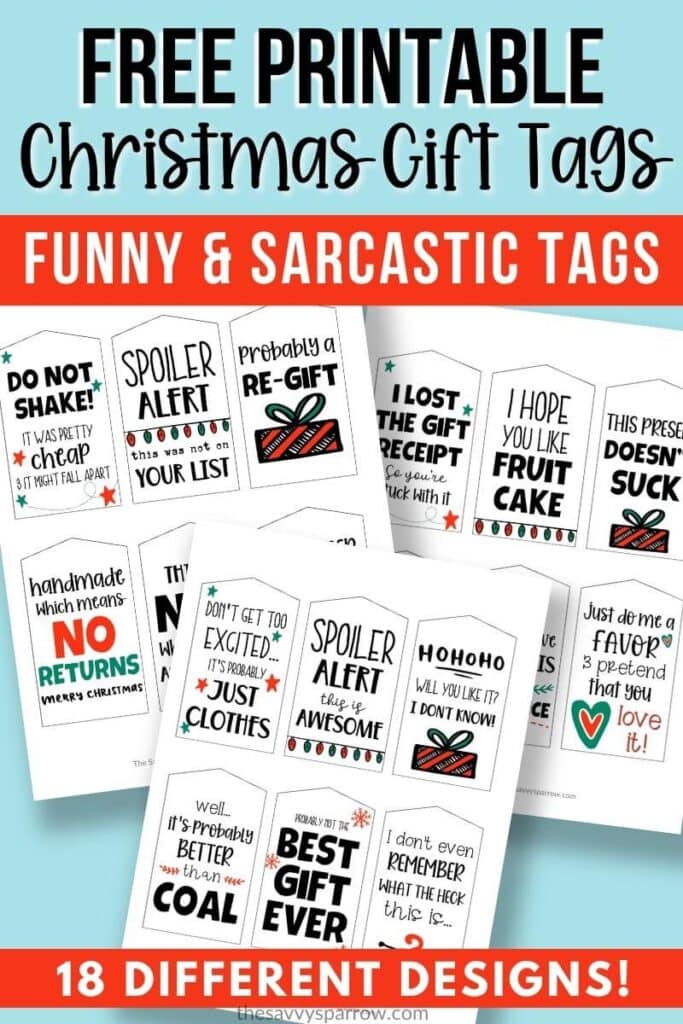 Want some other awesome Christmas ideas? Check out these posts:
And happy nesting!