Every family has their own special family Christmas traditions… The things they do each year… the things that are as sure as a big man in a fancy red suit somehow squeezing his way down your chimney.
And if you have young kids, then NOW is the time to start your own family Christmas traditions.
Sitting around the Christmas tree while my Dad, perched on his ottoman, passed out gifts one at a time, all of us kids in our brand new pajamas, sneaking bites of Mom's cinnamon candy… those are some of my favorite childhood memories.
And now that I'm older and have kids of my own, our family has created our own Christmas traditions… like playing the Saran wrap ball game and going on a Christmas lights scavenger hunt.
If you're looking for fun things to do with your family this Christmas, then check out these ideas…
So, why should you start your own family Christmas traditions?
Do you remember riding the bus to school on a Monday in April? Or riding your bike through your neighborhood on a typical Saturday? Do you even remember what you dressed up as for Halloween when you were ten years old?
I didn't think so…
But, if your family had their own special Christmas traditions, do you remember those?
A "tradition" is something that happens over and over again, year after year or Christmas after Christmas. So, of course, if you do something meaningful and fun as a family the same way every year, your kids are more likely to remember it. And they're more likely to pass on the same Christmas traditions when they have kids of their own.
At least that's how it happened in my family!
Many of these family Christmas traditions are ones that we had when I was a little girl, and some of them are new traditions that I've started since having my own family.
And if you want ideas for family Christmas traditions that you can start this year, then these are some great options!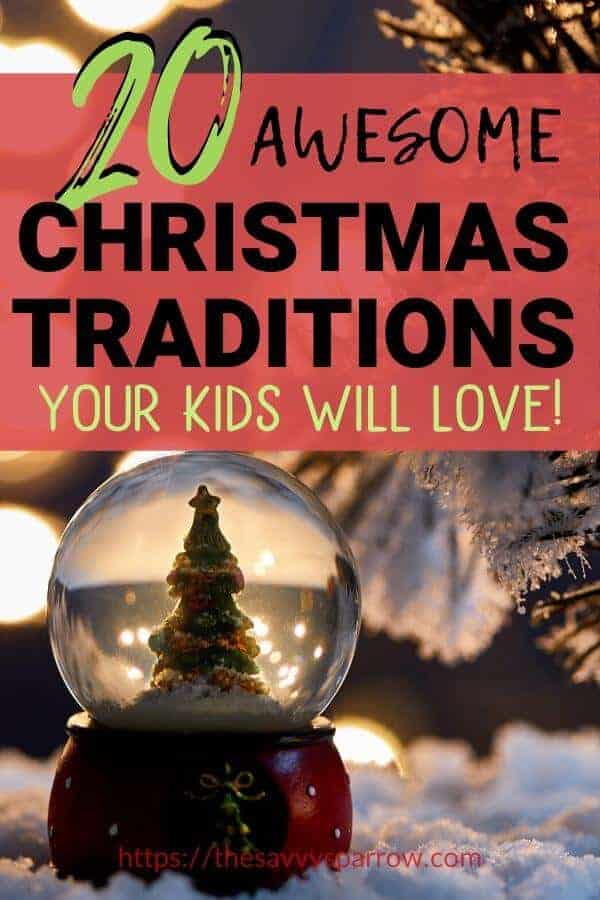 *This post contains affiliate links, which means if you click on a link and make a purchase, I earn a commission at no additional cost to you. Read my full disclosure here.
20 Awesome Family Christmas Traditions
1. Take your kids to buy one new Christmas ornament each year.
This is one of the easy Christmas traditions for kids that we started about 5 years ago. And it's number ONE on my list, because I think it's such an awesome idea!
Here's why…
It's more than just going to buy a new ornament. This Christmas tradition will eventually serve as a fun reminder of our girls' childhoods.
We label the ornaments with each girl's name and the year on a small tag like this: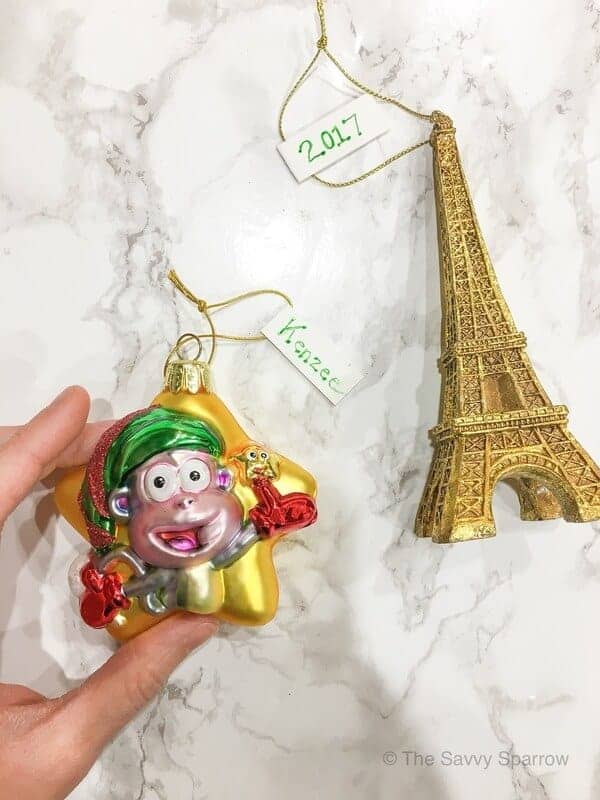 Then, when we're decorating the tree each year, it's fun to pull out the decorations and see what ornaments the kids chose from years past.
Think of it as a time capsule with Christmas ornaments!
For instance, my 7 year old picked out a Dora the Explorer ornament a few years back… when she's 17, she'll reminisce about Dora like I reminisce about Beanie Babies and Tomagotchis (yup, I'm a mid-80's to early-90's child).
Then, when they get married, we'll give them all of their ornaments so they've got a head start decorating their own Christmas trees. And they can even pass down their childhood ornaments to their own kids one day!
This is one of the easiest and most sentimental family Christmas traditions, and my girls LOVE it!
2. Label kids' Christmas presents with holiday names instead of their real names. Don't tell them which name they have until Christmas morning.
This is one of the family Christmas traditions that we're just starting this year! And it's kind of genius, if I do say so myself!
My husband really likes for me to wrap all of the gifts and put them under the tree early…
But I don't like to do that, because then my sneaky girls immediately start peeking under the tree to find which presents belong to them. And, I'm sure they pick them up and shake them around a few times when we're not looking.
So as a compromise this year, I labeled their gifts with Christmas-themed names.
Then, when I fill their stockings, I'll put a small ornament in the bottom that corresponds to their assigned Christmas tag name…
For instance, I'll label one girl's gifts with "Snowflake" and then put a Snowflake ornament in the bottom of her stocking.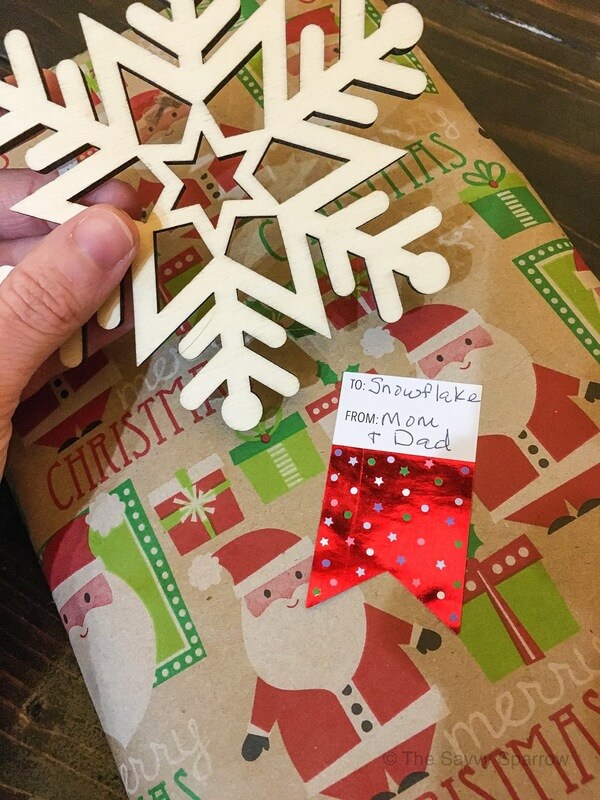 I'm also using "Nutcracker" and "Rudolph" as my secret code names this year, because I have ornaments to go with those names.
So far, this system is working great! My girls LOVE it, and they have no idea what presents are theirs! I've even included my husband in this easy Christmas tradition, because he's as bad as the kids when it comes to getting excited for presents. 🙂
3. Go for a drive to look at Christmas lights. Be sure to grab hot chocolate and donuts on the way!
This is one of our longest standing Christmas traditions for kids! We started this fun family Christmas activity SEVERAL years ago.
We pile in the car on Christmas Eve night and head to our favorite convenience store where we all get hot chocolate and pick out our donuts.
Then, we drive from neighborhood to neighborhood looking at all of the Christmas lights. Since we live in a fairly large city (Knoxville, TN), there are plenty of fully-decorated houses to see. And some even have entire Christmas light displays set to music.
And if you really want to up the fun factor, you can even incorporate a Scavenger Hunt into the tradition! Go HERE to grab a FREE printable Christmas Lights Scavenger Hunt to use!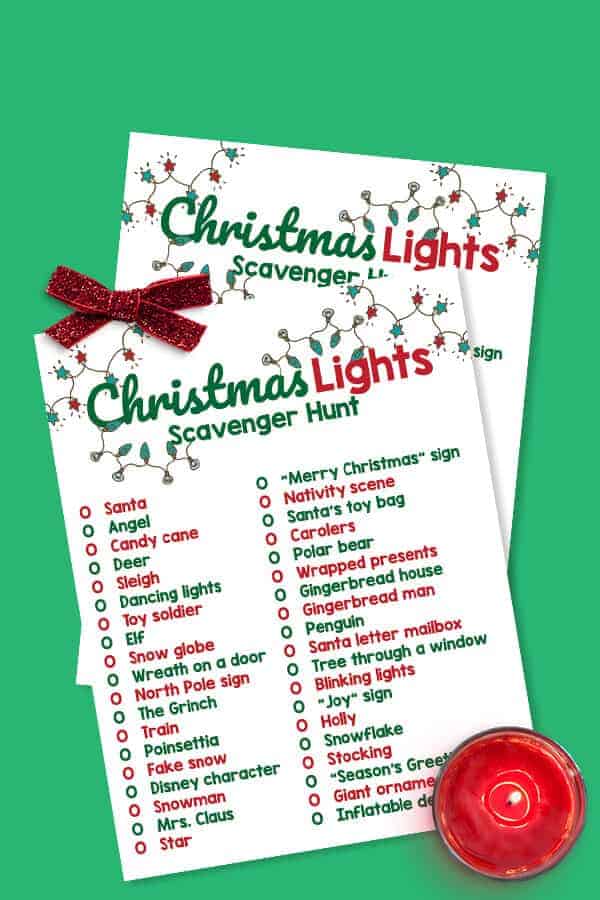 My kids LOVE this easy and cheap Christmas tradition, probably because they'll look for any excuse to eat a donut! (Just like their Momma!)
4. Bake a birthday cake for Jesus.
This is another one of my kids' favorite family Christmas traditions… coincidentally, it involves dessert… anyone else noticing a theme here?!
I started this easy Christmas tradition for kids YEARS ago, because I wanted to put an emphasis on Jesus instead of Santa!
So many kids only care about one person during the holidays, and it's a fictitious character that wears a red suit…. I wanted to buck tradition and diminish the role of Santa Claus in Christmas, so we started baking birthday cakes for Jesus instead.
Don't get me wrong… my girls DID believe in Santa for a very short while, and they did have 1 or 2 presents under the tree from the jolly old guy, but I didn't OVER emphasize Santa Claus when they were growing up.
Instead, when Christmas time comes we celebrate the birth of Jesus exactly how you would celebrate anyone's birthday… with a cake. We even sing "Happy Birthday" to Jesus.
And when my kids started asking what presents Jesus gets for His birthday, I told them that He loves us SO MUCH that he lets us have the presents on His birthday. Because to a child, giving up your presents is TRUE SELFLESSNESS, even if they don't exactly know what "selflessness" means yet.
5. Take each child shopping separately and allow them to pick out a gift for each of their siblings.
This Christmas tradition was actually my kids' idea, and it's a great way to teach your little ones about the importance of generosity and giving.
So many kids are focused on what they're GETTING for Christmas, so I was a super proud Momma when my oldest daughter said that she wanted to use her own allowance money to buy a gift for her sister, without the promise of getting a gift in return.
Of course my youngest daughter found out, and she decided to do the same thing.
So, I took each girl to Target for a mini Mommy and Me date, and let them pick out a gift and buy it with their own money.
You can check out this post on Printable Chore Charts for Kids to find out what my kids do for allowance and how much money they get!
6. Open one present on Christmas Eve.
This is one of the easy Christmas traditions for kids that my Mom did when we were growing up.
Every Christmas Eve night she would let us open one present early.
But we didn't just get to choose which present we wanted to open from under the tree… She picked which gift we could dig into early… and it was ALWAYS a new set of pajamas!
Then we could wear our new pj's to bed that night.
7. Pick out a tag from the Angel Tree and buy a gift for someone in need.
If you're reading this on an iPad or the latest iPhone, or even with your wi-fi in your own home, then you are BLESSED!
And there's a whole heck of a lot of people out there that aren't near as fortunate.
Take time out of your holiday season to make sure that those that can't afford to have a gazillion presents under the tree still have a great Christmas.
Even picking one tag from the Angel Tree, or sending one shoebox to Operation Christmas Child, can make a big difference for someone in need at Christmas time.
8. Bake a "The Real King" Cake. Whoever finds Baby Jesus gets to open the first present!
This is another one of my 7 year old daughter's genius ideas… just like this 2 Ingredient Edible Finger Paint!
Every Christmas morning, we bake a HUGE yummy breakfast with cinnamon rolls, biscuits, and an egg casserole.
Since we're already making canned cinnamon rolls anyway, we're just going to bake them in a bundt pan this year.
Then, when they come out of the oven and cool down a bit, I'll hide a plastic baby to represent baby Jesus inside the cinnamon rolls before decorating them with a quick red and green glaze and sprinkles… because ALL Christmas morning breakfasts should include sprinkles, right?!
I'll serve it up, and whoever gets baby Jesus in their piece gets to open the first present!
9. Sprinkle reindeer food on the lawn on Christmas Eve.
If you're looking for super easy family Christmas traditions and you have young kids, then this one should definitely be on your list!
You can whip up a simple batch of "reindeer food" by mixing rolled oats and glitter in a small Ziploc bag. Then, just sprinkle it on your front lawn on Christmas Eve to attract Santa's reindeer… you know… because reindeer eat glitter. 🙂
10. Make cinnamon candy!
This is another one of our family Christmas traditions that my Mom did every year when we were kids.
She would make a big 'ol batch of homemade cinnamon candy to give to friends and family. And she would store extras on the kitchen counter in a festive holiday tin so that each time we walked by the kitchen, we could sneak a small piece.
Now as an adult, just the smell of cinnamon takes me back to my childhood Christmases.
This cinnamon candy is super easy to make, and it would be a great addition to homemade candy/cookie gift tins for neighbors, teachers, bus drivers, hair dressers, etc.
The recipe that my Mom has made for years is right on the back of the package of LorAnn Gourmet cinnamon oil: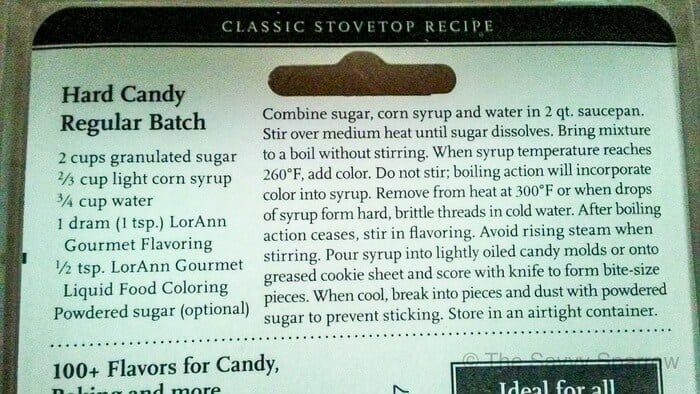 FYI – The powder sugar is NOT optional. 🙂 If you love cinnamon mints and red hots, then you'll LOVE this yummy Christmas candy!
11. Perform a random act of kindness for a stranger.
Christmas can be stressful, with the crowds EVERYWHERE and the mile-long to-do lists. So, why not brighten somebody's day with a random act of kindness at Christmas time.
As a bonus, your kids will see you going the extra mile to be kind to others, and they'll be more likely to be kind, too! BTW – You can click here for more tips for How to Raise Kind Kids!
If you want an easy idea for a thoughtful (and much appreciated!) act of kindness that's perfect for Christmas time, then check out my Holiday "Thank You" Basket for Delivery Drivers! And be sure to grab the FREE printable Thank You sign while you're there!
12. Bake cookies and pass them out to neighbors.
One of our old neighbors did this, and as the cookie recipient, we LOVED it!
She would bake about 5 different Christmas cookie recipes, and then package a few of each cookie in a cute holiday tin and give them to all the neighbors.
If baking that many cookies with your kids sounds like adding even more stress to the holidays, then try these easy No-Bake Christmas cookies from store-bought pizzelles!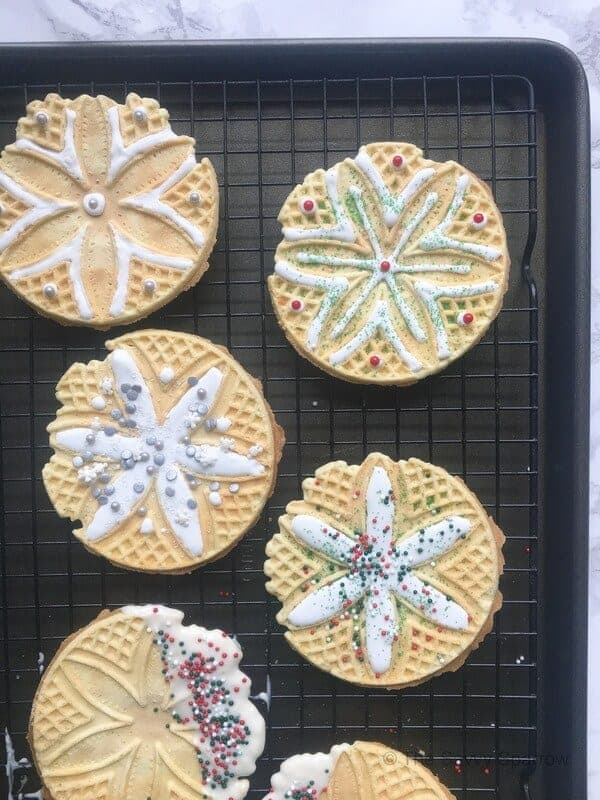 They look fancy, but they only have 3 ingredients, and you don't even have to get out the mixing bowl or turn on the oven!
13. Hide the Pickle!
Okay… maybe that didn't sound right!
I mean hide the pickle ornament… My husband's family did this when he was growing up, and it's one of his favorite childhood memories.
Just buy a pickle ornament (you can find a good pickle ornament HERE) and hide it somewhere in the Christmas tree. Then, on Christmas morning, whoever finds the pickle ornament first gets to open the first present!
14. Play the Saran Wrap Ball Game with friends and family.
If you haven't heard of this fun Christmas game, then you're probably not an avid Pinterest user.
The Saran Wrap Ball Game involves wrapping a bunch of candy, snacks, small toys, etc. into a giant ball of plastic wrap.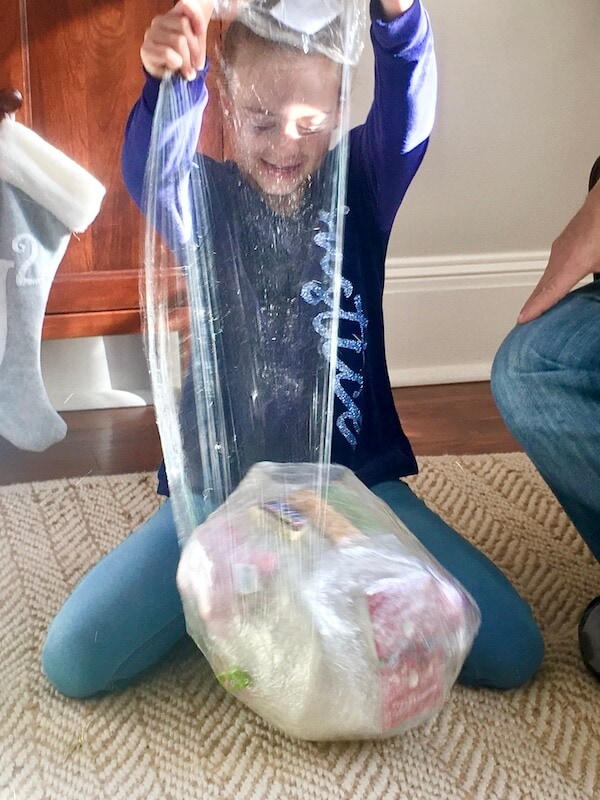 Then, the giant ball of goodies gets passed around a circle, with each person only having a limited amount of time to unwrap the plastic wrap. You get to keep whatever falls out of the Saran wrap ball during your turn. And you get to keep unwrapping the ball until the person to your right rolls doubles on a set of dice.
You can head here for more about the Saran Wrap Ball Game, including some great ideas for things to put in your plastic ball!
15. Make homemade Chex Mix.
If it's Christmas time, then you can bet that we've got a big 'ol bag of our homemade Chex mix hiding in our pantry somewhere.
My husband makes this delicious and perfectly spicy Chex mix (which he calls "Scrabble" – don't ask me why) every single year during the holidays. Then, when we go on vacation to visit family after Christmas, he always has a few gallon-sized Ziploc bags of this addictive snack for the road trip.
He LOVES it so much, and he makes such a big batch, that he actually makes it in a trash bag. Not kidding. See: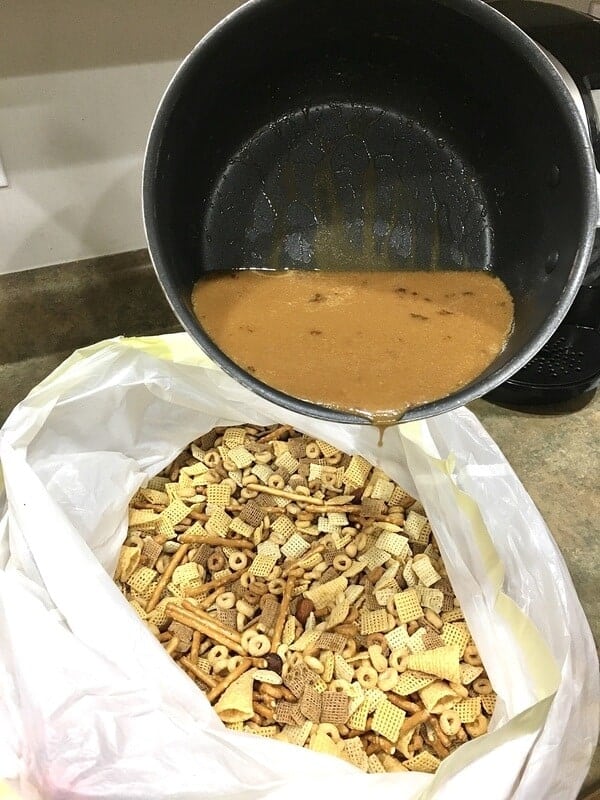 I'll post the recipe for our yummy Chex Mix in the next few days when we make our annual batch… trust me, you'll want to come back to see how to make it!
16. See a Christmas show for your family Christmas traditions.
Google "Christmas events near me" to find local Christmas shows, concerts, and festivals.
Our church puts on a wonderful Christmas program each year and that's become one of our family Christmas traditions. Plus, we have a HUGE festival called The Fantasy of Trees that our kids love!
Plus, attending a Christmas show or festival each year is a great way to get into the holiday spirit (and out of the overcrowded mall!).
17. Go for a small overnight trip on Christmas Eve.
You know what the problem with opening Christmas presents is? It always seems to be over WAY too quickly!
Like, you spend months shopping for the perfect gifts, then days wrapping them, only to have all of the presents torn into by 8am Christmas morning.
To combat that problem, my family would take a short overnight trip on Christmas Eve. We had a lake house about 45 minutes away, and we would all pile in the car and head there for the night, leaving all of the presents at home under the Christmas tree.
Then, on Christmas morning we would wake up, go to Perkins for breakfast, and head home to see what Santa had left us.
The great thing about taking that one night mini vacation was that we didn't even get home until around 10am on Christmas morning… so our Christmas celebration lasted well past noon!
I LOVED this family Christmas tradition of ours, and if it's in your budget to go for an overnight visit to a nice hotel that's not too far away, then this is a great way to make memories with your kids that AREN'T centered around waking up at 6am to immediately start opening presents.
18. Make a Christmas Bucket List for your family Christmas traditions!
Christmas isn't just about doing what the kids want to do. Get the whole family in on the fun, and let everyone add their favorite Christmas activities to the Family Christmas Bucket List.
Whether it's going to see the new Christmas movie that just came out in theaters, or visiting a favorite restaurant for Sunday brunch, let each family member add things to do in the month of December to the list.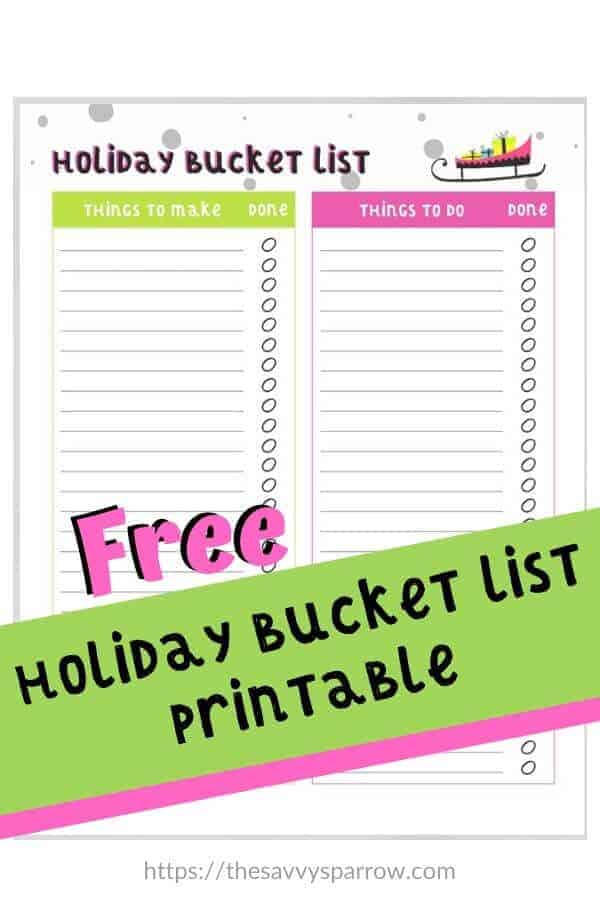 Click here for the FREE Christmas Bucket List printable?!
19. Set up an Advent Calendar to countdown to Christmas.
My Mom has sent my girls these chocolate-filled advent calendars for the past several years, but you can also set up a decorative advent calendar to get everyone excited for Christmas.
My kids LOVE opening the little flap on their Christmas advent calendars and discovering what little piece of chocolate is inside for that day.
Or, if you're crafty you can even make a DIY advent calendar like one of these!
20. Do a family service project.
Volunteer to ring the bell outside your local grocery store for The Salvation Army, serve a meal at your city's soup kitchen, or visit the elderly in a nearby nursing home.
These are all great community service projects that your family can do together each year as part of your family Christmas traditions!
21. Try a fun, new family-friendly recipe each year!
Cooking is a GREAT way to spend quality time with your kids, while sneaking in bits of math and real-world skills, too!
Our youngest LOVES to cook, and one of her favorite family Christmas traditions is baking up something yummy with her Daddy.
Each year, try a new holiday-themed recipe… something that you've never tried before!
To get started, may I recommend this showstopper of a dessert… My Rice Krispie Treats Christmas Tree!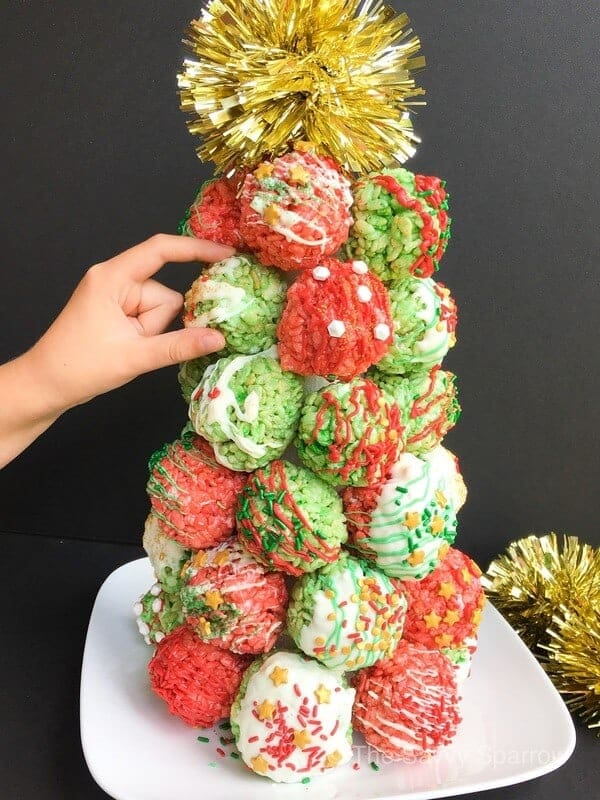 Hope you enjoyed these family Christmas tradition ideas, and I hope that you were inspired to create some of your own holiday traditions with your family!
And PLEASE SHARE – You can PIN this post, AND Leave a Comment letting me know about some of your family Christmas traditions!