These easy no bake Christmas cookies are cute and festive! Your kids will have a blast helping you make these 3 ingredient Christmas cookies from store bought pizzelle cookies. Such a cute and easy gift idea for the holidays, without having to dirty up the kitchen!
I recently discovered pizzelles and, as a waffle cone lover, they became an instant favorite!
What the heck is a pizzelle, you ask?
It's a thin and crispy Italian waffle cookie adorned with an intricate lace-like pattern.
I was shopping a few days ago and saw them, and they instantly made me think of snowflakes. The cute detailed, star imprint could easily pass for a snowflake with some white icing and sparkly sprinkles.
So these easy no bake Christmas cookies were born!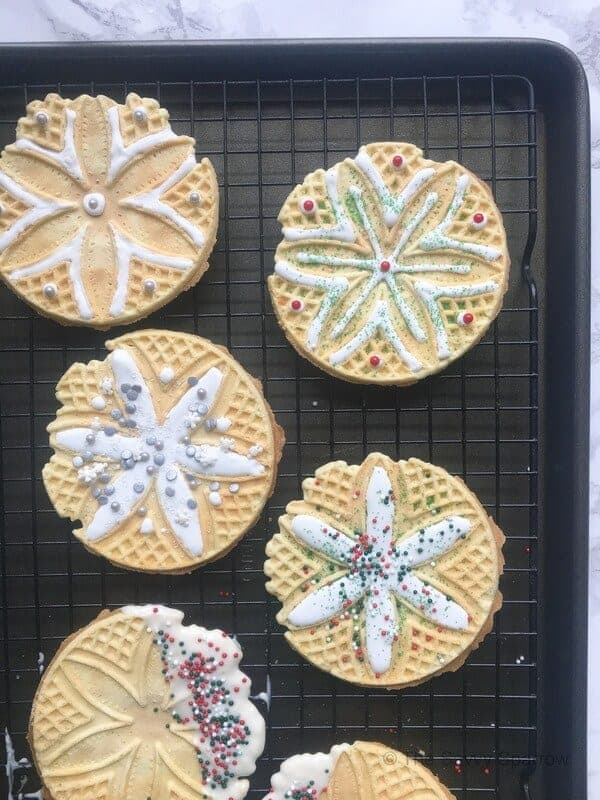 *This post contains affiliate links which means I earn a commission from these links at no additional cost to you. Read my full disclosure here.
Here's how to make these oh-so-pretty and super easy Christmas cookies:
No-Bake Christmas Cookies from Pizzelles
Step 1: Gather your ingredients.
Yup, these easy cookies only require 3 ingredients:
Store bought pizzelles
You can find these thin and crispy cookies in the bakery section of most grocery stores, especially during the holidays. But make sure to treat them like a carton of eggs… they can be fragile!
I got mine for $4.99 for a pack of 12.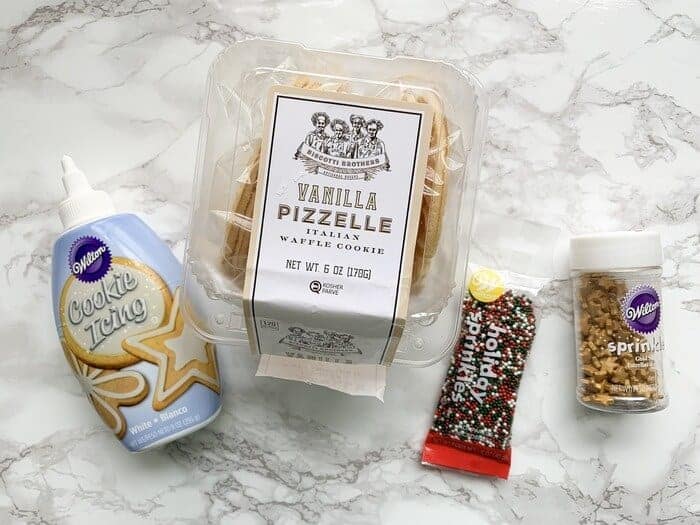 Store bought icing
I used this Wilton Cookie Decorating Icing (affiliate) for the first time and LOVED how easy it was to use. You just open the bottle, microwave it for a few seconds, and you're ready to decorate.
So much easier than mixing your own icing and assembling your icing bags and decorator's tips!
Sprinkles
I used the $1.00 mini packs of Wilton sprinkles that you can buy at Michael's.
These sprinkles are a FAVORITE of mine, because often times I only need a small amount of specific sprinkles for one baking project. These little bags are much more budget-friendly, and my pantry doesn't become the land where old and forgotten sprinkles go to die.
Step 2: Microwave your icing according to package directions.
The great thing about this icing is that you microwave it right in the package… so NO dishes or sticky mess!
Step 3: Use the icing to fill in the snowflake shape of the pizzelles.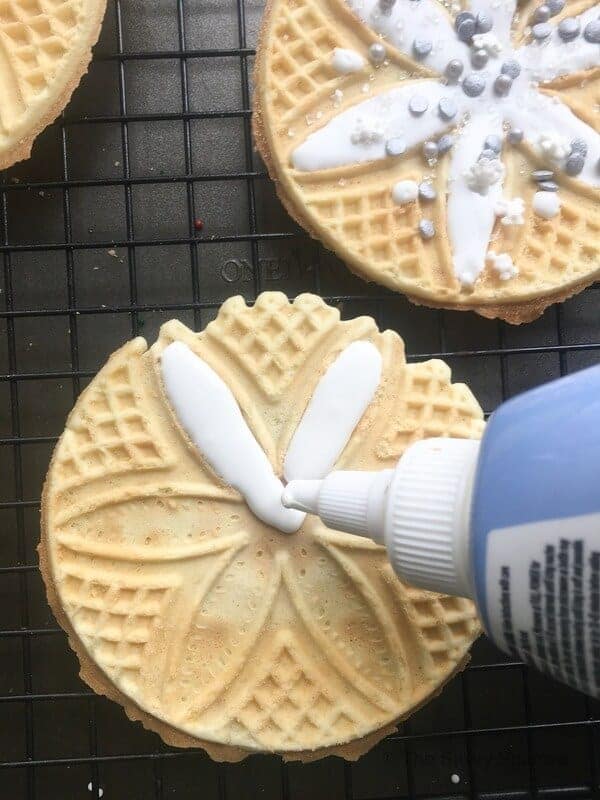 The microwaved icing will run out a bit to fill in the snowflake shape. You may have to reheat your icing for a few seconds in the microwave after you do a few cookies.
You can also use a toothpick to help spread the icing evenly in the cookie grooves.
For some of my no-bake Christmas cookies, I filled in the snowflake outline and a few of the diamond shapes for a little variety.
You can also dip some of your pizzelle Christmas cookies in melted white chocolate to mix it up a bit: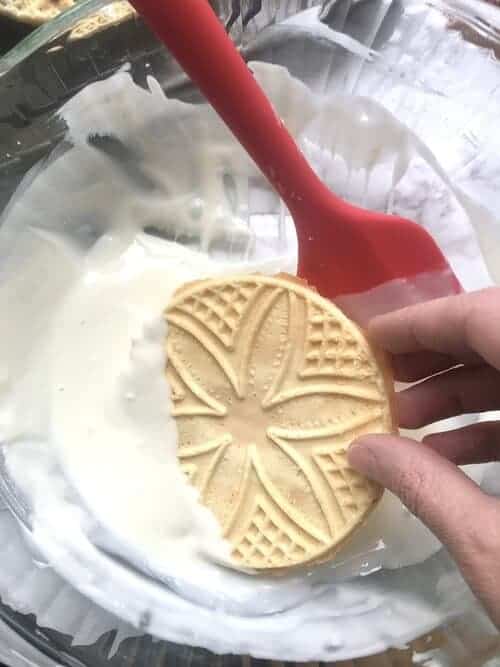 Then sprinkle red and green sprinkles onto the dipped chocolate part. Easy peasy!
Step 4: While icing is still wet, decorate the no bake Christmas cookies with sprinkles.
Work fast because the icing dries pretty quickly and then the sprinkles won't stick to it .
I used a mix of silver and white sprinkles for a glam winter look: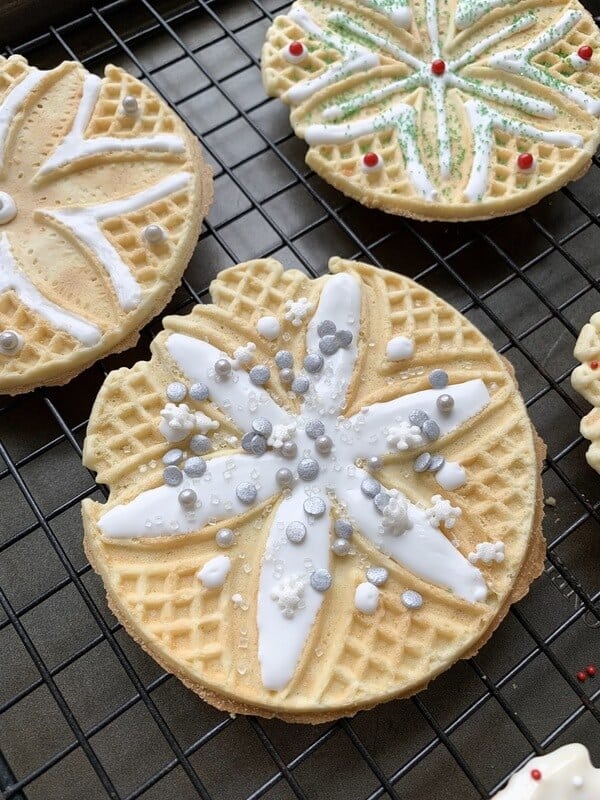 And green sugar and red balls for more traditional no bake Christmas cookies: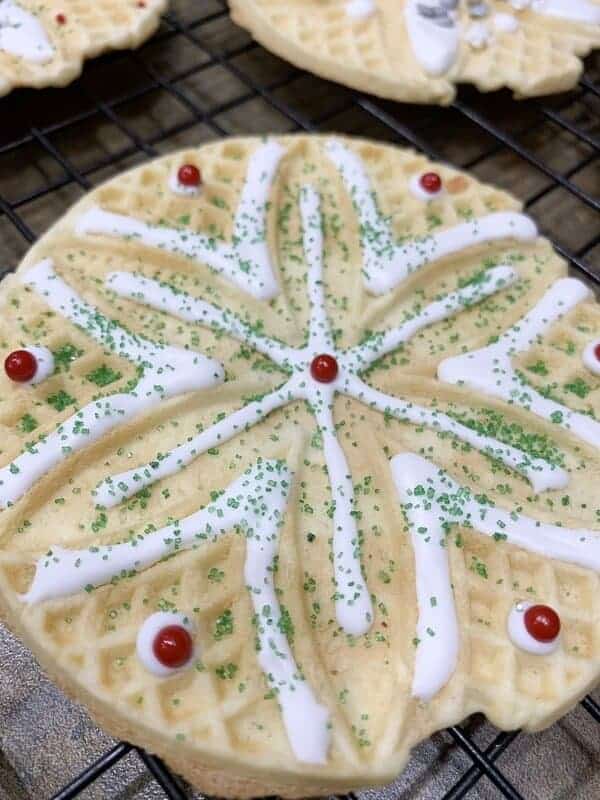 So cute, right?!
If you LOVE waffle cones, then I'm sure you will love these yummy no bake Christmas cookies!
Want to gift them to your neighbors or your child's teacher?
The Dollar Tree sells round, plastic Christmas containers that fit these cookies perfectly. I recommend putting a piece of wax paper in between the cookies before stacking them inside the containers.
Or, for another super easy gift idea, check out these FREE printable donut gift tags! Just print out the gift tags and tie one of them to a small box of donuts, and you're done!
And don't miss this Rice Krispie Treats Christmas Tree… it is a showstopper perfect for your holiday parties!
Cheers to a stress-free and merry Christmas!