Looking for easy no-bake Christmas desserts you can make with your kids? Try this holiday classic… chocolate covered Ritz cracker cookies!
Finding quick and easy recipes to make for the holidays is a great way to ensure you have homemade treats without the need to slave in the kitchen. And these sweet and salty chocolate covered Ritz crackers are the perfect last minute holiday treat. With the help of these no-bake chocolate "cookies," your family can enjoy a sweet snack this Christmas. And the best part is that you don't even have to turn on your oven.
Here's how to make them: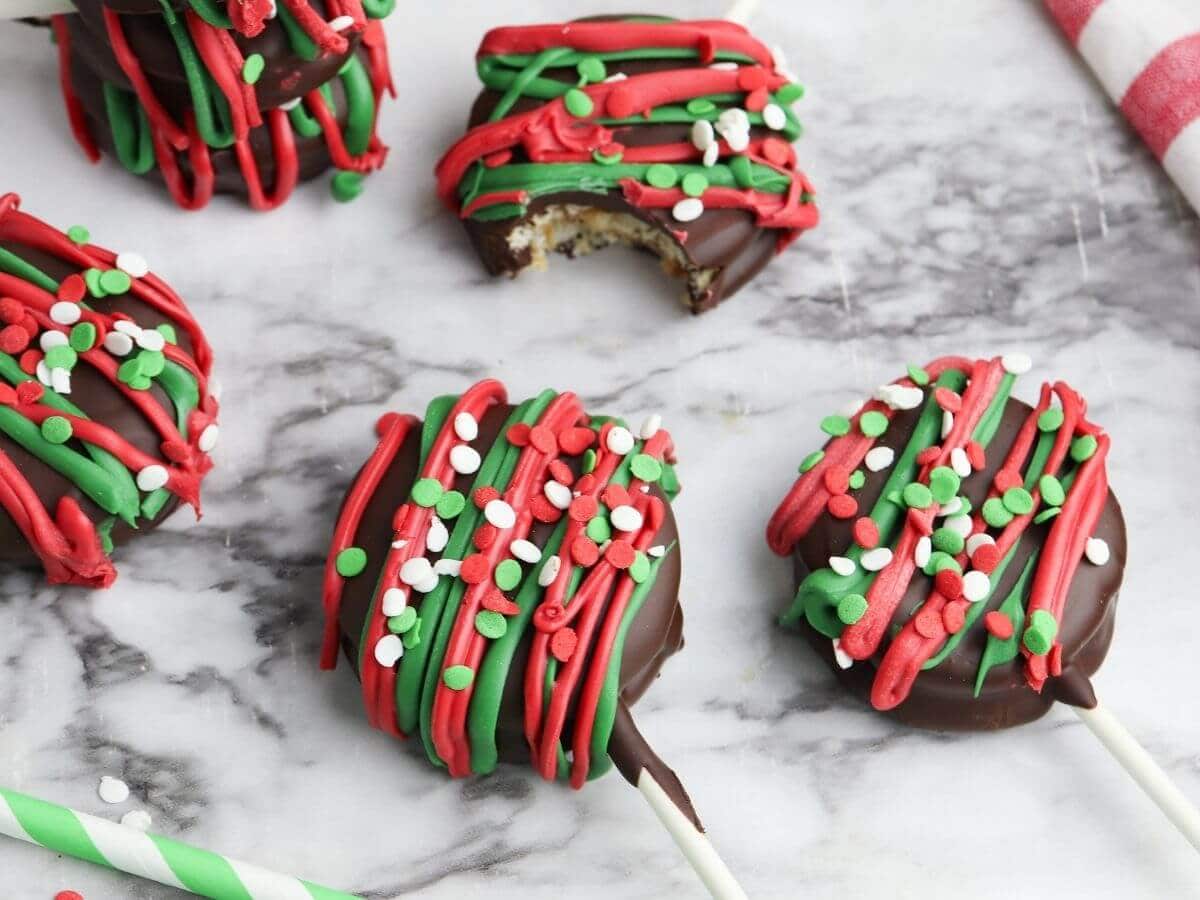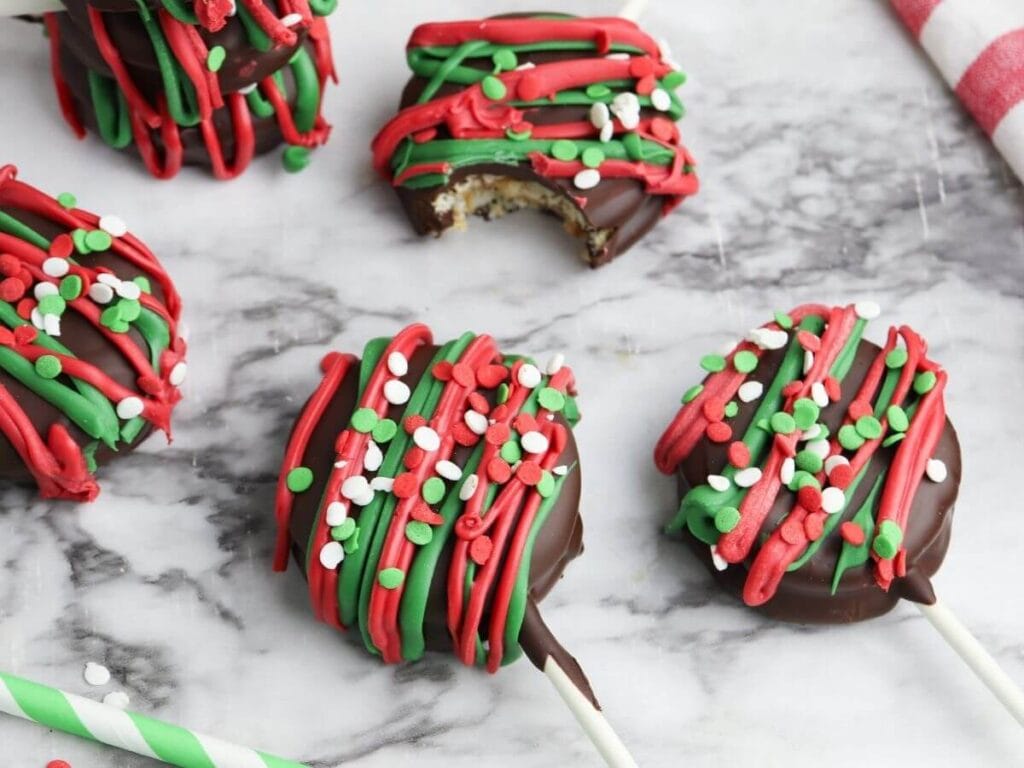 Chocolate Covered Ritz Cracker Ingredients
These simple snacks are so easy to make! And that means you only need a handful of ingredients to prepare them. To make your own chocolate covered Ritz, you'll need:
Ritz crackers. They key to making these sweet and salty treats is Ritz crackers. While Ritz are the cracker of choice, any round butter cracker will work with this simple recipe.
Peanut butter. The combination of creamy peanut butter, crisp crackers, and sweet chocolate is what makes this recipe so popular. Creamy peanut butter is the best option for this recipe because it will ensure your crackers lay evenly on your lollipop sticks.
Chocolate. Any type of chocolate will do for this recipe, but I love the combination of milk chocolate and peanut butter. And milk chocolate has a sweeter flavor than other chocolate varieties, allowing it to pair well with the salty crackers.
Decorations. Turn your plain chocolate covered Ritz crackers into fun holiday treats with the help of red and green melting chocolate and some Christmas sprinkles. Or switch up the sprinkles to make these chocolate Ritz cracker cookies for any holiday!
These easy peanut butter cracker sandwiches are fun on their own. But with the help of some sucker sticks, you can make them a little easier to eat. And you can be sure the kids will love eating these pops during the holidays!
How to Make Chocolate Covered Ritz Crackers with Peanut Butter
This classic recipe is a holiday favorite. But most recipes simply tell you to dip your peanut butter cracker sandwiches directly in the chocolate. With the addition of a sucker stick, you can turn your chocolate crackers into a fun-to-eat treat. But you'll need to take an extra step when preparing your holiday treats.
But don't worry… these yummy Ritz cracker cookies sandwiches are still super easy to make. Here's how to do it:
Step 1: Spread Peanut Butter on to Ritz Crackers.
Start by spreading a thick layer of peanut butter over half of your Ritz crackers. Make sure the peanut butter is spread evenly over the cracker, without allowing the peanut butter to spread over the edge.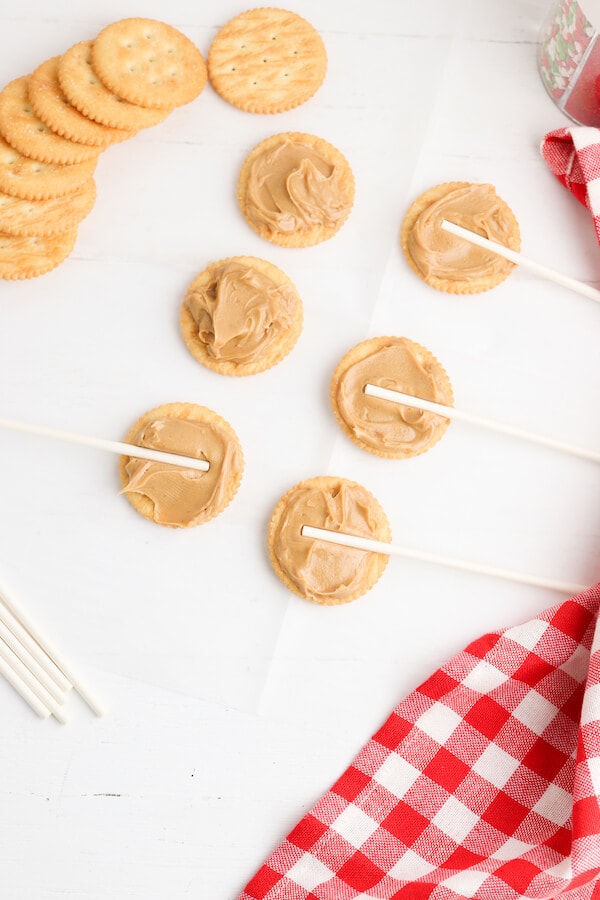 Next, press your lollipop stick into the peanut butter until it's secure. If there isn't enough peanut butter to cover both sides of the lollipop stick after it's pressed into the butter, add more peanut butter until the stick is secure.
Finish by pressing a second cracker on top of the peanut butter. Make sure not to press too hard on the cracker, which could cause it to break or cause the peanut butter to leak out the sides.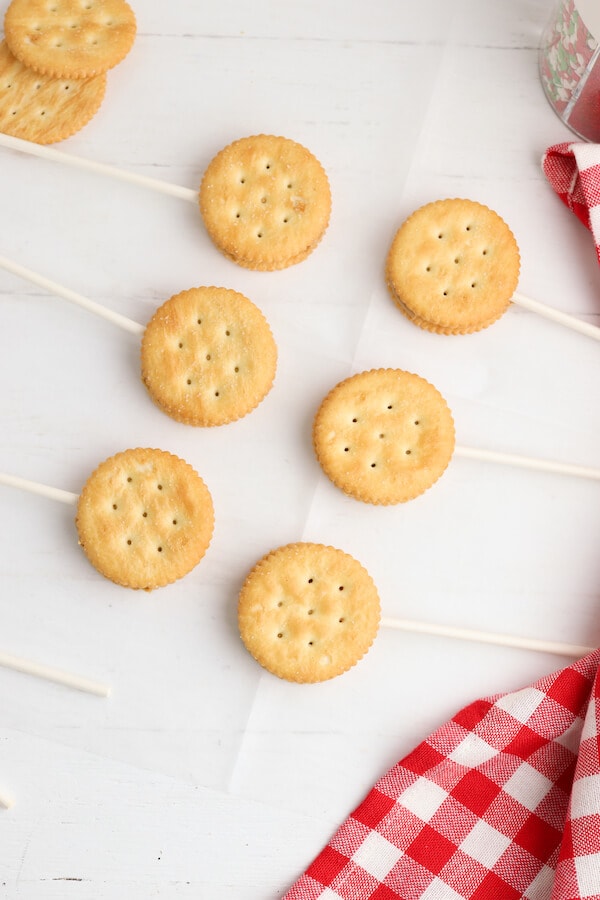 After attaching the top cracker, pick up the peanut butter sandwich by the stick to make sure it's secure. You may need to add more peanut butter to the center if you notice the crackers are loose.
Step 2: Melt chocolate for dipping your Ritz Cracker Cookie Pops.
When all your pops are constructed, it's time to start dipping! Start by melting your chocolate in the microwave in 30 second increments. Make sure to stir between each increment to mix the chocolate and prevent it from burning.
Step 3: Dip Ritz Crackers in chocolate.
After the chocolate is completely melted, lay one cracker pop in the chocolate and use a spoon to drizzle the chocolate over the top of the crackers. When the cracker is coated on both sides, use a fork to lift the cracker out of the chocolate.
It's not a good idea to lift the cracker out of the chocolate using the lollipop stick because you may accidentally pull the stick out. Instead, use a fork to scoop the crackers out of the chocolate. The fork will allow the excess chocolate to drip off the cracker.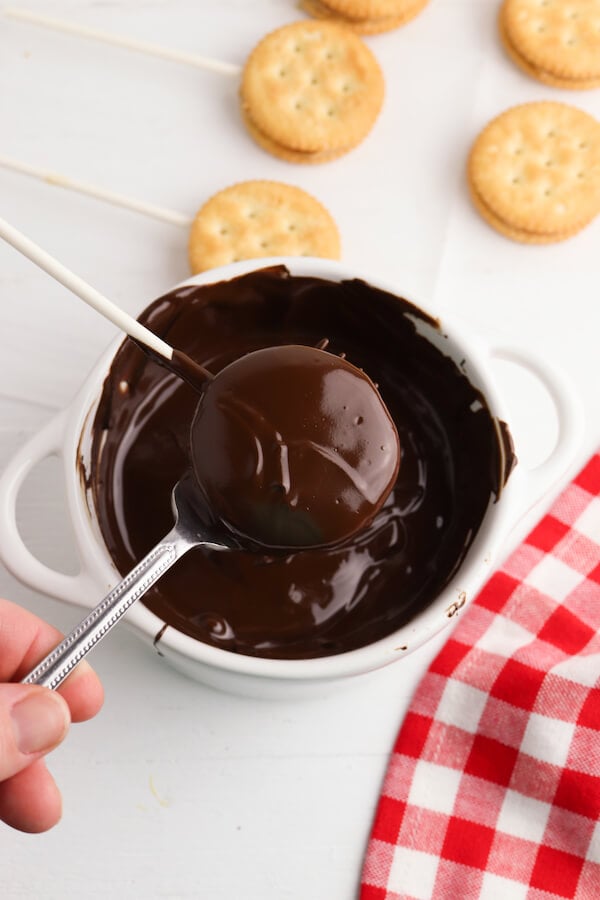 To knock all that extra chocolate off, tap the hand that is holding the fork with your free hand. This will help loosen the chocolate without knocking the cracker off the fork. Then, scrape the chocolate drips on the side of the bowl.
Once you have most of the extra chocolate removed from the cracker, carefully slide the cracker sandwich off your fork and onto a piece of wax paper. Continue dipping the crackers in the chocolate until all your peanut butter sandwiches are covered.
Step 4: Decorate your Chocolate Covered Ritz Cracker Cookie Pops.
Allow the chocolate to cool and set, then drizzle melted red and green chocolate over the top of each pop. Decorate each Ritz with Christmas sprinkles while the decorating chocolate is still wet, then allow the red and green chocolate to set before serving.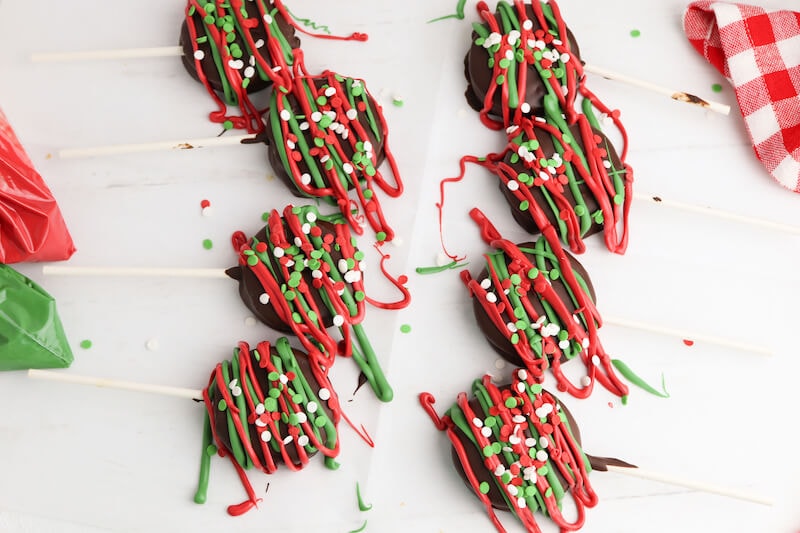 Chocolate Covered Crackers Recipe Ideas
Since these delicious sweet and salty treats are so easy to make, you can adjust the recipe to create new treats every time you make it! Try these recipe ideas the next time you whip up these no bake snacks:
Use different chocolate. Milk chocolate is a great option for a classic flavor combination, but you can easily substitute dark or white chocolate in this recipe for a different flavor profile.
Substitute Nutella for the peanut butter. Another simple substitution you can make in this recipe is to use Nutella in place of peanut butter. Add the hazelnut spread to the middle of each cracker, then dip it in chocolate for a quick and easy treat.
Try marshmallow crème. Create s'mores flavored cracker treats by spreading marshmallow crème in the center of each sandwich. Dip in chocolate and add some graham cracker crumbs on top!
Easy Chocolate Covered Ritz Cracker Cookie Pops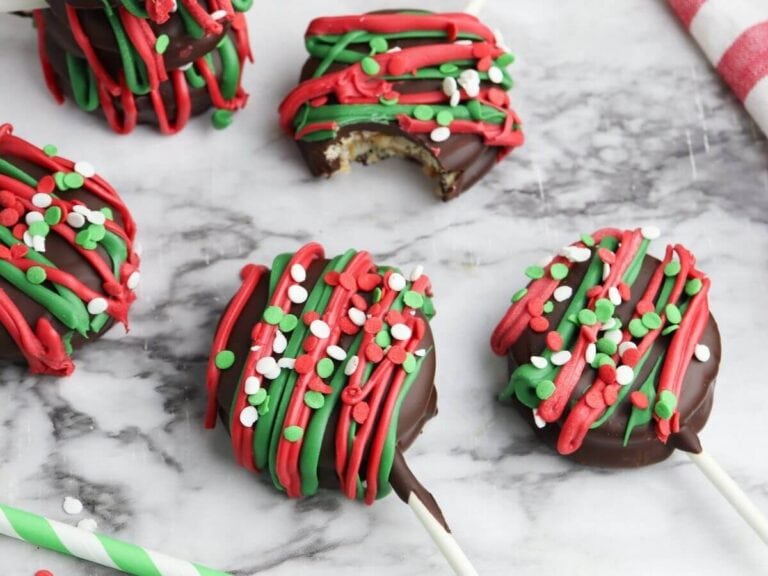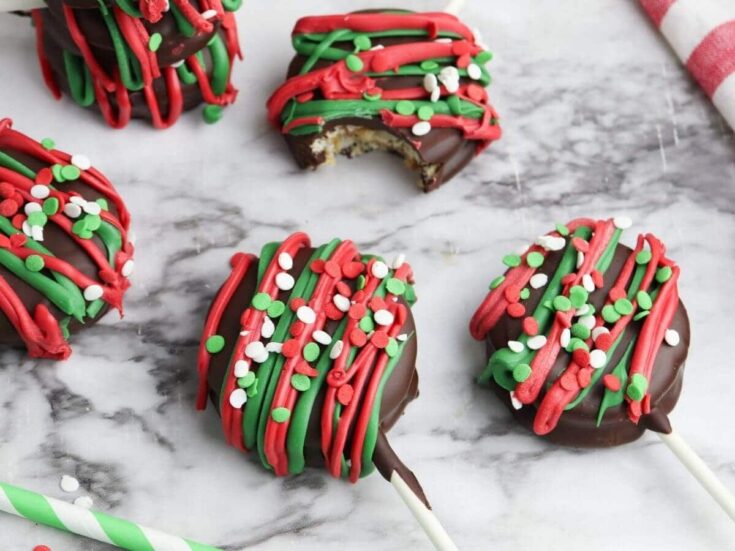 These chocolate covered Ritz cracker cookies are a classic holiday treat, and they're so easy to make with just a few ingredients! Add a lollipop stick and some cute packaging to turn them into inexpensive gifts to give this Christmas!
Prep Time 30 minutes
Total Time 30 minutes
Ingredients
30 Ritz crackers
½ cup creamy peanut butter
1 12-ounce package milk chocolate chips
1/3 cup red melting chocolate
1/3 cup green melting chocolate
Red and green sprinkles
Lollipop sticks
Instructions
Lay 15 Ritz crackers on a flat surface. Spread a thick layer of peanut butter over the top of each cracker.
Press a lollipop stick into the center of each Ritz cracker and top it with another cracker to form a sandwich.
Melt the chocolate in the microwave in 30 second intervals, stirring between each interval.
Carefully dip each side of the cracker in the chocolate, using a spoon to coat the bottom and sides. Lift the cracker out of the bowl with a fork and lightly tap the fork on the edge of the bowl to remove the excess chocolate. Place the chocolate dipped cracker sandwich on a piece of waxed paper. Continue dipping the peanut butter filled Ritz crackers until they have all been coated in the melted chocolate.
Allow the chocolate coating to harden, then melt the red and green chocolate according to the package instructions. Place each color in a piping bag and drizzle it over the top of the Ritz cracker pops.
Before the red and green chocolate hardens, top with sprinkles.
Allow the decorative chocolate to set before serving.
Nutrition Information:
Yield:
15
Serving Size:
1
Amount Per Serving:
Calories: 207
Total Fat: 13g
Saturated Fat: 5g
Trans Fat: 0g
Unsaturated Fat: 6g
Cholesterol: 5mg
Sodium: 117mg
Carbohydrates: 20g
Fiber: 1g
Sugar: 13g
Protein: 4g
Nutritional information is provided as a courtesy and is an estimate only. Different online calculators may calculate nutritional information differently. Also, the addition of optional ingredients and varying brands and products may change the information. For the most accurate data, you should calculate the nutritional information with the actual ingredients that you use.
Hope you enjoyed these yummy holiday treats, and be sure to check out some of my other Christmas ideas that your family will love:
And don't forget to PIN this post for later: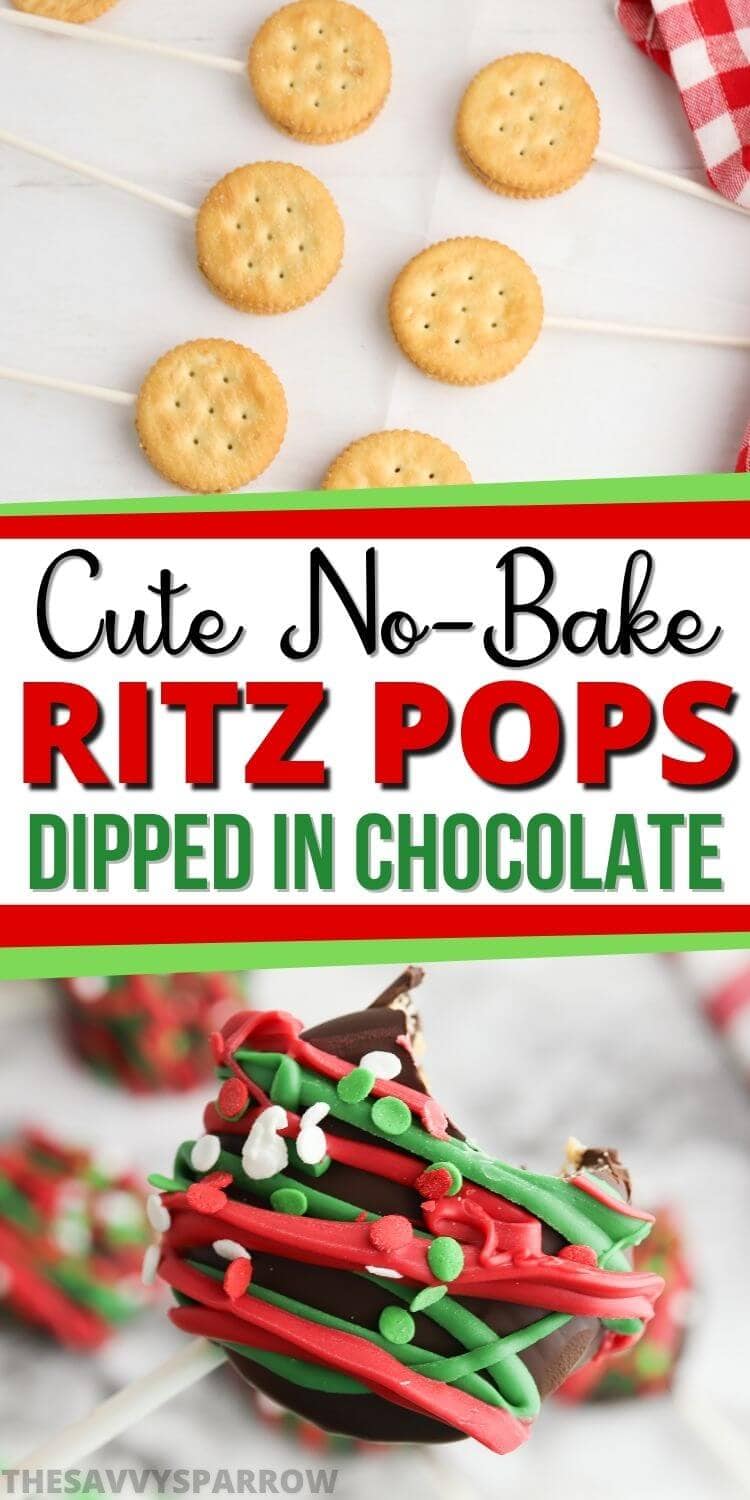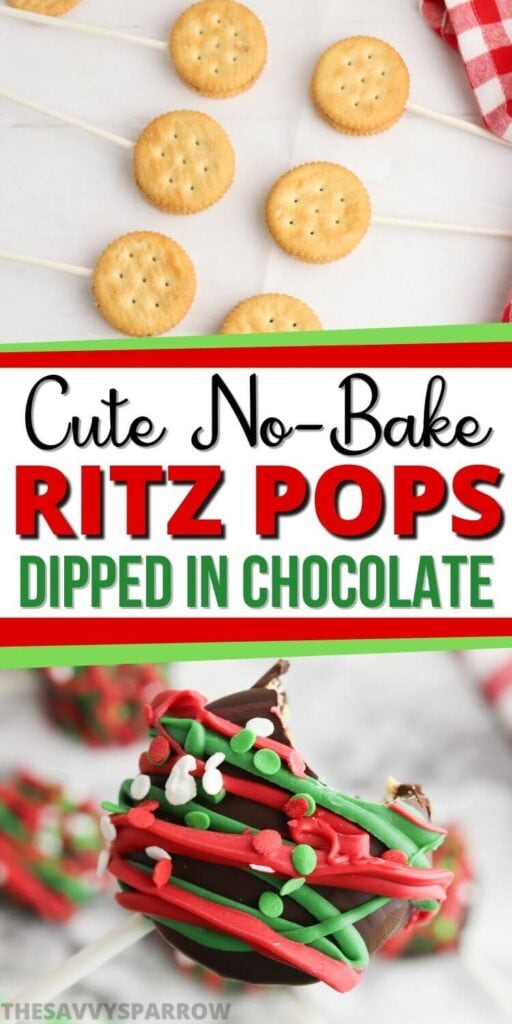 Have leftover Ritz crackers? Check out this easy Ritz toffee recipe!