These Chocolate Apple Christmas Treats are a great no-bake holiday snack for kids! Apple rings dipped in chocolate and then decorated like cute snowmen and Christmas wreaths… what's not to love?!
UPDATED: August 26th, 2020
I'm always on the hunt for fun and EASY treats to make with my kids. My youngest daughter LOVES to help in the kitchen, and truth be told, she probably knows more about cooking than I do. And my oldest daughter is quick to offer a helping hand, especially if sugar is involved.
So when these Chocolate Apple Turkeys that I made for Thanksgiving turned out so well, I decided to make some yummy Chocolate Apple Christmas Treats too!
These yummy and healthy-ish apple Christmas treats for kids are a cinch to make, and your little ones will have a blast helping you decorate them. Make a bunch for classroom Christmas party treats or give them out as favors to your holiday dinner guests. Enjoy!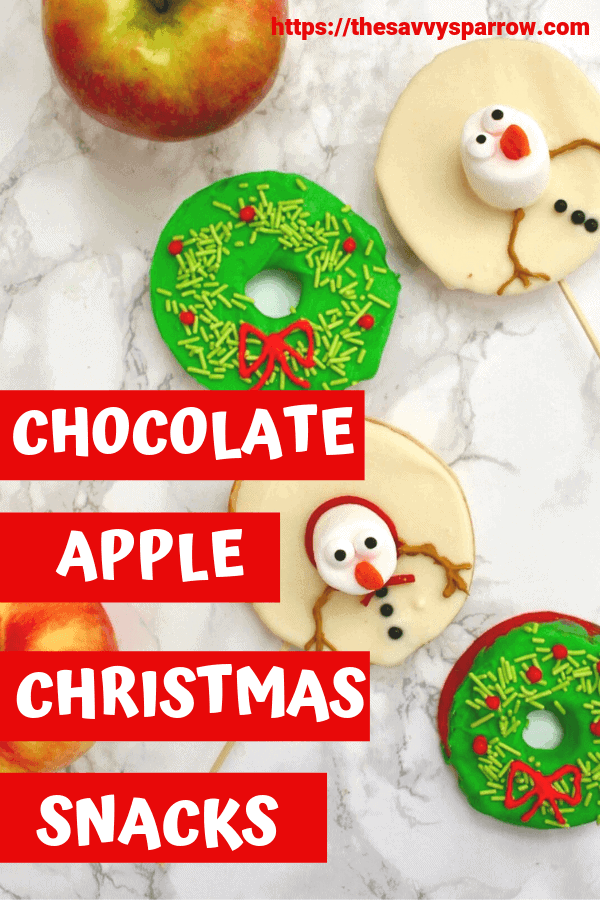 *This post contains affiliate links, which means if you click a link and make a purchase, I earn a commission at no additional cost to you. Read my full disclosure here.
Chocolate Covered Apple Christmas Treats for Kids
Here's how to make your own snowmen and wreath chocolate apple treats:
Supplies and Ingredients
For these super cute and yummy Christmas treats you will need:
Honeycrisp apples – I prefer this variety because their crisp texture holds up to the heat of the chocolate. Plus, my girls like Honeycrisp best!
Royal icing – We used this recipe – I would recommend splitting the recipe in half because if not you will have a ton of extra icing.
Green, red, and brown gel colors – This is the kind we used – Split your icing into separate bowls and add gel until you get your desired color.
White chocolate chips – You'll need about one bag.
Wilton candy eyeballs
Red ball sprinkles – for the Christmas wreath apple treats
Green Jimmy sprinkles – for the Christmas wreaths
Large marshmallows – for the snowmen treats
Candy corn – for the snowmen noses
Red peel-apart licorice – optional for snowmen scarves
After you've got your ingredients together, it's time to start making your cute Chocolate apple Christmas treats! Here's how to do it:
Step 1: Cut apples into slices about 1/2″ thick.
I found that this thickness worked best. Be careful… if you cut your apples too thin, they will break in half.
Step 2: Using a small circle cookie or fondant cutter, core the apple slices.
Some tutorials for apple donuts similar to these say that you can use an icing decorator's tip. I tried that but it was incredibly difficult to remove the cores. I found the cookie cutter to be much easier and quicker.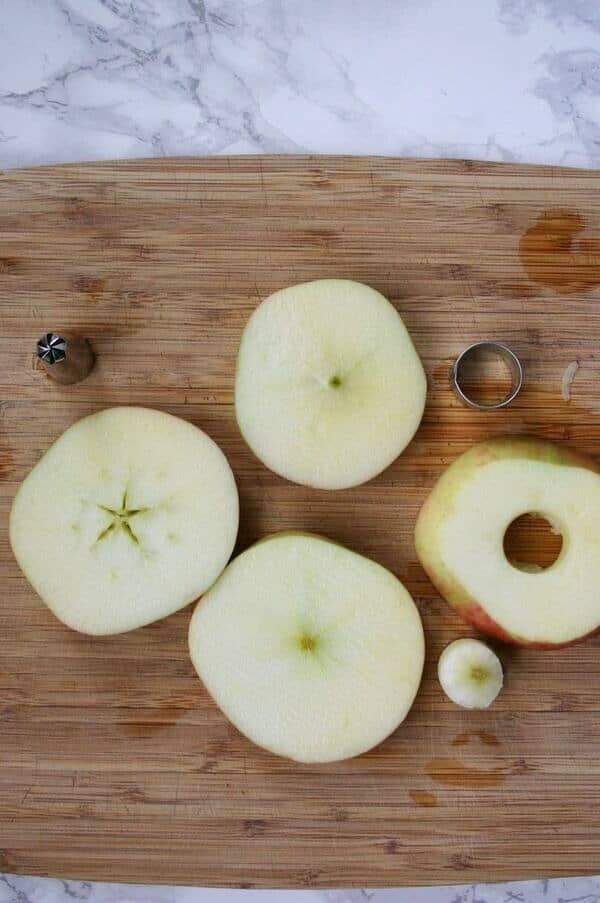 Step 3: Melt white chocolate chips.
After your apples are prepped and ready to go, it's time to melt the chocolate. You don't want to melt your chocolate first, because it will just harden while you get your apples ready and then you'll have to reheat it.
My go-to method for melting a whole bag of chocolate at one time is with a make-shift double boiler (that's also how I make this Homemade Chocolate Fondue!).
To make your own "double boiler" for melting chocolate, first boil water in a saucepan about 1/4 of the way full. Then, place a glass bowl (a Pyrex bowl is great for this!) on top of the pan so that it rests just above the steam from the hot water. Be careful and use an oven mitt!
Then, dump your chocolate chips into the glass bowl and stir often with a spatula. The steam from the water below heats the bottom of the glass bowl, which in turn melts the chocolate.
Sound too confusing? You can totally just use Mom's best friend… er, the microwave. Dump the chocolate chips into a microwave safe bowl and heat for 30 seconds at a time until desired consistency. Be careful though… it's super easy to burn your chocolate when melting it in the microwave.
Step 4: For the Christmas wreath chocolate apples, tint your white chocolate.
Add a bit of green gel icing color and mix well until you get a pretty wreath color. Obviously, if you're making the snowman apple Christmas treat for kids, then you will want to leave your chocolate white.
Step 5: Dip your apple slices into chocolate and immediately add sprinkles or marshmallows.
If you are making the Christmas wreaths, then you will want to immediately add the red and green sprinkles on top of the dipped apple slices before the chocolate has a chance to cool. The melted chocolate will act as glue to hold your decorations in place.
For the snowmen, immediately add the large marshmallow in the center of the dipped apple. This will be your snowman's head.
Step 6: Allow the chocolate to cool and harden. Then decorate!
Whip out your piping bags and decorator's tips and decorate your chocolate apple Christmas treats with royal icing. For the wreaths, I piped a red royal icing bow like this: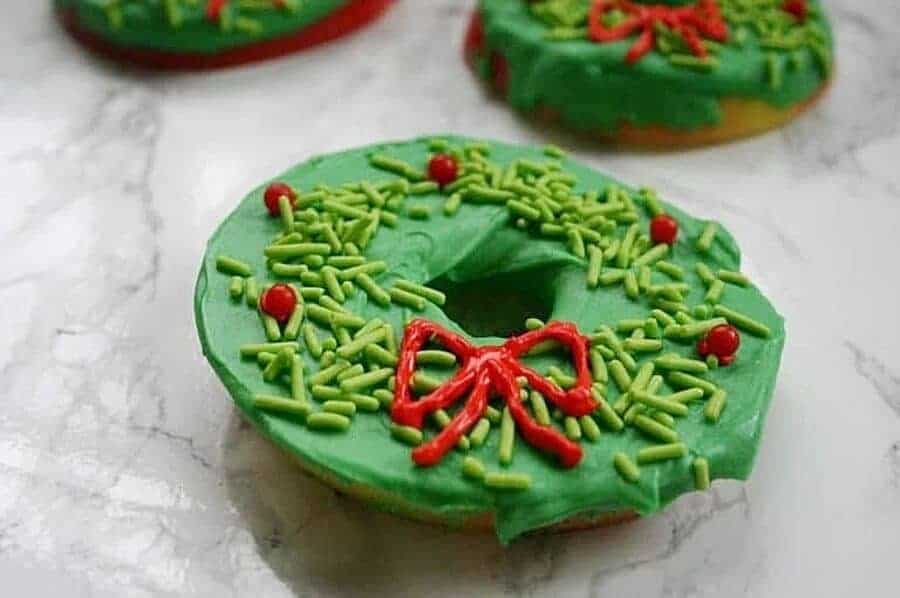 For the snowmen, I piped brown arms to look like tree branches. Then, use the royal icing as glue to adhere your licorice scarf, candy corn nose, and candy eyes.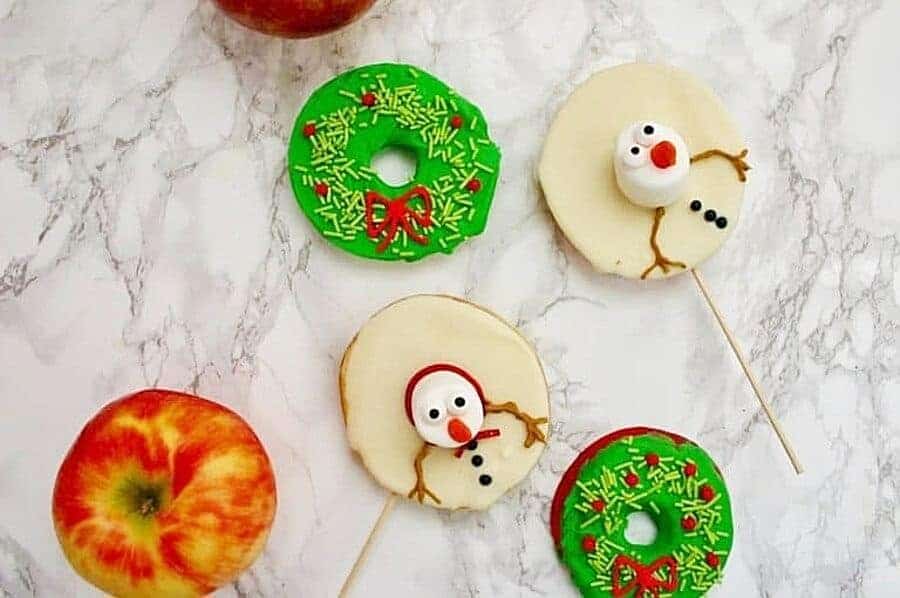 And that's it! Your cute Christmas treats for kids are all done!
These treats are best eaten pretty quickly. They will stay good in the fridge for a day or two, but after that the apples will start to get a bit soggy, and your kids probably won't enjoy them. Or they'll probably just eat the chocolate off the top!
Enjoy your yummy Chocolate Apple Christmas Treats for Kids!
My kids absolutely loved these cute Christmas treats! And Mommy did, too. Plus, if you know me then you know that I have some serious personal philosophies on dessert, including "Fruit is NOT a dessert!". Even if it's covered in chocolate or rolled in liquid sugar. 🙂
So, I'm going to keep telling myself that these yummy APPLE treats are guilt-free, too.
Want to save this idea for when Christmas rolls around? Go ahead and PIN!
And be sure to check out some of my other posts to help you have a stress-free Christmas: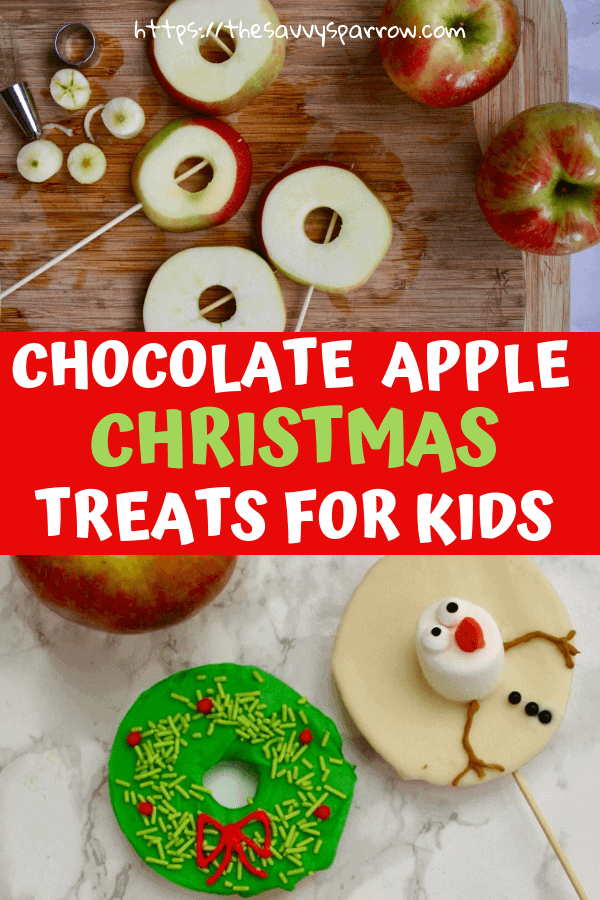 And happy nesting!