If you're looking for fun and cute Thanksgiving snacks for kids, then look no further! These apple "donut" turkeys are the perfect way to celebrate Thanksgiving with your little ones. And they couldn't be easier to make! Your kids will love making these yummy turkey snacks with you. Or make a big batch to take to your child's school for their Thanksgiving party. Just cut some apples, melt some chocolate, and decorate!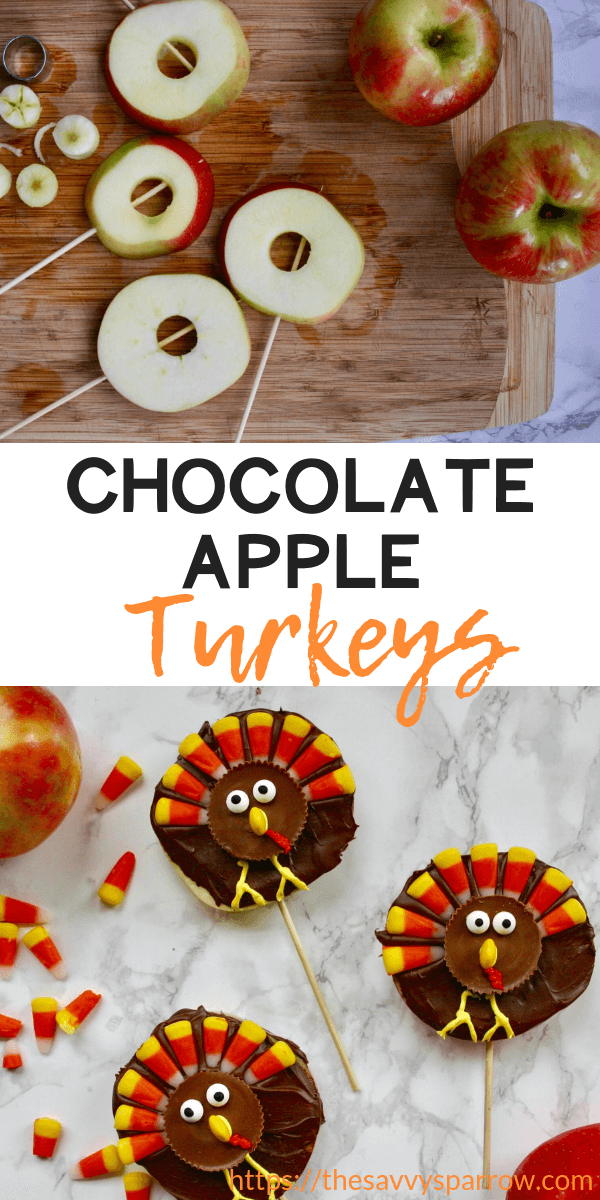 *This post contains affiliate links, which means I may earn a small commission from these links at no additional cost to you. Read my full disclosure here.
Here's how to make these cute Thanksgiving snacks for kids:
Step 1: Gather your supplies and make some royal icing.
To make these cute Thanksgiving snacks for kids, you will need:
Royal icing (we used this recipe) – I would recommend splitting the recipe in half because if not you will have a ton of extra.
Red and yellow gel colors to tint your icing (This is what we used) – Divide your icing in half and tint one half red and one half yellow.
One bag of semi-sweet chocolate chips – I don't recommend using milk chocolate because I find that it doesn't harden as well as semi-sweet.
Yellow M&Ms
Candy Corn
Large Reese's cups – Be sure to buy a few extras! Some of mine were not so pretty when I unwrapped them because the chocolate had gotten stuck to the top of the wrapper.
Candy eyeballs (These are the ones we used)
Wooden skewers (optional)
Step 2: Cut apples into slices about 1/2″ thick.
I used Honeycrisp apples because that's the apple variety that we prefer. Honeycrisps are crisp and firm and can stand up to the heat of the melted chocolate. Be sure to not cut your apples too thin because they could break in half.
Step 3: Core apples using a small circle cookie cutter.
I tried to core the apples with the end of a icing piping tip and I found it incredibly difficult. Luckily, my husband had a small circle cookie/fondant cutter in his bag of baking goodies, so I didn't pull my hair out trying to core a bunch of apple slices.
(Optional): Skewer apple slices using wooden skewers.
You can totally skip this step and your kids can just pick up their apple turkeys without the stick. Piece of advice though… don't even attempt to use a cute lollipop stick. The Honeycrisp apples are way too firm, hence the pointed end of the wooden skewer.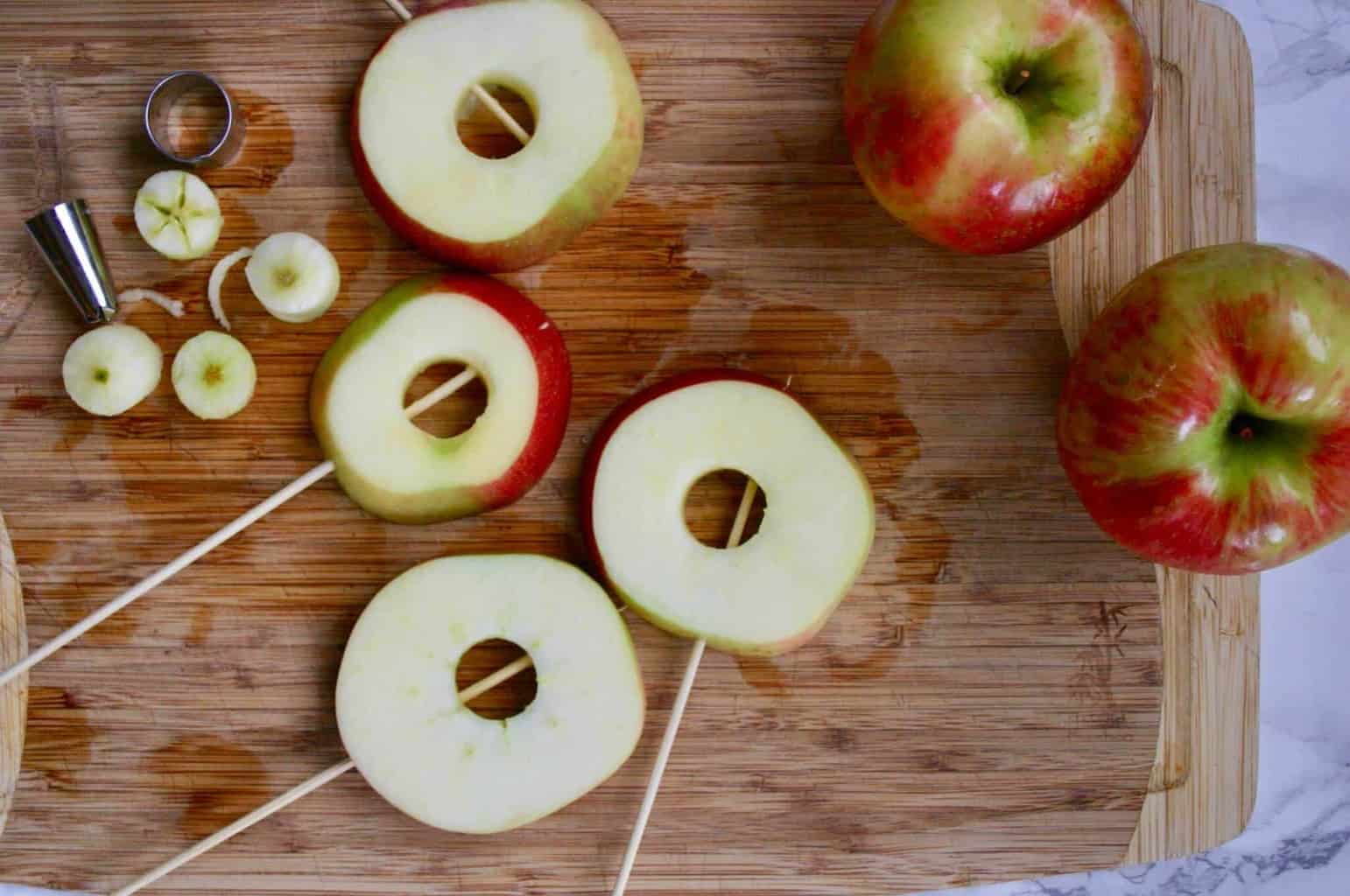 Step 4: Melt semi-sweet chocolate chips.
The best way that I've found to melt chocolate chips is with a make-shift double boiler. Boil water in a sauce pan about 1/4 of the way full. Place a glass bowl on top of the pan so that it rests just above the steam from the hot water. Dump your chocolate chips in the bowl and stir often with a spatula. The steam from the water heats the bottom of the glass bowl which in turn melts the chocolate.
As I mentioned before, I prefer to use semi-sweet chocolate chips when I'm dipping fruit/marshmallows/potato chips/etc, because it hardens better than milk chocolate.
Step 5: Dip apple slices into chocolate and immediately add Reese's cups and candy corn.
You want to add the Reese's cups and candy corn before the chocolate has a chance to dry. The melted chocolate will act as a glue to keep your decorations in place.
Here's what your cute Thanksgiving snacks for kids should look like at this point: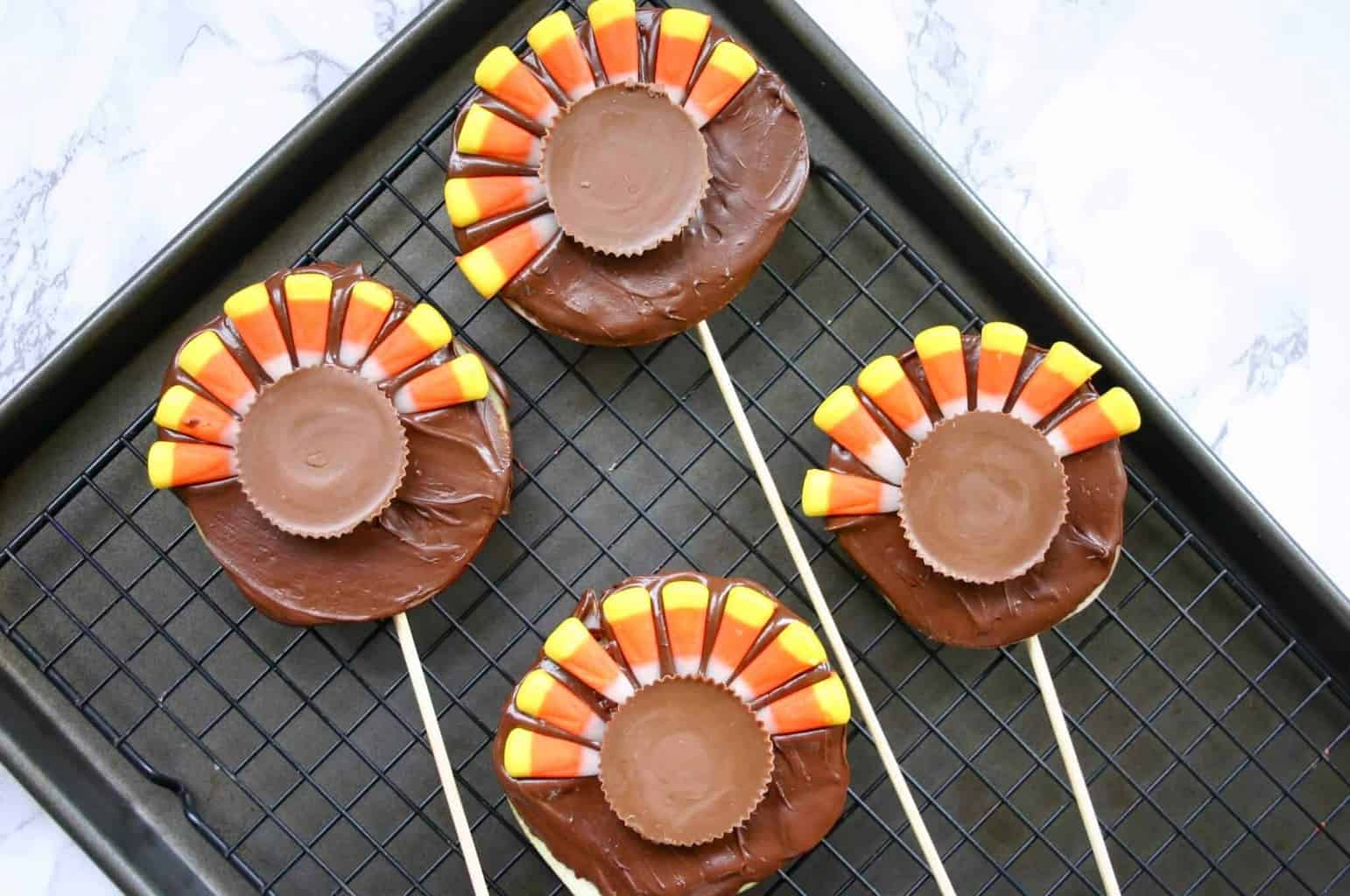 Step 6: Add Eyes, Beak, Gobble, and Feet.
Using a very fine piping tip and icing bag, add yellow feet to your turkey. Then, use the royal icing to adhere the candy eyeballs and the M&M. Finally, pipe a red gobble to complete your super cute apple turkey.
Enjoy your cute Thanksgiving snacks for kids!
Your kids will love these cute Thanksgiving treats! Take them as a fun treat to your child's Thanksgiving school party, or serve them as dessert at the kids' table this holiday. You may even find yourself sneaking one after the kids go to bed… did I forget to mention, these little guys are super tasty!
Love these Cute Thanksgiving Snacks for Kids?! Check out my other Parenting Posts: