Looking for easy Thanksgiving gifts for teachers or neighbors? These cute caramel apple gifts are so easy to make with store-bought candy apples and a printable apple gift tag!
There's something about caramel and apples that reminds me of fall… maybe it's because as a teen, I would always order the Caramel Apple Cider from Starbucks during the month of November. So when I was trying to come up with ideas for Thanksgiving teacher gifts this year, I immediately thought about my favorite Fall treat.
These easy caramel apple gifts are made using store-bought apples and a cute printable gift tag, so they're perfect for last minute Thanksgiving gifts for neighbors, teachers, co-workers, and more. Because we all know that your Thanksgiving to do list is jam-packed already, and you definitely don't have time for made-from-scratch treats!
Here's how to make these adorable Thanksgiving caramel apple gifts: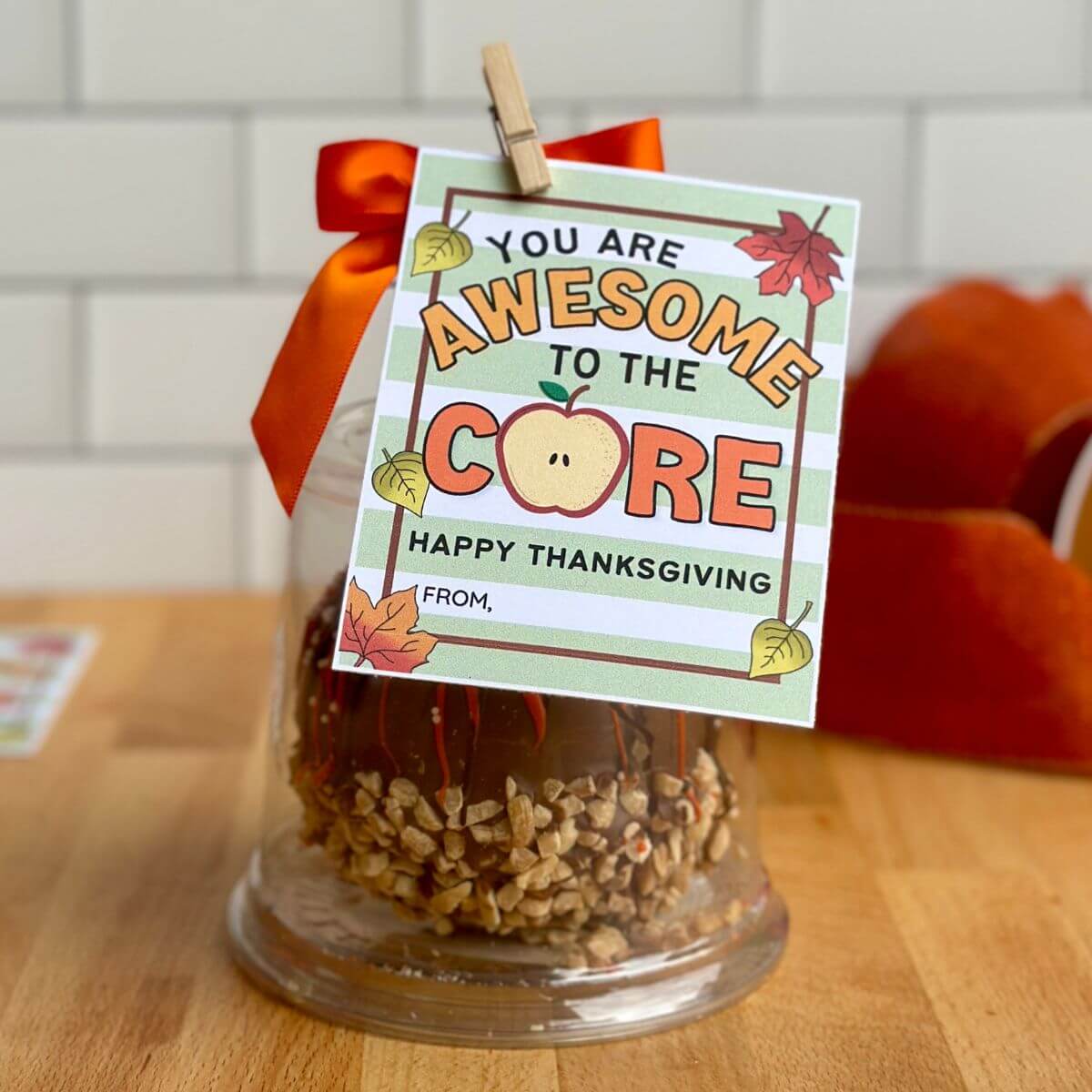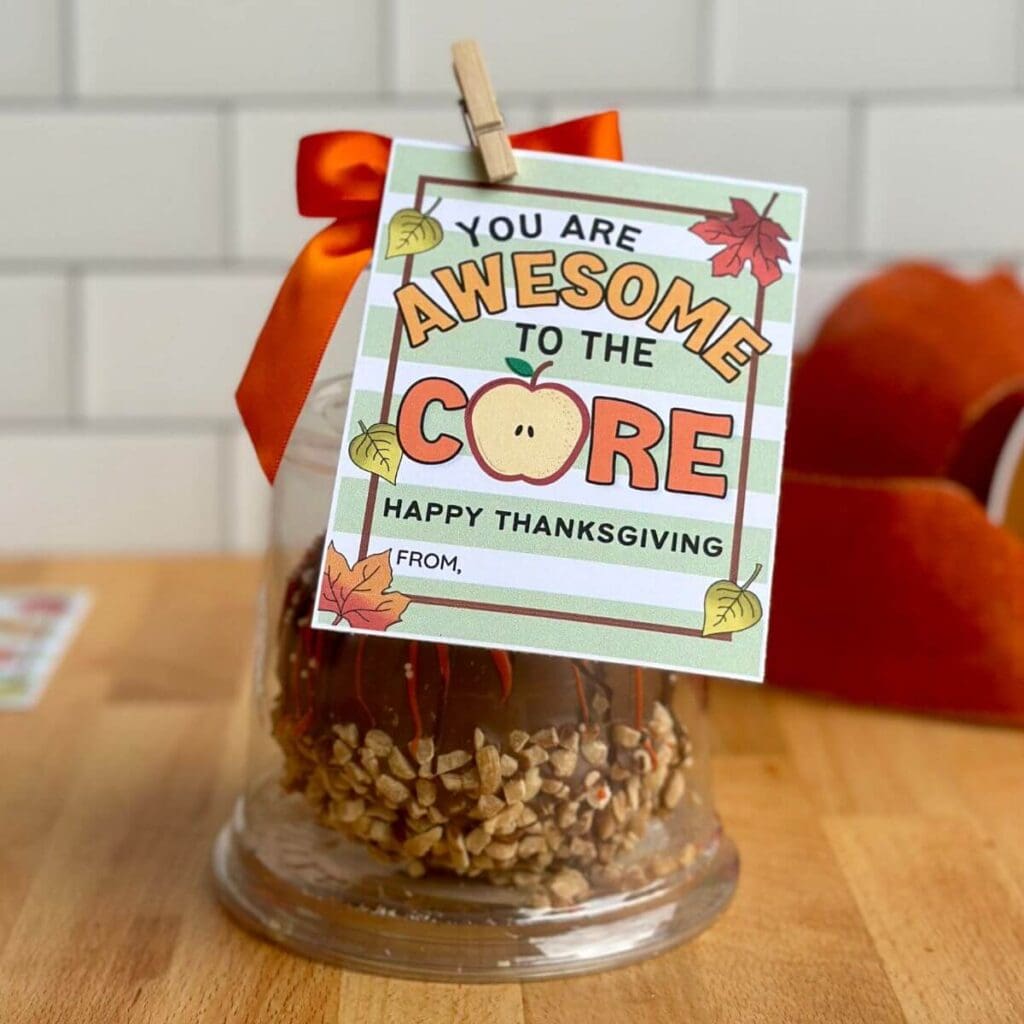 Ideas for Using the Caramel Apple Gift Tags
You can find decorated and pre-packaged caramel apples like the ones that I used in most grocery stores during the Fall months. And these easy treats are pretty inexpensive too, making them perfect for all of your last-minute Thanksgiving gifts!
Since the printable caramel apple gift tags don't specifically mention teachers, you can use them to make gifts for:
front office workers at your child's school
daycare workers
Sunday School teachers and volunteers
mailman or package delivery people
neighbors
friends
co-workers
gym teachers, music teachers, or others that typically get forgotten when it comes to teacher appreciation gifts
Thanksgiving dinner guests – If you're hosting Thanksgiving this year, you can use these yummy DIY caramel apple gifts as party favors!
How to Make the Caramel Apple Gifts
You can definitely make your own homemade caramel apples, but I'm the queen of last-minute and easy-peasy, so I went with store-bought apples that I found at Publix. Here's how I turned these treats into cute Thanksgiving teacher gifts: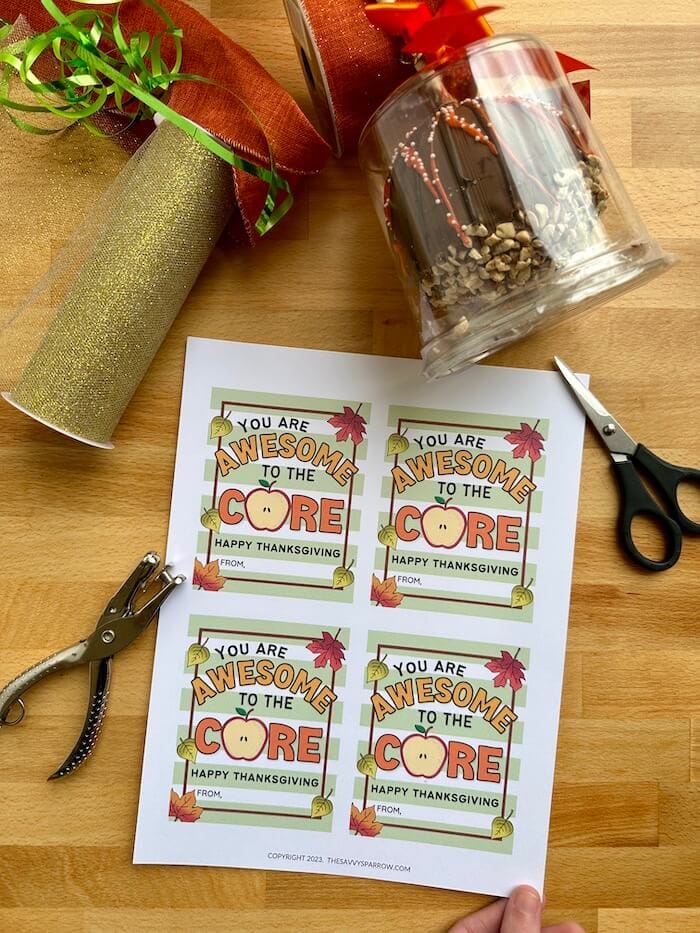 Cut out the printable Thanksgiving gift tags. I prefer to use a paper trimmer for my gift tags, because the cut lines will be straighter. Definitely recommended if you're making a lot of apple gifts.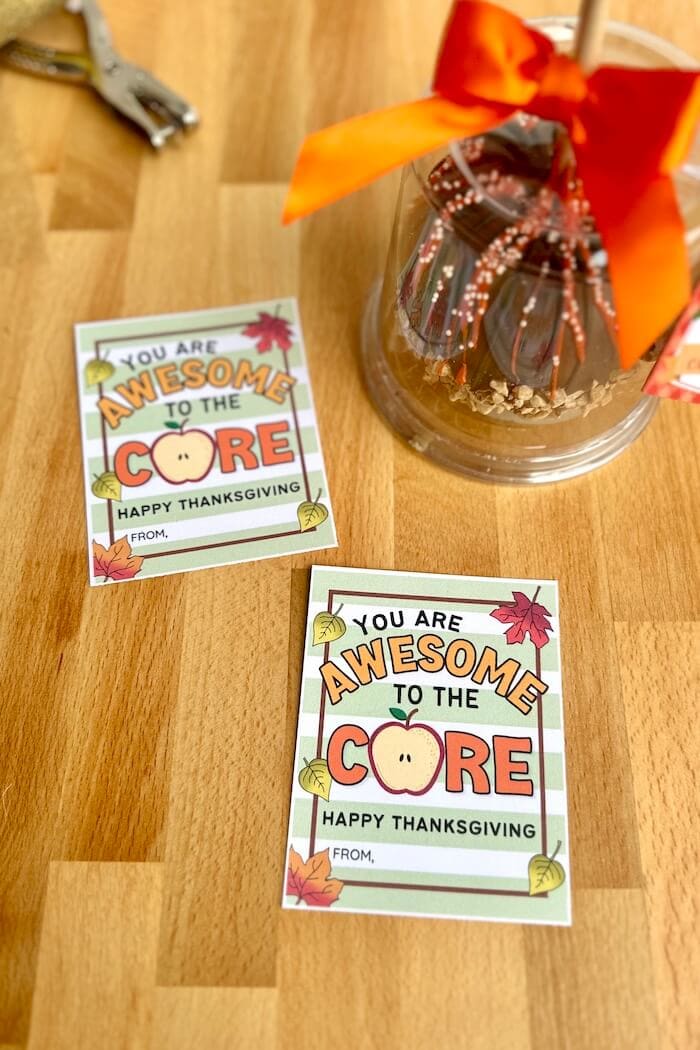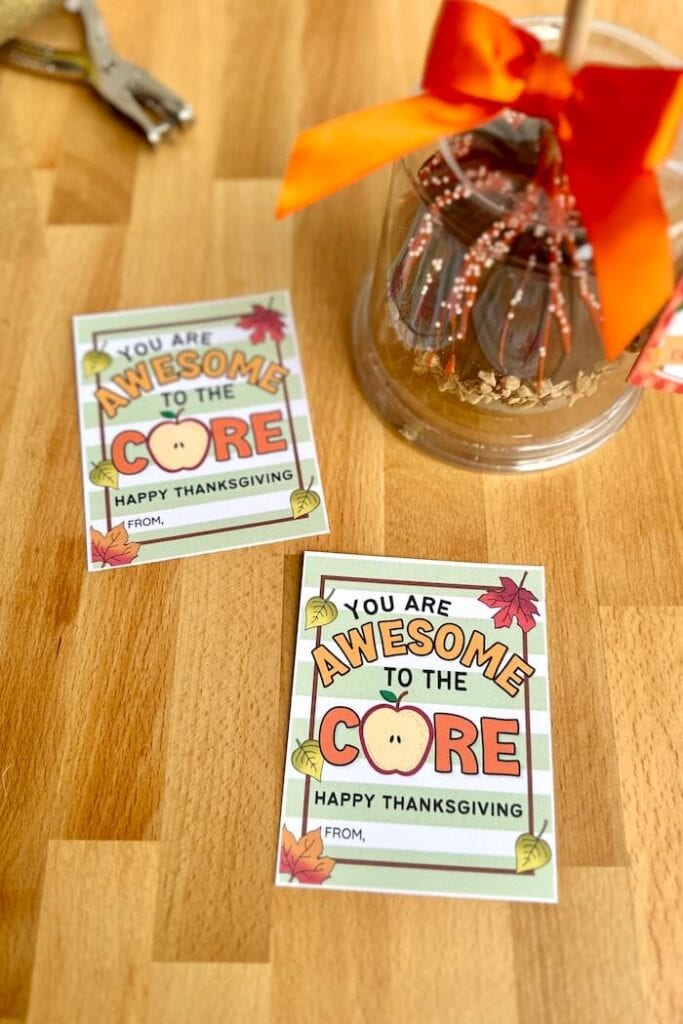 Fill in the "From" section with your name (or your child's name if you're using them for teacher gifts).
Tie the gift tag on a caramel apple. You can use pretty Fall themed ribbon, curling ribbon, or a mini clothespin to attach your tags to the stick of the candy apple.
And then your Thanksgiving caramel apple gifts are done! Aren't they adorable?! And these took me literally 5 minutes to make!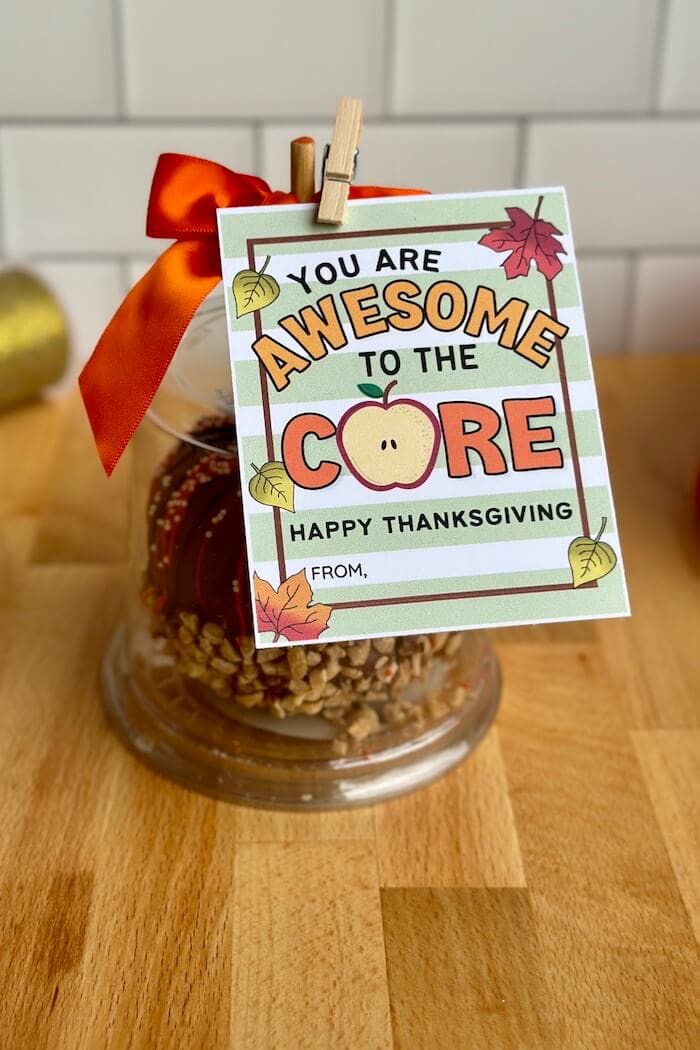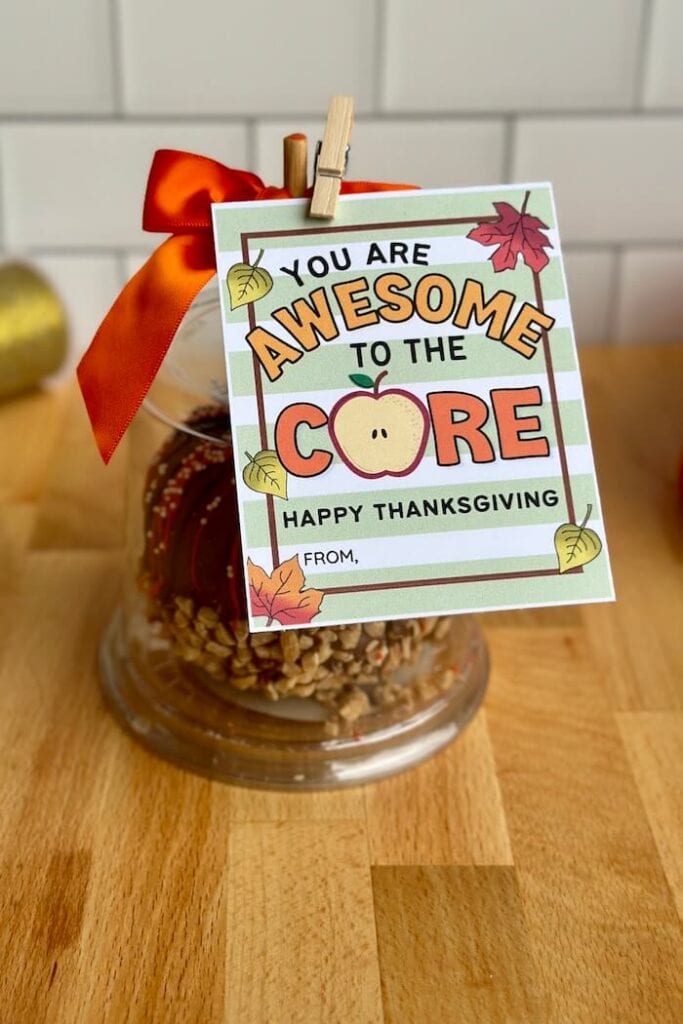 Other Tips for Thanksgiving Apple Gifts
Individually wrap the candy apples. Look for apples that come pre-packaged in single serve plastic cartons or bags to make this gift idea easy. If you can't find single apples, then you can also open the package and wrap them up in clear cellophane treat bags.
Use the tags for an apple themed gift basket. Want to make a larger Thanksgiving gift? You can add a candy apple, an apple scented candle, and apple scented hand cream to a nice basket for a cute gift!
Fill out the gift tags first. Be sure to write your name in the "From" section before you tie the tags on to the apples – it'll be much easier!
Include a personalized note. Before attaching the printable apple gift tag, jot down a heartfelt note on the back side of the tag. Teachers work tirelessly to educate and inspire our little ones, and a few words of appreciation go a long way.
"You are Awesome to the Core" Gift Tags
Want to use these gift tags to make your own apple-themed gifts or caramel apple treats to pass out to teachers, friends, and neighbors this year? You can find the gift tags in my shop here:
Click HERE for the Caramel Apple Gift Tags
With these cute printable apple gift tags, store-bought caramel apples, and a dash of creativity, you can create these delightful treats that are as easy as they are heartfelt!
And if you loved this easy Thanksgiving idea, then be sure to check out some of my other Thanksgiving printables:
"Thankful for Our Friend-Chip" gift tags for kids – Looking for small Thanksgiving gifts for your kids to pass out at their Fall classroom party? These cute "friend-chip" gift tags are made to fit perfectly on the snack packs of Pringles chips! So cute and easy!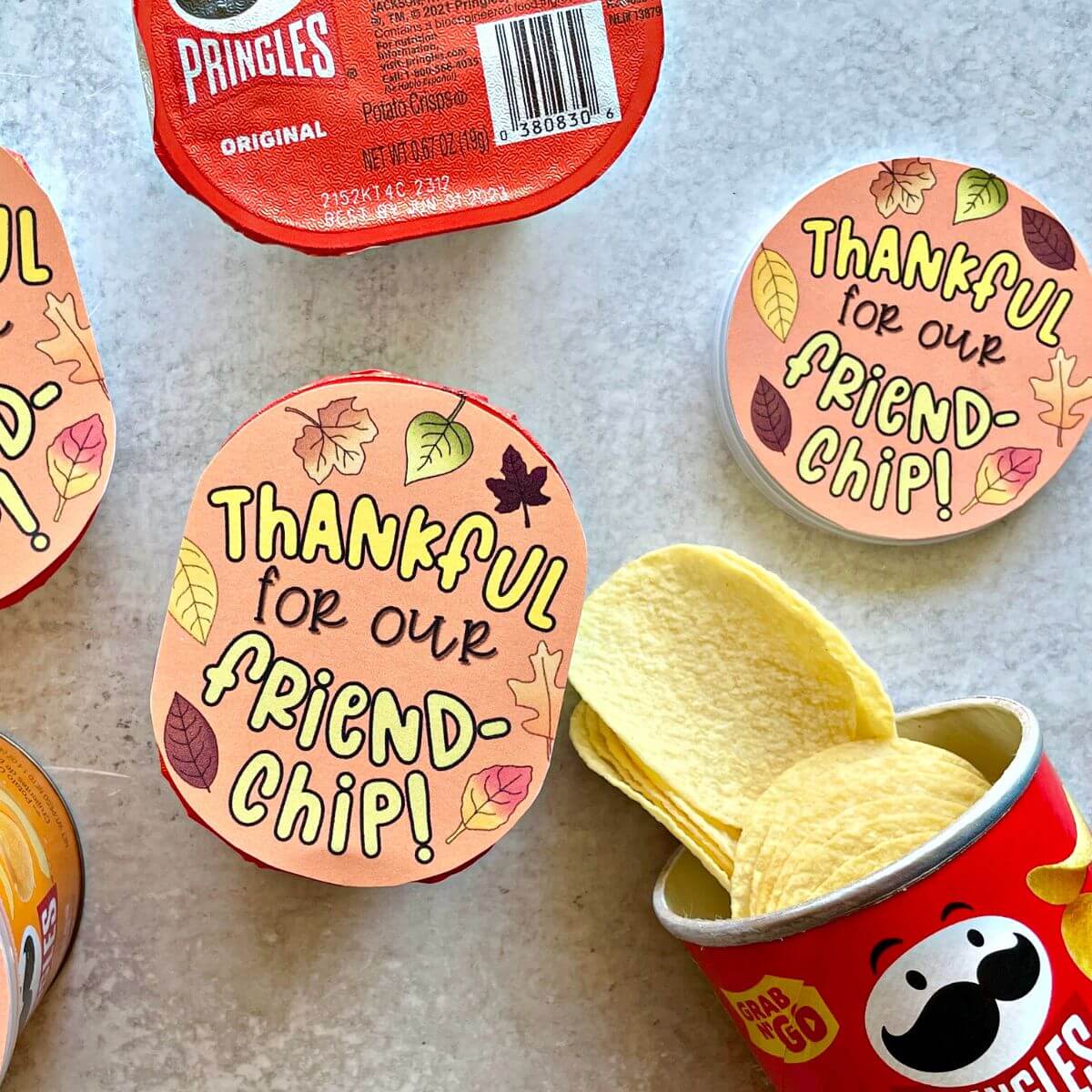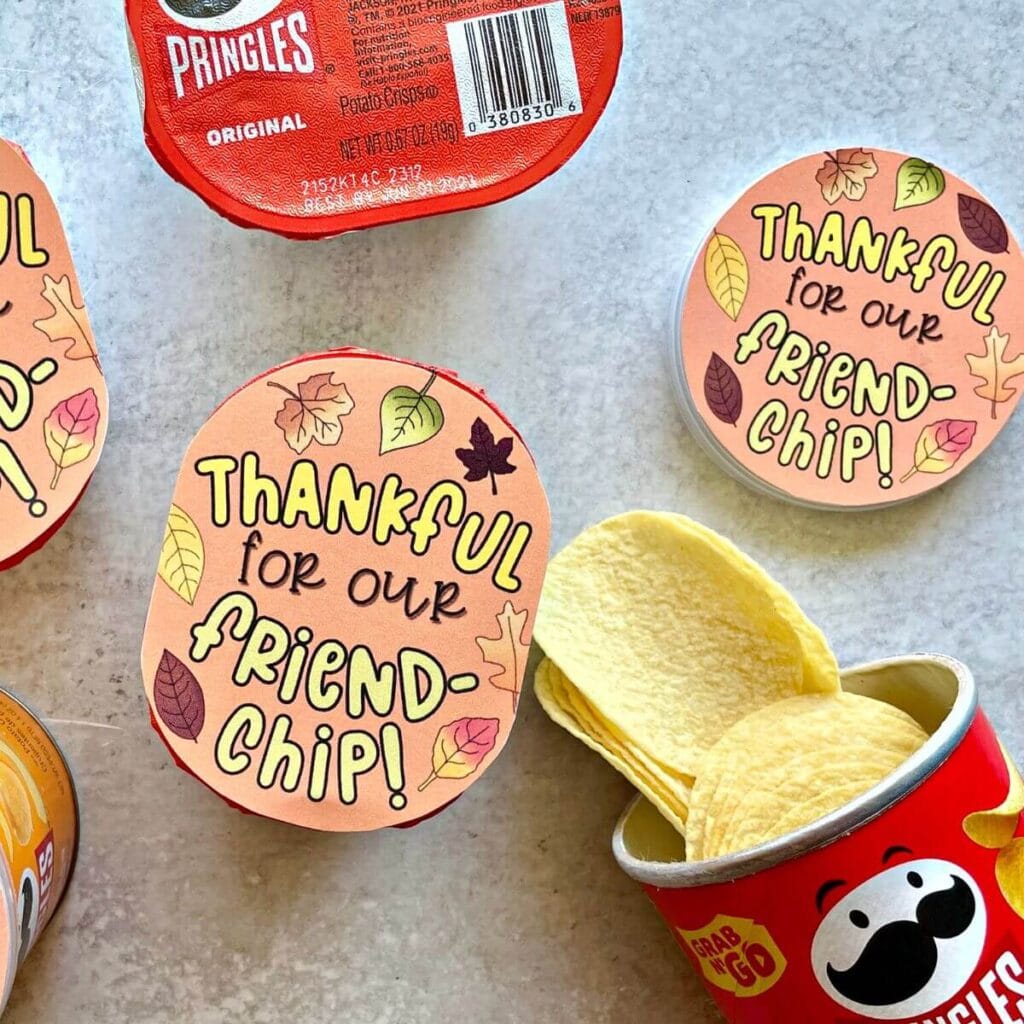 Roll a Turkey Dice Game – This easy free printable Thanksgiving game is perfect for kids! Use it as a way to entertain the kiddos at your holiday dinner, or print the game and grab some dice to play with your students at school!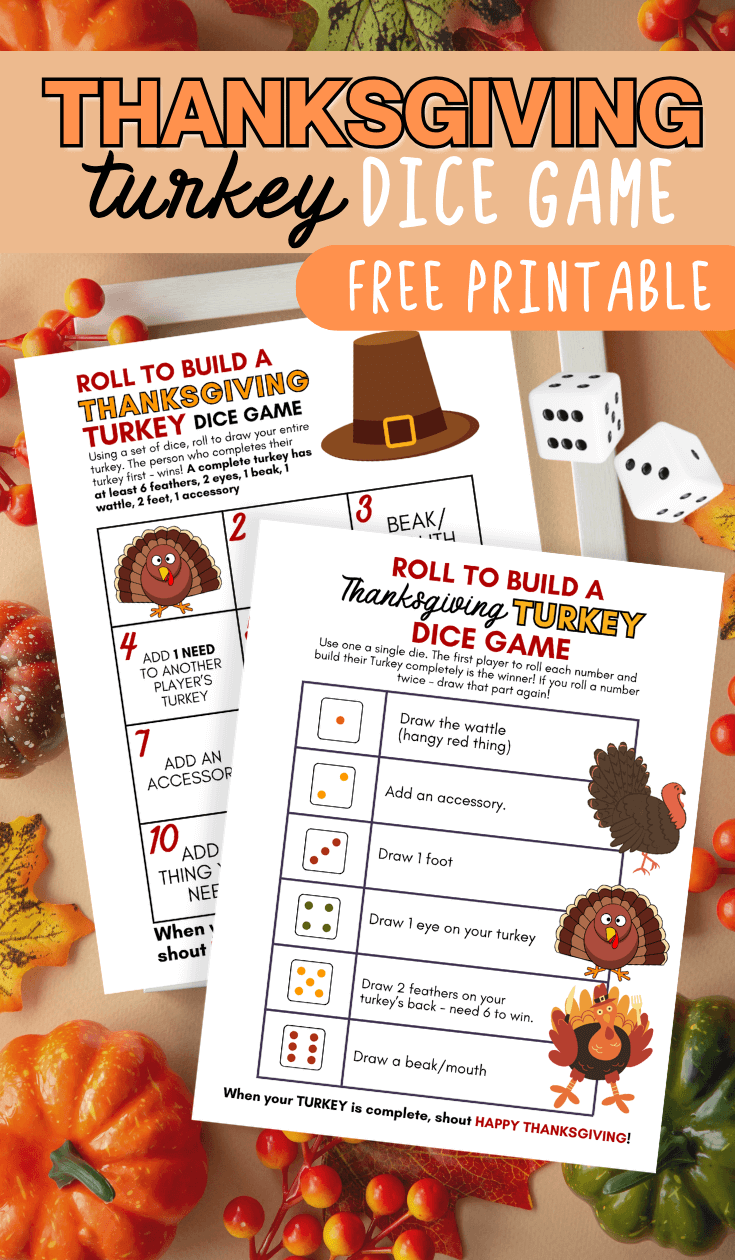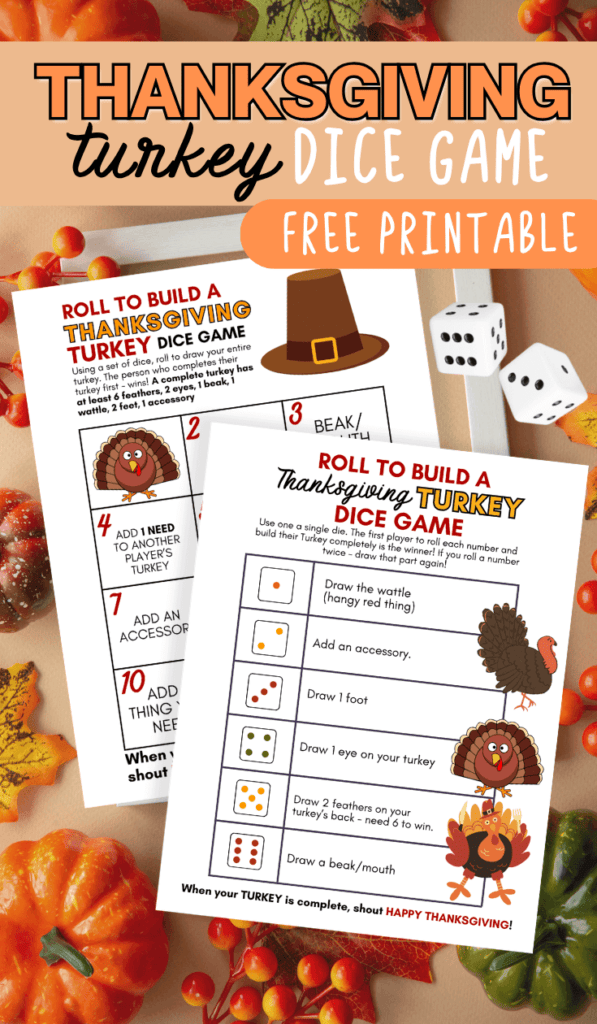 And don't forget to PIN this post for later: