Want to make your own advent calendar this Christmas? Add these printable advent calendar numbers to mini envelopes, small gift boxes, or a mini stocking garland to make your own DIY advent calendar!
Every year I have grand ideas to DIY all of my Christmas decorations, perfectly wrap all of the gifts under the tree with coordinating handmade bows, and bake the best Christmas cookies from scratch.
And every year, the holiday sneaks up on me and I'm lucky to just get Santa's cookies out on Christmas Eve.
And since I know my limits, I decided to make our annual advent calendar tradition a little bit easier this year – with printable advent calendar numbers!
Instead of painstakingly stenciling numbers 1-24 on your advent calendar pouches, or painting the numbers on mini stockings with puffy paint, you can just press "print" on your home printer and have cute little advent calendar numbers instantly! This Christmas printable is a fantastic, budget-friendly way to create your own advent calendar without the extra holiday stress!
So, grab your hot cocoa, while I tell you all about creating your own Christmas countdown using these cute advent number printables!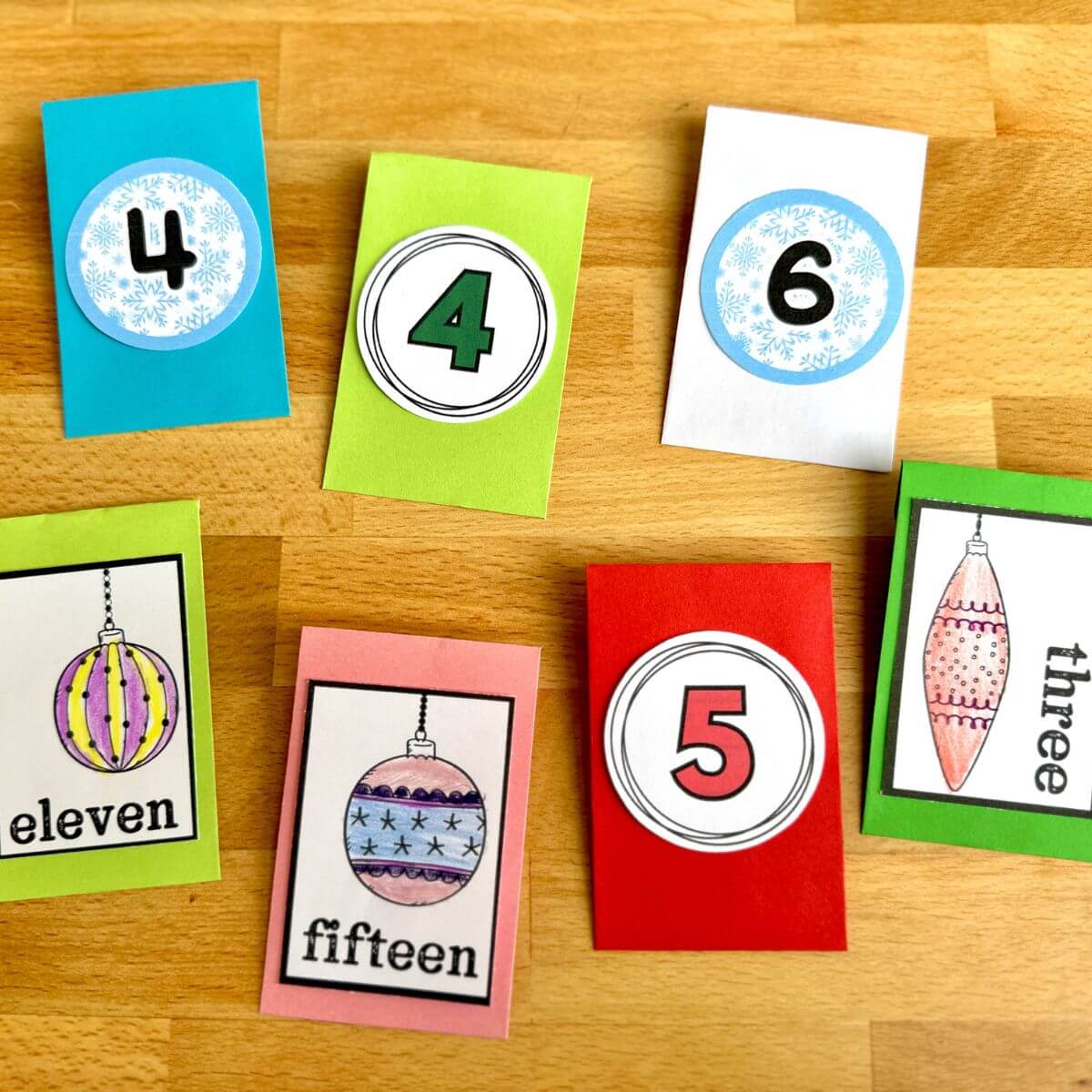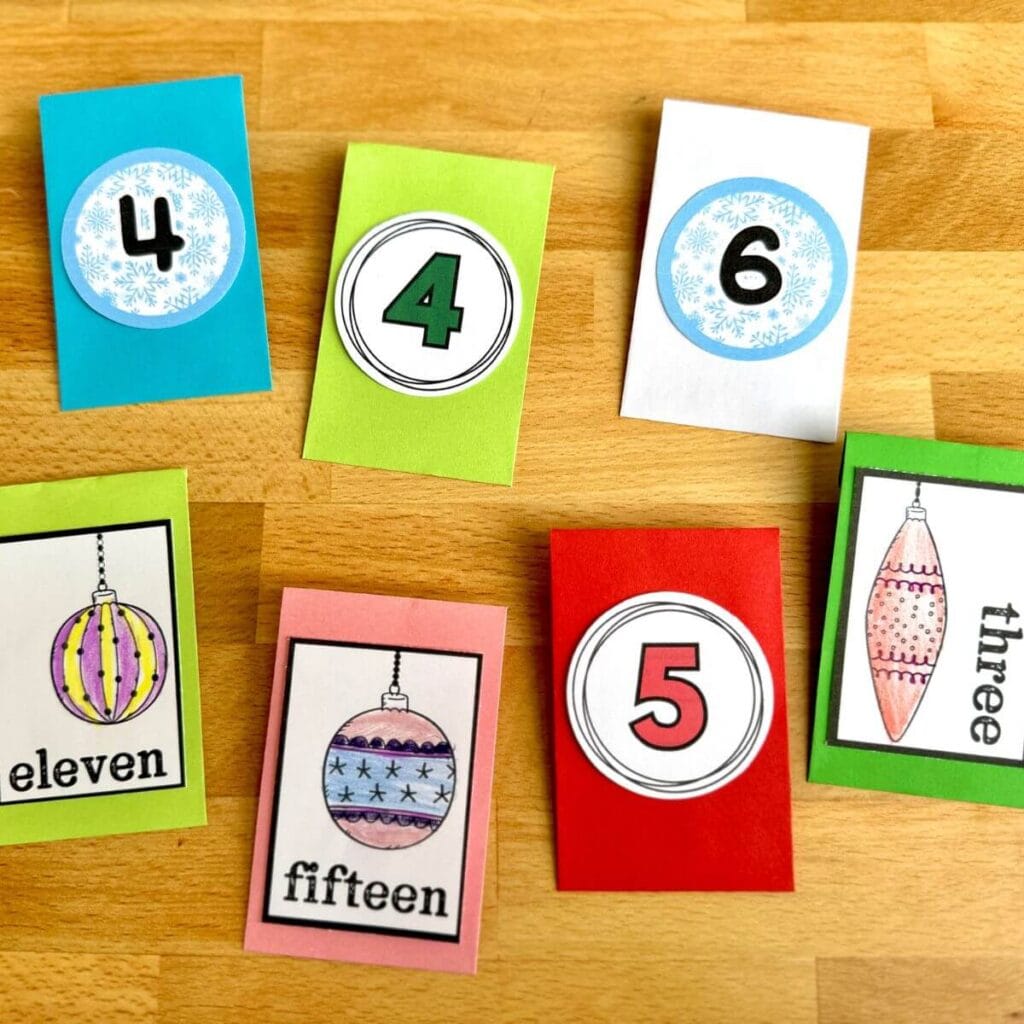 *This post contains affiliate links, which means if you click a link and make a purchase, I earn a commission at no additional cost to you. Read my full terms of use for more info.
Why You'll LOVE these Printable Advent Calendar Numbers
If you love the idea of a fun Christmas countdown, but you don't want to dole out big bucks for a store-bought advent calendar, then there are SO many ways that you can make your own DIY "calendar" using these printable advent calendar numbers!
Just print the advent numbers template on white or colored card stock, cut into individual cards, and you've got cute little decorative cards with numbers from 1 to 24 that you can use to count down the days until Christmas! And best of all, you don't have to leave your house and brave the holiday traffic – you're just a few clicks away from having advent numbers in a wide variety of styles to perfectly compliment your DIY advent calendar ideas!
So why will you LOVE these advent numbers??
The printable comes in 3 different designs, including classic red and green, blue snowflakes, and this black and white ornament design that your kids can color… AND you get 27 fun Christmas activity cards to add to envelopes, too!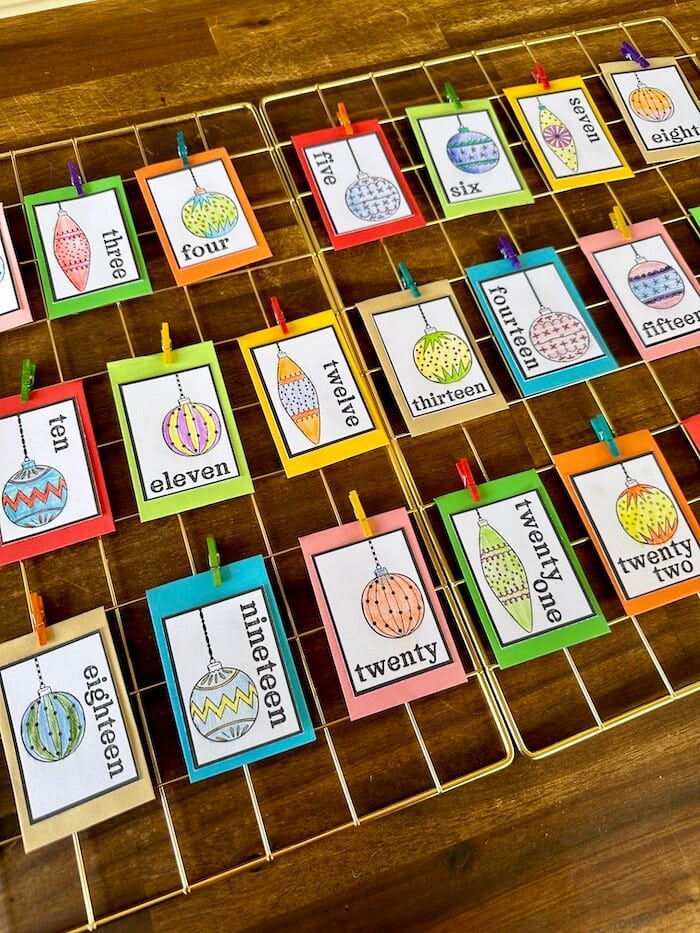 Ideas for Using the Printable Advent Numbers
Wondering how you can use the printable advent calendar numbers to make a DIY advent calendar? Here are several ideas that are perfect for counting down to Christmas: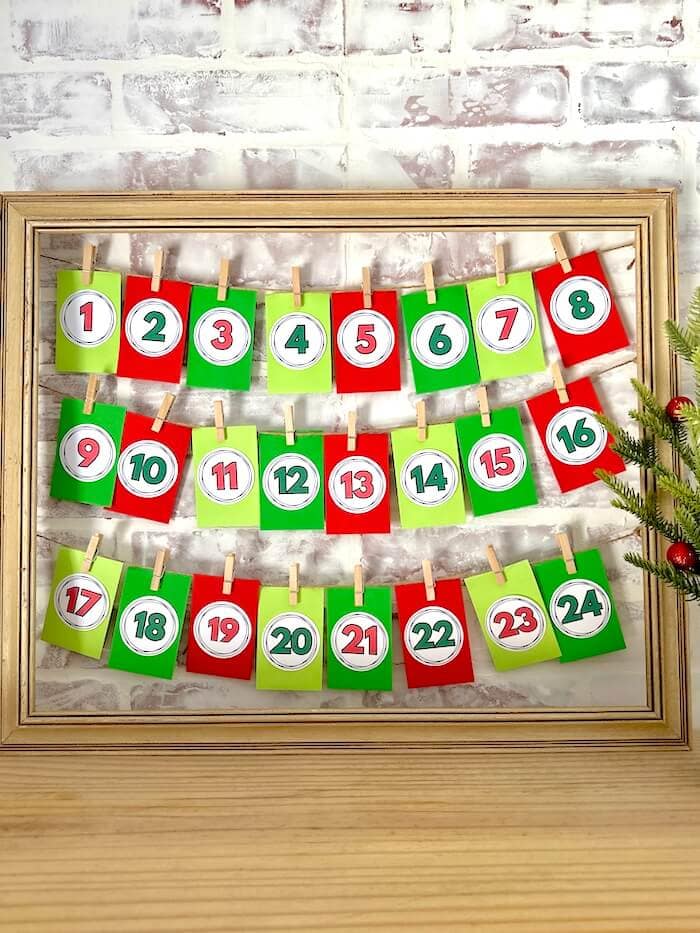 Classic Advent Calendar: Attach the advent number cards to small envelopes or pouches and fill them with goodies, notes, or small treats for each day leading up to Christmas. The kids will love the daily surprises!
Kindness Advent Calendar: Instead of opening a new gift each day, use the cards to inspire random acts of kindness for Christmas. Print the advent numbers out on white or colored card stock, cut into individual cards, and then write a kind deed on the back of each number card. Then, complete that Christmas RAOK with your family that day. This is a great way to spread holiday cheer and teach your kids about giving!
Christmas Storytime Countdown: Pick out 24 books to read during the month of December, leading up to Christmas. Then, label each book with one of the printable Christmas advent numbers to create your own story advent calendar! Each night, read the next book in the lineup. This could easily turn into a fun family Christmas tradition if you have younger kids!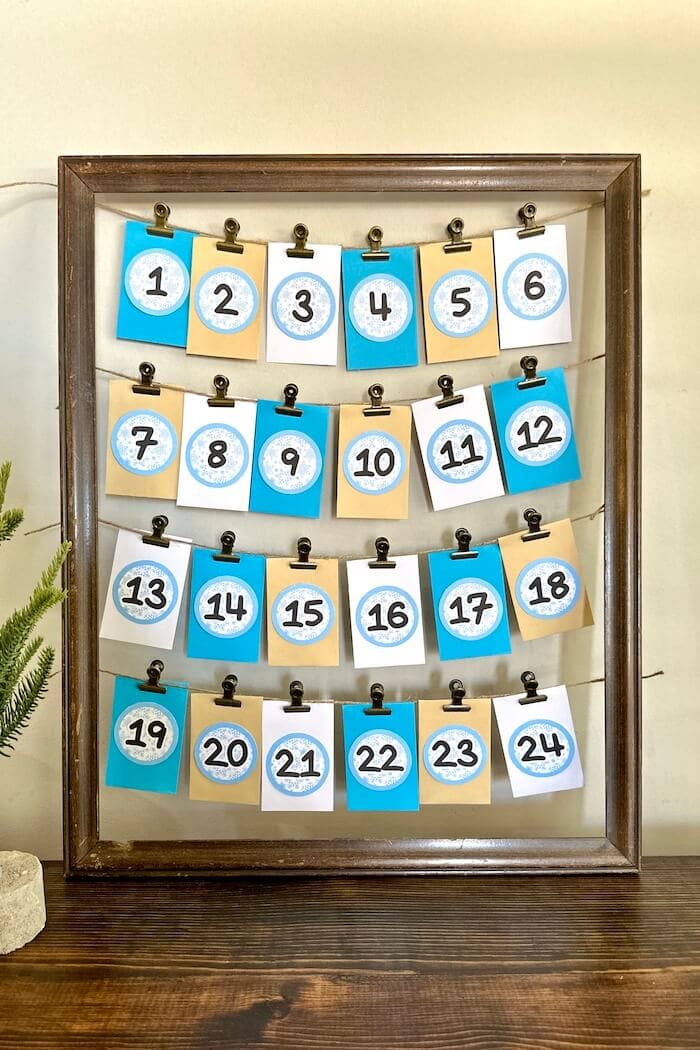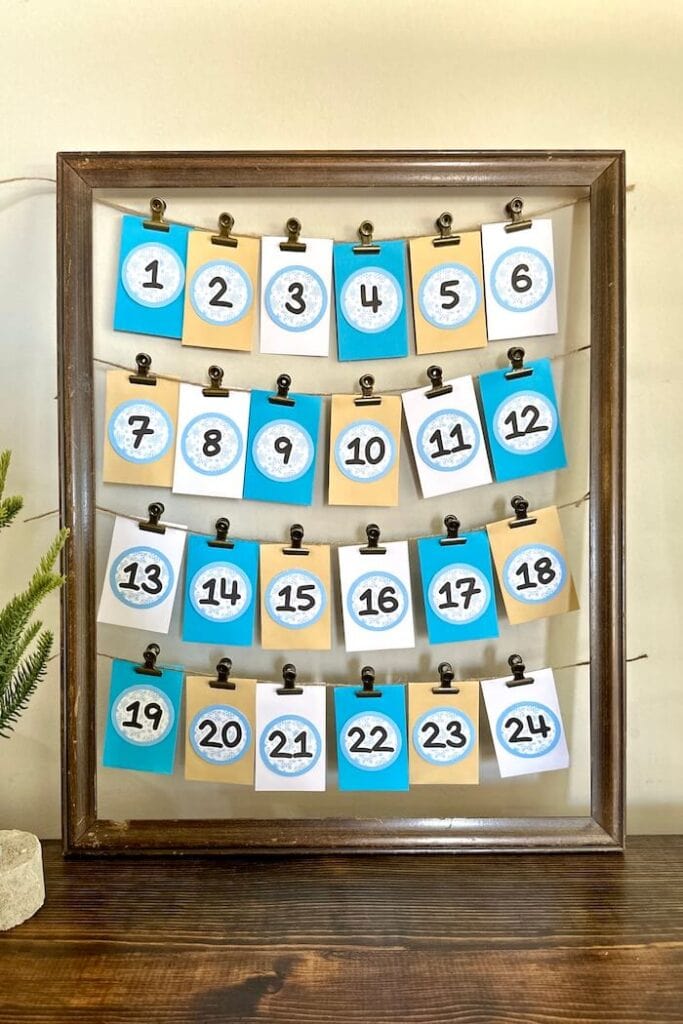 Holiday Movie Marathon: Make a holiday movie advent calendar to countdown to Christmas and spend quality time with your family at the same time! Just print the numbers out, and write the name of a Christmas movie on the back of each card. Each night, pull the advent number card that corresponds to that day, and watch that movie together as a family. Whether it's a classic like "It's a Wonderful Life" or a family favorite like "Home Alone", your Advent calendar will make sure you don't miss a single festive film!
Gratitude Advent Calendar: Instead of taking one card down from your advent calendar each day as Christmas approaches, put one numbered card up on your calendar! Reflect on everything that you and your family have to be thankful for from the year, and write one gratitude down for each day. So for instance, start on the card numbered "24" and write down "We're grateful that we got to spend time with Memaw in Florida". Then, hang that card on a piece of twine, pinboard, or garland.
Christmas Activities Advent Calendar – The printable advent numbers come in a full kit with 27 different Christmas activities cards! You can easily create your own Christmas activity advent calendar – just place one of the activity cards in each mini envelope, and you'll have 24 fun Christmas activities to do leading up to the big day!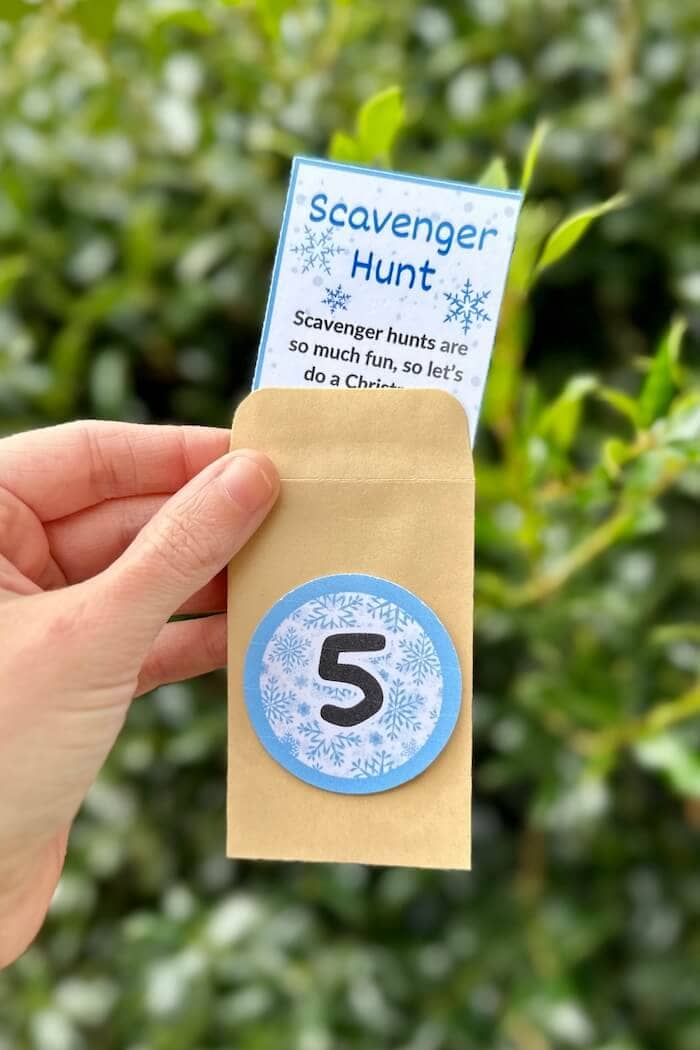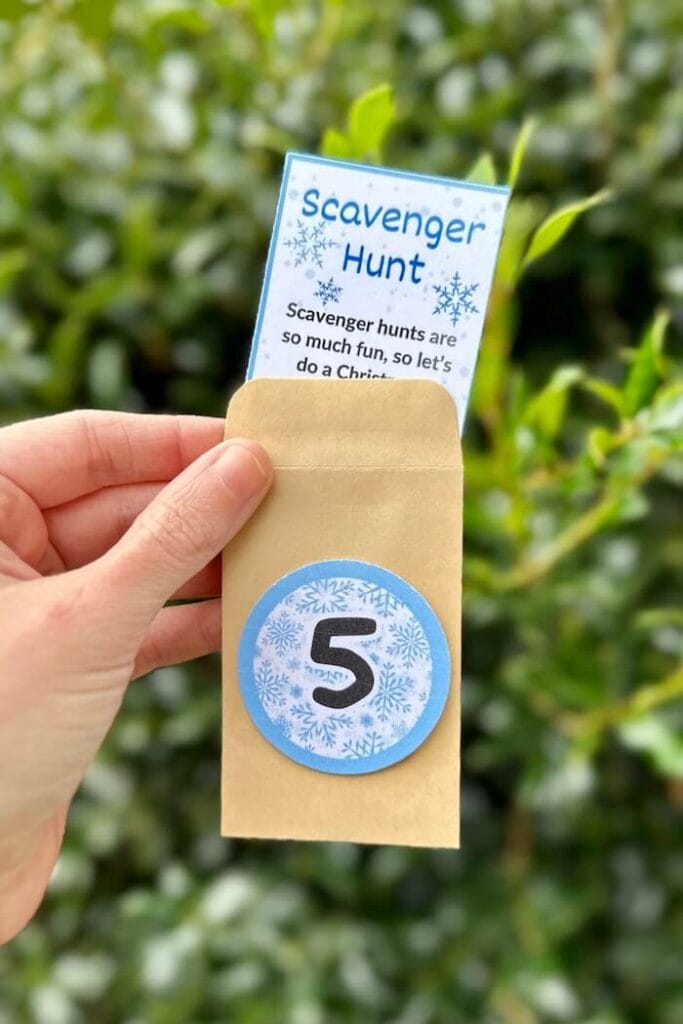 There are so many more ways that you can use the advent numbers to create your own DIY advent calendar, but these are just a few ideas!
Get the Printable Advent Calendar Numbers
Here's how to download and print the advent calendar numbers to get started with your Advent calendar DIY project:
First, visit my SHOP HERE to purchase the advent numbers template… You get all 3 designs with your purchase, AND 27 fun Christmas activity cards to create your own Christmas Activities Advent Calendar for Kids!
Then, just follow these instructions:
Download the printable number cards to your computer. You can choose a design that matches your holiday décor or your family's favorite colors… The printable includes all 3 different designs in these photos so you can use whichever you like best!
Print the cards on card stock paper for durability. Depending on which design you choose, you can print on white or colored card stock. You can also laminate them if you want to reuse them in the future.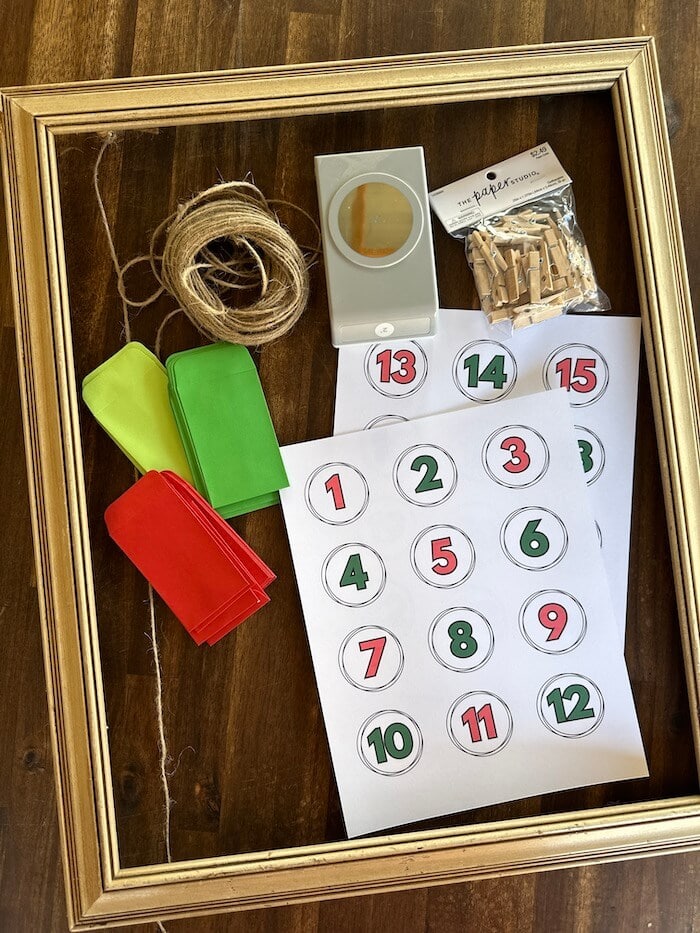 Cut out the cards along the edges, or for the round numbers, you can use a circle punch to make it super quick… The numbers are perfectly sized to fit a 2″ circle punch!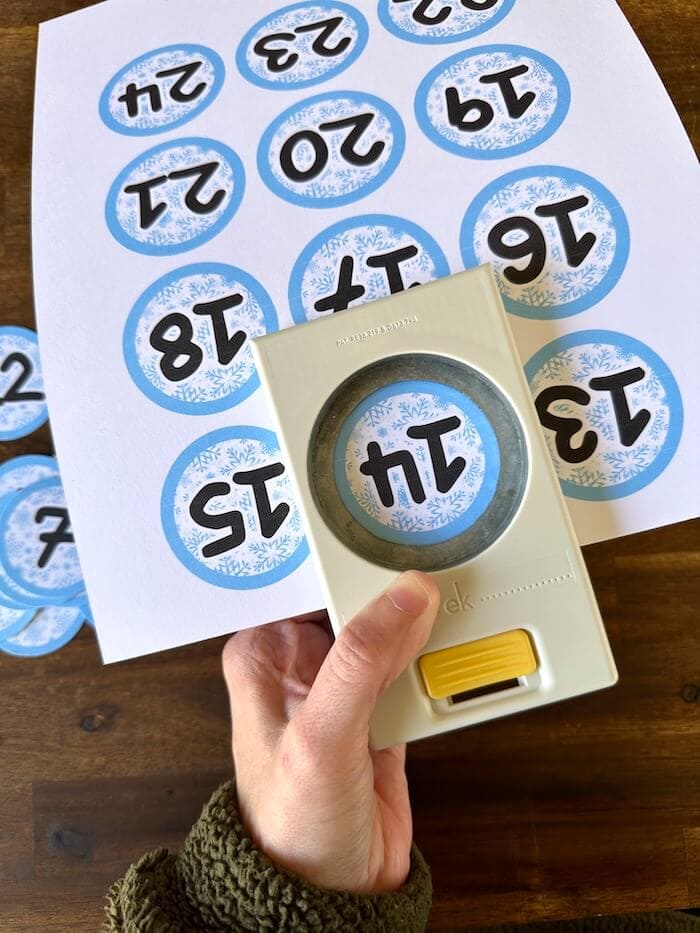 Fill your Advent calendar with treats, notes, etc.
Hang your DIY advent calendar in a special place, and let the countdown to Christmas begin!
Just click the link below to see the printable advent calendar kit in my SHOP:
Click HERE for the Advent Calendar Kit Printables!
I hope these printable advent calendar numbers help you cross one thing off your Christmas to do list! And if you loved this idea, then be sure to check out some of my other Christmas printables to help make your holiday stress-free:
Free Printable Christmas Wish List Templates – Hop over here to download and print free printable Christmas wish lists for the entire family! I've got 16 different designs for you to choose from!
"Less Dishes" Christmas Gifts for Neighbors – Need easy and thoughtful neighbor gifts this year? These cute "Less washing dishes" gift tags are perfect to create easy gifts!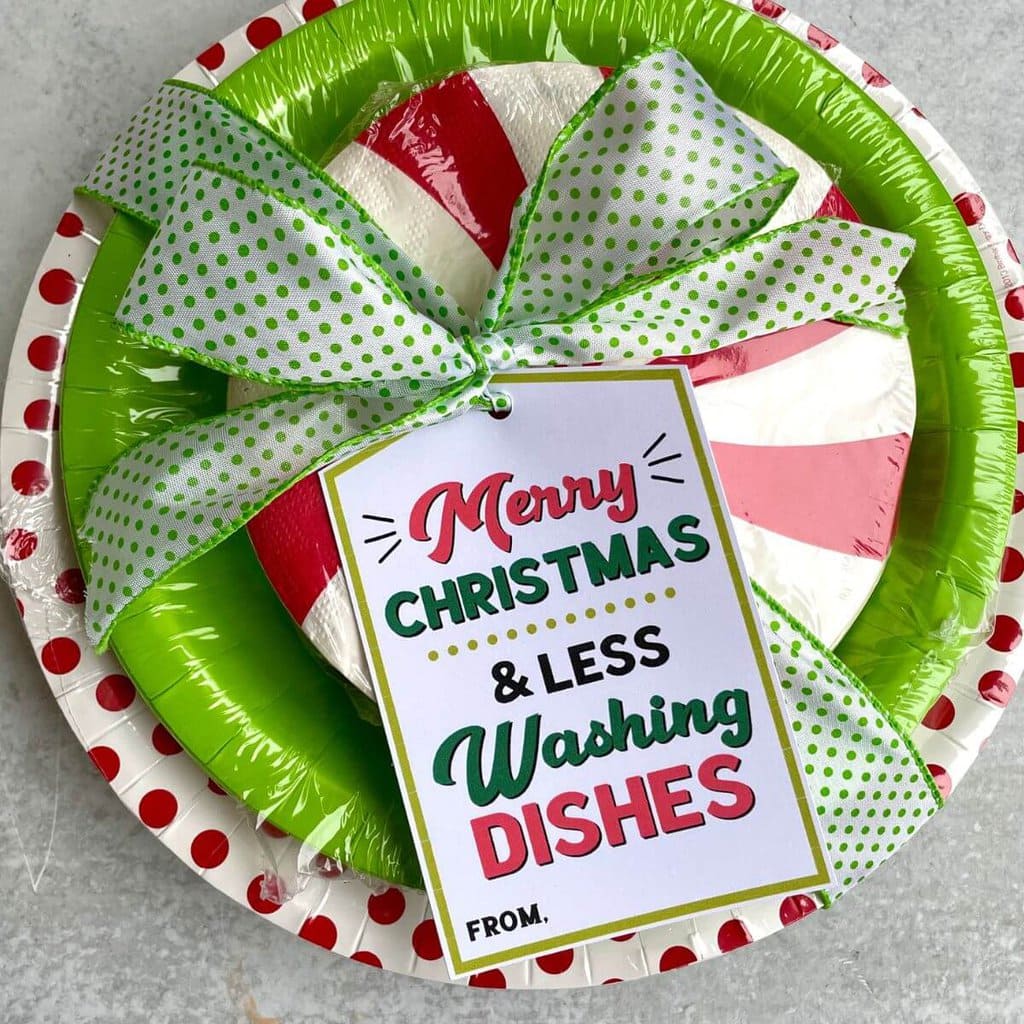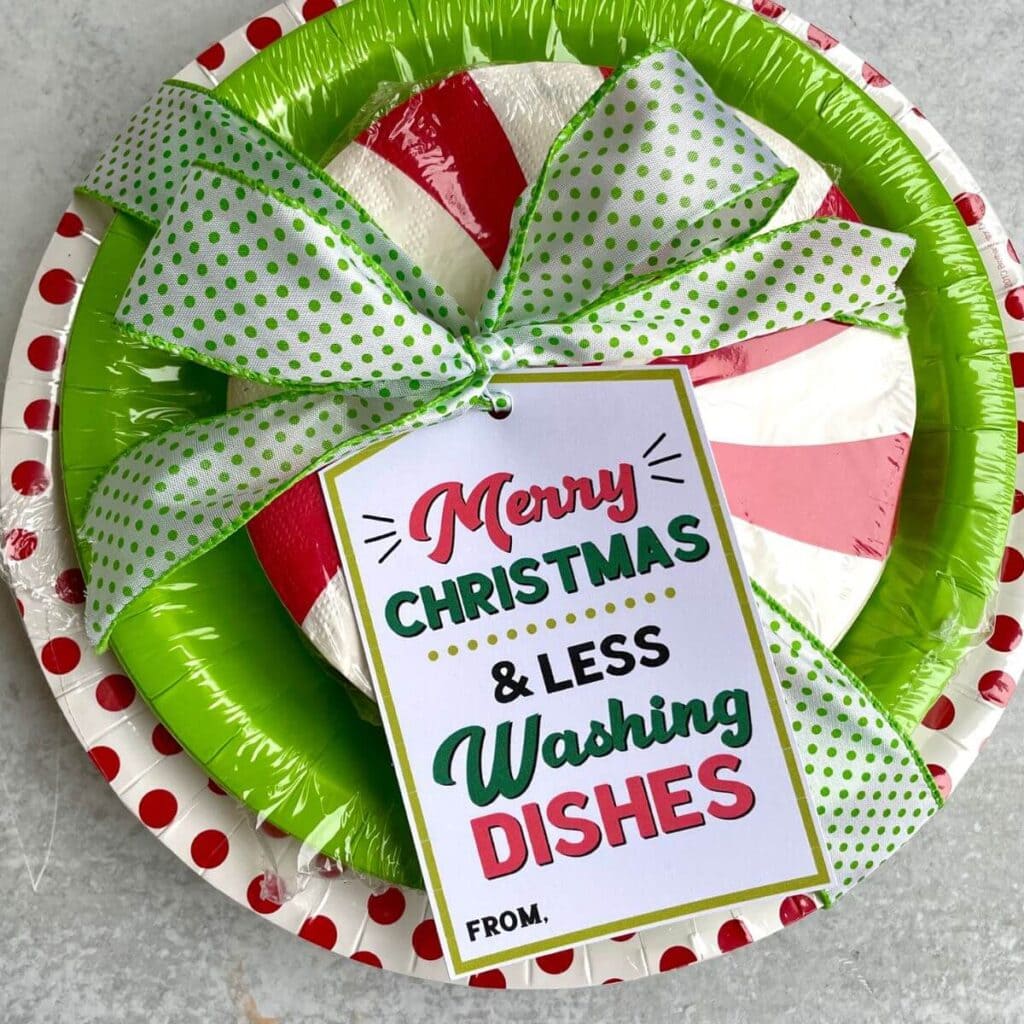 Free Printable Santa Gift Tags – Need some Christmas gift tags to attach to your Santa gifts? These adorable designs are perfect for your Santa gifts… and they're all FREE!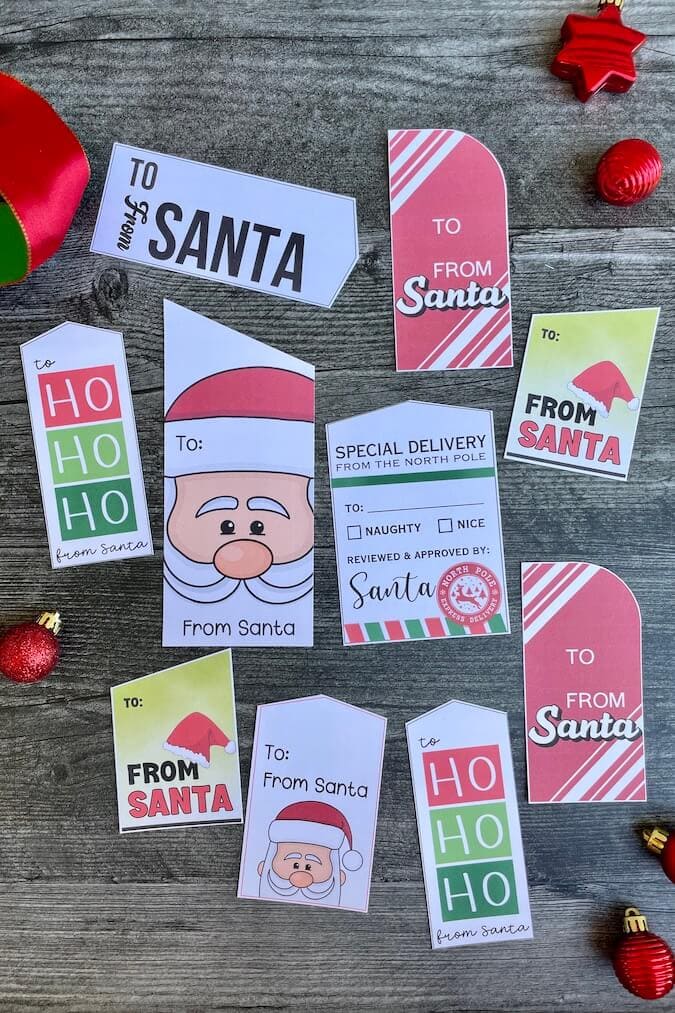 And don't forget to PIN this post for later: