Need ideas for random acts of kindness for Christmas? This big list of Christmas kindness ideas are the perfect way to spread cheer with your family this holiday season!
The holidays can be stressful!
Between fighting the crowds and standing in long lines to get the "it" toy gifts of the season, to managing your jam-packed schedule of kids' Christmas concerts and parties, to budgeting for all of the extra December expenses… it can get down right difficult!
And even if you don't find the Christmas season to be stressful, you never know if your neighbor is struggling to save money to afford Christmas presents or if the lady at your church is feeling sad and alone because it's the first holiday since she lost her husband… You never know the battles that someone else is facing.
Which is why the Christmas season is the perfect time to share some extra kindness!
These 24 random acts of kindness for Christmas are a great way for your family to spread some Christmas cheer this season and to focus on the true meaning of Christmas! Just print out the free Christmas Acts of Kindness printable, hang it on your fridge, and try to do one act of service each day in the month of December.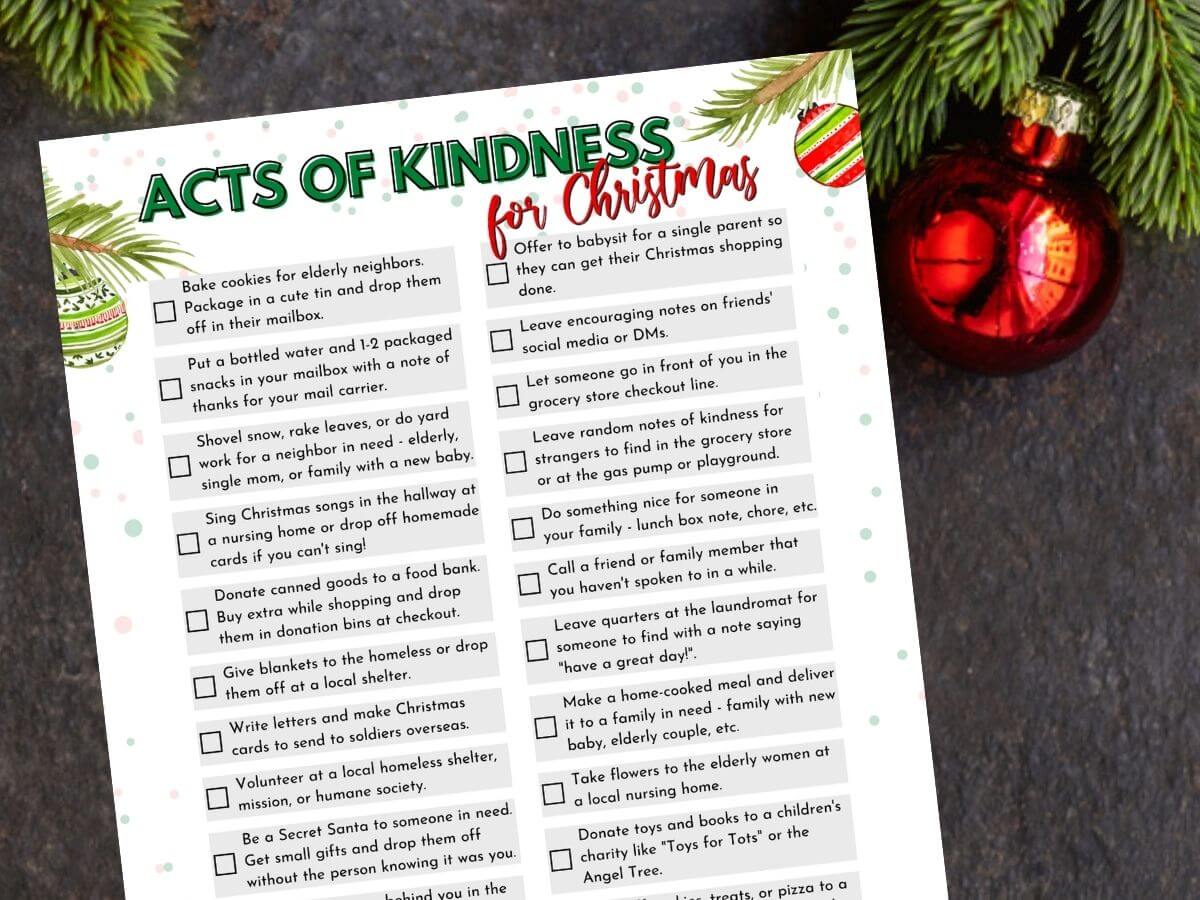 24 Random Acts of Christmas Kindness
Need some ideas for random acts of kindness you can do during the Christmas holiday? Here are 24 small acts of service that can make a big difference in the lives of others this season:
1. Bake Cookies for Elderly Neighbors
Christmas time can be difficult for your elderly neighbors, especially if their grandkids live out of state or they recently lost a loved one. So the simple act of baking some cookies and dropping them off on their front porch is a great way to say, "We're thinking about you this Christmas!".
If you need some Christmas cookie recipes, I highly recommend my grandmother's Cherry Coconut Snowball Cookies.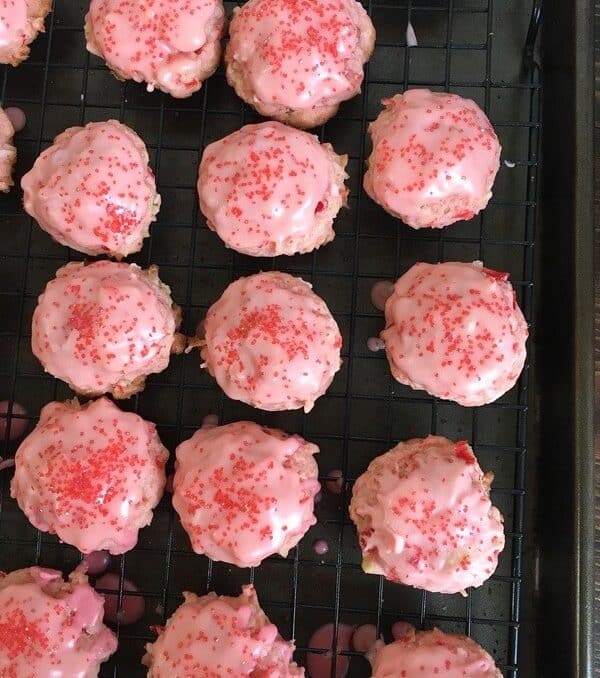 Or, if you're not a baker, you can also buy cookies from a local bakery… so you're supporting a small business during the holiday season also. Two acts of Christmas kindness in one!
2. Leave a Snack for the Mailman
This is one of the easiest random acts of kindness you can do for Christmas!
The postal workers have such a difficult job during Christmas time… I was actually just talking to my mail lady a few weeks ago, and she said that she works 14 hour days during the month of December, because there are so many packages to deliver.
Simply leave a bottled water and a few individually wrapped snacks in your mailbox for the mail carrier with a hand-written note that says, "Thanks for your hard work this holiday season!".
3. Shovel Snow or Rake Leaves for your Neighbor
Shovel snow, rake leaves or do some yard work for a neighbor in need. This could be an act of Christmas kindness that your whole family can help with… even your toddlers can help pick up leaves or plant flowers. Elderly couples or single Moms would especially love this kind act!
4. Sing to the Elderly in a Nursing Home
Those living in nursing homes need extra love during the holiday season, so spread some Christmas cheer by singing Christmas songs in the hallway to all the elderly! Or, if you're like me and can't carry a tune even if your life depends on it, then make some handmade Christmas cards to drop off instead.
5. Donate Food to Food Banks
Food Banks are incredibly busy during the holiday season, so donating canned goods and other non-perishable items is a great way to spread some Christmas kindness.
When you're grocery shopping for your own holiday meal, toss a few extra cans of vegetables, tuna, or peanut butter in your buggy. You probably won't even notice the few extra dollars at the checkout line, but your donations could mean that a needy family gets to eat a little better this holiday season.
Many grocery stores even have large boxes or barrels set up near their checkout lines where you can donate non-perishable food items immediately after purchasing them. Random acts of kindness for Christmas don't get much easier than that!
6. Give a Blanket to the Homeless
So many big box retail stores (like Kohl's and Walmart) have HUGE sales on blankets during the holiday season… I'm talking nice blankets for less than $10. And you can often find gently used blankets at thrift stores as well.
Pick up a few blankets and stash some in your car for when you're out running errands and notice a homeless person out in the cold. You can also drop off blankets at your local shelter for a simple act of kindness.
7. Write Christmas Letters to Soldiers
My 9 year old daughter's class is doing this simple act of Christmas kindness this year, and I'm so appreciative that her teacher is choosing to remember those that sacrifice so much for us! Soldiers need lots of Christmas cheer as they are away from their families, and just writing some letters of encouragement can bring a smile to their faces!
8. Volunteer at a Homeless Shelter
Donating canned goods, blankets, and money to shelters is a nice gesture, but few things are more valuable than your time. Rally your family and volunteer at a homeless shelter in your area. You can help dish out dinner or hand out donated clothing to those in need.
9. Be a Secret Santa to Someone
If you know of someone in your church congregation or friend group who might not have a bunch of Christmas gifts under their tree this year, become a secret Santa for them! Get small gifts and drop them off without them knowing it was you!
10. Pay for the Person Behind You
When you are grabbing your morning coffee one day, pay for the person behind you. This random act of kindness will bring a smile to their day in a very easy way!
11. Make a Holiday Snack Basket for UPS and FedEx Workers
When you're planning your Christmas acts of kindness, don't forget about package delivery drivers! FedEx and UPS people work SO hard during the holidays to ensure that all of your gifts get delivered on time (like the real life Santa Claus)!
And since you set out milk and cookies for a fictitious delivery man, why not include those that actually put in the real hours to deliver your presents?!
A few years ago, I started making Delivery Driver Snack Baskets like this as an easy way to thank all of the delivery people that showed up to my house: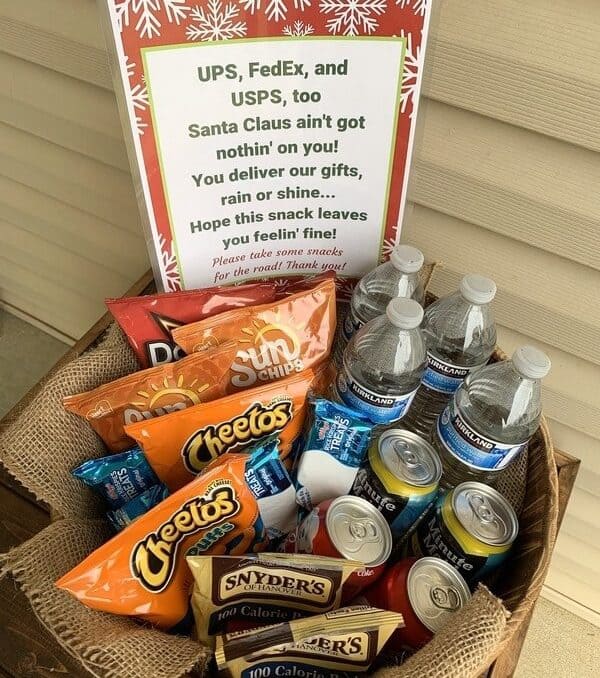 You can hop over here to check out some ideas for how to create your own snack basket and grab the free printable thank you sign that I used: Holiday Thank You Basket for Delivery Drivers with Free Printable
12. Give Compliments to Strangers
Not all random acts of kindness for Christmas have to involve big elaborate gift baskets or spending a bunch of money. Something as simple as a smile and a compliment goes a long way.
One day, give as many compliments as possible to strangers you see all day long. Not only will they be happy, but so will you!
13. Babysit for a Single Parent
Single parents often struggle to get their kids gifts for Christmas, because of the simple fact that they don't have time to go shopping alone. Offer to babysit for them, so they can go out and get what they need to make Christmas special for their kids.
14. Post Encouragement Notes to Friends on Social Media
We can all use encouragement and notes of kindness every now and then. Post some random notes on social media to your friends and loved ones. Even just a quick DM to say "Wanted to let you know that I'm grateful to have a friend like you" is so meaningful. This will bring a smile to their face and will let them know that they are loved!
15. Let Someone Go in Front of You in Line
The holiday "hustle and bustle" is prevalent this time of year, and there is always someone that's in a rush.
If you notice that someone behind you in line looks especially antsy, let them go ahead of you to checkout. This could be as you wait for your cup of coffee or in the grocery store. This is a simple way to be kind to a stranger this Christmas season!
16. Leave Happy Notes in Stores
What are "happy notes", you ask?
They're just sticky notes with happy thoughts or encouraging quotes written on them that you can stick in random places while you're out and about this holiday season.
Have to get gas? Leave a sticky note on the gas pump with a $5 bill that says, "One free tank of gas to let you know you're loved".
Pass a vending machine? Stick a folded up note in the coin dispenser slot that says, "Surprise! Hope you have a great day! (Even if this machine eats your quarters)."
You can also just write some encouraging quotes on sticky notes and stick them all around the grocery store or mall. That way, when people walk by, you can encourage and bring happiness to hundreds of people all day long!
17. Do Something Nice for Someone in Your Family
When we think about "random acts of kindness for Christmas", most of us probably think of kind acts we can do for strangers. But don't forget about being kind to your own family as well.
If you notice that your husband or one of your kids is having a bit of a downer day, surprise them by doing something nice for them. This could be picking up your daughter's favorite dessert from the grocery store, or leaving a love note in your husband's lunchbox.
18. Randomly Call a Friend
Christmas time is BUSY, and most people probably feel like they barely have time to sit down for two seconds. But be intentional about carving out a few minutes to call up a friend or family member that you haven't talked to in a while, just to say that you're thinking about them.
It's nice to just "catch a breath" and have a quick chat during the stressful Christmas season, and a phone call is a simple random act of kindness that anyone can do!
19. Leave Quarters at the Laundromat
If you have a lot of spare change, leave it at a laundromat for someone to find. You could even leave a funny note with the change like, "Are those jingle bells in your pocket, or just lots of free quarters? Merry Christmas!"
20. Make Dinner for a Family in Need
You may take a nice home-cooked meal for granted, but a family with a new baby or someone that just lost their job could see a good dinner as a huge blessing!
When you're making dinner for your own family this holiday season, go ahead and make double the amount. Box up the extra food in disposable plastic containers and deliver a hot meal to an elderly neighbor, a single parent, someone you know that's in need, or even your local firehouse.
You can even get your kids involved in the meal prep to teach them about the importance of acts of service!
21. Give Flowers to the Nursing Homes
You can find poinsettias and other pretty Christmas floral arrangements at most grocery stores this time of year. So next time you're out shopping, buy a few pretty flowers and drop them off at a local nursing home.
Imagine how loved you feel when you see your husband walk through the front door with a big bouquet… the elderly women at nursing homes will feel the same way about a surprise flower delivery this Christmas!
22. Donate Toys and Books to a Childrens' Charity
Donate extra toys or kids' clothes to a charity of your choice. If your Christmas budget allows, you can even take your kids shopping to pick out some new gifts to drop off for needy families.
Call local churches to see if they know of any families in need, or look for an Angel Tree in the mall and buy a gift for a child that might not have a bunch of presents under their tree this Christmas. You can also typically find "Toys for Tots" bins in stores like Walmart and Target this time of year. For about $20, this is an awesome random act of kindness for Christmas time!
23. Send Care Packages to Firefighters
When you're planning out your Christmas acts of kindness, don't forget about firefighters and police officers! Drop off a box of cookies or other care packages, or have a few pizzas delivered to the firehouse so these important people feel the love this holiday season!
24. Give Gifts to Kids in the Hospital
Imagine being a child and having to spend Christmas in the hospital battling cancer or another serious illness… Now imagine that strangers deliver Christmas gifts to brighten your day!
Call your local children's hospital and see if they accept gift donations for their patients during the holiday season. You can also ask about gift ideas and get further instructions for how to deliver the gifts.
Free Printable Random Acts of Kindness for Christmas Ideas
Want a free printable list of all of the Christmas random acts of kindness ideas? Just click the link below to download my cute holiday kindness printable!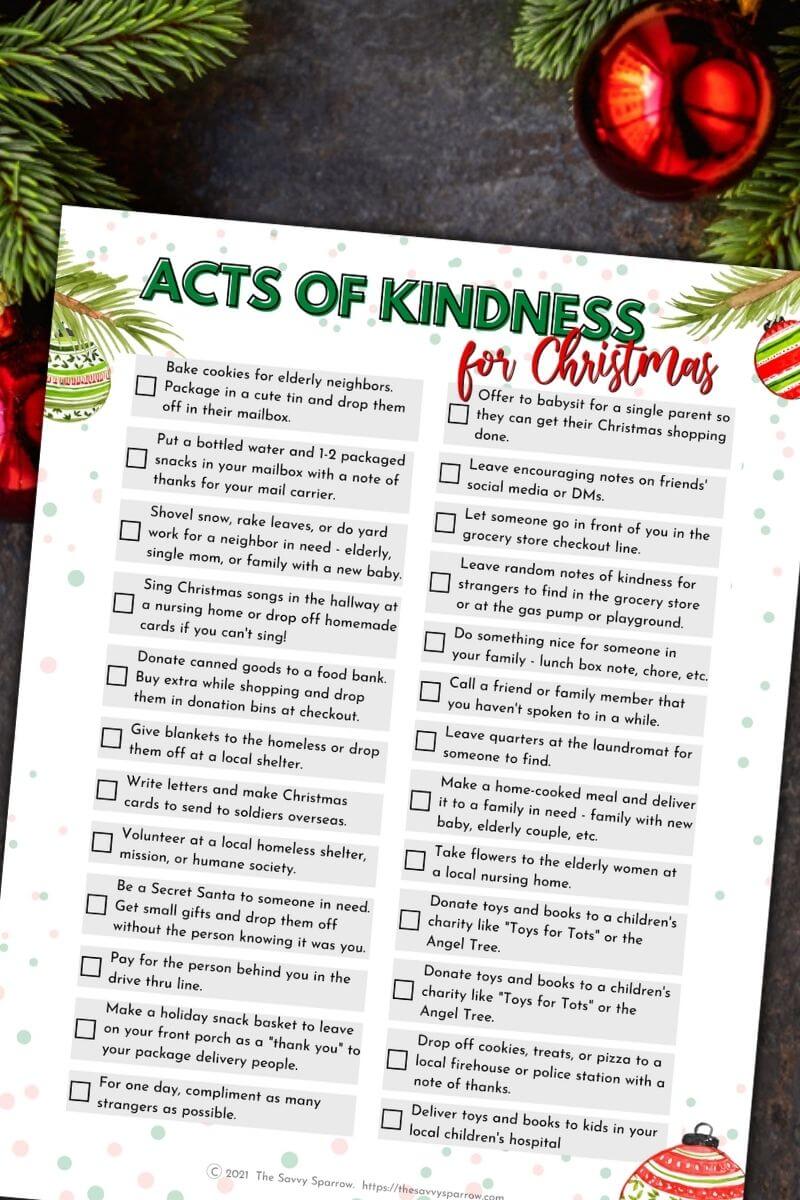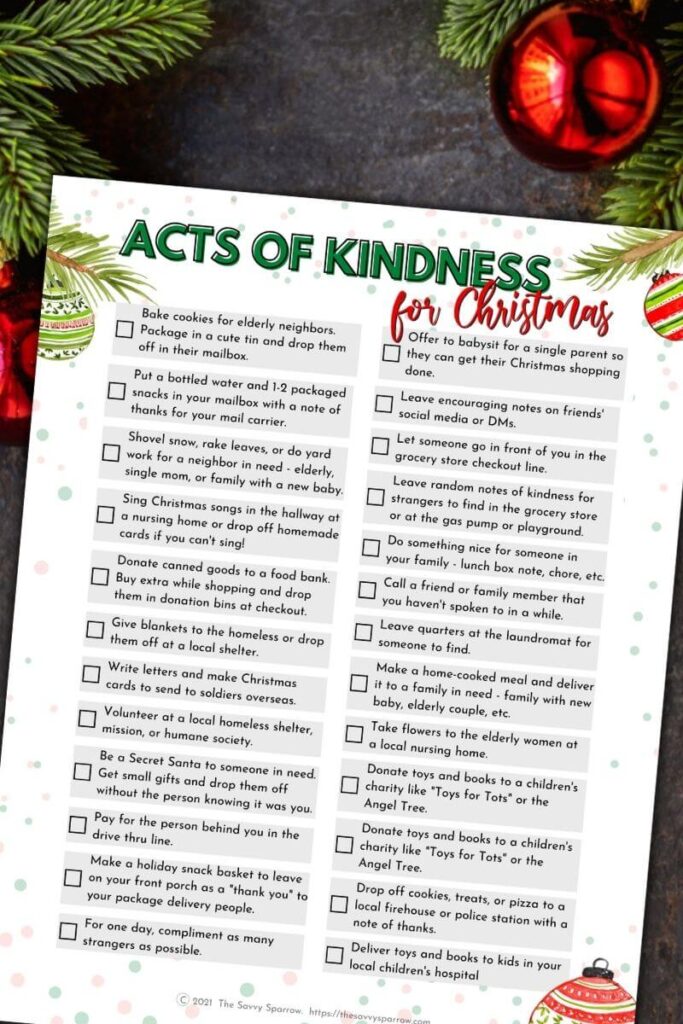 Then, hang the list on your fridge during the month of December, and cross things off your list as you complete them! You could even add this RAOK list to your family Christmas traditions that you do each year!
Click HERE for the Printable Random Acts of Christmas Kindness List!
These 24 random acts of kindness are the best way to get into the spirit of giving and love for Christmas. Do one activity a day, starting on December 1st and ending on Christmas Eve! Get your family into it as well for a beautiful holiday tradition!
If you loved this cute Christmas printable, then check out some of these other posts with even more Christmas printables:
And don't forget to PIN this post for later: