Want an easy way to thank delivery drivers this Christmas? Set out a fun Thank You basket for delivery drivers to show your appreciation! Use this free printable Thank You sign to make this easy snack basket idea even easier!
It's Christmas time, and if your front porch looks like mine, then it has packages stacked about waist high.
I've done about 90% of my Christmas shopping online for the past few years, and that means that delivery drivers are at my house almost everyday for the entire month of December.
Nope, I'm not exaggerating!
On top of that, we live at the end of a dead end street, and our driveway is relatively long with no good place to turn around.
AND we have a big dog.
So our delivery drivers work extra hard to deliver all of our packages at Christmas time!
So this year, I'm giving them a little something to look forward to when they're at our house for the 5th time in one week, trying to turn around without taking out a tree, while avoiding our black lab…
A yummy snack and drink!
I'm sure you've seen these Delivery Drivers Thank You Basket ideas floating around Pinterest. Or maybe one of your friends sets out a snack basket for delivery drivers during the holidays.
Or maybe this Thank You basket idea is completely new to you…
Whatever the case may be, this is an excellent way to spread a little holiday cheer and kindness this year!
After all, delivery drivers are the modern-day Santa Claus… and you leave milk and cookies out for Santa, so why not leave a treat for your friendly UPS, FedEx, and USPS drivers, too!
*This post contains affiliate links, which means if you click a link and make a purchase, then I earn a commission at no additional cost to you. Read my full disclosure here.
How to Make a Holiday Thank You Basket for Delivery Drivers:
Step 1: Print out the Free Printable Thank You sign.
I made this cute printable Thank You sign after searching Pinterest and not finding any that I liked… Create the things you wish existed, right?!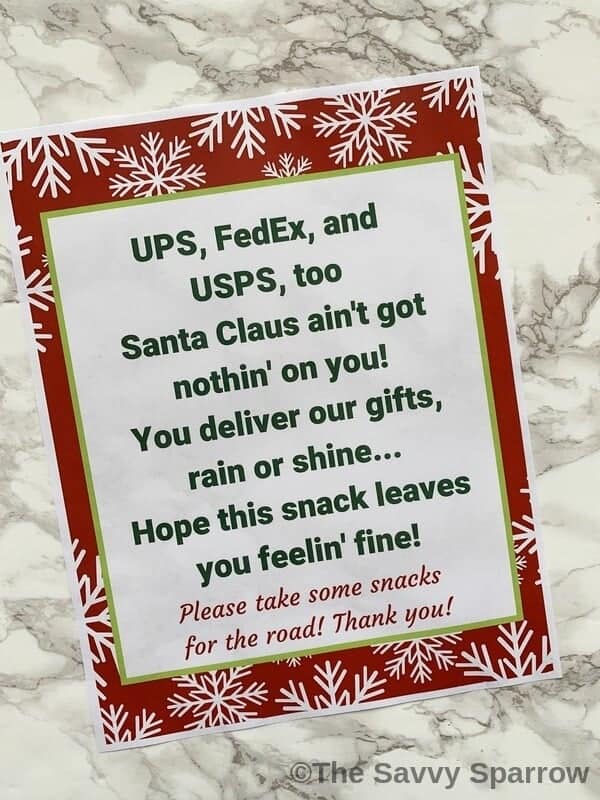 So, my daughter and I came up with this clever little poem on the way to her basketball practice one night:
UPS, FedEx, and USPS, too

Santa Claus ain't got nothin' on you!

You deliver our gifts, rain or shine…

Hope this snack leaves you feelin' fine!

Amy – The Savvy Sparrow
And although it's filled with incorrect grammar (hello, double negative!), I LOVE it!
You can grab this printable Thank You sign (plus the small gift tags for individual snack bags) for free when you sign up for my FREE email newsletter!
Just use the form below to subscribe to my FREE email newsletter, and I'll send you these Delivery Driver Thank You Printables (PLUS the password to my FREEBIES library) as a gift!
Or, you can purchase these "Thank You" signs and tags in my shop!
Just print it out, and you're ready to create your cute and easy Thank You gift for delivery drivers!
I chose to laminate my sign, because I already have this awesome laminator (affiliate), but you can just pop yours into a cheap Dollar Tree frame to protect it from the elements and to keep it from blowing away.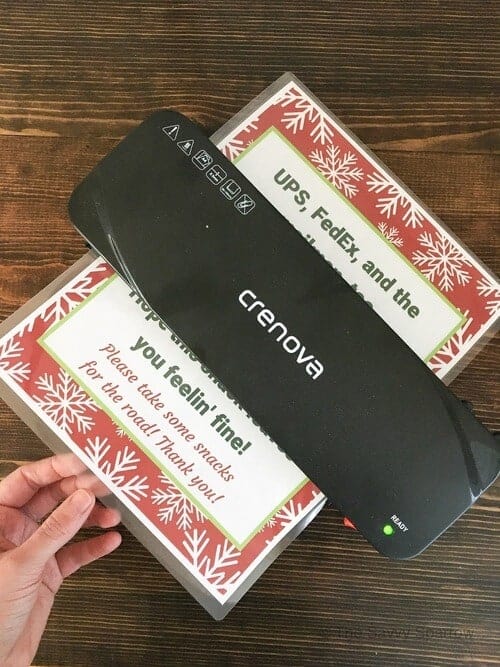 Step 2: Gather some snacks and bottled drinks.
I filled my Holiday Thank You basket for delivery drivers with a variety of snacks, both sweet and salty.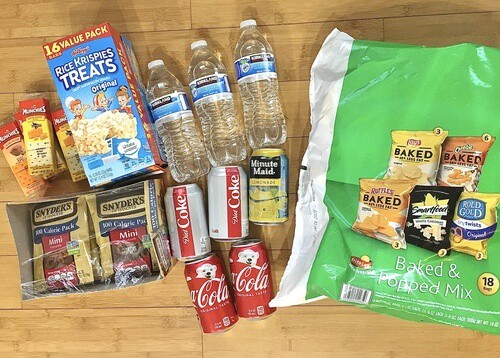 Here are some easy and inexpensive ideas for your Thank You basket snacks:
Chips – you can buy the big variety packs of individually packaged chips
Popcorn
Granola bars
Protein bars
Animal crackers – you can buy the individual bags at Dollar Tree for 6 packs for $1
Full-size candy bars
Individually wrapped snack cakes (like Little Debbie)
Pretzels
Small packs of nuts
Cookies – like the variety packs of individually wrapped treats made for kids' lunchboxes
Trail mix
Fruit snacks
Fresh fruit – like apples and bananas
And don't forget the drinks:
Small bottles of Gatorade
Water
Soda cans
Bottled coffee beverages (like Starbucks Frappucino)
Where I live in Tennessee, it's cold in December, so the drinks stay cold in the basket on my front porch. Perfect for bottled coffee beverages and soda.
If it's warm where you live, I would suggest just sticking to bottled water. Or, you can also put the drinks in a small cooler with an ice pack.
But be careful with the drinks! If the temperatures are below freezing where you live, you don't want your soda cans to freeze and bust!
Step 3: Assemble your Holiday Thank You Basket for Delivery Drivers on your front porch.
Place all of the goodies inside a basket or box on your front porch. I used a round, wood crate that I had laying around from my fall decor.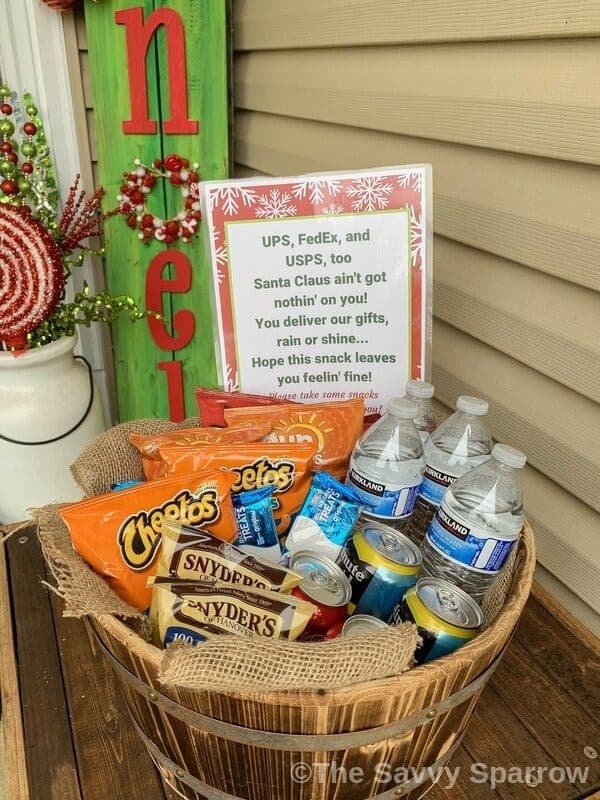 Make sure that the basket is in a place where the delivery drivers will notice it easily. It's a crazy busy time for them, so you want to make sure that it's easy for them to grab a snack and go.
I just set my basket on a small outdoor table that we have on our front porch.
Step 4: Make the day of your hard-working delivery drivers!
Delivery drivers will LOVE this random act of kindness, especially during the holiday season when they're probably stressed to the max trying to get to all of their stops.
Don't believe me?
Check out this great video from a Ring doorbell camera of a delivery driver discovering a Thank You snack basket on a lady's porch!
More Tips for Your Snack Basket for Delivery Drivers
If you're worried about animals getting to your Thank You basket, then you can also use a small cooler instead, like this: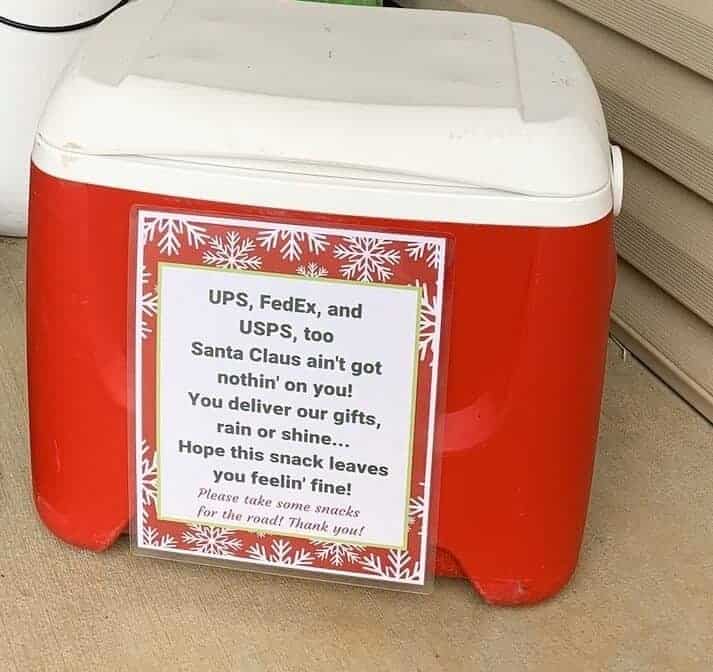 If you live in an area where raccoons and other rodents are a problem, then don't forget to bring your snack basket for drivers inside at night!
Want to thank your mailman, even though he doesn't come all the way up to your front porch? You can pick up a pack of mini donuts from the grocery store and tie one of these free printable donut gift tags around it. Then stick it in your mailbox for a nice surprise for your mailman!
Buy bottled water at Costco or Sam's Club to make this easy snack basket idea even cheaper! I get my bottled waters for my Thank You basket at Costco for just $2.99 for 40 bottles!
If the temperatures drip below freezing, be sure to take the sodas out of your snack basket for delivery drivers so they don't bust!
Don't just thank your delivery drivers at Christmas time…
This is an easy act of kindness that you can do all year long… without having to always leave a whole snack basket on your front porch!
If you know that you will be receiving a package delivery, then set out a small gift bag (like the ones you get at Dollar Tree for 3 for $1) with a small snack and drink.
You can buy the individually packaged snacks at Dollar Tree (6 snacks for $1) for an inexpensive and thoughtful Thank You gift for delivery drivers, year round!
Hope you enjoyed this small random act of holiday cheer!
Do you do anything special for service workers (delivery drivers, trash pick up people, etc) during the holidays? I'd LOVE to hear your ideas!
Drop me a comment below! And be sure to PIN this post for later!