Need a printable monthly calendar for 2022? I've got you covered! Download and print 4 different cute free printable calendar PDF designs to get yourself organized!
I would be lost without my printable calendars. I've never been one to use a calendar app or any other digital calendar because I just simply can't keep up with it. I'm much more of a pen and paper kind of gal.
And printing out a new PDF calendar is one of the things I do on the first of every month, like clockwork.
Printable monthly calendars are an awesome and inexpensive tool to help keep your family organized. Whether you print out a calendar PDF each month and hang it in your family command center, hole punch it and add it to your planner, or you just hang a simple paper calendar on your fridge to jot down important events that pop up during the month, printable 2022 calendars are super useful!
I even print each of my daughters their own monthly calendars so that they can keep track of school assignments they have due and which days of the week they have gym class so they don't forget to pack the right shoes.
And I'm sharing my super cute free printable 2022 monthly calendars with you!
Whether you need a horizontal or vertical layout calendar, or you prefer a Sunday or Monday start date, you'll find some awesome 2022 calendar PDFs down below: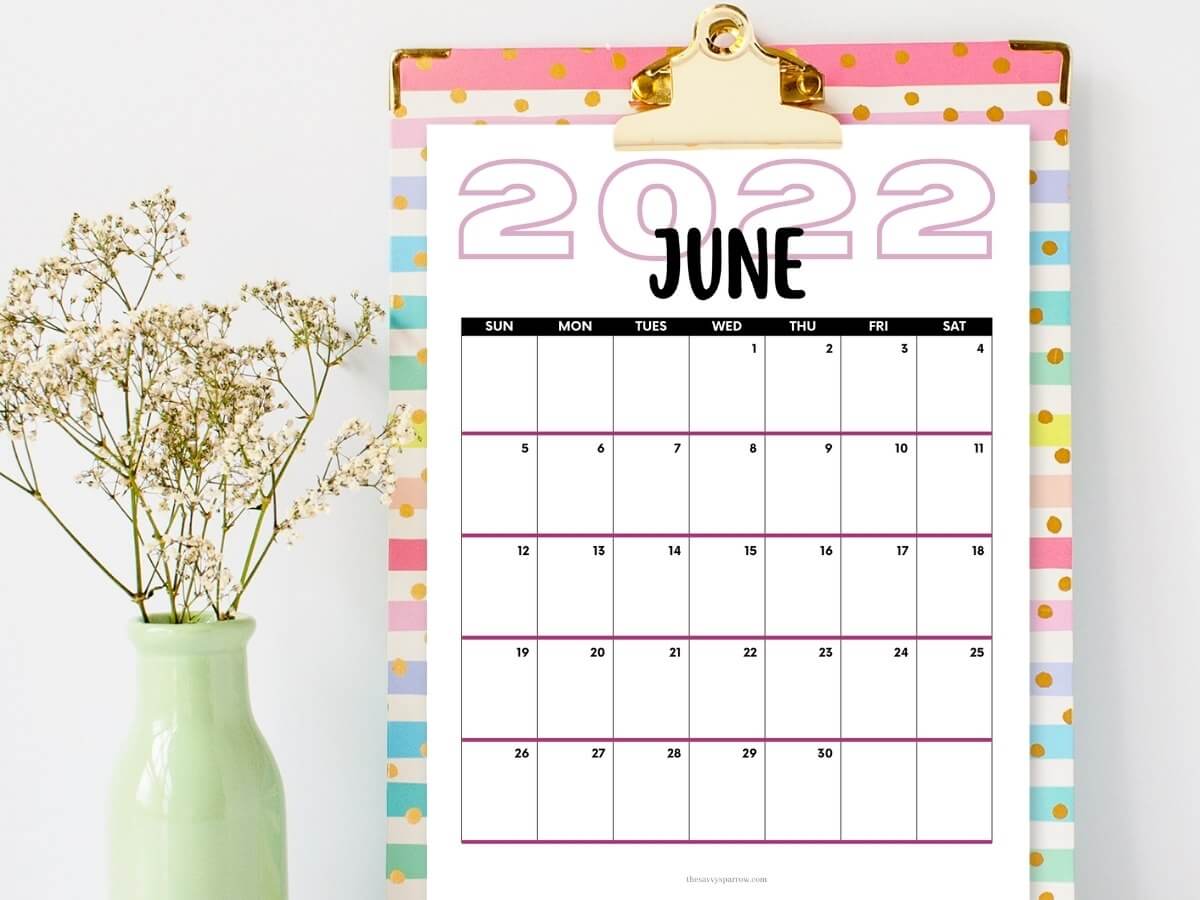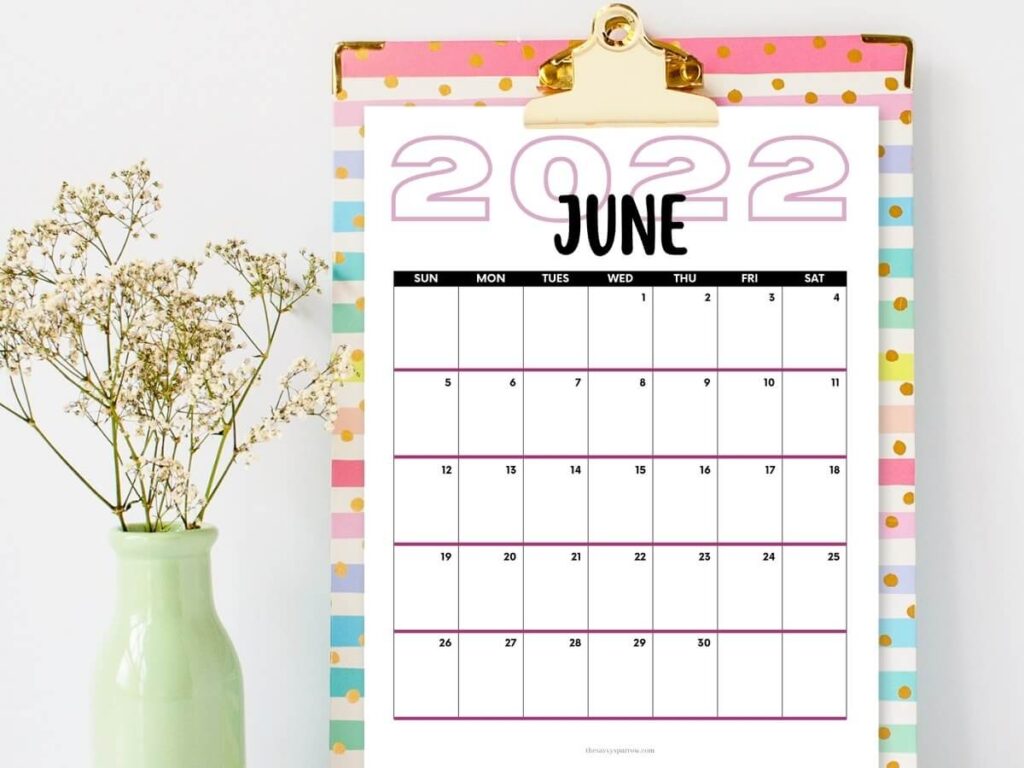 Why You Should Use a Printable Monthly Calendar
If you don't use a planner or calendar system to stay organized, then you're missing out, friend! Here are some reasons why I LOVE PDF calendars that I can print at home:
It saves you money!
No need to spend money on a monthly calendar when you can get one for free… well, except for the cost of a piece of paper and some printer ink.
The thing that I love about using printable calendars is that you can find a TON of free ones to download online and print at home, including the cute 2022 calendar PDFs that I have at the end of this post!
Using a paper monthly calendar takes less time than a digital one.
I know this goes against logic, because we're all engrained to believe that everything is quicker and more efficient when it comes in the form of an app or a digital resource, but studies have actually shown that writing down your schedule on paper takes significantly less time than typing it into an app or electronic device.
In fact, a study done by neuroscientist Kuniyoshi Sakai found that participants using a paper datebook were able to fill in their calendar in about 11 minutes, versus 14 minutes for tablet users and 16 minutes for smartphone users.
Another win for printable calendars in paper form!
You're more likely to remember important dates and to-do's.
I'm sure you've heard about the studies done that show that writing things down helps your memory retention when taking notes, and the same applies to writing things down by hand on a calendar.
Also, much like doing a brain dump, getting all of your monthly to-do's out of your head and on to a calendar can help ensure that you don't forget about any important events, appointments, or deadlines.
How to Use the Calendar Printable PDFs
After you've printed out your monthly calendar, you may be wondering how to put it to good use to stay organized. Here are some easy and practical ways to use the 2022 calendar PDF:
Add it to your planner – You can find instructions for how to re-size US Letter PDFs to fit different Happy Planner sizes here! Then, just hole punch the margin of the printable and add it in to the planner that you're already using.
Print and hang on your fridge or family command center – If your plans change often, then you can also laminate each calendar and use a dry erase marker to write in it.
Print extra copies for your kids to track their homework and after-school activities – This is a GREAT way to start teaching them about self-accountability!
Print separate copies for family and work-related tasks – Since the calendars are FREE, you can print as many as you like and use different copies for different purposes.
Free Printable 2022 Monthly Calendar PDFs
To download your free printable monthly calendars, just click on the the links below!
Some of the calendars have Sunday start dates and some have Monday start dates, so you can use whichever ones you prefer. And I've also got both horizontal and vertical layout PDFs for you!
2022 Monthly Calendar Printables – Vertical Layout with Notes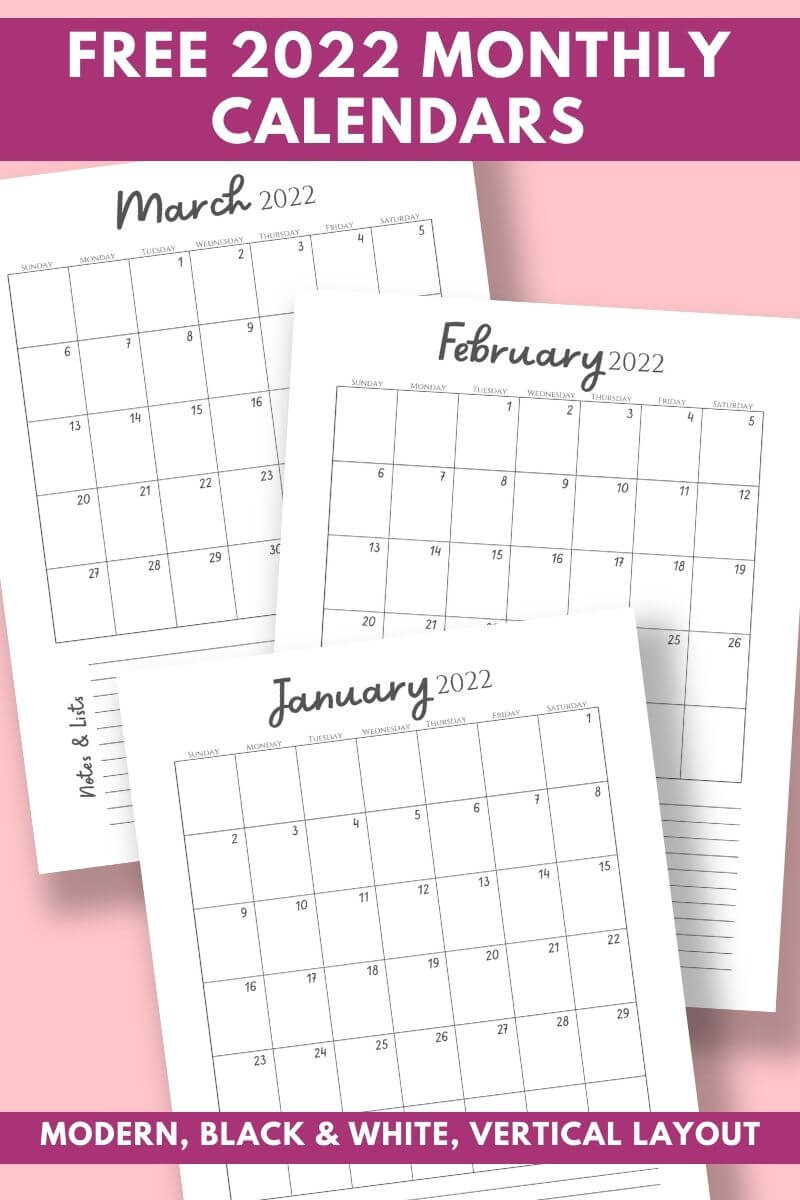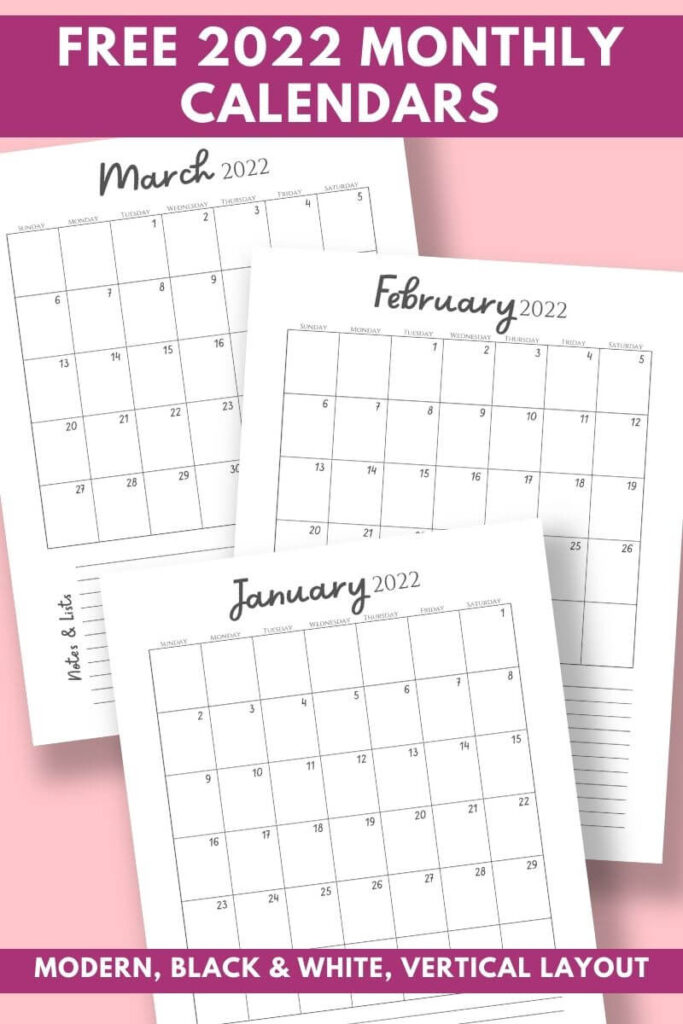 2022 Monthly Calendar Printable – Lined Vertical Layout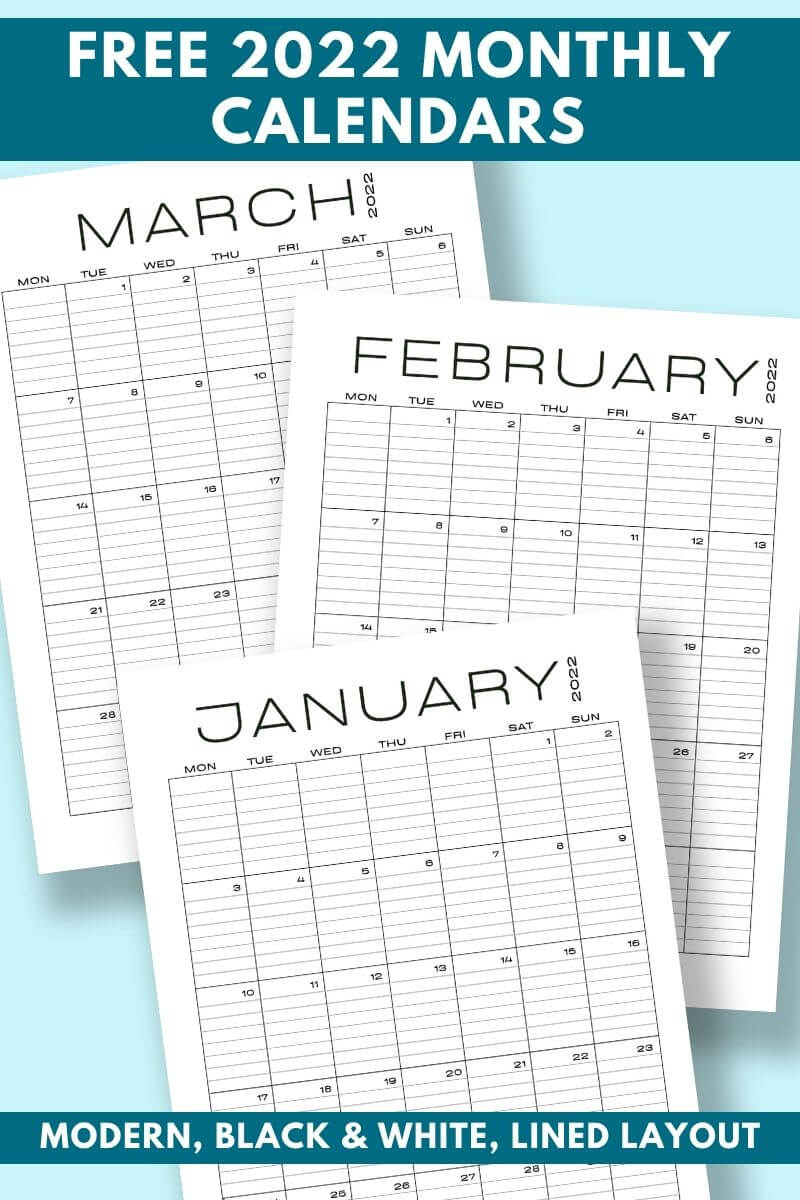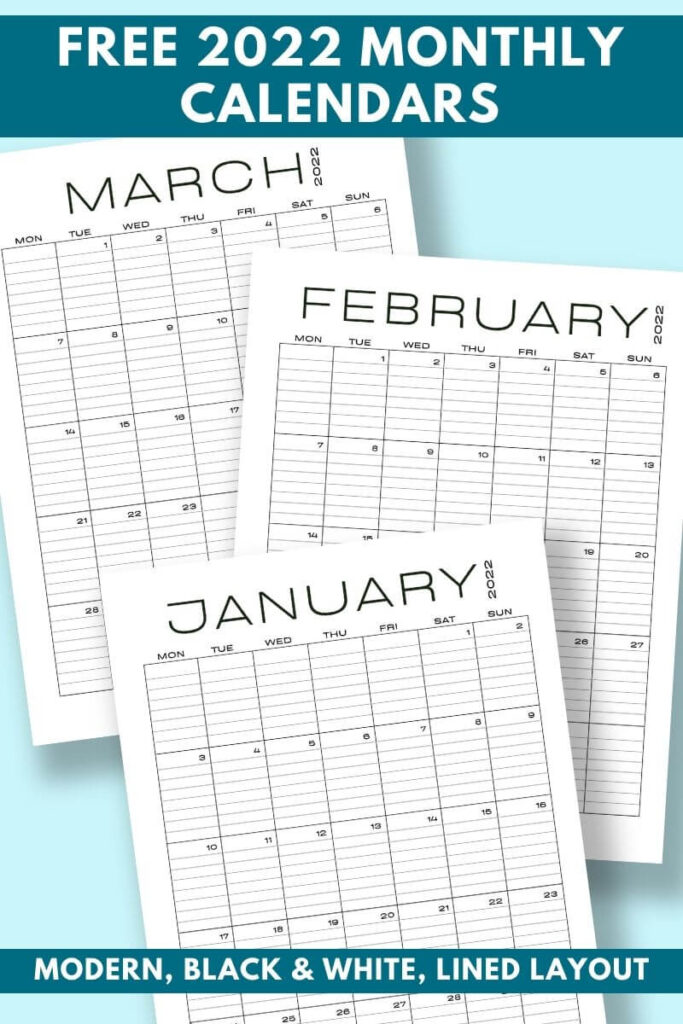 2022 Printable Monthly Calendar – Horizontal Layout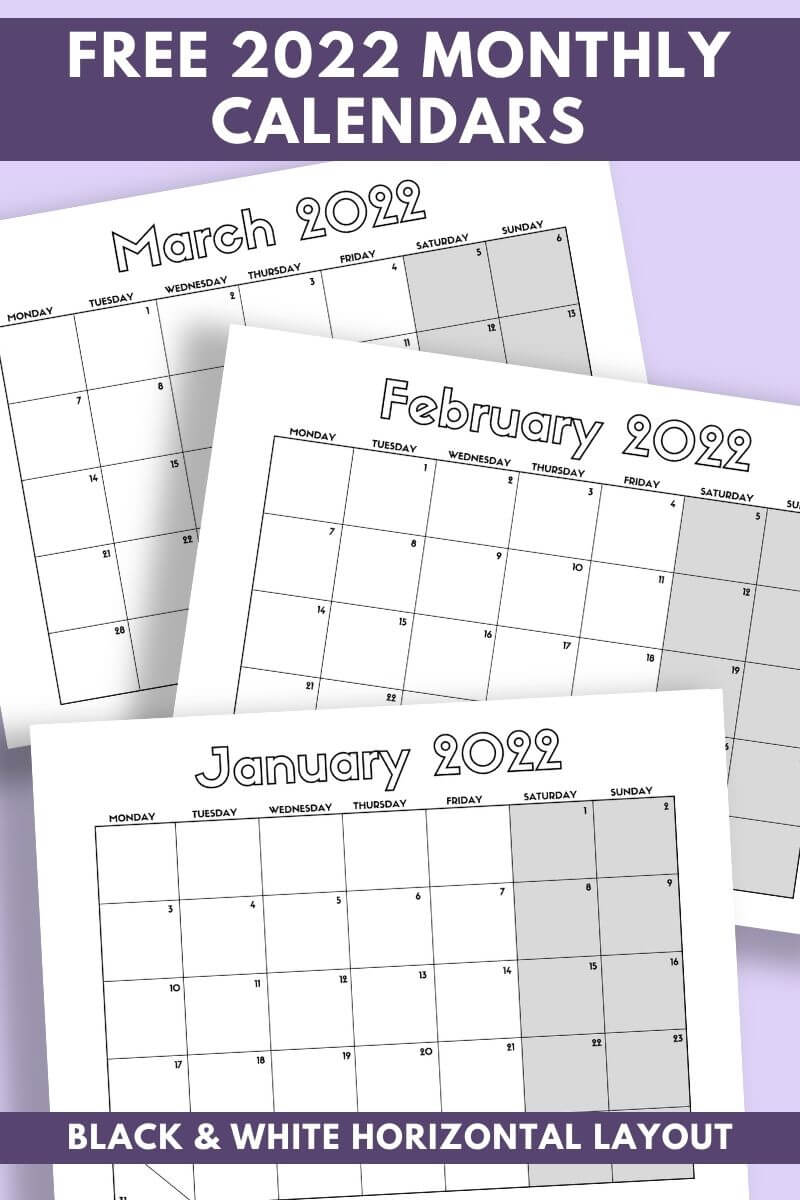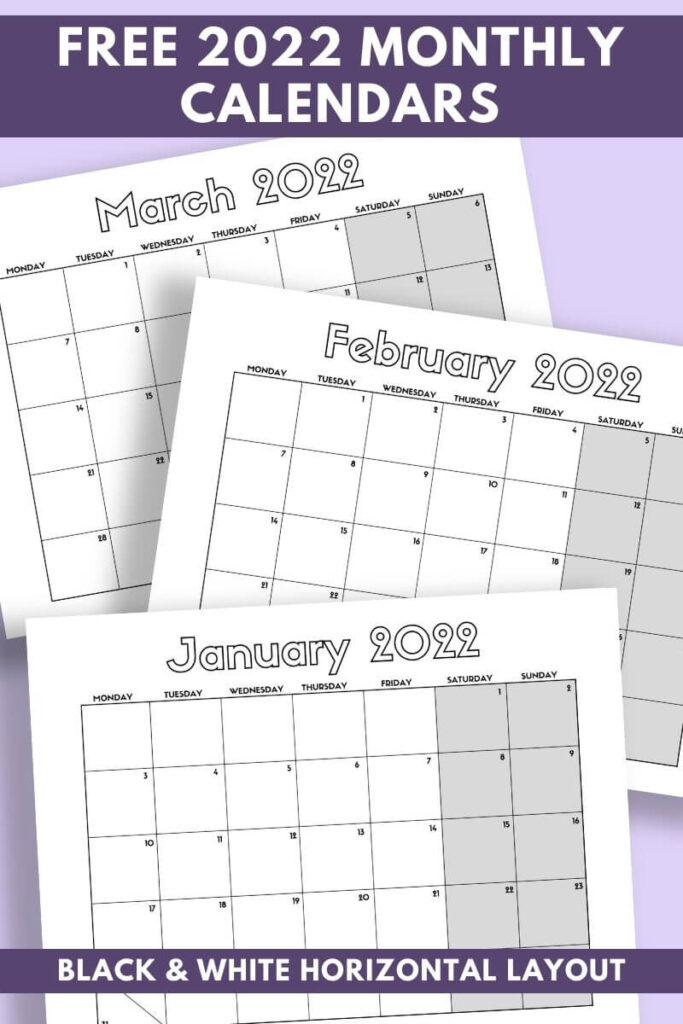 2022 Printable Monthly Calendar – Modern Rainbow Colored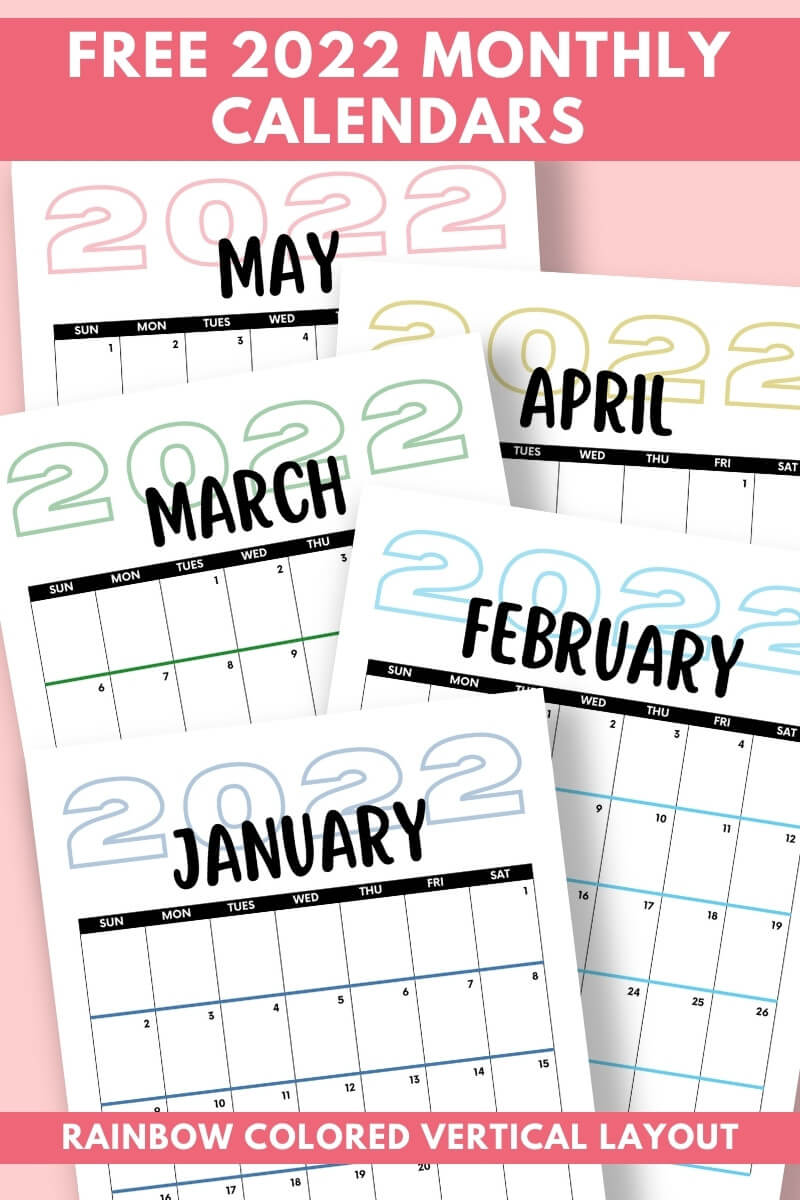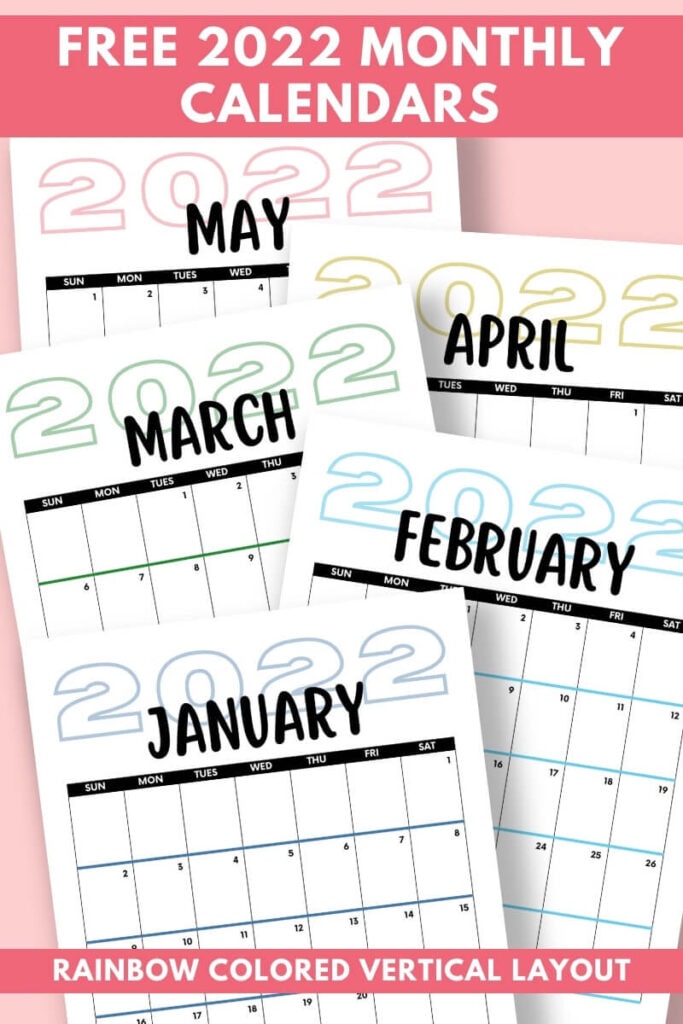 2022 Printable Floral Calendars
If you want some monthly calendars with more color and a pretty floral pattern, then I have those available in my shop!
Here's what they look like: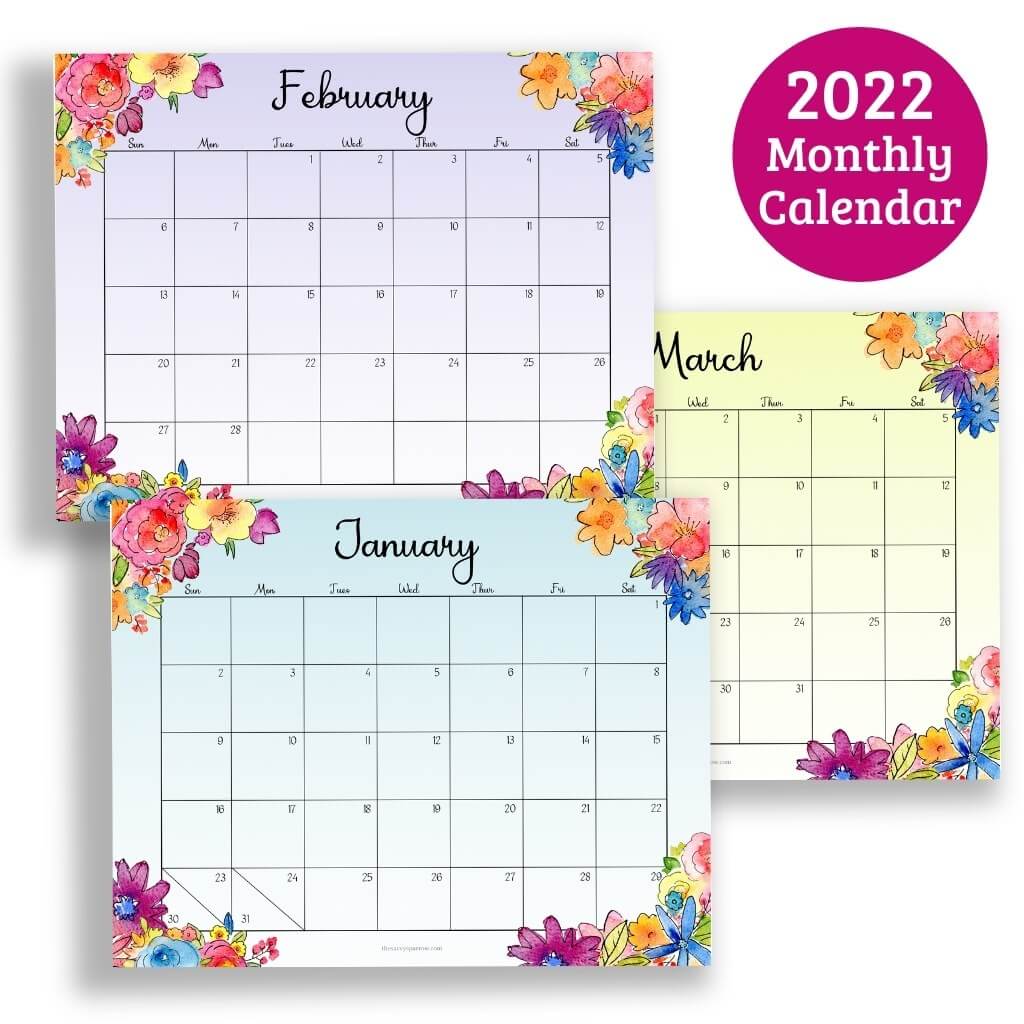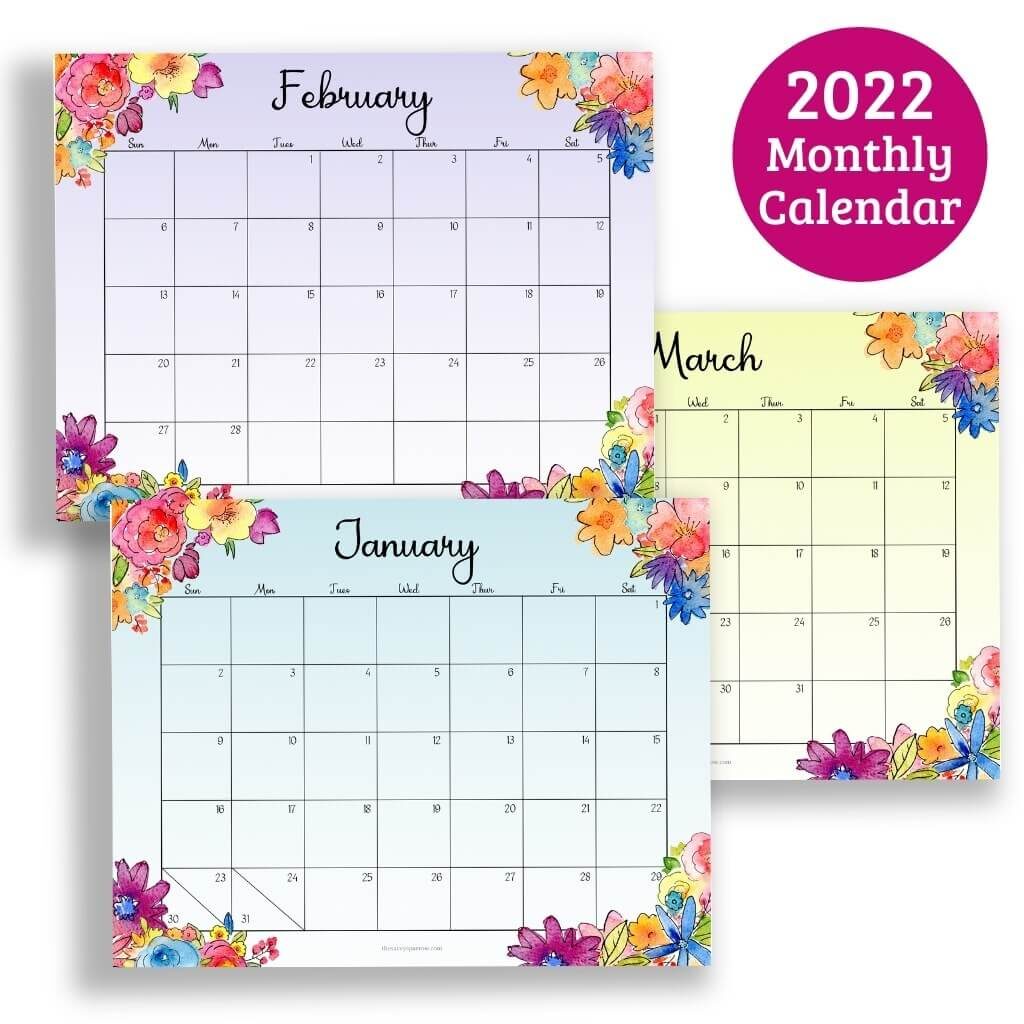 Click HERE to see the 2022 Floral Calendars!
Giant Printable 2022 Yearly Calendar
If you prefer to see all 12 months at the same time, then you may want to make your own giant 2022 yearly calendar to hang on the wall in your office or family command center.
I use both the individual monthly calendar printables AND this giant 2022 yearly wall calendar… which, believe it or not, is also a printable!
You can print your own giant wall calendar as a 36″ x 48″ architectural print for around $10.00 at FedEx Kinko's or Staples. Then, simply staple the printable calendar to the back of stained 1″ x 2″ trim boards and add a twine hanger.
For the full details and the printable wall calendar PDF, visit this post: DIY Large Wall Calendar – See All 12 Months at One Time!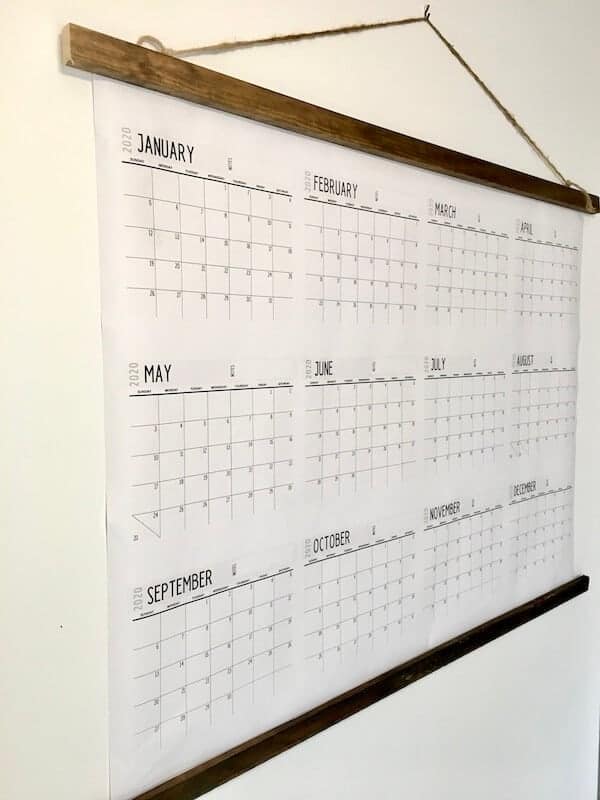 Other Printable Calendar Templates
Want other calendar template options? I've got those for you as well!
Printable Monthly Plan Templates
You can grab this free printable monthly plan template (plus 3 other cute designs also!) HERE: Monthly Planning in 4 Easy Steps – Plus FREE Monthly Plan Templates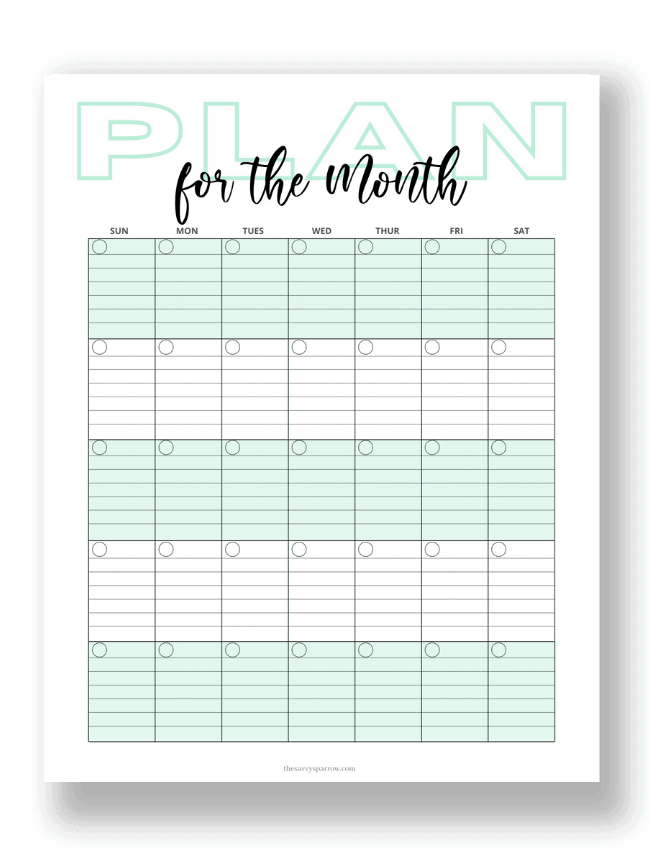 This PDF is more like an undated monthly calendar… You can print out 12 copies and write the dates in yourself, or laminate the sheet and use a dry erase marker to re-use the same printable monthly calendar again and again.
Free Printable Weekly Plan Templates
Or, if you want to organize your giant to-do list and hectic schedule by week, then check out this post: How to Create a Weekly Plan – Plus FREE Printable Planner Template
I hope you enjoy the free printable monthly calendars! If you print them out and use them, I'd LOVE to know what you think! Leave me a comment down below with how you use the PDFs!
And don't forget to PIN this post for later: