This DIY Large Wall Calendar is SO easy to make, and it lets you see all 12 months at the same time… great so you can plan ahead! Grab the calendar printable and a few supplies, and you'll have your giant wall calendar done in no time!
I've been on the hunt for the perfect large wall calendar for my new home office for quite some time now. But every one that I found was either too small for my liking, or it only showed one month at a time.
And since my husband and I are both self-employed, and I essentially manage two businesses from my home, I really wanted to be able to plan ahead and easily see the ENTIRE year of stuff to do and taxes to pay all at once. So I finally broke down and decided to create my own DIY Large Wall Calendar, and I am absolutely THRILLED with the result!
This DIY home office idea is one of the EASIEST DIY projects that I have done in a LONG time! We already had some scrap boards stained and ready to go (leftovers from these easy DIY farmhouse wood signs!), so after I printed my large wall calendar, this project took literally 10 minutes to make!
If you're a super busy Momma and like to plan ahead, too, then you may benefit from a giant wall calendar just like mine. Here's how to make your own wall calendar to keep up with birthdays, doctor appointments, and anything else you want to see at a glance:
*This post contains affiliate links, which means if you click a link and make a purchase, I earn a commission at no additional cost to you. Read my full disclosure here.
DIY Large Wall Calendar Supplies
Here are the supplies that you need to make your own large 12 month wall calendar: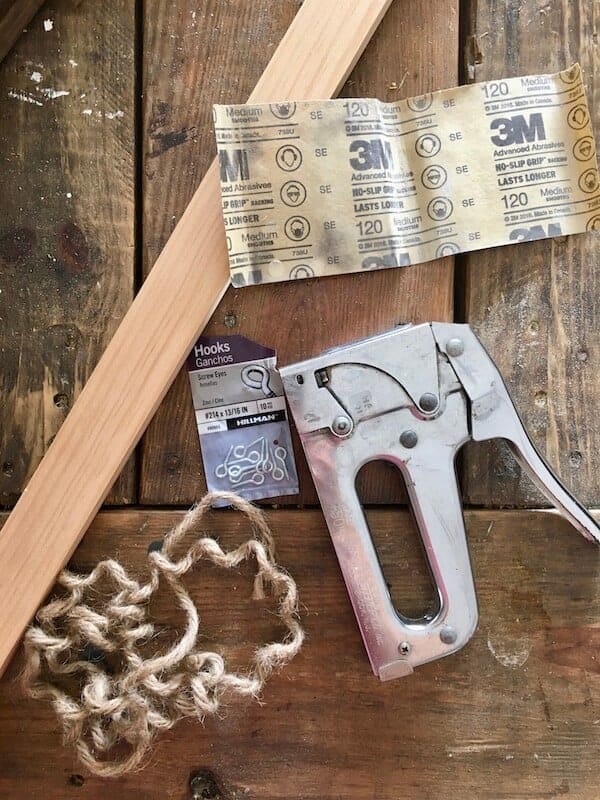 1″ x 2″ Boards
I actually used two different types of boards (one for the top and a different one for the bottom) because that's what we already had on hand.
The top board was a more expensive piece of lumber, called "Select Pine". It's already sanded down, and it doesn't have any knots, nicks, or imperfections, which makes it more expensive. That board is about $6.00 for 8 feet.
The bottom board on my DIY Large Wall Calendar is a 1″x2″x8′ furring strip. These are the same trim boards that I used to create these Cheap and Easy DIY Wood Signs. Once they're sanded down a bit and stained, you can hardly tell that they have any imperfections. Plus, the small chips or dents just add character.
Here is the Home Depot shelf tag for those boards… you can see they're MUCH less expensive: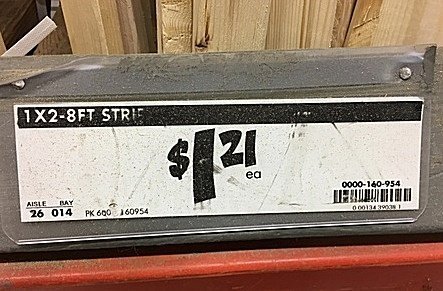 Both my top and bottom boards are 51″ long, so I needed two boards since they are only 8 feet long. If you want the top and bottom of your DIY large wall calendar to be flush with the paper, then you can get by with only one board and cut it in half at 48 inches.
Large Wall Calendar Printable
You can find the 2023 version of the printable 12 month calendar that I used HERE!
You will need to print out your large wall calendar at an office supply store or specialty printer. Just tell the printer that you want an architecture/engineer print in 36″H x 48″W. I got mine printed at FedEx Kinko's for $9.00, and I was actually able to complete the whole order online.
You can upload your wall calendar PDF and choose these print settings, if you're using FedEx Kinko's: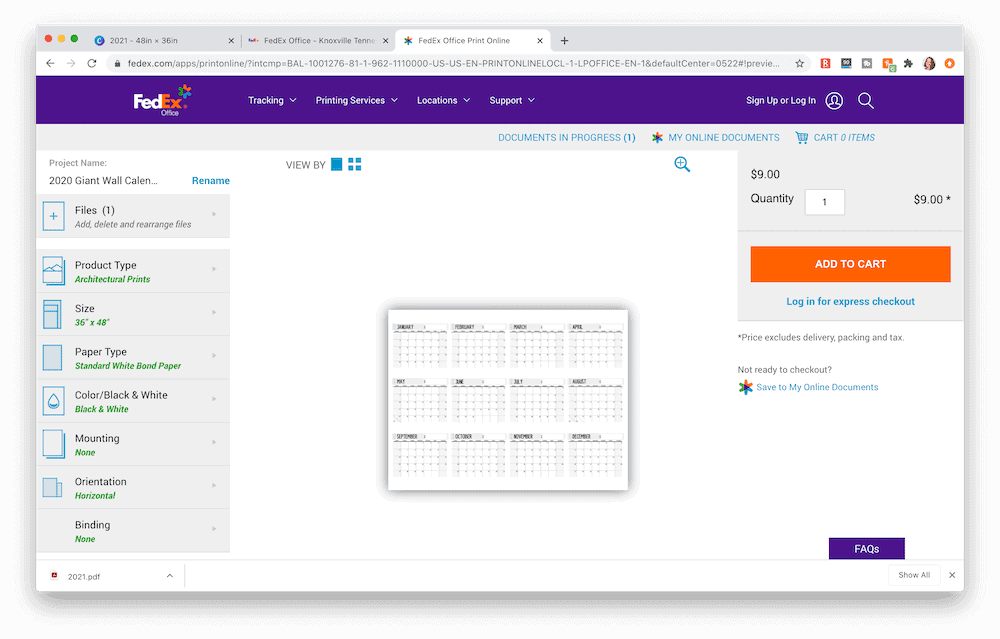 Product Type – Architectural Prints
Size – 36″ x 48″
Paper Type – Standard White Bond Paper
Color/Black & White – Black & White
Mounting – None
Orientation – Horizontal
You can also get your large 12 month wall calendar printed at Staples.
Click HERE to get the Printable Large 12 Month Wall Calendar!
Screw Eyes
These are small screws with a circle on the end. You can get a pack of 10 for about $1.75, but you will only need 2 of them. The ones that I used were size 13/16 inch.
Just be sure that the "eye" part is large enough for your jute rope or twine to go through.
Heavy Duty Staple Gun and Staples
Jute Rope or Twine
I had jute rope leftover from the super easy 5 minute DIY Fall Burlap Banner that I made recently.
Wood Stain (optional)
Command strips (optional)
The command strips are totally optional, but I found that placing a small velcro-style Command Strip on the two ends of the bottom board helped it to lay flat against the wall.
How to Make a Giant Wall Calendar
Okay, now that you've got all your supplies, here are the SUPER EASY instructions for how to make your own DIY Large Wall Calendar:
Step 1: Cut and sand your 1″x 2″ boards.
As I said before, I cut my boards to 51″ so that I had an inch and a half on each side hanging past my calendar. I left space to be able to hang wood bead tassels or a farmhouse style garland to give my giant wall calendar some pizzazz.
If you don't own a saw, you can also have Home Depot or Lowe's make the cut for you. I've found that for just 1 or 2 simple cuts like this, they don't charge a fee, and it will save you some time at home.
After your boards are cut, you may need to sand them down a bit, depending on what kind of lumber you are using.
Step 2: Stain your boards.
If you want to stain the top and bottom boards for your large wall calendar, then now is the time. My boards were stained with a mixture of Espresso and Provincial Minwax Wood Stain to match the top of the desk that my husband built me.
If you want a more natural, raw wood look (without just leaving the wood unstained), then I recommend mixing about 3 parts water-based polyurethane with about 1 part Golden Pecan Semi-Transparent Minwax Stain in a plastic cup. Mix together really well and apply one or two coats to your 1″x 2″ boards.
We used that raw wood technique on the DIY shelves we made for my office, and it turned out beautifully! I'll be posting about that soon!
Step 3: Screw the eye screws to the top board of your DIY Large Wall Calendar.
After your boards are sanded, stained, and fully dried, you're in the home stretch! I'm telling you… you won't believe how easy this wall calendar is to finish.
I just used my Roku remote as a spacer so that my screws were an equal distance from the edge of my boards. Haha! So each of my two screws are about 4 inches from the edge of either side of my top board.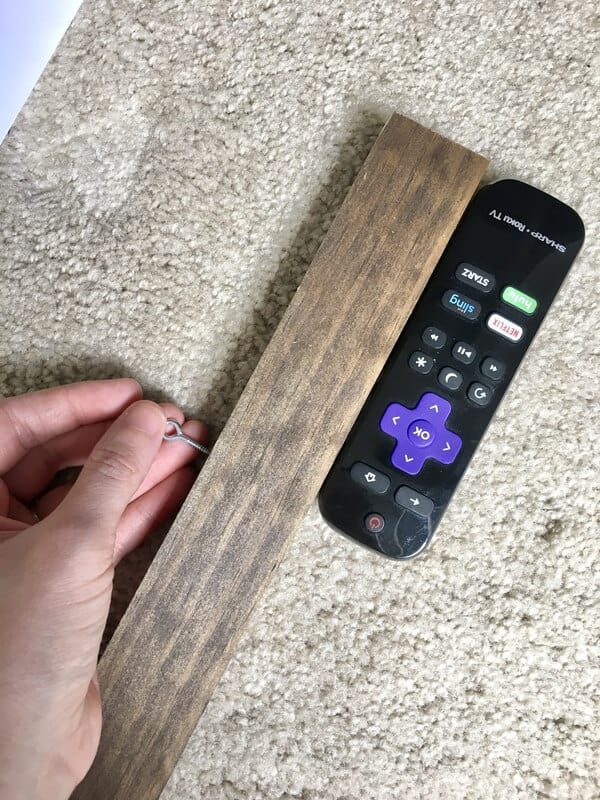 You may need pliers to help get the screws started, depending on what wood you are using.
Step 4: Staple your wall calendar printable to the back of the top and bottom boards.
Flip your top board over so that it's laying face down, and lay the top of your calendar face down on top of it. Then, make sure that the calendar is level and in line with the trim board and staple like this: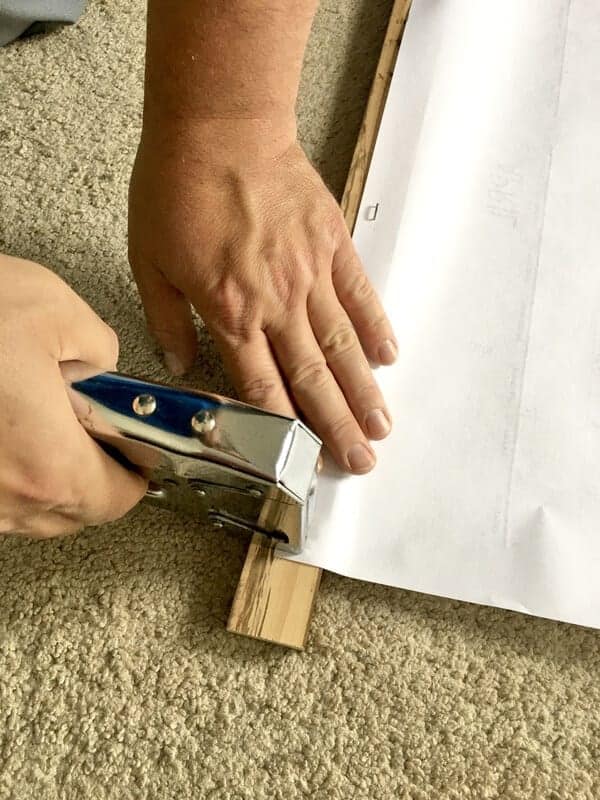 You may need to hammer the staples in to the board so that they go in completely.
Repeat for the bottom board. Now your DIY 12 month wall calendar is almost complete!
Step 5: Thread the jute rope through the eye screws and hang on the wall!
After your calendar is stapled to the top and bottom boards, all you need to do is thread your jute rope or twine through the eye screws and tie it off to make a hanger.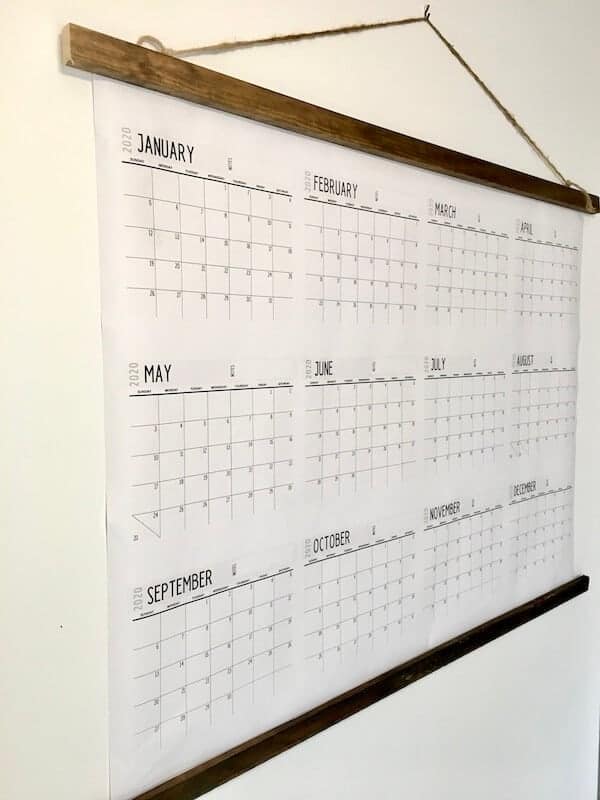 Then, just hang your giant calendar on the wall and you're done!
If you find that the bottom board of your 12 month giant calendar is leaning out from the wall a bit, then you can take two small velcro-style command strips and attach them to either side of the wood, like this: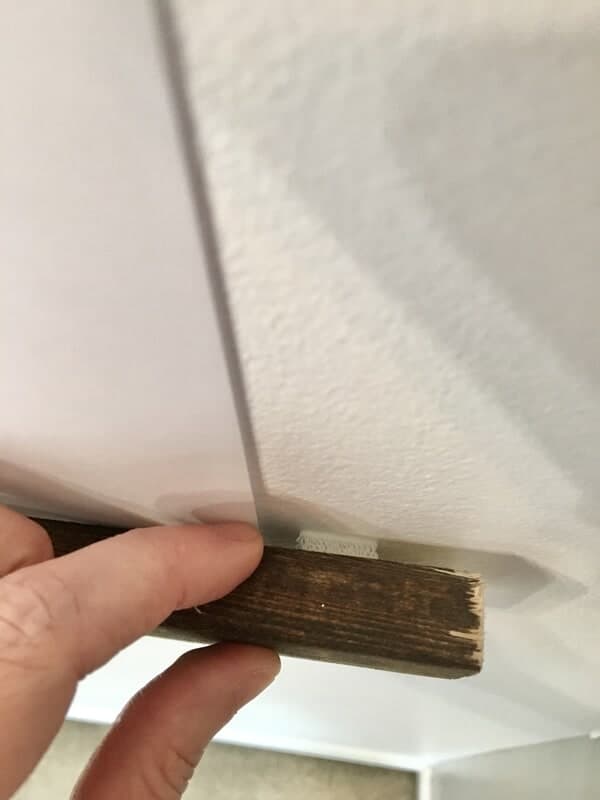 You can also add your own wood bead tassels, burlap ribbon, or greenery garland to decorate the top of your giant wall calendar like I did: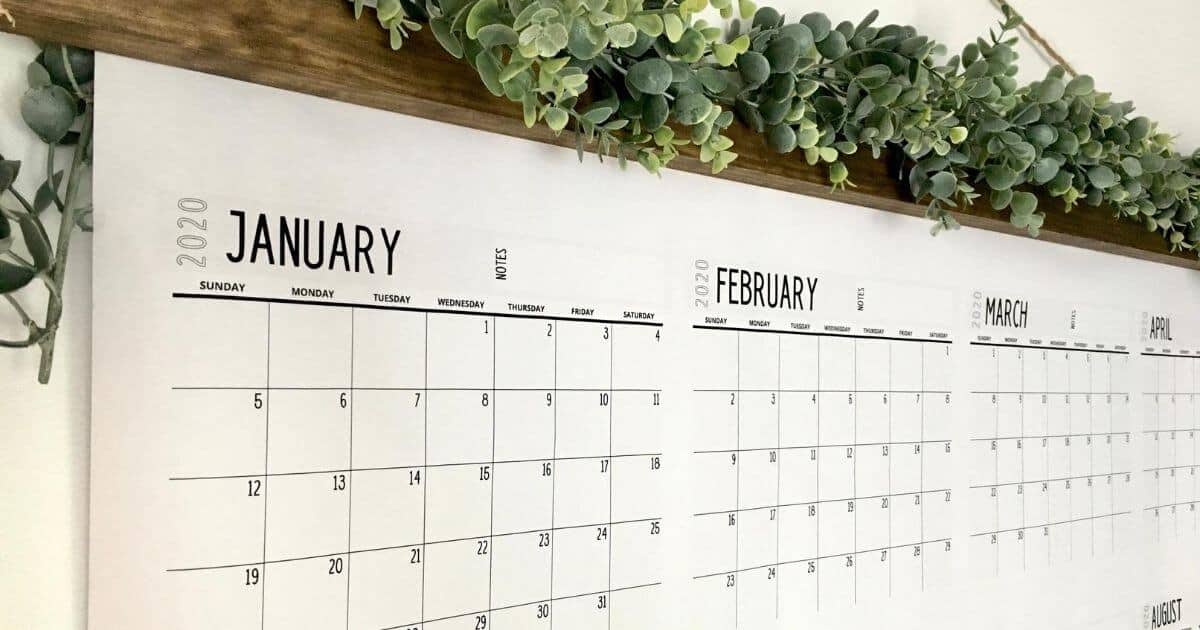 Or, change out the decorations on top with each season, like I did with this awesome DIY Scroll Sign: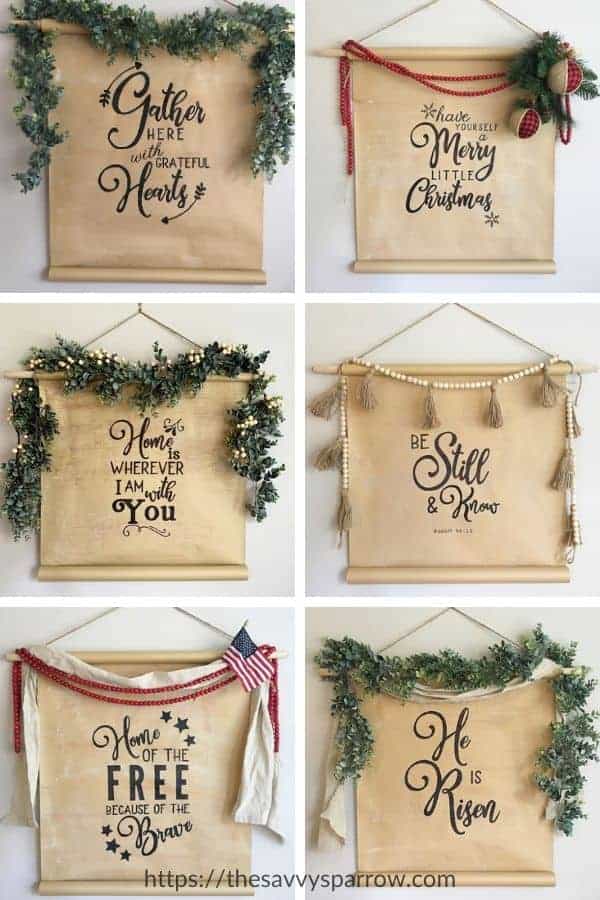 How to Change the Year on your DIY Large Wall Calendar
Now that your super cute DIY calendar is complete, you may be wondering what to do with it come December 31st! No need to take it all down and make a new wall calendar from scratch! You can VERY easily change the large 12 month calendar page without having to go through the whole cut/sand/stain process again!
Simply take your giant calendar off the wall, and rip off the outdated calendar. Then, print out your 2023 calendar (remember, you can get the 2023 printable calendar that I used HERE!).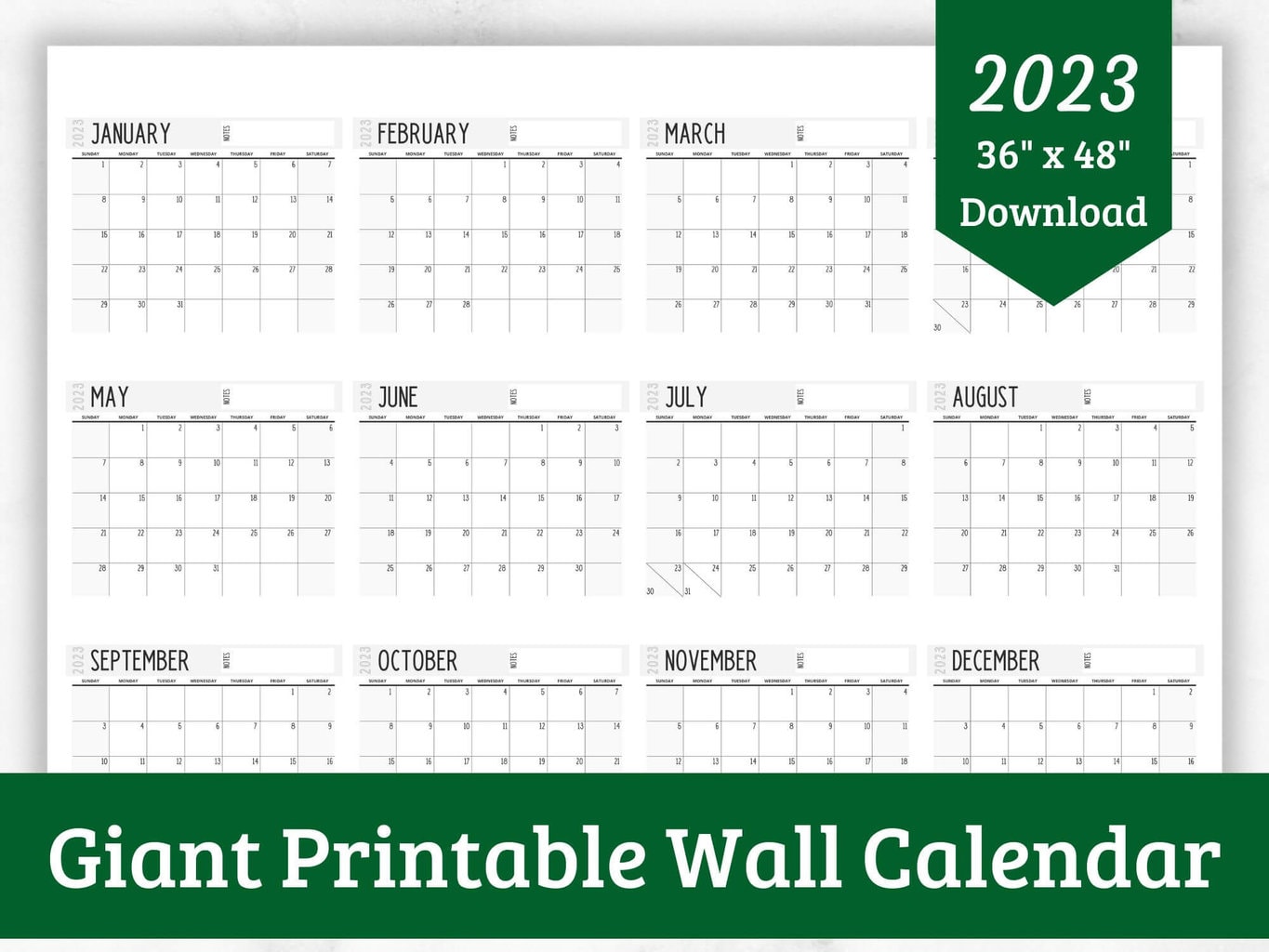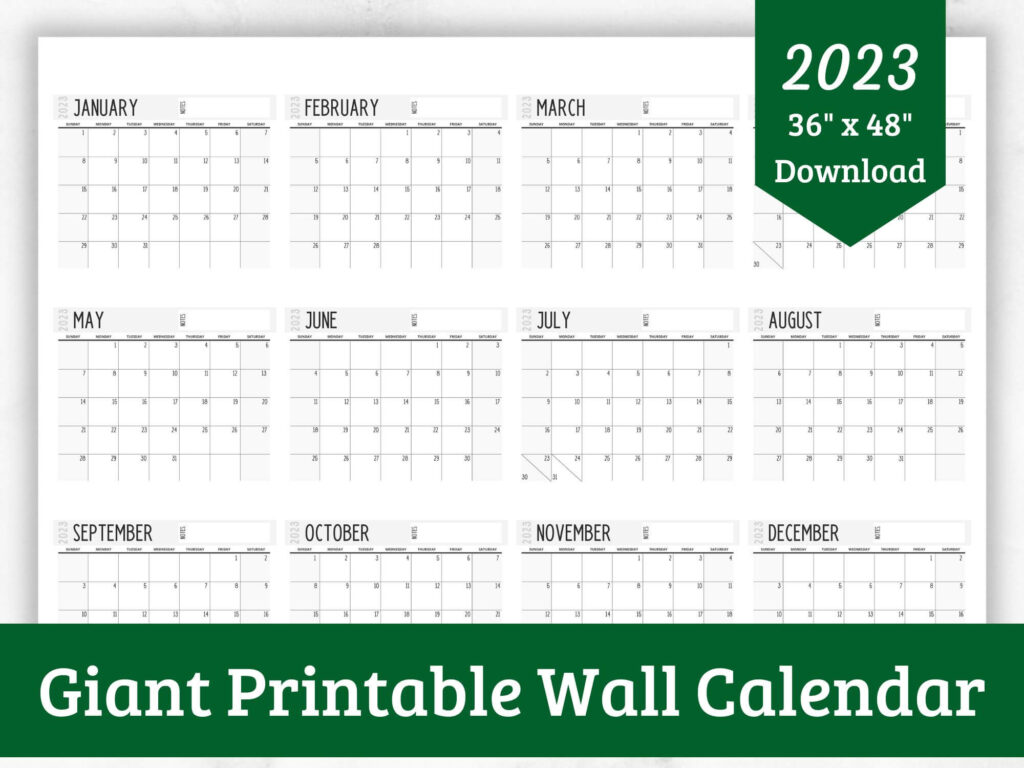 Simply staple the new calendar on to your already done top and bottom 1″ x 2″ boards, and hang it back up on the wall. It couldn't be easier! And you get a whole new calendar for about $16 to last you all year long!
This DIY Large Wall Calendar has already been a HUGE help to keep me organized! I love that I can just glance over at it while I'm working in my office and easily see the important stuff that I have going on next month. And, as an added bonus, it takes up a lot of space on a large blank wall that I just didn't want to spend a ton of money decorating!
So if you're in the market for a large wall calendar that lets you see all 12 months at the same time (and looks super cute with your farmhouse decor!), then I hope I've inspired you to try this easy DIY!
Happy nesting!